August, 28, 2013
8/28/13
9:00
AM ET
North Carolina had one of the best offensive lines in the ACC last season.
But what
was
a veteran unit is
now
rebuilding with three new starters -- including two redshirt freshmen.
[+] Enlarge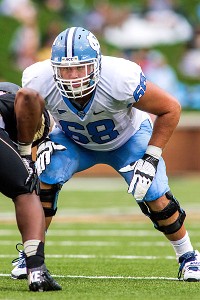 Jeremy Brevard/USA TODAY SportsJames Hurst is expected to be the leader of North Carolina's young offensive line.
Not exactly the ideal set of circumstances the Tar Heels want headed into their opener against No. 6 South Carolina on Thursday night. Especially since just about everybody is asking how North Carolina will contain Gamecocks star defensive end
Jadeveon Clowney
.
"I'd love to have a couple games under our belt before playing them because they're an outstanding defensive line," offensive line coach Chris Kapilovic said in a phone interview. "It's more than just Clowney. Those other guys are really good. That's probably the best defensive line we'll face since I've been here. But our guys understand the challenge, and they've worked extremely hard. We're going to have to be sharp and do a good job schematically."
The Tar Heels, especially the offensive linemen, have been answering questions about South Carolina and Clowney for months now. North Carolina lost loads of game experience from its group last fall, including its best player -- All-American guard Jonathan Cooper.
Consider this: North Carolina went into the 2012 season with a combined 92 starts from its starting offensive linemen. This season, the starting linemen have combined for 54 starts. A vast majority of those belong to senior tackle
James Hurst
and his 36 career starts.
Indeed, with Cooper gone, North Carolina plans to rely more on Hurst and center
Russell Bodine
to help the younger players along. Hurst should be one of the best tackles in the country, so that gives the team an advantage.
Kapilovic calls Hurst, "the smartest offensive lineman I've ever coached. He's a tremendous student of the game, his note taking, his attention to detail. When you explain something to him one time, he's got it."
What is particularly beneficial is that Hurst and Bodine will start alongside redshirt freshman
Caleb Peterson
, who takes over for Cooper at left guard. Peterson has never played in a collegiate game, so opening against Clowney is almost like throwing a guppy into a pond full of piranhas. He'll have to find a way to survive, but at least he won't have to do it alone.
Hurst started mentoring Peterson from the moment Cooper graduated.
"I wanted to start getting inside his head, watching him practice in the spring, seeing what he brought to the table, seeing what he needed to work on," Hurst said. "From that point of view, I tried to help him wherever I could. There's a lot of different things you want to do early to try and motivate a guy and get him going, and I think he's responded well. He's a really hard worker, and he's done everything he can do to be a good player this year."
One key area of improvement has been Peterson's footwork, which should allow him to play faster and with more confidence.
"The more reps you get, the better you're able to let loose a little bit and play football instead of going out there and faking and analyzing during the play," Bodine said. "He's made huge strides, not only in just quickening up his feet this offseason, but he's relaxed and been able to focus on playing football a little more."
The other side of the line features a redshirt freshman, too. After a competition that lasted all of fall camp,
Jon Heck
emerged as the starter at right tackle over
Kiaro Holts
and
Nick Appel
. Holts was atop the depth chart after spring practice, but Heck won the job because he was more consistent during preseason practice.
There is some experience at right guard, though not much.
Landon Turner
, a sophomore, started the last four games of 2012 when Brennan Williams was lost for the season.
As it stands, North Carolina only has one senior starter. But Bodine has worked on becoming a more vocal leader now that he is one of the veterans on the line. Though he is the one in charge of making the line calls, he always relied on the more experienced players around him to provide leadership. Now his role has changed.
That means helping the young players along and being one of the leaders in film study as well. Every day during the summer, the linemen got together to watch game tape early in the mornings and formed a breakfast club, in which a group brought in breakfast every day for a week. Hurst and Bodine supplied sausage biscuits from McDonald's, which kept their teammates happy.
In turn, the players were able to get to know each other better and that has translated onto better teamwork on the field.
"You can build chemistry off the field, and if you're good friends, you want to play for that guy next to you just a little bit more," Hurst said. "We started working on that this summer a little more. In camp, you could see the effectiveness of small things like that."
Still, practices have been uneven because Kapilovic says the younger players do not quite know what it takes to be consistent every single day -- yet.
It could take several games before North Carolina feels comfortable up front. But there is no time to waste with such an important opener looming.
March, 26, 2013
3/26/13
11:00
AM ET
One of the biggest priorities in Chapel Hill this spring is to find new starters on the offensive line and begin to develop some much-needed chemistry that will allow the Tar Heels to continue to rack up points and yards in a hurry.
A few weeks in, the new-look line is starting to take shape.
Landon Turner
has been practicing with the first team at right guard,
Nick Appel
has been lining up as the first-team right tackle and redshirt freshman
Caleb Peterson
has been with the first team at the position that is most in the spotlight this spring -- left guard, replacing All-American
Jonathan Cooper
.
The good news is that four of the five players getting first-team reps have game experience. Center
Russell Bodine
and left tackle
James Hurst
return; Turner started the last four games at guard; and Appel has played as a guard and tackle.
Now for the bad news: Peterson is the only one who has never taken a snap in a game as he replaces a player projected to go in the top 15 in the upcoming NFL draft. Oh, and North Carolina opens the 2013 season against South Carolina and
Jadeveon Clowney
.
Gulp.
Needless to say, the more experienced players have taken Peterson under their wing to get him up to speed as quickly as possible.
"The responsibility is on the older guys in the room to pick up the younger guys and educate them on what's expected and what they need to do," Turner said in a recent phone interview. "Caleb hasn't played, but I think he's doing well. He's learning a lot and he's got all of us to back him up."
As for having to replace Cooper, Turner said, "You can't replace Coop. He's a first-round draft pick. I love him to death. He's one of the best offensive linemen I've ever seen. You can't just replace somebody like that. Caleb is young, but he's good. I've got confidence in him to step up and play well."
Turner at least got some starting experience last year at guard, when starter
Travis Bond
moved over to tackle following
Brennan Williams
' season-ending injury. That experience has allowed his confidence to grow as he now gets an opportunity to become a full-time starter.
"It's been instrumental to my confidence," Turner said. "It was really great to get that experience and playing with such great guys that are going to be in the league next year. When Brennan Williams went down, they needed someone to step up and I was able to work in to get experience and it was just a dream come true."
March, 5, 2013
3/05/13
1:00
PM ET
The good news: North Carolina returns offensive tackle
James Hurst
, an All-ACC candidate for 2013, and center
Russell Bodine
.
The bad news: The Tar Heels have to replace three starters up front, including All-American
Jonathan Cooper
.
Much of the focus surrounding North Carolina this spring will be on how the Tar Heels are going to compensate for the early departure of running back
Giovani Bernard
to the NFL, but more important are the holes that need to be filled up front. A year ago, North Carolina's offensive line was its strength, and arguably one of the best in the ACC. This spring, there are far more questions and inexperience.
"How do you replace Jonathan Cooper?" coach Larry Fedora asked. "I mean, the guy is the best one that I've ever coached inside. I don't know that we'll replace him. We've got some guys who are going to compete for those jobs and they'll step up. I'm still going to expect us to be better on the offensive line than we were last year."
Those are high expectations, considering North Carolina will have to turn to several redshirt freshmen with zero collegiate game experience for answers. It will help that
Landon Turner
started the final four games of 2012, and Bodine returns at center, along with Hurst. The two main questions are at right tackle and left guard.
Redshirt freshman
Caleb Peterson
is the likely frontrunner at guard, but considering the lack of experience, not even those within the program know who will emerge at the top of the depth chart.
John Ferranto
, a redshirt freshman, could be a leading candidate at right tackle, but
Jon Heck
is another option.
Nick Appel
, a junior, has played guard and tackle sparingly, and will also be in the mix. Both Peterson and Ferranto were recruited by Fedora's staff, but don't forget about
Kiaro Holts
, who was ranked the No. 8 offensive guard in his recruiting class. He has been injured most of his career, but could also be very valuable this fall.
"I don't really worry about it," Fedora said of the uncertainty. "I know Chris Kapilovic will have guys ready. He'll have them ready. Now, will we be there in the spring? I don't know. That will be a good question to find out at the end of the spring, where we feel like we are. One thing you worry about in the spring, that hinders you there, is injuries. Sometimes you don't know exactly who you've got."
Unfortunately for the Heels, they know who they don't have anymore -- Cooper and Bernard.