June, 29, 2011
6/29/11
5:00
PM ET
You are going to argue about this. How do I know? Because I'm still arguing with myself over it ...
[+] Enlarge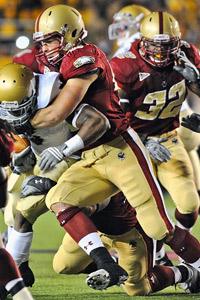 Michael Tureski/Icon SMILuke Kuechly leads a deep group of Boston College linebackers.
1. Boston College:
Luke Kuechly is one of the best in the country, but he's not alone. The Eagles also have Kevin Pierre-Louis, who ranked second nationally among all freshmen in tackles per game last season with 7.15 -- ninth in the ACC. It won't be easy to replace Mark Herzlich, on or off the field, but Steele Divitto played in 11 games last season, and Nick Clancy and Will Thompson both saw time on the second team.
2. Florida State:
The Noles had to replace two starters, including Kendall Smith, the team's second-leading tackler, last season, and Mister Alexander, but the upcoming talent could be even better. Nigel Bradham led the team with 98 tackles and five pass breakups last season, and Christian Jones, Jeff Luc, Telvin Smith and Vince Williams will also be competing for playing time.
3. Miami:
Sean Spence, who has 30 career starts, should be one of the best in the country, and Ramon Buchanon, another senior, also returns. The Canes have five other linebackers with experience in Kelvin Cain, who started seven games, Jordan Futch, who had a great spring and will see the field, Tyrone Cornelius, Shayon Green and C.J. Holton.
4. North Carolina:
Kevin Reddick, who led the Tar Heels with 74 tackles last season, returns for his third season as starter. Zach Brown is also a returning starter with game-changing capabilities, and there is plenty of depth with Dion Guy, Darius Lipford, Ebele Okakpu and Herman Davidson. Junior college transfer Fabby Desir could also have an impact.
5. NC State:
Audie Cole and Terrell Manning have combined for 39 career starts, and Cole fared well this spring moving to the middle to replace Nate Irving. With the return of Sterling Lucas, Dwayne Maddox and Colby Jackson, there is plenty of experience, but not quite as much depth as some other programs.
6. Georgia Tech:
The Jackets return both starters in Steven Sylvester and Julian Burnett. There is no shortage of depth with Jeremy Attaochu, Quayshawn Nealey, Brandon Watts, Albert Rocker, Malcolm Munroe and Daniel Drummond.
7. Clemson:
This group has a lot of potential, especially if true freshmen Tony Steward and Stephone Anthony make an immediate impact. There's no question they'll be given a chance, but the Tigers already have a good group with Corico Hawkins, Quandon Christian and Jonathan Willard.
8. Virginia Tech:
It seems like this rotation has been in flux for a while now. The Hokies' leading tackler returns in Bruce Taylor, Barquell Rivers had 96 tackles as a starter in 2009 but was injured last season, and there are several young players adding to the competition. Chase Williams, Tariq Edwards, Telvion Clark and Jack Tyler are only a few. Whip linebacker Jeron Gouveia-Winslow will have to earn his spot back over Alonzo Tweedy, Dominique Patterson and Nick Dew.
9. Maryland:
The Terps were hit hard here with the losses of Alex Wujciak (381 career tackles) and Adrian Moten (14.5 career sacks). Demetrius Hartsfield returns with 20 career starts, and there are four lettermen returning including Darin Drakeford, Isaiah Ross, David Mackall and Bradley Johnson.
10. Wake Forest:
Kyle Wilber's move to outside linebacker will give this position a boost, as he led the Deacs with 14.5 tackles for loss and six sacks last season. His backup is Gelo Orange (22 tackles). The Deacs also have Tristan Dorty, Joey Ehrmann, Mike Olsen, Scott Betros, Riley Haynes and Justin Jackson.
11. Virginia:
Starters LaRoy Reynolds and Ausar Walcott both return, but neither has started more than 11 career games. Junior Steve Greer has prior starting experience but played mainly as a reserve last season. Adam Taliaferro, Conner McCartin, Tucker Windle and LoVante Battle are also in the mix for playing time.
12. Duke
: Kelby Brown is the lone returning starter, but he's a promising young player who led the nation last season as a freshman in fumbles recovered. He missed spring ball while recovering from a knee injury, but is expected to start with Tyree Glover or Kevin Rojas.
March, 28, 2011
3/28/11
5:00
PM ET
By
ESPN.com staff
| ESPN.com
There will be some significant movement on the roster when the Hokies start spring practices on Wednesday. Here are the major position changes, followed by coach Frank Beamer's take on each:

Chris Drager from defensive end back to tight end:
"What an unselfish guy. I came to him a couple years back and said to him, 'We need help at defensive end,' and I really think he feels like -- and I do, too -- his best NFL position is probably tight end. There's some value to having played both. NFL people will look at that as a positive, too. He's been a very unselfish player, very much a team player."
Vinston Painter from guard to tackle:
"Vince has had a great offseason program, running a great 40, strong and has really excelled in the weight room here. You need those athletic guys at tackle. They've got to block those athletic defensive ends. If he can get out there at tackle and play the way I think he's capable of -- and I think he's ready to do that -- he could be a big, big help for this football team."
Laurence Gibson from tackle to guard:
"That's a good position for him. He's not quite as nifty as he probably needs to be out there at tackle. That helps him."
James Hopper from rover to tailback:
"He was an exceptional tailback in high school. That will give him a chance to get in and use some of his quickness."
Antone Exum from free safety to rover:
"You have a guy who's got a lot of athletic ability. We want him to really hone in and play consistent, play the way he's very, very capable."
Riley Beiro from tailback to fullback:
"We've really got some good fullbacks in there.
Joey Phillips
,
Martin Scales
are two guys I really think have a lot of ability, and Beiro fits into that category also. We're getting some guys there that we really feel solid about at that fullback position."
Dominique Patterson and Nick Dew to whip linebacker:
"We're really looking for playmakers there at that whip and we've got several there right now. As we look at them, I see when you talk about Jeron Gouveia-Winslow, Alonzo Tweedy, Patterson, Dew ... you're talking about some really good players. We'll see what happens there, but our first priority is to get some good playmakers at the whip position and then some of those guys may need to go somewhere else. They're good players and for the most part, they need to be on the field playing."
Josh Oglesby from fullback to tailback:
"He's been a good tailback. With the two guys coming out early, I think he gives us a very solid, very good tailback."
April, 27, 2010
4/27/10
4:00
PM ET
By
ESPN.com staff
| ESPN.com
Remember, the only dumb questions are the ones that aren't asked ...
Bob in Arlington, Va., writes
: Hey Heather- did I see you in Atlantic City this past weekend?
HD:
Haven't been there in a few months, but when I go, you can
find me at Nero's
with my parents and their comp points. Don't forget Mother's Day, BTW.
---
Daniel in Atlanta writes:
Heather,Do you think Dwyer's draft stock was affected by the, um... 'interesting' headline on ESPN about his 'testing positive' at the combine or do you think he went so late because of something else? Or did he go when he should have gone?
HD:
Daniel it seems as if even the NFL scouts were divided on how highly Dwyer should have gone, and I doubt much of it had to do with any headlines. Everyone in the NFL knew Dwyer was taking approved prescription medication. He really did get some mixed reviews, though. I think the Steelers
got a great deal
and I expected Dwyer to be gone by the third round. He'll get his chance to prove his doubters wrong as the No. 2 guy and a short-yardage back.
---
Mark in College Park, Md., writes:
What did you see out of the terps during their spring game? I need some good news after a 2 and 10 season.
HD:
So does Ralph Friedgen. Overall, he liked what he saw. I think the most important thing was the progress of the offensive line, which Friedgen said "
vastly improved
." They've got enough running backs, and with a more mobile quarterback and the play of WR
Torrey Smith
, the Terps should be able to do some things on offense this year. Maryland fans should be encouraged by the spring practices.
---
Nathan in Roanoke, Va., writes:
People still seem to be concerned with Defensive Depth for VT this year. I follow recruiting big time and keep up with player stats. People seem to forget that Nick Dew is coming in the fall and Zack McCray as well each will be playing positions that lack depth. What do you think the chances will be of them contributing from day 1?
HD:
Did you mean Nick Acree, a defensive tackle, and not Nick Dew, an OLB? There is help on the way up front, but considering how demanding coordinator Bud Foster and defensive line coach Charley Wiles are, it's going to be difficult for a true freshman to come in in August, learn the system and be ready to play. The coaches like John Graves and Kwamaine Battle as the two defensive tackles with Antoine Hopkins as a backup. They're still looking for a fourth defensive tackle. At defensive end, former tight end Chris Drager and Steven Friday had good springs, but again, they're still looking for depth. That could be J.R. Collins or James Gayle.
---
Matt in Orlando writes:
Have you heard about the white unis and helmets FSU is planning on wearing at the Oklahoma game? Why can't we learn not to mess with the traditional colors? (For an example, look up our recent record for when we wear "special" unis).
HD:
I checked with FSU's sports information department, and there is no truth to the notion that the 'Noles will be wearing a white helmet at Oklahoma. The equipment manager had one made up at the coaching staff's request for recruits to see a wide variety of uniform options FSU can mix and match. They dressed up for mannequins in the locker room in different garb. One recruit took a picture and posted it on a website, leading to an instant rumor. Jimbo Fisher wants to stick with tradition (gold helmets), but he wouldn't be opposed to using the Nike unis worn against Maryland last season on a rare occasion.
---
Matt in Atlanta writes:
With
Jordan Luallen
unlikely to get any play-time in the next year at least, is there any chance he moves to wide reciever? He's got the build and we need more tall guys out there catching balls.
HD:
Doubtful, Matt. Luallen will enter the fall battling
David Sims
for the No. 3 quarterback job. You're right, though, his odds of any significant playing time are slim. He'll have to make large strides in August to pass
Tevin Washington
as the No. 2 QB. And even though the Jackets will be without
Demaryius Thomas
, they've still got five or six skilled receivers to turn to.
---
Horace from the 757 writes:
HD,How about the Steelers snagging three Hokies! Taco Thompson could be a nice sub for the NT position with his girth. Jason Worilds will have a tough time cracking the rotation with Harrison, Woodley, and Timmons in front of him. Demetrius Taylor most likely won't break the practice squad ranks, but still getting paid! I like Dwyer's chances of catching on with the guaranteed run based offense for the first 6 games.
HD
: Here we go Steelers, here we go ...
---
Eric in Tallahassee writes
: Any notable ACC player go undrafted that you felt should of? Overall how do you think the ACC did in the draft this year?
HD:
One player I would've liked to see get a shot as a free agent was Wake quarterback
Riley Skinner
. I thought somebody would have given him a chance, and that he deserved one.