May, 8, 2012
5/08/12
7:00
AM ET
2011 overall record:
8-5
2011 conference record:
5-3 (T-2nd, Coastal)
Returning starters:
Offense: 7; defense: 4; kicker/punter: 0

Top returners
WR
Tim Smith
, LT
Oday Aboushi
, RT
Morgan Moses
, RG
Luke Bowanko
, TE
Colter Phillips
, QB
Michael Rocco
, RB
Perry Jones
, DE
Jake Snyder
, OLB
LaRoy Reynolds
, MLB
Steve Greer
, CB
Demetrious Nicholson
Key losses
WR
Kris Burd
, G Austin Pasztor, C
Anthony Mihota
, FB
Max Milien
, DT Matt Conrath, DT
Nick Jenkins
, DE Cam Johnson, OLB Aaron Taliferro, CB Chase Minnifield, SS Rodney McLeod, FS
Corey Mosley
Spring answers
1. Ground game should be fine.
Three starters are back on the offensive line, and Perry Jones,
Kevin Parks
and
Clifton Richardson
will all be lining up in the backfield again following a campaign that saw the trio combine for 1,990 rushing yards and 21 total touchdowns.
2. Rocco steps up.
Michael Rocco beat out three competitors to win the starting quarterback job in 2011. The process has been a whole lot easier this spring, and the junior will look to build off a strong debut season that featured a 60 percent completion rate. Returning starter Tim Smith will likely be Rocco's top target following the departure of Kris Burd.
3. Jake McGee ready to fill tight end role.
A converted quarterback, McGee stood out in the spring game, hauling in a pair of passes for 81 yards. He has said that he wants to be the next Heath Miller. Boosting a unit that combined for just 20 catches last season would be a nice start.
Fall questions
1. What to do with Phillip Sims?
The former Alabama quarterback announced his transfer to Virginia after the spring season. It remains to be seen whether he will even be eligible for the 2012 season. If he is, however, he could make things interesting if Rocco underperforms this fall.
2. Where will the secondary help come from?
Demetrious Nicholson returns at corner after a strong freshman campaign, but the unit loses more than 90 career starts from the other three starters, led by corner Chase Minnifield. Virginia's offense threw for more than 400 yards in the spring game against the re-tooling secondary, which has a long way to go after spring.
3. Can the line get enough pressure to help the secondary?
Cam Johnson and two other starters are gone from last year. The Cavaliers gave up 81 points over their final two games of 2011 and lose seven starters. Junior end Jake Snyder is the only returning starter up front.
November, 23, 2011
11/23/11
11:00
AM ET
Virginia coach Mike London knows the facts: Virginia Tech has won 11 of the past 12 games in the series, and each of the past seven.
This team, though, is different, London said.
You'd better believe it is.
[+] Enlarge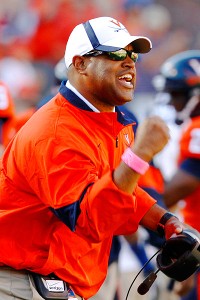 AP Photo/Steve HelberMike London took over a team that went 3-9 in 2009 and has them one victory away from winning the Coastal Division.
For three straight seasons prior to this one, Virginia had a losing record. Now, in only London's second season, the Cavaliers are heading to a bowl game and playing on Saturday for the Coastal Division title for the first time since 2007. The turnaround is ahead of schedule and has far exceeded expectations for a team that was picked by the media to finish fifth in the Coastal Division standings this year.
So how'd he do it? What, exactly, is different?
London will tell you at length about the off-field process, the effort to get the players more involved in the classroom and in community service, to make them winners off the field before they walked on it. He has done that, and weeded out some players who couldn't cut it academically or socially. He has changed the culture, and he has changed the mentality on the field, but there are also some big differences on the field that have helped lead to the Cavaliers' immediate success.
You can point to the defense, which is another year older and wiser and more comfortable in the second year under coordinator Jim Reid. You can point to the quarterback,
Michael Rocco
, who has been a steady factor over the four-game winning streak, completing 61.2 percent of his passes for seven touchdowns and one interception. You can point to the work of offensive coordinator Bill Lazor, who has dramatically improved the Cavaliers' offensive numbers. The staff has a good blend of promising young talent it recruited and veteran players who remained from the previous staff. It's important to remember that Al Groh did not leave the cupboard bare, especially on defense. The staff also has had the same five starters on the offensive line for the past 11 games.
"They're a good football team," Virginia Tech coach Frank Beamer said. "They're for real. They're good, and they're playing really well and playing with a lot of confidence, as they should. They've done a good job up there."
UVa has amassed more than 400 yards of total offense in 11-of-23 games since Lazor brought his pro-style philosophy to Charlottesville. The Oct. 22 game against NC State (249 yards) and UVa's 2010 season finale (291 yards) are the only games during London's tenure when the Cavaliers failed to reach at least 300 yards of total offense. UVa enters Saturday's game against the Hokies ranked No. 3 in the ACC and No. 42 in the nation with an average of 411.0 total yards per game.
Defensively, Virginia has forced a turnover in every game this season and is tied for No. 5 in the nation and No. 1 in the ACC in red zone defense. Virginia's front seven has been a strength, and it should be with the veteran leadership of senior defensive tackles Matt Conrath and Nick Jenkins, and senior defensive end Cam Johnson.
While Virginia has overachieved in the big picture, the expectations from the start were that this was going to be a good defense. All of it, though, has added up to an ACC contender quicker than most expected.
The question now is whether London can finish what he has started. It's an accomplishment in itself, though, to be in a position to try.
"It's great to know that in November we're still talking about Virginia football being relevant," London said. "It's great to know that there's a lot at stake here. It's an opportunity to play in the last game of the year that decides whether you have a chance to play for goals that you've set coming into this season. They've been on this side of the ledger for a long time. This is new, unchartered territory for us.
"There doesn't have to be any fake hype or fake talk, anything like that. We don't need any Twitter account stuff, Facebook stuff, going back and forth. We're in-state rivals, and it would be characterized to say that's how they feel about us and we feel about them.
"You know and you respect the men that you're going against, but you also understand that you're the in-state rival. You want to beat the in-state rival in everything that you do. Right now, they've had a number of years of success in that regard. We stand here and get ready to play and want to be able to challenge them in recruiting. We want to be able to challenge them on the football field. And that's what you do. I can't put it any other way."
June, 27, 2011
6/27/11
3:30
PM ET
As the title indicated ...
[+] Enlarge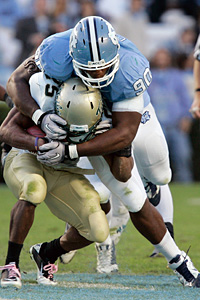 Mark Dolejs/US PresswireUNC returns a veteran defensive line led by end Quinton Coples.
1. North Carolina:
This is a deep and talented group that returns all four starters including Donte Paige-Moss, Jared McAdoo, Quinton Coples and Tydreke Powell. Junior college transfer Sylvester Williams joins three other players who started at least one game: Kareem Martin (three starts), DT Tim Jackson (five starts) and DT Jordan Nix (two starts).
2. Florida State:
All four starters return in juniors Brandon Jenkins, Jacobi McDaniel, Anthony McCloud and Everett Dawkins. Jenkins finished sixth nationally with 13.5 sacks. This group should take another step forward in the second season under coordinator Mark Stoops, but it already has an outstanding base to build on as the Noles ranked third nationally in sacks and 21st in tackles for loss last season.
3. Miami:
The Canes should have one of the better rotations in the ACC. They return starters Olivier Vernon, Micanor Regis and Marcus Forston, who combined for 12 sacks and 30.5 TFLs. It's a deep group, as DE Adewale Ojomo (seven starts), DT Luther Robinson (five starts), DE Marcus Robinson (10 games), DT Curtis Porter (one start), DE Andrew Smith (11 games) and DE Dyron Dye (six games) all have experience.
4. Virginia:
Like Florida State, this is another group that should benefit from being in the second season under the same coordinator. Jim Reid switched the scheme back to a traditional 4-3, and the Hoos return a veteran group led by Matt Conrath (33 starts), DT Nick Jenkins (29 starts), and DE Cam Johnson (22 starts).
5. Georgia Tech
: The Yellow Jackets have a better understanding of what is expected from them in their second season in Al Groh's 3-4 defense, and all three starters return in ends Izaan Cross (41 tackles) and Jason Peters (52 tackles), and tackle Logan Walls. Defensive tackles Shawn Green, T.J. Barnes and J.C. Lanier will also compete for playing time along with DE Anthony Williams.
6. Maryland:
The Terps should be solid up front with the return of Joe Vellano, A.J. Francis and Justin Anderson. Francis is the veteran of the group (19 career starts) and had 44 tackles and 2.5 sacks last season, but Vellano is also an all-conference candidate. The Terps have good depth with Zachariah Kerr, Isaiah Ross and Bradley Johnson.
7. Virginia Tech:
This is a group that could and should jump a few spots by the end of the season. On paper, they've got to replace three starters, but this spring the group proved capable of getting the Hokies back to their days of dominating on defense. Based on potential, they should be ranked higher, but based on lack of dependable, proven depth, they could even fall lower.
8. Clemson:
It will be difficult for the Tigers to replace the production of Da'Quan Bowers, but the defensive line is in capable hands with Andre Branch and Brandon Thompson, and Malliciah Goodman has embraced the challenge of taking Bowers' spot. Branch was second on the team with five sacks last season and 8.5 tackles for loss. Thompson had 40 tackles, including six for losses. Defensive tackle Rennie Moore, DE Kourtnei Brown and DT Tyler Shatley also have experience.
9. NC State:
Defensive tackle J.R. Sweezy is one of the underrated players in the ACC, and he returns along with defensive end Jeff Rieskamp. Several players got significant snaps last season, though, including DE Darryl Cato-Bishop (13 tackles), DT Markus Kuhn (17 tackles, and DT Brian Slay (20 tackles, two TFLs).
10. Wake Forest:
The Deacs return three starters including Tristan Dorty, Kyle Wilber and Zack Thompson. Thompson only started five games last season, but after spring practices, coach Jim Grobe said Thompson has all-conference potential.
11. Boston College:
Starters Max Holloway and Kaleb Ramsey return, along with four other linemen (DTs Dillon Quinn and Conor O'Neal, and DEs Dan Williams and Kasim Edebali) who each started at least two games last fall.
12. Duke:
Until proven otherwise, this is where the Blue Devils belong, but Rick Petri was hired to change that. He'll have veteran nose guard Charlie Hatcher (24 career starts) to work with, and sophomore Sydney Sarmiento, who started 11 games last season. Junior Kenny Anunike, Justin Foxx and DEs Desmond Johnson and Jamal Wallace could also see playing time.
May, 5, 2011
5/05/11
7:00
AM ET
2010 overall record:
4-8
2010 conference record:
1-7
Returning starters
Offense: 8, defense: 9, punter/kicker: 2
Top returners
WR
Kris Burd
, OT Morgan Moses, G Austin Pasztor, TB
Perry Jones
, DT Matt Conrath, DT Nick Jenkins, DE Cam Johnson, CB Chase Minnifield, SS Rodney McLeod, LB Steve Greer

Key losses
WR
Dontrelle Inman
, QB
Marc Verica
, DE Zane Parr, RB
Keith Payne
, LB Darnell Carter
2010 statistical leaders (* returners)
Rushing:
Payne (749 yards)
Passing:
Verica (2,799 yds)
Receiving:
Burd* (799 yds)
Tackles:
LaRoy Reynolds* (66)
Sacks:
Cam Johnson* (6.5)
Interceptions:
Minnifield* (6)
Spring answers
1. Good move for Gooch.
Miles Gooch
made the move from quarterback to receiver this spring, and because of the numerous injuries to the wideouts, he got significant reps. Whether that translates into game snaps remains to be seen, but with a crowded competition at quarterback, his odds are better at receiver.
2. No move for Mathis
.
Jeremiah Mathis
moved from defensive end to tight end last year, and he stayed there this spring. Coach Mike London has said Mathis has a huge upside on the offensive side of the ball. Mathis caught three passes in 10 games last year, but that number could increase this fall with the departure of
Joe Torchia
.
3. Another step forward on defense.
With nine starters returning in the second season in the 4-3 scheme, the Cavaliers showed improvement this spring. London said the defense is well ahead of where it was this time a year ago because of the transition and coaching change.
Fall questions
1. Who's the quarterback?
Michael Rocco
,
Ross Metheny
,
Michael Strauss
and true freshman David Watford will continue their competition in summer camp, as none of them separated themselves this spring. While it's limited, Metheny and Rocco have the most experience, but that hasn't guaranteed them anything, according to London.
2. Who will compensate for the loss of production with the departure of Keith Payne?
Perry Jones,
Kevin Parks
and
Khalek Shepherd
will likely share the carries, but the latter two are redshirt freshmen with no game experience. Jones ran for 646 yards last year.
3. Roster cuts.
London needs to trim the roster to meet the NCAA's 85-scholarship limit, and he has not determined how he plans to do that yet. If Devin Wallace does not return from his suspension, that will make one less -- and one less starter on defense. London has not yet released a number on how many fifth-year seniors will be invited back. Different scenarios could transpire in the next few months to get this question answered, as some players might not qualify and will have to attend prep school.
April, 4, 2011
4/04/11
9:00
AM ET
The focus at Virginia this spring has been on the quarterbacks, as coach Mike London needs to name a new starter, and
Michael Rocco
led the group on Saturday in the Cavaliers' spring game at Scott Stadium.

Rocco completed 10 of 22 passes for 95 yards for the Blue team and seven of 10 throws for 57 yards for the Orange team.
Ross Metheny
, who also played for both teams, combined to complete 3 of 6 passes for 60 yards. True freshman David Watford completed 1 of 5 passes for 6 yards with both teams.
Michael Strauss
completed 6 of 14 attempts for 85 yards.
The teams played four 10-minute quarters in a standard game format that included special-teams play. The Blue team featured the majority of the Cavaliers' returning starters on offense while the Orange team included the returning starters on defense. The Blue team won 17-7. Veteran receivers
Kris Burd
,
Matt Snyder
,
Tim Smith
and
Bobby Smith
did not play because of injuries. Snyder, Jones, strong safety Rodney McLeod and defensive tackle Nick Jenkins were named team captains for the 2011 season.
Offensive highlights:
Perry Jones scored on a 15-yard reception from Rocco and had a game-high five receptions for 35 yards and 7 yards on 11 carries.
Rocco threw a 3-yard touchdown pass to Brendan Morgan.
Robert Randolph made a 40-yard field goal.
Jones Khalek Shepherd had 15 yards on 10 attempts.
Defensive highlights:
No player had a run longer than 8 yards.
Steve Greer led all defenders with nine tackles, a pair of sacks and one pass breakup. The two teams combined for 19 sacks since quarterbacks were whistled down when touched by a defensive player. Billy Schautz accounted for three solo sacks.
Mike Ahunamba and Henry Coley both had five tackles to lead the Blue team.
Chase Minnifield intercepted Rocco on the opening drive when the receiver slipped while running his route.
Dom Joseph intercepted Strauss and returned it 65 yards for a score.
April, 12, 2010
4/12/10
11:27
AM ET
Virginia coach Mike London announced prior to last Saturday's spring game the Cavaliers' captains for the 2010 season would be senior defensive tackle John-Kevin Dolce, senior cornerback Ras-I Dowling, junior defensive tackle Nick Jenkins, senior tight end
Joe Torchia
and senior quarterback
Marc Verica
.
Headlining the spring award winners for the Cavaliers were Terence Fells-Danzer and Aaron Taliaferro as the Rock Weir Award winners, recognizing the most improved players.
Fells-Danzer moved to fullback this spring after playing linebacker his first three seasons at UVa. He earned his first letter last season, playing primarily on special teams. He had two tackles. Fells-Danzer will be a junior in 2010.
Taliaferro is a middle linebacker in UVa's new 4-3 defensive scheme. He has appeared in three games over the past two seasons but has no tackles. He will also be a junior in 2010.
Wide receiver
Tim Smith
was the recipient of the Z Society Dudley Award presented to the first-year player for his excellence in the classroom, on the field and in the community. The award is named after the late "Bullet" Bill Dudley, who exemplified those traits and was a two-time All-American at Virginia.
The winner of the Cavalier Academic Achievement Award was junior cornerback Chase Minnifield. The award is presented to a UVa student-athlete who represents uncompromised excellence in his academic pursuits.
Junior defensive tackle Nick Jenkins won the team's Iron Cavalier award for his performance and dedication in the weight room. Jenkins played in all 12 games last season and registered 12 tackles.
April, 2, 2010
4/02/10
3:47
PM ET
Virginia nose tackle Nick Jenkins used to look like an Al Groh player. He arrived at Virginia with
a crew cut and a serious expression.
Now his look approximates an old-school hippie, albeit a 6-foot-3, 280 pound one. He has grown his hair out since he arrived in Charlottesville, and his hair has
become his trademark
and a source of amusement for his teammates.
The look seems a better fit for the Mike London administration, which is
new-school loose in many ways.
The hope, of course, is that London's new, energetic style, which Jenkins repeatedly described as "110 miles per hour," will translate into more wins than the eight Groh produced over his final two seasons.
"There's definitely a sense of urgency that's never been here before," Jenkins said. "It's the first time I've seen it -- in the locker room, in the weight room, on the practice field, walking around campus. You can tell everybody is a lot more excited -- a lot more excited about playing."
Just as there are underlying reasons for many of the changes London is implementing, there's a deeper reason Jenkins, a junior, doesn't plan to cut his hair until he graduates. He intends to donate his lengthy locks to
Locks of Love
, an organization that provides hairpieces to financially disadvantaged children suffering from long-term medical hair loss due to cancer or other problems.
Great cause. Good for him. But before he does that, he'd like to win a few games.
A change that London has implemented directly affects Jenkins: The Cavaliers are switching from Groh's 3-4 defense to a 4-3. What that means for Jenkins is less reading and reacting and more attacking, which you can imagine most defensive linemen prefer.
"It's a get-up-the-field, penetrating defense now rather than a two-gap playing on the line of scrimmage," he said. "It's a lot more fun for everybody. We're having a ball. It's something different but a lot of us played it in high school."
The line should be the strength of the defense, despite the loss of first-team All-ACC tackle Nate Collins. Three returning linemen, including Jenkins, started at least 10 games last year as well as two who started at least one game.
Of course, defense wasn't exactly the problem in 2009. Virginia -- gulp -- ranked 118th in the nation in total offense and 105th in scoring.
Jenkins said the offensive futility -- the Cavaliers scored more than 17 points just once (21 vs. Clemson) during the six-game losing streak that ended the season -- never caused a fracture in the locker room.
"There were days when the offense couldn't pull it together and there were days when the defense couldn't pull it together," he said. "But when everybody walks into the locker room we know we are trying to give our darnedest for everybody."
Jenkins isn't eager to look backwards anyway, particularly when asked what went wrong under Groh.
"Honestly, I couldn't tell you why things didn't work out," he said. "But that's in the past. It's clear to everybody that it didn't work out, but now it's time for change and the change is here. We're just embracing that and moving on."
Things are moving forward and the newness is appreciated.
"We're on whole new slate," he said. "That's what the coaches keep telling us."
September, 11, 2009
9/11/09
9:00
AM ET

Posted by ESPN.com's Heather Dinich
There are some notable names that will/could be missing this weekend, including
Bobby Rome
, Lowell Dyer,
Greg Boone
, Stephan Virgil, Bruce Campbell,
Jameel Sewell
,
Jamelle Eugene
, Vic Hall and Jake Vermiglio. Here are the full reports that came in throughout the league from each school's sports information department:
BOSTON COLLEGE
LB Will Thompson (shoulder) -- OUT
LB Mike McLaughlin (Achilles) -- OUT
FB James McCluskey (Achilles) -- OUT
WR Ifeanyi Momah (knee) -- OUT
DT Kaleb Ramsey (ankle) -- PROBABLE
DUKE
RB Kyle Griswould (leg) -- OUT
CB Randez James (hand) -- OUT
S Anthony Young--Wiseman (knee) -- OUT FOR SEASON
FLORIDA STATE
OUT
OT Antwane Greenlee (knee)
DT Justin Mincey (knee)
OT John Prior (knee)
LB Vince Williams (back)
MARYLAND
Out
Questionable:
NC STATE
OUT FOR SEASON
OUT
Donald Bowens, WR – knee
Ryan Cheek, LB -- hip
Wayne Crawford, C -- foot
Jamelle Eugene, HB -- knee
DeAndre Morgan, CB – ankle
Jeff Rieskamp, DE -- hip
Jake Vermiglio, OT – lower leg
Javon Walker, S -- knee
Depth chart changes due to injuries:
Julian Williams will move into Vermiglio's spot at tackle and Andy Barbee will start at guard. Henry Lawson will be the backup at center.
James Washington
will be the second-team halfback.
UNC
Out (Season)
Carl Gaskins OL -- Knee
Matt Merletti S -- Knee
Out (Game)
Questionable
Jonathan Cooper OG -- Ankle
Lowell Dyer C -- Shoulder
Jordan Nix DT -- Illness
Bobby Rome FB -- Illness
Terry Shankle DB -- Illness
VIRGINIA
Out
Doubtful
Vic Hall (hip)
Dontrelle Inman (hand)
Lamar Milstead (ankle)
Bill Schautz (knee)
Probable
VIRGINIA TECH
Greg Boone (SC joint sprain) -- doubtful
Stephan Virgil (knee) -- doubtful
September, 5, 2009
9/05/09
8:14
PM ET

Posted by ESPN.com's Heather Dinich
A few quick halftime notes for you from Charlottesville:
Four Cavaliers made their first career starts: ILB Steve Greer, WR Kris Burd, OT, Landon Bradley and WR Javaris Brown.
Quarterback Jameel Sewell's second-quarter rushing touchdown was his first scoring run since he rushed for a pair of scores against Virginia Tech during the 2007 season.
UVa nose tackle Nick Jenkins blocked the second field goal attempt of his career when he deflected Brian Pate's second-quarter attempt. Jenkins' other block came last season against Richmond. (You know, the team that's beating Duke.)
When Vic Hall completed a pass on the Cavaliers' opening drive, it marked his first completion since the 2007 game vs. UConn when he tossed a 35-yard pass to Chris Gorham.
Hall's first-quarter touchdown run marked the second time in his last two games he has recorded scoring dashes of more than 30 yards. He darted for a 40-yard TD vs. Virginia Tech in the finale last year. He also had a 16-yard TD run against the Hokies.
July, 20, 2009
7/20/09
5:05
PM ET
Posted by ESPN.com's Heather Dinich
1. Clemson -- The Tigers return three starters up front, and first-year defensive coordinator Kevin Steele's pressure defense is the perfect fit for guys like Da'Quan Bowers and Ricky Sapp. Sapp was having a good season last year before he tore his ACL at Virginia and missed the rest of the season. Defensive end Kevin Alexander is a returning starter who had 34 tackles last year, and nose guard Jarvis Jenkins tied Sapp for the team lead with 10 tackles for loss. Opposing quarterbacks won't have time to think against this bunch.
2. Miami -- Anyone watching the Virginia Tech game last year saw what this group is capable of, and of the nine linemen who started at least one game for Miami last year, seven are back. Allen Bailey has moved from end to tackle, but he sometimes played there in third-down situations. He led the team with five sacks. Marcus Robinson is a solid pass rusher, Marcus Forston could also be an impact and Eric Moncur is entering his sixth season and if he plays like he did in 2007 (11.5 tackles for loss) could really give this line a boost.
3. Virginia Tech -- Depth is the only question mark here, as Jason Worilds, John Graves, Cordarrow Thompson and Nekos Brown are more than capable of continuing Bud Foster's tradition of nationally ranked defenses. Nobody is questioning Worilds' toughness, that's for sure, and Graves and Thompson both started every game last year. They're still looking for another defensive end, though, and will keep an eye on what Chris Drager adds to the position after moving from tight end.
4. North Carolina -- Not only do all four starters return, but the depth is the best it's been in recent years. Last year, defensive end Robert Quinn became a starter in the second game of the season, and defensive tackle Cam Thomas had one of his his best season at UNC. Marvin Austin and E.J. Wilson played well, and should be even better this year. Reserves Quinton Coples and Michael McAdoo had solid rookie seasons and will push Wilson and Quinn for playing time this year. Aleric Mullins and Tydreke Powell are interchangeable with Austin and Thomas as starters at tackle.
5. Florida State -- The end position is reason for concern, as the Noles have to replace both Everette Brown and Neefy Moffett, who were first and second, respectively, on the team in sacks. Markus White will be tasked with filling the shoes of Brown, but he had a good transition season from junior college last year to build off of. Kevin McNeil, who had four sacks last year, is the favorite to replace Moffett. The interior should be solid with the return of Budd Thacker, Kendrick Stewart, Moses McCray and Justin Mincey.
6. NC State -- Defensive tackle Alan-Michael Cash and end Willie Young have combined for 46 starts and should be two of the best linemen in the conference. The other two players penciled in as starters -- Shea McKeen and Leroy Burgess -- were both junior college transfers who earned starting time last year. Backup tackles will be a concern, but Markus Kuhn could wind up playing a bit of both until the staff decides where he can help the most.
7. Wake Forest -- Tackles John Russell and Boo Robinson will highlight a defense that recently bid farewell to some of the best seniors to come through the program. It should be one of the Deacs' most experienced groups in recent years, which is important considering the new faces behind them at linebacker. Defensive end Kyle Wilbur showed a lot of promise as a redshirt freshman with three sacks in only seven starts, and Tristan Dorty played in 10 games as a redshirt defensive end last year.
8. Virginia -- It's one of the few units on this team that didn't get a complete makeover, as seven of the top eight linemen return. Sophomore Matt Conrath, who had 35 tackles and four sacks last year, returns at end. There's a lot of experience next to him at nose tackle, where senior Nate Collins and sophomore Nick Jenkins split time last season. Collins' 35 tackles are the top among the returning linemen, while Jenkins finished with 25. Junior John-Kevin Dolce proved himself in the pass rush package with five sacks among his nine total tackles last year.
9. Boston College -- Replacing tackles B.J. Raji and Ron Brace is obviously one of the biggest concerns for this team, but they've got several options. Damik Scafe, Nick Rossi and Brendan Deska were each second-stringers at the tackle position and are the early favorites to replace the NFL draft picks. The Eagles also signed a pair of defensive tackles in the offseason, including highly touted recruit Dillon Quinn, who could make an immediate impact. Austin Giles replaced the injured Alex Albright last year for 12 starts, and Jim Ramella started all 14 games at the other end position.
10. Georgia Tech -- The Yellow Jackets have to replace three of four starters up front, and until they prove they found dependable replacements, they're going to be stuck down here. The lone returning starter is junior end Derrick Morgan, and there's no doubt about his capabilities, but the Jackets will sorely miss the three starters who combined for 100 career starts and 100 tackles for loss. Ben Anderson, Robert Hall and T.J. Barnes are all candidates to start.
11. Duke -- The Blue Devils took a step forward last year and should improve again with the return of tackle Vince Oghobaase and end Ayanga Okpokwuruk, who started five games and had 6.5 tackles for loss and 3.5 sacks. They combined for 9.5 sacks last year. Oghobaase ranks second in the ACC in both career tackles for loss (29.0) and quarterback sacks (11.5). They'll need new starters at nose guard and right end.
12. Maryland -- The Terps have to fill a void left by Jeremy Navarre and Trey Covington, and so far it looks like that will be up to Derek Drummond, Dion Armstrong, Travis Ivey and Jared Harrell, though Armstrong was dealing with some academic issues. The arrival of De'Onte Arnett, Zachariah Kerr, and Cody Blue this past spring should help with the depth.
July, 23, 2008
7/23/08
11:50
AM ET
Posted by ESPN.com's Heather Dinich
Granted, the pool at the Ritz, the lake and the top shelf drinks were somewhat of a distraction this past weekend, but I didn't forget to finish up the remaining position battles left in the ACC. You guys have been doing a great job of reminding me if I'm too heavy on one school or another, so keep keeping me balanced.
All the more reason not to forget the end of the alphabet.
Here's a look at the top spots still up for grabs in Charlottesville, and since there are only 10 returning starters, get comfy:
QUARTERBACK -- This is the most obvious spot, but according to Al Groh, there's not an obvious candidate. It's not like he hasn't dealt with this before. It's the fourth time in Groh's tenure at Virginia that the quarterback job has been contested during fall camp. Scott Deke, Peter Lalich and Marc Verica split time during the spring. Lalich has the most experience, as he completed 35 of 61 passes for 321 yards and two TDs as a true freshman last season. Deke, a senior, played in one game last year and was the starter in the spring game, while Verica, a sophomore, has yet to play.
KICKER/PUNTER -- The most likely replacement for placekicker Chris Gould would be redshirt freshman Chris Hinkebein. The situation at punter is wide open. Senior John Thornton joined the team as a walk-on two years ago but has never played, nor has sophomore Nathan Rathjen, who rejoined the team in the spring after not being on the roster in '07 (he walked on in 2006). Jimmy Howell was one of the team's signees in February and could be in the mix as well. Groh has used true freshmen as punters before (Tom Hagan in 2002, Gould in '04).
DEFENSIVE LINE -- The only thing we're certain of here is who's gone. Junior nose tackle Nate Collins worked with the first unit during the spring in place of the graduated Allen Billyk. Collins has significant experience and is likely to be backed up by redshirt freshman Nick Jenkins, a promising player.
Alex Field, a 6-foot-7, 270-pound senior, is probably going to be Chris Long's replacement at one end. He got the most work there this spring. Redshirt freshman Zane Parr will also be given a chance to get in the rotation.

Sophomore Sean Gottschalk finished with four tackles in nine games last season and will battle redshirt freshman Matt Conrath at the other end spot formerly manned by Jeffrey Fitzgerald. Conrath has good size at 6-foot-7, 269 and is still growing into his body.
OFFENSIVE LINE -- Both tackles are back, including Eugene Monroe, who might be the best left tackle in the league. Center will be contested between sophomore Jack Shields and redshirt freshman Anthony Mihota. Shields, who came to Virginia as a tight end, played in only one game last year. Senior Zak Stair and junior Patrick Slebonick will start out in the competition to replace first-round draft pick Branden Albert at left guard. Stair, previously a tackle, moved inside this spring. Slebonick has made just one appearance in his career. Sophomore B.J. Cabbell took the most snaps at right guard in the spring and is trying to replace the graduated Ian-Yates Cunningham. He's expected to battle redshirt freshman Billy Cuffee.
Check back tomorrow for Virginia Tech, and I'll wrap it up on Friday with Wake Forest.