August, 3, 2012
8/03/12
4:30
PM ET
As ACC teams begin to start practicing again, Andrea Adelson and I will have a quick preview of each team to get you caught up on the basics. Next up to open camp …

School:
Boston College
Start date:
Monday
Projected finish at ACC media days:
Fifth in the Atlantic Division
Biggest storyline:
New faces. Boston College will look a lot different when it opens the season against Miami: No Luke Kuechly. No
Montel Harris
. And a complete overhaul of the offensive staff. Former BC assistants Kevin Rogers and Ryan Day are now coaching at Temple, where Harris transferred after he was dismissed from the team in May for a repeated violation of team rules. The Eagles are now under the direction of first-year offensive coordinator Doug Martin. When compared to last season's coaching staff, four of the five offensive assistants have changed. BC had one of the worst offenses in the country last season, ranking 112th in scoring offense. This overhaul will either be exactly what the Eagles need, or it will be yet another bumpy transition year.
Biggest position battle:
Running back. This group is still crowded, even without Harris on the roster.
Rolandan Finch
,
Andre Williams
and
Tahj Kimble
will be competing for carries. Finch led the team in rushing attempts (157) and yards (705) as a sophomore. Williams is a 6-foot, 220-pound power runner who has 219 career attempts for 978 yards and six touchdowns. Kimble had eight receptions out of the backfield last season and 43 carries.
Who needs to step up:
The linebackers. Kuechly accounted for 535 tackles in three seasons. The Eagles won't replace Kuechly with one person, but senior
Nick Clancy
and juniors
Steele Divitto
,
Andre Lawrence
,
Kevin Pierre-Louis
,
Sean Duggan
and
Nick Lifka
are talented players eager to emerge from Kuechly's shadow.
Opening camp:
March, 5, 2012
3/05/12
3:30
PM ET
The ACC has bid farewell to some outstanding players from 2011. Some of them graduated, others have decided to leave early for the NFL. Whatever their reasons, they left behind some size 15 shoes to fill. Here's a look at who on each team in the ACC will be the most difficult to replace in 2012, and a snapshot of who is or could be next in line to replace him:
Boston College

OUT:
Linebacker
Luke Kuechly
. He might be the most difficult player to replace in the ACC. Kuechly won the 2011 Lombardi Award, given annually to the nation's top lineman or linebacker; the Nagurski Award, given annually to the nation's top defensive player; the Dick Butkus Award, which is presented annually to the nation's top linebacker; and the Lott IMPACT Defensive Player of the Year. He left early for the NFL after finishing his junior season leading the nation in tackles for the second straight year. In 2011, Kuechly set ACC records for tackles in a season (191) and career (532).
IN:
It's an open competition, but
Sean Duggan
played in nine games last year as a true freshman behind Kuechly and on the outside. Duggan had his first career interception at Miami, had three tackles against Virginia Tech and five against Clemson. Coach Frank Spaziani has also said that
Steele Divitto
is versatile enough to earn the starting job in the middle. Divitto, a junior, won the starting job at outside linebacker when Mark Herzlich left. Last year, Divitto was third on the team in tackles with 72, and finished with 3.5 tackles for loss, two sacks, an interception, and five pass breakups. Spaziani said redshirt freshman
Nick Lifka
will also be competing for Kuechly's spot.
February, 17, 2012
2/17/12
12:00
PM ET
Boston College linebacker
Steele Divitto
is a meticulous note-taker. The kind of guy you want to sit next to in class.
Boston College missed out on a bowl game in 2011, but Divitto took a trip of his own to continue learning. Thanks to his dad, Divitto flew to Athletes' Performance in Phoenix, Ariz., for two weeks of additional training.
"After my sessions, I'd take out my notebook and I'd jot down everything I learned, whether it was technique-wise, or eating habits, whatever it was," Divitto said. "I figured if I was going out there, I really should try to get the most out of everything."
[+] Enlarge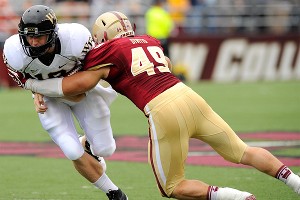 Bob DeChiara/US PresswireBoston College is looking forward to big things from Steele Divitto in 2012.
In turn, Boston College should be getting the most out of Divitto this offseason.
One of the biggest questions Boston College has entering spring practices on Saturday is what the linebackers will look like without All-American
Luke Kuechly
, who left early for the NFL draft. ("It looks like Superman is back in his suit and Clark Kent is there now," coach Frank Spaziani quipped. "That's what it looks like. The cape is gone and we've got the guy in the suit with the glasses.")
As BC fans know, though, the blue-collar working player can get it done, too, and that's just the kind of player Divitto is.
Sean Duggan
and
Nick Lifka
will both be competing for Kuechly's old position in the middle, but Divitto is versatile enough to play there, too. When former linebacker Mark Herzlich left, Divitto won the starting job at strongside linebacker, but he played in the shadow of Kuechly. Now he's looking to establish himself as the team's next leading linebacker.
Divitto spent his mornings in Arizona working on speed training and the evenings were for lifting. He was given a nutrition plan and had the opportunity to measure himself against some of college football's top performers, as several NFL draft prospects were also there.
"Steele is exceptional about putting the extra effort in," Spaziani said. "He's taken ownership of his own future, which is something we all need to do, and he's done a great job with it. He went out to train for a week, did it all on his own, out there by himself. He's just highly motivated and has taken complete ownership of his future and he's a team player. We're excited to see his development. We'll see this spring how far he's advanced."
Divitto was good to begin with. He finished third on the team in tackles last season with 72, and had 3.5 tackles for loss, two sacks, one interception and five pass breakups. The trip to Arizona isn't the first time he's taken the initiative to get better. Last year he boxed during the offseason, and now he's into Muay Thai, which is similar to kickboxing.
Divitto said it's not about him; it's about being the best player he can be for his teammates.
"I always believed that how hard you work throughout the offseason -- everything you do -- how you sleep how you eat, how you breathe, every rep you take in the weight room, every rep you take outside, all of that adds up to how you're going to perform next season," Divitto said. "I've lived my life just going off that hard work means everything. When you play a game, I feel like the outcome is already determined depending upon how much effort you put into it prior."
If that's the case, BC already has a winner.
June, 30, 2010
6/30/10
5:00
PM ET
The Boston College-Notre Dame rivalry just got even more interesting with the Eagles' latest recruit.
BC
got a commitment
from linebacker/fullback Nick Lifka of Naperville, Ill. Lifka's two uncles -- Matt and Greg Dingens -- both played for Notre Dame.
According to the Naperville Sun, Lifka
had offers from 15 BCS schools
, including LSU, Vanderbilt, Duke, Minnesota, Indiana and Iowa State.
BC has one of the smaller classes so far, and it is highlighted by four-star tight end Brian Miller.