October, 21, 2012
10/21/12
1:55
AM ET
MIAMI -- They were warned. All week they were warned.
Forget about what you
think
you know about Miami, the coaches said. Forget about what you
think you see
on tape when you watch Miami. Forget it all. Because come Saturday night, you will see the
real
Miami.
So yes, Florida State coach Jimbo Fisher and his staff tried as hard as they could to make their players truly understand they were going to get a feisty team, a physical team, a team dead-set on pulling the upset and knocking the Seminoles right out of the ACC championship race.
They got that Miami right out of the gate, and, well, it sent Florida State reeling. The No. 14 Seminoles looked sluggish, and started to make untimely mistakes.
Nick O'Leary
made like an Olympic hurdler and fumbled on the Seminoles' first possession. Miami capitalized and scored its first touchdown. The fumbles were contagious, and soon Florida State was losing the football, losing its grip and facing a 10-0 deficit.
Then the next bit of adversity hit: Florida State saw star running back
Chris Thompson
go down.
Then more: a mountain of yellow flags piled up, some of them highly questionable -- certainly enough for young men to lose their composure.
Florida State could have easily crumbled, the way we have seen in the past. But this was a test this team needed, a test the Seminoles had to face head-on, with eyes unblinking. This was their first bit of adversity since the fourth quarter against NC State, and everybody on this team needed to see how their teammates would respond.
"When we got back in the locker room at halftime, we said, 'Look, another 30 minutes. We're not letting up. Let's play like it's 0-0. Let's play like it's the national championship," safety
Xavier Rhodes
said. "We learned our lesson from that loss. It paid off this game here."
[+] Enlarge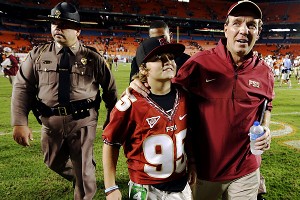 AP Photo/Lynne SladkyJimbo Fisher walks off with son Trey after his team overcame plenty of adversity for a rivalry win.
Florida State took a 13-10 halftime lead and turned it into a
33-20 victory
, completely dominating in the second half with a superior run game, a superior defense and the maturity needed to overcome such adversity.
After fumbling four times in the first half -- and losing two -- Florida State fumbled only one more time and managed to hang on to the ball.
After racking up nine penalties for 82 yards in the first half, Florida State had three more for 39.
After losing Thompson, the Noles found
Devonta Freeman
, who played inspired football with 70 yards rushing and two touchdowns in front of the family and friends who cheered him on and supported him when he was a boy growing up in South Florida.
"I thought it was very big for our kids to overcome what they did today," coach Jimbo Fisher said. "I think it's very big in our development. And that's something we haven't done all year, and to battle in that circumstance and the environment and all the things that went wrong, we could've did the same thing we did up at NC State, but we didn't. We battled back through it and kept staying aggressive in what we were doing, and the kids fought through it."
Players pointed to different reasons for the sluggish start. They were overhyped; they were emotional; they were distracted; they wanted to make every play so badly because of the high rivalry-game stakes.
"We gave those guys a jump-start into what they're doing," quarterback
EJ Manuel
said. "They're revved up, it's their homecoming, and we just can't do that. We put ourselves behind the eight-ball, but luckily we were able to get points before the half and that set us up in the second half."
The initial plan out of halftime was to score a touchdown to deliver the knockout blow. Florida State received the kickoff and made it as far as the Miami 27 before the always-reliable
Dustin Hopkins
missed a 44-yard field goal wide left. So the mistakes continued. But the defense forced a three-and-out, and Florida State managed a field goal on its next possession.
Miami would not go away, and played extremely inspired behind quarterback
Stephen Morris
, a surprise starter after being listed as doubtful going into the game. Rhodes said the Noles prepared all week as if they would see Morris, believing there might have been some gamesmanship going on from the Miami side.
Trailing 16-13, the Hurricanes were still in the game when the fourth quarter began. But the Seminoles finally put together a dominant quarter, scoring on three consecutive possessions to take a commanding 33-13 lead. Freeman scored two rushing touchdowns in the spree, and the Noles could breathe a little easier.
Florida State held the ball for nearly 10 minutes in the fourth quarter, rushing for 79 yards. Miami, on the other hand, held the ball for a little more than five minutes and ran for minus-7 yards. The Hurricanes also lost freshman running back
Duke Johnson
in the game. But the Noles had worn them down.
"Their hits were much softer than they were in the first half," FSU receiver
Kelvin Benjamin
admitted.
Florida State took all the hits, the hard hits, the soft hits, and found a way to win.
Fisher needed to see that. The Seminoles players needed to see that. Now, more than ever.
October, 21, 2012
10/21/12
1:11
AM ET
By
ESPN.com staff
| ESPN.com
Andrea Adelson talks to
Devonta Freeman
after his rushing performance in a 33-20 win over Miami.
October, 20, 2012
10/20/12
11:55
PM ET
MIAMI -- Florida State overcame a sluggish start to beat Miami
33-20
on Saturday night. Here is a quick look at how it happened:


It was over when:
Devonta Freeman
scored from 3 yards out early in the fourth quarter to give FSU a 23-13 lead and put some distance between the Seminoles and Hurricanes. That seven-play drive featured a pretty 39-yard completion from
EJ Manuel
to
Kelvin Benjamin
to get the Noles down to the Miami 20. Freeman had 13 yards on the final three plays of the drive.
Game ball goes to:
Dustin Hopkins
. The Florida State kicker was as reliable as always, overcoming an early miss to make four field goals and provide a big chunk of the offense for the Noles. The last time he made four field goals in a game was against South Carolina in the Chick-fil-A Bowl to end the 2010 season. (You can hold all your "wide right" references, too).
Stat of the game:
12 penalties for 121 yards for Florida State. There were several questionable calls that went against the Noles on Saturday night, including three offensive pass-interference penalties. We can sit here and debate the officiating all night, but the bottom line is that Florida State overcame plenty en route to its third consecutive victory over Miami.
Unsung hero:
Freeman. The Seminoles lost starting running back
Chris Thompson
early in the game to a left knee injury, but Freeman came in and had an impressive performance, running for 70 yards and two touchdowns -- both scores coming in the fourth quarter to blow open the game.
What Miami learned:
The Hurricanes showed signs of life on defense in the early going, but wore down in the second half.
Stephen Morris
showed gumption playing on a sprained ankle, but Florida State was simply the more talented team. Miami now has to set its sights on taking down Duke, which is leading the Coastal Division as we speak.
What Florida State learned:
The Seminoles overcame mistakes, from fumbles to penalties, to put together a decisive win. They also have to be pleased with the depth they showed at running back after Thompson got hurt. Freeman and
James Wilder Jr.
had all three FSU touchdowns.
October, 20, 2012
10/20/12
9:28
PM ET
MIAMI -- Florida State leading rusher
Chris Thompson
injured his left knee in the second quarter against Miami on Saturday night and will not return to the game.
Thompson was hurt following a juggling 32-yard catch, when his knee bent awkwardly while being tackled. He was helped off the field, and the school announced later he was out. At the time of his injury, Thompson had 94 of the Seminoles' 112 total yards.
The senior is a leading candidate to become the ACC's comeback player of the year, after missing most of last season with a broken back. He made his return this season and went into the game with 640 total yards rushing, putting him on pace to become the school's first 1,000-yard rusher since Warrick Dunn in 1996.
Without him, Florida State will rely on James Wilder Jr. and
Devonta Freeman
. Wilder Jr. ran for a touchdown on the drive in which Thompson got hurt.
October, 20, 2012
10/20/12
8:45
PM ET
MIAMI --
Stephen Morris
started at quarterback for the Miami Hurricanes on Saturday night, a bit of a shock considering he was listed as doubtful on the injury report just two days ago.

But Morris looked great in pregame warm-ups -- then looked even better to start the game against No. 14 Florida State, showing no ill effects from the sprained ankle that slowed him during the week. Coach Al Golden had maintained that Miami was going into the game preparing
Ryan Williams
to start, but that may have just been a little bit of gamesmanship in such a crucial week against the longtime-rival Noles.
Morris scrambled several times on the opening drives and hit some terrific passes on the run, including one on third down that led to the Hurricanes' lone touchdown in the early going. His play helped Miami take a quick 10-0 first-quarter lead.
October, 20, 2012
10/20/12
7:00
PM ET
MIAMI -- It is a gorgeous night for football here in South Florida, and the Miami and Florida State fans have showed up early for some pretty terrific tailgating outside Sun Life Stadium.
It certainly feels like the Florida State-Miami rivalry outside. But what will the state of the rivalry look like once the teams kick off in about an hour from now?
Well, much has been made about where Miami stands going into this game, particularly with Florida State ranked No. 14 and the Hurricanes unranked. There are not many giving the Hurricanes a chance to pull the upset. But upsets do happen in this series -- as they often do when two heated rivals play against each other.
Going back to 1980, the lower-ranked OR unranked team has won 12 times. Miami has pulled the upset nine out of those 12 times -- twice as an unranked team. In fact, the last time Miami won in this series, the unranked Hurricanes took down No. 18 Florida State 38-34 in 2009 in Tallahassee.
So one should be careful in counting out Miami, even with the uncertainty surrounding quarterback
Stephen Morris
, who is doubtful to play with a sprained ankle. The Hurricanes are going to come out with a huge sense of urgency, knowing that in-state rivals Florida State and Florida have passed them in the rankings, and perhaps some more national prestige.
There is one other note to pay attention to: Florida State coach Jimbo Fisher has yet to lose a rivalry game against either Florida or Miami. If Florida State beats Miami tonight, it would mark only the second time in school history that the Seminoles have won five straight over their two biggest rivals. Bobby Bowden has the only five-game streak, set between 1977-79.