November, 9, 2012
11/09/12
1:25
AM ET
BLACKSBURG, Va. -- Shh. Don't tell Florida State coach Jimbo Fisher that his No. 10 Seminoles didn't look like a top-10 team for much of Thursday night.
Don't even insinuate it.
Because in the end, it really didn't matter.
Fisher, quarterback
EJ Manuel
, and probably everyone else within the program left Lane Stadium on Thursday night deservedly ecstatic and validated by their
28-22 come-from-behind victory
against a gritty Virginia Tech team that refused to quit. It was an important win not only for the ACC, but also for the Seminoles (9-1, 6-1 ACC), who are now just one win away from clinching the Atlantic Division title for the second time under Fisher. Florida State reached 9-1 for the first time since the 2000 team played for a national championship.
Much like the stunning 17-16 loss at NC State on Oct. 6, it was another down-to-the-wire thriller, but this time, Florida State avoided another disaster on the road in the final minute of the game.
[+] Enlarge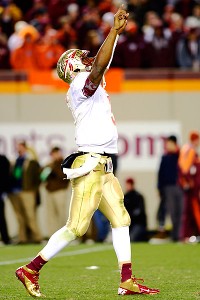 Bob Donnan/US Presswire"I'm just so happy for our team, ecstatic," Florida State QB EJ Manuel, a Virginia native, said.
"We had all kinds of mistakes, there's no doubt," Fisher said. "You'll fix 'em and go on. But you come in here on a Thursday night and win, guys. I'm not disappointed at all. To go 9-1, and be right here and beat Virginia Tech on a Thursday night here. … We can criticize everything we want to criticize, but we came in and won a football game and did a heck of a job competing in the game."
Florida State proved it can win on the road outside of the state of Florida. This was arguably FSU's toughest road trip of the year, but the Noles made it more difficult than it had to be.
An astounding
minus-15
yards rushing by the No. 14 rushing offense in the country? No problem -- the Noles came up with enough big pass plays.
Two turnovers? Small potatoes. The Hokies (4-6, 2-4 ACC) couldn't convert them into points.
Five
sacks? No sweat. Manuel delivered in the clutch.
Only
3-of-14
on third downs?
James Wilder Jr.
's fourth-down conversion on the game-winning drive was bigger.
"People might look and see we didn't execute on a lot of things, and we have to go back and fix those things, but that being said, Virginia Tech, historically, they've always played well on Thursday nights, especially at home," FSU kicker
Dustin Hopkins
said. "I expect more from our guys, and I know everybody else in the locker room does, it's not just me saying that, but at the same time it does feel good to come out of Lane Stadium with a win, because it's not easy."
Even against a Virginia Tech team in the midst of its worst season in 20 years. The Hokies have lost three straight and five of their past six.
Yet somehow they looked like the preseason Coastal Division favorites many expected them to be this season.
That shouldn't come as much of a surprise, considering the Hokies are 11-3 in Thursday night games, and Lane Stadium is one of the most unforgiving road venues in all of college football. Virginia Tech's defense played its best game of the season.
"I told our teammates you're not going to see the same team you see on film," Manuel said. "Virginia Tech is always going to be up and ready to play, especially us. And me being from Virginia, I know those guys, they want to beat me. … I'm just so happy for our team, ecstatic."
With 40 seconds remaining, FSU receiver
Rashad Greene
took what probably should have been an 8-yard catch and instead sprinted 39 yards downfield to give the Noles a 28-22 lead. It was a situation and a scenario the team has practiced numerous times, in its two-minute drills at practice every Thursday.
"When I told them what we were going to call and do, they said, 'That's just like Thursday,'" Fisher said. "I said, 'You're right, here we go.'"
The defense, which had underperformed for much of the game (Tech had 385 total yards and 5.5 yards per play), came up with its most crucial stop when
Tyler Hunter
intercepted
Logan Thomas
with 27 seconds remaining.
Virginia Tech's defense blitzed over and over and over again, leaving the Hokies' defensive backs on an island, and eventually, Florida State exposed that. In a live-by-the-sword, die-by-the-sword gamble, defensive coordinator Bud Foster went with man coverage on the Seminoles' final touchdown drive. For the majority of the night, though, the Hokies had the better defense.
Until the final minute.
The Noles have now beaten the top three teams from the Coastal Division most likely to earn a spot in the ACC championship game: Miami, Duke and Virginia Tech.
They're not quite ready, though, to take the crown.
"We've got to go win a game at Maryland," Fisher said. "I don't ever feel like we've got anything wrapped up. I've been in this long enough to know that. No matter how you play somebody, a second time makes a difference. I just hope we get that opportunity."
With the win over Virginia Tech, FSU got one step closer to it.
November, 9, 2012
11/09/12
12:06
AM ET
BLACKSBURG, Va. -- A quick update on VT defensive back
Michael Cole
from Mike Goforth, VT head athletic trainer:
"Michael Cole suffered a cervical neck sprain this evening against Florida State. He was conscious on the field, able to move all extremities, but had neck pain and numbness in the upper extremities. He was stabilized on the spine board, and transferred to LewisGale Montgomery Hospital for further testing. His CT scan is negative for any fracture, and he will be discharged home tonight."
Great news for Cole and the Hokies.
November, 8, 2012
11/08/12
11:07
PM ET
BLACKSBURG, Va. -- Here's a quick recap of No. 10 Florida State's bizarre come-from-behind
28-22 win
over Virginia Tech in Lane Stadium:


It was over when:
Virginia Tech quarterback
Logan Thomas
threw an interception on the Hokies' final possession of the game, squandering a last chance at a comeback. FSU safety
Tyler Hunter
grabbed the interception with 27 seconds remaining. The pass was intended for
Corey Fuller
. Thomas squatted down in dispair and FSU took over at its own 33.
Game ball goes to:
FSU receiver
Rashad Greene
. He had six catches for 125 yards and two touchdowns. His 76 receiving yards in the first half was his best effort of the season. His second-quarter touchdown was his first since the Clemson game.
Stat of the game:
FSU was held to minus-15 yards rushing. Manuel was sacked five times, the most given up by the Seminoles this season.
Unsung hero of the game:
Virginia Tech's defense. The Hokies played lights out for a majority of the game and were suffocating against the run.
What it means:
The Noles maintained their grasp on the lead in the Atlantic Division race, further closing the door on Clemson, and they proved they can win outside of the state of Florida.
November, 8, 2012
11/08/12
9:45
PM ET
BLACKSBURG, Va. -- Virginia Tech defensive back
Michael Cole
has been taken to LewisGale Hospital in Blacksburg for precautionary reasons after he sprained his neck in the third quarter on Thursday against Florida State. Cole had feeling and movement following a collision in which it looked like he was leading with his head.
It was a scary moment here, as Cole was immobilized and taken off the field by ambulance. For about six minutes, you could hear a pin drop in Lane Stadium, and it was eerily quiet as Cole's teammates surrounded him and trainers examined him.
November, 8, 2012
11/08/12
6:30
PM ET
BLACKSBURG, Va. -- This is one of the most electric, vibrant stadiums in the country for Thursday night football, but something is missing here today -- Hokie hype.
No matter how loud Enter Sandman plays tonight, it's not going to change the fact that Virginia Tech is in the midst of one of its worst seasons in 20 years, as it's the first time the program has fallen below .500 in November since 1992.


According to reporters Norm Wood and David Teel of the Daily Press, the last time Tech was a double-digit underdog at home was the 2001 game against Miami (in which Miami was a 14-point favorite and won, 26-24). Thursday night's game will mark just the third time in the past 20 years Tech is a double-digit underdog at home (the aforementioned 2001 game, and a 1992 game against Miami in which the Hurricanes were favored by 19.5 points, and ended up barely covering in a 43-23 win.)
Lane Stadium should still be rockin' come kickoff against No. 10-ranked Florida State tonight, but it was quiet around the stadium four hours before game time. Some of that can be explained by the fact the parking lots are closed until 4 p.m. so the students can park there for their classes, but this game has lost so much luster because of Virginia Tech's struggles and Florida State's earlier loss at NC State.
Nevermind what could have been, though.
Virginia Tech has a chance to prove it's not done yet, but it's going to have to execute a nearly flawless performance. A few interesting notes for you from ESPN's Stats & Information department:
Florida State has 16 touchdown drives on three plays or fewer this season, the second most in FBS.
Florida State has forced 60 three-and-out drives, the most in FBS this season.
Florida State has given up 16 plays of 20 yards or more, the fewest in FBS this season.
Since the start of 2010, EJ Manuel has completed 73.8 percent of his passes outside the pocket, including nine touchdowns and zero interceptions.
Follow me on Twitter throughout the game
@ESPN_ACC
.
November, 8, 2012
11/08/12
6:00
PM ET

Heather Dinich previews No. 10 FSU at Virginia Tech from Lane Stadium.