ACC:

Noles-Panthers-090213
September, 3, 2013
9/03/13
1:23
AM ET
PITTSBURGH -- The
Jameis Winston
era at Florida State began with a completion.
Then another.
Then another.
Then another.
[+] Enlarge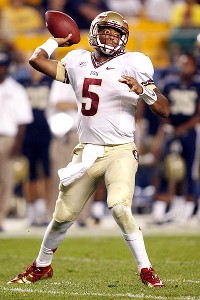 Charles LeClaire/USA TODAY SportsFSU QB Jameis Winston might have done the impossible -- exceeded the already great expectations.
On and on it went this way, Winston playing pitch and catch with his receivers like they were playing seven-on-seven in the sandlot. You thought Winston was the most hyped freshman in college football headed into his first start against Pitt?
The hype has grown tenfold after his nearly perfect performance in the Seminoles' dominating 41-13 win Monday night, a debut that far overshadowed the Panthers' first game in the ACC.
"It's one ball game, guys," FSU coach Jimbo Fisher said postgame, trying to temper expectations that continue to mushroom. Fisher, in fact, did not mention Winston once in his opening statement to reporters following the game.
When he was asked about Winston, Fisher did his best to downplay what the entire country just saw: a 19-year-old freshman going a jaw-dropping 25-of-27 for 356 yards with four passing touchdowns and one rushing touchdown. Winston set the school's completion record; and he set the school's record for passing yards by a freshman in his first start.
Everybody was watching.
EJ Manuel
-- the first-round pick Winston replaced -- tweeted out during the game, "On the edge of my seat watching J pick em apart."
Former Florida State quarterback
Danny Kanell
-- whose completion percentage record was broken -- tweeted his belief that Winston has the tools to be the best quarterback to play at Florida State.
On and on it went, the praise coming from just about everywhere. Florida State was not playing Eastern Michigan, mind you. Pitt ranked in the top 20 in total defense last season and returned nine starters. But Winston made Pitt look grossly overmatched from the very start.
Fisher decided to come out throwing, hoping to get his young quarterback some confidence. Winston jogged out to the huddle for the first time with Florida State already trailing 7-0. The Panthers were pumped. The sellout crowd was screaming.
Winston looked at his teammates and smiled. Receiver
Rashad Greene
turned to him and said, "Let's go, it's your debut!"
"Everyone was excited," Winston said. "It's 'Monday Night Football,' in a pro stadium. I was so pumped for that."
Not only did the nation have to wait until Monday night to see what "Famous Jameis" was all about, the Noles had to wait, too, the last team to the Week 1 celebration. Winston made it worth the wait, living up to the advance billing with the type of game most fifth-year seniors can only conjure in their dreams.
He started an incredible 11-of-11. The only incompletion he threw in the first half was actually caught, but the officials ruled
Kenny Shaw
was out of bounds. Winston kept plays alive with his legs, and made more plays with his athleticism. He wrestled his way out of a sack and ended up with 9 yards.
He fired darts on third-and-long not once, but twice, on a second-quarter scoring drive that put the Seminoles ahead 21-10. So thorough was his performance -- and that of the Seminoles' retooled defense -- that Winston went to the bench early in the fourth quarter.
On top of all those gaudy stats, the number zero stood out, too. Florida State did not commit one turnover.
"I just call it a prophecy being fulfilled," cornerback
Lamarcus Joyner
said. "I've known since this guy's freshman year out there on scout team making plays that a fifth-year senior EJ Manuel was making, throws like that, I said to myself, 'This guy's going to be special.' Tonight he did pretty great for it being a first game."
Folks inside the stadium knew, too. A sign hung from one corner of the end zone in the Florida State section that read, "Here to see Famous Jameis." Members of the chain gang shook hands with Winston on the Florida State sideline as time expired.
And yet, Winston answered questions like a seasoned veteran when the game ended, praising his teammates often. He never boasted about his performance. Did he envision his game going in this exact way?
"I have a lot of dreams," Winston said. "The only thing you can do is expect it to be great. Of course I'm not going in the game thinking I'm going to mess up or do something wrong. I'm going out there to compete and ride on my team because we've got so many great players."
What can he work on?
"I can get better every single day," Winston said. "I had two busts. I got sacked. I don't like getting sacked. There's so many things that's under the table that people don't see. As an athlete you've gotta get better every day if you want to be successful in the sport you do."
That attitude is what gives Fisher the faith that all the adulation, all the hype will not get to Winston after just one game.
"As long as he keeps the process in mind and keeps working with great habits, everything will be fine," Fisher said. "It's not about age. It's about habits. You have good work habits, you get good results."
Imagine that: Better results than the near perfection we saw Monday night.
September, 2, 2013
9/02/13
11:15
PM ET
PITTSBURGH -- No. 11 Florida State overcame an early deficit to
handily beat Pitt
in the Panthers' ACC debut on Monday night. Here is a look at how the Seminoles won:


It was over when:
Jameis Winston
took the field. Partially kidding. Pitt scored on the opening drive, and that was about it for the Panthers. Winston, the redshirt freshman quarterback making his first career start, took over the game from there. Winston completed his first 11 passes and scored four first-half touchdowns -- three passing and one rushing. Winston left no doubt -- he has the talent to be a very special quarterback.
Game ball goes to:
Winston. He was as close to perfect as you could be for a 19-year-old making his first start, with a national television audience watching. Winston ended up going 25-of-27 for 356 yards, with five total touchdowns and no interceptions. He set the Florida State record for most passing yards by a freshman in his first start.
Stat of the game:
3. Tight end
Nick O'Leary
set a career high with three touchdown catches. He and Winston had quite a connection working Monday night.
What Florida State learned:
Winston is for real. Well, Florida State already knew that. The nation now knows after all the advance hype. After a shaky start, the Noles' defense recovered to post a good showing. You saw a much more aggressive group out there. It cost them a few times, allowing Pitt to make some big plays. But they also got after quarterback
Tom Savage
all night, not only sacking him but hitting him often. There were some blown assignments but you can see the talent in this group. They will only get better as they get more comfortable in Jeremy Pruitt's new defense.
What Pitt learned:
The Panthers do have some talent at the skill positions. Freshman
Tyler Boyd
looks like he has the makings of being a special receiver. He and
Devin Street
are players to watch. But the defense really was a disappointment. A group that ranked in the top 20 in the nation a year ago returned the majority of its starters and yet, was completely out of position for most of the night. The secondary -- returning three starters -- did not play up to its potential, leaving Seminoles receivers wide open. If Pitt wants to make some noise in its first ACC season, it is going to have to shore up that defense in a hurry.
September, 2, 2013
9/02/13
6:24
PM ET
By
ESPN.com staff
| ESPN.com

Andrea Adelson previews Monday night's season opener between Florida State and Pitt, the debut of FSU's heralded quarterback Jameis Winston and Pitt's first game in the ACC.
September, 2, 2013
9/02/13
9:00
AM ET


The wait to get things started in 2013 was just a little bit longer for Pittsburgh and No. 11 Florida State, but they'll wrap up opening weekend with a prime-time showdown at Heinz Field Monday night (8 ET, ESPN). Here are five potential keys to the game:
Jameis Winston's debut:
In all fairness, Pittsburgh fans get a first look at their new quarterback tonight, too, as
Tom Savage
makes his debut for the Panthers. But it's no discredit to Savage, who has earned ample praise from FSU's coaches and players this week, to say he's playing second fiddle to the freshman under center for the Seminoles. Winston was one of the most prized recruits in the nation two years ago, and the hype surrounding the multitalented quarterback has only built from there. He's a two-sport star, dominated FSU's spring game and beat out three other talented quarterbacks for the starting job. Now he gets to prove he's ready to live up to all the excitement.
[+] Enlarge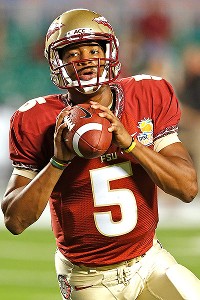 Joel Auerbach/Getty ImagesAfter months of hype, Florida State's Jameis Winston is set for his Monday night debut at Pittsburgh.
New look on defense:
Florida State's defenders have spent the long offseason downright giddy about the changes new coordinator Jeremy Pruitt brought with him from Alabama. When FSU released its official depth chart last week, the personnel shifts were jaw-dropping. And yet Jimbo Fisher insists things won't be that different. Is he playing coy? It's hard to say much of anything about the new-look D until Pitt's offense takes the field, but based on the talk of fall camp, it certainly sounds like the Seminoles are planning to combat Pitt's massive offensive line with a dose of heft on defense, then bring the blitz early and often against Savage, who doesn't exactly bring much mobility to the table. If it's a transition that goes smoothly for FSU, it could mean fireworks. If there are hiccups, Savage is more than capable of exploiting them.
Elite receivers:
Pitt receiver
Devin Street
's 73 catches led the Big East last year. He was third in yards with 975. Pitt considers him a legitimate All-America candidate, but Florida State safety
Karlos Williams
wasn't quite so generous, telling reporters that Street was "productive" but not great. The bulletin-board material grew from there, with Pitt players questioning FSU's secondary in response, and it's all added up to a little more excitement for a matchup that already had plenty of cachet. But perhaps the more intriguing question involves Florida State's receiving corps, which lost three seniors for the season, leaving just four wideouts with previous game experience.
Run the football:
For all the intrigue in this game, one thing is clear: Both sides know how to feed an offensive line. FSU's group checks in at an average of 310 pounds. Pitt tops even that, closer to 314. Both units will be looking to throw their weight around in the ground game Monday night in hopes of making things a bit more comfortable for their quarterbacks. Florida State is led by juniors
James Wilder Jr.
and
Devonta Freeman
, both of whom topped 600 yards on the ground last year. Pitt's situation is a bit murkier. Junior
Isaac Bennett
and freshman
James Conner
both dealt with injuries in fall camp, and sophomore
Malcolm Crockett
could get plenty of playing time, too.
Big-game environment:
The last game of the first week of the season might not be the marquee event, like Clemson-Georgia, but it sure doesn't lack for intrigue. From the two new quarterbacks to the trash talk between players, there's ample buildup. But it's also Pitt's initiation into the ACC, Florida State's first chance to defend its conference title, a national TV game in prime time, and a showdown the Panthers expect will result in a packed house at Heinz Field. So which team responds better to the energy and excitement? Will Winston be rattled by the rabid crowd? Will Pitt be energized by it? Florida State has played in its share of big games before, but plenty of pundits have already chalked this one up as a classic trap game for the favored Seminoles.