August, 21, 2014
8/21/14
8:00
AM ET
With the news that Ohio State lost quarterback
Braxton Miller
for the season, USA Today wondered what the effect might be of a major injury on a few of the other top College Football Playoff candidates,
including Florida State
.
[+] Enlarge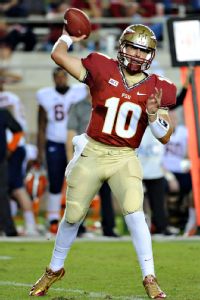 Melina Vastola/USA TODAY SportsEven with second-stringer Sean Maguire at quarterback, Florida State would be an ACC favorite. But maybe not a national favorite.
According to the story, a switch from
Jameis Winston
to
Sean Maguire
at QB would mean roughly 10 fewer points per game and two fewer wins for FSU.
Substitute Maguire for Winston and the Noles still win the ACC championship, but without Winston they only average 33.9 points per game and win 9.4 games on average.
The Orlando Sentinel digs a bit deeper, looking at
what the ramifications of a Winston injury might be
for the Seminoles.
I didn't crunch any serious numbers, as USA Today did, or dig too deep into the roster the way the Sentinel did, but if I was putting together a list of the ACC's most irreplaceable players, it'd probably look something like this:
1. Winston — for obvious reasons, as discussed above.
2.
Duke Johnson
— We saw what happened last year when he went down. Miami was 7-0 with him healthy, 2-4 when he wasn't on the field the whole game. Not to mention the Hurricanes' rushing average was cut in half.
3.
Jamison Crowder
- The guy was targeted 174 times last year (40 more than
Sammy Watkins
) and that was before Duke lost
Braxton Deaver
and
Brandon Connette
.
4.
Eli Harold
- The guy
averaged 24 more snaps per game
than All-American
Vic Beasley
did, and Virginia's defense is predicated on penetrating the line of scrimmage.
5.
Jacoby Brissett
— OK, NC State might not do much this year even with Brissett, but what's the option if he goes down? The Pack's hopes for 2014 are riding almost entirely on his shoulders, and unlike last year, there's actually some reason for optimism.
Beyond that top five,
Mario Edwards Jr.
,
Luther Maddy
,
Norkeithus Otis
and
Tyler Boyd
come to mind, too.
Of course, there's surely a few more players left off the list that warrant discussion. So, who'd we miss?
A few more links:
August, 13, 2014
8/13/14
10:30
AM ET
»
More team previews:
ACC
|
Big 12
|
Big Ten
|
Pac-12
|
SEC
Previewing the season for the
North Carolina Tar Heels
.
Key returners:
QB
Marquise Williams
(1,765 passing yards, 536 rushing yards, 16 TDs), RB
T.J. Logan
(533 rushing yards, 4 TDs), WR
Quinshad Davis
(48 catches, 730 yards, 10 TDs), WR/PR
Ryan Switzer
(872 all-purpose yards, 8 TDs), LB
Jeff Schoettmer
(85 tackles), LB
Norkeithus Otis
(13 TFL, 7.5 sacks), LB
Travis Hughes
(76 tackles), S
Dominique Green
(3 INTs)
Key losses:
TE
Eric Ebron
(62 catches, 973 yards), RB A.J. Blue (298 yards), LT
James Hurst
, C
Russell Bodine
, DB
Tre Boston
(94 tackles, 5 INTs), DE
Kareem Martin
(21.5 TFLs, 11.5 sacks), DB
Jabari Price
(80 tackles, 9 pass breakups)
Most important games:
Sept. 27 at Clemson, Oct. 4 vs. Virginia Tech, Oct. 11 at Notre Dame, Nov. 1 at Miami, Nov. 20 at Duke
Projected win percentage:
.703
Vegas over/under:
8.5 wins
[+] Enlarge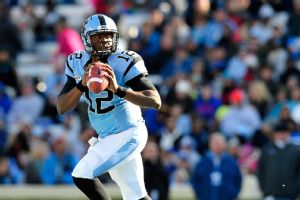 Grant Halverson/Getty ImagesMarquise Williams completed 58.1 percent of his passes last season.
Instant impact newcomers:
Running back
Elijah Hood
is 220 pounds of brute force who figures to be a major asset in UNC's ground game from the outset. True freshman
Bentley Spain
is in the mix for the starting job at left tackle, though spring injuries limited him in the early going. Redshirt freshman Dajaun Drennon could see significant playing time on a badly depleted defensive line. And of course, there's the issue of quarterback, where redshirt freshman
Mitch Trubisky
is still hoping to unseat Williams as the starter.
Biggest question mark:
The line of scrimmage. Larry Fedora says the offensive line may well dictate just how good UNC is as a team, and with the losses of two key players from last year's group and a host of spring injuries, there are still plenty of questions left to be answered in that area. But if the O-line is a major question mark, the D-line isn't much more settled. The losses of Kareem Martin (11.5 sacks) and
Tim Jackson
leave a major void, and some of the talent expected to help fill the gaps --
Shawn Underwood
,
Greg Webb
-- was ruled ineligible before the start of fall camp.
Best-case scenario for 2014:
Fedora finds his quarterback, the O-line jells quickly, the rushing defense improves dramatically from a year ago and UNC finally finds some consistency overall. The schedule won't be an easy one, but if the Heels can get off to a quicker start this year than last, they remain a strong contender for the Coastal Division.
Worst-case scenario for 2014:
The luxury of having two good QBs devolves into a full-fledged quarterback controversy that never is resolved. The O-line looks shaky and the youth on defense becomes a major problem. Four of UNC's toughest games are on the road, which is potentially problematic for a young team, which could mean last year's strong finish fades to a distant memory by mid-October in 2014.
Number to know:
9. That's the number of touchdowns scored last season by North Carolina's defense and special teams -- tied with national champion Florida State for the most by any team from a Power Five conference. Overall, defense and special teams accounted for 16.4 percent of UNC's touchdowns last year, the most by a Power Five conference team. Switzer led the way for the Tar Heels with five punt-return scores.
July, 20, 2014
7/20/14
7:45
PM ET
GREENSBORO, North Carolina -- Reporters began staking out seats in front of the placard that read "
Jameis Winston
" more than an hour before the Heisman-winning quarterback was scheduled to speak. When Winston finally arrived, it was with his typical bluster, as he implored the gawkers to offer a round of applause that his
Florida State Seminoles
had finally wrestled college football's national championship from the clutches of the big, bad SEC.
It was an appropriate entrance, really. After all, it's the SEC that had set the standard for preseason media frenzies, first with Tim Tebow and, at the past year's SEC media days, with Johnny Manziel. But now it was Winston's star power that garnered all the attention.
Winston sat at a small table with his teammate,
P.J. Williams
, perched quietly at the opposite end. The crowd surrounding Winston grew so massive that reporters were standing on chairs just to get a peek, while the other ACC representatives discussed minutia with spartan audiences. But if Winston stole the spotlight, no one seemed upset by the spectacle.
"He's a great player, a great athlete and a great person to be around," BC defensive back
Dominique Williams
said. "He's a funny kid. Guys like us, we're just going about our business, and if people want to talk to us, they'll talk to us."
In fact, there were plenty of players just as eager to meet the ACC's biggest name live and in person.
[+] Enlarge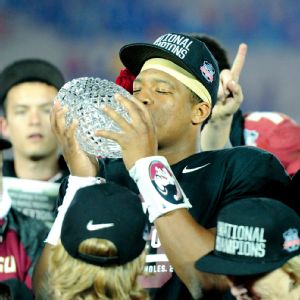 Kirby Lee/USA TODAY SportsJameis Winston reminded those at the ACC's preseason kickoff that he and the Seminoles stopped the SEC's string of national titles this past season.
During the day's photo session, Winston smiled and snapped a selfie with Clemson's
Cole Stoudt
. He cracked jokes with players from Boston College and Wake Forest. When he wrapped up his session with print media, he danced in front of the North Carolina contingent.
"That guy's crazy," laughed Tar Heels' linebacker
Norkeithus Otis
.
His partner at the dais wasn't surprised. UNC quarterback
Marquise Williams
first met Winston at a camp five years ago, then he roomed with the Heisman winner at this past week's Manning Passing Academy. Winston's playful demeanor in the face of so much media scrutiny came as no surprise for Williams.
"I've known that knucklehead," Williams said. "I'm impressed with him. He's not like you think, not cocky. He's humble. He's a real down-to-earth guy. You can tell he won the Heisman, so something had to change, but everybody gets better as they get older. They get more knowledge."
That was a theme for Winston throughout. He didn't offer much in the way of contrition for the off-field incidents that have made him fodder for jokes and a headliner on celebrity gossip sites, but Winston did repeatedly talk about maturing in the spotlight and learning from his mistakes.
"You always have to have a smile on your face," Winston said. "Leadership is not only on the field -- it's off the field too. I know I have guys looking up to me, and I know I have a lot of support from my teammates as well."
The smile endeared Winston to the crowd Sunday, but the lingering concerns about last year's sexual assault investigation and this spring's police citation for stealing crab legs from a local grocery store tinged nearly every question Winston received. That too earned the attention of his colleagues around the room.
"He's a kid that made mistakes -- some bigger than others -- but he's doing a good job of handling himself," Miami tailback
Duke Johnson
said. "He got asked questions that were uncomfortable for him, but he handled himself well."
It was less than a year ago that Winston vaulted into the national spotlight, and he insists that despite all the chaos of a high-profile investigation, a Heisman win and a BCS title, he hasn't changed much. That certainly seemed to be the case Sunday, as he maintained the same air of playfulness and confidence that endeared him to so many Florida State fans from the outset of his career.
But Winston said he also knows Sunday won't be the last time he faces the cameras and answers some uncomfortable questions. Now that he's wrestled a championship from the SEC, he's going to be at the center of college football's universe -- for better and worse.
"I understand my leadership responsibilities for a team that won a national championship and a Heisman trophy," Winston said. "We still have a little fun here and there, and we've still got our mind set on winning another national championship. That's the most important thing."
July, 10, 2014
7/10/14
2:24
PM ET
The 2014 college football season is inching ever so closer, with ACC media days set to take place in less than two weeks.
The league released its list of players who will be attending the July 20-21 event at The Grandover Resort in Greensboro, North Carolina. Here they are:
BOSTON COLLEGE
C
Andy Gallik
, R-Sr.
DB
Dominique Williams
, R-Sr.
CLEMSON
QB
Cole Stoudt
, Sr.
DE
Vic Beasley
, R-Sr.
DUKE
OG
Laken Tomlinson
, R-Sr.
LB
Kelby Brown
, R-Sr.
FLORIDA STATE
QB
Jameis Winston
, R-So.
CB
P.J. Williams
, Jr.
GEORGIA TECH
OG
Shaquille Mason
, Sr.
LB
Quayshawn Nealy
, R-Sr.
LOUISVILLE
WR
DeVante Parker
, Sr.
DE
Lorenzo Mauldin
, Sr.
MIAMI
RB
Duke Johnson
, Jr.
LB
Denzel Perryman
, Sr.
NORTH CAROLINA
QB
Marquise Williams
, Jr.
LB
Norkeithus Otis
, Sr.
NC STATE
RB
Tony Creecy
, R-Sr.
DE
Art Norman
, R-Sr.
PITT
WR
Tyler Boyd
, So.
DB
Ray Vinopal
, R-Sr.
SYRACUSE
OT
Sean Hickey
, Sr.
LB
Cameron Lynch
, Sr.
VIRGINIA
RB
Kevin Parks
, Sr.
SS
Anthony Harris
, Sr.
VIRGINIA TECH
WR
Willie Byrn
, R-Sr.
DT
Luther Maddy
, DT
WAKE FOREST
FB
Jordan Garside
, R-Sr.
CB
Kevin Johnson
, R-Sr.
July, 7, 2014
7/07/14
2:00
PM ET
Do you need a sign college football is close but still just a little too far away? The first preseason award watch lists were released Monday, a list of more than 70 players that
could
be the best in the country by season's end.
It doesn't matter if you have started only three games in your career and haven't played a down since November 2012 -- there is a spot for you on the list.
That said, it's college football and as ridiculous as these often are, I admit I enjoy looking at them. The watch lists for the Maxwell Award, given to the college player of the year, and Bednarik Award, given to the top defensive player, were released Monday. As the season progresses, the list will be pared down before a winner is announced in December.
Here is a look at the ACC players to make the cut and some justification for each player being on the list.
Maxwell Award
WR Tyler Boyd, Pittsburgh:
As a freshman last fall, Boyd was as good of a receiver as there was in the ACC. As the Panthers' No. 1 receiver heading into the 2014 season, Boyd could put up monster numbers and follow in the footsteps of Pitt great Larry Fitzgerald.
[+] Enlarge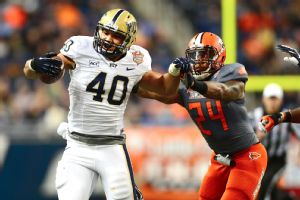 Andrew Weber/USA TODAY SportsJames Conner set a Pitt record with 229 yards in the Panthers' bowl win over Bowling Green.
QB Jacoby Brissett, NC State:
This is not a knock on Brissett, but his inclusion is certainly puzzling considering he sat out all of 2013 after transferring from Florida, where he saw limited time as a starter and backup. However, the Wolfpack staff is high on Brissett leading the program's turnaround, and Brissett was a blue-chip high school recruit.
WR Stacy Coley, Miami:
Much like Boyd, Coley had a strong freshman season and is poised for a breakout sophomore campaign. One of the country's elite recruits in 2013, Coley could make a national name for himself if he can build a connection with Miami's quarterbacks, which have struggled with inconsistency and injury.
RB James Conner, Pitt:
It's almost unfair Conner was limited to just the Maxwell watch list Monday considering he is a two-way standout for the Panthers. Conner is already a huge fan favorite in the Steel City for his bruising and relentless running style, and he broke Tony Dorsett's school bowl-game rushing record in December.
WR Jamison Crowder, Duke:
Any time you catch more than 100 passes for more than 1,300 yards, you deserve to be on this list.
RB Duke Johnson, Miami:
Johnson's inclusion here is a credit to how dominant he was before the injury against Florida State and how woeful Miami looked after. If he can stay healthy, Johnson has the potential to be an elite back nationally.
WR DeVante Parker, Louisville:
As the Cardinals' leading returning receiver and now in Bobby Petrino's offense, Parker should light up stat sheets this coming season.
WR Rashad Greene, Florida State:
There is a lot of uncertainty surrounding the Seminoles' receivers, but none of it includes Greene, who led the Noles in receiving in 2013. With Kelvin Benjamin and Kenny Shaw in the NFL, Greene will be looked upon to bail out
Jameis Winston
this fall.
QB Jameis Winston, Florida State:
Speaking of Winston, the Maxwell is about the only thing he did not win last season. Another spectacular season and it will be hard to ignore him again.
RB Karlos Williams, Florida State:
Similar to Brissett, this is a bit of a projection pick, although Williams has done significantly more than Brissett. Williams was the third-string running back in 2013, but with his five-star talent base coupled with a senior-laden offensive line and Williams could set records in his final season in Tallahassee.
Reaction:
While Brissett is obviously a surprise, overall it is hard to argue with much of the list. Williams' inclusion might be pushing it a little bit, although he certainly could be one of the best running backs in the country with his blend of size and speed. It's a positive sign for the ACC that several underclassmen are on the list, including special playmakers Boyd, Coley and Conner, who will all be true sophomores this fall. The biggest question is whether Winston will win the award if he performs the way most expect him to as a redshirt sophomore. AJ McCarron won the award last season over Winston, who was a semifinalist along with Johnny Manziel. Winston's off-the-field issues might have played a role, so it would be interesting to see if the Maxwell Award will continue to take those incidents into account.
---
Bednarik Award
LB Stephone Anthony, Clemson:
A third-team All-ACC selection last season, Anthony was brilliant in the Orange Bowl win against Ohio State with 11 tackles and an interception.
DE Vic Beasley, Clemson:
A semifinalist for the award last season, Beasley is a disruptive force in opponents' backfields. If he can show a little more consistency, he might win the award in 2014.
[+] Enlarge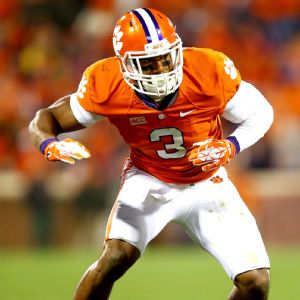 Streeter Lecka/Getty ImagesClemson's Vic Beasley is among the favorites to repeat as a finalist for this season's Bednarik Award.
LB Kelby Brown, Duke:
The Blue Devils under David Cutcliffe are most known for offense, but Brown is a stout defender and one of the conference's best. He will make a run at 100 tackles for a second straight season this fall.
DB Jeremy Cash, Duke:
Cash was an instant impact player for the Blue Devils a season ago following a transfer from Ohio State. With another year in the system, Cash is poised for a huge season.
DL Mario Edwards, Florida State:
The former No. 1 recruit nationally was dominant in the national championship. Edwards is now the leader of the defensive line and has just as good a chance as any to win the Bednarik.
DB Anthony Harris, Virginia:
An All-ACC selection as a junior, Harris will be looked upon to lead the turnaround for the Cavs on defense. It is a talented unit, and Harris, a team captain this fall, might be the best.
DE Eli Harold, Virginia:
Last season he finished sixth in the ACC with 15 tackles for loss, an impressive number. He could see his numbers improve drastically with five-star
Andrew Brown
now at defensive tackle.
DB Kendall Fuller, Virginia Tech:
An impact performer as a freshman and a second-team All-ACC selection, Fuller is set to be the next great defensive back at Virginia Tech.
DT Grady Jarrett, Clemson:
With Beasley constantly seeing double teams, this opens up the door for Jarrett to be an interior force for the Tigers' defensive line, which is arguably the country's best.
DT Luther Maddy, Virginia Tech:
He helped make a name for himself against Alabama at the beginning of the season, and his strong play continued throughout the year.
LB Lorenzo Mauldin, Louisville:
It will be interesting to see how he fares without defensive guru Charlie Strong, but is as talented as they come.
DE/LB Norkeithus Otis, North Carolina:
Otis is another player poised to possibly gain national recognition and it begins with his inclusion on this list. He had a very strong junior season with 6.5 sacks.
LB Denzel Perryman, Miami:
One of the few bright spots on Miami's defense last season, Perryman is the unquestioned leader of the Hurricanes' defenses. He could put up a huge number of tackles this fall.
CB P.J. Williams, Florida State:
Williams was one of FSU's best players this spring, and he might be the country's best cornerback. His stiffest competition could come from the opposite side of the field in teammate
Ronald Darby
, who surprisingly did not make the list.
Reaction:
It was surprising Darby's name was not included on the list despite missing the spring. He could be the first cornerback taken in the NFL draft next year. The ACC is home to some of the country's best defensive backs with Williams, Fuller and Harris. Beasley is certainly one of the favorites coming into the season, but he was shut down by Florida State last season and will need to rebound against the Seminoles to make a push for the Bednarik as a senior. His sack numbers should be impressive once again, and if he can perform on the big stages, it might be the little extra that wins him the award this season. FSU's Edwards could be the best defensive lineman in the ACC and the country if he plays like he did against Auburn all season. What could hurt Edwards is he will not always be in a position to pile up sacks and tackles even when he is dominating opposing offensive linemen.
May, 16, 2014
5/16/14
9:00
AM ET
Last weekend's
NFL draft
in which 42 ACC players were selected was a reminder of how much talent was departing the conference. But just as
Sammy Watkins
,
Aaron Donald
and
Kyle Fuller
say goodbye, the focus turns to the players who'll step into the spotlight in 2014.
With that in mind, here's a quick look at the top returning players in the ACC this upcoming season, based on their stats from 2013. (Last year's ACC ranking in parentheses.)
[+] Enlarge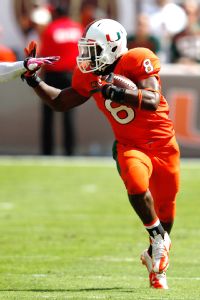 Robert Mayer/USA TODAY SportsMiami tailback Duke Johnson rushed for 920 yards in 2013, despite missing five games due to injury.
PASSING YARDS
1.
Jameis Winston
, FSU - 4,057 (1st)
2.
Anthony Boone
, Duke - 2,260 (6th)
3.
David Watford
, Virginia - 2,202 (9th)
Of note:
The turnover at the quarterback position has already gotten its share of press, but it's almost impossible to overstate how green the QBs across the ACC will be in 2014. Of the 23 players who passed for at least 250 yards in 2013, only seven will be back in 2014. Watford, the third-leading returning QB, isn't projected to start at Virginia, and
Marquise Williams
, who ranks fourth among returners, is locked in a battle for the starting job at North Carolina, too. Next up among definitive starters is Syracuse's
Terrel Hunt
, who finished 14th in the league in passing last season.
RUSHING YARDS
1.
Kevin Parks
, Virginia - 1,031 (2nd)
2.
Duke Johnson
, Miami - 920 (5th)
3.
James Conner
, Pitt - 799 (8th)
4.
Isaac Bennett
, Pitt - 797 (9th)
5.
Shad Thornton
, NC State - 768 (11th)
Of note:
Louisville's
Dominique Brown
would actually rank third on this list after racking up 825 rushing yards last season, good for fourth in the AAC. Including Brown, the ACC returns 11 running backs this year who accounted for at least 500 yards on the ground in 2013, though Miami's
Dallas Crawford
(558 yards) is currently working with the Hurricanes' secondary. Parks returns after a 1,000-yard season. The last running backs to return following a 1,000-yard effort in the ACC were Gio Bernard and Andre Ellington in 2012. Both topped 1,000 again in their follow-up campaigns.
RECEIVING YARDS
1.
Jamison Crowder
, Duke - 1,360 (2nd)
2.
Tyler Boyd
, Pitt - 1,174 (3rd)
3.
Rashad Greene
, FSU - 1,128 (5th)
4.
Quinshad Davis
, UNC - 730 (13th)
5.
Willie Byrn
, Virginia Tech - 660 (14th)
Of note:
Louisville's
DeVante Parker
would rank fourth on this list. He had 885 yards last season, good for seventh in the AAC. Crowder is in position to reach 1,000 receiving yards for the third straight season and is 1,153 yards shy of breaking former teammate Conner Vernon's ACC record. The Hokies have three of the top seven returning receivers in terms of yards.
TACKLES PER GAME
1.
David Helton
, Duke - 9.5 (1st)
2.
Jeremy Cash
, Duke - 8.6 (3rd)
3.
Denzel Perryman
, Miami - 8.3 (5th)
4.
Kelby Brown
, Duke - 8.1 (7th)
5.
Ryan Janvion
, Wake Forest - 7.9 (8th)
[+] Enlarge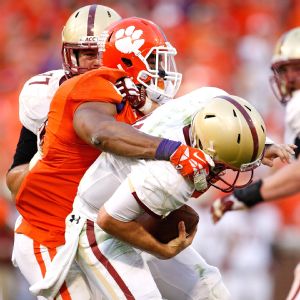 Tyler Smith/Getty ImagesClemson's Vic Beasley has 21 sacks in his career.
Of note:
Duke's front four took a big hit with the loss of three senior starters, but the back seven should be one of the most experienced and productive in the conference. Of the 25 ACC players with at least 50 solo tackles last season, 12 return this season.
INTERCEPTIONS
1.
Ant Harris
, Virginia - 8 (1st)
2.
Kendall Fuller
, Virginia Tech - 6 (2nd)
3.
Brandon Facyson
, Virginia Tech - 5 (3rd)
Of note:
Eleven ACC players had at least four interceptions last season, and a whopping nine of them return in 2014, including sophomores Facyson and Fuller at Virginia Tech. Add to that list two more returners from Louisville in
Charles Gaines
(5 picks) and
Terell Floyd
(4 picks), and the young QBs in the ACC in 2014 are going to have a lot to worry about.
SACKS
1.
Vic Beasley
, Clemson - 13 (1st)
2.
Eli Harold
, Virginia - 8.5 (9th)
2.
Norkeithus Otis
, UNC - 8.5 (9th)
4.
Luther Maddy
, Virginia Tech - 6.5 (12th)
5. Adam Gostis, Georgia Tech - 5.5 (16th)
Of note:
Louisville's
Lorenzo Mauldin
(9.5 sacks) would be second on this list. And here's a number that should have a lot of Clemson fans excited: Of the 32 players who finished with at least 10 tackles for loss last season, just 13 will be back in the ACC in 2014. Of those 13 returners, five play for the Tigers.
March, 5, 2014
3/05/14
10:30
AM ET
North Carolina was an enigma in 2013, opening the season 1-5 before finishing as one of the nation's hottest teams. The Tar Heels look to keep that momentum going as they open spring practice Wednesday. We talked with head coach Larry Fedora about what's in store for North Carolina as the players return to the practice field for 2014.
You won six of your last seven games, including the bowl. How can that strong finish to 2013 help you as you kick off spring practice this year?
Larry Fedora:
It enables you to go into the offseason with a lot of excitement and a lot of enthusiasm and a lot of young kids are understanding now what it takes to win. It took us a while just to learn. We were so young last year with nine seniors on the team, it took us a while for those young kids that were playing to understand what it truly took to win at this level.
So many young players made a big impact in your turnaround last season. Can you see a difference in them this offseason?
[+] Enlarge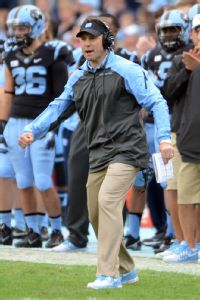 Rob Kinnan/USA TODAY SportsLarry Fedora's North Carolina team ended up the season as one of the nation's hottest teams.
Fedora:
They realize the success they had because of how hard they worked, so you can push even harder at this point in the offseason. Nobody wants to start out 1-5 again. A lot of guys learned some great lessons throughout the season and grew up and it makes us very excited about this upcoming season.
You've said it will be an open competition at quarterback. What more do you want to see from Marquise Williams, and what do you think Kanler Coker and Mitch Trubisky can add to the mix?
Fedora:
Marquise started six games for us, took us to a bowl game and won. He has the advantage because he's been there, been in the fire. But we still want to have to earn everything we get at every position -- not just his. We have returning starters, and he would be one of them. But you want to have competition at each position. We're not there yet, but we're building there. We're building depth, so guys compete. And if they're competing, they'll be that much sharper, play that much better.
You bring in Kanler Coker and Mitch Trubisky and allow them to compete with Marquise. Both are similar to Marquise. All three of them run very well. They all can throw the football. All fit this style of offense well, including Marquise. So we're excited about the competition we're having at that position.
Ryan Switzer made such a big impact on special teams last year. How can you try to get him more involved offensively in 2014?
Fedora:
There were a lot of ways to get the ball in his hands last year; it's just that he was one of those young guys that the light didn't really come on until five or six games into the season. When he settled down and started realizing "I've been doing this for a long time, and it just happens to be my first year in college doing it," then he really exploded.
We don't have to design other ways to get him the ball. Within our offense, we have plenty of ways to get the ball in playmakers' hands. He's proven he's a playmaker and he will get more balls.
The running game struggled at times last year, but you've got a good stable of runners returning. How do you see that dynamic shaking out?
Fedora:
We were really disappointed in our production in the running game last year, so we've really challenged all of those guys at that position. We've got to get much more out of them. Start off with
T.J. Logan
, who was another of those young guys who, as the season went on, he got much better. He had an injury and didn't really play until the sixth game, and so by the end of the year, he was probably where he would've been about midseason. So we're excited what he's bringing back.
Khris Francis
was another true freshman that played at that position that has a lot of talent that we're excited about.
Romar Morris
is back. He probably has the most experience of everybody. Then you bring
Elijah Hood
into the mix.
Eric Ebron was a unique talent. How can you replace that production offensively? Can one player pick up all the slack?
Fedora:
That was a comfort level for our quarterbacks, knowing that you could put the ball up to Ebron and he was probably going to bring it down.
Jack Tabb
will most likely step into that role. We've got
Brandon Fritts
, an incoming freshman, that is here. We have
Eric Albright
there;
Tyler Alberts
is moved into that position. We're going to have some good competition there this spring. We're going to have a tight end on the field. Jack has the opportunity to be just as productive as Ebron was, and this enables other receivers on the field to get more balls also.
The defense really struggled against the run last season, but like the rest of the team, it seemed to improve as the season went along. How much better can the run defense be this year?
Fedora:
We were a young football team, and we've got guys that are going to now have some experience. We're going into our third year of the defense, and we've had stability on that side. Our guys know what's going on; they know what's expected of them. We've got to be much better against the run. When you look at it and break it down, you'll see early on we had some missed tackles that really hurt us, and we gave up some big plays. If we can eliminate those things and get much better in those areas, we're going to be a much better defense.
[+] Enlarge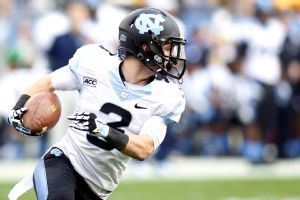 Charles LeClaire/USA TODAY SportsRyan Switzer made five punt returns for touchdowns as a freshman, and North Carolina will look for more ways to get him the ball.
As you've monitored the offseason thus far, are there a few players you're particularly excited to get a closer look at this spring?
Fedora:
You've got
M.J. Stewart
, who is a young kid that's come in.
Allen Artis
is another one on defense. Those guys in the secondary are here.
Desmond Lawrence
and
Brian Walker
got quite a bit of playing time last year.
T.J. Jiles
in the secondary will have to step up.
Sam Smiley
, who missed the whole season with an injury.
Dominique Green
was a true freshman who started at safety for us the entire season. We're going to be so much better in that back end with
Tim Scott
back,
Malik Simmons
. These are all young guys who have played quite a bit.
Linebacker with
Travis Hughes
back with a lot of experience.
Norkeithus Otis
had a great year last year and I expect him to be even better his senior year.
Darius Lipford
. Inside, we're going to count on guys like
Ethan Farmer
and
Shawn Underwood
and
Justin Thomason
that have some big shoes to fill.
We mentioned Switzer's impact as a punt returner, but it's tough to repeat a performance like that now that teams are aware of what a weapon he is. How's he preparing for 2014 on special teams?
Fedora:
There's no doubt. He works hard and he wants to be the best. But he knows now, and I've tried to prevent him -- there's going to be some frustration involved this year until we find out exactly what teams are going to do. The majority of them probably won't kick to him, and that's going to cause some frustration. But we're going to have to find ways to combat that.
January, 9, 2014
1/09/14
9:00
AM ET
Bowl season was kind to the ACC in a few games (Florida State and Clemson won BCS games), not-so-kind in a few others (Miami, Virginia Tech, we're looking at you) and at least one was a little of both (can we get Texas A&M and Duke every year?). But now that it's all over, we're honoring the best individual performances in the ACC with our all-bowl team.
OFFENSE
QB: Tajh Boyd, Clemson:
The big stage hadn't been kind to Boyd through most of 2013, but on the first day of 2014, he was exceptional. Boyd accounted for 505 yards and six touchdowns in a Discover Orange Bowl win over Ohio State, giving the ACC two BCS bowl game victors.
RB: James Conner, Pittsburgh:
The freshman tailback carried 26 times against Bowling Green, blowing past Tony Dorsett for the Pitt bowl game record with 229 yards on the ground. For good measure, Conner chipped in on the defensive line for a few snaps, too.
RB: Devonta Freeman, Florida State:
It wasn't the most spectacular performance of bowl season -- Freeman wasn't even the best running back on the field in the BCS title game -- but his hard running early kept FSU from falling too far behind, and his final tally -- 11 carries for 73 yards and a TD -- helped Freeman become the first FSU running back since Warrick Dunn to top 1,000 yards on the season.
[+] Enlarge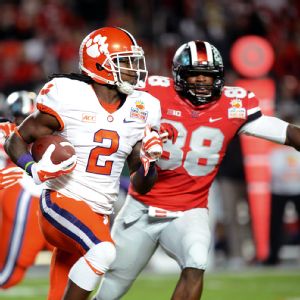 Cal Sport Media/AP ImagesOhio State wasn't able to catch Sammy Watkins, as the Clemson WR set multiple Orange Bowl receiving records.
WR: Sammy Watkins, Clemson:
Watkins made his last game in a Clemson uniform one to remember, catching an Orange Bowl record 16 passes for 227 yards and two touchdowns despite battling an injury for half the game.
WR: Jamison Crowder, Duke:
Ho-hum, another 12 catches for 163 yards and a touchdown for Crowder, who turned in one last stellar performance to cap an exceptional season for the Blue Devils.
WR: Rashad Greene, Florida State:
The Seminoles' dramatic comeback against Auburn in the BCS championship game wouldn't have been possible without Greene's big day. He was the only FSU receiver with positive yardage in the first half of the game, and his 49-yard reception -- he dodged two tacklers and picked up most of that yardage after the catch -- was the key play on FSU's dramatic last-minute, game-winning drive.
TE: Braxton Deaver, Duke:
The junior had six catches for 116 yards, including three grabs that went for 25 yards or more and five that went for first downs.
OL: Dorian Johnson, Pitt:
The Panthers simply overwhelmed Bowling Green's defensive front in the Little Caesars Bowl, racking up 487 yards of offense, including 255 on the ground. (
Ed. note:
We mistakenly included Matt Rotherham here in an initial post. Johnson slid from tackle to guard for the game, replacing Rotherham, and the Pitt line didn't miss a beat. We apologize for the error.)
OL: Jon Heck, North Carolina:
Cincinnati entered the Belk Bowl second in the AAC in sacks with 35, but the Bearcats couldn't get to UNC QB
Marquise Williams
, as the Tar Heels' offense racked up 39 points -- the second-most Cincinnati gave up all season.
OL: Laken Tomlinson, Duke:
The Blue Devils racked up 661 yards of total offense and 29 first downs against Texas A&M, with the offensive line -- led by Tomlinson -- paving the way for a 300-yard passer and a 100-yard rusher.
OL: Tre' Jackson, Florida State:
Yes, the Seminoles' line allowed four sacks in the game, but Jackson and Co. also helped FSU run for more yards per carry (4.8) than the vaunted Auburn ground game and provided
Jameis Winston
with plenty of time to throw on a dramatic game-winning drive in the final minute.
C: Macky MacPherson, Syracuse:
The Orange rushed for 208 yards and three touchdowns, including the game-winner with 1:14 left, to knock off Minnesota in the Texas Bowl. The physically dominant performance on the line was a fitting conclusion to MacPherson's Syracuse career.
DEFENSE
DE: Mario Edwards Jr., FSU:
Edwards had one sack and three tackles for loss among his six total tackles for a Seminoles front that turned it up a notch in the second half, allowing the offense to catch up and ultimately escape with the win.
DT: Andre Monroe, Maryland:
The Terrapins' finale as an ACC member ended on a sour note with a 31-20 loss to Marshall in the Military Bowl presented by Northrop Grumman. Monroe tied for a game-high with 10 total tackles, three of which went for a loss, one of which was a sack. Monroe added a quarterback hurry as well.
DT: Aaron Donald, Pitt:
With one more game to go in a historic season, Donald did not disappoint. The senior closed out his career with two tackles for loss, including one sack, to go with a pass break-up in the Panthers' 30-27 Little Caesars Pizza Bowl win over Bowling Green. Donald's sack came on second down of the Falcons' final drive, all but sealing the win.
DE: Vic Beasley, Clemson:
Beasley was part of a Tigers front that made life extremely difficult for
Braxton Miller
and the rest of the Ohio State backfield. Beasley recorded four tackles for loss and a sack among his five total tackles, and in the end Clemson's defense proved to be the difference in a shootout win.
LB: Norkeithus Otis, UNC:
The Tar Heels capped their strong second half with a bang, routing Cincinnati 39-17 in the Belk Bowl to make them 6-1 over their last seven games. Otis tallied seven total tackles -- two for loss and one sack among them -- to go with two quarterback hurries.
LB: Jack Tyler, Virginia Tech:
UCLA proved to be too much for the Hokies in a 42-12 win in the Hyundai Sun Bowl, but Tyler played well, totaling seven tackles, including half of a sack, to go with one pass break-up and one quarterback hurry.
[+] Enlarge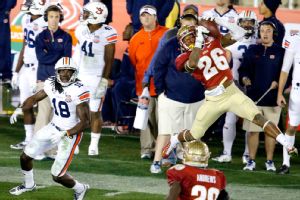 AP Photo/Gregory BullP.J. Williams' interception was the big break Florida State needed to create in its come-from-behind victory over Auburn in the BCS title game.
LB: Cameron Lynch, Syracuse:
The Orange finished a successful first season in the ACC by topping Minnesota 21-17 in the Texas Bowl. Lynch, a junior, tied for a team-high with eight stops, with most of his big plays coming behind the line of scrimmage. He had two tackles for loss, one sack and a forced fumble to help Syracuse go 7-4 after an 0-2 start in coach Scott Shafer's first year.
DB: P.J. Williams, FSU:
The defensive MVP from the Vizio BCS National Championship came up huge when it mattered most, picking off Auburn's
Nick Marshall
early in the fourth quarter to set up a touchdown that cut the Tigers' lead to one. Williams finished with seven total tackles and 0.5 tackles for loss.
DB: Jemea Thomas, Georgia Tech:
Thomas ended his college career with a bang, totaling a game-high 15 tackles. Three of those stops were behind the line of scrimmage, including one sack.
DB: D.J. White, GT:
The Yellow Jackets get two more years of White, a future that looked all the brighter in the 25-17 loss to Ole Miss in the Franklin American Mortgage Music City Bowl. White finished with 13 total tackles, two forced fumbles, one interception and three pass break-ups.
DB: Bryce Jones, Boston College:
The Eagles' turnaround campaign under Steve Addazio ended on a down note, falling to Arizona 42-19 in the AdvoCare V100 Bowl, but Jones was a bright spot, with the sophomore notching a team-high 12 tackles, including one for loss.
SPECIAL TEAMS
K: Chris Blewitt, Pitt:
Blewitt went 3-for-4 for the Panthers in Detroit, connecting from 25, 28 and, most important, 39 yards with the game-winning kick with 1:17 left in Pitt's 30-27 win.
P: Tommy Hibbard, UNC:
Hibbard was phenomenal for the Tar Heels, punting four times for an average of 44.2 yards per boot. He pinned Cincinnati inside its own 20 three different times, and he had a long of 59 yards in the win.
KR: Levonte Whitfield, FSU:
At the time, Whitfield's 100-yard kickoff return for a touchdown seemed as if it would go down as one of the greatest returns in BCS championship game history. The touchdown gave Florida State a 27-24 lead with 4:31 to play -- but the lead would change twice more before it was over. Whitfield finished the game with 172 return yards.
PR: Ryan Switzer, UNC:
The Tar Heels had a huge day on special teams in a Belk Bowl win over Cincinnati, with Switzer -- an All-American -- leading the way, returning his fifth punt of the season for a touchdown.
November, 4, 2011
11/04/11
10:30
AM ET
By
ESPN.com staff
| ESPN.com
Here are the injury reports from the schools that reported them this week:
DUKE
Probable
S Walt Canty (upper body)
S Matt Daniels (upper body)
CB Zach Greene (leg)
Questionable
DT Jamal Bruce (leg)
CB Johnny Williams (leg)
Out
S Lee Butler (leg)
QB
Brandon Connette
(upper body)
Out for season
TE
Jack Farrell
(leg)
DE Kenny Anunike (leg)
MARYLAND
Out for season
WR
Tyrek Cheeseboro
DB Makinton Dorleant
OL Andrew Gonnella
DB Avery Graham
LB Garrett Lederman
DB Matt Robinson
DL Isaiah Ross
TE
Dave Stinebaugh
LB Kenny Tate
Out
DL Cody Blue
Doubtful
DL Justin Anderson
Questionable
DL Clarence Murphy
MIAMI
Probable
Jon Feliciano-Lower Extremity
Out
Luther Robinson-Lower Extremity
Shayon Green-Lower Extremity
Curtis Porter-Upper Extremity
Rashawn Scott
-Upper Extremity
Surgery/Out for season
Marcus Forston-Lower Extremity
Ramon Buchanan-Lower Extremity
Corey White-Lower Extremity
Erik Lichter-Upper Extremity
Blake Ayles
-Upper Extremity
NORTH CAROLINA
Out
Casey Barth, PK Thigh
TJ Leifheit, OT Ankle
Matt Merletti, FS Knee
Norkeithus Otis, LB Thigh
Devon Ramsay, FB Knee
Reggie Wilkins, WR Ankle
Questionable

DJ Bunn, SS Knee
Mark McNeill, WR Hip
NC STATE
Out for season
Jarvis Byrd - Knee
Mustafa Greene - Foot
Sterling Lucas - Knee
Jeff Rieskamp - Shoulder
Out
Taylor Gentry
- Foot
D.J. Green - Foot
Jake Kahut - Knee
Brandon Pittman - Leg
Questionable
Thomas Teal - Foot
VIRGINIA
Out
Pablo Alvarez (upper extremity)
Charlie Richards
(upper extremity)
Daquan Romero (lower extremity)
E.J. Scott
(medical)
Bobby Smith
(lower extremity)
Tyler Smith (lower extremity)
Matt Snyder
(lower extremity)
Michael Terrell
(lower extremity)
Joseph Williams (lower extremity)
Questionable
Cam Johnson (lower extremity)
Probable
Sean Cascarano (trunk)
Matt Conrath (lower extremity)
Kevin Parks
(upper extremity)
October, 7, 2011
10/07/11
10:30
AM ET
By
ESPN.com staff
| ESPN.com
Here are your weekly injury reports, from the ACC schools that reported them:
BOSTON COLLEGE
OUT

WR
Ifeanyi Momah
(knee)
DB CJ Jones (knee)
DL Connor Wujciak (shoulder)
TB
Montel Harris
(knee)
DL Kaleb Ramsey (foot)
DOUBTFUL

RB Andre Williams (leg)
QUESTIONABLE

OG Nate Richman (back)
OG Ian White (foot)
CLEMSON
OUT

DE Joe Gore (knee)
PK Spencer Benton (shoulder)
PROBABLE

RB
Andre Ellington
(hamstring)
RB
D.J. Howard
(hamstring)
RB
Mansa Joseph
(hamstring)
FLORIDA STATE
OUT

Willie Haulstead
(head)
Henry Orelus (head)
Josh Gehres
(knee)
Darious Cummings (hand)
Jarred Haggins
(hand)
QUESTIONABLE

Nick Moody (leg)
Garrett Faircloth (head)
Andrew Datko (shoulder)
GEORGIA TECH
OUT FOR SEASON

S Fred Holton
DL Jimmie Kitchen
OUT
LB Brandon Watts
QUESTIONABLE
LB Jeremiah Attaochu
LB Daniel Drummond
MARYLAND
OUT FOR SEASON
DB Matt Robinson
TE
Dave Stinebaugh
OUT FOR GAME
DL Justin Anderson
LB Darin Drakeford
OL Justin Gilbert
LB Garrett Lederman
DL Andre Monroe
DL Isaiah Ross
LB Shaquan Virgil
DOUBTFUL
LB Kenny Tate
PROBABLE
PK Nick Ferrara
TE
Matt Furstenburg
MIAMI
OUT

Luther Robinson (lower extremity)
Jalen Grimble (lower extremity)
Thurston Armbrister (upper extremity)
SURGERY/OUT FOR SEASON

Marcus Forston (lower extremity)
Ramon Buchanan (lower extremity)
Corey White (lower extremity)
Curtis Porter (upper extremity)
Eric Lichter (upper extremity)
Blake Ayles
(upper extremity)
NORTH CAROLINA
OUT
PK Casey Barth (thigh)
OT Kiaro Holts (wrist)
FB
Devon Ramsay
(knee)
DOUBTFUL
WR Josh Adams (illness)
RB
Matt Kolojejchick
(thigh)
LB Norkeithus Otis (foot)
QUESTIONABLE
RB AJ Blue (ankle)
C Cam Holland (back)
OT TJ Leifheit (ankle)
LB Ebele Okakpu (ankle)
LB Kevin Reddick (ankle)
CB Terry Shankle (knee)
SS Jonathan Smith (ankle)
VIRGINIA TECH
OUT FOR SEASON

Kwamaine Battle (knee)
Antoine Hopkins (knee)
Dyrell Roberts
(arm)
OUT

Eric Martin
(shoulder)
David Wang (foot)
September, 16, 2011
9/16/11
10:30
AM ET
By
ESPN.com staff
| ESPN.com
Here are your weekly injury reports for the schools that have released them:
CLEMSON
Out
Joe Gore, DE, Knee
David Smith, OG, shoulder
Will Play
Rashard Hall, FS, knee
DUKE

S Jordon Byas (foot) – Probable
K Will Snyderwine (foot) – Questionable
QB
Brandon Connette
(upper body) – OUT
C Brian Moore (arm) – OUT
RB
Desmond Scott
(leg) – OUT
RB
Josh Snead
(foot) – OUT
FLORIDA STATE
Senior wide receiver Bert Reed practiced with the team Thursday for the first time since suffering an ankle sprain against Charleston Southern. Coach Jimbo Fisher said he expects the Seminoles' most experienced wideout to be ready for Saturday with two more days of rest.
Junior wide receiver Willie Haulstead will not play. Haulstead, who suffered a concussion in FSU's final preseason scrimmage, has not practiced all week, nor played in either of the first two games.
The only other player out for Saturday's contest is offensive guard Henry Orelus (concussion). Safety Nick Moody (quad contusion) and Reed are listed as questionable on the report filed with the ACC.
NORTH CAROLINA
Out

Jabari Price, DB Finger
Devon Ramsay
, RB Knee
Doubtful

Joshua Adams, WR Illness
Questionable

TJ Leifheit, OT Ankle
Terry Shankle, CB Knee
Probable

PJ Clyburn, LB Foot
Norkeithus Otis, LB Concussion
VIRGINIA
Out

Pablo Alvarez (upper extremity)
Henry Coley (lower extremity)
Tim Cwalina (lower extremity)
Stephen Lawe (lower extremity)
Darius Lee
(upper extremity)
Bobby Smith
(lower extremity)
Doubtful

Colter Phillips
(lower extremity)
Questionable

Aaron Taliaferro (upper extremity)
Probable

Corey Mosley (lower extremity)
Kevin Parks
(lower extremity)
LaRoy Reynolds (lower extremity)
VIRGINIA TECH
Out for Season

Kwamaine Battle (ACL)
Out

David Wang (foot)
Probable

Eric Martin
(shoulder)
September, 9, 2011
9/09/11
10:30
AM ET
By
ESPN.com staff
| ESPN.com
Here are this week's injury reports from the schools that turned them in. Don't forget, schools don't have to report these for nonconference games:
Clemson
Out

Joe Gore, DE, Knee
Doubtful

Rashard Hall, Saf, knee
Will Play

Demont Buice, RB, foot
Corico Hawkins, LB, knee
Bashaud Breeland, DB, shoulder
Duke
RB
Juwan Thompson
(leg) – Probable
S Jordon Byas (foot) -- Questionable
C Brian Moore (arm) – OUT
RB
Desmond Scott
(leg) – OUT
RB
Josh Snead
(foot) – OUT
Florida State
Out

OG Henry Orelus (concussion)
WR
Willie Haulstead
(concussion)
WR Josh Gehres (knee)
LB Holmes Onwukaife (shoulder)
OL Tre' Jackson (knee)
Questionable
DT Anthony McCloud (knee)
SS Nick Moody (quad)
North Carolina
Out

Jabari Price, DB, Finger
Norkeithus Otis, LB Concussion
Devon Ramsay
, FB Knee
Doubtful

Joshua Adams
, WR Illness
Questionable

P.J. Clyburn, LB Foot
T.J. Leifheit, OL Ankle
Terry Shankle, DB Knee
NC State
Out for season
Jarvis Byrd, CB - knee
Sterling Lucas, LB - knee
Out

Mustafa Greene
, HB - foot
J.R. Sweezy, DT - foot
Thomas Teal, DT - foot
Andrew Wallace, OG - knee
Logan Winkles
, FB - knee
Questionable

Jeff Rieskamp, DE - shoulder
Virginia Tech
Out for Season
Kwamaine Battle (ACL)
Probable
Telvion Clark (ankle)
D.J. Coles
(shoulder)
Theron Norman (shoulder)
Michael Via (knee)