September, 11, 2012
9/11/12
10:30
AM ET
Clemson could own this Heisman Watch list, really. Between quarterback
Tajh Boyd
, receivers
Sammy Watkins
and
Nuke Hopkins
, and running back
Andre Ellington
, you could make a case for any of those guys. In fact, Andrea Adelson and I BOTH put Hopkins at No. 5 on our Heisman Watch lists for ESPN.com this week, and we didn't realize it until after the fact. They're not the only ones in the ACC, though, with a real chance at being in the conversation.
Here's a look at your top three Heisman contenders heading into Week 3:

1. Florida State quarterback EJ Manuel.
He was 11-for-13 for 161 yards and three touchdowns -- in one quarter! Manuel hasn't been sacked once this season, but he also hasn't played an FBS team yet. He hasn't even had to play a full four quarters yet through two games. He's 8-2 as a starter against ACC opponents heading into Saturday's game against Wake Forest. If the Noles can maintain their position in the top 10, Manuel is the league's best hope at a Heisman dark horse this year. Unless, of course, they lose next week to ...
2. Clemson quarterback Tajh Boyd.
The Tigers have arguably been the ACC's best team against the best competition, but it's still early. Boyd, though, has been impressive through his first two games. Against Ball State, he was 19-for-23 for 229 yards passing and three touchdowns. He now has 41 career touchdown passes, which ties him with Woodrow Dantzler for third place on the career passing touchdowns list.
3. Clemson receiver Nuke Hopkins.
Sorry, Sammy, but you're going to have to play your way back onto the list. Hopkins caught six passes for 105 yards with three touchdowns in the first half against Ball State. With his three touchdown receptions, Hopkins tied a school record for receiving touchdowns -- and he did it in one half. Hopkins also now has three consecutive games of at least 100 receiving yards, which ties a school record.
Watch out for:
Virginia Tech quarterback Logan Thomas
. The Hokies' offense has been less than spectacular, but you have to remember the overhaul of personnel around him. Thomas didn't look like a Heisman contender in Week 1 against Georgia Tech, and the Hokies got off to a slow start against Austin Peay.
North Carolina running back Giovani Bernard.
He had an undisclosed injury and didn't play in last week's loss to Wake Forest. There is no update on his status for Saturday's game at Louisville.
Clemson receiver Sammy Watkins.
Watkins, who has been suspended for the first two games, is expected to make his debut this weekend against Furman.
August, 31, 2012
8/31/12
5:00
PM ET
There's a game tonight, in case you didn't know it.
Jesse Hinson in Clemson writes:
Ok heather first off let me say love what your doing here and love your blog! but the one thing i cant understand is How the heck is Nuke hopkins not on your top 25??
HD:
Truth? He was on it, until I convinced myself Wake Forest receiver
Michael Campanaro
is going to have a breakout year.
---
Ron in Huntington, N.Y. writes:
Hi Heather! Maryland alum here. Any chance the Terps will be better this year. Can't get much worse than last year. Such a disappointing year. And now that CJ Brown is out for the year, the QB position seems very much in the air. Give me some hope here. Thanks!
HD:
Well, you'd think that even with a true freshman quarterback they could win more than two games, right? Has to be better, right? Let's see what
Perry Hills
does against William & Mary this weekend. Maryland's roster is so thin right now the Terps are an injury away from being an FCS team. You're not looking at a bowl team, Ron, but hang onto hope for more than two wins.
---
Colby Wood in Pittsburgh, Pa., writes:
Heather, I see you're like everyone else who's decided to jump on the
Logan Thomas
bandwagon. Give me a break. Did you see his performance in the ACC championship game, to a team that gave up 70 points 3 weeks later? Glennon and Boyd both deserve higher ranking than him. Everyone thinks he is the next Cam Newton. He's the next Tim Couch....
HD:
Jumped on it? Please, I started it. Look, here's my prediction: More defenses start to figure out Boyd and drop eight into coverage. That means Clemson sure as heck better be able to run the ball this year, which means that O-line better get its you-know-what together. And Colby, you're from the Burgh. You should know more about quarterbacks.
---
Tim in Virginia writes:
How does VT get mostly average recruits but change them into ten win teams? I am a die hard hokie, but even I know that's beating their odds.
HD:
Maybe it's time the staff should get more credit for recognizing above-average talent when others don't. Also, those guys do a great job developing the talent they have and finding players who fit their needs.
---
Chris in Westfield, N.J., writes:
Any word on the Orange Bowl/ND front?
HD
: Nope. Checked with the ACC earlier this week, and it's status quo.
---
Jon Parker in Kershaw, S.C., writes:
I was just wondering why people never say, "Pulling a Fla. St." Haven't they been favored almost every year to win the ACC or at least the Atlantic, but then fail to do it. How come Clemson always gets that label?
HD:
HA! This one made me laugh. Great question.
---
Douglas Barlow in Atlanta, Ga., writes
: If Georgia Tech beats Virgina Tech in the season opener, what is your bowl prediction for Georgia Tech and do you think they will make it to the ACC Championchip? What is your prediction for the Georgia Tech and Virginia Tech game?
HD:
Yes, if the Jackets win on Monday night I say they win the Coastal Division, but I don't think they'll play in the Orange Bowl.
---
Kevin in Washington, D.C., writes:
HD, can you please start talking about
Tevin Washington
when you talk about returning QBs in the ACC. He did account for 2639 total yards, 25 TDs, and a QB rating of 155 (second in ACC). That doesn't even account for his accuity when it comes to late pitches springing RBs for a lot of big gains.
HD:
If Washington finishes the second half of the season the way he started the first half last year in regards to passing efficiency, more people will be talking about him. Washington has been a good quarterback and a leader for the Jackets and I expect him to be better this year, but until the passing game becomes consistently more efficient, he'll be stuck in the middle of the pack of this talented group of ACC quarterbacks this year.
November, 23, 2011
11/23/11
4:00
PM ET
By
ESPN.com staff
| ESPN.com
I got a chance to catch up with Clemson offensive coordinator Chad Morris on Monday to get his take on what's going on with the Tigers' subpar performances over the past three games, two of which have been losses. Morris is a good guy to talk to, very knowledgeable, honest, and has done a great job this season. It's up to his players to execute and get back to taking care of the ball. I've talked to him plenty of times this season, so we joke around a bit and I'm comfortable asking him things like …
What the heck is going on down there?
Chad Morris:
Well, turnovers right now. We've turned the football over the last three games and lost two of the three. That's the big thing. The inability of us protecting the football right now is obviously the glaring concern.
It's so easy to look at it and just say Sammy Watkins was out of the lineup, but all season long everyone talked about how many playmakers you have, and in the Virginia Tech game, you guys didn't NEED him to have a big game. So just how much of a factor is he in the lineup?


[+] Enlarge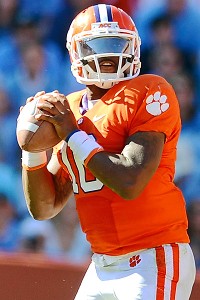 AP Photo/ Richard ShiroTajh Boyd is looking to pick up a Clemson offense that has committed 11 turnovers in the past three games.
CM:
Obviously he's an incredible playmaker, but Heather, that's not it. Everybody can read into it, but it's not a one-man team. We've got plenty of other guys who have made plays. Nuke Hopkins had a good game. We've got guys who have made plays all year long. The problem is, for whatever reason, the other night we didn't make the plays. We laid the ball on the ground. We gave them a short field. … The next thing you know, it's 27-3 at halftime and now you're basically at that point trying to battle and scratch your way back in it. At that point, you don't have that big-time playmaker that can push the field vertical. It's twofold. You got behind and then you didn't have that home run hitter But as far as us being Sammy Watkins, Sammy Watkins, yes he's been integral to our success, but we put the ball on the ground and fumbled the football.
Just looking back at the past three games you have played, are you going backwards, or are you going in the right direction?
CM:
No, I don't think we're going backwards, I don't think we're taking care of the football. I think by us not taking care of the football, we've lost confidence along the way. We're not playing with the confidence level we had four weeks ago. We're not doing that right now. A lot of that has to do with the fact that for the first eight games of the year we turned the ball over six times. In the last three games we turned it over 11 times. It's not that someone has come out and done anything different against us. It's not. We're just not making good decisions with the football.
So going into South Carolina, how do you get that confidence back?
CM:
Well, we've got to go back and quit pressing so hard. We've got to go back and execute the base offense. That's something we were unable to do last week. That's the main thing. We've got to get our confidence level back and we need a spark. We need something, someone, somebody – whether it's Tajh [Boyd], Dwayne [Allen], Nuke [Hopkins], Sammy – somebody to give us that spark … somebody to step up and say, 'Here it is, let's go get this thing done.' Unfortunately, we're playing against one of the best defenses in the country.
That's what I was just going to ask you – what makes them so good? That seems to be the strength of their team this year.
CM:
There's no question about that. They're very physical. They run extremely well. It's definitely the fastest defense we've seen this year. They're very aggressive up front. Their front four is as good as anybody we've seen, anybody we've played. That's what makes them so good, their ability to run.
So you've finally experienced first-hand why Clemson fans lose their minds with your team every year.
CM:
(He laughed). I can understand, but my goodness, we're 9-2 right now. We didn't play very good football the other day. That's going to happen. That happens to everybody in the country. This isn't the only football team in the country that doesn't play well at times. We've got to find a way to get out of a tailspin on it. It's as simple as protecting and taking care of the football. … Those are the things we've got to correct. We're by no way form or fashion in a panic mode. That's the furthest thing this football team is in right now. But everybody experiences through the course of the season the ups and downs. You have to find what went wrong, identify it and fix it. That's what you have to do.
Who do I pick this week?
CM:
Who do you pick this week? Well you pick us.
I had you guys on the upset watch last week, but I didn't think it was really going to happen.
CM:
Uh oh. Uh oh. Well, dadgum, I'm blaming you, then.
Take a number, coach. Take a number.
October, 6, 2010
10/06/10
3:30
PM ET
Clemson was in a similar situation last year – a 2-2 record with an ACC loss and a loss to a ranked opponent. The Tigers had actually fared even worse in 2009, dropping to 2-3 after an embarrassing loss at Maryland. Clemson responded with a six-game winning streak punctuated by an Atlantic Division title.
If there's a lesson to be learned, it's that the season doesn't end in October.
Time is running out, though, for both Clemson and North Carolina to make a move forward in the ACC standings. Both programs are looking for their first league win on Saturday when UNC hosts Clemson. The difference is that Clemson is looking to rebound from back-to-back losses while North Carolina has started to make a turnaround with two straight nonconference wins.
"We haven't laid an egg this year," coach Dabo Swinney said. "This team hasn't done that. We just have some self-inflicted wounds. All we have to do is control the things we can control. We don't have to play perfect, don't have to be supermen; we just have to do our jobs.
"The playmakers need to perform their roles. We've lost two tough games to good teams. We've had chances to win. We need to control what we can control. They can draw from the experience of last year where we didn't get off to a good start and then won the division. The only thing that's off the table now is winning a national championship."
The same can be said for North Carolina, which had high hopes entering this season only to be derailed by the ongoing NCAA investigation which sidelined 12 players for the season opener against LSU. The Tar Heels have since climbed out of an 0-2 start and won back-to-back games against Rutgers and East Carolina.
"Through the first four games I am very proud of the way our kids have handled the off the field distractions and missing some of their teammates," coach Butch Davis said. "Our kids have shown a lot of resiliency. I think as a football team we have worked each week to improve and there are some areas where we are getting better."
It's the first time these two programs have met since 2006, and it will be the first time Davis has coached against the Tigers in his 36-year career. Davis said Clemson is the "most talented and complete team" they've played the entire season.
The Tigers do have the ACC's leading rusher in
Andre Ellington
, but are still searching for dependable wide receivers. Swinney made a change this week and replaced his veterans with younger players.
"The four guys you'll see are Nuke Hopkins,
Bryce McNeal
,
Jaron Brown
, and
Marquan Jones
," Swinney said. "Those are the core guys right now. The other guys will play some, but the majority will go to those four guys. We've hoped that the receiving core would play out by now. Guys earn opportunities. Even where we are right now, nothing's final. Guys have to go play. We have to create opportunities for certain guys based on what we've seen, but guys have to play well."
Especially considering UNC will have both of its starting safeties -- Deunta Williams and Da'Norris Searcy -- back in the lineup after serving suspensions. The Tar Heels are still missing 10 players due to the NCAA investigations, including four defensive starters.