August, 22, 2011
8/22/11
2:00
PM ET
By
ESPN.com staff
| ESPN.com
Boston College safety Okechukwu Okoroha has been dismissed from the team for disciplinary reasons, the school announced today. Okoroha played in all 13 games last season and started six in place of the injured Wes Davis. He made 27 tackles (17 solo) on the year.
July, 1, 2011
7/01/11
3:30
PM ET
Moving on to the safeties …
[+] Enlarge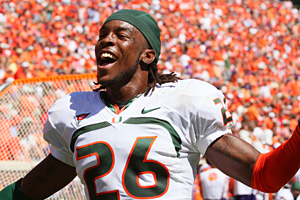 Marvin Gentry/US PresswireRay-Ray Armstrong is among the leaders of a strong Miami secondary.
1. Miami:
Vaughn Telemaque and Ray-Ray Armstrong return, but JoJo Nicolas moved to corner. Even though Armstrong wasn't a starter last year, he still ranked third on the team with 79 tackles and tied for the team lead with three interceptions.
2. Florida State:
The Seminoles return both starters in Nick Moody and Terrance Parks. Moody had 79 tackles last season and Parks had 44 and six deflections. The group was strengthened with the addition of Lamarcus Joyner, who moved from cornerback and proved this spring he's capable of being a safety.
3. NC State:
The Wolfpack has two of the best in Earl Wolff, the team's leading tackler last season with 95, and Brandan Bishop, who had 56 tackles and a team-high four interceptions. Dontae Johnson (22 tackles), also returns.
4. Virginia Tech:
Eddie Whitley is the lone returning starter, but he should be one of the best in the ACC. Antone Exum, who was the No. 2 free safety last season, moved to rover this spring. He played in every game last season and had five starts when Tech went to its nickel defense.
5. Virginia:
The Cavaliers return veteran starters in Rodney McLeod and Corey Mosley, who have combined for 41 career starts. Mosley had 52 tackles and two interceptions last season, and McLeod had 54 tackles and four pass breakups. Safety Dom Joseph (34 tackles) also returns.
6. Duke:
The Blue Devils return both starters in Matt Daniels and Lee Butler. Daniels, a senior, has started 25 career games and is one of the top returning tacklers in the ACC. Butler had 58 tackles and nine passes defended last season.
7. Boston College:
The Eagles return juniors Jim Noel, who had four interceptions in eight starts, and Okechukwu Okoroha, who started the final six games last fall. Noel, Okoroha, and Dominick LeGrande combined for 90 tackles last season.
8. Wake Forest:
Both starters return in Daniel Mack and Cyhl Quarles. Mack had 45 tackles and two interceptions last season. Duran Lowe (30 tackles) could unseat Quarles, who is Wake's leading returning tackler with 71 hits. Redshirt freshman Desmond Cooper is also competing for playing time.
9. Clemson:
Rashard Hall has 19 career starts and made 62 tackles and two interceptions last season. Safety Jonathan Meeks (28 tackles, one start) also returns, along with Carlton Lewis.
10. Maryland:
Just as Kenny Tate's move to linebacker bumped the Terps up in the ranking in that category, his departure from safety drops them a few notches as they now don't have any returning starters there. They do, however, have experience. Eric Franklin played in 11 games, with 23 tackles and three interceptions (tied for second on the team). Matt Robinson played in all 13 games and posted 29 tackles and forced a pair of fumbles. The Terps have plenty of depth with Austin Walker, Titus Till, Anthony Green and Desmond Haynes.
11. North Carolina:
Matt Merletti had five starts and Jonathan Smith, who lettered in 2008 and 2009 but missed all of last season, are the projected starters. They will be pushed by junior Gene Robinson (four starts, 30 tackles, one interception) for playing time.
12. Georgia Tech:
The Jackets had to replace both of their safeties in Mario Edwards and Jerrard Tarrant. Safety Fred Holton (11 tackles) and Isaiah Johnson (46 tackles, one interception) are the two most likely front-runners to start this fall.
October, 28, 2010
10/28/10
10:15
AM ET
Here's a look at 10 things to keep an eye on this week, in no particular order:
[+] Enlarge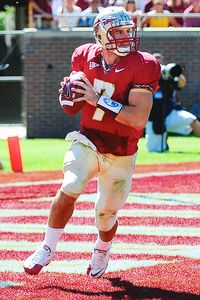 Reid Compton/Icon SMIFSU quarterback Christian Ponder needs to bounce tonight against NC State.
Quarterbacks in Raleigh.
Both
Christian Ponder
and
Russell Wilson
are two of the veterans in the league, but they've both struggled with interceptions recently. Ponder threw three in the win over Boston College and lost a fumble, and Wilson threw three in the loss at East Carolina. Odds are whichever one rebounds, comes out on top.
NC State's run defense.
It will be one of the biggest keys to the game, as FSU enters Raleigh with the No. 19 rushing offense in the nation at 211.71 yards per game. NC State is holding opponents to 148.13.
The replacements in BC
. BC defensive end Alex Albright's season ended last week with a broken fibula. It's Max Holloway's job now, and safety Wes Davis is definitely out after sustaining a neck injury against Maryland. Okechukwu Okoroha is expected to start in his place. Cornerback DeLeon Gause did not practice on Wednesday but is still listed as day-to-day.
Bowl eligibility.
Maryland, NC State and Miami are all chasing their sixth win of the season this week. So far, only Virginia Tech and Florida State are bowl-eligible in the ACC. It's of particular importance to the Terps and Wolfpack, who were both home for the holidays last year.
Clemson's turnover-free streak.
The Tigers have gone three straight games without turning the ball over -- a first in school history. The Clemson offense has run 196 consecutive plays without a turnover, a streak that dates to the last play of the Miami (FL) game on October 2. Overall, Clemson has four games this year when it has not committed a turnover. BC's defense has had 18 takeaways this year.
Nation's top tacklers in Chestnut Hill.
Saturday's game between BC and Clemson will feature two of the nation's top tacklers in BC linebacker Luke Kuechly and Clemson defensive end Da'Quan Bowers. Kuechly leads the nation in tackles per game with 13.9 and is three shy of 100 tackles for the season. Bowers leads the nation in sacks and tackles for loss, and he is on a record-setting pace with 10 sacks in seven games so far this season. Boston College is one of the worst teams in the country in sacks allowed with 2.86 per game. Bowers needs three more to set the record for most sacks in a season in school history by a defensive lineman.
Wake Forest running back Josh Harris.
In his first career start against Virginia Tech, Harris rushed 20 times for 241 yards and two touchdowns. Harris' 241 yards rushing were the most ever allowed by Virginia Tech, surpassing the 239 by Temple's Paul Palmer in 1986. Harris became the first Deacon since 2005 to rush for over 200 yards in a game. Maryland has the No. 4 rushing defense in the ACC, holding opponents to 143.6 yards per game. The Terps have held each of their last three opponents (Duke, Clemson, and BC) under 100 yards on the ground. It's the first time the defense has done that since 2004.
Maryland's secondary.
Two players who are having great seasons are flying under the radar in College Park, Md. Against Boston College, safety Antwine Perez had a career-best two interceptions and recovered a fumble. Perez is second on the team in pass breakups (six) and tied for third in the league in interceptions (0.43 pg). Kenny Tate is the leading tackler in the ACC among defensive backs (8.0 per game). He is also atop the league chart with four forced fumbles, the most by a Terp since Milton Harris also had four in 2005.
Shoop vs. Shoop.
UNC offensive coordinator John Shoop will face his older brother, William & Mary defensive coordinator Bob Shoop. It is believed to be one of only three matchups in college football this season pitting brothers against each other, according to UNC's sports information department. (The other two involve Oklahoma). Both Shoops are in their fourth seasons at their respective schools. Carolina is averaging 365 yards per game and the Tribe is allowing just 318 yards. May the best Shoop win.
Pass defenses in Charlottesville.
The ACC's top two pass defenses will be featured in the Miami-Virginia game. Miami leads the ACC with 149.1 passing yards per game allowed, and Virginia follows at 165.4. The Canes have 14 interceptions, Virginia five.
October, 9, 2009
10/09/09
9:00
AM ET
By
ESPN.com staff
| ESPN.com

Posted by ESPN.com's Heather Dinich
If you don't see it, that's because I didn't get it ...
BOSTON COLLEGE
OUT FOR SEASON
LB Mark Herzlich (illness)
FOR VIRGINIA TECH GAME
WR Ifeanyi Momah (knee) – OUT
TE Jordon McMichael (hip) – OUT
FS Okechukwu Okoroha (leg) – OUT
LB Will Thompson (shoulder) – DOUBTFUL
DT Austin Giles (back) – DOUBTFUL
FB James McCluskey (Achilles) – QUESTIONABLE
CB Roderick Rollins (Leg) – PROBABLE
DE Alex Albright (ankle) – PROBABLE
DUKE
RB Jay Hollingsworth (ankle) -- Probable
OT Jarrod Holt (concussion) -- Probable
RB Kyle Griswould (leg) -- OUT
CB Randez James (hand) -- OUT
LB Abraham Kromah (leg) -- OUT
WR Tyree Watkins (leg) -- OUT
S Anthony Young-Wiseman (knee) -- OUT FOR SEASON
FLORIDA STATE
OUT
FB Daniel Gard (knee)
OT Antwane Greenlee (knee)
LB Aaron Gresham (knee)
OT John Prior (knee)
LB Vince Williams (back)
QUESTIONABLE
DT Justin Mincey (knee)
CB Patrick Robinson (ankle)
PROBABLE
ROV Korey Mangum (shoulder)
GEORGIA TECH
Out
Robert Hall, r-Jr., DE (knee)
Doubtful
Cooper Taylor, So., S (undisclosed)
Questionable
Dominique Reese, Jr., S (shoulder)
Marcus Wright, So., RB (shoulder
Out For Season
Kyle Jackson, r-So., LB (foot)
MARYLAND
Out for season:
Tyler Bowen (foot)
Nolan Carroll (leg)
Out:
Travis Baltz (ankle)
Mike Barbour (leg)
Louis Berman (leg)
Bruce Campbell (leg)
Danny Edwards (concussion)
Da'Rel Scott (wrist)
Joe Vellano (foot)
MIAMI
Probable
DL Olivier Vernon – Lower Extremity
Questionable
RB Graig Cooper - Lower Extremity
LS/TE Jake Byrne - Illness
Doubtful
DT Marcus Forston – Lower Extremity
DL Steven Wesley – Lower Extremity
Out
DL Dyron Dye - Leg
TE Richard Gordon – Upper Extremity
FB Patrick Hill – Lower Extremity
DB Ryan Hill – Upper Extremity
DB JoJo Nicolas – Upper Extremity
DE Adewale Ojomo – Jaw
DB Randy Phillips – Upper Extremity
Surgery and Out for Season
DE Gavin Hardin – Upper Extremity
LB Shayon Green – Lower Extremity
NORTH CAROLINA
Out (Season)
Carl Gaskins OT Knee
Matt Merletti S Knee
Trevor Stuart DS Knee
Out (Game)
Lowell Dyer C Shoulder
Doubtful
Zack Pianalto TE Foot
Ryan Taylor TE Knee
Questionable
Josh Adams WR Shoulder
Kyle Jolly OT Ankle
Mike Paulus QB Shoulder
Devon Ramsay FB Knee
Probable
Jonathan Cooper OG Ankle
Anthony Elzy FB Shoulder
Linwan Euwell LB Ankle
NC STATE
OUT FOR SEASON
Mario Carter, TE - knee
Ryan Cheek, LB - hip
Denzelle Good, OL - shoulder
Nate Irving, LB - leg
Colby Jackson, FB - knee
Everett Proctor, QB - shoulder
OUT
Jeff Rieskamp, DE - hip
Javon Walker, S - knee
QUESTIONABLE
Rashard Smith, CB - ankle
VIRGINIA TECH
Out for Season
Darren Evans (ACL)
Probable
Nekos Brown (illness)
Blake DeChristopher (ankle)
John Graves (ankle)