November, 5, 2013
Nov 5
11:00
AM ET
Here's the good news for Wake Forest: they have plenty of wide receivers. They've over-recruited the position.
[+] Enlarge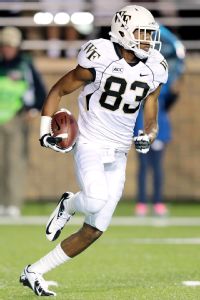 Fred Kfoury III/Icon SMIWith 15 catches, freshman wideout Jonathan Williams is the Demon Deacons' second-leading receiver.
The bad news? Not only do they not have their No. 1 wide receiver anymore, but they're still looking for their No. 2.
Oh, and they're playing Florida State this weekend.
Wake Forest has been devastated by Saturday's news that
Michael Campanaro
, the team's top offensive player, is likely
out for the rest of the season
with a broken collarbone. Following a 13-0 road loss to Syracuse, news of Campanaro's injury trickled through the visitors' locker room. He was injured in the first quarter and taken to the hospital during the game. Wake Forest has struggled to run the ball this season and has developed its identity in recent weeks as a pass-first team. With a young offensive line, the coaching staff is looking for receivers to help take some pressure off of quarterback
Tanner Price
. The Deacs are trying to salvage the season and win two of their last three games to become bowl eligible.
"We've just got a whole group of guys right now who have not been either very dependable from a physical standpoint, or very dependable from a knowledge standpoint," coach Jim Grobe said. "We had a lot of missed assignments Saturday. And then consistently catching the football and blocking the way we needed to. Like my old buddy Skip Prosser used to say, it's a conundrum. We've got a bunch of talented guys and none of them have really played very good so far."
Injuries haven't helped the situation.
Orville Reynolds
has been out with an ankle sprain.
John Armstrong
has been out with a concussion.
Tyree Harris
, who looked on the verge of having a breakout game against Miami, tried to catch a low pass against the Canes, fell on the football, and bruised his collarbone. Grobe said Harris has had some trouble breathing.
"The first half we thought, 'Hey, here we go. We've got a guy who's balancing out Campanaro,'" Grobe said. "And then he missed the second half against Miami. Hopefully we can get Tyree back."
Time is running out. Wake Forest has three games remaining: Saturday against Florida State, Nov. 23 against Duke, and at Vanderbilt to end the regular season. The Deacs are No. 110 in the country in scoring offense, averaging just 19.4 points. They're No. 116 in rushing offense, at just 91.2 yards per game.
They're banking on the passing game without Campanaro to keep their bowl hopes alive.
Campanaro had a team-high 67 catches this year. Nobody else on the roster has caught more than 15 passes. Redshirt freshman
Jonathan Williams
is second on the team with 212 yards on 15 catches, no touchdowns.
Sherman Ragland III
has 15 catches for 124 yards and a touchdown. He led the team against Syracuse with 10 catches for 91 yards, but overall, Grobe wasn't satisfied with what he saw from the group.
"Saturday it was disappointing to me because we had really inconsistent play out of all of those wide receivers," Grobe said. "We didn't have anybody step up and do it."
They don't have much of a choice now.
September, 19, 2013
Sep 19
12:00
PM ET
May, 7, 2013
May 7
5:00
AM ET
2012 record:
5-7
2012 conference record:
3-5 (fourth in the Atlantic Division)
Returning starters:
Offense: 8; Defense: 8; Kicker/punter: 2
Top returners:

QB
Tanner Price
, WR
Michael Campanaro
, TB
Josh Harris
, G
Frank Souza
, G
Antonio Ford
, CB
Kevin Johnson
, CB
Merrill Noel
, FS
A.J. Marshall
, LB
Justin Jackson
, LB
Mike Olson
, NG
Nikita Whitlock
, DE
Zach Thompson
Key losses:
FB
Tommy Bohanon
, C
Garrick Williams
, LB
Joey Ehrmann
, LB
Riley Haynes
, CB
Kenny Okoro
2012 statistical leaders (*returners)
Rushing:
Harris* (608 yards)
Passing:
Price* (2,300)
Receiving:
Campanaro* (763 yards)
Tackles:
Jackson* (81)
Sacks:
Jackson* (4)
Interceptions:
Johnson* (3)
Spring answers:
1. Camp's complement:
An ankle injury to Campanaro opened the door for
Orville Reynolds
to emerge as a dependable No. 2 receiver. Reynolds was voted by his teammates as the most improved player on offense this spring. The staff is trying to get the receivers more involved in the running game, and Reynolds, a converted running back, could be the perfect match for it.
2. Depth on defense:
The defensive line found a solid rotation two-deep, and the linebackers emerged as a group that should be the strength of the defense this season. Inside linebacker
Brandon Chubb
had a particularly good spring and got some first-team reps at the expense of Olson, who had some nagging shoulder issues.
3. Opting for the option:
The Deacs have changed their offense to incorporate more option and get Price running more. Offensive coordinator Steed Lobotzke said the staff is interested in integrating standard spread-option runs, zone reads and quarterback draws.
Fall questions:
1. The offensive line.
It's the biggest concern on the team, and was the weak link last season. With so many injuries in 2012 that carried into the spring, there was little time for a five-step drop, and Price was constantly making throws under pressure. Until this group is solidified, Lobotzke won't rest easy.
2. Impact freshmen.
The redshirting policy is on hold for now, as the staff has made it clear that they are willing to play whomever is capable of helping the team win now. True freshmen will be given a legitimate chance to contribute immediately, but until they arrive this summer, nobody knows who or how many will contribute.
3. Can running back Josh Harris be consistent?
Harris made a name for himself in 2010 when, in his first career start, he ran for 241 yards and two touchdowns on 20 carries against Virginia Tech. Since then he has battled injuries and his durability has come into question. Now, as a redshirt senior, he has a chance to lead the Deacs' ground game, but can he stay healthy enough and be consistent enough to reassert himself as one of the ACC's best backs?
May, 1, 2013
May 1
9:00
AM ET
The Wake Forest coaches are big fans of receiver
Michael Campanaro
. The Deacs love their top receiver. They know what he can do.
Which is why they didn't really miss him all too much this spring as Campanaro sat out to recover from ankle surgery.
[+] Enlarge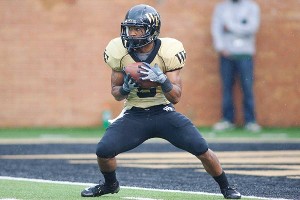 Jeremy Brevard/USA TODAY SportsWake Forest's Orville Reynolds says he's feeling more comfortable after a successful spring transitioning from running back to receiver.
It was the perfect opportunity for the program to find a complement to "Camp."
With Campanaro sidelined, receiver
Orville Reynolds
emerged as a dependable second option for veteran quarterback
Tanner Price
-- so much so that Reynolds was voted by his teammates as the most improved offensive player this spring. In fact, Reynolds was impressive enough that he actually put the coaches in a bit of a predicament -- now they feel obligated to find a place for him on the field this fall.
"He took advantage of his opportunity," offensive coordinator Steed Lobotzke said. "He made a lot of big plays for us. We're trying to do more things in the run game with the receivers, kind of like we used to do with Kenny Moore back in the day. He's really good at that, that's really his forte, and he's getting better at doing those slot receiver routes that we do, those balls that Camp catches over the middle and stuff, he's getting better at those things.
"The biggest problem we have right now is, when Camp comes back, what do we do with Orville?" Lobotzke said. "We're trying to figure out if we're in a three receivers set, is Orville good enough to play one of the other positions and not just slot? Can he slide in outside, or put him in the boundary, or whatever? Because right now, he and Camp are overlapping. We want to have two of those guys, but we hate to have two of our faster, better players stacked up behind each other on the depth chart. We're trying to figure out where Orville fits right now, but he's got a bright future. After Camp graduates, I think the show will be his at slot."
Reynolds, a converted running back, is so thrilled to be a part of the offense he'll play just about anywhere they ask him to lineup.
"I'm just ready to do whatever the coaches want me to do, wherever I have to be on the field," Reynolds said. "I know that a lot of eyes are going to be on Camp, so maybe I'll free up somewhere else, but wherever the coaches want me to play, then that's where I'll play. I'm just excited that I can be used in the offense."
Midway through last season, the staff decided to move Reynolds from running back to slot receiver. Lobotzke kindly described Reynolds as a "fish out of water," getting limited playing time behind superstar Campanaro.
That clearly changed this spring.
"I was a lot more comfortable," Reynolds said. "It was a lot of work to get the feel for everything. I just thank God I got a shot to show everybody what I have."
As a former running back, one of Reynolds' strengths is catching the ball in open space and gaining the yards after the catch. Reynolds said he and Campanaro are good friends, and that Campanaro has given him advice on the position. Despite missing two full games and most of a third last fall, Campanaro still set an ACC single-season record for per-game pass reception average (7.9), making 79 catches for 763 yards and six touchdowns. He had over 12 catches in a game on three different occasions, including an ACC record-tying 16 grabs in the Deacs' win over Boston College.
This fall, he might be even more productive if Reynolds continues to be another option the defenses must be concerned about.
"He's kind of embraced the slot position," head coach Jim Grobe said. "Going through spring, as much as we love Camp and we know he can play, I thought it was a perfect scenario for Orville to show whether he could play or not. He had a great spring -- did some good things running the football, catching it. Just a completely different kid from what we've had the past couple of years. So I do think we have a guy that can back-up Campanaro. But what he's done for us is he's probably made us look at having two slots on the field sometimes."
April, 19, 2013
Apr 19
12:00
PM ET
April, 19, 2013
Apr 19
10:00
AM ET
The rest of the ACC wraps up practice this weekend. Here is a look at what to watch at each spring game.

BOSTON COLLEGE
When: Cancelled.
UPDATE:
Boston College decided to cancel its spring game, set for Saturday, because of the tragic events that unfolded in the area this week. Though there is no game, these are still three keys for the Eagles as they move into the offseason.
Chase Rettig. Rettig has been through one coordinator too many during his career with the Eagles, and now he has to learn a new system that is not exactly the pro-style brand more suited to him. Coach Steve Addazio has said he will not force Rettig out of his comfort zone this year, but how Rettig handles yet another change is definitely something to watch.
The run game. Addazio has placed a heavy emphasis on the run game this spring. Does he have the talent and depth to improve the dreadful numbers from a year ago? With Rolandan Finch gone, senior Andre Williams has been the guy left to shoulder the load this spring. He says, "Bring it on."
More aggressive D? This will be a good chance to see how Don Brown has gone about revamping the defense. We have all heard how he wants to be more aggressive this year. Let's see it.

GEORGIA TECH
When:
Friday, 7:30 p.m. (Note: There is a threat of rain so a decision on whether the game will be played as scheduled will be made later today. As of this morning, the game is still on.)

NC STATE
When:
Saturday, 1:30 p.m., ESPN3
The quarterbacks. Starting to sound like a theme, right? Coach Dave Doeren has said he will not name a starter after spring practice. Pete Thomas and Manny Stocker are still learning the new system, and Doeren says, "They're getting better. I told somebody the other day: I just don't think it's fair to make a decision on a guy that doesn't know your offense yet. I think we've got to give those kids a chance to play football without thinking. We're not there yet."
The secondary. This group will have three new starters when fall rolls around, and much less game experience. Juston Burris is listed as the starter at the cornerback spot David Amerson leaves behind, while Hakim Jones and Jarvis Byrd are set to take the open safety spots.
The defensive ends. There is still open competition at both defensive end spots, according to the depth chart the team released ahead of the spring game. Art Norman and Forrest West are battling for one spot, while Mike Rose and Darryl Cato-Bishop are competing for the other.

SYRACUSE
When:
Saturday, noon.
Terrel Hunt vs. Charley Loeb. Hunt has reportedly gotten more of the first-team reps as the spring has gone on, but this is a good chance for both quarterbacks to make an impression on their coaches -- especially with Oklahoma transfer Drew Allen headed to Syracuse in the summer.
Defensive line. There is no question Syracuse has to work on building depth here because of several losses the group has taken. One player to watch is Iowa transfer John Raymon, who has worked at both tackle and end this spring.
Quinta Funderburk. Funderburk sat out last season after transferring in from Arkansas. He has made a few highlight catches during the spring scrimmages to catch some attention, and with Alec Lemon and Marcus Sales gone, Funderburk has an opportunity to become a go-to receiver on this team.

VIRGINIA TECH
When:
Saturday, 3 p.m., ESPN3
Logan Thomas and the offense. So, how does Thomas look under new offensive coordinator Scot Loeffler? His rebound from a mediocre 2013 is going to be huge for the Hokies this season.
The running backs. Nobody has really stepped up to take the starting job, although Trey Edmunds has had a good spring, including 86 yards and two touchdowns in the last scrimmage. JC Coleman, also vying for the job, is not expected to play because of a leg injury.
Brandon Facyson. It's no secret the Hokies need some help in the secondary, and every single report out of Blacksburg points to the freshman cornerback as being the next star on defense.

WAKE FOREST
When:
Saturday, 1 p.m., ACC Digital Network
The receivers. One of the big goals this spring has been to find another receiver to complement Michael Campanaro. Orville Reynolds, who moved from running back, has so far turned some heads with his performance, so keep an eye on him.
New faces. Two players who have drawn raves on defense this spring are defensive linemen Desmond Floyd and Johnny Garcia. In fact, coach Jim Grobe believes his defensive line has been a bright spot this spring because the group has been able to develop some depth.
Competition. This will actually be a scrimmage, not a game, because the Deacs simply do not have enough offensive linemen to split the team in two. At last check, Wake had seven healthy offensive linemen after Cody Preble injured his ankle in the last scrimmage.
September, 19, 2012
9/19/12
12:00
PM ET
Just for fun, do a YouTube search for Minnesota and We Are ... Dancers.
August, 21, 2012
8/21/12
4:30
PM ET
Wake Forest held its second scrimmage of the preseason on Tuesday morning at BB&T Field. Here are the highlights,
according to the team's practice report
:
Offensive highlights:
Sherman Ragland III
had three catches for 32 yards and scored both touchdowns.
Michael Campanaro
caught three passes for 31 yards. For the second straight scrimmage, Tyler Jackson was the leading rusher with 44 yards on nine carries.
Orville Reynolds
rushed the ball just five times but gained 26 yards, including an 18-yard run.
Jackson carried the ball eight times on an 11-play scoring drive. He had seven carries for 34 yards on the drive and caught a pass from
Patrick Thompson
for 11 yards. Tanner Price completed 8 of 18 passes for 78 yards with one touchdown and one interception.
Defensive highlights:
The Deacs held the offense scoreless for the first 13 possessions and finished with nine tackles for loss, including five sacks, and two turnovers.
Zach Thompson
led with two sacks, while
Nikita Whitlock
,
Kris Redding
and
Joey Ehrmann
each made one sack.
Kevin Johnson
had an interception, and
Chibuikem Okoro
recovered a fumble on a botched handoff. Johnson also broke up one pass, as did Ehrmann,
Tylor Harris
and
Hunter Williams
.
Merrill Noel
and
Brandon Chubb
each had five tackles.
August, 16, 2012
8/16/12
4:15
PM ET
Wake Forest held its first scrimmage of the preseason Thursday at BB&T Field. Here are a few key notes.

Offensive highlights:
Sherman Ragland III
, trying to win a starting receiver job, caught two passes for a team-high 56 yards and a touchdown for the Deacs.
Lovell Jackson
, a fifth-year senior trying to make a case for significant playing time this season, caught a team-high four passes for 44 yards.
Tanner Price
was a very efficient 10-of-13 for 155 yards with one touchdown and no interceptions. Running back is also an area where the Deacs are looking for a few playmakers to step up.
Tyler Jackson
led the way with 36 yards on 12 carries, while
Orville Reynolds
had 11 carries for 16 yards -- including an 8-yard touchdown. Reynolds also caught two passes for 14 yards.
Defensive highlights:
The defense really dominated the scrimmage, and that should not come as much of a surprise because this group has more starters returning.
Justin Jackson
, Bud Noel and
Joey Ehrmann
led the way with five tackles each. Ehrmann also had a sack and two tackles for loss.
Nikita Whitlock
forced and recovered a fumble inside the 10-yard line, and
Scott Betros
had the only interception in the game.
Hunter Williams
also forced a fumble that
Desmond Cooper
recovered.
May, 8, 2012
5/08/12
6:00
AM ET
2011 overall record:
6-7
2011 conference record:
5-3 (T-2nd, Atlantic)
Returning starters
Offense: 3; defense: 7; kicker/punter: 2

Top returners
QB
Tanner Price
, WR
Michael Campanaro
, C
Garrick Williams
, DE
Zach Thompson
, NG
Nikita Whitlock
, OLB
Joey Ehrmann
, ILB
Scott Betros
, ILB
Riley Haynes
, CB
Merrill Noel
, FS
Kenny Okoro
Key losses
WR
Chris Givens
, T Dennis Godfrey, T Doug Weaver, G
Joe Looney
, G Michael Hoag, TE
Cameron Ford
, RB Brandon Pendergrass, DE Tristan Dorty, DE
Kyle Wilber
, SS Cyhl Quarles, FS
Josh Bush
2011 statistical leaders (* returners)
Rushing
: Brandon Pendergrass (823 yards)
Passing
: Tanner Price* (3,017 yards)
Receiving
: Chris Givens (1,330 yards)
Tackles
: Cyhl Quarles (101)
Sacks
: Kyle Wilber/Nikita Whitlock* (3.5)
Interceptions
: Josh Bush (6)
Spring answers
1. Tanner Price:
As a sophomore last season, Price threw for more than 3,000 yards to go with 20 touchdowns and six interceptions. Coach Jim Grobe has challenged Price to improve on his accuracy, especially on underneath passes, and if the quarterback can build off last season's 60-percent completion rate, the Demon Deacons should be just fine under center.
2. Skill players:
Michael Campanaro is sliding into the go-to target shoes left behind by Chris Givens, shifting the focus to who will be the Deacs' No. 2 receiver.
Josh Harris
has been healthy all spring and should add a boost to a backfield that returns
Orville Reynolds
and
DeAndre Martin
. Deep? Not exactly. But Wake knows what it has in its skill-position players, and has enough weapons around Price for the quarterback to make a jump in his junior year. This spring has helped ease some concerns.
3. Front seven:
The Deacs return a majority of their front-seven, including second-team All-ACC nose guard Nikita Whitlock. Grobe has praised the overall speed and depth of the defense as a whole, and he expects the team to be better on that side of the ball. Look for more pressure this season in new outside linebacker coach Derrick Jackson's first year on staff.
Fall questions
1. Offensive line:
There's no sugar-coating this one: If Wake wants to repeat its surprising 2011 season -- one that saw it come within a field goal of playing for the ACC title -- it needs to find some answers up front. The line is replacing four starters. Grobe said coming out of spring that he feels comfortable about three spots at the moment, but the Deacs will need more than that if they want to get the most out of their skill players.
2. New staff:
Grobe has had little turnover in his 11 years at Wake Forest, but he hired three new assistants this offseason -- Jackson, Jonathan Himebauch (offensive line) and Tim Duffie (secondary). The fresh blood, Grobe said, led to much more energy this spring, but the biggest tests will obviously come in-season.
3. Secondary.
Speaking of Duffie, he'll have his work cut out for him in Year 1. Both safeties are gone, including Josh Bush, now with the Jets. Experience at cornerback will help ease the transition for the secondary, but building depth at safety could be an issue.
April, 30, 2012
4/30/12
10:30
AM ET
Despite its 6-7 overall record in 2011, Wake Forest came within a field goal from playing for the ACC title. With key pieces such as two-year starting quarterback
Tanner Price
returning, the Demon Deacons are looking to build off that success in 2012. Here, head coach Jim Grobe talks about expectations entering his 12th year leading the program.
The offensive line is replacing four starters. How important was the spring season for them from a developmental standpoint?
Jim Grobe:
Well I thought it was really good. I think we've got three kids going forward that we can count on:
Garrick Williams
, our center, started for us last year so we feel really good about him. I think
Colin Summers
, our right tackle, is a kid who has the potential to be one of the better offensive linemen in the league, as does
Antonio Ford
, our left guard. I think all three of those kids really have the ability to get the job done for us. And then the rest of it's gonna be a toss-up. I think we've got some talented kids. I think
Dylan Heartsill
's a kid that's had some back issues at left tackle but we have great hopes for him and hopefully he'll get healthy. So we moved
Frank Souza
over to left tackle from nose guard -- he was backing up
Nikita Whitlock
on defense and we didn't feel like there was much future in that. So we moved Frank over to left tackle. I think that's gonna be a great move for us, he looked really good the last half of the spring.
We need somebody to step up at right guard; I'm hopeful that [Daniel] Blitch or [Dylan] Intemann or one of the younger guys will be that guy, so it's kind of a mixed bag. We don't have a starting five yet but I think three of those guys are really good players. If we can get a couple more guys to step up I think we can at least put a really good starting five on the field at the start of the year.
You know what you have under center in Tanner Price. Going into his third year now, what kind of strides does he need to make to take the next step?
[+] Enlarge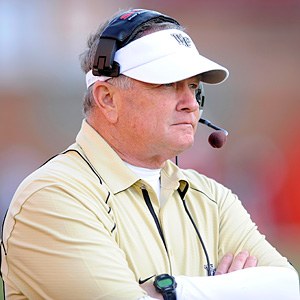 AP Photo/Nick WassJim Grobe says the goal is for Wake Forest to try to get back to a bowl game and to possibly make another run at the ACC title.
JG:
Well it's huge when you've got your quarterback coming back, especially if he's a good one. I think Tanner thew for a little over 3,000 [yards] last year, [20] touchdowns, only had six picks. So he's a guy that takes pretty good care of the football. Really smart guy. a lot of Riley Skinner-type intangible stuff with Tanner. Tanner's got a more live arm than Riley had but he doesn't do as good of a job on the underneath stuff, and I think that's where his biggest improvements needs to come and I think we saw that this spring. We really challenged him to be a little more accurate with the touch stuff and I think we saw that this spring. I think he just looked better to me this spring than he did last fall and I thought he did good things last fall. So his biggest deal is just gonna be completion percentage. If we can bump that completion percentage up, we've got a guy that can win games for us.
It's been said that Michael Campanaro be that go-to guy for him, with Chris Givens now gone. Is finding a No. 2 target more pressing right now? Who has stood out in that role for you?
JG:
Yeah I think so. I don't think there's any question. That's my concern. I think Campanero, you look at Chris last year, but in reality we had two guys -- Camp, he didn't catch as many balls as Chris, but he was close. They were really a 1-2 punch for us last year, so I think Camp, if he stays healthy, is ready for a big big year. So the key for us is we've gotta find some body else. If Camp's the only guy we've got to go to then defense are gonna make it really tough on us. So a guy like
Terence Davis
,
Matt James
,
Brandon Terry
,
Sherman Ragland
-- somebody in that group's gotta step up and kind of balance things out so that they can't just double-cover Camp and leave those other guys alone.
February, 27, 2012
2/27/12
5:00
PM ET
Wake Forest has evolved into more of a passing offense under quarterback
Tanner Price
, but that doesn't mean coach Jim Grobe isn't expecting more out of his running game in 2012 -- as he should. The Deacs were No. 99 in the country in rushing offense last year with 114.6 yards per game.

Josh Harris
, who was expected to be one of the better running backs in the ACC last year, struggled with a nagging hamstring injury and only played in nine games.
Brandon Pendergrass
, a redshirt senior last year, led the team with 823 yards and nine touchdowns, and an average of 4.4 yards per carry. When the Deacs begin spring practices on Thursday, Grobe will be looking for more from Harris -- and he's got to showcase it behind an offensive line that must replace four starters. Harris' health, though, is no longer the question.
"We'll see if Josh Harris has matured," Grobe said. "That's going to be real important for us, that going into his junior year he can become a for-real guy. That would be a heck of a bonus for us."
The position is thin, but the staff is also excited about the potential of
Orville Reynolds
, who played in five games last year and had 109 yards, and
Deandre Martin
, a big back who ran well with the scout team. Until one of them emerges as the leader, though, the position remains a question for the Deacs.
"Running back is a real concern," Grobe said. "That's going to be as big of a thing for us to look at this spring as the offensive line."
ACC SCOREBOARD
Saturday, 12/21
Monday, 12/23
Tuesday, 12/24
Thursday, 12/26
Friday, 12/27
Saturday, 12/28
Monday, 12/30
Tuesday, 12/31
Wednesday, 1/1
Thursday, 1/2
Friday, 1/3
Saturday, 1/4
Sunday, 1/5
Monday, 1/6
Tweets from @ESPNCFB/acc