October, 14, 2013
10/14/13
4:00
PM ET
Anthony Boone
broke his right collarbone in Duke's second game of the season, at Memphis. He sat by idly as the Blue Devils offense went through its ups and downs with
Brandon Connette
.

But Boone reminded everyone Saturday of his importance to Duke, as he put on a career performance in his return. Boone completed 31 of 38 passes for 295 yards -- all career-highs -- in a 35-7 win over Navy, earning ESPN.com player of the week honors for the ACC.
What's more, Boone did not even learn that he was starting until shortly before game time, as Connette was nursing an ankle injury he had suffered earlier in the week.
"The beauty of Anthony is that he had no idea that he was going to start nor did we until Brandon Connette, who had been hurt at the end of the week in a bizarre accident, just said he can't go," Duke coach David Cutcliffe said. "We thought after Brandon practiced yesterday he would be able to play and then it was worse today, and he just said, 'I can't go'. I'm proud of Brandon Connette for being honest with us. And then Anthony just slipped in like he hadn't missed a beat ... I mean 31-of-38, that's just ridiculous."
Boone threw for three touchdown passes and helped Duke escape nonconference play unscathed for the first time in 19 years. The 4-2 Blue Devils carry a two-game winning streak into Virginia as they look to build toward notching a second straight bowl berth.
They will need more of the same from Boone, who missed three straight games while Connette took control. But Connette's status going into the matchup with the Cavaliers remains uncertain, with freshman
Parker Boehme
again in the No. 2 role with the chance of redshirting -- a chance that increases with Boone playing the way he did on Saturday.
September, 12, 2013
9/12/13
10:15
AM ET
Here are a few things to keep an eye on this weekend as we head into Week 3:
1. Famous Jameis.
It's been a nearly interminable two weeks since we've seen
Jameis Winston
take the field. And who can blame us for complaining? His college debut was sensational, and his home debut will come this Saturday against Nevada. (He's excited, meanwhile, because Wolfpack end
Brock Hekking
has
a mullet
.)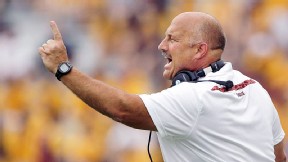 AP Photo/Mary SchwalmBoston College is playing better under coach Steve Addazio so maybe, just maybe BC could pull off the upset at USC.
2. Another upset on the horizon?
OK, so it will take a lot for BC to pull off the upset at USC. But who's to say that it cannot happen after watching the first two weeks? The Trojans are reeling after a 10-7 home loss, and the fans are calling for Lane Kiffin's firing. The Eagles, meanwhile, have shown a renewed sense of grit under new coach Steve Addazio. Just imagine Addazio's reaction if his squad pulls it off ...
3. Edsall's reception.
Randy Edsall's exit from UConn three years ago was not exactly smooth. Now the Maryland coach returns to his old stomping grounds as the Terrapins look to improve to 3-0. The Huskies beat them last year in College Park, Md., 24-21.
4. Pitt getting back on track.
All we have on which to judge the Panthers' ACC era so far is a Week 1 loss to Winston and FSU. But the Panthers do show promise offensively, and they have a great chance to get in a rhythm this week against New Mexico, especially coming out of a bye.
5. Duke QBs.
It's
Brandon Connette
time for the Blue Devils, who kick off their ACC season at Georgia Tech. With
Anthony Boone
out indefinitely with a broken collarbone, Connette will start, though coach David Cutcliffe has said he wants to get freshman
Parker Boehme
some playing time as well.
6. Georgia Tech's A-back.
The Yellow Jackets start an eight-week stretch of eight games, with the first four coming against division opponents. They will be without A-back
Deon Hill
(illness), with
B.J. Bostic
or
Synjyn Days
likely to step in for Hill.
7. Syracuse's QB shuffle.
A home opener against FCS Wagner may be the perfect remedy for the 0-2 Orange.
Drew Allen
will start again at quarterback, but
Terrel Hunt
has been assured of playing time as well. How both fare could determine who gets the nod moving forward this season.
8. Wake looks for answers on offense.
The Deacs struggled in their 10-point outing last week at BC, particularly running the option. Coach Jim Grobe said the option is here to stay, though he'd like to see more out of the passing game when defenses focus on the run.
9. Can the Hokies' offense get it going?
Logan Thomas
was better last week but still threw two picks in the end zone against Western Carolina, resulting in a total QBR rating that ranks 132nd out of 138 passers. He will need to improve against the East Carolina Pirates, whom the Hokies remember for their opening-week upset in 2008.
10. Unlikely fireworks?
Five ACC teams are off this weekend, including Clemson and Miami, which have provided the league with its signature victories so far this season. Where will the surprises come from this week? The Coliseum is where the biggest one can probably take place, though Winston could surprise us all and re-create his opening-week performance when FSU faces Nevada.
September, 11, 2013
9/11/13
3:00
PM ET
Here are a few quick notes off the ACC coaches call on Wednesday:
Maryland coach Randy Edsall makes his return to Connecticut on Saturday when the Terps visit his former team. Last season, Edsall had to answer questions about playing his old team when UConn traveled to College Park. The story lines continues this week because he will be returning to a place he called home for 12 years.
"I've got fond memories of Connecticut, fond memories of Rentschler Field and hopefully we come away with a victory," Edsall said. "Connecticut was very good to me and my family. Had a great experience there. What you've got to do is take everything and put it to the side and focus and concentrate on getting our team prepared. I know they're going to be fired up, I know it's a tough place to play having coached in that stadium so it's got to be something we have to be ready for."
UConn beat Maryland in 2012, but the Huskies come into this season's game off a loss to FCS Towson. Maryland, meanwhile, is off to a 2-0 start and appears to be in much better shape than UConn. The Huskies have not made a bowl game since Edsall took them to the Fiesta Bowl in the 2010 season. Wonder whether the homestanding fans will
cheer or boo
Edsall in his return.
Virginia Tech coach Frank Beamer had high praise for Alston Smith, who was moved from defensive tackle to offensive guard earlier this week. Smith, the son of Bruce Smith, was "exceptional" in his first day of practice with the offensive line. "He's athletic, he's got good feet, he's a natural guy in there and so I was really encouraged by watching that." Beamer also added that defensive tackle Corey Marshall had a great day of practice Tuesday, his first since returning to the team to deal with personal matters. "He helped our offense get better by being very aggressive as a defensive scout team member," Beamer said.
There is no question Boston College coach Steve Addazio is thrilled with the progress he is seen out of his team, off to a 2-0 start with a big game at USC looming on Saturday. But he also wants to keep the quick start in perspective. "I just think we're scrapping, we're playing physical, we're trying to be true to the core values we want within our program," Addazio said. "It's nice to get that start, but understand we're a work in progress."
Duke coach David Cutcliffe reiterated that he would like to get freshman quarterback Parker Boehme some playing time with starter Anthony Boone out indefinitely because of a broken collarbone. The initial plan going into the season was to try and redshirt Boehme but the injury has changed everything. Boehme will serve as the backup to Brandon Connette until Boone returns. "If something were to happen and Brandon's out for a few plays, I wouldn't be afraid to play Parker," Cutcliffe said. "I think he's played well."
Miami beat Florida thanks to a solid defensive performance, especially from a much more physical defensive front. Coach Al Golden said a big reason his team was so effective along the line was because of its rotation. Defensive end Anthony Chickillo played 71 snaps, but everybody else stayed in the 40s. "We refused to get worn down and we rotated," Golden said. "Hopefully that rotation will get stronger." Golden says the plan during the bye is to get more inexperienced players like Ufomba Kamalu and Jelani Hamilton ready for more playing time.
Speaking of Miami and Florida, Florida State coach Jimbo Fisher caught the end of the game last weekend after his team finished practiced. Asked for his impressions, Fisher said, "Heck of a football game, very competitive, a lot of great players on both sides. Two very good football teams," he said. "We'll have to get a lot better before we play them." The Noles play both teams in November.
Despite its struggles running the option in a loss to Boston College last week, Wake Forest coach Jim Grobe says he has no plans to scrap it from the offensive game plan. "Nobody played real well," Grobe said. "We didn't block well, didn't run well. It was not anything to do with the run game. The offense, in general, just did not play very well."
January, 9, 2013
1/09/13
4:47
PM ET
Duke announced Wednesday that four freshmen have enrolled for the spring semester and will be eligible to participate in spring practice.
They are:
Quarterback Parker Boehme
Receiver/defensive back Evrett Edwards
Defensive back Quay Mann
Linebacker Dominic McDonald
All four graduated from high school last month.
Boehme played quarterback under former Duke receiver Adam Geis at Sandalwood High in Jacksonville Beach, Fla. As a junior, Boehme accounted for 3,202 yards and 40 touchdowns and earned all-state recognition before his senior campaign was cut short because of injury.
Edwards played at Woodbridge High in Virginia, posting career totals of 107 tackles, 10 interceptions and 21 pass breakups.
Mann had over 900 all-purpose yards and 11 touchdowns as a senior at Northern Nash High School in Rocky Mount, N.C. A three-time all-conference pick, Mann was selected to the North Carolina squad for the annual 76th Shrine Bowl of the Carolinas.
McDonald was a first-team 8A all-state selection as a senior at Lake Brantley High in Longwood, Fla., and was selected to play in the Florida North-South All-Star game played last month.