February, 13, 2013
2/13/13
10:00
AM ET
Virginia Tech, Boston College and Miami did the dirty work. They're the ones who made the Big East angry -- so angry that BC and Connecticut
still
haven't played each other
since the Eagles left to join the ACC. They're the ones who were mired in acrimony, tangled up in lawsuits, and portrayed as the Big East's Benedict Arnold (who, ironically, was born in Connecticut).
Pitt and Syracuse?
They're practically tap-dancing out of the Big East.
"It was a tumultuous time for everybody," said one ACC source who was involved in the first expansion. "People didn't know there was going to be this much turmoil and griping. It was unprecedented in that time. Everybody has changed now. In 2003, it was new. Three teams were leaving. You go back and look at the newspapers, it was all anyone talked about for the months of May, June, July. It was huge. No conference had ever done anything like that.
"It's easier for Pitt and Syracuse because they're coming into a league where three other teams have already broken it in."
Having gone through expansion before, with the additions of Miami, Virginia Tech and Boston College, the ACC had a blueprint for Round 2, and Pittsburgh and Syracuse had footsteps to follow. This time, though, was vastly different. Ten years ago, the news of three teams leaving the Big East was shocking. Now, it's more surprising to hear of anyone who's staying in the Big East. The ACC's first round of expansion was a messy trio of divorces with enough lawsuits to fill TruTV. This time, Pitt and Cuse were just following the national trend. The ACC's first round of expansion was a dramatic, shocking blow to the Big East. This time, the Big East was already doubled over.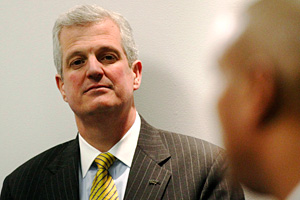 AP Photo/Keith Srakocic"We haven't gone to environments where the kids were put in a tough spot, or were uncomfortable," Pittsburgh AD Steve Pederson said leaving the Big East for the ACC. "Everyone has been good."
The change in circumstances both within the conferences and within the entire national college football landscape has made for a much smoother transition. The ACC has since changed its bylaws and no longer requires campus visits to approve potential expansion candidates; the conference turned to a committee comprised of presidents, athletic directors and faculty representatives to discuss the pros and cons of further expansion and possible candidates.
"Certainly there were things we learned from the first time around that made the next time more fluid and more efficient," ACC commissioner John Swofford said. "It did happen very smoothly. It was internally unanimous, and that always contributes to a smooth transition internally, and I think, too, the landscape nationally changed a great deal from when we expanded the first time to the more recent expansions."
Pittsburgh athletic director Steve Pederson said there has been no animosity from the Big East.
"The institutions of the Big East have been very good in their dealings with us," he said. "We haven't gone to environments where the kids were put in a tough spot, or were uncomfortable. Everyone has been good. Of course, everyone is going their own way a little bit. It's hard to be too judgmental when you're leaving, too."
When the ACC announced it would add Pittsburgh and Syracuse to the league on July 1, 2013, the first person to call Pederson was the late, former Miami athletic director Paul Dee, a good friend who had once successfully led his athletic department through the same move almost a decade earlier.
As the transition began, Pederson continued to seek advice from Dee and Virginia Tech athletic director Jim Weaver, also a very good friend.
"It was kind of interesting to talk to somebody who now wasn't in the heart of it," Pederson said of Dee. "He was hearkening back to the transitional period of time. He was very helpful in that way. We talked a lot about just about every issue you could think of. Those two were very helpful, and to some extent, they were very helpful in navigating the remaining time in the league, too."
That time is quickly coming to an end, as Pittsburgh will join the ACC's Coastal Division and Syracuse will join the Atlantic Division this summer. Both schools have been attending conference meetings for two years. Pederson said he was at the ACC's winter meetings in January 2012, and last month. He raved about the reception they have gotten from the league office and its members, calling them "organized," "professional" and "first-rate."
"There's probably not an athletic director in the ACC I haven't been able to ask a little advice and counsel of as we do this," Pederson said. "We're joining their league. I think we bring value and unique things to the league, but this has been a long-term, successful league. We're joining them. We want to make sure we're doing this the right way."
This time, both the ACC and Big East have found a way to do it better.
October, 11, 2012
10/11/12
11:00
AM ET
For 25 years, Miami had an inordinate amount of stability at the top of its athletic department.
But that all ended when Paul Dee announced he would retire in 2008. Now Miami is conducting a national search for another athletic director, following the
surprise resignation
of Shawn Eichorst last week. So the grand tally is three athletic directors in the past four years -- compared to three athletic directors in the previous 25.
Is this cause for alarm at a program that has prided itself on being a national leader?
"No, it's not concerning at all," football coach Al Golden said. "Shawn is a good friend and a great AD. He did what he thought was best for his family, and clearly that's different from how I feel or how [women's basketball coach] Katie Meier feels or how [men's basketball coach] Jim Larranaga feels. We want to be here at Miami, and we want to build this program."
Golden brings up an excellent point. Miami must find somebody truly committed to the athletic department, somebody who has a firm grasp on the cultural dynamics in Miami, who realizes that he must roll up his sleeves and work hard to gain the attention of the community. Miami is no college town. Donation dollars do not pour in the way they do at places like Ohio State, Nebraska and Wisconsin.
Unfortunately, the need for somebody truly committed to both the university and the community flies in the face of the actual perception about the position. Miami is currently viewed as a steppingstone job, an image that has been fostered with the recent defections and its inability to pay on a grand scale. Eichorst, who left for Nebraska, will earn close to $1 million in his first year with the Cornhuskers -- believed to be a significant upgrade over what he made at Miami.
[+] Enlarge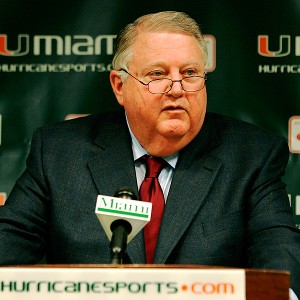 AP Photo/J. Pat CarterAn athletic director in the mold of the late Paul Dee could bring needed stability at Miami.
Factor in the cloud of potential NCAA sanctions, and Miami president Donna Shalala is in a tough spot. But former athletic director Sam Jankovich believes Miami can find the right person despite the questions.
Jankovich was at Miami from 1983 to '90, and oversaw the rise of the football program to national prominence. He also brought the basketball program back, and did it by working countless hours raising enough money to make his dream a reality.
"Miami is a great institution, South Florida is a great place to live and I don't think the University of Miami has to be a steppingstone for anybody," Jankovich said in a telephone interview with ESPN.com. "I think what has happened with the transition not only of ADs but coaches, they just have not had any consistency from the time Butch (Davis) left to when they hired Larry Coker, then they hired Randy (Shannon), then they hired now hopefully Al Golden will stay and do a good job. They've had a roller coaster."
Jankovich has lived through scandals, and with the difficulty of making yourself stand out in a major metropolitan area. His successor, Dave Maggard, only lasted two years. After Maggard left, Jankovich urged school leaders to look at somebody with a deep understanding of Miami -- the program and the city. They found the late Dee, a Florida graduate-turned-passionate Miami supporter with ties to the program.
Dee oversaw the athletic department from 1993 to 2008. Never once did you get the sense he would rather be somewhere else. When he retired, it was only because he felt it was time. He stayed on as a professor at the university until his death in May.
The past two Miami athletic directors did not fit the profile Dee fit all those years ago. Kirby Hocutt came to Miami after stints at Oklahoma and Ohio University and spent 2½ years with the Hurricanes before leaving for Texas Tech. Eichorst came from Wisconsin and lasted 18 months.
"Miami is a different place and you need somebody to understand the community and the university," Jankovich said. "They've hired people from other places, but I surely would encourage them if there is somebody good, has roots as far as Miami is concerned and would appreciate the opportunity to be there, hire somebody like that."
For now, Miami has appointed Blake James as interim athletic director. He has not made it expressly clear that he is interested in the permanent job, saying in an interview that Miami "is a great institution, it's a great program. So when you look out there in college athletics, it's a very attractive job. As long as I'm in this position, I'm going to continue to do the best that I can and carry the baton forward and help us achieve our goals as a program."
Goal No. 1 must be stability.
"Yeah, we need that," Golden said. "I don't think there is any question. "One of the characteristics we should be looking for is someone that wants to be a part of the South Florida community and be part of the Miami community and be here for a long time. It's important to all of the coaches, not just me. It's critical that we find someone that wants to be here."
Someone, in a nutshell, who truly gets Miami.
October, 4, 2012
10/04/12
1:45
PM ET
Well, this is getting awfully familiar for Miami.
The Hurricanes are searching for their third athletic director since 2008, now that
Shawn Eichorst has resigned
to take the same position at Nebraska. The ACC also now has its third program without an athletic director as Miami, Clemson and Boston College have hires to make.
The truth is, we hardly knew Eichorst. Terry Don Phillips and Gene DeFilippo made their marks at their respective schools. Eichorst? He was only around Miami for 18 months, and leaves no real stamp on a program that is in desperate need of some sort of stability.
Having an opportunity to return to the Big Ten must have been appealing, with an NCAA investigation hanging over the program he inherited.
It was his predecessor, Kirby Hocutt, who has been implicated in the Nevin Shapiro scandal that has sent NCAA investigators to Miami asking questions. Hocutt
reportedly gave Shapiro carte blanche
to Miami and its players, an
allegation Hocutt denies
.
It is not as if Hocutt hung around Miami for long, either. He resigned in February 2011 for the same job at Texas Tech, after spending only 2 1/2 years with the Hurricanes. It was enough time for him to fire Randy Shannon and hire Al Golden, who remains the head coach. The
allegations against Miami
surfaced in an explosive Yahoo! Sports report six months after Hocutt resigned.
So where does Miami go from here? Its last two athletic directors have left for jobs in bigger conferences, so you have to wonder whether the Miami position is now viewed as a stepping stone job.
That was not the case previously with Sam Jankovich and Paul Dee working long, hard years to build Miami into a major powerhouse program. There are issues to deal with to be sure, with a small booster base and an inability to shell out salaries in the highest area of the stratosphere.
Finding somebody who wants to stay for the long-term has got to be the No. 1 priority, particularly with NCAA sanctions down the road. The last thing Miami needs is somebody to cut and run for the third successive time. Who wants to roll up his or her sleeves and work hard to build on the integrity of the program? Who understands that Miami will always have the potential to be a national power despite some of the down times that may come?
Miami remains a special program, given its history, tradition and location. Now president Donna Shalala needs to find a special person to shepherd this athletic department into the unknown, with the promise that sunnier times remain ahead.