August, 8, 2011
8/08/11
12:30
PM ET
By
ESPN.com staff
| ESPN.com
Two-a-days? Pshh. Toughen up, buttercup ...
March, 28, 2011
3/28/11
3:30
PM ET
Maryland first-year coach Randy Edsall will have 14 returning starters to work with when the Terps open spring practices on Tuesday, including 2010 rookie of the year
Danny O'Brien
at quarterback, four starters on the offensive line and seven of the top 10 tacklers from a year ago.
Not a bad start.
[+] Enlarge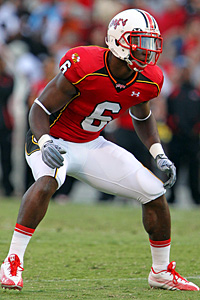 Mitch Stringer/US PresswireKenny Tate will move from safety to linebacker in Randy Edsall's scheme.
Maryland has to replace its top two receivers, though, will miss linebackers Alex Wujciak and Adrian Moten and will obviously be making a significant transition in coaching philosophy, style and scheme. Edsall said on Friday that spring practices are a chance for the players to realize that "every position is wide open."
It's also a chance for Edsall to learn more about what he has to work with.
"Our systems will be based on our players, but we're going to be multiple," Edsall said. "I think in this day and age, and we have the personnel where we can be multiple on both sides of the ball. That's what we're going to do. We're going to incorporate a lot of things that we want to do. We'll find out -- what do we do best? And that's what we'll find out this spring."
The biggest position change was that of Kenny Tate from safety to linebacker. Tate's move still leaves two returning starters in the secondary in senior cornerbacks Cameron Chism and Trenton Hughes. Tate is Maryland's active career leader in tackles (162) and interceptions (five).
"When you watch the tape of Kenny from a year ago, almost 90 percent of the time he was playing down," Edsall said. "He wasn't playing back in the deep half, the quarters or a post player. When you take a look at his abilities, he's better suited to being a linebacker. And he's better suited for being a linebacker for his future after playing at the University of Maryland. In terms of my having coached in the NFL and had an opportunity to work with guys at that level -- when you watch Kenny, his best position as far as we're concerned, is being a linebacker."
Edsall said the players will determine what schemes are used.
"Any good coach I've ever been around says you don't pigeon-hole the players into a scheme," he said. "What you do is take a look at the talent you have available and develop the offense and defense that's best suited to bring out the best in those young men. Are we going to be the finished product by April 30th? No. But we don't have to be the finished product by then. It's a process we go through. We've had the strength and conditioning throughout the winter, and now we go to spring ball and now we'll learn more about our team. As we go into the fall, here's who we're going to be and here are the things we need to work on, knowing that we're going to add 17 or 18 more players in August."
OUT WITH INJURIES:
OL Justin Lewis, OL Pete DeSouza, TE
Dave Stinebaugh
, DB Avery Graham (but will run track this spring)
LIMITED:
OL Justin Gilbert, TE
Ryan Schlothauer
, DL Marcus Whitfield
November, 24, 2010
11/24/10
12:30
PM ET
By
ESPN.com staff
| ESPN.com
Tofurky? What's tofurky? ...
November, 5, 2010
11/05/10
9:00
AM ET
By
ESPN.com staff
| ESPN.com
Here's your weekly dose of ACC knowledge, thanks to the sports information directors throughout the league.
Virginia Tech's 28-21 win over Georgia Tech marked the 200th game for Bud Foster as Virginia Tech's defensive coordinator/co-coordinator. He was the co-coordinator in 1995 and took over in 1996, a position he has held since.
Georgia Tech has now lost consecutive games for the first time under coach Paul Johnson.
Clemson's current six-game winning streak over NC State is its longest active winning streak over any league opponent and the longest by the Tigers against an ACC opponent since it won eight in a row over Maryland from 1993-2000.
Despite losing two starting offensive tackles to season-ending injuries (Justin Gilbert, knee; Pete DeSouza, fractured legs), the Terps have allowed just five sacks in their four ACC games. Only Clemson (4) has surrendered fewer.
This week the ACC is conducting its inaugural "ACC Fall Sportsmanship Week." Throughout the first week of November, every team will showcase its dedication to the ideals of sportsmanship by participating in a pregame handshake. Over 40 events will be part of the 2010 ACC Fall Sportsmanship Week including all of the ACC's home football games.
Boston College senior cornerback Chris Fox made the first start of his career against Clemson last weekend in place of the injured DeLeon Gause. Fox, who has been a special-teams player and Gause's backup, made career highs with five tackles, three solo tackles and three pass breakups. Two of those breakups were at the goal line. Entering the season, Fox had two career tackles.
Florida State's tailback trio of Chris Thompson, Jermaine Thomas and Ty Jones has equally shared the rushing load for the Seminoles, who are averaging 207.4 yards per game. Thompson (484 yards), Thomas (446) and Jones (426) have all eclipsed 400 rushing yards through eight games. A quarter century has passed since Florida State had three running backs with more than 400 rushing yards at the end of the season. Tony Smith (678), Victor Floyd (619) and Cletis Jones (405) last pulled off the feat in 1985.
Miami wide receiver Leonard Hankerson is having one of the most productive seasons in school history. Through eight games, Hankerson has 44 catches for 681 yards and a team-best nine touchdowns. He has scored at least one touchdown in six of UM's eight games and needs just two more receiving touchdowns to tie Michael Irvin's single-season school record mark of 11 set in 1986. After recording 801 receiving yards last season, Hankerson is also looking to become just the third player in school history to record back-to-back 800-yard receiving seasons. Michael Irvin (840 in 1985; 868 in 1986) and Andre Johnson (881 in 2001; 1,092 in 2002) are the only other Canes to have ever accomplished the feat.
Over the last three games, North Carolina receiver Dwight Jones has 20 receptions for 379 yards and two touchdowns, an average of 19.0 yards per reception. He leads the Tar Heels with 32 receptions and 483 receiving yards and three touchdowns. Jones had a career-high nine catches for 107 yards, his second career 100-yard game in three weeks, in the win over William & Mary.
Eight games into the 2010 season, NC State has not lost a single player for the season due to injury. Only one starter -- offensive tackle Mikel Overgaard -- has been injured and forced to miss time. He started the first three games before injuring his elbow and missed three games. This healthy trend is a complete reversal of Tom O'Brien's first three years. In the past three seasons, players who were starters at one point in their careers missed a total of 180 games. That's an average of 60 games missed per season.
Virginia cornerback Chase Minnifield is tied for the lead among all FBS players with six interceptions this season. "Mini" had two picks against Miami in UVa's 24-19 upset last Saturday. Minnifield is currently tied for 14th on the UVA career interceptions list with 10. Among the players he is tied with are College Football Hall of Famer Bill Dudley (1939-41) and Paul London (1992-95), the brother of coach Mike London. Minnifield's father, Frank, was a four-time Pro Bowler who played nine seasons for the Cleveland Browns. He made sure his son would understand the meaning of success when he was born. Chase's first name comes from Chase Manhattan Bank. His Middle name? Onassis.
Ten true freshmen quarterbacks have started a game this season in the FBS. Saturday could mark the first time that two of those quarterbacks have faced one another. Wake Forest's Tanner Price has started five games for the Deacs, including the last three, while BC's Chase Rettig has started three games this season.
Duke's two straight victories over Virginia in 2008-09 marked the first back-to-back wins over the Cavaliers since 1981-82.The last time Duke defeated Virginia in three consecutive seasons came on the tail end of a five-game streak between 1974-78.
October, 29, 2010
10/29/10
10:00
AM ET
Trick or treat, ACC fans? I've got a little of both for you today in this Halloween edition of the ACC blog. Here are this year's spookiest awards as we wrap up the final weekend of October:
Scary movie:
Virginia Tech's loss to James Madison. It was a nightmare for the Hokies, who fell to an FCS school for the first time since losing to Richmond in 1985. To make matters worse, it happened in Lane Stadium, which has earned the reputation as one of the toughest places to play in college football. Apparently, not for the Dukes.
[+] Enlarge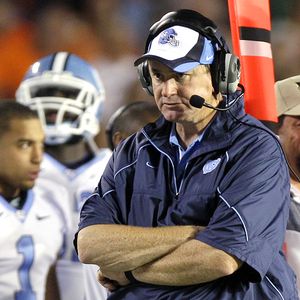 AP Photo/Alan DiazAn NCAA investigation has made this season one to forget for coach Butch Davis and the Tar Heels.
Nightmare on Franklin Street:
Things couldn't get much worse for North Carolina, which has had 16 players' seasons derailed because of the NCAA investigation and now has suffered through a rash of injuries to key players. It all finally added up in a 33-10 loss to Miami that stopped the Heels' four-game winnings streak and hurt their chances of contending for the Coastal Division title.
Boo (Boo):
Take your pick on the worst injury of the season. Two season-ending injuries occurred this month, when Boston College defensive end Alex Albright – the Eagles' top pass rusher – broke his fibula, UNC tight end Zack Pianalto's season ended with a fractured right fibula at the ankle, and Maryland offensive lineman Pete DeSouza was in intensive care after breaking both of his legs in a motor scooter accident.
The Great Pumpkin:
The toughest second half of the season belongs to Virginia Tech, which still has to face Georgia Tech on Thursday night, followed by back-to-back road trips to North Carolina and Miami before ending the season against rival Virginia.
Night of the living dead:
Clemson earns the award for the team that got off to a slow start but is coming back to life. The Tigers are making a habit out of it, as they started 2-3 last year before winning the Atlantic Division title. They can take another step in that direction on Saturday against a Boston College team that hasn't won since Sept. 11.
Cursed team:
Wake Forest. The Deacs lost to two option teams in back-to-back weeks in the final minute of the game. Georgia Tech quarterback
Joshua Nesbitt
threw the game-winning touchdown pass with 15 seconds remaining for a 24-20 comeback win, and Navy quarterback
Ricky Dobbs
threw another game-winner with 26 seconds remaining for a 28-27 win.
Graveyard:
Duke, Virginia and Boston College are all winless in conference play. As far as their division races are concerned? Bury 'em.
October, 28, 2010
10/28/10
12:30
PM ET
By
ESPN.com staff
| ESPN.com
October, 26, 2010
10/26/10
4:10
PM ET
By
ESPN.com staff
| ESPN.com
There's a time and place for everything, and this wasn't either.
Maryland coach Ralph Friedgen and his players
were outraged
by
a cartoon
in the school newspaper that poked fun of offensive lineman Pete DeSouza, who was recently seriously injured in a motor scooter accident.
The accident left DeSouza in the intensive care unit with two broken legs. It's a learning experience for the Diamondback, and if there's any good to come out of it in College Park, it will be that it's used as inspiration for the Terps as they prepare to host Wake Forest.
October, 25, 2010
10/25/10
2:00
PM ET
It's time to look back on Week 8 one last time and fast-forward to Week 9:
[+] Enlarge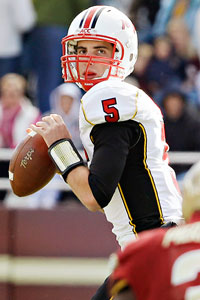 AP Photo/Stephan SavoiaMaryland's Danny O'Brien threw three TD passes in a 24-21 win against Boston College.
The good:
Quarterback redemption. One week after throwing three interceptions apiece, Virginia quarterback
Marc Verica
and Maryland quarterback Danny O'Brien guided their respective teams to victories without one interception. Even Duke quarterback
Sean Renfree
, who threw five picks in the loss to Miami, cut it down to only one interception against Virginia Tech. And Miami quarterback
Jacory Harris
only threw one interception while UNC's
T.J. Yates
, who had only thrown one all season, threw two against the Canes.
The bad:
Injuries. None was worse than the motor scooter accident at Maryland, which left starting offensive lineman Pete DeSouza in intensive care with two broken bones in both legs. But Boston College also lost a leader for the season when starting defensive end Alex Albright – the Eagles' top pass rusher and a team captain – broke his fibula and will miss the rest of the season. Starting safety Wes Davis, another team captain, suffered a neck injury but has full mobility and has been released from the hospital.
The ugly:
Virginia's attendance. The Cavaliers finally got an FBS win, but Hoo cares if nobody was there to see it? The announced crowd was 36,600 – the fewest in Scott Stadium since UVA played Duke in 1997.
The broken:
Streaks. Miami coach Randy Shannon was awarded the game ball after snapping his three-game losing streak to North Carolina coach Butch Davis, and Clemson coach Dabo Swinney snapped his three-game losing streak to Georgia Tech coach Paul Johnson.
The unbelievable:
Georgia Tech quarterback
Joshua Nesbitt
, who was just 44 yards shy of becoming the ACC's most prolific rushing quarterback, was held to two rushing yards against Clemson.
The front-runners:
Virginia Tech quarterback
Tyrod Taylor
and Clemson defensive end Da'Quan Bowers continued to make cases in the races for offensive and defensive players of the year, respectively. Taylor threw for 280 yards and three touchdowns, and Bowers had his 10th sack of the season and finished with 2.5 tackles for loss.
The Atlantic Division takes center stage in this week's top three games:
Florida State at NC State:
It's lost some of its luster since NC State lost to East Carolina and wasn't able to hold onto its spot in the Associated Press Top 25 for more than a week, but it should still be a great game that holds championship implications. The winner of this game should be considered the favorite to win the Atlantic Division.
Wake Forest at Maryland:
The Terps can become bowl eligible with a home win on Saturday, but the Deacs have had a week off to rest and prepare and could play the role of spoiler.
Clemson at Boston College:
It's a chance for the Tigers to continue their momentum, and they're catching the Eagles at one of their lowest points in years. BC never quits, though, especially at home, and considering its poor start, Clemson can't afford to overlook anyone.
October, 25, 2010
10/25/10
12:00
PM ET
By
ESPN.com staff
| ESPN.com
It's a good Monday because we don't have to wait until Saturday for a good game.
October, 24, 2010
10/24/10
10:00
AM ET
Here's a look at five things we learned in five games this weekend:
[+] Enlarge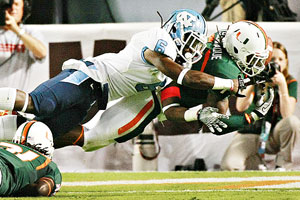 AP Photo/C.W. GriffinSafety Vaughn Telemaque provided the spark the Hurricanes' defense had been missing.
Miami has a pulse.
After lackluster performances in a loss to Florida State and a win over Duke, Miami finally showed up with -- dare I say it -- some swagger against North Carolina. I know, I know, it's a word that can tire quickly, but it's exactly what this program has been missing. I don't know what safety Vaughn Telemaque said to his teammates on the sideline, but I do know this team has sorely been lacking somebody willing to get up in everyone's face and challenge them. Telemaque was the one who told me so. Somebody lit a spark under these guys and it paid off in a Coastal Division win that keeps the Canes in the hunt for their first ACC title and snapped a three-game losing streak to their former coach, Butch Davis.
Maryland is to be taken seriously now.
A conference road win counts for something, even if it did come against a downtrodden Boston College team that lost three of its top defenders to injuries. The Terps hadn't won on the road since September 2008 and they got what they needed on both sides of the ball -- even without injured starting offensive lineman Pete DeSouza. With the win, Maryland and NC State are tied for second place in the Atlantic Division standings with 2-1 records. While Thursday night's game between Florida State and NC State will go a long way toward determining the division winner, the Terps are equally in the mix.
Georgia Tech and North Carolina are on the outside looking in.
The loss to Miami put a significant dent in the Tar Heels' chances of contending for the Coastal Division and finishing an otherwise nightmarish season in storybook fashion. With two conference losses, both Georgia Tech and UNC will not only have to beat Virginia Tech, which is undefeated in conference play, they'll also have to get some help against the Hokies. The defending ACC champs didn't look like ACC champs in Death Valley on Saturday.
Paul Johnson's offense can be stopped.
All it takes is a disciplined, determined defense, and Clemson was both on Saturday. For the Tigers to hold Georgia Tech quarterback
Joshua Nesbitt
to 2 rushing yards -- 2! -- was simply unbelievable. In fact, I still don't believe it. The Tigers' defense held Georgia Tech to 325 yards and 13 points -- the fewest yards and points for Georgia Tech this season. The Jackets entered the game averaging 328 rushing yards per game and were held to 242 yards.
Virginia can beat an FBS team.
It took until the second half for the Cavaliers to pull away, but with their 48-21 win over Eastern Michigan, they earned their first win of the season against an FBS program. Unfortunately for the Cavaliers, there weren't many people there to witness it, as the crowd of 36,600 was the lowest since Virginia played Duke in 1997.
October, 23, 2010
10/23/10
11:00
AM ET
Good morning, ACC fans. There are some needy teams out there today, teams desperately seeking:
A road win ...
Maryland has not been able to win on the road since it beat Clemson in Death Valley in September 2008. Can the Terps get it done today at Boston College without their starting right tackle, Pete DeSouza, who was injured in a motor scooter accident? It's going to be tough. Boston College has a defense capable of forcing turnovers and giving its offense a much-needed short field to work with. And the Eagles are in desperate need of ...
A win ...
Weber State and Kent State. Those are BC's two lone wins so far this season. The Eagles haven't won since Sept. 11. With back-to-back home games against Atlantic Division opponents, BC needs to avoid a 0-for-October streak. Speaking of streaks, have you seen the one Butch Davis has over Randy Shannon? The Canes are in dire need of ...
A Coastal Division win ...
Are you in, or are you out, Miami? Because those of us watching can't tell if you even want it or not. The Canes need to snap their three-game losing streak to their former head coach and prove that they're a contender for the ACC championship. Shannon isn't the only coach in the ACC trying to snap a three-game losing streak to a conference opponent today. Clemson coach Dabo Swinney knows exactly how he feels after three straight losses to Georgia Tech's Paul Johnson. The Tigers are needy for ...
Redemption ...
As if losing to the Jackets during the regular season didn't sting Clemson enough last year, the Tigers also lost to Georgia Tech in the ACC title game. ACC standings aside, this game is about pride. There should be some bruised egos on that Clemson roster right now, and the only way to change that is to play defense for four quarters today. Clemson is the defending Atlantic Division champs, not a rebuilding team like Virginia, which is still searching for ....
An FBS win ...
It's time to beat the big boys, Virginia -- or at least Eastern Michigan. Here's your chance to get that elusive third win of the season and get it against a 1-6 MAC team. The Cavaliers aren't the only ones in the Coastal Division still in the market for a respectable win. Duke has yet to beat anyone other than Elon and will have a tough time reversing its fortunes today at Virginia Tech.
We'll see whose needs are fulfilled today, and as usual, I'll be watching from the first to the last snap. Feel free to check back here for updates throughout the day, and you can follow me on Twitter
@ESPN_ACC
. Enjoy the games!
October, 22, 2010
10/22/10
10:32
AM ET
By
ESPN.com staff
| ESPN.com
Maryland starting offensive lineman Pete DeSouza was
injured in an accident
Thursday evening on campus and will miss the rest of the season, the school announced Friday morning.
DeSouza suffered fractures in both lower legs. He was having surgery Friday morning and is expected to remain in the hospital throughout the weekend.
"Our thoughts and prayers are with Pete and his family, and we'll help them any way we can," coach Ralph Friedgen said in a prepared statement. "We hope he makes a speedy recovery."
DeSouza will not travel with the team Friday to Boston College. He is expected to make a full recovery.
September, 22, 2010
9/22/10
2:30
PM ET
By
ESPN.com staff
| ESPN.com
It's only September, and Maryland has already suffered injuries to two of the most important position groups -- quarterback and offensive line. Starting left tackle Justin Gilbert tore his ACL and will miss the rest of the season, starting quarterback
Jamarr Robinson
has a sore throwing shoulder, backup quarterback Danny O'Brien has a nagging ankle injury, and third-string quarterback
C.J. Brown
is out for the season with a broken collarbone.
[+] Enlarge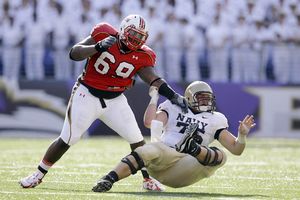 Chris Gardner/US PresswireThe Terps are going to miss standout left tackle Justin Gilbert.
Ouch.
"It's a concern," coach Ralph Friedgen said, "there's no doubt about it."
Not after the way Maryland's offense struggled in the first half last weekend at West Virginia. Instead of approaching Saturday's home game against Florida International as a final tune-up before the conference schedule begins, the questions surrounding the offense now have Maryland staring at a potential trap game. FIU's 0-2 record is deceiving, as the Panthers lost to Rutgers and Texas A&M by a combined 12 points.
The Panthers rank 28th in the nation in total defense, ninth in the nation with 17 tackles for loss, and ninth in the nation in passes intercepted with five. That doesn't bode well for a Maryland offense that totaled just two rushing yards, four first downs and no third-down conversions in the first half against West Virginia.
"I don't think we played as well as we're capable of playing," Friedgen said. "… As poorly as we played, we were in a position to make a run at them, we just didn't make the plays we needed to make. For this team, hopefully we'll be better prepared. Next time we're in that situation hopefully we can become successful because I really think that's what this team needs, to be able to win a game like that to really start believing in themselves and having the confidence they need to be a good football team."
Both Robinson and O'Brien are expected to play against FIU, but the offensive line had to be reshuffled. R.J. Dill was moved to left tackle, and redshirt freshman Pete DeSouza was promoted to right tackle.
"Gilbert is a tough loss for us, I'd say he is one of our better offensive lineman and he was starting to grow and mature the last few games," said receiver
Torrey Smith
. "He has gotten better and better. Personally I'm going to miss him. I always used to joke with him in the huddle and our lockers are right across from each other so we talk every day. It's a blow for us but it's also an opportunity for Pete DeSouza to step up and show what he's worth. He's done a great job since camp getting better and better and he did a great job holding his own against West Virginia against their defensive line."
Maryland had the fortune of having all four nonconference games scheduled at the start of the season, so there has been plenty of time to prepare for the Oct. 2 ACC opener against Duke, but the Terps can't afford to look past FIU. After a 2-10 season last year, the Terps need every win they can get in order to get back to the postseason.
"This is a very, very important game on our schedule," Friedgen said. "It is very important for us to re-establish our momentum and really focus on whatever we need to do to win this football game."