September, 30, 2010
9/30/10
10:15
AM ET
Here's a look at what to watch this week in the ACC: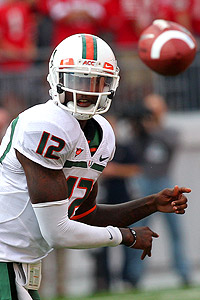 Aaron Josefczyk/Icon SMIThe Hurricanes need Jacory Harris to cut back on his interceptions.
Turnovers in Death Valley and College Park. Miami quarterback Jacory Harris has thrown six in the past two games. Clemson is No. 7 in the country in turnover margin, gaining seven and losing two. Duke had five turnovers this past weekend against Army and Maryland is tied for No. 10 in the country in turnover margin with 10 gained and four lost.

Clemson's offensive line vs. Miami's defensive line. One particular matchup will be right tackle Landon Walker against Miami defensive end Allen Bailey, but it needs to be a group effort. Protecting quarterback Kyle Parker and giving him time will be key, but it won't be easy. Miami is second in the nation in sacks, averaging 4.67 per game, and leads the nation in tackles for loss with 11.33. Bailey also played 12 snaps at tackle against Pitt.

Boston College's quarterback. The Boston Globe has reported that freshman Chase Rettig will start against Notre Dame, but coach Frank Spaziani hasn't confirmed it. All we know for sure is that it won't be Dave Shinskie. Regardless, it could be the difference in the game.

FSU's revamped offensive line. Left tackle Andrew Datko has missed the past two games with a shoulder injury and is listed as day-to-day. Henry Orelus and Garrett Faircloth are both expected to play. Zebrie Sanders could move from right to left tackle.

Georgia Tech's energy. That's right, it's that simple, and it's been missing. Paul Johnson said this week he wants his team to "play like their hair's on fire" and with a sense of urgency.

Atlantic vs. Coastal. All five ACC games this weekend are interdivisional matchups, the first time that has happened since the ACC split into the Atlantic and Coastal divisions in 2005. The Atlantic Division has home-field advantage in four of the five matchups.

The record books. NC State quarterback Russell Wilson needs one more touchdown throw to move into sole possession of second place in NC State history in that category behind ACC record-holder Philip Rivers. With 59 touchdown passes for his career, one more will also move him into seventh place in the ACC record books.

Virginia Tech in the red zone. The Hokies have been inside the 20-yard line 18 times and scored nine touchdowns. They kicked four field goals last week against Boston College, but will need to have more success against the No. 19 offense in the country or make more even stops on defense.

Virginia's defense vs. Florida State's offense. Virginia boasts the ACC's top scoring defense, allowing just 12.3 points per game. Florida State's offense is third in the conference in scoring (35.2/game) and ranks first in total offense (434.5 yards/game). Virginia has allowed 280.3 yards per game, which ranks second in the league to Miami.

North Carolina's revamped secondary against ECU quarterback Dominique Davis. The Tar Heels' secondary was one of the positions hit hardest by the suspensions, but those players have held their own. They'll get another challenge against the No. 9 scoring offense in the country and a passing game averaging just shy of 300 yards per game.
August, 11, 2010
8/11/10
3:30
PM ET
By
ESPN.com staff
| ESPN.com
The name Philip Rivers will forever be associated with NC State.
Stephen Rivers
? Not so much.
Instead of following the family legacy to Raleigh, Stephen chose a different path and
committed to LSU
last Friday. Athens coach Allen Creasy told Jamie Newberg of ESPN Recruiting that Stephen throws the ball better than Philip and is more athletic.
There's absolutely nothing wrong with Rivers choosing a different path, and the one he feels is best suited for him, but man, what a great story that would have been for NC State -- and what a great recruit.
February, 20, 2009
2/20/09
11:00
AM ET
By
ESPN.com staff
| ESPN.com
Posted by ESPN.com's Heather Dinich
There were a lot of responses from Wolfpack fans, and they seemed to agree on a select few names: Philip Rivers, Torry Holt, Ted Brown, Mario Williams and Roman Gabriel. As you know, that's one too many. The final debate was between Holt and Williams. Very tough call.
Here are a few comments from NC State faithful:

Michael in Charlotte wrote: Heather, for NC State's Mt. Rushmore how about these four? Philip Rivers, Torry Holt, Ted Brown and Mario Williams. Honorable mention for Lou Holtz, Bill Cowher and Roman Gabriel. GO PACK!!!
Jon in Raleigh wrote: Hey heather, if I could pick four iconic figures to represent Wolfpack football for this Mt. Rushmore project I would honestly have trouble deciding who would make the cut. However, when I think of wolfpack football I think of the "white shoes" defense in the 60's. I doubt that will make the cut so let's get to specific names. Ted Brown, Roman Gabriel, Phillip Rivers, and NC States first #1 overall draft pick "super" mario williams. You could also consider Jim Ritcher, Dick Christy, and Torry Holt to make the cut for honorable mention.
Michael in Lexington wrote: I think the Mt. Rushmore for NC State would have to be: Philip Rivers, Roman Gabriel, Torry Holt and Ted Brown
Mike, in Eden N.C. wrote: I think the Mt Rushmore of NC State Football should consist of; Roman Gabriel, Philip Rivers, Earle Edwards, and Jim Ritcher.
Patrick in Raleigh wrote: NC State Mount Rushmore 1) Philip Rivers (Shattered almost every ACC passing record, ACC athlete of the year in 2004, career Yards per pass attempt is best in college football history) 2) Roman Gabriel (Two-time all-american, first asian-american to start in NFL, held nearly evrery wolfpack passing record when he finished at state) 3) Torry Holt (Set ACC record for receptions, now broken, and yards; all-american) 4) Mario Williams (all-acc; SI.com all-american, first acc player to be chosen 1st overall in NFL draft) ...alright Heather I'll admit the case to put most of these on the All-ACC rushmore is weak but how can you argue against the greatest passer in the history of the league. He must be included. PHILIP FOR PREZ!!
The final verdict:
Philip Rivers -- Rivers, the 2003 ACC Player of the Year and a first-round NFL draft pick, started all 51 games at quarterback during his four years at NC State, an NCAA record. He finished his career as the second-leading passer in NCAA history with 13,494 career passing yards and 13,582 career yards of total offense. He finished tied for fifth in NCAA history with 95 career touchdown passes. During his senior season, Rivers led the nation with a 72.0 completion percentage and a 170.49 pass efficiency rating. He became the first quarterback in ACC history to throw for 3,000 yards in three different seasons.
Torry Holt -- Holt, an All-American wide receiver, set an ACC record with 3,379 career reception yards, and set Wolfpack career bests for receptions (191), touchdown receptions (31) and 100-yard receving games (14). His outstanding senior season led to him being named the ACC Player of the Year and Offensive Player of the Year, and he was a finalist for the Biletnikoff. His jersey was retired in 1999.
Roman Gabriel -- He began his college career as a 6-foot-4, 200-pound defensive back as well as the quarterback. He led the NCAA in completion percentage with a school-record .604 in 1959. Gabriel threw for a then-school record 2,961 career passing yards, including 19 touchdowns. Gabriel was named ACC Player of the Year in 1960 and 1961 and was an Academic All-American in 1960. Gabriel was a first-round draft pick by the Los Angeles Rams.
Ted Brown -- He is regarded by many as the greatest running back to ever play for NC State. At 5-foot-11, 170 pounds, Brown rushed for a school and ACC record 4,602 yards from 1975-78. He scored 51 touchdowns during his career, which still leads the ACC. Brown finished his career ranked fourth on the NCAA's all-time rushing chart, trailing only Tony Dorsett, Archie Griffin and Ed Marinaro. He was a first-round draft pick of the Minnesota Vikings.
January, 21, 2009
1/21/09
12:00
PM ET
By
ESPN.com staff
| ESPN.com
Posted by ESPN.com's Heather Dinich
If people are content with the ACC being a defensive league, they will have to be content with it being an average league.
If the conference is going to take the next step, it needs to recruit better quarterbacks.
Yes, defenses win championships, but in college football there are two components essential to winning and winning big -- offensive and defensive line play, and a standout quarterback. Save for Matt Ryan last year, the ACC hasn't exactly been a quarterback factory. Michael Vick and Ken Dorsey don't count.
In this decade, you can count Ryan, Matt Schaub (Virginia, 2004 NFL draft), Philip Rivers (NC State, 2004 draft), Ron Curry (UNC, 2002 draft), Charlie Whitehurst (Clemson, 2006 draft), Adrian McPherson, (FSU 2005 draft), and Joe Hamilton (Georgia Tech, 2000 draft) as the best the ACC had to offer at the position. The last time Florida State was truly great, it had two Heisman Trophy quarterbacks in Charlie Ward and Chris Weinke.
This is the conference that brought Drew Weatherford and Sean Glennon to its media day in August, two quarterbacks who, through no fault of their own, were used as backups this season.
Can Virginia Tech's Tyrod Taylor, Miami's Jacory Harris, FSU's Christian Ponder or NC State's Russell Wilson emerge as the league's next great quarterback? They're all good and have potential, but none of them seem to have the true wow factor that will bump them up to that elite level. Of course, they're not all running Mike Leach's offense, either. Some of the offenses in the ACC are so simplistic, it's hard for quarterbacks to flourish.
Many of the coaches in the league have committed to a defensive philosophy, and there's nothing wrong with that -- just look at how the Ravens, the Steelers and the Eagles advanced as far as they did. But an elite quarterback backed by, say, a Virginia Tech-caliber defense would do wonders to truly separate a team like the Hokies from the rest of the pack. Florida won the national title because it was ranked among the top 20 FBS schools in offense AND defense.
If you look at the teams that were in contention for the national title this year, they all had one thing in common -- excellent quarterback play. Mark Sanchez, Tim Tebow, Sam Bradford, Colt McCoy -- all ranked among the top six in the country in pass efficiency. You have to scroll down the list to No. 41 until you find Russell Wilson, the first ACC quarterback listed.
Forget Heisman winner, the ACC needs to start with a legitimate Heisman contender at quarterback.
August, 13, 2008
8/13/08
5:29
PM ET
By
ESPN.com staff
| ESPN.com
Posted by ESPN.com's Heather Dinich
I heard a rumor some NC State fans were a little disgruntled because I didn't mention Philip Rivers in connection with a segment of Tuesday's blog post that referenced the ACC and the NFL.
There's a reason for that.
I wanted to mention the league's highest picks.
I was looking at this chart in the ACC media guide to find out the top NFL draft pick at each school, which would in turn reveal the quarterbacks selected highest.
Take a look:
NFL Draft Top Selections for Each Current ACC Team
School
Player
Overall Pick
Year
NFL Team
Boston College
Matt Ryan, QB
3
2008
Atlanta Falcons
Clemson
Banks McFadden, HB
4
1940
Brooklyn Dodgers
Clemson
Gaines Adams, DE
4
2007
Tampa Bay Buccaneers
Duke
George McAfee, RB
2
1940
Philadelphia Eagles
Florida State
Andre Wadsworth, DE
3
1998
Phoenix Cardinals
Georgia Tech
Calvin Johnson, WR
2
2007
Detroit Lions
Maryand
Randy White, DE
2
1975
Dallas Cowboys
Miami
Vinny Testaverde, QB
1
1987
Tampa Bay Buccaneers
North Carolina
Ken Willard, RB
2
1965
San Francisco 49ers
North Carolina
Lawrence Taylor, LB
2
1981
New York Giants
North Carolina
Julius Peppers, DE
2
2002
Carolina Panthers
NC State
Mario Williams, DE
1
2006
Houston Texans
NC State
Roman Gabriel, QB
1
1962
Oakland Raiders (AFL)
Virginia
Bill Dudley, RB
1
1942
Pittsburgh Steelers
Virginia Tech
Bruce Smith, DE
1
1985
Buffalo Bills
Virginia Tech
Michael Vick, QB
1
2001
Atlanta Falcons
Wake Forest
Norm Snead, QB
2
1961
Washington Redskins
The whole point is that the ACC has earned a reputation as a defensive league, and it's reflected in the NFL draft.
Check out these numbers:
Of the ACC's 114 NFL draft picks from 2006-2008, 63 or 55.2 percent have been defenders.
73 percent have been defenders and offensive linemen.
There have been two quarterbacks.
8 wide receivers/tight ends
7 running backs
4 punters/kickers
Is this league loaded with talent? No question. Just not at the offensive skill positions. Does that translate into winning? Ask Frank Beamer. His team had the most players drafted over the past three years -- 20 -- and five of them were receivers/tight ends, four were in the secondary, and one was a running back. No wonder he's won two ACC titles in the past four seasons.
August, 1, 2008
8/01/08
12:45
PM ET
By
ESPN.com staff
| ESPN.com
Posted by ESPN.com's Heather Dinich
Notice these guys are in alphabetical order.
Brock Berlin, Miami -- In 2003, he helped Miami score 28 unanswered points for a 38-33 comeback win against his former team, Florida.
James Davis, Clemson -- Davis scored the game-winner in 2005 against rival South Carolina, a 2-yard run with 5:58 left that gave Clemson the 13-9 win. He also scored the game winner in 2006 against Florida State, a 1-yard run with eight seconds left for the 27-20 win.
| | |
| --- | --- |
| | |
| | Boston College/Getty Images |
| | Doug Flutie celebrates his last-second touchdown pass to defeat Miami in 1984. |
Doug Flutie, Boston College -- Is there a play that defines "clutch" better than Flutie's Hail Mary pass against Miami? Flutie left school as the NCAA's all-time passing yardage leader with 10,579 yards.
Chris Gould, Virginia -- Virginia wouldn't have been the ACC's most current clutch team had it not been for Gould. He kicked 16 field goals last season and his kicks in five games were the difference (game winners vs. Middle Tennessee and UConn, 5 FGs in 22-20 win over UNC, early FG vs. Maryland in 18-17 win and early FG vs. WFU in 17-16 win).
Sebastian Janikowski, Florida State -- He set Florida State and ACC records with 27 field goals in 1998. A year later, Janikowski made 84.4 percent (27-of-32) and led the nation with an average of 2.23 per game.
Calvin Johnson, Georgia Tech -- The No. 1 draft pick finished with 178 career receptions for 2,927 yards and 28 touchdowns. He ranks first in school history in career receiving yards, second in receptions, first in touchdown receptions, and first in most career 100-yard receiving games with 13.
Frank Reich, Maryland -- Can't forget the King of the Comeback. In 1984, trailing defending national champ Miami 31-0 at halftime, Reich completed 12 of 16 passes for 260 yards and three touchdowns for a 42-40 win and a trip to the Orange Bowl. Eight years later, he orchestrated one of the NFL's greatest comebacks. His Buffalo Bills trailed Houston, 35-3, but Reich came in for an injured Jim Kelly and won, 41-38, in overtime.
Philip Rivers, NC State -- The number of clutch plays this guys made is worth a separate entry, as he made six comeback wins his freshman year alone.
Matt Ryan, Boston College -- His two-touchdown come-from-behind win over Virginia Tech in Blacksburg last season with 2:11 left on the clock will always be remembered.
David Treadwell, Clemson -- Treadwell kicked game-winning field goals inside the last five seconds against Georgia in consecutive years. He kicked a 46-yard field goal on the last play in 1986 at Georgia, then kicked a 21-yarder with two seconds left to beat the Bulldogs in 1987. He also kicked a field goal on the last play of the game in 1985 to beat Virginia Tech.
August, 1, 2008
8/01/08
10:59
AM ET
By
ESPN.com staff
| ESPN.com
Posted by ESPN.com's Heather Dinich
You won't believe it.

The most schizophrenic team out there -- the program that can't seem to win the "big one" -- also happens to be the most historically clutch team in the ACC.
NC State gave the Clemson Tigers some serious competition for this honor, as the Wolfpack's 7-4 record in overtime games is the best in the conference -- and four of those OT wins were on the road. There were also numerous amazing Philip Rivers-led comebacks that must be taken into consideration.
However, when you're looking at each program through its entire history, Clemson actually does win the close ones. Still not convinced? Take a look:
Since 1948, Clemson has had 67 fourth-quarter wins, and five overtime wins during which the Tigers erased a deficit or tie.
All of those games were decided by seven points or less, or in overtime.
24 of those wins came with less than a minute left in the game.
Three of them came with zero seconds left on the clock.
There were a few seasons during that span that stood out:
1986 -- David Treadwell kicked three game-winning field goals (46 yards, 21 yards and 31 yards) to beat Georgia, Maryland and South Carolina. He put it through the uprights on the road against Georgia and Maryland with 10 seconds or less on the clock. The Tigers were ACC champs that year.
1987 -- A second straight season in which the Tigers were ACC champs in large part because of Treadwell, who kicked game-winners against Georgia and North Carolina. Tracy Johnson's four-yard run against Duke with 6:46 remaining gave Clemson the 17-10 win.
2005 -- With 2 seconds left on the clock, Jad Dean made a 42-yard field goal to beat Texas A&M, 25-24. Reggie Merriweather's 38-yard burst with 2:58 left beat Maryland, 28-24, and a 2-yard run by James Davis with 5:58 remaining put Clemson over rival South Carolina, 13-9.
Granted, that was then, and this is now. Can the Tigers come through in the clutch this season? If not, who is currently the most clutch team in the conference? Check back later to find out.