December, 8, 2013
12/08/13
9:15
PM ET
Dec. 26, 6 p.m. ET, Detroit (ESPN)
PITTSBURGH PANTHERS BREAKDOWN
The Panthers got to six wins this season, but this team was pretty unpredictable for most of the year. One week, they lose to Navy, a few weeks later they beat Notre Dame. Still, becoming bowl eligible in Year 1 in the ACC should serve as accomplishment given all the unknowns.
[+] Enlarge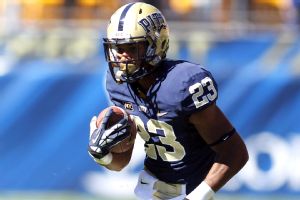 Charles LeClaire/USA TODAY SportsTyler Boyd led the Panthers in receiving as a freshman.
What was problematic for Pittsburgh to overcome this season were major inconsistencies on the offensive line, in the run game and in the secondary. Special teams mistakes proved to be costly at times, too, including in a 34-27 loss to North Carolina that featured two Tar Heels punt returns for scores.
Without an effective run game, Pitt struggled to protect quarterback
Tom Savage
and find a rhythm on offense. Pitt ranked No. 112 in the nation in rushing offense, and No. 118 in sacks allowed (41), a continuing problem the Panthers have been unable to fix over the past three seasons.
The bright spot, of course, was the performance of All-American candidate
Aaron Donald
, the ACC Defensive Player of the Year. Donald leads the nation in tackles for loss per game (2.2), and his 26.5 total tackles for loss ranks sixth in ACC history. Donald also has 10 sacks on the season, ranking him second in the nation in active career total sacks with 28.5.
Pitt also got major contributions from freshmen this year. Receiver
Tyler Boyd
set the school record for receptions by a freshman with 77 and hit the 1,000-yard mark on the season. He is the first Pitt player to achieve that feat since Jon Baldwin in 2009. Twelve true freshmen played for Pitt this season, giving the Panthers and coach Paul Chryst hope for improvement to come in the years ahead.
-- Andrea Adelson

vs.

BOWLING GREEN FALCONS BREAKDOWN
[+] Enlarge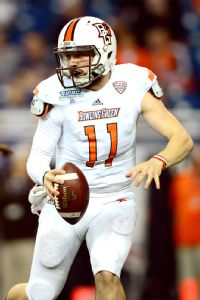 Andrew Weber/USA TODAY SportsMatt Johnson threw five touchdown passes in the MAC championship game.
Bowling Green cost the MAC millions of BCS dollars, but the Falcons don't need to apologize.
They knocked Northern Illinois out of a second straight BCS bowl by winning the MAC championship game 47-27 on Friday. The impressive victory capped a breakthrough season under fifth-year head coach Dave Clawson, as Bowling Green lost only one conference game (to Toledo) and played Mississippi State to within a point on the road.
Like most successful MAC clubs, the Falcons thrive on offense, averaging more than 35 points per game. Sophomore
Travis Greene
ranks among the top running backs in the FBS with 1,555 yards, and sophomore
Matt Johnson
has thrown for 3,195 yards and 23 touchdowns -- five of those coming against Northern Illinois. But Bowling Green also is ranked in the top 10 nationally in both points allowed and total defense.
No wonder Clawson has become a hot coaching commodity. BCS or not, the Falcons will be hard to handle in the postseason.
-- Brian Bennett
February, 15, 2012
2/15/12
5:00
PM ET
West Virginia
wormed its way out of the Big East
earlier than expected. In the process, it left Florida State
in a real scheduling bind
.
One good thing to come out of the Mountaineers' move to the Big 12, though, is the fact that it set legal precedent for Pittsburgh and Syracuse
to join the ACC earlier
than the Big East's 27-month bylaw stipulates. The most realistic timetable now seems to be the 2013 season.
It's never easy to predict the ACC, and it's going to become even more challenging when there are 14 teams involved. But let's have a little fun and see where you guys stand on your soon-to-be new members. (Pitt and Syracuse fans, you better weigh in, or this could be one lopsided vote!)
February, 3, 2012
2/03/12
12:00
PM ET
The ACC has announced its
future regular-season scheduling formats
, which will keep the current divisional alignments the same but eventually include Pittsburgh in the Coastal Division and Syracuse in the Atlantic Division.
The current primary crossover partners will remain with Syracuse and Pitt becoming primary crossover partners with each other.
When Pitt and Syracuse join the ACC (the news release didn't state when that might be), the league will play a nine-game conference schedule. The format will consist of each team playing all six in its division each season, plus its primary crossover partner each year and two rotating opponents from the opposite division. This six-year cycle allows each team to play each divisional opponent and its primary crossover partner six times (three home and three away) while also playing each rotating crossover opponent two times (one home and one away).
Stay tuned for more on this.
July, 8, 2010
7/08/10
4:00
PM ET
By
ESPN.com staff
| ESPN.com
Virginia Tech running back
Ryan Williams
is the best player the Hokies have. He could be the best player in the ACC this fall. But will he be the best running back in the country?
The Heisman Pundit
says yes
.
I'm not quite ready to go there yet -- not with Alabama's dynamic duo returning, or that mighty mite at Pitt just getting warmed up. I don't see
Mark Ingram
repeating as Heisman winner, but until Williams or anyone else makes a legitimate push to unseat him, he's my pick for the top running back to start the season.
Ingram, though, is only the first in a long line of talented players who will push Williams for title of college football's best running back in 2010. Pitt's
Dion Lewis
and UTEP's
Donald Buckram
are the only returning running backs who ranked higher than Williams last year in rushing, but there's plenty of talent capable of creeping up the NCAA rankings. Take Ingram's backup for example,
Trent Richardson
. He's so good it's possible the Heisman Trophy winner's
backup
could be the next Heisman winner.
How Virginia Tech and Alabama wind up splitting their carries will be interesting. I'd guess Bama makes a more even split and Virginia Tech eventually leans more toward Williams while using
Darren Evans
to help keep Williams fresh. It will also be interesting to see how their production while sharing time affects their places in the Heisman race.
Combined, though, Virginia Tech and Alabama enter this fall with the best PAIR of running backs in college football.
September, 25, 2009
9/25/09
11:00
AM ET
By
ESPN.com staff
| ESPN.com

Posted by ESPN.com's Brian Bennett and Heather Dinich
The ACC and Big East will square off three times on Saturday -- South Florida at Florida State, Rutgers at Maryland and Pittsburgh at NC State. Which means it's time for another round of blogger debate between the conferences.
| | |
| --- | --- |
| | |
| | Melissa Majchrzak via Getty Images |
| | Christian Ponder has gotten off to a fast start this season, passing for 813 yards and 4 TDs. |
Brian Bennett:
Heather, I've got some good news and some bad news for the ACC. The good news is, William & Mary, Richmond and Middle Tennessee aren't on the schedule this week. The bad news is, three ACC teams will have to play against opponents from an actual BCS conference, the Big East. Should the ACC just go ahead and forfeit all of them now and save itself further embarrassment?
Heather Dinich:
Is it March yet? Look, Bennett, last I checked the ACC had four teams in the national rankings and the Big East had ... oh, that's right, Cincinnati. Isn't that the same team Virginia Tech beat in the Orange Bowl last year? South Florida lost its quarterback and Florida State found one. UNC beat Connecticut, and Rutgers ... well, I might have to give you that one. The Pitt game should be interesting, unless, of course, NC State uses the same
offense it did against South Carolina. But what exactly is it you think the Big East has on the ACC heading into this week?
BB:
The Big East has a 16-5 nonconference record, compared to the ACC's 17-10 mark. Hey, we could sit here all day and discuss which conference is better -- and I'm sure some people would want us to do that -- but why don't we look at this week's games instead?
Let's start with South Florida at Florida State. What has gotten into the Seminoles? Are they really as good as they looked at BYU this week? I had to check my calendar because I thought for a minute it was 1999 again.
HD:
Well, let's just say the Noles CAN be that good.
Christian Ponder
has been overshadowed by
Jacory Harris
at Miami, but he's played just as well, and I expect him to be the difference in that game, especially with Grothe out. The question for FSU is which defense will show up. They seem to have given up as many big plays as they've made. What are you expecting from that Tally quarterback,
B.J. Daniels
?
| | |
| --- | --- |
| | |
| | AP Photo/Chris O'Meara |
| | Tallahassee native B.J. Daniels will be making his first start versus FSU. |
BB:
Daniels is really good. He's got a rifle arm and the speed and moves of a basketball player, which he is for the Bulls in the winter. I think they're going to be able to make some plays in the passing game, where they have a lot of weapons. I worry, of course, about his inexperience and whether South Florida can run the ball.
Matt Grothe
, after all, was their leading rusher the past three years.
I think we both agree that FSU has the edge in that game. What about Pitt at NC State? I watched the Wolfpack get crushed by South Florida last year and lose to Rutgers in the bowl game. Any reason not to think another Big East team will whip them?
HD:
I picked NC State, but it's probably the one I was least sure of. The Pack could be starting its fourth different offensive line in as many games, and they've been banged up too much to have any consistency in their secondary. Tom O'Brien has been talking about those units as areas of concern all week, and rightfully so. He's so excited, though, to finally play some "smashmouth football," and he's hoping a win over the Panthers will open some recruiting doors in Pennsylvania.
I'll tell you what, though, Bennett, if there's one difference in this game it's on the sideline, and I'd take O'Brien over Wannstedt. You think he'll have the Panthers in the Top 25 this season? I see you have them at No. 2 in this week's power ranking behind Cincinnati.
| | |
| --- | --- |
| | |
| | Randy Litzinger/Icon SMI |
| | Dave Wannstedt has Pitt off to a 3-0 start. |
BB:
You're harsh on Wanny. Did you know he's 13-4 in his last 17 games? He's got about twice as many wins over FBS opponents as O'Brien does during that time.
I think Pitt is one of the most underrated teams in the country right now. The Panthers have gobs of talent all over the field, and their one big question mark -- quarterback -- has thus far been answered by
Bill Stull
's solid play. He's completing 70 percent of his passes and making great decisions. If NC State has problems on the O-line and in the secondary, the Wolfpack are in trouble. Because Pitt is absolutely loaded on the defensive line and has plenty of receivers to burn those DBs, especially freakish athlete
Jonathan Baldwin
. I like Pitt to control this game from start to finish and win a low-scoring battle.
OK, let's get to the Rutgers-Maryland game. The Scarlet Knights apparently have three FCS teams on their schedule now with the way the Terrapins have been playing. What in the world is going on with Ralph Freidgen's team?
HD:
Oh, man, there's not even enough space in the blogosphere to start dissecting Maryland's problems. The big man has pinned the Terps' 1-2 start on a bit of bad luck and a young roster, but the truth is their problems range from recruiting to staff continuity -- much deeper issues than their woes up front on both lines. At first it was the defense not holding up its end of the deal, but last week it was the offense, which had four turnovers. To lose to Middle Tennessee two years in a row and
barely
beat James Madison at home is worse than bad luck -- it's inexcusable.
This is quite a different Rutgers team, though, than when these teams last met in 2007 and the Terps upended a top 10 team. How low has Rutgers sunk since then?
BB:
Well, I thought Rutgers was ready to break through this year, and I picked them to win the Big East -- and then they went out and laid an egg in the opener against Cincinnati. This is a team that should be pretty good, with an experienced offensive line and a talented defense. But the passing game has been slow to develop, and now they're starting a true freshman quarterback (
Tom Savage
) who is a little groggy from a head injury last week. The running game hasn't blossomed and the Scarlet Knights have struggled to score points. Perhaps Maryland will be the cure to what ails them, though I think this could be a sloppy game.
So let's wrap this up. I say the Big East goes 2-1 this week, with Rutgers and Pitt winning. Not bad considering all three games are on ACC turf. What do you say?
HD:
Well, I say the ACC goes 2-1, with the lone loss coming in College Park. If I'm wrong, I'll talk to you in March.