October, 20, 2013
Oct 20
9:00
AM ET
How about a few helmet stickers for a job well done in Week 8:

Duke tight end Braxton Deaver.
When the Blue Devils needed a big play against Virginia, it was Deaver who responded. Twice. Trailing 22-17 in the fourth quarter, Deaver turned a flip pass from
Brandon Connette
on fourth down into the 47-yard, game-winning touchdown. He added a 24-yard touchdown pass from
Anthony Boone
later in the quarter to help Duke reel off 35 straight points and beat the Hoos 35-22. Deaver finished with a career-high 96 yards receiving.
Florida State cornerback Lamarcus Joyner.
The man most responsible for helping Florida State build an early lead in the big 51-14 win over No. 3 Clemson. Joyner forced three first-half turnovers that led to 17 Seminoles points. It all started with the first play of the game, when he stripped
Stanton Seckinger
of the ball. Later in the quarter, Joyner forced
Tajh Boyd
to fumble. Joyner picked up an interception in the second quarter, as well.
Georgia Tech linebacker Quayshawn Nealy.
It was tough to narrow this down to just one. Georgia Tech ran for 394 yards in its 56-0 win over Syracuse, but the run game was spread out among 14 different players -- including four with 10 or more carries. So we are going with Nealy, who had an interception, a fumble recovery and a pass break-up as the defense pitched a shutout. The last time Georgia Tech pitched two shutouts in the same season came in 1985, when defensive coordinator Ted Roof was team captain. Saturday's win also was Tech's largest margin of victory in an ACC game.
Miami running back Dallas Crawford.
With starting running back
Duke Johnson
out because of a head injury, Crawford picked up the slack for the Canes' running game and scored the winning touchdown on a 3-yard run in the 27-23 victory over North Carolina on Thursday night. Crawford ran for a career-high 137 yards on 33 carries, and scored twice in the decisive fourth quarter. On the game-winning drive, Crawford had eight carries for 29 yards. He has now rushed for a touchdown in four straight games.
North Carolina tight end Eric Ebron.
We usually do not give out stickers to players on losing teams, but Ebron deserves one for his performance Thursday night against Miami. Ebron was the biggest reason why the Tar Heels had any shot at the upset victory, with a career-high eight catches for a career-high 199 yards and a touchdown. The 199 yards are a single-game UNC record for receiving yards by a tight end. The previous mark was 144, set by Tony Blanchard against Wake Forest in 1968. Ebron is now second in the country among tight ends with 88.7 yards per game.
Wake Forest receiver Michael Campanaro.
Campanaro had 11 receptions for 122 yards and a touchdown, and also threw a scoring pass in a 34-10 domination of Maryland. He now has seven 100 yard games in his career. What's more, Campanaro set the school career record for receptions, breaking the mark Desmond Clark set from 1995-98.
September, 23, 2013
Sep 23
12:00
PM ET
June, 28, 2013
Jun 28
10:00
AM ET
We move on in our series looking at the weakest and strongest positions on each team in the ACC with Georgia Tech.
Strongest position: Linebacker

Georgia Tech returns three starting linebackers as it transitions full-time into the 4-3 --
Quayshawn Nealy
,
Jabari Hunt-Days
and
Brandon Watts
.
Jeremiah Attaochu
, who started last season as a linebacker, moves down to defensive end but has the ability to drop back in coverage as well. This group has the potential to be the best unit in the entire league. Nealy (84), Hunt-Days (79) and Watts (77) finished Nos. 3, 4 and 5 in tackles last season, but their sack numbers and tackles for loss numbers could rise in the new, more aggressive scheme Ted Roof has brought in. Let's also remember that Watts is the only senior in this trio, and the ceiling remains extremely high for Nealy (junior) and Hunt-Days (sophomore) after big-time seasons a year ago.
Weakest position: Receiver
Coach Paul Johnson's concerns about this position have been well documented. The Jackets went into spring practice facing the prospect of relying on true freshmen this fall. That thought was cemented when projected starter
Anthony Autry
re-injured his knee and could be out for the season. Jeff Greene's decision to transfer at the end of last season leaves
Darren Waller
as the only receiver on the roster who has made a collegiate reception. Yikes. Now, while it is true the Jackets are primarily a running team, they do need a passing game in order to try to keep defenses honest. And Johnson has spoken repeatedly about the need to improve the passing game. So there is no question this is an area the Jackets are going to have to focus on when their full roster of players starts up practice in the fall.
More on this series,
click here
.
May, 7, 2013
May 7
9:30
AM ET
Georgia Tech Yellow Jackets

2012 record:
7-7
2012 conference record:
5-3, Coastal
Returning starters:
Offense: 7; defense: 8; kicker/punter: 2
Top returners
QB
Vad Lee
, BB
David Sims
, DE
Jeremiah Attaochu
, LB
Quayshawn Nealy
Key losses
QB
Tevin Washington
, AB
Orwin Smith
, CB Rod Sweeting, DE Izaan Cross
2012 statistical leaders (*returners)
Rushing:
Zach Laskey
* (697 yards, 1 TD)
Passing:
Washington (75-of-133 for 1,222 yards, 8 TDs, 4 INTs)
Receiving:
Smith (288 yards, 1 TD)
Tackles:
Isaiah Johnson
* (87)
Sacks:
Attaochu* (10)
Interceptions:
Jemea Thomas
* (4)
Spring answers
1. Attaochu at end.
The Jackets had linebacker Jeremiah Attaochu play defensive end toward the end of last season. He was so effective, they moved him to the spot permanently to take advantage of his ability to rush off the end in the new 4-3 scheme Ted Roof brought with him. Attaochu had 10 sacks last year. He has a chance to be even more productive this season.
2. Quarterbacks coming along.
Johnson wanted to spend the spring getting both Lee and
Justin Thomas
an adequate amount of reps, and he did that, saying he feels comfortable with either player behind center. Lee has the edge to start, but do not count out Thomas. "They both athletically are as good as we've had here," Johnson said.
3. Defense adjusts.
One of the biggest spring storylines focused on how the defense would adjust with Roof in charge and a scheme change. By all accounts, players have embraced the changes and are buying into the system. The front seven has an opportunity to be really good this year, given some of the talent returning.
Fall questions
1. Backs rotation.
The Jackets seem to have a plethora of players to play the A-back and B-back positions. But who will emerge to become a playmaker at A-back to replace Smith? Who will emerge to provide consistency and playmaking ability at both spots?
2. Receiver.
This is one area where the Jackets are thin, and it didn't help matters that several players got hurt during the spring.
Darren Waller
is a player Johnson believes can be a difference maker. But Johnson also is going to need young guys like
Anthony Autry
,
Micheal Summers
and
Travin Henry
to step up.
3. Getting healthy.
This team was banged up during the spring, missing several starters on the offensive line, at receiver and at linebacker as well. They should all be back in time for fall practice, but all the guys who missed time are going to have to get up to speed quickly to begin preparations for the season.
April, 22, 2013
Apr 22
10:30
AM ET
Spring practice is officially over across the ACC. Here is a look at the five spring games held this past weekend. Boston College cancelled its game following the tragic attacks at the marathon.
GEORGIA TECH

B-back
Matt Connors
capped a good spring with a team-high 84 yards on 12 carries to lead the Gold team to a 22-10 win over the White on Friday night.
After the game, coach Paul Johnson said Connors, "plays hard. Matt has a good attitude and I think he'll help us. We had a productive spring. There are always things you'd like to do better. I think we got a good start for fall.
As for the quarterbacks,
Justin Thomas
and
Tim Byerly
each scored a rushing touchdown for the Gold team. Thomas went 3-of-7 for 38 yards.
Vad Lee
led the White team with 62 yards rushing on nine carries and went 4-of-13 for 34 yards and a touchdown.
Defensively,
Quayshawn Nealy
returned a fumble 34 yards for a touchdown for the Gold team.
NC STATE

Fans got to see the new no-huddle spread offense coach Dave Doeren has installed, though there were plenty of bumps in the road during the annual spring game Saturday.
Quarterback
Pete Thomas
took reps with the first-team and went 15-of-26 for 168 yards without a touchdown pass as the Red beat the White 20-10.
Tony Creecy
led the way for the Red team with 75 yards on 20 carries, while
Rashard Smith
had eight catches for 84 yards.
Manny Stocker
, working with the second-team, went 11-of-20 for 96 yards with an interception in the end zone. The teams combined for five fumbles in the game, and had 10 total punts in the first half.
Doeren
said afterward
, "We are ahead defensively and that's not a bad thing," Doeren said. "I would rather be ahead on the defensive side than the offense. I think we'll catch up."
The spring game raised more than $20,000 for the Kay Yow Cancer Fund.
SYRACUSE

Terrel Hunt
emerged from the spring game as the Orange's top quarterback following an outstanding performance, going 19-of-29 for 209 yards a two touchdown passes to lead the Orange to a 27-10 win over the Blue on Saturday.
Hunt took all the snaps for the Orange team, and coach Scott Shafer said afterward that the junior now has a small lead over
Charley Loeb
and
John Kinder
. How that all plays out when Oklahoma transfer
Drew Allen
arrives remains to be seen, but there is no question Hunt has made the most of his opportunity this spring.
"Just a little bit (of a gap) though," Shafer
said afteward
. "We have all summer to figure this thing out and see all the new faces that are coming in to wear the blue and orange. I look forward to the competition continuing forward."
Kinder and Loeb combined to go 11-of-20 for 55 yards but they played against the first-team defense and under big-time pressure.
VIRGINIA TECH

There were not many bright spots for the new Hokies' offense, as quarterback
Logan Thomas
and the running backs struggled Saturday in the spring game.
Thomas threw three interceptions -- two that were returned for touchdowns -- as his Orange team lost to the White 27-9. In all, Thomas went 16-of-29 for 214 yards as the group worked under new coordinator Scot Loeffler. For the game, the running backs tallied 23 total yards on 41 carries. Those are probably not the results fans wanted to see.
"I think even good golfers have bad shots sometimes, but it's how you react to those shots, what you do after those shots," coach Frank Beamer
said afterward
. "In my opinion, Logan will always be right back every play."
It should come as no surprise, then, that the defense was the story of the scrimmage as that group returns just about every one of its starters and should be one of the best groups in the league.
WAKE FOREST

The Deacs held a 70-minute scrimmage rather than a game Saturday, and the defense dominated as
Chad Hedlund
scored the only points on a 39-yard field goal.
Hunter Williams
,
Ryan Janvion
,
Merrill Noel
and
A.J. Marshall
each intercepted a pass. Wake Forest's 32 rushing plays netted minus-5 total yards.
"The defense was awesome today," coach Jim Grobe said. "I thought they played great. We really dumbed the defense down, we didn't blitz and we didn't play a lot of different coverages. It's amazing how good they played when they know what to do and didn't have a lot of thinking going on. That ought to be a lesson for our coaches."
Though the offense struggled, the coaches did not have that group do too much. As
Nikita Whitlock
said afterward
, "They didn't show anything. This was the easiest practice we had all spring. I think they only ran like five plays. Honestly, it was power here, throw here, screen here. They were really vanilla, which was good. We'll pull it out this season to win some games."
December, 31, 2012
12/31/12
6:26
PM ET
Georgia Tech scored a
21-7 upset victory
over the
USC Trojans
in the Hyundai Sun Bowl. The Yellow Jackets got good production from the quarterback spot --
Tevin Washington
and
Vad Lee
both threw touchdown passes and Washington added a scoring run -- and a strong defense to get the win.


Game was over when:
Jamal Golden
intercepted a
Max Wittek
pass at the goal line with just over a minute left. The score was 21-7 in favor of Georgia Tech, but the Trojans had driven the ball for a late scoring attempt before the Wittek pass was tipped by
Quayshawn Nealy
into the arms of Golden. Golden also had a key punt return in the third quarter while Nealy had an end-zone interception of his own earlier in the fourth quarter.
Game ball goes to:
Georgia Tech's defense, a unit that gave up 30 points per game and was facing a USC offense that came in averaging over 34 points per game. The Yellow Jackets held the Trojans to a touchdown, and the only opponent to score fewer points this year against Georgia Tech was the
Presbyterian Blue Hose
, who scored a field goal. USC came into game averaging over 450 total yards per game and was held to 205. The Yellow Jackets limited 2012 Biletnikoff Award winner
Marqise Lee
to six catches for 41 yards.
Stat of the game:
USC's inability to convert. The Trojans were 3-of-16 on third- and fourth-down conversion attempts. That includes a stretch of six consecutive drives to begin the second half that were either three-and-out or turned over on downs.
What Georgia Tech learned:
What it feels like to win a bowl game for the first time in eight years. The Yellow Jackets had lost seven straight bowl games prior to Monday's win.
What USC learned:
That the 2012 season was disappointing to the end.
November, 30, 2012
11/30/12
11:00
AM ET
Just when the Georgia Tech defense gave you a little something to believe in, came perhaps one of its worst performances of the season.
On the heels of an impressive second-half showing in a win over Duke, the Jackets gave up 42 points to Georgia last week in a humbling 42-10 defeat. That is not exactly the type of performance you want to have headed into the ACC championship game Saturday against No. 13 Florida State.
We all know this defense has struggled all season long. Coach Paul Johnson fired defensive coordinator Al Groh back in October to shake things up. Though there have been some improvements, there simply is not enough consistency. Playing well for a quarter or a half is all well and good, but Johnson is seeking a four-quarter effort.
[+] Enlarge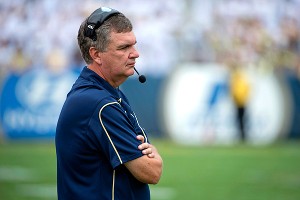 AP Photo/Rich AddicksThe Yellow Jackets are giving up an average of 391.9 yards per game, a worst during Paul Johnson's tenure.
"We've played good in spurts," Johnson said this week. "I think we've played a couple of halves decently in the last few games, but it's been a while since we really played a consistent what I would call 60minute game on defense."
What will it take for that to happen?
"Well, we're going to have to have guys do a better job of looking at what they're supposed to look at and playing their keys and playing with great effort than we've had the last few games for sure," Johnson said.
When Johnson fired Groh, the Jackets had given up 40 or more points in three straight games for the first time in school history. In the second half of the season, the Jackets gave up 40 or more points three times as well, but they were sandwiched in between much better efforts.
Charles Kelly has been directing the defense in the interim and made things less complex for the players, which has helped.
"I would just have to say we're playing faster," linebacker
Quayshawn Nealy
said. "We haven't had to think a lot on defense with all the calls. Coach Kelly has kept it very simple for us, and just guys are able to just play without thinking so much about, like, what gaps and all that they have to take care of or who they've got in the flats and stuff like that. Just know the call and just play. That's all we're doing."
Still, Georgia Tech is in the midst of its worst defensive season under Johnson, his fifth at the helm. The Jackets have given up an average of 391.9 yards per game, and an average of 30.7 points per game -- all highs under Johnson. That is about 10 points more per game and nearly 90 yards more per game than when Johnson arrived in 2008.
The Jackets will have their hands full with Florida State, which ranks No. 8 in the country in scoring offense -- putting up 41.5 points per game. They are going to need their best defensive effort of the season if they have any shot at pulling off the upset.
"Defensively, what you're trying to do is get a few stops and maybe some turnovers," Johnson said. "We have to get into our kind of game; a grind game, with not a lot of possessions, and the stops become premium. If you get four or five stops it's a big deal. But that's how you play every game; I don't think you approach this one any differently."
November, 28, 2012
11/28/12
4:00
PM ET
On Sunday, Georgia Tech linebacker
Quayshawn Nealy
had no desire to watch any football. He was feeling down about the Jackets' 42-10 loss to rival Georgia and said he stayed in his room, "just chilling."
By Monday, Nealy said he was over it.
He didn't have much choice, and he's not the only one.
"I mean, it's one of the toughest games of the season basically just because it's Georgia," he said. "But I mean, it's no different than any other game we had to flush down this season. We've just got to move forward and look past this. It was a big loss, but we have something bigger to play for, which is the ACC championship. So everybody's mind is really focused in and dialed in on this."


Both Georgia Tech and Florida State have had to quickly move on from what could be arguably their most disappointing losses of the season in preparation for Saturday's Dr Pepper ACC championship game. The Jackets were beaten soundly by their in-state rivals, and Florida State turned the ball over five times in a humbling 37-26 home loss to Florida. Players within both programs have insisted this week that they have put those performances behind them and have refocused on the task at hand -- getting to the Discover Orange Bowl.
"Yeah, it's something we've just got to snap out of it," FSU coach Jimbo Fisher said on Sunday. "You understand your goals and your vision, and one of them is a conference championship with a BCS berth on the line and you have do that, and hopefully the maturity of our team will be able to push us through that. And I'm sure they'll be sore, they'll be hurting today. They'll be down today. But tomorrow when we get ready and juiced up, we've got to be ready to roll and get it done."
For Florida State, the loss to the Gators snapped a two-game winning streak in the series. For Georgia Tech, it was an all-too familiar situation, as the Yellow Jackets also lost to Georgia in 2009, the week before they played Clemson for the ACC title. That season, the Jackets overcame the 30-24 loss to Georgia with a 39-34 win over Clemson to win the league title, which was later vacated because of NCAA sanctions.
As Georgia Tech quarterback
Tevin Washington
pointed out, though, the Yellow Jackets have had to overcome far more this year than one loss to a bitter rival. Georgia Tech had to dig out of a 1-3 hole in league play midway through the season, and overcome the firing of defensive coordinator Al Groh during the bye week.
They've already bounced back from a three-game losing streak in September and a loss to BYU in October. Consider this their November challenge.
"We've been able to play through adversity the whole season, so this is just another pivotal point of the season that we can push through adversity, just come back this week with a lot of energy, correct the mistakes that we made in the last game and just seize the moment, realize the opportunity ahead of us, that we've got a chance to play for the ACC championship, and that's the No.1 goal for us," Washington said. "We've got a lot still to play for."
So does Florida State, which is looking for its first ACC title since 2005.
"It's tough, but at the same time, having a mature team and having a mature outlook on what we do as football players and as competitors, we understand we have another game next weekend," FSU quarterback
EJ Manuel
said on Monday. "That game is tough, as well, because it's a championship game, and it's something that hasn't been done here at Florida State since '05, and you just have to move on. It's a process, understanding why you made those mistakes, and you can't go out there and do it again next week."
November, 12, 2012
11/12/12
1:30
PM ET
Here are the ACC players of the week, as announced by the league office Monday.
OFFENSIVE BACK: Michael Rocco, QB, Virginia.
Rocco completed 29 of 37 passes for 300 yards, four touchdowns, and had no interceptions to help Virginia to a 41-40 upset of Miami. Rocco tossed a 10-yard throw to TE
Jake McGee
in the back of the end zone with six seconds left to produce the go-ahead score for the Cavaliers. Rocco's passing numbers included a school record streak of 18 consecutive completions and set new career highs in completions (29) and touchdowns (4). Virginia's final drive saw Rocco direct the Cavaliers 87 yards in 2:32, converting two fourth downs during the drive. Rocco either passed or ran (one QB sneak) for all 87 yards during the drive.
OFFENSIVE LINEMAN: Camden Wentz, C, NC State.
Wentz tallied 13 knockdown blocks to help pave the way for the Wolfpack's 428 yards of total offense in the win over Wake Forest. Making his 36th consecutive start at center, Wentz was in for 86 snaps from scrimmage and posted the offensive line's top grade of 88 percent.
RECEIVER: Rashad Greene, WR, Florida State.
Greene turned a quick slant pass from quarterback
EJ Manuel
into the 39-yard game-winning touchdown with 40 seconds remaining in the Seminoles' 28-22 win at Virginia Tech. Greene finished the night with six receptions for 125 yards -- his first 100-yard receiving game of the season -- and a pair of scores.
DEFENSIVE LINEMAN: Cornellius Carradine, DE, Florida State.
Carradine turned in one of the most productive games of his two-year career in leading the Seminoles with 11 tackles in their 28-22 road win at Virginia Tech. His career-high 11 tackles -- six solos and five assists -- also included his ninth sack and 10th tackle for loss of the season. Carradine has helped the Florida State defense climb to No. 1 nationally in total defense and rank among the top four in each major statistical category. Carradine is currently tied with linebacker
Christian Jones
for the team lead in tackles with 64.
CO-LINEBACKER: Quayshawn Nealy, Georgia Tech.
Nealy registered a career-high two sacks to go with six tackles (four solo tackles) in Georgia Tech's 68-50 win at North Carolina.
CO-LINEBACKER: Gionni Paul, Miami.
Playing in place of injured
Denzel Perryman
, Paul tallied a career-high 14 tackles -- seven solo -- in Miami's 41-40 loss at Virginia. It was his second double-digit tackle game of season, and his 14 stops are the most by Hurricane in a game this season.
CO-DEFENSIVE BACK – Maurice Canady, CB, Virginia.
A week after his first start and earning ACC Player of the Week honors, Canady had another big game in Virginia's 41-40 win over Miami. He came up with nine tackles, broke up one pass and forced a fumble that he recovered on the Virginia 2-yard line early in the fourth quarter.
CO-DEFENSIVE BACK: Dontae Johnson, CB, NC State.
Johnson matched up against Wake Forest flanker Michael Campanero for most of the game in the Wolfpack's 37-6 win over the Demon Deacons. In the game for 55 snaps from scrimmage, Johnson limited Campanero to five catches for just 14 yards, shy of his average of 8.5 receptions and 86.3 yards. He tallied five solo tackles, including a three-yard tackle for loss, and forced a fumble in the second half.
SPECIALIST: Jamal Golden, DB/KR, Georgia Tech.
Golden returned a kickoff 100 yards for a touchdown – his second kick return for a touchdown over the last three weeks – and he broke a school record with 230 kickoff return yards in Georgia Tech's 68-50 win at North Carolina. Georgia Tech had not returned a kickoff for a touchdown from 1998 through 2011, but Golden has tied a Tech record with two kickoff returns for scores in one season. His 100-yard kick return on the opening kickoff of the second half was the longest scoring play in the Paul Johnson era.
ROOKIE:
Duke Johnson, RB, Miami.
Johnson rushed for a career-high 150 yards on 16 carries and also threw for a 9-yard touchdown -- his career-first pass -- in Miami's 41-40 loss at Virginia. He has three 100-yard rushing games this season, including 100 or more yards in back-to-back games. Johnson amassed a Miami-record 368 all-purpose yards in the game which ranks as the fourth-most in ACC history. He registered 214 kick return yards on four tries, including a 95-yard kick return for a score, his second kick return for touchdown this season -- tied for most in school history. He became only the third FBS player since 2000 with a TD pass and a kickoff return for TD in the same game.
May, 24, 2011
5/24/11
5:00
PM ET
The series continues today with Georgia Tech ...
A reminder of how we're defining breakout players: Players who haven't seen the field yet but showed they could be major contributors this fall; players who have seen limited time but could earn significantly bigger roles this season; and players who have started but could blossom into stars. The top candidates at Georgia Tech:

Daniel Drummond or Quayshawn Nealy, ILB
: One of them will start at inside linebacker this fall, but it's up to them to determine which one. Drummond, who came to Tech as a running back, made the switch to linebacker in the spring and ran with the first unit most of the spring. Nealy, however, showed great athleticism and played very well in the spring game while Drummond sat out with an injury.
Charles Perkins, B-back:
Anthony Allen's old position will likely be filled by committee, but expect Perkins to get his share of carries. He has the potential to become a 1,000-yard rusher, but it might not happen this fall. He's only a redshirt freshman, but he has good size and speed, and he has learned both A- and B-back positions.
More in this series: