July, 29, 2014
7/29/14
2:00
PM ET
The ACC's Coastal Division is wide open entering the 2014 season. With six of seven teams receiving at least one first-place vote in the preseason media poll, the possibilities for how this race shakes out are seemingly endless. Here, we take a look at the six teams that garnered first-place votes, examining reasons that are working for and against them in their quests to get to the ACC title game.
Why Pittsburgh will win the Coastal
1. Tyler Boyd is among the conference's best receivers.
And he might be the best by season's end. As a freshman, Boyd compiled nearly 1,200 receiving yards and brought a playmaking element to the Pitt offense it has not had in a few seasons. With
Aaron Donald
,
Tom Savage
and
Devin Street
all pursuing NFL careers, this is now Boyd's team. An elite playmaker, Boyd's impact on his teammates as a locker room leader will be equally important. Boyd lost just one game in his high school career, and he is bringing that winning mentality to Pittsburgh. Boyd does not deal well with losing.
[+] Enlarge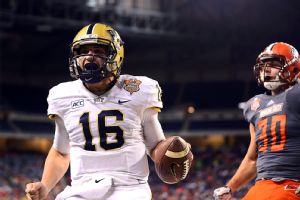 Andrew Weber/USA TODAY SportsChad Voytik's progression will probably go a long way toward Pitt's success in 2014.
2. The running game will keep pressure off Chad Voytik.
The Panthers' new starting quarterback showed positive flashes during the team's bowl victory, but the redshirt sophomore obviously will take his lumps in his first season as the No. 1 quarterback. The good news is Pittsburgh is stocked at running back, which means Voytik will be able to feed off the rushing attack. Senior
Isaac Bennett
returns as the starter, but Pitt fans might be most excited about sophomore
James Conner
, who set a Pitt bowl-game rushing record in December. There is a chance Conner might move to defensive end full time, but the remaining Panthers backs would be able to shoulder the load even without Conner's bruising running style. Sophomore
Rachid Ibrahim
played in every game last season, and Pitt signed talented three-star recruits
Chris James
and
Qadree Ollison
in February.
3. The schedule is favorable.
Pitt was thrown into the ACC fire last season with an opening game against Florida State and
Jameis Winston
, whom we learned that night was going to be a special player. The Seminoles rotate off the schedule this season, and Pitt also avoids Clemson and Louisville, which means the Panthers will not play any of the teams projected to finish in the top three of the Atlantic Division. They play Boston College, Miami, North Carolina and Virginia on the road, all manageable games away from Heinz Field. The Panthers' three toughest games might all come in a row, in but they will all be at home. The Panthers host Virginia Tech on a Thursday night before Georgia Tech and Duke travel to the Steel City.
Why Pitt won't win the Coastal
1. The offensive line was porous last season.
Savage was beaten and bloodied in 2013 behind an offensive line that failed to protect him many times. The Panthers return most of their offensive line, which could be a good or bad thing. The line should be more experienced, but that does not necessarily mean it will be better. Few programs return as many starters from a season ago as the Panthers do on the line. The left side of the offensive line could be the key to the Panthers' offensive success. Left tackle
Adam Bisnowaty
is talented, but he battled back injuries at the end of last season.
Dorian Johnson
was a blue-chip recruit and played extensively as a freshman, and he'll start alongside Bisnowaty.
2. Voytik has very limited experience at quarterback.
While Voytik showed a lot of promise during the Panthers' bowl victory, the redshirt sophomore has thrown only 11 passes in his career. A four-star recruit, Voytik is clearly not short on talent, but it isn't as simple as inserting him in the starting lineup with the expectation the offense will not miss a beat. A Sept. 5 night game at Boston College should provide an early glimpse into Voytik's potential.
3. The defense is not consistent enough.
Defense is a staple in the city of Pittsburgh, and the Panthers did not show enough of it last season. In their first two conference games, the unit allowed 99 points. It was against Duke and Florida State, but there is no excuse for those kinds of defensive efforts, especially if the plan is to compete for a division title. There are still issues throughout the defense, and Donald isn't around to mask some of them.
May, 14, 2014
5/14/14
2:00
PM ET
The 2013 signing class has already made its mark on the ACC, from
Tyler Boyd
and
Stacy Coley
shining on offense to
Jalen Ramsey
and
Kendall Fuller
starring on defense to
Ryan Switzer
racking up All-America honors on special teams. But for most players, the transition from high school to college takes a little time, and it's not until Year 2 that they truly shine. With that in mind, we're taking a look at the best candidates for second-year stardom in the conference -- the players who didn't quite hit the big time as true freshmen, but are poised for a breakthrough in 2014.

See our previous projections
here
.
Next up: Pitt Panthers
Class recap:
Paul Chryst's first full recruiting class at Pitt was solid, if not spectacular. The Panthers reeled in the nation's No. 41 class, seventh-best in the ACC, as they brought in a pair of four-star, ESPN 300 prospects and 28 commits overall. The highlight of that class was Boyd, the four-star athlete who starred in his first year at receiver, earning freshman All-America honors as he had 85 receptions for 1,174 yards and seven touchdowns, in addition to 108 yards rushing and another TD. He also returned a punt for a touchdown in the Panthers' bowl win. Let's also not forget
James Conner
, the three-star defensive end recruit out of McDowell (Pa.) High, who ended up leading the Panthers with 799 rushing yards and eight touchdowns.
[+] Enlarge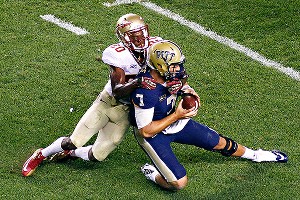 Justin K. Aller/Getty ImagesPitt surrendered 3.31 sacks per game in 2013, a problem that must be addressed.
Second-year star:
OT
Jaryd Jones-Smith
(6-foot-7, 295 pounds)
Recruiting stock:
Jones-Smith was a three-star prospect out of West Philadelphia Catholic High, and ESPN's No. 91 offensive tackle prospect for the Class of 2013. He was Pitt's 13th-best recruit from the 2013 class. Jones-Smith was selected to both the Chesapeake Bowl and the Big 33 Football Classic, a pair of senior all-star games featuring the top prospects from Pennsylvania and other nearby states.
2013 in review:
Jones-Smith redshirted during his first year with the Panthers.
2014 potential:
Jones-Smith completed his first spring at Pitt, and he impressed many around the program as he continued his growth. With redshirt sophomore left tackle
Adam Bisnowaty
limited following his November back injury, Jones-Smith received the majority of the reps in his place and displayed a rare blend of size and athleticism that could give him a shot to earn some playing time when Bisnowaty returns. The question is, where? The Panthers struggled immensely up front last season, allowing 3.31 sacks per game, but they do return four of five starters, with left guard being the lone exception. Chryst said his job is to get the best players on the field, and that Jones-Smith is in the mix.
Also watch for:
If Pitt's offensive line improves, the backfield will benefit. That could mean good things for
Rachid Ibrahim
, a three-star recruit from The Avalon School (Md.) who rushed for 136 yards last season, adding nine catches for 88 yards and a touchdown. The receiving corps is also looking for answers behind Boyd, so three-star South Fayette (Pa.) High receiver
Zach Challingsworth
or three-star Madison (Wis.) Memorial High receiver
Jester Weah
could benefit. Both players redshirted last season.
April, 10, 2014
4/10/14
12:00
PM ET
Thoughts with all those affected Wednesday in Pittsburgh.
April, 7, 2014
4/07/14
4:00
PM ET
As a true freshman last season, Pitt running back
James Conner
helped introduce the Panthers to the rest of the ACC with a flourish. He became one of the most recognizable rookies in the conference after he led Pitt in both rushing yards (799) and rushing touchdowns (eight). He averaged 5.5 yards per carry and was named the MVP of the Little Caesars Bowl after rushing for 229 yards and a touchdown in a
30-27 win
over Bowling Green. What's next? I caught up with Conner recently to find out. Here are the highlights of our conversation:
What has the past year been like for you?
[+] Enlarge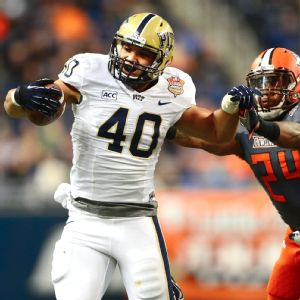 Andrew Weber/USA TODAY SportsJames Conner, who burst on the scene as a freshman with 799 yards in 2013, has set a modest goal of rushing for 1,000 yards as a sophomore.
James Conner:
The past year was a real good experience, seeing the field early and working with
Isaac [Bennett]
. He's been there for a while, so he's been through it. Coming in with
Rachid [Ibrahim]
, that past year has been a lot of fun. I can't wait to see what this year brings.
Did you surprise yourself with what you did last year?
JC:
Somewhat. I knew I wanted to get on the field, but what happened in the bowl game, that meant a lot to me. I guess you could say I surprised myself.
How do you top what you did last year? What's next for you?
JC:
Stay humble and proceed to work hard. Stay with our strength coaches; they both played in the NFL so they know what it takes. Stay confident, stay hungry, and never be satisfied and be coachable. I believe with that experience and just keep a level head, you'll do pretty good in the seasons to come.
What's your take on the offensive line this spring? I know that has been a troublesome area for Pitt in recent years, but you were still able to get your job done.
JC:
They're looking real good this spring. We've got
Artie [Rowell]
,
T.J. [Clemmings]
and
Matt Rotheram
coming back, so they have experience now and they're getting a lot better. Coach thinks the offense is doing a great job of bringing guys in. We have a couple guys who committed this year and it can only go up from here. Coach Chryst definitely knows what he's doing. I think it will be good and the O-line will be a lot better.
I was told you changed your number. Tell me about the decision behind that.
JC:
As of right now I have 24, but that's for spring ball to see how it looks. One of my favorite running backs is Marshawn Lynch, but we'll see. I just want to see how the number looks for now. I did it because I like the number 24 to show I have speed instead of being a power back, but also like Marshawn Lynch for the Seahakws. I could go back to 40; I just wanted to see how it looks.
Well, how do you think it looks?
JC:
I think it looks pretty good so far.
What are your own personal goals for this fall?
JC:
I want to try to find my way into the record books another way. This year I want to go for 1,000 yards. Personal goals? I don't have too many personal goals. I just want to have a 10-win season and go to a really good bowl game. Not too many personal goals, but if I had to pick one, I'd probably say go for 1,000 yards.
What's Chad Voytik been like to play and practice with and just as a friend and a teammate?
JC:
He's a very good friend and teammate. He's a good guy on and off the field. You can talk about anything with him. He remains calm, and he stepped up big time in the games where Tom [Savage] went down. He's definitely going to be ready. He's just a great guy on and off the field. He's a lot of fun.
Do you feel any responsibility to help take some pressure off him?
JC:
Definitely. I want him to be able to trust me, if it's a second-and-short, third-and-short, I want everybody on the team to trust me to get the first down so we can have a fresh set of downs. I definitely want to be trustworthy.
March, 31, 2014
3/31/14
9:00
AM ET
It was around this time last year that former Pitt running back
Rushel Shell
, the team's leading returning rusher and expected starter for 2013, decided to transfer, leaving the Panthers' running game a complete unknown.
Isaac Bennett
was an unproven junior thrust into the spotlight, and an unheralded freshman named
James Conner
, who was originally recruited as a defensive end, was still in high school, getting ready for his senior prom.
What was once one of the biggest question marks on Pitt's roster, however, has now become one of its greatest reasons for optimism.
[+] Enlarge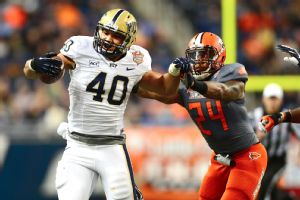 Andrew Weber/USA TODAY SportsJames Conner set a Pitt record with 229 yards in the Panthers' bowl win over Bowling Green.
This spring, the Panthers return all three leading rushers from a year ago -- Bennett, Conner and
Rachid Ibrahim
, who was also a true freshman last year. They've got a new position coach in John Settle, who coached with Paul Chryst at Wisconsin. Bennett has matured and is now a veteran starter, while Conner had a spectacular rookie season, leading the team in rushing yards (799) and rushing touchdowns (eight). He also is coming off an MVP performance in the Little Caesars Pizza Bowl win over Bowling Green. With four returning starters on the offensive line, those within the program have high hopes that the running game can be even better this fall, alleviating some pressure on a first-year starting quarterback.
"It's a lot stronger," Conner said of his position group. "I love the position running back and all of us -- Rachid got playing time, I did, Isaac did -- everybody is a lot more comfortable now. I think we can really make some noise this year with me and Rachid having a year under our belt, and Isaac being a senior; he wants to go out with a bang. And we've got two rookies coming in, so we're going to have a lot of depth at running back. It's going to be a great year."
They already have a solid foundation to build on.
Bennett and Conner combined for 1,596 yards and 15 touchdowns last year. There has been no animosity between them, only a mutual respect for their collective success and a good-natured competition that continues to make them both better. Conner capped his season with a 229-yard performance in the bowl win, setting a school record and surpassing former Pitt legend Tony Dorsett's 202 rushing yards against Georgia in the 1977 Sugar Bowl. Conner averaged 5.5 yards per carry, and had four 100-yard rushing performances. Bennett had 797 rushing yards and seven touchdowns last year, while Ibrahim was used as a change-of-pace back and in third-down situations.
As to how the carries will be divided this fall, and what each of their roles will be, Chryst said he probably won't know until summer camp. The biggest difference is the meaningful experience Chryst has to choose from.
"There's a lot more known, and I'm excited because you've got two of the three that this is their first spring," Chryst said. "There's a lot of growth that can still be made and improvements. We juggled our staff a little bit, and I'm excited for them to be coached by John Settle, whom I worked with at Wisconsin. … I'm excited for them. I thought Isaac has settled in, and has matured as a player and a person. I certainly feel better there, and I'm excited about the two freshmen coming in."
Those two freshmen -
Chris James
from Chicago Notre Dame College Prep and
Qadree Ollison
from New York Canisius were two of the top players in their respective states, and will only add to the depth and competition.
Settle, who spent the past three seasons coaching running backs in the NFL, has already had an impact on his players. He spent five seasons as running backs coach at Wisconsin (2006-10), where Chryst was the Badgers' offensive coordinator.
"Everybody has the mindset of going out and getting better every day with Coach Settle," Bennett said. "His experience and his resume, with him coaching us, you can tell that he knows the position and he's pushing us to get better every day. That's what it's all about every day, just progression in some area. We really listen to him and take in everything he says. We're just trying to come in here and get better every day."
They're already starting light years ahead of where they were last spring.
August, 29, 2013
8/29/13
10:20
AM ET
The moment is finally here. The season kicks off tonight, as two ACC teams take the gridiron and mark the return of college football. Here is what to keep an eye on this entire weekend as all 14 teams get back in action.
1. Battle in the trenches in Columbia, S.C.
North Carolina will have three new starters on its offensive line Thursday night against No. 6 South Carolina, including two redshirt freshmen. And the Tar Heels will be going up against preseason Heisman contender
Jadeveon Clowney
and the Gamecocks' lethal defensive line. Don't overlook fellow end
Chaz Sutton
, either.
2. Conference debuts.
Pitt and Syracuse play their first games as ACC schools after exiting the former Big East, which the Orange won a four-way share of in 2012. Both schools have the chance to make big opening statements, as the Panthers host defending conference champion Florida State on Labor Day and Syracuse faces a Penn State squad looking to build off Bill O'Brien's successful first year with the program.
[+] Enlarge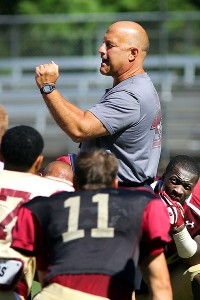 John Tlumacki/The Boston Globe/Getty ImagesBoston College's Steve Addazio is one of the conference's new coaches this season.
3. Trio of first-year coaches.
New BC coach Steve Addazio hosts Villanova, a familiar opponent from his Temple days. Dave Doeren and NC State host Louisiana Tech, which breaks in a new coach of its own in Skip Holtz after Sonny Dykes left for Cal following a 9-3 season. And Syracuse coach Scott Shafer debuts against Penn State in East Rutherford, N.J.
4. QB choices in Jersey and Raleigh.
Two of those new coaches also will be unveiling their starting quarterback choices for the first time, as Shafer sends out either
Terrel Hunt
or
Drew Allen
and Doeren picks
Pete Thomas
or
Brandon Mitchell
. The Orange will be facing a Penn State team that carries the same surprise in its quarterback race between
Christian Hackenberg
and
Tyler Ferguson
.
5. ... Speaking of new starting QBs.
Virginia's
David Watford
will make his first career start against BYU, Duke's
Anthony Boone
takes over the job from Sean Renfree against NC Central, and Florida State and Pitt will both start new signal-callers when they square off on Labor Day, with
Jameis Winston
running the Seminoles' offense and
Tom Savage
handling duties for the Panthers.
6. Pitt's running backs.
Ray Graham is gone. Rushel Shell transferred to West Virginia. And
Isaac Bennett
and
James Conner
have dealt with injuries in camp. Coach Paul Chryst isn't sure how things will shake out Monday, but we likely will see
Rachid Ibrahim
and
Malcolm Crockett
get at least some action given the backfield situation.
7. FSU's defensive backs.
Are too many bodies a good thing?
Nick Waisome
and
Terrence Brooks
started all 14 games last season for the nation's No. 1 pass defense. The crowd also includes preseason All-American
Lamarcus Joyner
, reigning ACC defensive rookie of the year
Ronald Darby
, former five-star prospect
Karlos Williams
and several other strong athletes. New defensive coordinator Jeremy Pruitt has his work cut out for him, although probably not as much as new Pitt quarterback Tom Savage does.
8. Virginia Tech's backfield.
Coach Frank Beamer wasn't kidding when he said the Hokies went from having too many running backs to not enough. Michael Holmes was kicked off the team in July,
Joel Caleb
was suspended this month for the opener against Alabama,
Tony Gregory
suffered a career-ending ACL tear and
J.C. Coleman
's status for Saturday is up in the air because of two ankle sprains. Redshirt freshmen
Trey Edmunds
and
Chris Mangus
are the Hokies' next options after Coleman.
9. "Smoke."
Taquan Mizzell
has earned that nickname despite having never taken the college field. ESPN's No. 9 running back prospect from the class of 2013 has drawn plenty of buzz in Virginia's camp, and he will get a stiff first test against BYU's defense.
10. ACC vs. SEC.
What, you really thought we'd forget this one? Three ACC teams face off against squads from the big, bad SEC, perhaps none with as steep a challenge as Virginia Tech's against Alabama. UNC kicks things off Thursday at South Carolina, and No. 8 Clemson hosts No. 5 Georgia on Saturday night in the headliner of Week 1. The ACC went 1-1 against the SEC in last year's weekend openers, with NC State falling to Tennessee in the Chick-fil-A Kickoff the night before Clemson topped Auburn in the Georgia Dome.
August, 28, 2013
8/28/13
3:00
PM ET
We are just one day away from the start of the season, with a huge opening weekend on tap for the ACC. Three games against SEC opponents have set the stage.
[+] Enlarge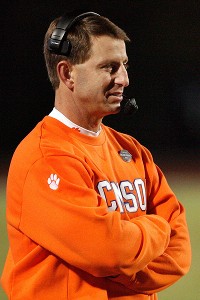 Mark Dolejs/USA TODAY Sports Dabo Swinney's Tigers can make a national statement when they host Georgia on Saturday.
So, naturally the three coaches involved in those games were asked for their take on how important the contests are for the ACC's perception during the coaches' conference call on Wednesday.
Start with North Carolina coach Larry Fedora, whose team opens up Week 1 on Thursday night against No. 6 South Carolina.
"If you want national respect, you've gotta beat ranked opponents," Fedora said. "This is a performance-based sport. If you do it, you start gaining that respect."
Clemson coach Dabo Swinney is in the biggest game of the weekend, as his No. 8 Tigers host No. 5 Georgia with College GameDay on site. Swinney tried to downplay the mega battle between conferences.
"Regardless of what conference they're from, you've got the No. 5 team in the country coming to your stadium, that's all that really matters," Swinney said. "As far as the SEC goes, we've been playing SEC teams every year and been in a lot of battles with that league. Our guys have a good understanding of what it takes to beat a very good team, regardless of what conference they come from. It's more about Clemson-Georgia than anything else."
Virginia Tech coach Frank Beamer, whose team plays No. 1 Alabama on Saturday, brought a big-picture perspective. "You judge that over the long haul, not just one Saturday," Beamer said. "I think it's important that all of us do well.
Here are a few other notes from around the league:
Pitt coach Paul Chryst was asked was his running back rotation would look like against Florida State on Monday, given recent injuries to Isaac Bennett and James Conner. "Don't know exactly," Chryst said. He hopes Bennett and Conner can play, but Rachid Ibrahim and Malcolm Crockett have gotten the bulk of the reps in practice.

Beamer also was asked about his running back situation. He said the team would disclose J.C. Coleman's status when it releases its injury report Thursday. If he can't play, Trey Edmunds and Chris Mangus would be the top two backs. Both are redshirt freshmen. "We went from too many tailbacks to not enough tailbacks, really," Beamer said.

Syracuse coach Scott Shafer and NC State coach Dave Doeren were asked about their quarterback situations headed into their respective openers. Neither plans on disclosing who will start before Saturday. Shafer is choosing between Terrel Hunt and Drew Allen; Doeren will go with either Pete Thomas or Brandon Mitchell. Shafer did say he wants to try and go with one quarterback and stick with him against Penn State on Saturday. "I don't want to be in a yo-yo situation," Shafer said. "Once we get it going we'll see how it plays out." Doeren said he already knows who will start against Louisiana Tech on Saturday, and has told both his quarterbacks to be ready to play.

Virginia coach Mike London also has a plan for freshman Taquan "Smoke" Mizzell. The ESPNU150 player from a year ago is poised to play against BYU. "There's a lot of things he's learned but there's a lot of things he's yet to learn," London said. "We know he's a dynamic player, but we have to make sure we don't try to do give too much to him in order to see those abilities. It's going to be important for us to package some things he can do and then go from there."

Georgia Tech coach Paul Johnson expects quarterback Justin Thomas to practice Wednesday and play Saturday against Elon. Thomas has been slightly banged up and missed a few practices. The plan is to play both Thomas and Vad Lee. "We'll play it by feel," Johnson said. "I have no plans to rotate series or take guys in and out. We'll do whatever we feel gives us a chance to win the game."

Fedora also said he plans on using Jack Tabb at both tight end and linebacker against the Gamecocks. Tabb began training at linebacker after the Tar Heels lost a few players to injury, thinning out depth. "He's got a lot of football savvy, he really understands the game," Fedora said. "Jack is one of those guys, he doesn't need a lot of reps. He can run it once and then he understands what needs to be done. We're fortunate in that aspect."