April, 29, 2014
Apr 29
8:00
AM ET
Three things we learned in the spring about the Miami Hurricanes:

1. Dallas Crawford will help on D.
Miami surprised many when it decided to move Crawford from running back to safety. But the switch should end up benefiting both the Canes' D and Crawford in the long-term. Initially recruited to play safety, Crawford made himself at home in the defensive backfield and impressed coaches. He was named most improved player on defense for the spring.
2. Bulked-up Duke Johnson.
While Johnson was held out of contact drills as he rehabbed a broken ankle, he did participate on a limited basis this spring. But bigger than that was the way he transformed his body. Johnson put on 10 pounds and is now up to 205. The hope is that more weight translates into better durability. Miami will need to rely on him more than ever in 2014.
3. Depth at linebacker.
Coach Al Golden said one of the biggest accomplishments his team made this spring was building depth at linebacker. Miami hopes to count on all-ACC performer
Denzel Perryman
(now in the middle), along with
Alex Figueroa
,
Raphael Kirby
,
Thurston Armbrister
,
Jermaine Grace
,
JaWand Blue
and early enrollee freshmen
Juwon Young
and
Darrion Owens
.
Three questions for the fall:
1. Who will cut it at QB?
Miami caught a tough break when projected starting quarterback
Ryan Williams
tore his ACL during a scrimmage and underwent surgery. Though there is some hope Williams could return before the season ends, Miami has to prepare
Kevin Olsen
and
Gray Crow
for the starting job. Olsen, the favorite to win the starting job, did not impress in the spring game. Neither did Crow.
2. Improvement on D?
Coaches insisted this spring that they saw a better, more cohesive defensive unit, one in which leaders emerged in Perryman and
Tracy Howard
, among others. Will the progress coaches saw in the spring translate into more consistent performances during the season? Chief on the list of improvements is a better four-man rush and improving on third downs.
3. Pass rush.
Speaking of pass rush, Miami was pleased with what it saw out of hybrid rush ends
Al-Quadin Muhammad
and
Tyriq McCord
this spring. Their emergence will be a huge key toward improving the Hurricanes' pass rush.
Ufomba Kamalu
and
Jelani Hamilton
also started playing better as the spring went on, so Miami feels better about its depth across the line headed into the fall.
One way-too-early prediction:
Miami will take a step back this year. The Hurricanes go into the season with question marks at quarterback and continued questions on defense. Couple that with a difficult schedule -- featuring perhaps the most difficult crossover games in the ACC against Florida State, Louisville – and it will be tough for the Canes to match their nine-win total from last season.
March, 1, 2013
3/01/13
2:05
PM ET
Miami will open spring practice Saturday without eight players -- including five projected starters -- the school announced Friday.

Starters
Thurston Armbrister
,
Malcolm Lewis
,
Shane McDermott
and
Gabe Terry
will be held out, along with running back
Eduardo Clements
, receiver
Robert Lockhart Jr.
and defensive lineman
Dave Perry
. Linebacker
Eddie Johnson
remains suspended indefinitely.
Among the most notable items on the
preseason depth chart
:
September, 28, 2012
9/28/12
11:00
AM ET
September, 21, 2012
9/21/12
11:00
AM ET
Here are the ACC injury reports for Week 4 from the schools that emailed them:
CLEMSON
Out
Probable
Practice note:
Coach Dabo Swinney said redshirt freshman
Eric Mac Lain
has begun to work at offensive guard in addition to tight end. He will be an offensive guard full time at some point this season, but in the short term will continue to play the tight end position in games.
DUKE
PROBABLE
QUESTIONABLE
OUT
OUT FOR SEASON
FLORIDA STATE
OUT
OUT FOR THE SEASON
MARYLAND
OUT FOR SEASON
OUT
QUESTIONABLE
PROBABLE
MIAMI
Out
Surgery/Out for the season:
VIRGINIA TECH
Out for Season
Out
Probable
September, 7, 2012
9/07/12
11:00
AM ET
Here are the injury reports from the schools that emailed them (ACC schools don't have to give injury reports for nonconference games, and not all schools release them to the media anyway):

DUKE

PROBABLE
OUT
OUT FOR SEASON
FLORIDA STATE

OUT
OUT FOR THE SEASON
MARYLAND

OUT FOR THE SEASON
OUT
QUESTIONABLE
PROBABLE
MIAMI

OUT
NORTH CAROLINA

OUT
VIRGINIA TECH

OUT FOR SEASON
OUT
QUESTIONABLE

August, 31, 2012
8/31/12
4:00
PM ET
April, 3, 2012
4/03/12
2:30
PM ET
Andrea Adelson had a chance to sit down with Miami coach Al Golden during a recent visit to Coral Gables. Here is a little of what he had to say.
I know depth is an area of concern. How are you working to address that this spring?
Al Golden
: Any time you're bringing in a class of 33, that's three starting units. Obviously, those guys are going to have an impact somewhere on your depth. You never want to have a year where you take six receivers or seven defensive backs, but the symmetry at those positions was not good. It was not vertical depth. It wasn't fifth-year seniors, fourth-year seniors, juniors, sophomores, freshmen, then incoming guys. It didn't exist. So that was a blanket approach of trying to bring in a lot of guys to fix a depth issue. Between the depth and those guys challenging for playing time as starters, that's going to improve our team. I'm not worried about playing young guys. We'll find a way to get them in a game if they're talented and they learn it and they're in good condition. I don't care whether they're freshmen or seniors, I just need guys who want to execute.
You lost some senior leaders. How is that aspect of your team developing?
[+] Enlarge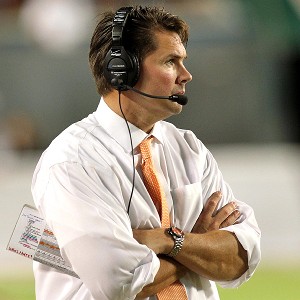 Robert Mayer/US PresswireCoach Al Golden has been impressed with the physicality of the linebacking corps this spring.
AG
: So far it's been good.
Mike James
and
Eduardo Clements
at running back,
Stephen Morris
at quarterback. (Brandon) Linder on the offensive line has been very good.
David Perry
at tight end has been a nice surprise for us.
Allen Hurns
at wideout has done a nice job with the leadership. Defensively, (Ramon) Buchanan will be a leader for us, Ray Armstrong will be a leader for us, Jimmy Gaines has been and will be a leader for us. It's been positive in terms of that. We just have to continue to develop leaders and give them opportunities to lead.
How about some questions that have been answered about your defense so far?
AG
: I think the one thing that jumped out in the (first scrimmage) is we had a lot of linebackers that played physical. So that part of it was good. Even the young guys, [Raphael] Kirby was physical,
Gionni Paul
was physical, Denzel [Perryman] was physical on top of [Tyrone] Cornileus and Jimmy Gaines and those guys. Seeing that was good. We tackled a lot better in Scrimmage 1 this year than Scrimmage 1 a year ago, which was important, and we're still trying to develop our depth on the defensive line and at cornerback. Those are two positions we need to bolster this spring.
Speaking of the defensive line, you don't have many players with starts or experience. What do you want to see out of that group this spring?
AG
: I want to see, like
Curtis Porter
, I'd like to see him take his game to the next level.
Darius Smith
has got to continue to improve. Then we're going to have a host of other guys at the defensive tackle position that need to compete and improve their game. At defensive end,
Shayon Green
's had a good spring for us so far, and really at defensive end, we're going to have in addition to what we have right now, we're going to have three defensive ends coming in that are going to have to compete for starting jobs and also add depth.
Right now, do you have any idea of what team you will have in the fall?
AG
: We have a long way to go. I just think before these other 23 players come in, because 10 are here now, you have to assess where you are at every position and see how they come out of it. We have a long way to go to get through spring ball, and then from April 14 until Aug. 5 there's a great opportunity for them to grow and develop. It's too early to assess where we are right now as a team.
A year into the job, what are your impressions of coaching at Miami, a place where championships are always expected?
AG
: We're not at that level right now. The first order of business when you're trying to fix something or you're trying to build something is to recognize where you are and then to not only plot a course but then to follow that path, follow that strategy and execute it. I'm glad the standards are where they are, and I'm glad we produce NFL players, and I'm glad we have so many things to offer young people. It's the reason why you take the job. But we can't jump from where we are right now to there without taking all the steps we need to take in between. We're just trying to implement our schemes and our system and follow the process on a daily basis.
January, 25, 2012
1/25/12
12:00
PM ET
By
ESPN.com staff
| ESPN.com