February, 19, 2013
2/19/13
10:30
AM ET
Pop quiz: Name the Atlantic Division team that won the 2006 ACC title, played in the Orange Bowl, and then had every single starter on defense from that roster go to the NFL.
If you said Wake Forest, consider yourself a true ACC fan.
Not every defender from that roster was drafted, but every one signed an NFL contract, according to Wake Forest recruiting coordinator Ray McCartney. Nationally, it was one of the best recruiting classes ever, and it is sure to be remembered as one of if not the best classes in Wake Forest history.
[+] Enlarge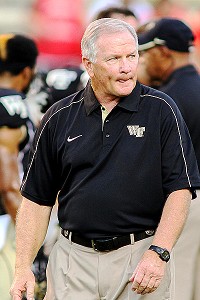 Jeremy Brevard/US PRESSWIREJim Grobe's recent recruiting efforts appear to have helped Wake Forest with its overall athleticism.
While the Deacs are unlikely to ever sign such a class again, they have made significant strides over the past two years that could help the program elbow its way back to the top of the Atlantic Division standings. This year's 25-member recruiting class was the biggest in the Jim Grobe era, and it fulfilled its top priority of enhancing team speed, particularly on defense.
"The two classes we've taken this year and a year ago we feel have been solid from top to bottom and are going to help us get back on way to where we want to be, which is a perennial bowl contender, and to compete for the ACC championship," McCartney said. "It wasn't too long ago -- the year before last -- that we're a missed field goal from beating Clemson in Death Valley to win the championship of our division and play Virginia Tech. We can get close, but we're trying to kick the door down, and we think the last two classes will help that on the way."
The Deacs signed five outside linebackers -- all of whom were within the 6-foot-6 range, between 215-230 pounds -- long, athletic players who can run, change direction well, are highly competitive and versatile enough to move into different positions up front. The top recruit in the class is four-star outside linebacker
Lance Virgile
, from Saint Thomas Aquinas High School in Ft. Lauderdale, Fla. The staff also upgraded its secondary by finding big corners who can move to safety.
Offensively, the staff was tasked with rebuilding the offensive line, which was ravaged with injuries to four projected starters last year. The Deacs fared well with four signees, including two or three who are talented enough to see significant playing time early. Wake Forest also had to replenish its kicking game, and did that with
Mike Weaver
, a dual-threat athlete who can punt, kick, and bury the ball in the back of the end zone.
"Something else we're searching for and I think we're back on track with is finding kids that absolutely have a great passion for the game of football, that wake up every morning thinking about winning championships and what they can do to get better as an athlete and to help us win," McCartney said. "Sometimes bigger, faster, stronger is not the only barometer of success."
It will certainly help, though, that the Deacs have improved in all of those categories over the past two years.
November, 19, 2010
11/19/10
3:00
PM ET
By
ESPN.com staff
| ESPN.com
Ray McCartney has been Wake Forest's recruiting coordinator since 2001, and was instrumental in luring in the most talented class the program had seen in 2004. Of those 14 players, five were eventually drafted by NFL clubs and three others signed as free agents. Nobody gave that class much respect when it was signed, but that's how Wake rolls -- these guys go for potential, not stars. Wake fans, though, want to know what kind of potential is lurking on the sidelines and in the incoming recruiting classes. Is it enough to get the struggling Deacs back to the postseason?
I know you can't talk specifically about players, but can you address in general terms how recruiting is going moving forward, and do you think you guys are bringing in the kind of talent Wake needs to get back to the postseason?
Ray McCartney:
Yes. Recruiting is going great. We're not allowed to mention specifics, but we're addressing our needs.
What do you think the biggest needs are?
RM:
At this point, as we try and complete our class for this year, the linebacker position, quarterback and running back would be major areas of emphasis at this point. As we look at the overall class, offensive line and secondary have also been addressed, but as we try and close out this class, we're still looking at every position.
[+] Enlarge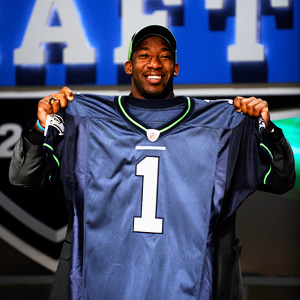 Jeff Zelevansky/Getty ImagesAaron Curry was one of five players from Wake Forest's Class of 2004 to be drafted in the NFL.
How has recruiting changed at Wake Forest since you guys brought in the class that had Alphonso Smith and Aaron Curry?
RM:
I think the biggest thing is that everything is happening so much earlier in the recruiting process. If you're not locked on kids really late in their sophomore year, early in their junior year as far as identifying the top prospects as early as possible, that's a major, major thing. The other thing that's happening is recruiting is becoming so much more Internet-based. The plethora of information that exists on the Internet is incredible and sorting through it is a very demanding task that takes time, but you have to do it. With the onset of Facebook, Twitter, the incredible number of recruiting sites, those are some of the major things that have changed. It used to be the personal relationships with the high school coaches in your respective recruiting areas that was the key to everything. With the process being sped up tremendously, that's changed dramatically.
Do you guys think the success of your ACC championship and Orange Bowl appearance has paid off yet in recruiting?
RM:
I think our fifth-year senior class at that time was the last class we took the year before the Orange Bowl. That class was not recruited with success having occurred in our program. We're hoping in the next year or two that the young players who are now working our way through our system will continue to grow and flourish and help us return to consistent bowl contention.
You guys played an unusual amount of freshmen this year. What was different that you weren't able to redshirt like you usually do?
RM:
As I alluded to, the senior class this year was a small class. But here at Wake Forest, the biggest thing you have to realize is we have very little attrition. Our average recruiting class is only going to be 15 to 18 kids. We're very fortunate to recruit kids who are good students, who very rarely don't make it in school academically, usually keep their nose clean, do the right things, are not disenchanted or wanting to transfer. With small recruiting classes, that's an issue there. If you have a class like our fifth-year senior class that was small already and then it was a class that was taken off a lack of success on the field at that point, then you can have issues at the top of the class, so you have to play some of your younger players because you don't have that large senior class. If you look carefully at the 2004 recruiting class, of the 16 kids we took, eight of them went to the NFL, all 16 graduated. That was a cornerstone class for our program. Right now we're facing the younger kids getting their feet wet, getting experience, really probably before they're ready to play, but they are the best athletes we have in our program at this juncture, so we're getting their feet wet right now. The biggest reason is the small size of the senior class that was recruited before we went to the Orange Bowl, and the fact that in the last few recruiting classes, all of our three bowl teams and our ACC championship, those are the kids who are really starting to play, especially some redshirt freshmen.
You mentioned that cornerstone class. Can you guys recruit a class like that again?
RM:
We sure hope so. That was one of the 10 greatest classes is FBS history. There were some stats on that that are incredible. The bottom line is, that's not going to happen every year, obviously, but if we could get one of those classes every three to four years, that would be tremendous. So, to answer your question, I think so, but you just never know. We're going to continue to try and recruit the high character kids that do all the right things, who are a good fit for our program, a developmental player. You'll very rarely see the "four or five-star recruit" coming to Wake Forest. We're much more in the business of trying to find the developmental player that in his third, fourth, fifth year who will really shine and help us win games.
Is there anything else you want Wake fans to know about the direction of the program?
RM:
With Jim Grobe at the helm, everything will be fine.
March, 5, 2010
3/05/10
1:30
PM ET
By
ESPN.com staff
| ESPN.com
First, to be clear, these are not demotions or anything of the sort. It's just an attempt by coach Jim Grobe to better utilize the talent he already has on staff.
The biggest change is the move of Steve Russ from coaching the tight ends and fullbacks to the defense, where he will coach the linebackers. It's a move that makes sense, as Russ played linebacker for Grobe at the Air Force Academy and during his NFL playing career with the Denver Broncos. Russ was also a defensive coordinator at Syracuse. The tight ends will now be coached by offensive line coach and offensive coordinator Steed Lobotzke.
"We've wanted for a while to get Steve Russ back on defense," Grobe said in a prepared statement. "We will do that this fall. Last year, I thought it would have been too disruptive. Now, with our re-alignment, this is a good time to move Steve. From a defensive perspective, with five coaches on defense, we'll have the opportunity to do a better job on that side of the ball."
Grobe also made the following changes:
Associate head coach Billy Mitchell, who has been coaching the running backs and kickers, will add the fullbacks to his responsibilities.
Defensive coordinator Brad Lambert will move from coaching the linebackers to the safeties, while defensive ends coach Keith Henry will move to cornerbacks.
Tim Billings, who spent the last two years working with the entire secondary, will now coach the defensive ends.
Ray McCartney remains as the defensive tackles coach and recruiting coordinator.
September, 8, 2009
9/08/09
10:45
AM ET
By
ESPN.com staff
| ESPN.com

Posted by ESPN.com's Heather Dinich

Not a lot of these guys have national reputations, but somebody has to lure in the players to win these games. Here's a quick look at the top closers in the ACC:

1. Randy Shannon, Miami: His resume speaks for itself when it comes to recruiting, as the Canes have brought in some of the country's top talent under his direction, and he doesn't have to leave his area code to get it. He does have to beat the likes of Florida, Florida State and dozens of other top programs who raid the state to get it, though.

2. Jimbo Fisher/Bobby Bowden, FSU: The head-coach-in waiting has an advantage over everyone else in that he's essentially a head coach who can recruit when others can't. He's done a great job of building for the future and has become more proactive. Bowden is one of the few coaches in the ACC who have developed a national reputation as a closer. He's made a name for himself for getting those top-notch players at the last minute.

3. Billy Napier, offensive coordinator, Clemson: Napier used to be the recruiting coordinator before he assumed the play-calling duties, but he's a major reason the Tigers have lured in the kind of talent capable of contending for the ACC title.

4. Butch Davis/John Blake, UNC: They're a tandem when it comes to recruiting, and they've already made a difference since arriving in Chapel Hill. In 2009 they brought in the No. 13-ranked class by ESPN.com, and within a week after he was hired, Davis brought in a player named Quan Sturdivant, and Marvin Austin committed on signing day.

TIE: 5. Jim Grobe, Wake Forest/Frank Beamer, Virginia Tech: The Deacs have started a pipeline into the talent-rich state of Florida, and hit the heart of it in Pahokee. Recruiting coordinator Ray McCartney and the staff have done a great job of finding smart players with good character who can still win. Beamer and his staff evaluate the same way Tommy Tuberville did at Auburn. Some are great players, but most are good players whom they develop into great players.
February, 3, 2009
2/03/09
2:30
PM ET
By
ESPN.com staff
| ESPN.com
Posted by ESPN.com's Heather Dinich
Our experts at Scouts Inc. put together this package for you on everything you need to know for signing day. You'll notice we have UNC coach Butch Davis lined up for an interview on ESPNU, and at the bottom of that page, we did a breakdown of the best of the BCS conferences.
I picked Clemson recruiting coordinator Billy Napier as the league's best recruiter based on the talent he has helped lure there in recent years, but this is a really tough call because each school has different academic standards, different philosophies, different needs and a wide variety of things to offer. It's not really comparing apples to apples.
Wake Forest, for example, is not going to get a lot of the highly touted athletes Miami is, nor does the coaching staff necessarily want the same players. If you consider the job Jim Grobe and his staff have done there with the unheralded recruits they have brought in, you might argue Ray McCartney, their recruiting coordinator, or quarterbacks coach Tom Elrod is the best recruiter in the league. Georgia Tech defensive line coach Giff Smith is another coach that comes quickly to mind for consideration. Paul Johnson did a tremendous job in his first season, but Smith lined up plenty of talent for him to work with. Former Virginia assistant Mike London was a heck of a recruiter, but now Richmond is reaping those benefits.
As for the best closer, it was a toss-up between FSU coach Bobby Bowden and Miami coach Randy Shannon. I went with Shannon in part because of the obvious -- he has brought a wealth of talent into the program and has a knack for sealing the deal. Bowden was a heck of a closer when he was in his prime, but I'm not sure if Jimbo Fisher hasn't taken on more of that role since he has been named the head-coach-in-waiting. Grobe was another top choice for this one. Think about the players he has recently landed -- Alphonso Smith, Aaron Curry, Riley Skinner, Chip Vaughn -- they won an ACC title, and with the exception of Smith, they were unknown in the recruiting world.
As for the other categories listed there, have fun with that.
July, 17, 2008
7/17/08
9:30
AM ET
By
ESPN.com staff
| ESPN.com
Posted by ESPN.com's Heather Dinich
You asked, I answered:
This question comes from Timmy, in Lynn, MA:
Hey Heather. My question concerns Boston College and their QB situation following the departure of Matty "Ice" Ryan. Do you think Chris Crane can come in there and get the job done? He's big and somewhat resembles Ryan in the pocket, and on top of that is even more mobile. One problem could be not having Callendar and Whitworth as reliable bail-outs on screens, etc. What's your take and are you even sure he will definitely be the starter in their opener against Kent St?
Timmy -- I talked to Chris this spring and he wanted fans to remember he HAS played before, and he learned a lot about the game from Ryan. Considering he's got Steve Logan to work with, and Logan will adapt the offense to fit Crane's strengths, I think they'll be ok here. And yes, I'm pretty sure he'll be the starter on Aug. 30.
From Kevin, in Baltimore:
Let's be honest first. I hate Clemson. I really do. I'm a Georgia Tech alumni and fan and I hate the tigers more than UGA. Will you please agree with me and recent history in realizing Clemson is in store for another 8 or 9 win season? Every year we hear about how this is going to be Clemson's year, that they will get over the hurdle and win the ACC. They will start the season off hot and retain a high ranking before hitting the midpoint of their schedule: Maryland, at Wake Forest, Georgia Tech, at Boston College, at Florida State.
Kevin -- Tell me how you really feel. I definitely don't think Clemson will make it through the season undefeated, and I understand where you're coming from on the history here. Here's my take: There is absolutely no excuse for Clemson not to win it this year. This might be the most veteran team Tommy Bowden has had in a decade. If they blow it -- which they might -- they are deserving of criticism. Until then, I'll give them the benefit of the doubt.
Here's one from Josh, in Atlanta:
Toss Up- Who has a worse qb situation heading into the opening nite thursday espn game, the 'Pack or the 'Cocks? Why? And who wins?
Ooh, that's a great question. Well, at South Carolina you've got two guys who combined to throw eight picks in their spring game against an easy D. It's Beecher's job for now, but he has only thrown 25 passes in his career. At NC State you've got Daniel Evans, who missed the spring because of a shoulder injury and threw more INTs (13) than touchdowns (12) last season. But at least he played. And Russell Wilson wants this job and showed it this spring, and there are also high hopes for rookie QB Mike Glennon. I give the quarterback nod to the Wolfpack on this one based on the spring, experience, and Tom O'Brien's reputation for recruiting quarterbacks. Who will win? Spurrier. Why? He's got 18 of 22 starters back and our own SEC blogger Chris Low thinks these guys are capable of winning eight games this season.
From Trent, in Clemson:
Heather, once the season starts, can we expect to see you at games around the ACC. Also, what is your favorite memory covering ACC football?
Trent -- Heck yeah, I'll be at games every weekend. As for my favorite memory, since I spent the past two and a half seasons covering Maryland before I took this job, it would have to be a moment during the Terps' unbelievable meltdown at Wake Forest. Maryland blew a 21-point lead and lost, 31-24 in overtime. I'll never forget following Wake assistant Ray McCartney down the steps after the game. He was on his cell phone with his wife and was as excited as a 12-year-old who just got tickets to the Super Bowl.
From Thomas, in San Fran:
Let's go back to your list of the best quarterbacks in the ACC. How in the world could you leave Tyrod Taylor from Virginia Tech off your list? The guy was a true freshman last year who won all his starts (5-0). I can't believe you even listed Peter Lalich who didn't do even accomplish close to what Taylor did last year. What's your deal?
Thomas -- These lists are for the entire league, which means every team is going to be represented here, and right now, Peter Lalich seems to be the closest thing UVA has to a starting quarterback, which is why he's on the list. I picked Glennon over Taylor because he proved he could lead the Hokies to an ACC title and knew more of the playbook than Taylor did last season.
Thanks for the questions -- I'll have a few of my own this morning in a fun interview with Doug Rhoads, the ACC's coordinator of officials. Check back this afternoon for that and lots more.
hd