July, 24, 2014
Jul 24
4:00
PM ET
Let's begin with a little either-or exercise.
Below are the basic stats for two defensive backs — tackles, tackles for loss, interceptions and passes defended. If forced to choose Player A or Player B for your team, which one would you want?
Player A:
121 tackles, 9.5 TFL, 4 INTs, 8 PD
Player B:
49 tackles, 2.0 TFL, 1 INT, 2 PD
Look over the numbers for a minute or 10, but really, it should't take that long. It's pretty clear that by any of our regularly deployed metrics, Player A is a clear frontrunner, right?
But here's where it gets a little tricky. Player A is Duke safety
Jeremy Cash
, and those gaudy numbers from 2013
earned him a spot on the media's preseason All-ACC team
.
[+] Enlarge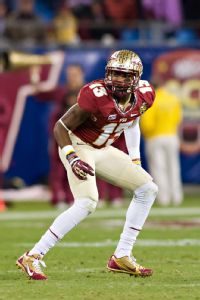 Jeremy Brevard/USA TODAY SportsFlorida State's Jalen Ramsey isn't on the preseason All-ACC team. Was it an oversight?
The funny thing, however, is after that happened, a whole host of fans and media erupted in confusion because of the clear oversight that Player B, who happens to be Florida State's
Jalen Ramsey
, was left off the squad.
So how is it that in the eyes of many experts, Cash seems not just the wrong choice compared to Ramsey, but a ludicrous one?
I'll admit, I was one of the many offering confusion that Ramsey could miss out on first-team All-ACC status, and my basic rationale was two-fold. On one hand, Ramsey passes the eye test. He looks like a great player, was a five-star recruit and coaches and scouts gushed about his quick grasp of Florida State's defense. He was a true freshman last season and started every game, playing both safety and corner. Secondly, Duke's defense, which did post some gaudy stats when it comes to tackles and takeaways, was also pretty darned bad. Florida State's secondary allowed 90 fewer yards per game and 11 fewer passing touchdowns than Duke. So shouldn't the Seminoles' defensive backs earn the rewards?
It's an argument that makes sense, too, which only goes to underscore how limited our typical metrics for evaluating defensive backs are.
Cash has more tackles, more interceptions, more passes defended. Ramsey was a key figure in a secondary that was perhaps the best in the country. But maybe Cash benefited from opposing QBs attacking him more often because they weren't concerned he'd beat them. Or maybe Ramsey benefited from having so many elite players around him. For every argument, there's a perfectly reasonable counterargument.
Of course, we also don't have to live with just those basic metrics, either. We wanted to dig a little deeper.
Stats LLC uses a stat called "burn rate" to track defensive backs. It looks at the number of times they were targeted and how many of those passes were completed. This should be a far better way of isolating a single DB, right?
So, using those numbers, how does our theory about Cash being a more ripe target for opposing QBs hold up? Actually, not too well. According to Stats LLC, Cash was targeted 41 times last season, 32nd-most in the ACC. Ramsey was targeted a tick less — 35 times, 47th-most in the ACC. So yes, it does speak highly of Ramsey that a true freshman was targeted, on average, just 2.5 times per game, but the numbers also don't entirely serve the simple narrative that Cash's counting stats (tackles, INTs, etc.) benefited from more opportunities.
But if Cash wasn't targeted significantly more often, surely he didn't snuff out those targets quite as well as Ramsey. Again, the numbers don't make the case quite so clear.
Cash's burn rate (43.9 percent) ranked 22nd in the ACC and was better than Ramsey's (45.7 percent, 27th in ACC). Cash picked off four passes, the 10th-best rate in the ACC, to Ramsey's one. Cash defended 19.5 percent of passes, good for 25th in the conference and better than Ramsey's rate of 5.7 percent (good for 85th). The one area where Ramsey stood out was that, when he was burned, it was rarely for a lot of yards. His 9.7 yards per completion ranked eighth-best in the ACC and his 4.4 yards per attempt was seventh. And, after all, limiting the big plays is the primary job of a safety. Cash allowed 15.2 yards per completion (53rd in ACC) and 6.7 yards per attempt (32nd).
Those last two numbers probably sum the argument up the best. When Cash was good, he was exceptionally good. He made a lot of tackles because his teammates didn't. He made big plays when he had the chance, but he gave up quite a few, too. Ramsey wasn't nearly as flashy and clearly had better teammates around him (
Terrence Brooks
, FSU's other starting safety last season, had the lowest yards-per-completion rate in the ACC) and wasn't tested in the running game nearly as often. He didn't post dynamic numbers because he didn't have to.
So where has all this gotten us?
I'd argue that the numbers prove Cash certainly wasn't a bad choice for first-team All-ACC honors. His play in 2013 and the assumption he'll be better in 2014 more than qualifies him for the honor.
But I'd also argue that Ramsey's vote total (just 13 votes, nine at safety and four at corner, where FSU had him listed on the ballot) was far shy of any of the winners and appallingly low considering his talent.
But hey, a little friendly debate is really the best part of these preseason lists because, regardless of what the numbers say today, odds are they'll all look a lot different by season's end.
And since we tracked down the numbers, here's a quick look at the best burn rates, defended pass rates, and YPC, per Stats LLC, among returning ACC defenders (min. 25 targets).
BURN RATE
1.
Ronald Darby
(Florida State), 33.3%
2.
Maurice Canady
(Virginia), 36.2%
3.
Breon Borders
(Duke), 37.5%
4.
Ant Harris
(Virginia), 37.8%
5. Justin Simmons (BC), 38.1%
PASS DEFENDED RATE
1. Borders (Duke), 37.5%
2. Harris (Virginia), 31.1%
3.
Brandon Facyson
(Virginia Tech), 27.7%
4.
Hakim Jones
(NC State), 27.0%
5. Ray Vinopal (Pitt), 25.7%
YARDS PER COMPLETION
1.
Quayshawn Nealy
(Georgia Tech), 9.3
2.
Cameron Lynch
(Syracuse), 9.6
T3.
Denzel Perryman
(Miami), 9.7
T3. Ramsey (Florida State), 9.7*
5.
Brandon Chubb
(Wake Forest), 9.8
*Note: Ramsey is the best among returning defensive backs. Nealy, Lynch and Perryman are linebackers. The next best returning DBs were Boston College's
Justin Simmons
(10.3), Duke's
Bryon Fields
(11.7) and Miami's
Deon Bush
(11.8).
July, 10, 2014
Jul 10
2:24
PM ET
The 2014 college football season is inching ever so closer, with ACC media days set to take place in less than two weeks.
The league released its list of players who will be attending the July 20-21 event at The Grandover Resort in Greensboro, North Carolina. Here they are:
BOSTON COLLEGE
C
Andy Gallik
, R-Sr.
DB
Dominique Williams
, R-Sr.
CLEMSON
QB
Cole Stoudt
, Sr.
DE
Vic Beasley
, R-Sr.
DUKE
OG
Laken Tomlinson
, R-Sr.
LB
Kelby Brown
, R-Sr.
FLORIDA STATE
QB
Jameis Winston
, R-So.
CB
P.J. Williams
, Jr.
GEORGIA TECH
OG
Shaquille Mason
, Sr.
LB
Quayshawn Nealy
, R-Sr.
LOUISVILLE
WR
DeVante Parker
, Sr.
DE
Lorenzo Mauldin
, Sr.
MIAMI
RB
Duke Johnson
, Jr.
LB
Denzel Perryman
, Sr.
NORTH CAROLINA
QB
Marquise Williams
, Jr.
LB
Norkeithus Otis
, Sr.
NC STATE
RB
Tony Creecy
, R-Sr.
DE
Art Norman
, R-Sr.
PITT
WR
Tyler Boyd
, So.
DB
Ray Vinopal
, R-Sr.
SYRACUSE
OT
Sean Hickey
, Sr.
LB
Cameron Lynch
, Sr.
VIRGINIA
RB
Kevin Parks
, Sr.
SS
Anthony Harris
, Sr.
VIRGINIA TECH
WR
Willie Byrn
, R-Sr.
DT
Luther Maddy
, DT
WAKE FOREST
FB
Jordan Garside
, R-Sr.
CB
Kevin Johnson
, R-Sr.
June, 27, 2014
Jun 27
9:00
AM ET
Pitt welcomed a new defensive backs coach in the spring, and with him a new approach to playing in the back end.
The Panthers want their players to be more aggressive, something that was missing for much of 2013. Pitt had its moments, but its secondary seemed to play off receivers all too frequently. The result? Pitt allowed 7.4 yards per completion, tied for second-worst in the ACC. The Panthers also gave up 20 passing touchdowns, one of five ACC schools to give up 20 or more through the air.
But here is the stat that really stands out: Pitt had eight interceptions, worst in the ACC and tied for No. 98 in the country. The Panthers recorded an interception once in every 48 pass attempts.
So you can see why this was a group in need of a philosophical overhaul. Given the talent and youth returning, this could end up being one of the most improved units across the ACC.
"Even though the room is young in years ... the one thing in that room is every one of those kids has played in a game," defensive coordinator Matt House said in a recent phone interview. "The first time on the field, none of them will be star-struck because they've all been on the field before. That's reassuring for them and reassuring for myself. They're an aggressive group."
Safety
Ray Vinopal
leads the way, but he is the only senior in the group. Junior cornerback
Lafayette Pitts
is the next oldest when it comes to experience, although the Panthers are excited about junior Wisconsin transfer
Reggie Mitchell
. The rest are sophomores who played as true freshmen or redshirt freshmen.
Pitt is counting on all that game experience to help. Safety
Terrish Webb
, for example, played in every game last season as a true freshman. Cornerback
Titus Howard
, competing with
Trenton Coles
to win a starting job, played in 11 games as a true freshman with two starts.
House said Webb, Mitchell, Coles and Howard all played well in the spring. He also expects a much better season out of Pitts, who struggled at times in 2013.
"I don't think there's any doubt," House said. "Lafayette's been more focused. He wasn't satisfied with last season and definitely wants to improve on that. He's done it throughout the winter and spring. He's working hard."
The young, talented nucleus is there for Pitt to improve its numbers. Bank on a better group in 2014.
November, 12, 2013
11/12/13
12:00
PM ET
November, 11, 2013
11/11/13
12:00
PM ET
November, 11, 2013
11/11/13
11:00
AM ET
Florida State is now in full control of its championship destiny. Miami needs to get its act together. Duke is delaying interest in basketball season in Durham (OK, probably not) and several surprise teams are making their pushes toward the postseason. All that and more in our ACC weekend rewind:
The good:
Let's face it: The ACC's surest path toward national respect is by winning it all, something it has not come close to doing in recent years. And, fair or unfair, the only way an ACC team was going to become a serious player in that title conversation this year was if Alabama or Oregon lost. So Stanford's Thursday night shellacking of the Ducks was surely celebrated by the folks of Tallahassee, Fla., who then watched their beloved
Florida State Seminoles
punctuate the weekend with a 59-3 stomping of Wake Forest. The formula is simple now for FSU: Just win, something the program has been doing with relative ease so far this season.
[+] Enlarge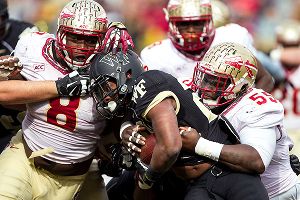 Brian Westerholt/Four Seam Images/AP ImagesFlorida State's defense throttled Wake Forest as the Seminoles continued their BCS title run.
The good, pt. II:
Play the way the Seminoles' defense did Saturday in Winston-Salem, N.C., and you get a second category in your honor. They held the Demon Deacons' quarterbacks to a total QBR of zero for the game, the first time that has happened for a team in a game this season. They forced seven turnovers, picking off six passes while returning turnovers for touchdowns on consecutive plays. Wake Forest's three quarterbacks combined to complete seven passes to their own players, which was just one more than they completed to FSU defenders.
As our David Hale noted
, from the 7:15 mark of the first quarter to the 10:31 mark of the second, FSU ran four offensive plays and scored 28 points.
The bad:
Miami entered Tallahassee last weekend as a top-10 team looking to make some noise if it could manage a respectable showing against the rival Seminoles. Two games later, and the Hurricanes have seen their Coastal Division frontrunner status fly away after consecutive losses to FSU and Virginia Tech, which turned three key Miami special teams gaffes into 21 points, resurrecting their own chances at making the ACC title game. Kudos to
Logan Thomas
for putting consecutive forgettable outings behind him by completing 25 of 31 passes for 366 yards with two touchdowns and no picks.
The ugly:
Virginia's 45-14 loss at North Carolina was its seventh straight loss, its most in a single-season since 1981. The Cavaliers had little margin for error to begin with, but did themselves no favors by surrendering a pick-six and a punt return for a score to the resurgent Tar Heels, who have now won three straight games and are knocking on the door of bowl eligibility at 4-5 after a 1-5 start. Craig Littlepage has voiced his support for Mike London so far this season, but you have to wonder how much that will change with each passing loss.
The clutch:
Sure, ruining Notre Dame's national title hopes in South Bend, Ind., last year would have been sweeter. But Pittsburgh's 28-21 home upset of the No. 23 Fighting Irish was nonetheless a high mark for the program, which recorded a signature win for second-year coach Paul Chryst and delivered the Irish's BCS bowl hopes an early knockout blow.
Ray Vinopal
keyed a strong defensive performance for the Panthers, coming up with a pair of fourth-quarter interceptions and forcing a fumble early. Now Pitt is just one win away from bowl eligibility with three games remaining.
The hat trick:
Andre Williams
outdid himself in Boston College's 48-34 win at New Mexico State, as he broke the 200-yard mark for the third time this season. Williams set an Eagles single-game record with 295 yards rushing on 30 carries, including a go-ahead 80-yard score and a game-sealing 47-yard touchdown on the next possession. What more can you say about the senior? He now leads the
nation
in rushing yards with 1,471. His 163.4 rushing yards per game are also a national best, nearly 11 full yards per game clear of the No. 2 man, Arizona's
Ka'Deem Carey
. BC is now 5-4, three wins past last season's total and, more importantly, a victory away from bowl eligibility.
The hat trick, pt. II:
Duke redshirt freshman
DeVon Edwards
had a day for the ages, recording two pick-sixes -- one of 25 yards, the other of 45 -- on back-to-back NC State plays within 16 seconds of each other and returning a kickoff 100 yards for a touchdown in the Blue Devils' 38-20 win, their fifth straight victory. Edwards became the first Duke player with two pick-sixes in a game since Leon Wright against Army in 2009 and became the first Blue Devil to return a kickoff for a score since
Jabari Marshall
against UConn in 2007. Edwards was named the national defensive player of the week by the Walter Camp Football Foundation for his efforts. He added 10 tackles, too.
The brick wall:
So, it's unlikely that anyone will confuse this year's Syracuse defense with 2011 Alabama, 2008 USC or any other greats of recent memory. But after losing to Georgia Tech 56-0 the Orange have been on a roll, pitching 113 straight minutes of shutout ball over the past two-plus games before
Brad Craddock
's 23-yard field goal got Maryland on the board with 1:10 left in the third quarter Saturday. That would be all the Terrapins could manage in a 20-3 loss to an Orange team now 3-2 in its first season of ACC play and 5-4 overall, just one win shy of bowl eligibility. Syracuse forced four turnovers and held Maryland to 292 yards of total offense, though the challenge gets amplified
just
a bit this weekend when it travels to Florida State.
The class act:
Hats off to
Marquise Williams
, who became North Carolina's starting quarterback for the rest of the season after
Bryn Renner
underwent season-ending shoulder surgery this week. Williams, normally No. 12, wore Renner's No. 2 in honor of the injured senior, and he completed 15 of 28 passes for 185 yards with two touchdowns and one pick while adding 46 rushing yards and another touchdown in the Tar Heels' win over Virginia. Oh, and he caught a 29-yard touchdown pass for good measure, with
Quinshad Davis
it to make Williams the first North Carolina quarterback to catch a touchdown pass since 1984, when Kevin Anthony did the same against Virginia.
The headaches:
Good luck trying to sort out the potential scenarios for a Coastal Division winner after Virginia Tech's upset of Miami and Duke's win Saturday, which helped leave the division with four teams with two losses apiece. And good luck trying to sort out all of the possible bowl destinations for a number of ACC teams after a week in which conference newcomers Pitt and Syracuse inched their way closer to postseason play with upset wins to get to five victories apiece. Boston College got to five wins, too, while Maryland remains at five after the loss to the Orange. North Carolina is making a push at 4-5 and on a three-game winning streak, and there are already six bowl-eligible teams. So yes, there could be 11 teams bowling in the ACC this winter. Not bad.
November, 10, 2013
11/10/13
9:00
AM ET
How about a few helmet stickers for a job well done:

Boston College running back Andre Williams.
The best rusher in the ACC topped himself in a 48-34 win over New Mexico State. Williams ran for a career-high 295 yards, setting the school single-game rushing record. Montel Harris set the old mark of 264 yards in 2011. Williams now owns two of the top three single-game marks in school history. His performance late in the game was outstanding. With the game tied at 34, Williams scored the game-winning touchdown on an 80-yard run. He added a 47-yarder on the next possession to officially put the game out of reach. Williams has three 200-yard games this season.
Duke safety DeVon Edwards.
The redshirt freshman became the only FBS player in the last 10 years with three non-offensive touchdowns in a game in a 38-20 win over NC State. Edwards scored on a 100-yard kickoff return and then returned two interceptions for scores on back-to-back offensive plays. The 100-yard kickoff return tied for the second longest in Duke history. His 218 total yards ranks second all-time among Duke freshmen in a single game (Desmond Scott, 259 yards against Wake Forest in 2009).
Florida State defense.
The Seminoles had perhaps the most dominating defensive performance in the ACC this season, forcing seven turnovers and scoring twice in a 59-3 win over Wake Forest. The Noles tied a school record with six interceptions -- one returned for a touchdown.
Jalen Ramsey
also returned a fumble for a touchdown, giving the Noles five defensive scores this season, tied for the most since 2007. Freshman safety
Nate Andrews
, making his first career start, had two interceptions (including the score) and forced the fumble Ramsey returned for the TD. Wake Forest had a Total QBR of 0, the only team this season with a team Total QBR of 0 in a game. Florida State has now forced a turnover in 14 straight games.
North Carolina QB Marquise Williams.
North Carolina players dedicated their game against Virginia to quarterback
Bryn Renner
, lost for the season with a shoulder injury. Williams paid the ultimate tribute, wearing Renner's No. 2. He then went out and had a monster game, with passing, rushing and receiving touchdowns in the 45-14 win. Williams completed 15 of 28 passes for 185 yards; rushed 16 times for 46 yards; and caught a 29-yard touchdown pass from
Quinshad Davis
. He is the first Carolina quarterback to catch a touchdown pass since Kevin Anthony in 1984 -- against Virginia.
Pitt safety Ray Vinopal.
The Panthers may not have beaten No. 23 Notre Dame 28-21 without Vinopal, who had two critical interceptions in the fourth quarter to key the impressive win. On the first, Vinopal intercepted
Tommy Rees
in the end zone to end one drive. On the second, he returned his interception down to the 5, setting up the game-winning Panthers score. Vinopal also had a forced fumble early in the game, making him solely responsible for all three Irish turnovers.
Virginia Tech quarterback Logan Thomas.
For the second straight week, Thomas had over 400 yards total offense. But in a 42-24 win over Miami, the number that stood out was zero. Thomas combined his terrific passing game -- 25-of-31 for 366 yards and two scores -- with no turnovers. That has been the familiar bugaboo the last two weeks, both losses. Thomas had eight turnovers next to his name. But against Miami, he had his best game of the season with his team's Coastal Division hopes on the line. Thomas came through big time.