December, 12, 2013
12/12/13
9:00
AM ET
Andre Williams
is a philosopher, an eccentric. His off-the-field exploits this season, which include writing a memoir,
have been well documented
. He takes in questions and, unlike most in his position, spends his time digesting them before delivering appropriate answers rather than spewing out tired cliches.
But the 6-foot, 227-pound Boston College running back is anything but sophisticated when discussing his on-the-field exploits for the resurgent Eagles this season.
"You can draw it up any way you want, you can run any type of offense," Williams said. "But it's really just about the 11 guys on the field and how strong you guys are as a unit and as a team. Any kind of offense can work, not one is better than the other. It's really about the 11 guys that you have on the field and the chemistry and the things that you can't draw on paper that really count in the game of football."
Reducing his day job to the simplest of elements has powered Williams to a remarkable senior season. Boston College's first Heisman Trophy finalist since Doug Flutie took home the prize 29 years ago, Williams has posted the ninth-best single-season rushing mark (2,102 yards) in college football history. He is a throwback of the highest order, more than happy to carry the mantle for a position group that has seemingly seen its significance decrease in the national eye in recent years.
[+] Enlarge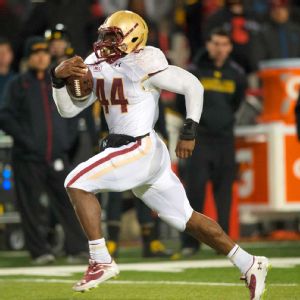 Tommy Gilligan/USA TODAY SportsAndre Williams' 2,102 rushing yards this season gave him the ninth-best single-season total in college football history.
Consider that no running backs were taken in the NFL draft's first round this past spring, the first time that had happened in 50 years. Or that the recruiting pitch of the college game's most iconic active coach, Nick Saban,
revolves around his backfield getting the most mileage out of the lightest workload possible
.
Williams and Auburn's
Tre Mason
are two of the six finalists for an award Saturday that will likely go to a quarterback for the fourth straight season. And Williams understands why, though he is thankful to have a leader like Steve Addazio in his corner. The first-year Boston College coach has emphasized a smashmouth style that has seen the Eagles carry the rock on better than 66 percent of their plays -- with Williams rushing it on nearly 69 percent of those runs.
"I love being a running back, I love representing running backs," Williams said. "I don't necessarily think it's unfair that it's been quarterbacks really high up in the Heisman contention lately, because that position is hard to play. It's hard to be good at it. And with the trend toward teams playing spread offenses and throwing ball more, I think really that's one of the factors behind it -- you have to have a good quarterback to be able to do that with your offense.
"But football is a funny game, because you can draw up all the X's and O's you want, but it's really an emotional and physical and mental game, and you can line up with any type of scheme and it can work if you have the right group of guys."
Williams could possibly meet his match in the AdvoCare V100 Bowl when he faces Arizona's
Ka'Deem Carey
, who actually touts a higher per-game workload (29.27) than Williams (27.41) after being suspended for the season opener.
The workhorses are scheduled to cross paths in Orlando, Fla., this week as finalists for the Doak Walker Award, with each expressing his admiration of the other's role in being flag-bearers for running backs this season. Both have relished the relative downtime before the bowl, especially Williams, whose shoulder injury forced him to exit the regular-season finale.
At 5-10, 207 pounds, the smaller Carey, a Tucson, Ariz., native, said he prepared for his workload this season by doing what he always does: hiking the various mountains surrounding the region, joking that there's not much else to do in his hometown.
His mindset is similar to Williams' in that each refuses to see the open field as a 1-on-11 game of tag.
"Every time I touch the ball I run hungry," Carey said. "I know the whole 11 is after me, and I feel like I should be after them, so I go after them instead of them just chasing me."
Nine running backs have accounted for 11 trips to New York in the previous 10 years. (Darren McFadden and Reggie Bush each went twice). By the time of the Heisman ceremony, none had tallied more rushes than Williams (329) or Carey (322) has this fall. And none had touched the 2,000-yard barrier that Williams crossed in the regular-season's penultimate game, at Maryland.
If there is a caveat with Williams, it comes in the passing game, where he has been a non-factor. He has zero catches this season and just 10 for his career, and he knows it is an area he will need to prove himself in for pro scouts come pre-draft evaluations. In comparison, Carey has 26 catches for 173 yards.
What Williams' hands lack in catching, they make up for in other areas, namely his signature stiff-arm, a move that Carey lauded him for, and one that several ACC defenders
have fallen victim to while standing in the thoroughbred's way
.
Jim Morgans, Williams' coach at Parkland (Pa.) High, recalls his protege elevating the entire team with a well-delivered blow that would enliven the sideline.
"It's the timing of it," Morgans said. "He knows when to deliver it. He puts a little dip in his legs and he really delivers a heckuva [hit].
"There's other things that he did, too: He would turn on defenders if he had the sideline and he's breaking down the sideline, and you know that he could probably take the angle away from defensive backs because he always had another gear. But sometimes he would relish just turning right into the defensive backs and running into them and running them over."
March, 17, 2009
3/17/09
10:30
AM ET
By
ESPN.com staff
| ESPN.com
Posted by ESPN.com's Heather Dinich
Admit it. You look around and see the big, bad SEC playing its conference championship game while the ACC hands out free Super Bowl tickets hoping somebody, anybody besides me will come watch this rerun of last year's game and it makes you drool with envy. Green envy.
You see that man with the bum knee shuffling around Happy Valley, and wish that your coach in Tallahassee was the winningest coach in college football, while quietly mumbling curses on the NCAA. You see Bradfords and McCoys throwing for more yardage than you drive to work and wish you, too, had a Heisman Trophy candidate to talk about over the water cooler.
That's what we're all about here today in the blogosphere. Anything green, anything Irish, and envy tops the list. Happy St. Patrick's Day, my envious ACC friends.
Here are three things the ACC envies about other conferences:
1. The Big 12 and SEC conference title games -- Imagine, the ACC championship game not only drawing a packed stadium, but essentially featuring two teams in a play-in game for the national championship. The SEC's title game has drawn capacity crowds in 15 of its 17 games. There were 75,892 fans who saw Florida beat Alabama last year, and the ACC had 27,360 for the repeat of Virginia Tech vs. Boston College. And the Big 12? That title game generated more attention than the ACC championship before Texas, er, Oklahoma even took the field.
2. The SEC and Pac-10 BCS bowl records -- The ACC was overjoyed to win its second BCS bowl game in 11 tries last year. Baby steps, ACC, baby steps. The SEC is 12-5 in BCS bowls and the Pac-10 is 9-4. They both have had at least six different schools play in BCS bowls while the ACC has had four. Florida State, Maryland, Virginia and Wake Forest have all represented, but the once mighty Seminoles are 1-5 and the Hokies are 1-2.
3. Heisman hopefuls -- It goes beyond Big 12 quarterbacks. The Big Ten had Shonn Greene and Javon Ringer, the SEC had Tim Tebow and Knowshon Moreno, the Pac-10 had Reggie Bush and Matt Leinart. Even the Big East had Pat White and Donald Brown to throw in the mix. Heck, Ball State quarterback Nate Davis got some consideration. Meanwhile, ACC fans are still talking about Chris Weinke and Charlie Ward. Somebody cue up "Glory Days" from the Boss.
ACC SCOREBOARD
Saturday, 12/27
Saturday, 12/20
Monday, 12/22
Tuesday, 12/23
Wednesday, 12/24
Friday, 12/26
Monday, 12/29
Tuesday, 12/30
Wednesday, 12/31
Thursday, 1/1
Friday, 1/2
Saturday, 1/3
Sunday, 1/4
Monday, 1/12
Tweets from https://twitter.com/ESPNCFB/lists/acc