January, 27, 2015
Jan 27
11:00
AM ET
Every team has issues to address this offseason, and this week, we're taking a look at the most glaring holes for each ACC team and figuring out where they might find answers between now and the season opener.
Florida State Seminoles
Position to improve:
Linebacker
Why it was a problem:
It's not often that a defense can lose a playmaker such as Telvin Smith (and DE/OLB Christian Jones to an extent) and move on without missing a beat. With the talent Jimbo Fisher has recruited, some thought the Seminoles might have minimal drop-off. But the unit had its ups and downs for a variety of reasons. There were injuries and suspensions, and there also a lot of inexperience and not as much athleticism. The linebackers struggled at times against the run and the pass, and there was not a great pass-rusher among the group.
How it can be fixed:
A healthy
Terrance Smith
Jr. will obviously help, and so will a full season from redshirt sophomore
Matthew Thomas
. Smith battled a sprained knee throughout the second half of the season, and Thomas was suspended for the first six games. The Seminoles need one of their younger linebackers to step up, though, especially with the losses of
E.J. Levenberry
and
Reggie Northrup
(ACL surgery).
Jacob Pugh
played sparingly as a freshman, and
Delvin Purifoy
never played a down after a season-ending injury. The good news is Pugh, Purifoy and defensive end/linebacker
Lorenzo Featherston
were all blue-chip recruits in the 2014 class and will have a full year under their belts.
Early 2015 outlook:
There are definite reasons for optimism, as Smith and Thomas will be joined by one of the younger players. The 2014 class was filled with talent, and there will be an opportunity for the second-year linebackers to step up. The Seminoles also went the junior college route in the 2015 class with linebacker
Lorenzo Phillips
. He was the third-ranked outside linebacker among junior college players, and the idea is for him to make an immediate impact. But while the outlook is hardly bleak, one of the younger players has to step up and help the defense return to the top of the national rankings.
November, 11, 2014
11/11/14
9:00
AM ET
Florida State has had some recent struggles stopping the run, though last week provided a measure of relief.
The Seminoles slowed down Virginia back
Kevin Parks
, holding him to just 43 yards. FSU held the Cavaliers to 37 total yards rushing -- a season low for the Noles' D.
On Monday, local reporters asked Florida State defensive end
Mario Edwards Jr.
whether that performance showed the defense had turned a corner.
"That's Virginia and this is Miami," he said.
[+] Enlarge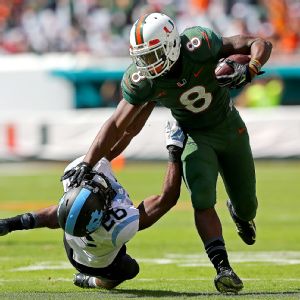 Mike Ehrmann/Getty ImagesStopping Duke Johnson and the Miami running game, which averages just under 200 yards per game, is the primary task for Florida State's defense.
If there is one thing Miami is certain to do Saturday when the two teams play, it is run the ball with
Duke Johnson
. Not only has Johnson posted five straight 100-yard games, Miami is playing more physically and aggressively on the offensive line despite missing several key players because of injury.
The result is the most productive Miami run game in years. The Hurricanes are averaging 199.6 yards per game on the ground, their highest average since the 2001 national championship team.
It all starts with Johnson, so the primary objective is to stop him at all costs.
"You have to make them one dimensional," Edwards said. They're good with position blocking. They want to get in front of you and turn you where Duke can cut off them and make a play.
"Duke is one of those backs you really don't see. He can make a cut or stop and get back to full speed within two strides, and once he makes a cut and gets through a gap you can pretty much kiss the baby -- he's going to be gone."
Despite the Virginia result, there has been some cause for concern with the Florida State run defense. The Seminoles are thin up front and have had injuries in a linebacker unit that has taken a step back from a year ago.
Notre Dame running back
Tarean Folston
and Louisville running back
Michael Dyer
each ran for over 100 yards, meaning the Noles have allowed 100 yard rushers twice in the last three games.
"Some of the players, including myself, stepped up and said, 'This isn't Florida State football, it's not the way we play.'" Edwards said. "We challenged each other to play the way we need to and come back and win."
As colleague Jared Shanker
points out
, Florida State has made successful halftime adjustments throughout the course of the season, especially on run defense. After allowing big rushing totals in the first half against Clemson, Notre Dame and Louisville, the Noles tightened up in the second half, as all three had fewer second half rushing yards.
Still, it is strange to see Florida State in the middle of the pack among rush defenses in the ACC, ranking No. 7 (and No. 35 in the country). Florida State is giving up an average of 135.7 yards per game on the ground. That is not terrible, but not nearly as good as in years past. The last time FSU gave up that many yards per game was 2009.
Still, Fisher and his players believe they see improvement.
"You're talking about a lot of guys that haven't really had to carry that big burden on their back," Fisher said. "
Reggie Northrup
makes tackles, but he never had to play any significant time last year when he was on defense. Terrance [Smith] did, but he's been off and on hurt. Eddie [Goldman] did, but he wasn't counted on to be like Timmy [Jernigan] was, which he's playing like. Now Mario has really grown into that role and gotten healthy and got his weight down. Losing Nile [Lawrence-Stample] I thought was really a huge loss for us inside because he was playing extremely well.
Desmond Hollin
's doing a good job. I think their experience and confidence is growing."
Good timing, considering the challenge they face to try and stop Johnson.
ACC reporter Jared Shanker contributed to this report.
September, 27, 2014
9/27/14
10:35
PM ET
The day began with
Jameis Winston
strutting onto the field at Carter-Finley Stadium and announcing his return from a one-game suspension with a jubilant shout of "I'm back" to no one in particular.
Winston followed the announcement with a dynamic performance. He threw for 365 yards and four touchdowns and added a 20-yard run to convert a crucial third down to ice the game. But when the
56-41 Florida State victory
was finally in the books, the question remained: Are the Seminoles back?
A team that dominated nearly every opponent it faced a year ago trailed at the half for the second straight week. That hadn't happened since 2011.
An NC State team that was thoroughly manhandled by Florida State's defense a year ago posted 24 first-quarter points and etched its name into a dark column of the Seminoles' record books.
[+] Enlarge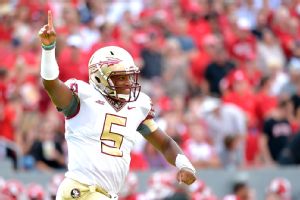 Grant Halverson/Getty ImagesJameis Winston finished with 365 passing yards and four touchdowns in his return to the lineup.
Winston's Heisman campaign the past season was built upon a highlight reel of dizzying escape acts and circus throws, but on Saturday, it was his counterpart who earned the oohs and aahs.
Jacoby Brissett
dodged one tackle after another and added runs of 19 and 36 yards to his 359 yards passing and three touchdowns.
It was a win for Florida State, and that was good, but even the Seminoles admit this isn't how the country's top-ranked team is supposed to look.
"It was very fun, but that's not Florida State football," tailback
Karlos Williams
said. "We're not used to that. That's not the way we play football here. We've got to start fast [and] finish faster."
This wasn't Florida State's style, at least not compared to the juggernaut that pummeled all comers the past season.
Winston's final numbers were impressive, but he turned the ball over three times.
Rashad Greene
had another stellar outing as the team's go-to receiver, but he flubbed a punt return that led to an NC State score.
The defense made some crucial stops late in the game, including a forced fumble by
Jalen Ramsey
, as NC State drove toward the red zone with a chance to pull within four midway through the fourth quarter. But the unit that was so dominant the past season allowed a whopping 520 yards to the Wolfpack -- the most an FSU defense had surrendered since 2009.
"It all starts with we've all got to want it," linebacker
Reggie Northrup
said. "I don't feel like we're that far, but we've got a ways [to go]. Ability-wise, we're there. But it's your will, paying attention to detail, making sure we execute better."
It was a sentiment echoed by Jimbo Fisher, too. He's got talented athletes all over the field right now, he said. But he's looking for talented football players, and this group remains very much a work in progress.
There was, of course, ample silver lining. Freshmen defensive linemen
Lorenzo Featherston
and
Jacob Pugh
had strong performances and offered some hope the Seminoles' woes on the defensive line can be addressed. The stable of young receivers finally provided an adequate complement to Greene on the outside. The running game, led by Williams and
Dalvin Cook
, had its most impressive performance of the year.
Oh, but this wasn't a team that was supposed to need silver linings. This was a team that was supposed to set the cruise control and head directly to the College Football Playoff. Instead, Saturday's chaos in Raleigh was actually the easiest win -- by final margin, anyway -- that FSU has had against an FBS opponent so far this season.
This clearly isn't last year's Florida State.
"This year, we have to create our own identity,"
Eddie Goldman
said. "We're not trying to live off last year's team. We have to do our own thing."
Perhaps that's how Winston can be encouraged after a game such as this. Compared to the past year's team, it was ugly. But compared to a loss -- something that had happened in this house of horrors for Florida State five times in its past eight trips to Carter-Finley -- it was a thing of beauty.
"That was a beautiful game, man," he said. "We overcame a lot. It's fun when you see that. It's heartbreaking to the other team when they think they've got us on the ropes, and we come back and fight. But that's the true meaning of being a warrior and doing whatever it takes to win football games."
August, 14, 2014
8/14/14
8:00
AM ET
The Roanoke Times reports that
Michael Brewer
is now
considered a co-starter
with
Mark Leal
at Virginia Tech.
Frank Beamer says
Brenden Motley
is due to return to practice following a back injury next week, but with the Hokies scrimmaging Saturday, all indications point to a two-man race with the winner likely being decided this weekend. Beamer says he wants a decision made sooner than later so the team has time to build a rapport with the new starter.
I talked with Beamer on Wednesday, and he spoke highly of Brewer's ability to grasp the system in a hurry and command the huddle.
"His personality, who he is, it lends himself to that," Beamer said. "He's a take-charge guy, likes being in control. It lends itself to him coming in and feeling at ease with the position he's in."
Beamer praised Brewer's accuracy, too, but he said the key for either QB will be more consistency from the receivers when it comes to route running and drops. And on the subject of the receivers, Beamer absolutely raved about freshmen Cameron Phillips and
Isaiah Ford
.
"Those are two guys that are going to really help our group," Beamer said. "They're two athletic guys."
A few more links:
August, 5, 2014
8/05/14
3:30
PM ET
TALLAHASSEE, Fla. -- Florida State had the No.1 pass defense in 2013. It's hard to believe it, but the secondary could be even better in 2014, with four possible first-round picks starting in the backfield.
Seminoles coach Jimbo Fisher knows what he is going to get out of his defensive backs. However, the front seven is looking for players to emerge to alleviate the burden of losing tackle Timmy Jernigan and linebacker Telvin Smith. The defensive line needs a handful of role players to complement the starters, and the linebacking corps doesn't have a definitive first-team unit just yet.
"I want to see those [starting linemen] take responsibility, and I want to see the quality depth behind it so we can get a quality rotation," Fisher said. "I know we have plenty of guys capable.
[+] Enlarge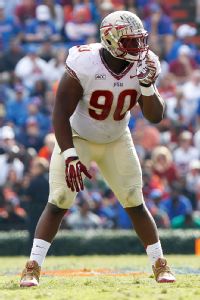 Kim Klement/USA TODAY SportsEddie Goldman will start at defensive tackle, but Jimbo Fisher is hunting quality behind the junior.
"The leadership role at linebacker,
Terrance [Smith
] is there but who steps up at Mike linebacker? Who's going to become the pass rushers, who's going to be the DPR [designated pass rushers], who's going to be the nickel 'backers, who's going to be the first- and second-down 'backers?"
Standing at the podium for his first fall camp news conference, Fisher still displayed a palpable confidence as he elaborated on the defense's questions, but he was cataloging them so he could return to them in another two weeks to see which have been answered.
Florida State has what looks to be a clearly defined set of starters on the defensive line with
Mario Edwards Jr.
,
Eddie Goldman
,
Nile Lawrence-Stample
and
Chris Casher
. Defensive line inherently is a position that requires a bevy of fresh bodies, though, which is why Fisher is determined to uncover quality rotational players who will allow his starters to come off the field without the defense taking a step back.
There is no shortage of options behind Florida State's starters. There are 10 backups along the line who are either freshmen or sophomores, and they average almost 6-foot-4 and 293 pounds.
Keith Bryant
,
Justin Shanks
and
DeMarcus Walker
were blue-chip recruits out of high school, and the defense needs those three to become primary rotational players with the idea they could be the starters in 2015. Florida State also brought in a number of freshmen, and Fisher said, physically, they already fit the Florida State defensive lineman archetype.
The luxury Fisher has is the younger players will all be able to learn from Edwards, who is in his second year in this defensive system but in his first as the unquestioned leader of the defensive line. The former No. 1 high school recruit, few players nationally are as physically gifted as Edwards.
"He's so daggone big and athletic. He's still 300 pounds, but we played a lot with those guys at LSU, 300-pound ends," said Fisher, calling upon his days as an assistant in Baton Rouge, Louisiana. "When you can do a standing back flip and a run a 5-flat [in the 40-yard dash] and bend like he does, you don't worry."
Behind the defensive line, Smith returns as a starter in the linebacker corps, but it is a tossup as to who will partner with him.
Ukeme Eligwe
, who is recovering from a Lisfranc injury,
E.J. Levenberry
and
Reggie Northrup
all played at least 13 games last season, and
Matthew Thomas
was shelved after four games in 2013 to repair a balky shoulder and preserve his redshirt. Thomas was a five-star recruit and one of the top players during the spring. When a player has a good practice, Fisher likes to say he "flashed," and routinely this spring Fisher said "No. 6 flashed," referring to Thomas.
As Fisher balances each player's talents and weaknesses, the potential deciding factor ultimately could boil down to chemistry. Fisher said it's often overlooked, but certain players raise their level of play when lining up next to certain teammates.
"We'll mix and match and also see who plays well together," Fisher said. "Sometimes people don't look at that. Some guys play better beside certain guys, and creating those packages is going to be critical."
July, 3, 2014
7/03/14
9:00
AM ET
From Florida State's veteran line to Clemson's fearsome defensive front, the ACC projects to have some of the country's best position groups this fall, while a few other contenders will enter 2014 with some major question marks in key areas. With that in mind, we're looking at the ACC's best units, a few more that might surprise in 2014 and the top teams with holes that could keep them from an ACC title.
Previous installments of this series can be found
here
.
Up today:
Linebackers

Best of the best:
Clemson
It's easy to see why many believe the Tigers have the best front seven in the ACC. In addition to having the strongest defensive front, they also have the strongest group of linebackers returning to the team.
Stephone Anthony
had a breakout season a year ago, finishing with 131 tackles, 13.5 tackles for loss and four sacks in 802 snaps played. He should be a preseason All-ACC selection. Clemson did lose two starters in
Quandon Christian
and
Spencer Shuey
, but it returns experienced players at the position.
Tony Steward
and
Ben Boulware
will anchor the weak side. Both were ranked among the top linebackers out of high school, and if Steward can stay healthy, he is in line for a big year. At the other spot, Clemson has the option of playing a linebacker or nickelback depending on the alignment.
T.J. Burrell
and
Dorian O'Daniel
will be in the mix on the strong side.

Next up:
Duke
The Blue Devils return the best linebacker duo in the ACC in
David Helton
and
Kelby Brown
, who finished as the top two tacklers in the conference last season. The two combined for 247 tackles a year ago and are back to anchor a group looking to improve both against the run and the pass. Their backups return as well, so there are not many depth concerns here. These two are as dependable as they come. Now, having said that, we would be remiss if we failed to mention Florida State. The Seminoles are losing two key players in
Christian Jones
and
Telvin Smith
and will be relying more on a five defensive back alignment, so there are some questions at the position. But this team has the talent to again be the best in the ACC once it gains some experience. As it stands now,
Terrance Smith
is the only linebacker with consistent playing time. Guys like
Matthew Thomas
and
Reggie Northrup
could develop into studs before the season's up.

Sleeper:
Syracuse
The Orange return two of the more underrated linebackers in the ACC in
Dyshawn Davis
and
Cam Lynch
, who will be relied upon to anchor a defense with some serious questions on the defensive line. Though middle linebacker
Marquis Spruill
is gone, Syracuse coaches were pleased with the role
Marqez Hodge
played as a true freshman behind Spruill a year ago, so he spent a year in training preparing to take over the starting job. Davis and Lynch will be there to help Hodge along. Keep an eye on Louisville here as well. The Cards return hard hitter
James Burgess
and have moved
Lorenzo Mauldin
to outside linebacker/rush end. That should pay dividends.

Problem for a contender:
Pitt
The Panthers have not gotten consistent linebacker play for years, so this position remains a question mark.
Anthony Gonzalez
and
Todd Thomas
return, but the Panthers have little in the way of depth to help them out. Thomas has the potential to be excellent. He had 72 tackles a year ago, but coaches are now hoping for more.
Bam Bradley
could also have an impact here, but only six lettermen are back from a year ago. There are also questions elsewhere in the conference. Will anybody step up to help out
Denzel Perryman
at Miami? And will Virginia Tech be just as good at linebacker without
Jack Tyler
and
Tariq Edwards
?
April, 14, 2014
4/14/14
1:00
PM ET
Florida State's spring camp
came to a close
on Saturday with the annual Garnet and Gold game, and now the Seminoles are prepping for a second straight national title.
The game is secondary compared to the rest of spring practices, so with that in mind, here are some of the biggest answers the 15 spring sessions presented.
[+] Enlarge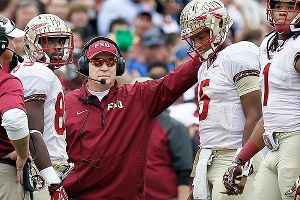 Don Juan Moore/Getty ImagesFlorida State coach Jimbo Fisher escaped the spring with a healthy roster.
1. FSU will be at full strength this fall.
In early March, Noles coach Jimbo Fisher noted how healthy his team was and how rare it is to have a squad almost entirely intact for spring practice. As the practices mounted, though, so did the injuries. The silver lining is that none of the injuries are expected to linger into preseason camp. Running backs
Dalvin Cook
and
Ryan Green
had shoulder surgery but will be 100 percent by around July.
Nick O'Leary
missed the final half of spring practices with a second motorcycle accident, but he avoided any serious injuries. There were a few concussions in camp, but
Terrance Smith
, who suffered one of them, was back for the spring game. The lone setback that could impact fall camp is the foot injury
Ukeme Eligwe
sustained, which Fisher hinted could be the dreaded Lisfranc injury, which has a tendency to persist for quite some time. The thought is he should be fine for August, though.
2. The secondary is among the best in the country.
Quarterback
Jameis Winston
said after the spring game that "we got the best [defensive] backs in the country." He should know, having thrown against the unit for much of the spring and the entire Garnet and Gold game. The secondary of
P.J. Williams
,
Jalen Ramsey
,
Nick Waisome
and
Tyler Hunter
shut down the No. 1 offense's passing attack the entire first half, and the unit was without sophomore
Nate Andrews
. Fisher said throughout the spring that Ramsey is a star-in-the-making and should become a nationally recognized name replacing
Lamarcus Joyner
. Ramsey showcased his skills by moving around at cornerback, safety and nickel during the game. Fisher and Winston are raving about freshman
Trey Marshall
, too. Williams is a star in his own right, shutting down No. 1 receiver
Rashad Greene
.
3. The receivers need to step up.
Speaking of Greene and the receivers, that position is probably the biggest weakness heading into the season. Fisher was upset with the production and consistency his receivers showcased through much of the spring, and the starting unit did not get any separation from the Noles' secondary.
Jesus Wilson
has the potential to be a playmaker from the slot, but can he replace
Kenny Shaw
's production?
Isaiah Jones
is 6-foot-4, but his production did not match that of departed 6-foot-5 receiver
Kelvin Benjamin
.
Levonte Whitfield
announced himself to the world in the national title game, but he is still needs some refinement as a receiver. The coaches can spend two hours a week breaking down film with players during the offseason, and Fisher said that will be a critical step in Florida State's development at receiver.
4. The talent is there at linebacker.
The Noles lose beloved figure
Telvin Smith
and consistent producer
Christian Jones
, but the depth at linebacker is there so those losses might not be felt all that much.
Matthew Thomas
is a budding star, and the former five-star recruit will not be kept off the field this fall.
Terrance Smith
is the leader of the unit and could be a viable replacement for Telvin Smith. Before Eligwe's injury, Fisher voiced his opinion that Eligwe was having as good of a spring as any player.
Reggie Northrup
and
E.J. Levenberry
should each see significant snaps in the rotation, and
Ro'Derrick Hoskins
could be a dangerous third-down specialist from the position.
5. Sean Maguire is a quality backup for Noles.
Earlier this spring, Winston missed a practice to travel to Clemson with the baseball team, putting the pressure squarely on No. 2 quarterback Maguire to perform at a competent level. Following the practice, the third of the spring, Fisher was lukewarm on Maguire's performance. But Maguire looked the part of a quality No. 2 option for Florida State during the spring game. The Noles got him in rhythm with three straight passes to the flats to open the game, and then Maguire dropped in a 26-yard touchdown on a post route over the defender. Maguire, a redshirt sophomore, said he made the most progress this spring than he's ever made at any point in his college career.
December, 18, 2013
12/18/13
10:30
AM ET
For the past four seasons, Florida State's seniors have worked to rebuild a program that was mired in mediocrity when they arrived. The project was a resounding success, but after the VIZIO BCS National Championship on Jan. 6, they'll be gone. If 2013 gave the seniors a chance to take that final step toward a title, it also offered a glimpse at what's to come, and Florida State appears well stocked to weather the inevitable losses.
Out: Lamarcus Joyner, CB
[+] Enlarge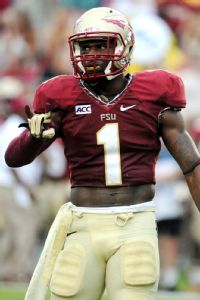 Melina Vastola/USA TODAY SportsTyler Hunter could replace cornerback Lamarcus Joyner for the Seminoles in 2014.
After moving from safety to corner, Joyner proved he was one of the nation's top defenders, leading FSU in sacks and finishing second in tackles.
In: Tyler Hunter, DB
Joyner is a huge loss, but Hunter is well prepared to step into the vacancy. His 2013 season was cut short by a neck injury, but he knows the defense well and his combination of size and speed allows him to fit well at safety, corner and nickel. Replacing Joyner is impossible, but Hunter could be in for a huge 2014.
Out: Terrence Brooks, S
He has been an under-the-radar performer since he arrived at FSU as a three-star recruit, but Brooks has been consistently good at safety for two years.
In: Nate Andrews, S
Brooks found a perfect protégé in the similarly underrated Andrews, and the relationship has already paid dividends. Andrews started just one game, but he leads the Seminoles with seven takeaways (four INTs, three forced fumbles) and is second on the team with eight passes defended.
Out: Telvin Smith, LB
For the past two years, there has been no louder voice in the locker room than Smith, and in 2013, he blossomed on the field, too, leading FSU in tackles.
In: Reggie Northrup, LB
Northrup hasn't started a game in his two seasons at Florida State, but when he's been on the field, he has proven to be a big-play defender. He has 46 tackles this season, and he has a skill set to both play the run and in coverage.
Terrance Smith
is FSU's only returning linebacker with starting experience, but there's ample depth at the position, led by Northrup.
Out: Christian Jones, OLB
Jones' move from traditional linebacker to edge rusher was a turning point for Florida State's defense, helping to seal the edge and add another dynamic pass rusher to the D line.
In: Matthew Thomas, OLB
An injury ended Thomas' season after just five games, but his potential is immense. He had two tackles for loss in his limited playing time, and his athleticism and strength could make for a smooth transition into the role Jones defined so well in 2013.
Out: Kenny Shaw, WR
Always a reliable option in the slot, Shaw blossomed as a senior and is on pace for 1,000-yard season while also handling punt return duties.
In: Levonte Whitfield, WR
Whitfield may lack Shaw's consistency, but his big-play potential is through the roof. He racked up 646 total yards and three TDs on just 21 touches (an average of 31 yards per touch) as a runner, receiver and kick returner. It was valuable experience as a freshman, and Whitfield should be an excellent fit in the slot in 2014.
Out: Bryan Stork, C
As Florida State's line developed from disaster in 2011 to dominant in 2013, Stork was the centerpiece. The veteran leader of the group has been the foundation for the unit's growth.
In: Austin Barron, C
Losing Stork is big, but Barron is no rookie. He has six career starts already under his belt, and he has worked routinely with the first-team line during practices this season while Stork has nursed a foot injury.
Out: The underclassmen
No one has made it official that they're leaving, and with so much talent on the roster, plenty of Florida State's draft-eligible underclassmen could decide to come back for what figures to be another big season in 2014. Of the group, defensive tackle
Timmy Jernigan
-- widely considered a first-round selection -- is the most likely to depart. Beyond that, tailbacks
Devonta Freeman
and
James Wilder Jr
., receiver
Kelvin Benjamin
, tight end
Nick O'Leary
, and lineman
Cameron Erving
will all have big decisions to make.
In: The next regime
Replacing Jernigan will be a tough task, but
Nile Lawrence-Stample
(14 tackles, 2 QB hurries) took some big steps in 2013.
Karlos Williams
(705 yards, 11 touchdowns) is ready to pick up the slack if either tailback leaves, while
Jesus Wilson
and
Isaiah Jones
will see their workload at receiver increase in 2014.
Kevin Haplea
returns from a knee injury, though he's unlikely to match O'Leary's productivity in the passing game.
Wilson Bell
earned rave reviews before an injury ended his season, but he could step into a vacancy at tackle should one arise in 2014.
August, 9, 2012
8/09/12
3:13
PM ET
By
ESPN.com staff
| ESPN.com
David Hale writes:
One key for FSU's offense, to hear Jimbo Fisher tell it -- and a close look at last year's numbers back him up -- is the need to complete passes for 20 yards or more.
Corey Dowlar writes:

In 2012, FSU signed no Miami-area players. Commits Adrian Baker, Jesus Wilson and Michael Johnson begin to reverse the trend. What's changing?
Hale writes:
Concerns about cornerback Xavier Rhodes' knee pain leads Thursday's practice notebook. Also: Quarterbacks' work, WR Dent's health.
Hale writes:

Florida State might need freshman Reggie Northrup to pitch in at linebacker, the one position that could unravel on an otherwise rock-solid defense. Today's profile in NoleNation's Carrying the Spear series of 50 potential impact players this season.