October, 31, 2014
10/31/14
8:30
AM ET
Thursday night's game
provided several reminders about Florida State.
1. This team, unlike its predecessor, is at times more lucky than good.
2. The Seminoles are still pretty darn good, even with all their injuries.
3.
Jameis Winston
is an excellent crunch-time quarterback.
4. FSU likely has too many warts to repeat as national champion.
5. Jimbo Fisher is an unquestionably brilliant coach.
Let's focus on the last item. Fisher's coaching acumen often gets overlooked, often because of what Fisher says and does away from the sideline.
He out-coached Louisville's Bobby Petrino in the second half Thursday, pushing the right buttons, especially on a
third-and-6 from Louisville's 35-yard line
late in the fourth quarter. Winston found a wide-open
Freddie Stevenson
, who scooted in for an easy, euthanizing touchdown. It's another reminder that Fisher is at the top of his game.
Fisher's clout as a recruiter also showed up as three freshmen, led by running back
Dalvin Cook
, reached the end zone. And his Seminoles team, despite myriad mistakes and continuing controversy, won its 24th straight game.
So why is it so hard to celebrate Fisher? Because of the other stuff.
October, 30, 2014
10/30/14
2:30
PM ET
One safety grew up a Michigan fan but ended up at Ohio State, the other safety was raised in Ohio but ended up at Michigan. Naturally,
Jeremy Cash
and
Ray Vinopal
now lead the defenses of No. 24 Duke and Pitt, respectively.
Each unit will try to make a statement Saturday in the Steel City. After all, they are just less than 14 months removed from a performance that each has been trying to forget.
"It's hard to swallow exactly what happened," Cash said of watching last year's game against the Panthers.
[+] Enlarge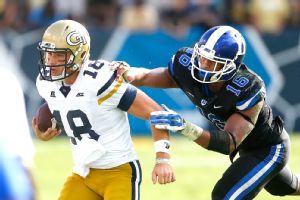 AP Photo/John BazemoreJeremy Cash has stepped into a leadership role on a young Duke defense.
"There were just a lot of guys not doing what they were supposed to do," Vinopal said, able to laugh a year later with the win in his back pocket.
Pitt won that contest last September, 58-55, a score that would have made each school's basketball program proud. From there, the Panthers went six straight games without surrendering more than 24 points. The Blue Devils, meanwhile, ran the rest of the regular-season table, winning eight straight before falling in the ACC title game.
Much has changed in the last year, both teams insist. Pitt was in just its third game under defensive coordinator Matt House, whose unit ranked 14th nationally in scoring average (18.6) before this past Saturday's 56-28 loss to Georgia Tech. Duke was just four games removed from a 2012 campaign that saw it finish last in the ACC in scoring defense. The Blue Devils improved steadily throughout last season's run, and this year find themselves second in the league and fifth nationally in scoring defense (15.1 ppg) behind fifth-year coordinator Jim Knowles.
"We've had a lot of young people in the secondary, still are fairly young, but we've just really had to try to grow up our defense, and I think the thing we've done best is become systematic, because you see so many different things," Duke coach David Cutcliffe said. "You see, Pitt themselves, they line up in two tight ends, and two backs, a 270-pound fullback in the game, they can get into three- and four- wide receivers. And we see just about everything you can imagine in college football, and so Jim Knowles and the defensive staff have done a much better job I think over a period of these years, putting us in a systematic approach, where our guys understand what we're trying to do.
This year's unit has taken on the identity of Cash, a redshirt junior from Miami who for whatever reason grew up rooting for the U of M not in his backyard. He instead fell in love with coach Jim Tressel and the Buckeyes, enrolling four months before the coach's resignation. He played as a freshman but sought a new landing spot upon the arrival of Urban Meyer, who had not offered the in-state product when he was coaching Florida. Tressel spoke highly of Cutcliffe, who had yet to take Duke to a bowl game at that point. Cash's faith has been rewarded, though, with the 6-1 Blue Devils postseason-bound for the third straight year and looking for more this time around.
Cash is fifth in the ACC in tackles per game (nine) and tops in forced fumbles, with three. His five stops behind the line of scrimmage are tied for the team lead. He was named one of 15 semifinalists Monday for the Jim Thorpe Award, given to the nation's top defensive back. He turned things up another level, he said, upon seeing linebacker and fellow defensive captain
Kelby Brown
go down in camp with an ACL tear.
"We had a lot of our senior leaders graduate," Cash said, "therefore I felt that I needed to step up in the back end because we did have a lot of youth and inexperience."
His path parallels that of the guy looking to send 4-4 Pitt bowling again despite dropping four of its last five games. Vinopal, a redshirt senior with 38 stops and two picks to his name, anchors a very young and thin secondary under first-year position coach Troy Douglas.
The Youngstown, Ohio native, initially went to Michigan, earning a starting role during Rich Rodriguez's final year as coach. A coaching change there prompted Vinopal to seek a new locale, and though neighboring Pitt offered an uneasy new start -- coach Todd Graham departed after his only season, when Vinopal sat out -- the Paul Chryst regime has offered stability these past three years for a safety who had been heavily involved with Chryst's old Wisconsin team back in the recruiting process.
"It's definitely an unconventional path, and I'm just blessed and fortunate to have gotten pretty much the luck of the draw," Vinopla said. "Sometimes times were a little tough and it didn't seem like I was heading in the direction where I had envisioned or where my goals had been set to go, but luckily I kept working and grinding away and ended up in a good situation."
August, 17, 2009
8/17/09
9:45
AM ET
By
ESPN.com staff
| ESPN.com
Posted by ESPN.com's Heather Dinich
The ACC has its villains, but so does all of college football. Here are my top-five villains for the game itself:
1. Steve Spurrier -- He didn't vote for Tim Tebow. You can't spell citrus without UT. He ran up the score against UNC in his last game at Duke. And free shoes university. Please, let the man speak.
2. Charlie Weis -- He said he'd have a "decided schematic advantage?" Sorry, Charlie. At 29-21, Weis' winning percentage is slightly below that of both his predecessors, who were fired. If his wins were as big as his ego, Weis would be the next Ara Parseghian.
3. Congress -- It doesn't belong in college football. It wasted taxpayers' money -- twice. And it doesn't understand the BCS. But give Utah's biggest fan a national stage, and Sen. Orrin Hatch suddenly has his own column on SI.com.
4. Lane Kiffin -- He raided SEC staffs for assistant coaches, and accused Urban Meyer of cheating in recruiting. And he hasn't won a game yet.
5. Rich Rodriguez -- He tore the heart out of his home state then ran Michigan into the ground in one season. It's OK, though. The Wolverines are due for an eight-win season.
June, 11, 2009
6/11/09
9:24
AM ET
By
ESPN.com staff
| ESPN.com
Posted by ESPN.com's Heather Dinich
Ever look at your team's schedule when it's first announced and wonder aloud WHY its lineup includes teams like Toledo, Temple, Eastern Illinois and Central Michigan? Wish your team was playing Alabama in the Chick-fil-A Kickoff? Well, if you could schedule one nonconference opponent for every team in the ACC, who would it be? Today ESPN.com is revealing our fantasy matchups.
Based on competition, style of play, coaching matchups, previous history -- whatever -- here's who I'd like to see the ACC play:
BOSTON COLLEGE vs. PITT -- Why keep playing Kent State when you can get this old Big East series renewed? Pittsburgh leads the series 13-16, and the two programs used to play almost every year for three decades. They haven't met, though, since 2004. Two of the last three games went into overtime.
CLEMSON vs. GEORGIA -- It's a natural rivalry that provided some of the best games of the 1980s, but the two programs haven't met since the 2002 and 2003 seasons, both season-opening losses for Clemson. This series actually will be renewed in 2013 and 2014.
DUKE vs. SOUTH CAROLINA -- This matchup is based purely on the coaching matchup: Former Duke coach Steve Spurrier vs. former SEC offensive wizard David Cutcliffe. These programs met regularly from the 1950s through the 1980s, but haven't played since a 24-24 tie in 1991. When Spurrier led Duke to the ACC title in 1989, he opened the season with a 27-21 loss to South Carolina.
FLORIDA STATE vs. NEBRASKA -- Let's go old-school here -- the Charlie Ward offense vs. the Blackshirts' defense. In the late 1980s and '90s, these were powerhouse programs. Now they're both trying to regain their status among the nation's elite. Let's get back to the days when FSU won in Lincoln, 18-14, and shocked everyone. Or like it was in 1993, when FSU played Nebraska in the national title game in the Orange Bowl and used freshman Scott Bentley's late field goal to win 18-16.
GEORGIA TECH vs. ALABAMA -- The Crimson Tide had the No. 2 rushing defense in the country last year, and Georgia Tech the No. 4 rushing offense in the country. All of the Jackets' skill players return, and Alabama has nine starters back on defense. This was once a rather lopsided series, but they haven't played since the early '80s. This is also a great coaching matchup.
MARYLAND vs. PENN STATE -- There is such a hatred amongst Maryland fans for Penn State. Why? Maybe because the Nits owned the Terps when they used to play on a regular basis. Or maybe it's because Penn State loves to pluck recruits out of Ralph Friedgen's backyard. Let's get these neighboring recruiting rivals to settle it on the field.
MIAMI vs. OHIO STATE -- Terrelle Pryor vs. Jacory Harris. Bring it, Big Ten. Two young quarterbacks, both with tailbacks they like and receivers who are on the rise. They've both got what should be improved offensive lines and similar questions on defense. This was never a big series -- they've only played three times and haven't met since 2002 -- but it will be exciting to watch these two young quarterbacks who might someday be in the same Heisman race together.
NORTH CAROLINA vs. LSU -- Despite doubling its win total from 2007 to 2008, North Carolina still has something to prove, and playing teams like Connecticut and East Carolina isn't the way to do it. Beating LSU in the Chick-fil-A Kickoff is.
NC STATE vs. MICHIGAN -- Honestly, I want to see a rematch of NC State / Rutgers with a healthy Russell Wilson, but Mike Teel is gone, so let's start the ACC/Big Ten challenge in the other revenue sport, shall we? Now is the time to play the Wolverines, while they're in transition, but any win over Michigan is worth bragging about. Tom O'Brien vs. Rich Rodriguez would be an intriguing coaching matchup.
VIRGINIA vs. OKLAHOMA STATE -- Al Groh is known for his defense, and this is the kind of team that would challenge him in a way that Mike Leach's Texas Tech team did in the Gator Bowl. Last year, the Cowboys ranked in the top 10 nationally in scoring, total offense, rushing and pass efficiency, generating more than 3,100 yards both through the air and on the ground.
VIRGINIA TECH vs. USC -- Let's see how good Bud Foster's defense is against this stable of running backs. Rival Virginia took on the challenge last year. How much better would the Hokies fare? If Virginia Tech wants to contend for a national title, this is another great measuring stick.
WAKE FOREST vs. PURDUE -- The Deacs actually know how to schedule nonconference games. Teams like Navy and Vanderbilt are perfect challenges, along with a program like Baylor. Purdue would be an interesting BCS matchup, though, because of the similar style offenses. They haven't met since 2003, and the Deacs are 1-4 in the series, but both teams have changed significantly since they last played.
August, 31, 2008
8/31/08
12:35
PM ET
By
ESPN.com staff
| ESPN.com
Posted by ESPN.com's Heather Dinich
Wow. It was a tough day at the office for a few ACC coaches this weekend. League commissioner John Swofford had to be cringing inside as Virginia got pushed around by USC, Clemson got tossed aside by Alabama and Virginia Tech was stunned by East Carolina. And don't forget what a disaster NC State turned into against South Carolina.
There's a reason Jim Grobe was at the top of my list this summer.
Here's a look at what we learned about the ACC in Week 1:

1. This is not going to be the year the league boosts its reputation on the national level. Not after that humbling start. If James Davis and C.J. Spiller can be held to zero yards in Game 1, and Aaron Kelly doesn't catch a pass until late in the first half, other coaches will figure out how to stop them, too.

2. Wake Forest is the most complete team in the league. With Riley Skinner on offense, a veteran defense and Sam Swank leading the way on special teams -- not to mention an outstanding coaching staff -- these guys should be the one team the ACC can count on this year to win consistently.

3. Duke coach David Cutcliffe has already made an impact. Cutcliffe "had butterflies" for the season opener not because it was his debut and return to the sidelines as a head coach, but because he knew how hard these guys worked in the offseason and that they deserved to win. He genuinely cares about these players and the future of the program and the players sense his commitment and responded in Game 1. Don't be surprised when they do it again.

4. The Coastal Division is WAY open. We know how much work the Hokies have to do, and the fact that UNC almost blew it against McNeese State isn't exactly reason to crown Butch Davis king of the Coastal. Miami and Georgia Tech did what they were supposed to do, and Virginia? Good luck this year, Cavs.

5. Yes, Paul Johnson's offense will work. Here's the difference between PJ and RichRod. One can't seem to figure out how to use "his offense" with the players he inherited and the other, Johnson, knows how to adapt and win football games with what he has. If the Yellow Jackets have to throw it to win, so be it. If the triple option is the best option, they'll run with it.