September, 5, 2009
9/05/09
8:52
PM ET
By
ESPN.com staff
| ESPN.com
Posted by ESPN.com's Heather Dinich
| | |
| --- | --- |
| | |
| | AP Photo |
| | Baylor QB Robert Griffin takes a snap during the first half of a 24-14 win over Wake Forest Saturday. |
WINSTON-SALEM, N.C. – A young fan wearing a Wake Forest T-shirt walked up to a player after the
Demon Deacons' 24-21 loss to Baylor
on Saturday and asked for an autograph – Baylor quarterback Robert Griffin's autograph.
As the Demon Deacons spent their postgame press conference trying to explain their four turnovers, Griffin and his teammates posed for photos and signed programs for fans as if they were on their home field. It was an entirely difference scenario from a year ago, when Wake Forest beat Baylor 41-13 in Waco, and that's because those within Baylor's program say this is a different, more confident and experienced team in the second season under coach Art Briles.
The Bears flew across the country and earned a win against a respectable Wake Forest team, and it reinforced what they already knew about themselves – they're pretty darn good.
"This isn't even our potential, I don't think," said defensive end Jason Lamb. "We still had a lot of mistakes, a lot of penalties. I know we're a lot better than this. Getting a win against a pretty good ACC team, I mean, it's not really a surprise to any of us. It's kind of what we were expecting to do. We've just got to carry that out the rest of the year. It's a different Baylor."
Much of that has to do with the maturation of Griffin, who is only a sophomore, but he's hardly their only answer. The defense also did a good job of flushing
Riley Skinner
out of the pocket and forcing him into three interceptions.
Jay Finley
rushed for 91 yards on 14 carries, and receiver
David Gettis
had five catches for 65 yards and a touchdown.
"I came in this year trying to get the guys around me more involved, letting everybody see them shine instead of me shine," said Griffin, who finished with 136 passing yards, 41 rushing yards, and one passing touchdown. "If I have to do some things out there, then I'll do them, but for the most part, I'm just looking to let other guys make plays and allow myself to feel the flow of the game. The pressure's not on me."
September, 5, 2009
9/05/09
8:09
PM ET
By
ESPN.com staff
| ESPN.com

Posted by ESPN.com's Heather Dinich
WINSTON-SALEM, N.C. –- Now Wake Forest knows how it feels.
The program that led the nation in turnovers last year found out how costly it is to be on the giving end, and while Baylor quarterback Robert Griffin was indeed impressive, the Demon Deacons know their four turnovers contributed to Baylor's 24-21 win.
Wake Forest coach Jim Grobe said the Deacs "got what we deserved."
"When you turn the ball over as many times as we did, and then you give up as many big plays -- a couple of them for scores on defense -- it's hard to beat a good football team," Grobe said. "We deserved what we got today and I give Baylor credit for that. I'm not saying that Baylor didn't play very well."
Just that Wake could've played much better.
The defense, which had to replace seven starters, also made mistakes, but it improved as the game progressed, and in the fourth quarter gave the offense a chance at a comeback win. It was an uncharacteristic, undisciplined performance under Grobe, and it was hardly only because of the new faces on defense or at wide receiver. It was a combination of mistakes that ultimately undid the Deacs.
"There were a couple of times offensively and defensively we had mistakes," said wide receiver
Devon Brown
. "Missed tackles on defense, not lining up the right spots on offense, having false starts. We could have eliminated the penalties and made plays, had less turnovers then it easily could have gone the other way."
Asked after the game how he evaluated his own performance, quarterback
Riley Skinner
scoffed and said, "I think the interceptions speak for itself.
"That's not the way I want to play," he said. "It's pretty much as simple as that. I expect myself to play better, the coaches expect me to play better. When it's your offense and you have a performance like this, you feel it more at the quarterback position. You want to take it upon yourself because you have pride in your offense and how you play on Saturdays. That's just not the way we wanted to start the season."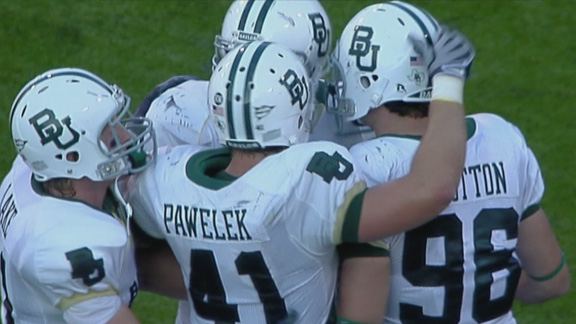 September, 5, 2009
9/05/09
6:22
PM ET
By
ESPN.com staff
| ESPN.com

Posted by ESPN.com's Heather Dinich
WINSTON-SALEM, N.C. -- This one wasn't
Riley Skinner
's fault, as it looked like his pass for
Jordan Williams
was right on the money and Williams couldn't seal the deal. But it was the fourth turnover for Wake Forest, the third interception for Skinner, and it stalled the offense when it was finally getting into a rhythm. With Wake Forest trailing 24-14, it doesn't look good for the ACC in its first two games against BCS conferences.
Ask any coach and he'll tell you it's tough to win the game when you turn it over four times. I guarantee that's one of the first things out of Grobe's mouth in the postgame press conference. Finally, though, Wake got one back. Matt Woodleif sacked Robert Griffin and caused a fumble and Wake recovered it. It's under review, but if the call stands, Wake has another chance with five minutes left.
September, 5, 2009
9/05/09
6:02
PM ET
By
ESPN.com staff
| ESPN.com
Posted by ESPN.com's Heather Dinich
WINSTON-SALEM, N.C. -- Wake Forest linebacker
Jonathan Jones
, who had the unenviable task of making his first start in the same spot once filled by Butkus Award winner Aaron Curry, had a respectable first half, leading the Deacs with seven tackles, but he didn't make one in the third quarter.
Still, it's not good when a guy in your secondary -- the last line of defense -- is leading the team in tackles. Good thing for the Deacs Brandon Ghee is back there.
Overall, Wake's defense has allowed too many big plays today, but credit must be given to outstanding Baylor quarterback Robert Griffin. He's rushed nine times for 29 yards and completed 14 of 19 passes for 138 yards and a touchdown. One of the biggest differences is in the yards per play. Baylor is averaging 7.2 while Wake averages 4.4.
September, 5, 2009
9/05/09
5:04
PM ET
By
ESPN.com staff
| ESPN.com

Posted by ESPN.com's Heather Dinich
Stat of the half:
Six. Wake Forest quarterback
Riley Skinner
, who last year became just the third quarterback in school history with seasons of 2,000 or more passing yards, has thrown the ball just six times and has 21 yards to show for it. Wake is having success running the ball, but it needs to get more out of its passing game to keep the Baylor defense on its toes.
Best player in the half:
Easy -- Baylor quarterback Robert Griffin. He punted, for crying out loud! In his first punt since high school, Griffin pinned Wake Forest on its own five yard line. He has also only missed three completions, with 13 of 16 pass attempts for 120 yards and a touchdown. We knew Griffin would test this young defense, and he has, but Wake is starting to get it together defensively.
Best call:
Jim Grobe's use of the single wing on their lone scoring drive. The Deacs threw off Baylor in this game a year ago when they came out with the spread offense, and Grobe confused the Bears again today with his use of the single wing. Going old school worked. With receiver
Devon Brown
lined up in the backfield, his carries sustained the lone scoring drive of the first half and halted Baylor's momentum.
September, 5, 2009
9/05/09
3:45
PM ET
By
ESPN.com staff
| ESPN.com

Posted by ESPN.com's Heather Dinich
WINSTON-SALEM, N.C. -- It was almost a flawless opening drive for Baylor, as the Bears moved the ball 80 yards in eight plays and took just 3:50 to score. It was a rude awakening for the revamped Wake Forest defense, as quarterback
Robert Griffin
was 4-for-4 on that drive. They're not pressuring him at all, and giving up long plays. Another rough start for the ACC in a big game, as Wake trails 7-0.
September, 5, 2009
9/05/09
2:30
PM ET
By
ESPN.com staff
| ESPN.com

Posted by ESPN.com's Heather Dinich

WINSTON-SALEM, N.C. –- Yes, the Wake Forest defense has some questions to answer, but don't count the Deacs out because they lost some of their best players in school history.

After all, how many programs have a Butkus Award winner on their roster, along with an Alphonso Smith?

What Wake Forest has is a group of redshirt juniors and seniors up front who are disciplined players and know the system? Their biggest question mark might be in the secondary, where they had to replace three of four starters, save for redshirt senior Brandon Ghee.

But this is where Jim Grobe's redshirting philosophy pays off. Look at the new linebackers –- there is not a freshman or a sophomore in the starting lineup. Jonathan Jones, who is taking over for Aaron Curry, is a redshirt senior. Matt Woodlief in the middle is a redshirt junior, as is weakside linebacker Hunter Haynes. It's not like these guys are taking their first collegiate snaps.

There's no question Baylor quarterback Robert Griffin is a special player, and one who will test each unit on Wake's defense, but if the Demon Deacons play the kind of disciplined football Grobe usually demands, and if they rely on their strength up front, there's no reason Wake Forest can't come up with another win over the Big 12.
September, 5, 2009
9/05/09
1:29
PM ET
By
ESPN.com staff
| ESPN.com

Posted by ESPN.com's Heather Dinich
WINSTON-SALEM, N.C. – Hello from Wake Forest, the smallest school in the BCS, where an eight-win season has suddenly become a disappointment.
It's still a pretty quiet scene here, and game day traffic on Cherry Street consisted of the stoplights, but it's still a cozy atmosphere and will eventually pick up considering a) it's a beautiful, warm, sunny day for a football game, b) it's a legitimate opener for both programs, and c) it should be a much closer game than last year's 41-13 Wake win at Waco. Baylor returns 19 starters, the school's most since 1969, and the Bears should be much better in Year 2 under Art Briles.
The jersey of choice here is obviously No. 11, Wake Forest quarterback
Riley Skinner
, but the spotlight is on Baylor quarterback
Robert Griffin III
, a.k.a. RG3. The Wake defense also needs be leery of No. 32, tailback
Jay Finley
. He led Baylor with 865 yards (72.1 per game) last year.
The biggest question, though, is obviously how Wake's defense will look against them without its superstars.
September, 3, 2009
9/03/09
10:00
AM ET
By
ESPN.com staff
| ESPN.com
Posted by ESPN.com's Heather Dinich
Ah, it's make or break time for the ACC blogger. You guys asked me all summer who was going to win this game and that, and I usually hedged my way around it one way or another. Well, not today. Thursdays are our prediction days on ESPN.com, so it's time to own up. Last year I fared pretty well, and then got crushed during bowl season. (I wound up giving the conference too much credit.)
Here's to starting 2009 better than we finished '08 – that goes for me AND the ACC.
NC State 21, South Carolina 17:
Both teams are going to run the ball, but the Wolfpack have the edge at quarterback, and that will be the difference in the game.
Russell Wilson
picks up in the midst of a school-record streak of 249 passes without an interception. NC State trailed 3-0 at halftime last year before Wilson suffered a concussion. They're 10-3-1 against the Gamecocks at home.
Georgia Tech 42, Jacksonville State 7:
Jacksonville State returns 19 starters from last year's 8-3 team and is ranked No. 19 among FCS schools. This should be a good warm-up before facing Clemson five days later, but if the Jackets get caught looking ahead, it could turn into a Gardner-Webb scare. Doubtful, though, without suspended quarterback Ryan Perrilloux.
Boston College 28, Northeastern 7:
Northeastern finished 2-10 last year, and, like BC, is breaking in a new quarterback. Still, the Eagles have enough pieces in place on the offensive line, at running back, wide receiver and in the secondary to keep this a textbook opener. Plus, with Frank Spaziani coaching, you know you'll get the most out of the defense, even if some of it is in a rebuilding mode.
Wake Forest 24, Baylor 21:
Yes, the Bears will be a better team than they were a year ago now that versatile quarterback Robert Griffin is more seasoned and in the second year under coach Art Briles. But Jim Grobe and his staff will have his players prepared. Wake's offense could be one of the best in the ACC, and if the defensive players stick to their roles, a group effort will get the job done.
Clemson 31, Middle Tennessee 17:
The Blue Raiders have nine coaches or staff members with some connection to Clemson, so that should keep the sideline game interesting. But the Tigers have the athletes, and that will be the difference. Unless, of course, Clemson pulls a Maryland.
North Carolina 38, The Citadel 7:
UNC has outscored the Bulldogs 109-21 in three series games, and this year shouldn't be too much different, considering the Heels' stifling defense. The Citadel's roster includes tight end
B.J. Phillips
, who transferred from UNC after last season.
Virginia 28, William & Mary 17:
The Tribe, ranked 14th nationally in both preseason FCS polls, returns 17 starters from last season's 7-4 team. Virginia has enough experience at quarterback and on the offensive line to offset the growing pains of the new offense in this game.
Duke 24, Richmond 17:
Mike London's 2008 FCS national championship team is not to be taken lightly, and this could be a trap game for the Blue Devils. In 2006, when they last met, Richmond won 13-0. This is obviously a different Duke team under David Cutcliffe, but Richmond won't back down.
Alabama 13, Virginia Tech 10:
Considering Alabama is breaking in a new quarterback and a revamped offensive line, and the Hokies are breaking in new running backs, both teams should rely heavily on their nationally-acclaimed defenses. As good as a coach Frank Beamer is, I'm giving Nick Saban the nod on this one.
Cal 35, Maryland 27:
Ok, so I had a little fun with this one and flipped he score from last year, but it's not far-fetched. With veteran quarterback
Chris Turner
returning to his home state, he should perform well, but the Bears have a tough defense and will be more than Maryland's new offensive line can handle.
Miami 35, Florida State 28:
The Canes have a greater sense of urgency and understand the importance of starting off their mini four-game season with a win. Both defenses have questions to answer, but the combination of
Jacory Harris
and offensive coordinator Mark Whipple will expose FSU's defensive holes first.
September, 1, 2009
9/01/09
2:45
PM ET
By
ESPN.com staff
| ESPN.com

Posted by ESPN.com's Heather Dinich
The Wake Forest defense has done its homework. In addition to their routine study of game film, some of the Deacs looked up Baylor quarterback
Robert Griffin
on the internet.
| | |
| --- | --- |
| | |
| | James Lang-US PRESSWIRE |
| | The Wake Forest defense knows it will have its hands full with Baylor quarterback Robert Griffin. |
They know he goes by RG3. They read he might be the fastest quarterback in FBS history. (He's also a world-class hurdler.) And they know the dual-threat quarterback will present a legitimate early challenge to a group that graduated seven starters on defense, including some of the most talented players to ever come through the program.
Wake Forest traveled to Baylor last year for the season opener and won, 41-13. Griffin came off the bench and made his collegiate debut in the second quarter, and remained the starter for the rest of the season. As an 18-year-old true freshman, Griffin was the youngest starting quarterback in the country, and he quickly matured into one of the best. With Griffin now more seasoned, and the entire team entering its second season under coach Art Briles, nobody in Winston-Salem is expecting an easy opener, especially considering the question marks that loom on defense.
Wake Forest is confident in its defensive line, but this year's Baylor team will keep every unit on the Deacs' defense honest, including a completely rebuilt linebacking corps, and a secondary that had to replace three starters.
"They present a lot of problems because they're so athletic," said Wake Forest defensive coordinator Brad Lambert. "It all starts at quarterback. … We played them last year, so that helps us, obviously, but we caught Robert at a good time. Last year was his first college game. He's got 12 games under his belt now, so he's going to be a different player coming in here than he was last year when he came in the game. We've had to focus on that a lot. I don't know that you can ever stop him. You try and slow him down a little bit, keep him under control and avoid those big plays. That's going to be the challenge for us."
Griffin accounted for two-thirds of his team's touchdowns last year (a school-record 28 of 46). He scored 13 rushing and 15 passing with just three interceptions. He set an FBS record 209 passes without an interception to start his career, and didn't throw a pick until the ninth game of the season. Add on his 843 rushing yards, and it doesn't seem like there's much Griffin can't do.
"He can definitely challenge all aspects of our defense," defensive end Kyle Wilbur said. "He can throw the ball, as everyone can see. I just read something talking about him being the fastest quarterback to ever play college football, so it's going to be a big challenge for us.
"I don't think you can just contain one person. They're starting to call Robert Griffin RG3 now. If we just surround him, then the wide receivers will have a breakout day on us, or the running backs will have a breakout day. I think we have to come with a balance and shut down everything."
Linebacker Jonathan Jones, who has the daunting task of taking over for Butkus Award winner Aaron Curry, agreed.
"This is definitely, definitely an early test," said Jones. "In one sense it's a blessing we get to play them in the first game so we've had a little longer to prepare for them. They do a lot of things, throw a lot of things at you, and with Robert Griffin being the dual threat that he is, you have to have everybody have all eyes on him. Everybody has to be focused and in tune. This is not a game that's going to be won by the front, or won by the defensive backs. We need a collective team effort on defense to try to contain this offense."
And without the star-studded defensive cast of last year, it will likely take a collective team effort all season.
ACC SCOREBOARD
Saturday, 12/20
Monday, 12/22
Tuesday, 12/23
Wednesday, 12/24
Friday, 12/26
Saturday, 12/27
Monday, 12/29
Tuesday, 12/30
Wednesday, 12/31
Thursday, 1/1
Friday, 1/2
Saturday, 1/3
Sunday, 1/4
Monday, 1/12
Tweets from https://twitter.com/ESPNCFB/lists/acc