January, 21, 2015
Jan 21
9:00
AM ET
Because it's never too early to start making bold predictions about the 2015 season, Athlon put together its list of
10 potential breakout players
for the upcoming season, and it includes two budding stars in the ACC.
The first is Clemson defensive end
Shaq Lawson
, which should be something of a no-brainer, given that the junior racked up 21.5 tackles for loss in the past two seasons despite serving as the backup to
Vic Beasley
. Only seven other players in the ACC have totaled 10 or more TFL in each of the last two seasons, and of that group, only Lawson will be back for 2015.
"A guy like Shaq Lawson, he could've been starting his first two years, but he sat behind Vic Beasley and you can't complain about that," defensive back
Robert Smith
said. "But he could've just as easily been starting the same way."
Lawson is an obvious starter this year, but the Post & Courier
projects out the rest of Clemson's starters
, too.
The second of Athlon's breakout candidates is
Travis Rudolph
, the FSU wide receiver who stepped up as a strong No. 2 option after
Rashad Greene
as a true freshman this season, including six catches for 96 yards and a score in the Rose Bowl.
Rudolph definitely progressed as the year went along -- he had just one catch in FSU's first four games -- but he's going to have a tougher task in 2015. Greene and tight end
Nick O'Leary
are gone, meaning all eyes will clearly be on Rudolph to step into the No. 1 role in the passing game.
Jameis Winston
is gone, too, and the question about the next FSU QB is a big one. Still, Rudolph showed how much talent he has this season, and he's on record as being eager to
follow in Greene's footsteps
.
Looking around the rest of the ACC, a few other names to watch as potential breakout candidates:
Andrew Brown, Virginia
: Injuries limited his freshman performance, but the Hoos will have a new-look defensive line in 2015, and Brown, the former five-star recruit, will be a big part of their plans.
Shaun Wilson, Duke
: The ACC already got a small taste of what Wilson can do, as he rushed for 598 yards as a freshman in 2014. His 7.7 yards-per-carry average was the best by any Power 5 running back with at least 75 carries, but his numbers in conference -- 46 carries, 186 yards, 1 TD -- weren't quite as impressive. He'll have a bigger role in 2015.
Josh Jones, NC State
: The redshirt freshman started the final five games of the year at strong safety for the Wolfpack, and that happened to coincide with a 4-1 finish to the season in which NC State allowed just 4.68 yards per play -- the seventh-best rate for any Power 5 team from Nov. 1 to the end of the season.
Joseph Yearby, Miami
: The freshman had more than 600 yards from scrimmage backing up
Duke Johnson
in 2014. Now Johnson is gone, but rising star QB
Brad Kaaya
remains, and Miami's offense hopes to not miss a beat. It could be a huge year for Yearby, who played his high school ball alongside FSU's
Dalvin Cook
.
A few other links:
January, 20, 2015
Jan 20
12:00
PM ET
It's funny, but Clemson's season really began the same day most people assumed it had ended.
In the locker room following the Tigers' 23-17 overtime loss to Florida State on Sept. 20 was a morbid scene. Clemson had controlled the game throughout and was driving deep in FSU territory with a chance to take the lead in the final minutes of the fourth quarter before a
C.J. Davidson
fumble changed everything.
[+] Enlarge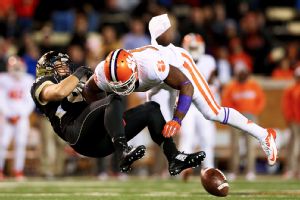 Streeter Lecka/Getty ImagesRobert Smith and the Tigers finished the 2014 season strong, winning nine of their final 10 games.
Instead of a defining win, the Tigers watched as
Karlos Williams
rumbled into the end zone in overtime, and suddenly, less than a month into the season, they were 1-2, their season on life support and their ACC title chances effectively gone.
"We basically handed that game to them," defensive back
Robert Smith
said. "That locker room was the most pain I'd ever seen. I saw freshmen crying and fifth-year seniors crying. Nobody had an answer. We were looking around like we didn't understand."
That should have been the end. In its first year without Tajh Boyd and
Sammy Watkins
, Clemson could've played out the string, gone to a bowl and regrouped for 2015. But that didn't happen. Instead of the devastating loss in Tallahassee torpedoing the year, it galvanized the team. The Tigers won nine of their next 10 games, finished with the nation's best defense, found their offensive stars of the future and ended the year with a dominant performance in the Russell Athletic Bowl to secure their fourth straight 10-win season.
The story of 2014 for Clemson wasn't about a march toward success, but rather a slow, deliberate slog for one win after another. And that, guard
Reid Webster
said, made the season all that much more rewarding.
"During the season you don't realize it as much, you want to be clicking on all cylinders," Webster said. "When that's not happening, it can be tough to keep the morale up. But you get to look back on what we've done, what we've accomplished, and it's just incredible."
Nothing came easily for Clemson in 2014. The season opened with plenty of doubters as the team worked to rebuild an offense that had lost its three-year starter at QB, its leading rusher and its top two receivers. A close game for three quarters in the opener against Georgia ended under an avalanche of Bulldogs' rushing scores in the fourth quarter, damaging the confidence of a veteran defense. The FSU game tested the team's will, and multiple injuries to their emerging star quarterback continued to deflate the Tigers' game plan as the season wore on.
There were impressive wins, like the 41-0 thumping of NC State, and there were ugly ones, like the 23-17 squeaker against Louisville a week later, when the offense failed to find the end zone even once. Style points didn't matter. This season was about winning by any means necessary.
"If the offense turned it over, of if they scored on us, we knew it couldn't get much worse than [Florida State]," Smith said. "It was just confidence. Everything we went through early in the season resulted in why we had the season we had."
Success came easier for the defense. This was a group that had grown up together and now featured one of the most dominant pass rushes in the nation to go with an underrated secondary that utterly frustrated opposing passing attacks.
The Georgia game had been a tough test, as Clemson played without defensive end
Corey Crawford
, and the Bulldogs' ground game eventually overwhelmed the Tigers' front. Clemson surrendered 328 yards and five touchdowns on the ground in that game, but once Crawford returned to the lineup, things changed. Clemson allowed just six more rushing touchdowns all season, no team in the nation allowed fewer rushing yards, and opposing QBs completed just 48.2 percent of their throws, the third-best mark in the country.
"At ACC media days,
Vic Beasley
looked right at the camera and said we'd be the No. 1 defense in the nation," Smith said. "After that Georgia game, people said, 'yeah, right.' But next thing you know, we were No. 3, No. 2, and it just worked out. It was a real blessing to be a part of that."
[+] Enlarge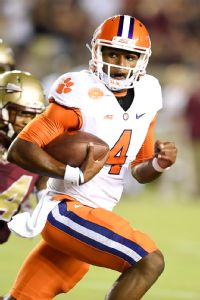 John David Mercer/USA TODAY SportsDeshaun Watson started to show flashes of what he can become in the Florida State game.
The offense, however, was much more of a roller coaster.
The silver lining to come from that Florida State game was
Deshaun Watson
. The freshman opened the year as the backup to
Cole Stoudt
at quarterback, but against the Seminoles, he quickly proved he was an ideal fit in the Tigers' offense, completing 68 percent of his throws for 266 yards and running for one score. A week later, Watson was the starter, and his debut was one for the record books. Against North Carolina, he completed 75 percent of his passes, threw for 435 yards and tossed six touchdowns in a 50-35 win, and suddenly it looked like the Tigers' offensive attack would march through the rest of its ACC schedule.
Two weeks later, that changed.
Watson went down with a broken hand against Louisville, and Stoudt's return to the lineup stifled the offense. A goal-line stand in the waning seconds helped Clemson emerge with a win, but over the course of a month with Watson playing sparingly, the Tigers scored just seven touchdowns on 71 offensive drives.
Watson returned for the South Carolina game, and Clemson emerged with its first win over its in-state rival in six years. Afterward, Dabo Swinney announced the freshman had played on a partially torn ACL, and that put Stoudt back in charge for the bowl game. Offensive coordinator Chad Morris bolted for the head-coaching job at SMU soon after, and by the time Clemson took the field against Oklahoma in the Russell Athletic Bowl, there were once again ample reasons to doubt the Tigers. And once again, the Tigers responded with an emphatic win, dominating on both sides of the ball in a fond sendoff for the winningest senior class in school history.
"It was definitely difficult, definitely not a smooth road," Webster said. "But the way we finished the season as a testimony to how we overcame that adversity. The Oklahoma game, beating South Carolina for the first time in years — it was a testimony to how much heart this team had and how much we wanted to win."
Watson's emergence and the stellar play of freshmen like
Artavis Scott
,
Wayne Gallman
and
Mackensie Alexander
now have Clemson firmly established as an ACC favorite in 2015, and it would be easy enough to define this past season as the year in which the Tigers put all the pieces in place for a big run next year. But that would be missing the point.
This Clemson team was special in its own right, and if the way it won wasn't always pretty, that's all the better.
"A lot of people said this was a rebuilding year, but we were reloading," Smith said. "We kept that mindset, even when we were down. It was adversity, something we weren't used to, but we had to put our minds to it and dig deep, and we finished the season strong."
January, 7, 2015
Jan 7
4:00
PM ET
Bowl season is over for the ACC. Here's a run-through of some of the more intriguing statistical nuggets from the conclusion to the 2014 season.
ACC in nonconference play
It was not exactly a stellar bowl season for the ACC, with a final record of just 4-7. As we wrote last month, that's far short of
what the league needed to do
to make any dent in what is a rather negative overall perception about its strength.
Two of its wins — Georgia Tech's in the Orange Bowl and Clemson's in the Russell Athletic Bowl — were over well-regarded foes, and Notre Dame -- using an ACC bowl tie-in -- also knocked off LSU. But beyond that, there were some not-so-impressive outcomes.
Of course, bowl season was just the last chapter in the season, and the full story was at least a bit more palatable for the league.
For the season (with the title game still pending), here's how each league performed in nonconference games:
ACC:
46-21 overall, 12-13 vs. Power 5, 5-9 vs. ranked, 4-7 in bowls
SEC:
55-12 overall, 11-11 vs. Power 5, 4-9 vs. ranked, 7-5 in bowls
Pac-12:
37-8 overall, 13-4 vs. Power 5, 5-2 vs. ranked, 6-2 in bowls
Big 12:
24-13 overall, 6-11 vs. Power 5, 1-7 vs. ranked, 2-5 in bowls
Big Ten:
47-19 overall, 11-15 vs. Power 5, 5-6 vs. ranked, 5-5 in bowls
Add all that up, and what's clear is that while the Pac-12 was head-and-shoulders above the rest of the Power 5 in nonconference play, the ACC held its own compared with the Big Ten and SEC and was well ahead of the Big 12. That's probably not the progress the league wanted, but it's at least credence for the ACC to be taken a bit more seriously moving forward.
Georgia Tech gets it done
[+] Enlarge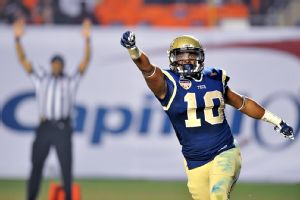 Steve Mitchell/USA TODAY SportsGeorgia Tech and running back Synjyn Days knocked off Misssissippi State in the Capital One Orange Bowl.
Not only did Georgia Tech earn the biggest victory of the bowl season for the ACC, and not only did it finish with 11 wins for just the second time since 1990 — but the Yellow Jackets did so against one of the toughest schedules in college football this year.
For the season, Georgia Tech's opponents had a combined winning percentage of .639 — the fifth-highest mark in the nation. Only Ole Miss (.697), Auburn (.666), Arkansas (.663) and UCLA (.640) had a tougher schedule overall. If only considering Power 5 opponents, no non-SEC team had a tougher slate than Georgia Tech, whose opponents had a combined winning percentage of .656.
The victory over Mississippi State in the Capital One Orange Bowl was the third of the season over a ranked foe for Georgia Tech. Overall, Tech was 3-1 vs. ranked opponents, with its only defeat a two-point loss to Florida State in the ACC championship game. The only other teams to win at least three games against ranked opponents while losing no more than one were Oregon, TCU, UCLA, Ohio State, Florida State and Baylor.
Hokies find ground game
At the end of Virginia Tech's 33-31 loss to Boston College on Nov. 1, the Hokies were ranked 93rd nationally in yards per rush and had just 36 runs of 10 yards or more (96th). Junior tailback
J.C. Coleman
had a grand total of 26 carries for 65 yards.
The next week, however, starter
Marshawn Williams
went down against Duke. Coleman stepped in and everything changed.
Coleman racked up 468 yards on 81 rushes in his final four games, including a 157-yard effort in the win over Cincinnati in the Military Bowl presented by Northrop Grumman. His 117 yards-per-game average was 21st nationally during that stretch, and he became just the third Virginia Tech running back in the last decade to have four straight games with at least 95 rushing yards.
Coleman averaged 5.8 yards per carry during that four-game stretch. For the season, all other Virginia Tech running backs averaged just 4.04 yards per carry.
Brissett finishes special season
[+] Enlarge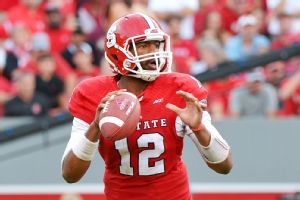 Grant Halverson/Getty ImagesJacoby Brissett had an under-the-radar great season at NC State.
Jacoby Brissett
wrapped up his season at NC State with a win over UCF, and while he tended to float a bit under the radar in a league with star QBs such as Jameis Winston,
Justin Thomas
,
Deshaun Watson
and
Brad Kaaya
, he turned in an exceptional season.
Brissett threw for 262 yards and a touchdown in the Bitcoin St. Petersburg Bowl, bringing his season totals to 26 total touchdowns, five interceptions, and 3,135 yards of total offense. How's that stack up nationally?
Brissett was one of just five QBs nationally to account for 25 touchdowns, 3,100 yards and throw five or fewer picks this season, and he's one of just 10 Power 5 quarterbacks to do that in the last decade. The others: Matt McGloin (2012),
Russell Wilson
(2011), Tyrod Taylor (2010), Tim Tebow (2008 and 2009),
Brett Hundley
(2014),
Marcus Mariota
(2013 and 2014),
Cody Kessler
(2014),
Bryce Petty
(2013) and Jimmy Clausen (2009). That's pretty elite company.
Clemson's D historically good
Clemson's defense won't look the same next season, but stars
Vic Beasley
,
Corey Crawford
,
Stephone Anthony
,
Robert Smith
and
Grady Jarrett
all went out on top.
The Tigers led the nation in total defense, surrendering just 260.8 yards per game — 18 yards per game better than the next closest team.
Clemson held eight opponents to less than 300 yards of offense, including Oklahoma in the Russell Athletic Bowl. Only Penn State, Stanford and Wisconsin had more.
After a season-opening loss to Georgia -- played without Crawford in the lineup -- Clemson's defense surrendered just 1,016 rushing yards (112 fewer than any other team in the country) and six rushing touchdowns (only Alabama allowed fewer). Meanwhile, the secondary finished the season allowing just 5.27 yards per attempt, tops in the nation.
Clemson's opponents gained 10 yards or more on just 15 percent of their plays, the best rate in the country, and the Tigers' defense racked up 131 tackles for loss, 17 more than any other defense. Clemson's tackles for loss accounted for a total of 553 yards lost. For comparison, Wake Forest ran for just 479 yards this season.
Bowl bits:
The ACC finished with five 1,000-yard rushers after Thomas and Dalvin Cook crossed that mark in bowl games. That's the most in the league since 2009, when the ACC also had five.

Duke's Jamison Crowder and Clemson's Mike Williams also crossed the 1,000-yard receiving threshold in bowl games. For Crowder, it was his third straight season with 1,000 receiving yards.

Georgia Tech's Zach Laskey had 171 rushing attempts this season, and just four went for a loss or no gain. That rate of 2.3 percent was easily the best in the country (and less than half the next closest player) and is the lowest by any FBS running back with at least 150 carries in the last decade.

North Carolina fans have reason to be excited about the arrival of Gene Chizik as defensive coordinator. The Tar Heels' D coughed up 40 points in its bowl game, the sixth time this season it allowed that many points. Texas Tech is the only other Power 5 team to allow six 40-point games this year.

Marquise Williams finished the season with two touchdowns in North Carolina's bowl loss. He ended with 35 touchdowns — one of just 10 Power 5 QBs to hit that mark and the only one from the ACC.

[+] Enlarge

Stacy Revere/Getty ImagesDuke Johnson accumulated more than 2,000 yards of offense at Miami.

Duke Johnson had 183 total yards in Miami's bowl loss to South Carolina, finishing the season with 2,073 yards from scrimmage. He's just the second ACC player in the last decade with more than 2,000 scrimmage yards in a season (joining BC's Andre Williams, who had 2,177 in 2013). Johnson is also one of just two Power 5 players with multiple games in which he ran for 100 yards and caught 50 yards of passes.

A missed PAT in overtime doomed Boston College to a bowl loss to Penn State — which was perhaps an appropriate ending for the Eagles. They missed a whopping eight PATs this season. The only Power 5 conference team to miss more in a season in the past 10 years was, surprisingly, the 2005 Texas Longhorns, who won the national title. The only Power 5 team to turn in a worse PAT percentage in a season in the last decade was Duke, which connected on just 75 percent of its tries in 2006.

DeVante Parker had eight catches for 120 yards in Louisville's Belk Bowl loss to Georgia, marking his fifth 120-plus-yard performance in just six games this season. Only four Power 5 receivers had more, and they all played in at least 12 games.

Jameis Winston threw for 348 yards and a touchdown in Florida State's Rose Bowl Game presented by Northwestern Mutual, a loss to Oregon. It was the seventh time in 13 games that he topped 300 yards with a touchdown. The only Power 5 quarterback to have more such games this year was the man who beat Winston in the Rose Bowl: Marcus Mariota (8).

Tyler Boyd had nine catches for 112 yards in Pitt's loss to Houston. For the season, Boyd accounted for 52.2 percent of Pitt's receiving yards, the third-highest percentage by any Power 5 receiver in the last decade. In fact, Boyd is one of just four Power 5 receivers since 2005 to account for at least 50 percent of his team's receiving yards.
December, 27, 2014
12/27/14
10:30
AM ET
There was a meeting this summer, after they'd gotten a good idea of just how much talent there was to work with, where the veterans of Clemson's defense made a plan.
As freshmen, few played big roles on a defense that was something of a laughingstock. As sophomores, they stepped into bigger roles, and Clemson took a big step forward. As juniors, the group was dominant at times, leading the country in tackles for loss. But this season, their senior season, this was to be the crescendo.
"We decided our work would be legendary," linebacker
Stephone Anthony
said.
[+] Enlarge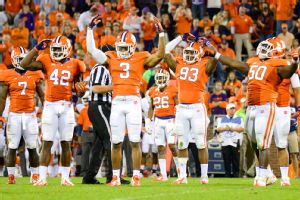 Icon SportswireStephone Anthony (42), Vic Beasley (3), Corey Crawford (93) and Grady Jarrett (50) have helped Clemson's defense become No. 1 in the nation.
The plan was simple: No defense in the country would work harder, and all that work would result in a season no one would be able to forget.
Now, as Clemson's seniors prepare for their final game -- a date with Oklahoma in the Russell Athletic Bowl on Monday -- the plan has come to fruition. The Tigers lead the country in total defense and tackles for loss. The seniors have led the way, with Anthony,
Vic Beasley
,
Grady Jarrett
,
Corey Crawford
,
Robert Smith
and others turning in terrific performances in their final season in Clemson uniforms. The swan song in the Russell Athletic Bowl is an an opportunity to showcase NFL talent for the scouts, but also a chance to secure that legacy the group began building four years ago.
No matter what, these seniors leave as Clemson's all-time winningest class, but for a group that's come so far over four years, it's about more than just wins.
"As the years go on, people will remember us as hard-working, head-down, blue-collar workers," Crawford said. "Hopefully that's our legacy, that we were just a hard-working group."
As legends go, the best of them begin with a mythical origin story. For Clemson's senior defenders, though, it was the opposite.
The building blocks for the 2014 defense began in Miami in the finale of the 2011 season. Clemson had won the ACC on the backs of a dynamic offense, but the D was a disaster. The cracks that had expanded all season finally burst open in the Orange Bowl against West Virginia, as the Mountaineers hung 70 on a Tigers defense that was immediately mocked.
None of this year's senior group started that game, but they all saw action and all felt the sting when it was over.
"That game was embarrassing for us," Crawford said. "From that day on, I think from a defensive standpoint, we took it upon ourselves that we had to be more of a factor. We needed to be more reliable."
A seed was planted. The group that played a supporting role in that Orange Bowl debacle stepped into starting jobs a year later. Brent Venables was brought in to coach the defense, and his blue-collar, aggressive approach resonated with the young and hungry defenders. The Tigers' D was still shrugged aside by most pundits, but the players on the team saw something special beginning to grow.
Clemson had finished 2011 as the 71st-ranked defense in the nation. A year later, with Beasley, Crawford and Jarrett changing the tenor of the pass rush, the unit improved to 64th nationally. The chips were all falling into place by 2013, and the Tigers ended the season 24th in the nation in total D and recorded 16 more TFLs than any other Power 5 team.
But this season -- their last together as a group -- was when the unit put the finishing touches on a masterpiece.
Clemson enters the Oklahoma game as the nation's top-ranked D. The Tigers have averaged 10.2 TFL per game -- 1.5 more than any other team in the country. Only Penn State has allowed fewer yards per rush. Only Stanford, LSU and UCF have allowed fewer yards per pass. While the offense has struggled at times to score, the defense led Clemson to wins over Louisville, Boston College and Syracuse.
At 9-3, this wasn't the season Jarrett had hoped his team would have, but his defense lived up to expectations again and again.
"We wanted to leave a legacy, and I felt like we did," Jarrett said. "The last guys on a Clemson defense that was No. 1 in the country were guys like James Trapp and Chester McClockton. To be in the realm of guys like that, it's an honor."
But as the group gets set for its final game, it's also been an honor to work alongside one another.
There have been a lot of mixed emotions the last few weeks, Beasley said. It's time to move on, he knows, but it's tough to say goodbye to this experience. What's made it easier is that they're going out together.
Four years ago, they were a part of one of Clemson's most embarrassing moments. On Monday, they'll go out as one of the most revered groups of players in the school's storied history.
"That's what makes you the best," Crawford said. "You're going out with the best ball players in the country, and that's why it comes back to me taking this as a blessing to play with these guys. It's been a great ride, and I can't wait to see what the future holds for us."
December, 2, 2014
12/02/14
10:30
AM ET
The ACC announced its all-conference teams yesterday, but there were certainly a number of good players who didn't get recognized. So with that in mind, we put together our all-overlooked team focusing exclusively on ACC standouts who didn't earn first-, second- or third-team honors from the league.
QB:
Brad Kaaya
(Miami)
RB:
Shadrach Thornton
(NC State)
RB:
Wayne Gallman
(Clemson)
WR:
Jarrod West
(Syracuse)
WR:
Bo Hines
(NC State)
WR:
(tie)
Cam Phillips
and
Isaiah Ford
(VT)
TE:
Cam Serigne
(Wake)
OL:
Ian Silberman
(BC)
OL:
Eric Smith
(UVA)
OL:
Brian Chamberlain (GT)
OL:
Kalon Davis
(Clemson)
C:
Quinton Schooley
(NC State)
Kaaya led the ACC in touchdowns, yards-per-attempt and passer rating. He had his flaws, but that's a great season to go unnoticed. Thornton was actually the league's third-leading rusher among tailbacks. West somehow finished ninth in catches and 10th in receiving in the ACC despite an atrocious situation at QB for Syracuse. Hines was a go-to receiver from Day 1 as a true freshman at NC State and was among the nation's most reliable pass-catchers. The two freshmen at Virginia Tech, Cam Phillips and Isaiah Ford, will make plenty of All-ACC lists before their careers are done. Serigne's emergence was one of the very few bright spots on offense for Wake Forest. Silberman, a Florida transfer, set the stage for fellow former Gator
Tyler Murphy
to set the ACC record for rushing yards by a QB. Schooley was perhaps NC State's top lineman on a group that got significantly better as the year went along and helped the Wolfpack to finish second in the ACC in yards-per-rush. Smith gets a nod, but Virginia's line was largely a group effort, and until injuries began piling up in November, few lines had protected its QB better.
DE:
KeShun Freeman
(GT)
DE:
Corey Crawford
(Clemson)
DT:
David Dean
(UVA)
LB:
Josh Keyes
(BC)
LB:
Marquel Lee
(Wake)
LB:
Dyshawn Davis (Syracuse)
LB:
P.J. Davis (GT)
S:
James Sample
(Louisville)
S:
Robert Smith
(Clemson)
CB:
Mackensie Alexander (Clemson)
CB:
Kevin Johnson
(Wake)
All you need to know about Crawford's impact is that when he was out against Georgia, the Tigers allowed 328 rushing yards and five touchdowns. In the next 11 games with him, they allowed 844 yards and five touchdowns. Freeman stepped up for Georgia Tech as a freshman to provide some much-needed pass rush. Keyes was one of the most versatile linebackers in the league, helping BC's defense rank fourth nationally against the run. Lee finished in the top 10 in the ACC in both tackles and tackles for loss on an under-appreciated Wake defense. Davis, like the rest of the Syracuse D, was largely ignored but finished the year with six TFL, seven QB hurries and three forced fumbles. Smith was the veteran voice in a young Clemson secondary, and his influence helped Alexander blossom into one of the league's best corners. While the defensive front got so much of the credit, Clemson's secondary also finished fourth nationally in pass defense.
K:
Ammon Lakip
(Clemson)
P:
Riley Dixon (Syracuse)
Ret:
Myles Willis
(BC)
Lakip missed three of his first four kicks against FBS teams, and Clemson lost both games. But he showed ample resilience in connecting on 15 of his next 16. Willis led the ACC in kick return yardage and was responsible for one of the league's five return TDs. And Dixon, of course, was a Heisman candidate after a game-saving Week 1 TD pass, and we're just not ready to give up that dream.
November, 10, 2014
11/10/14
8:00
AM ET
After a month sidelined with a broken finger, Deshaun Watson
will return as Clemson's starting quarterback
this week against Georgia Tech, according to Dabo Swinney.
That's good news for the Tigers, of course. In the past four games, played with Cole Stoudt at QB for all but a quarter, they managed just seven offensive touchdowns and averaged just 4.54 yards per play (113th nationally during that span).
Stoudt
was solid in the win
over Wake Forest on Thursday, but his numbers as the starter weren't great overall. Watson's were much more impressive. But the timing of the two quarterbacks' work is of note, too.
Here's who Stoudt took the majority of his snaps against, with their rank in total defense versus FBS teams in parentheses: Georgia (21), Louisville (6), Boston College (25), Syracuse (22) and Wake Forest (57).
And here's Watson: Florida State (47), North Carolina (125), NC State (79).
Next up for Watson?
That'd be Georgia Tech
, which ranks 77th in total D.
At the end of the day, the difference between Stoudt and Watson is still pretty clear though, and Watson's athleticism has been a huge missing ingredient for the Tigers. Chad Morris has called a much different offense this year than he'd like, but Watson allows the playbook to be opened a bit, and Georgia Tech's more accommodating defense only adds a little icing to the cake.
While Watson will be back,
Robert Smith
's targeting penalty was upheld and that
doesn't make Swinney too happy
.
A few other links…
It's been a losing season for Syracuse, but the veterans on defense
have been worthy of praise
, writes Syracuse.com.
Virginia's loss in Tallahassee on Saturday
felt awfully familiar
, writes The Daily Progress.
It was
hard to find many silver linings
in Boston College's loss to Louisville, writes BC Interruption.
FSU fans are fond of calling Sun Life Stadium "Doak South" because Florida State has had its way with Miami there. The Hurricanes are
hoping to put an end to that
this week, writes the Miami Herald.
Reggie Bonnafon's role in Louisville's offense was
bigger than anyone expected
against BC, writes The Courier Journal.
Chad Voytik has been making progress
thanks to some strong preparation
, writes the Post-Gazette.
It looks like Dalvin Cook
will be on the field
for Florida State when it takes on Miami, writes Tomahawk Nation.
FSU legend Ron Sellers doesn't mind that Rashad Greene is
closing in on his records
, writes the Orlando Sentinel.
October, 21, 2014
10/21/14
9:00
AM ET
At the outset of the season,
Robert Smith
joked that he felt a bit like the old man in a room full of rookies in Clemson's secondary, but that was nearly two months ago. The unit has done a lot of growing up since then.
It's partially Smith's influence, of course. That's the purview of the group's elder statesman. The senior safety made a decision during the spring that his final season would be his best, and his work ethic would be the template for success. So he set the standard, and the young pups around him followed his lead.
"I was going to meet like a pro, talk like a pro, watch film like a pro, practice like a pro, do everything possible like a pro," Smith said. "I wanted to set that example to the guys that, if you want to make it to the next level, don't wait until then to mature."
[+] Enlarge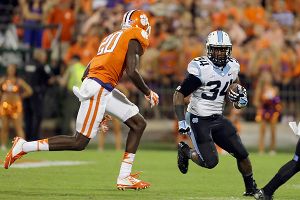 Bob Leverone/Associated PressSophomore safety Jayron Kearse is part of a young Clemson secondary that is improving rapidly.
For the Tigers' defensive backs, it was less a demand than an opportunity. They'd been waiting for their chance to show they belonged.
A year ago, cornerback Mackensie Alexander was one of the top recruits in the nation, but injuries in fall camp left him with a redshirt. Safety
Jayron Kearse
was a bit luckier. He saw action and racked up 55 tackles and four interceptions as a freshman last season but couldn't secure a full-time spot in the starting lineup.
T.J. Green
,
Korrin Wiggins
,
Jadar Johnson
,
Cordrea Tankersley
-- they all got tastes of action but wanted more.
So Smith's philosophy played well and as the 2014 season approached, the young DBs were eager to follow suit. The jobs were there for the taking; they just had to be ready.
"Just going through summer workouts with these guys, we always feel like we could contribute," Kearse said. "We feel like we're a good secondary, working to be great. We've been this way since we got here."
Still, it was hard not to see the Clemson secondary as the weak link on a defense that features stars such as
Vic Beasley
,
Stephone Anthony
and
Grady Jarrett
. The front seven was chock full of proven commodities.
It was no surprise then that the season started a bit slower than Smith and the DBs might've liked. There was a feeling-out process, and that was expected.
"Everybody was getting their feet wet," Smith said. "After a few games, you get in the flow."
The unit got more comfortable working together, but it also took disaster for the entirety of the defense to pull together. That was the fallout of the Florida State game, when Clemson won battle after battle but still came up short.
After the game, the locker room was in mourning. The emotion was overwhelming, but also galvanizing.
"I've never seen so many men in the locker room cry so hard off a loss," Smith said. "We played hard and to the best of our ability and let that one get away. So when you see your teammates hurt and crying, it makes you want to work that much harder, makes you want to do more. So I think our secondary looked at it and said we're going to get better and progress from here."
The progress has been obvious in the weeks since.
In three October games, Clemson's pass defense has allowed opposing QBs to complete just 40.6 percent of their throws, the second-best mark in the country. Their October passer rating allowed is 102.4, the second-best mark in the ACC, trailing only Louisville. While that vaunted defensive front has created havoc at the line of scrimmage, the young DBs are coming into their own in the back end.
"We knew coming into the season we had the potential to be one of the best defenses in the country, and our front line was handling business, but we had a lot of young guys in the secondary and it took some time just to gel and get on the same page," Smith said. "As soon as that happened, you could tell the difference and the cohesiveness has all come together and we're starting to show the kind of defense we can be."
Alexander always had the work ethic, Smith said, he just needed the experience. Kearse was always driven, he just needed to embrace the opportunity. And while no one is ignoring that ferocious defensive front, the kids in secondary are starting to get some attention, too.
"It takes time to understand the level of competitiveness at this stage," Kearse said. "But now, it's rewarding. They're putting a lot on me and Mackenzie's back, and we're taking on the challenge."
This week's opponent, Syracuse, will start a freshman at QB, and that's a frightening proposition against the Tigers. Smith said they won't take anyone lightly, and Kearse compared Orange QB
AJ Long
to the QB the Tigers saw a week ago, Boston College's
Tyler Murphy
, but even that praise doesn't offer much hope for Syracuse. Murphy completed just nine balls, and BC was held to nearly 200 yards below its season average on the ground.
Kearse called the BC game a chance for a lot of the young defenders to grow up. It was proof they could play sound, assignment football against a dangerous opponent.
Now comes the next step, he said. They don't want to take a backseat to the big boys up front, and they don't want to hear that qualifier that, yes, they're pretty good -- for freshmen and sophomores.
"We made it known we wanted to draw some of that attention to us, and we took that challenge," Kearse said. "So far we've been doing it, but we have five more games to prove we're one of the best defenses in the nation."
August, 29, 2014
8/29/14
3:00
PM ET
Clemson coach Dabo Swinney joked this week that he still wakes up seeing images of Georgia's
Todd Gurley
sprinting down the sideline on a 75-yard touchdown run early in last year's matchup between the Tigers and Bulldogs. It's a tough image to forget.
Yes, Swinney's team escaped with a 38-35 win, but Gurley and the Georgia ground game looked dominant. Gurley carried just 12 times but racked up 154 yards and two scores. Overall, the Bulldogs ran for 222 yards in the game and scored five times on the ground. That vaunted Clemson defensive front had few answers.
[+] Enlarge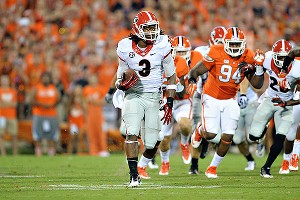 Allen Kee/ESPN ImagesRunning back Todd Gurley and Georgia's ground game torched Clemson last season.
Now, as the Tigers get set for their return trip to Athens, Georgia, that image of Gurley bursting through the line of scrimmage and outrunning an overwhelmed secondary to the end zone remains front and center.
"It's like tackling a tree trunk," said Clemson safety
Robert Smith
.
Finding a way to corral that tree trunk will be Clemson's top defensive priority Saturday, and it will need to be a team effort.
The strength of Clemson's defense is its front seven, particularly along the line, and that showed, even during Gurley's stellar performance a year ago.
Here is a breakdown of Georgia's rushing performance in last year's game:
.
When the Tigers stacked the box and Georgia kept runs between the tackles, a few big plays developed but the Bulldogs' overall success rate was way down. When Gurley and his cohorts bounced runs outside -- as he did on that 75-yard touchdown sprint -- things got ugly.
The interior of Clemson's defense remains strong with
Grady Jarrett
,
Josh Watson
and
Stephone Anthony
up the middle, but personnel changes in the secondary and a one-game suspension for defensive end
Corey Crawford
raise questions about the Tigers' ability to seal the edges.
That has put an emphasis on fundamentals, defensive coordinator Brent Venables said.
"We didn't tackle great [last year], gave up too many explosive plays," Venables said. "I know our guys can hold up physically, but your secondary is going to have to tackle well in run support."
Of course, that is easier said than done against a runner like Gurley, whose combination of speed and power makes him tough to catch, let alone bring down.
"Just his combination of size, strength and speed," Jarrett said, "it's second to none."
Venables likely has a few tricks up his sleeve for this year's matchup. When
Vic Beasley
was pressed this week on how much he might work as a stand-up rusher or outside linebacker, he simply grinned.
The line has gotten stronger, too. Clemson's front seven will feature six senior starters. It's a unit that led the nation in tackles for loss a year ago.
The other advantage for Clemson this time around is that the Tigers know what's coming. That can be a double-edged sword, Smith said, but his defense remains confident.
"You can't let what he did last year affect you this year, but you know what he can do," Smith said. "He's a tremendous running back. We saw up close and personal. We don't forget. But we also can't let that hinder what we're going to do this season."
January, 2, 2014
1/02/14
4:00
PM ET
By
ESPN.com staff
| ESPN.com
Andrea Adelson talks to Clemson safety
Robert Smith
about the matchup against Ohio State in the Discover Orange Bowl.
July, 3, 2013
7/03/13
10:30
AM ET
Two teams left in our series looking at the strongest and weakest positions on each team in the ACC. Up today: Clemson.
Strongest position: Quarterback.

Tajh Boyd
has become the face of this program and is getting some early preseason Heisman buzz. Expectations are high for Boyd to build on two already incredibly solid seasons with the Tigers. Last season, Boyd was the ACC Most Valuable Player after throwing for nearly 4,000 yards and accounting for 46 touchdowns rushing and passing -- one less than 2012 Heisman winner
Johnny Manziel
of Texas A&M. Huge numbers, but many believe he can do more. Rather than shy away from the heightened expectations, Boyd has embraced them. He wants to be the best quarterback in America. To do that, he has to cut down on the turnovers and make better decisions, two big areas of focus this offseason. As for depth, Clemson does return backup
Cole Stoudt
, though the team took a big hit this spring when it lost
Chad Kelly
to a torn ACL.
Weakest position: Secondary.
Defensive coordinator Brent Venables has talked repeatedly about the state of his secondary. Clemson does return some experienced players, but the Tigers need to find some playmakers at the cornerback position. Depth also remains a concern, as the Tigers are going to have to rely on some true freshmen to contribute immediately. Having said that, safety
Travis Blanks
is a star in the making. He will start at safety this year and has the potential to be one of the better players at that position in the league. Others with experience include
Bashaud Breeland
,
Garry Peters
,
Darius Robinson
,
Martin Jenkins
and
Robert Smith
. Jenkins, Robinson and Breeland couldn't stay healthy a year ago; Peters has spent time in coach Dabo Swinney's doghouse. Hopes are high that highly heralded recruit Mackensie Alexander can be one of the young contributors.
For more on the series,
click here
.
April, 12, 2013
4/12/13
12:00
PM ET
You Hokies fans cool with
this lady
rockin' your gear?