It's been a long 21 years since Duke has had a receiver reach the 1,000-yard mark in a single season.
Donovan Varner helped change that.
His 1,047 yards last year were the most since Clarkston Hines recorded a school-record 1,149 yards in 1989.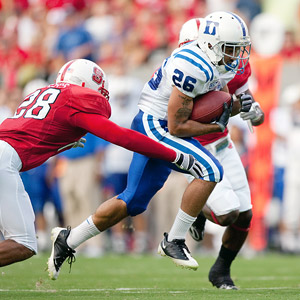 Tim Steadman/Icon SMI
Duke wide receiver Donovan Varner's 1,047 yards in 2009 were the most for a Blue Devils receiver since 1989.There are a lot of talented receivers returning throughout the ACC this fall, but none of them were able to match what Varner did for Duke last year. He led the conference in receptions per game (5.42), overall receptions (65), and yards per game (87.2), averaging 16.1 yards per catch. Of course, it helped that he had one of the program's most productive quarterbacks throwing to him in Thaddeus Lewis, who has since graduated and moved on to the NFL. Although the Blue Devils will experience a change at quarterback this year, Donovan and the receivers aren't expecting any drop-off in the passing game.
Sean Renfree, who is expected to be the starting quarterback this fall, missed spring drills to recover from a torn ACL. He has since resumed throwing during seven-on-seven drills.
"I don't think it's really going to be an issue," Varner said. "We're going to miss Thad, but Sean Renfree is a great quarterback and he's going to be able to carry the team. We're not really worried about it at all."
Varner conceded this year will be more difficult because opposing defenses now know who he is.
"They know we're capable of making plays now," he said. "I think it's going to be a lot tougher."
Especially since Varner isn't the only wideout on the roster with big-play capabilities.
Varner, Conner Vernon and Austin Kelly combined for 174 pass receptions last fall -- more than any other trio in the ACC. The next closest was Wake Forest's Devon Brown, Marshall Williams and Chris Givens, along with Florida State's Rod Owens, Bert Reed and Jarmon Fortson. Both of those groups combined for 166 catches.
"I think we're definitely capable of making a bowl game," Varner said. "Our mentality is different. Our work ethic has risen a lot. I'm pretty confident in making a bowl this year. I see the younger guys stepping up, making big plays. The older guys, we have a lot more leaders this year. I just see a lot of confidence, more trash talking and more plays being made. I think that gives our team a lot of confidence."
So does Varner and his surrounding cast of receivers.