ACC:

Russell Athletic Bowl-2012
December, 28, 2012
12/28/12
11:36
PM ET
ORLANDO, Fla. -- You knew it, I knew it, everybody knew it: The Russell Athletic Bowl would be a defensive struggle between two highly skilled groups at Rutgers and Virginia Tech.
But did anybody expect the slog that ensued?
Gary Nova
and
Logan Thomas
did nothing to dispel the notion that they are quarterbacks who have yet to live up to their full potential. Virginia Tech finished with 3 total yards rushing. Rutgers averaged 1.7 yards per carry. Virginia Tech averaged 2.7 yards per play. Rutgers averaged 2.5 yards per play.
It was almost as if they were playing a game of "anything you can do, we can do worse!" Virginia Tech owned that game within the game in the first half. But in the fourth quarter, boy, that was all Rutgers. Virginia Tech overcame a 10-0 deficit to tie the game thanks to a host of Scarlet Knights errors, then
Cody Journell
made a 22-yard field goal in overtime to give the Hokies
a 13-10 victory
Friday night, preserving a 20th consecutive winning season.
[+] Enlarge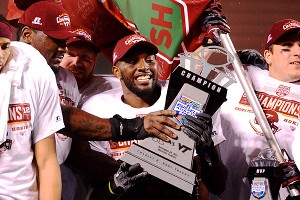 AP Photo/Scott A. MillerLinebacker Bruce Taylor hoists the Russell Athletic Bowl trophy after a team-high 11 tackles in the lockdown of Rutgers.
"Nothing comes easy for us," Virginia Tech coach Frank Beamer said. "It's work, but we got a bunch of guys that will hang on, and keep working at it. Rather than get down a couple times this year, we could have shut it down, and these guys never did. We always hung together and we kept playing. That's what this game is all about. That's what life is all about."
This game unfolded the way the seasons have unfolded for both teams. Neither has had much success on offense, though their issues have been different. Thomas has been way too turnover-prone, and we saw that on the second play of this game, as he couldn't handle a bad snap and fumbled in the end zone. Rutgers linebacker
Khaseem Greene
recovered for his team's only touchdown on the night.
Thomas sailed balls left and right. He threw two interceptions. At halftime, the Hokies had 73 total yards of offense, and Thomas was 10-of-21 for 84 yards. Rutgers was not much better on offense, and much of that falls on Nova, a quarterback who gets easily rattled when the pressure gets to him.
Viewers have seen it many times this year, and Virginia Tech saw that on film as it prepared for this game.
"We got after him all day," Virginia Tech linebacker
Jack Tyler
said. "Our defensive line played great, got great pressure and you can have Tom Brady back there as the quarterback, and if you get pressure on him, he's going to be very average. And that was our game plan going in. He had a tendency down the stretch to turn the ball over a little bit and we knew if we got to him we could make that happen."
Rutgers led 10-0 into the fourth quarter, but that was through no effort from its offense. Virginia Tech played well defensively enough to hang around, well enough to drop three shoulda-been interceptions. So you almost felt as if it was a matter of time before somebody on the Hokies side came up with a game-changing interception.
Enter
Antone Exum
.
His interception early in the fourth quarter allowed Virginia Tech to score the only offensive touchdown of the game, as Thomas threw a 21-yard pass to
Corey Fuller
to tie the score at 10. We have seen a similar scenario play out all year -- struggling Virginia Tech offense gets bailed out by the defense.
We've seen it play out at Rutgers, too. But tonight, there was not much the Scarlet Knights defenders could do to help their woefully anemic teammates on offense. In the fourth quarter, Rutgers ran 19 plays for 12 yards. Twice on third and long, Rutgers ran the ball, too scared to allow Nova to perhaps win the game.
Two straight games now, Rutgers has blown late leads and Nova has thrown interceptions down the stretch to cost his team. Nova finished 17-of-40 for 129 yards and that crucial interception. But coach Kyle Flood was unwavering in his support of his embattled quarterback after the game, saying confidently that Nova is his starter headed into the spring.
There is not as much certainty at Virginia Tech, where Thomas is faced with a decision about whether to return or go to the NFL draft. His body of work this season and on Friday night indicates he would be foolish to leave. Perhaps he gets a high enough grade from the NFL draft advisory board because all his measurables scream, yes, you are an NFL quarterback!
If that was his final game at Virginia Tech, it was not his prettiest. Check that. It was not pretty for either offense, period. Or for football, period. The teams combined for a bowl-record 21 punts. Good defense, bad offense? Depends on your perspective.
"It was the prettiest game for our defense," Tyler said with a smile.
December, 28, 2012
12/28/12
10:53
PM ET
By
ESPN.com staff
| ESPN.com


Andrea Adelson talks to Virginia Tech cornerback Antone Exum after he was named Russell Athletic Bowl MVP for his performance in a 13-10 overtime victory over Rutgers.
December, 28, 2012
12/28/12
9:21
PM ET
ORLANDO, Fla. -- Virginia Tech overcame a 10-0 fourth-quarter deficit to beat Rutgers
13-10 in overtime
in the Russell Athletic Bowl. Here is a quick look at how the Hokies won.


It was over when:
Cody Journell
made a 22-yard field goal in overtime, while
Nick Borgese
missed his own 42-yard attempt in the lowest-scoring game in Russell Athletic Bowl history. Both defenses came to play, but the same could not be said for the offenses, which put on a rather putrid display. Both teams finished with 196 yards of total offense. Virginia Tech had 3 total rushing yards and was shut out in the first half for the first time since 2009. Not a performance anybody will want to remember.
Game ball goes to:
Virginia Tech punter
A.J. Hughes
. The story of the game was all the punting, so the game ball should go to the best punter on the field. That would be Hughes, who averaged 41.7 yards on his 11 punts, knocked five inside the 20 and kicked three that went 50 or more yards. Just about the most impressive player on the field.
Stat of the game:
21. Given how both teams were so offensively challenged, it should come as no surprise that a new Russell Athletic Bowl record for total punts was set. Hand clap to Hughes and Rutgers punter
Justin Doerner
(10 punts, 36.2-yard average, one inside the 20).
What it means:
Virginia Tech avoids its first losing season since 1992 with the victory but has big questions to answer on offense. A major coaching restructuring could very well be in order given the way this team played offensively this year. Rutgers, meanwhile, ends the season with three consecutive losses and blew its second straight third-quarter lead, missing out on a chance for the third 10-win season in school history. We are now left to wonder whether
Gary Nova
really is the quarterback of the future for this team after another bad performance. The Big East and ACC end this season tied 5-5 in games against each other.
December, 28, 2012
12/28/12
11:30
AM ET
Here are three keys to watch for Virginia Tech against Rutgers in today's Russell Athletic Bowl (5:30 p.m. ET, ESPN):


1. Win the turnover battle.
The Hokies lost the ball four times in their loss to Pitt, and turned it over three times in their loss to Cincinnati. It's no wonder Virginia Tech is 0-2 against the Big East so far this season. Five of those seven turnovers were interceptions by quarterback
Logan Thomas
. That won't fly against a Rutgers defense ranked No. 25 in the country in pass efficiency defense. The Scarlet Knights have picked off 16 passes this year. Linebacker
Khaseem Greene
, the two-time Big East Defensive Player of the Year, led the league with 125 tackles and six forced fumbles. Greene also had 5.5 sacks and two interceptions.
2. Establish the run.
The Hokies' rushing offense has struggled all season to replace David Wilson, and the staff has tried repeatedly to whittle down the running-back rotation, but none of the backs has truly separated himself. To help take some pressure off of Thomas,
J.C. Coleman
and
Martin Scales
must continue to build upon the success they had in the later part of the regular season. Cincy's strength is its defense, so it will be a challenge for the Hokies to sustain drives.
3. Pressure quarterback Gary Nova.
Bud Foster's defense is tied for No. 20 in the country in quarterback sacks, but Rutgers is No. 4 in the country in sacks allowed. The Scarlet Knights have allowed only eight sacks all season (compared to 21 by the Hokies). Rutgers' offense is hardly prolific, and Nova really struggled in back-to-back losses to Pitt and Louisville to end the regular season. If Foster's group can fluster him into similar mistakes and disrupt the passing game, the Hokies could get their first Big East victory of the season.
December, 28, 2012
12/28/12
11:00
AM ET
Rutgers (9-3, 5-2 Big East) versus Virginia Tech (6-6, 4-4 ACC):


WHO TO WATCH:
The quarterbacks. Virginia Tech's
Logan Thomas
has accounted for 72 percent of the team's total offensive output this season, leading the Hokies in both passing (2,783 yards, 17 touchdowns) and rushing (528 yards, nine touchdowns). He's tough to tackle but has been inconsistent and at times has forced some things. Rutgers quarterback
Gary Nova
is second in Rutgers single-season history with 22 touchdown passes this year, but he threw a total of three interceptions in the final two losses of the regular season.
WHAT TO WATCH:
Virginia Tech's running game against Rutgers' front seven. The Hokies have struggled to develop a consistent running game and whittle down their running back rotation this season. Coach Frank Beamer said working on the ground game would be a priority during the bowl practices. Rutgers' rushing defense has been one of the best in the Big East and the country, as the Scarlet Knights are allowing only 105 rushing yards per game, good for No. 11 in the country.
WHY WATCH:
Virginia Tech is trying to avoid its first losing season since 1992, and it's already 0-2 this season against the Big East. Rutgers, co-Big East champ, has won five straight bowl games. A win for Rutgers would make Kyle Flood the only coach in school history to win 10 games in his first season.
PREDICTION:
Virginia Tech 10, Rutgers 7. The Hokies have too much to lose in this game, as the critics have been out in full force this season looking for staff changes and anyone to blame. With the defenses being the strength for both teams, it should be a low-scoring game, but Thomas will make a few plays in the clutch, and the Hokies will win the turnover battle.
December, 12, 2012
12/12/12
9:00
AM ET
The ACC and Big East are tied at 4-4 entering this bowl season, with two more games to be played. Duke and Cincinnati will face each other in the Belk Bowl in Charlotte, and Virginia Tech and Rutgers will play in the Russell Athletic Bowl. The Hokies are already 0-2 against the Big East after losses to Pitt and Cincinnati. For all of the heat the Big East has taken this year, the ACC hasn't fared much better on the field. Which conference will end the season on top (or hit rock bottom, depending on your view)? Bloggers Andrea Adelson and Heather Dinich debate:
[+] Enlarge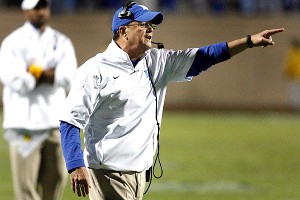 Mark Dolejs/US PresswireWith veteran David Cutcliffe, Duke appears to have the coaching edge in its bowl game with Cincinnati.
Heather Dinich:
I want to come out swinging. I want to deliver a knockout blow before you even get fired up, AA, because I know how you get once you're on a roll. Problem is, the ACC reached a new low this year. My two best arguments for you this bowl season are 1. David Cutcliffe, the ACC's Coach of the Year, and 2. Frank Beamer, the country's active career leader in wins. No question I'd take Cutcliffe over … oh, that's right, Butch Jones has already split for Tennessee, a job that Cutcliffe had to say repeatedly he had no interest in. Who's coaching that team, anyway? Rutgers coach Kyle Flood is a rookie going against a veteran who has won four ACC titles and three Big East titles. Beamer didn't forget how to coach this year. If the ACC doesn't go 2-0 against the Big East this month, it certainly won't be because of the coaches on the sideline.
Andrea Adelson:
I think we all can agree both the ACC and Big East were just meh this season. But your best argument is pointing to two coaches that went 6-6 this year? C'mon, HD you're better than that!
Let's start with Cutcliffe. His team lost four straight to end the season. FOUR! WITH the Coastal Division on the line, no less. I appreciate the job he has done this year in getting Duke back to a bowl game, but I do not think it says much about this league at all that its Coach of the Year went .500 this season, with a losing record in the pretty terrible Coastal Division. Do I need to remind you that the last time a coach won ACC Coach of the Year honors with a .500 regular-season record was back in 1964? That would be Bill Tate of Wake Forest.
Steve Stripling will be coaching the Bearcats, and he has done probably the best job of any assistant on staff in the past two years given the way Cincinnati has performed up front. He coached two Big East first-team selections this year, and the Big East co-Defensive Player of the Year a season ago. Not too shabby. As for Mr. Beamer, I think we can all agree this was one of his worst seasons ever. Flood does not have nearly the coaching experience, but he did win co-Big East Coach of the Year honors for getting Rutgers a share of the league title for the first time ever. He's got a defense miles ahead of Virginia Tech.
I think that's where the Big East teams have the advantage -- far superior defenses. That's how both will win their games. What say you -- what is the on-the-field recipe for the ACC to win these two contests?
[+] Enlarge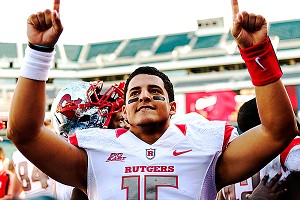 Howard Smith/USA TODAY SportsThe play of QB Gary Nova will surely be key in Rutgers' bowl game against Virginia Tech.
HD:
So you're saying they have a chance? Well, let's start with Virginia Tech. Turnovers stand out more than anything, and the Hokies must avoid them at all costs. VT is 0-2 against the Big East because it lost the turnover battle 7-3 in those two games. Quarterback
Logan Thomas
has to make better decisions than he did earlier this season against Cincy, and he's got to play a better game than
Gary Nova
. That doesn't seem like a tall task, especially if Bud Foster's defense can fluster Nova the way Pitt did. You talk about how "superior" Big East defenses are but fail to mention that Rutgers had just two first downs and 50 yards in the first half against Pitt. Against Louisville the following week, Rutgers had just 54 rushing yards and three turnovers. Virginia Tech's offense would hardly be confused for Oregon, but I'm guessing the Scarlet Knights haven't had to bring down a lumberjack QB like LT, who also happens to be the team's leading rusher (not that that's a good thing). In a pillow fight between these two offenses, Thomas gets my vote -- as long as the O-line can keep him on his feet. As for Duke, no question the Blue Devils need to play better defense. They're one of the worst in the country, allowing 35 points per game. It's no wonder they lost four straight to end the season. Against Cincy, the rushing D will be critical. You get the final word: Is the Big East truly better than the ACC this year?
AA:
I have a double answer for you, HD. The ACC is clearly better at the top. Nobody is going to argue that point. But beyond Florida State and Clemson, I think the ACC and Big East are just about the same. And winning these two bowl games would be great for the Big East to use in future debates about where it stands against the ACC. You think these games are big for the ACC, but I think they are even bigger for the Big East.
December, 11, 2012
12/11/12
2:00
PM ET
There are only six ACC bowls this year, as the conference did not fill its eight bowl tie-ins (though it would have had Miami and North Carolina not been ineligible). All of them have interesting storylines, but some are more intriguing than others. As for which one is actually going to give us the best, most entertaining game between two legitimately good teams? No. 1 is a no-brainer. The rest? Take your pick.

Here's a look at how this year's ACC bowl lineup stacks up, from best to worst:

1. Chick-fil-A Bowl: LSU vs. Clemson (Dec. 31: ESPN, 7:30 p.m. ET, Georgia Dome, Atlanta) – This is a chance for the Tigers to redeem themselves against an SEC defense after flopping in a 27-17 loss to South Carolina. More importantly, it's a chance for Clemson to further distance itself from last year's humiliating loss to West Virginia in the Discover Orange Bowl.

2. Hyundai Sun Bowl: USC vs. Georgia Tech (Dec. 31: CBS, 2 p.m. ET, Sun Bowl, El Paso, Texas) – The Yellow Jackets needed a waiver from the NCAA to play in this game. Paul Johnson is trying to win his first bowl game with the program. At 7-5, USC was one of the most disappointing teams in the country this year. Neither team has played spectacular defense this year, and both have lost their coordinators for different reasons.

3. Discover Orange Bowl: Northern Illinois vs. Florida State (Jan. 1: ESPN, 8:30 p.m. ET, Sun Life Stadium, Miami) – Don't write this one off just yet. Remember Boise State-Oklahoma? Remember Alabama-Utah? This is a game FSU should win, but the Noles also should have beaten NC State.

4. Franklin American Mortgage Music City Bowl: NC State vs. Vanderbilt (Dec. 31: ESPN, noon ET, LP Field, Nashville, Tenn.) – Dana Bible will be coaching in place of Tom O'Brien, who was fired at the end of the season. Vanderbilt will be playing in back-to-back bowl games for the first time in school history.

5. Belk Bowl: Cincinnati vs. Duke (Dec. 27: ESPN, 6:30 p.m. ET, Bank of America Stadium, Charlotte, N.C.) – Duke is playing in its first bowl game since 1994, a reason in itself to watch. The Blue Devils need to end the season on a positive note, though, after losing five of their last six games.

6. Russell Athletic Bowl: Rutgers vs. Virginia Tech (Dec. 28: ESPN, 5:30 p.m. ET, Florida Citrus Bowl, Orlando, Fla.) – The Hokies are 0-2 against the Big East this year with losses to Pitt and Cincinnati. A loss to Rutgers would mean the program's first losing season since 1992. This is an important step toward turning things around for 2013.
December, 4, 2012
12/04/12
11:00
AM ET
Now that the college bowl games are out, it is time to rank 'em!
Colleague Mark Schlabach has his
list of all 35 games
, from best to worst. Here is where Schlabach has ranked the ACC games:
No. 4 Chick-fil-A Bowl: LSU vs. Clemson, Dec. 31, Atlanta.
Our take
: There is no two ways around this ranking -- the Chick-fil-A Bowl should be one of the best in the bowl season, better than just about every BCS bowl game that is not the national championship. It is a marquee matchup of SEC vs. ACC, and this is a HUGE opportunity for a league that went 0-4 vs. SEC opponents on the final week of the regular season. How does All-American Clemson quarterback
Tajh Boyd
stack up against one of the best defenses in the land? Didn't go so well for him against South Carolina.
No. 8 Discover Orange Bowl: Northern Illinois vs. Florida State, Jan. 1, Miami.
Our take
: I'm not sure this game would have ranked any higher had Louisville been the opponent, quite honestly. Given all the hubbub over the Huskies' inclusion, I'm betting the Orange Bowl may get better TV ratings with this matchup. And don't expect this one to be a walk over for the Noles, either. Northern Illinois quarterback
Jordan Lynch
is a player to watch.
No. 14 Hyundai Sun Bowl, USC vs. Georgia Tech, Dec. 31, El Paso, Texas.
Our take:
Perhaps this qualifies as the third-best game on the slate because the Jackets are playing the former No. 1 team in the nation, but this is going to be the toughest matchup for the ACC to win by far. How will the Jackets slow down
Marqise Lee
, especially if
Matt Barkley
is ready to go?
No. 17 Russell Athletic Bowl, Virginia Tech vs. Rutgers, Dec. 28, Orlando, Fla.
Our take:
Hey, it is a former Big East battle! Does that have your juices flowing yet? Didn't think so. This is a game that features little to nothing in the way of offensive firepower.
Logan Thomas
and
Gary Nova
have combined to throw 29 interceptions this year. Oh, and Virginia Tech is 0-2 against the Big East already on the season.
No. 21 Franklin American Mortgage Music City Bowl, NC State vs. Vanderbilt, Dec. 31, Nashville, Tenn.
Our take:
I think this one should be ranked higher than the Sun and Russell Athletic Bowls, because I think this is going to be a much better game.
James Franklin
has a familiarity with NC State, and I think the Wolfpack will be motivated, even without coach Tom O'Brien on the sideline. It should be noted that Vanderbilt has not beaten one team with a winning record this season.
No. 25 Belk Bowl, Cincinnati vs. Duke, Dec. 27, Charlotte, N.C.
Our take:
I would probably rank this one higher than the Sun Bowl because I think it has the potential to be a much more fun game to watch. The Blue Devils are going to be fired up in their first bowl appearance since 1994 and will get some home-field advantage playing in-state. Cincinnati has a terrific rushing game that Duke is going to have to slow down.
December, 2, 2012
12/02/12
9:57
PM ET
Rutgers Scarlet Knights (9-3) vs. Virginia Tech Hokies (6-6)
Dec. 28, 5:30 p.m. ET, Orlando, Fla. (ESPN)
Rutgers take by Big East blogger Matt Fortuna:
The Scarlet Knights enter the Russell Athletic Bowl on a two-game losing streak. Of course, a win in either of their final two games would have had them in their first-ever BCS bowl. Rutgers can still call itself a Big East champion for the first time in program history, just not in the fashion it had anticipated after a 5-0 start in conference play.

Rutgers got as far as it did this season behind strong defense and special teams play.
Khaseem Greene
is among the nation's best (and underrated) linebackers, totaling 125 tackles, 5.5 sacks and six forced fumbles this season. The Scarlet Knights surrender just 13.73 points per game. And if you think settling for a bunch of field goals instead of touchdowns -- or playing the field-position battle -- will help your cause, think again: Rutgers has blocked eight kicks this season, returning two for touchdowns. (It has blocked 31 kicks since 2009).
Offensively,
Jawan Jamison
has carried the load, carrying it 242 times for 1,054 yards and four touchdowns, becoming the third Rutgers player in the past 36 years to record a 1,000-yard rushing season. Quarterback
Gary Nova
has struggled at times, but he has an offensive line that has kept him standing up (sacked just eight times all season) and big wide receivers who are capable of making plays, as evidenced by Nova's five-touchdown effort in an early season win at Arkansas.
Rutgers is bound for the Big Ten in a few years, but it has unfinished business to tend to in the Big East. Though an outright conference title wasn't in the cards this season, a postseason win after a rough season-ending stretch could go a long way toward getting Year 2 of the Kyle Flood era off on the right foot next season.
---
Virginia Tech take from ACC blogger Heather Dinich:
The Hokies were arguably one of college football's biggest disappointments this year, and a major reason the ACC's Coastal Division was so weak. Virginia Tech, which began the season ranked No. 16 in the country and favored to win the division, had dropped out of the Associated Press Top 25 after just three weeks.

The Hokies had suffered an embarrassing 35-17 loss at Pittsburgh in Week 3 in which they were beaten soundly up front on both sides of the ball. It was one of two losses to Big East teams this year, including Cincinnati. The matchup against Rutgers could provide Virginia Tech with some redemption against the Big East. In retrospect, the loss to Pitt was a foreshadowing of the troubles that would continue to haunt the Hokies throughout what would become the program's worst season in 20 years.
Virginia Tech's revamped offensive line, which had to replace four starters from 2011, was a weak link, quarterback
Logan Thomas
was plagued by mistakes and a supporting cast that didn't help him look any better, and Bud Foster's usually dominating defense was average at best. Virginia Tech struggled in all four phases of the game, including coaching, as the program's nation-leading streak of eight straight 10-win seasons came to an end with a thud.
From Sept. 29 to Nov. 8, Virginia Tech went 1-5, its lone win coming at home against Duke. The Hokies won only one game on the road this year -- a 30-23 overtime win against Boston College. Virginia Tech had to squeak by rival Virginia, 17-14, in the regular-season finale just to become bowl eligible. The Hokies have long been criticized for their poor postseason play, but this year, just getting to the postseason was an accomplishment.
ACC SCOREBOARD
Friday, 12/26
Saturday, 12/20
Monday, 12/22
Tuesday, 12/23
Wednesday, 12/24
Saturday, 12/27
Monday, 12/29
Tuesday, 12/30
Wednesday, 12/31
Thursday, 1/1
Friday, 1/2
Saturday, 1/3
Sunday, 1/4
Monday, 1/12
Tweets from https://twitter.com/ESPNCFB/lists/acc