January, 22, 2014
Jan 22
9:00
AM ET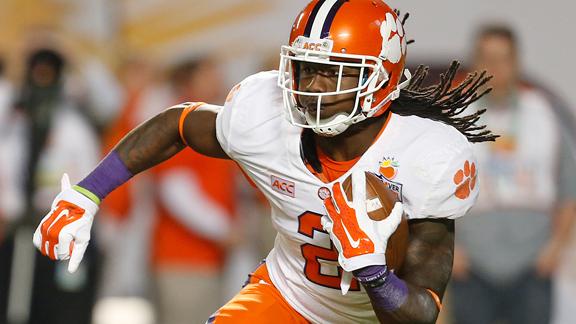 The ACC has lost 10 players who have decided to forgo their final seasons of eligibility and enter the NFL draft. It's not a mass exodus, but their departures definitely leave some holes. Florida State is losing some talent, but Clemson arguably has the biggest shoes to fill, as the Tigers are losing their top two receivers from 2013, including All-American
Sammy Watkins
. With spring football around the corner, there will be plenty of competition throughout the league, but based on what we know now, here is the best guess at who the replacements will be for each of the ACC's early entrees:
Leaving: Florida State WR Kelvin Benjamin
[+] Enlarge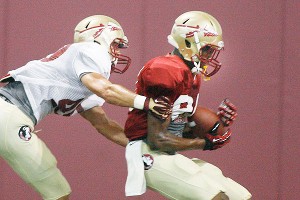 AP Photo/Phil SearsIsaiah Jones (right) caught only two passes as a freshman, but Kelvin Benjamin's departure means he'll have to play a bigger role.
The replacement: Isaiah Jones.
He is 6-foot-4, but he lacks Benjamin's physical strength (he weighs about 35 pounds less).
Christian Green
also could be an answer after playing sparingly the past two seasons. He's 6-foot-2 and known for his speed. He had 26 catches for 450 yards as a freshman in 2011 but has just 16 catches for 190 yards in the two seasons since. As far as a true red zone target and receiver who can win the jump balls, tight end
Nick O'Leary
will likely get the bulk of the throws that went to Benjamin in 2013.
Leaving: North Carolina C Russell Bodine
The replacement: Lucas Crowley.
As a freshman, Crowley made his collegiate debut against rival NC State. He played 11 snaps and graded out at 90 percent. An encouraging sign for UNC fans should be Crowley's performance against Pitt, where he played a respectable game opposite All-American defensive tackle
Aaron Donald
. He played 66 snaps at center in that game and had five knockdowns.
Leaving: Clemson DB Bashaud Breeland
The replacement: Garry Peters.
He was one of Clemson's rising stars at cornerback in 2012, but an injury last season set him back. He still played in 10 games and enters this fall with 54 tackles, 4.5 tackles for loss, one interception, 12 pass breakups, one forced fumble and one fumble recovery in 33 games (five starts) in his career.
Leaving: Clemson WR Martavis Bryant
The replacement: Mike Williams.
The true freshman played in all 13 games and started three, finishing 2013 with 20 catches for 316 yards and three touchdowns. His first career start came against Wake Forest, and Williams had a 14-yard touchdown. As a prep, he was rated the No. 3 player in South Carolina by ESPN.com. Williams has a lot of potential, and the Tigers will need him to reach it quickly.
Leaving: North Carolina TE Eric Ebron
The replacement: Jack Tabb.
He played in 10 games at tight end and on special teams, and he also saw some time at linebacker. He finished with six catches for 116 yards and 10 tackles. UNC also signed two tight ends in the 2014 class, including one,
Brandon Fritts
, who enrolled in January. The other,
Avery Edwards
, is regarded as the top TE in North Carolina.
Leaving: Florida State RB Devonta Freeman
The replacement: Ryan Green.
He played in all 12 games (no starts), and finished with 163 yards and one touchdown on 33 carries. He showed some explosiveness in his limited playing time, as six of his carries went for 10 yards or more. His blocking and ability to take advantage of open holes still need to improve.
Leaving: Florida State DT Timmy Jernigan
The replacement: Nile Lawrence-Stample.
He played in 13 games and started six alongside Jernigan at defensive tackle. He finished the season with 15 tackles, including 1.5 for loss. He also had two quarterback hurries. He made his first career start against Pitt and had a season-high three tackles against both Boston College and Maryland. He had one tackle in the national championship game.
Leaving: Syracuse RB Jerome Smith
The replacement: Prince-Tyson Gulley.
He was granted a fifth season of eligibility and as of now is expected to play this fall. Gulley qualified for a medical hardship waiver because he broke his collarbone in 2011 and played just four games. He was third on the team in rushing in 2013 and finished with 456 yards and four touchdowns on 83 carries. He also had 15 catches and one receiving touchdown.
Leaving: Clemson WR Sammy Watkins
The replacement: Charone Peake.
Watkins was one of a kind, and his record-setting production nearly impossible to duplicate, but Peake is the next man up. He was the Tigers' second-leading receiver before he tore his ACL during a simple non-contact drill in practice on Sept. 10. Prior to the injury, Peake had eight catches for 84 yards and a touchdown, second only to Watkins in both receptions and yards. In 2012, Peake had 25 receptions for 172 yards and two scores.
Leaving: Florida State RB James Wilder Jr.
The replacement: Karlos Williams.
He moved from safety to tailback in Week 2 and finished his first season at the position with 91 carries for 730 yards. His 8.02 yards-per-carry average was sixth in the nation. His 11 rushing touchdowns tied for seventh in the ACC. No running back from an automatic-qualifier conference school scored more routinely than Williams, who scored once every 8.3 carries.
January, 16, 2014
Jan 16
1:00
PM ET
TALLAHASSEE, Fla. —
Devonta Freeman
and
James Wilder Jr
. spent the season trying to convince coach Jimbo Fisher to name Florida State's two-back set after them. "Wild and Free" they proposed it be called, a nickname that offered ample cache but never really caught on in practice. They ran it a few times a game, and it worked well enough to keep at it, but Fisher was never quite so impressed that he embraced the moniker. Besides, he had plans to add a third element.
Karlos Williams
rarely practiced in the two-back set all season until the ACC championship game in December. In fact, for the bulk of the season, Williams barely touched the football in the first half. But when Florida State clobbered Duke to assure a second straight conference title, Williams was a crucial cog.
[+] Enlarge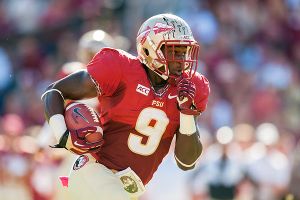 Jeff Gammons/Getty ImagesKarlos Williams made the move to running back this season and posted 730 yards on just 91 carries.
This was the plan for Williams. The move from safety to tailback in Week 2 was a renovation project for the former five-star recruit, but Fisher always had a grand design in mind. It just took some time for Williams to figure out the nuance of his new position.
"I'm just trying to catch on and learn as much as possible and learn very, very fast," Williams said. "I do feel myself growing, getting better but it's also a lot of work that needs to be done."
Williams finished his inaugural season at tailback with a 91 carries for 730 yards. His 8.02 yards-per-carry average was sixth in the nation. His 11 rushing touchdowns tied for seventh in the ACC. No running back from an automatic-qualifier conference school scored more routinely than Williams, who punched in a touchdown once every 8.3 carries.
Still, Williams had a niche role. He had just 18 first-half touches all year. He had limited work in close games, with 70 of his 91 carries coming with FSU ahead by at least 15. He ran the ball 10 times or more in just three games, all blowouts.
For all of his 2013 success, Williams was a work in progress.
"People laugh at me because I'm very, very athletic, but I don't have a lot of moves," Williams said of his running style. "I'm a straight-line speed guy. So if I kind of stop, it's kind of hard to start up again."
Williams' limitations weren't often on display in 2013, but that figures to change going forward. If last season was about getting the offensive convert acquainted with his new job, 2014 will be a far more immersive experience.
Wilder has announced he's headed to the NFL. While the school has yet to make Freeman's decision official, he's expected to follow suit. That leaves Williams as the lone veteran in Florida State's backfield.
As the prognosticators look ahead to 2014, Florida State's offense gets high marks for all its returning talent, led by quarterback
Jameis Winston
. But the turnover in the ground game will be immense.
Freeman led the Seminoles in rushing in each of the past three seasons. Wilder was as good a short-yardage back as Florida State has had in recent years. With that duo leading the charge, only two teams have averaged more yards per carry (not including sacks) against FBS foes since the start of 2012 than Florida State (6.31 yards per rush).
Now it will be up to Williams to prove he's capable of a bigger workload, but he'll have some help.
Ryan Green
didn't see much action in 2013, but he flashed some explosive talent. Six of his 33 carries went for 10 yards or more, but Green still needs to work on his blocking and his ability to hit holes when they open.
It's possible
Mario Pender
could fill the void as well, but his first two years at Florida State have been a disaster. Pender has exceptional speed and enjoyed a nice spring in 2013, but he's yet to see action in a game. A groin pull kept him on the sidelines as a true freshman in 2012 and academic issues forced him off the team in 2013. He's back practicing with the Seminoles now, however, and Fisher said he hopes the academic and injury issues are in the past.
Perhaps the most exciting option for FSU, however, is
Dalvin Cook
, a five-star recruit who spurned Florida at the last moment and is expected to practice with the Seminoles this spring.
It's a talented group, but it's not an experienced one, and that's what makes Williams so crucial to Florida State's hopes in 2014. With fullback
Chad Abram
moving on, too, Williams' 18 first-half carries represent the only significant snaps any member of FSU's current backfield has in a close game.
But Fisher had a plan when he pushed Williams to make the move to running back in September, and the benefits of that decision are just now becoming clear. For Williams, it's now just a matter of proving he's the right man for the job.
"It's progressing," he said. "Slowly but surely."
January, 8, 2014
Jan 8
2:00
PM ET
Jimbo Fisher was still on the podium, gazing into the crystal trophy that comes with winning a national championship, when it was suggested that once the team returned to Tallahassee, it was back to work preparing for 2014.
First on the docket for FSU will be identifying which star players will be returning for next season. Running back
James Wilder Jr.
is
entering the draft, according to a source
, and more decisions will trickle in before the Jan. 15 deadline. Here are our best guesses at what's to come — and who might step in for departing underclassmen.
Likely going
[+] Enlarge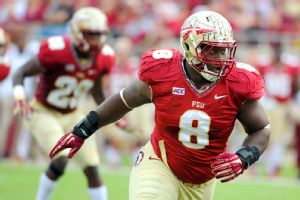 Melina Vastola/USA TODAY SportsFSU nose tackle Timmy Jernigan is a force inside, and how well the Tigers do against him could determine how well they run the ball.
DT Timmy Jernigan (junior)
Why he'd leave:
Entering the season, Jernigan was Florida State's top-rated underclassman by most draft experts, and that standing never changed. Jernigan was dominant all season, and his impact was never more noticeable than in the national title game. When he was on the field, Auburn found no running room between the tackles. When he was out of the game, the Tigers moved the ball with ease on the ground.
Next up:
Nile Lawrence-Stample
took a big step forward this season, gaining valuable playing time in the defensive line rotation. He started six games and finished with 15 tackles. Florida State has five current defensive tackle commitments, so it's certainly possible one of the incoming freshmen could make a big impact early — as Jernigan did in 2011 — but Lawrence-Stample is the safest bet to step in full time.
WR Kelvin Benjamin (redshirt sophomore)
Why he'd leave:
Benjamin was projected as a star from the moment he arrived on campus, but it took him a while to get acclimated. He enjoyed a breakthrough 2013 season, finishing with 1,011 yards and 15 touchdowns, including the game-winner in the VIZIO BCS National Championship. Some of his game could still use some refinement — as evidenced by two big drops vs. Auburn — but his physical skills already peg him as a likely first-rounder.
Next up:
Kermit Whitfield certainly projects as Florida State's next big-play receiver after an electric season as a freshman, but he fits more in the slot. Replacing Benjamin's size and physicality isn't an easy task, but 6-4 freshman
Isaiah Jones
figures to have the best chance. He saw limited playing time this year, catching two balls for 31 yards.
Possibly going
RB Devonta Freeman (junior)
[+] Enlarge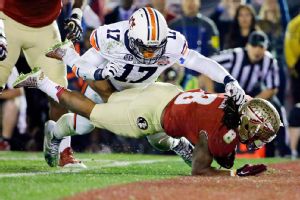 AP Photo/David J. PhillipDevonta Freeman became the first Seminoles tailback to gain 1,000 yards in a season since Warrick Dunn in 1996.
Why he'd leave:
Freeman has been the steadying force for FSU's running game for three years, and on Monday, he became the first Seminoles tailback to top 1,000 yards in 17 years. Wilder's role was smaller this year as injuries hampered his production, but that could also have served as a reminder why it's better to take the big hits with an NFL paycheck. Neither has a ton of early draft buzz which could convince them to return, but both could show out at the combine and work their way into the top three rounds.
Next up:
Karlos Williams
showed plenty of promise this season after moving from safety in Week 2, finishing with 748 rushing yards in reserve duty. He's largely a straight-ahead runner, but his combination of size and speed makes him a weapon. FSU will still need to develop depth, likely with
Mario Pender
or
Ryan Green
, but could get a boost from four-star commit Dalvin Cook.
LT Cameron Erving (redshirt junior)
Why he'd leave:
Erving has hovered near the top of the offensive tackle draft boards since the end of 2012, and in his second season since moving from the defensive line, he showed significant progress. Still, it's a deep draft at the position, and there were moments — including against Auburn's impressive defensive front Monday — when he showed some flaws.
Next up:
Florida State brought in two potentially strong replacements last year in
Ira Denson
and
Wilson Bell
. Injuries hampered the progress for both during the season, however, which makes Erving's decision potentially crucial for the stability of the line going into 2014.
Likely staying
G Tre Jackson and G Josue Matias (juniors)
Why they'd leave:
Matias and Jackson might be among the top underclassmen at the position, but both could benefit from another year working with line coach Rick Trickett.
Next up:
Florida State has struggled to recruit on the line the past few years, which makes depth — particularly on the interior — a significant concern. The Seminoles have a solid class coming in for 2014, but the loss of more than one of their underclassmen on the line would be a serious concern.
TE Nick O'Leary (junior)
Why he'd leave:
O'Leary made huge strides this season, developing into one of Jameis Winston's favorite targets and a legitimate red-zone threat. He's an adept route-runner, a sure-handed receiver and his blocking game has developed nicely. But with Florida State's receiving corps in transition, O'Leary could be in a position to post huge numbers in 2014 if he sticks around.
Next up:
Kevin Haplea
returns from a knee injury next year, but he's more of a blocking tight end than a true replacement.
WR Rashad Greene (Jr./WR)
Why he'd leave:
What more can Greene accomplish at Florida State? He's been the team's most reliable receiver for three consecutive seasons. He became the Seminoles' first 1,000-yard receiver since Anquan Boldin this year. He's quick, a great route-runner, and he has good hands. He does everything well, and his quarterbacks have taken notice. The problem for Greene is that he lacks the obvious physical skills that make scouts drool, so his draft value might not reflect his on-field contributions.
Next up:
It would be a surprise if Greene left, but it would also be a huge blow to Florida State's offense. Winston was a star this season in part because of an exceptional group of receivers, but the group will get a major makeover in 2014. The Seminoles need Greene to help ease the transition.
September, 16, 2013
9/16/13
10:00
AM ET
TALLAHASSEE, Fla. -- For more than a year, Jimbo Fisher knew he had a weapon waiting in storage. He'd prodded
Karlos Williams
to make the switch to tailback, but he didn't insist. Selling a five-star recruit on a position change requires a soft touch.
Through eight practices, Williams' teammates knew he was something special, too. That was the entirety of Williams' prep work before he was unleashed against Nevada, sprinting untouched for 65 yards and a touchdown on his first carry. He certainly hadn't mastered the craft, but a toss sweep into daylight was the play he was born to run.
[+] Enlarge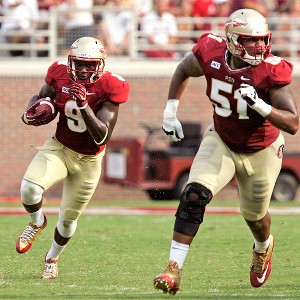 AP Photo/Steve CannonKarlos Williams, who played safety in the opener, rushed for 110 yards against Nevada.
Deep down, Williams probably knew, too. By the end of spring practice, he was giving the move serious consideration, and when Fisher came to him once more after Florida State's opening-week win over Pittsburgh, he finally relented.
"It's been something they'd been talking about, and I'd been kind of interested in it," Williams said. "I just said, 'Coach, I'll do it.' "
The final push, however, wasn't about Williams' potential on offense, but rather Florida State's need for a safety net at running back.
In the 10 days from the end of fall camp until the post-game celebration in Pittsburgh, Fisher's backfield depth chart was slashed.
Mario Pender
was ruled academically ineligible, and while freshman
Ryan Green
flashed potential, he wasn't ready for a major role. When
James Wilder Jr
. fell shoulder first into the turf against Pitt, re-aggravating an injury that had nagged him throughout 2012, a move had to be made.
"James had a ding, and we didn't know if he'd be able to go or not," Williams said. "[The move] was another way to help the team."
Williams finished his first game at his new position with eight carries, 110 yards and a touchdown. His 65-yard run showcased his speed. His 11-yard rumble in the fourth quarter, with 10 Nevada defenders draped atop him for the final few feet, showcased his strength. He was, as Fisher had said so many times, a natural.
"I'm not trying to say I was rubbing a crystal ball," Fisher said. "That guy is a talented cat."
Wilder played, too. He carried six times for 45 yards and a touchdown, and his devastating lead block in the third quarter helped spring
Devonta Freeman
for a 60-yard run.
But after virtually every tackle and every fierce block, Wilder also massaged his shoulder and appeared visibly bothered by the injury.
"It was a couple times where it went numb," Wilder said. "It's something I have to expect for my running style. It's dinged up, but it's nothing too serious."
It's a message Fisher repeated, too. Asked after the game about Wilder's health, Fisher joked the tailback just needed "to rub some dirt on it." In other words, it's not an injury likely to improve with extended rest, but rather something Wilder will have to play through going forward.
"I'm the big back, I've got to suck it up and play," Wilder said. "It doesn't really bother me, and I just don't want to sit out. I want to go out there and compete every week."
For now, Wilder insists that won't be an issue. The shoulder soreness plagued him throughout last season, and he still finished with 635 rushing yards and 11 touchdowns. The problems this year are minor compared to the pain he endured a season ago, he said, and the numbness hasn't affected his play. The lone casualty thus far was his trademarked high-top haircut, which he trimmed after it brought him bad luck, he said.
For Florida State, however, Wilder's injury actually might have been something of a blessing. A healthy Wilder is a powerful weapon, but the slightly battered version might have been the necessary push to add another valuable asset.
Williams' debut was everything Fisher had hoped, but it certainly wasn't an end to the story. Nevada's defense capitulated to Florida State's ground game to the tune of 377 yards, and Williams was just one of the multitudes to reap the rewards. He still must master blocking schemes and pass protection, and his role on offense remains a bit nebulous as the Seminoles march toward the heart of the ACC schedule.
But what's clear after Saturday's win over Nevada is that the tightrope Florida State might have walked with a battered backfield won't be quite so precarious now. Wilder is still pummeling defenders, bum shoulder and all, and Williams delivered evidence he's more than just a safety net.
"When he gets space, he can hit home runs and he's hard to tackle because he's a big, physical guy there, too," Fisher said. "Karlos will provide us with a very big piece to the puzzle in my opinion as the year goes on."
August, 26, 2013
8/26/13
11:00
AM ET
TALLAHASSEE, Fla. -- Jimbo Fisher finally put the biggest question of fall camp to rest Friday, officially
naming Jameis Winston his starting quarterback
. But if Winston's position on the depth chart finalized one lingering issue, a handful of other questions remain as the Seminoles begin their final week of preparation for the season opener at Pittsburgh.
Here's a quick rundown of what's left on Florida State's preseason to-do list:
Developing receivers:
A knee injury will keep
Jarred Haggins
on the sideline all season, meaning Florida State is now down three senior wide receivers. Add in a finger injury that has limited junior
Rashad Greene
for the past week, and a position that figured to be among the deepest on the Seminoles' roster is now a major concern. Greene should be fine for the start of the season, but it's apparent that Florida State will still need to rely on a trio of freshmen to step up. Fisher has raved about
Jesus Wilson
throughout camp, and
Levonte Whitfield
and
Isaiah Jones
have talent to spare, but the transition to the college game is rarely a seamless one.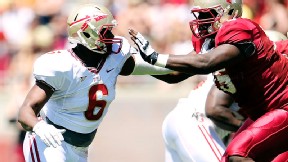 Stacy Revere/Getty ImagesDefensive end Dan Hicks, who missed all of 2012 with a knee injury, is still wearing No. 6. So is cornerback Nick Waisome. One of them will have to change numbers before next Monday.
Grasping the defense:
The response from players has been universally upbeat, but even the most optimistic of Florida State's defenders admit there's still work to be done in learning Jeremy Pruitt's new defensive scheme. Florida State ranked in the top three nationally in total defense in each of the past two seasons, and there's enough buzz among the returning players to think this year's unit could be even better, but Pruitt's scheme is a challenge. The team has worked extensively on mastering the nuance throughout fall camp, but when the season begins next week, Pruitt said fans might see a more watered-down version. "When it comes to game week, we're only going to call what they know," Pruitt said. "You throw a lot of stuff at them, hope part holds, and as the season progresses, you pull out what you need each week."
Depth at tight end:
Fisher tried to put a happy face on the situation when camp opened, but the lack of depth at tight end remains a major concern.
Giorgio Newberry
made the switch from defensive end just a week before camp began, and while he's got the size to do the job, he's definitely a work in progress. Freshman
Jeremy Kerr
remains sidelined with a knee injury, and Fisher continues to tinker with options, using freshman defensive end
Davarez Bryant
at tight end during practice last week. While Fisher is eagerly toying with his options, the fact remains that starter
Nick O'Leary
is going to need to shoulder the burden for a thin group behind him.
Two for six:
It's perhaps the silliest debate of camp, but the implications could be significant. When defensive end
Dan Hicks
switched from tight end this spring, he kept his old uniform number. The problem, however, is that cornerback
Nick Waisome
was already wearing the No. 6 jersey. Since then, neither player has been willing to give it up, meaning FSU can't use Hicks and Waisome -- both projected starters -- on the field at the same time. Fisher said he's leaving it up to the players to decide, likely in hopes one would be mature enough to choose playing time over a jersey number, but thus far neither player has caved.
Playing time for rookies:
The freshman receivers figure to be necessities on offense this season, but beyond that, it's tough to tell where the rest of the newcomers fit in. Running back
Ryan Green
, cornerback
Jalen Ramsey
and defensive end
DeMarcus Walker
are among the most impressive freshmen of the fall, but Fisher said he wouldn't be surprised if the great majority of this year's class avoids a redshirt. Aside from Kerr, quarterback
John Franklin
and a couple of the offensive linemen, virtually every member of the Class of 2013 remains in the mix for playing time.
Secondary shake-up:
It's a good problem to have, but Florida State's logjam of talent in the defensive backfield still leaves some question marks as the season approaches. When
Lamarcus Joyner
shifted from safety to corner, the questions about playing time began, and Pruitt has been quiet about potential answers. Joyner, Waisome, Ramsey,
Ronald Darby
and a slew of others are in the mix for regular reps, and Fisher has hinted that the Seminoles' defensive backs will be rotating early and often.
August, 19, 2013
8/19/13
12:00
PM ET
This
is what it means to be link'd in ...
August, 15, 2013
8/15/13
11:00
AM ET
TALLAHASSEE, Fla. -- Jimbo Fisher was the last to leave the practice field, shuffling back toward his office with a cadre of reporters in tow, when
Devonta Freeman
jogged past in the opposite direction.
Fisher turned and shouted after him, calling Freeman by the number on his jersey, which was soaked in sweat: "What are you doing, 8?"
The question didn't need to be asked. Fisher knew.
[+] Enlarge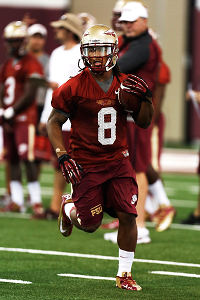 AP Photo/Don Juan MooreDevonta Freeman has become a leader for Florida State.
It's been a ritual so far this fall that every day, after the rest of the team has retreated from the scorching sun, Florida State's leading rusher returns to the practice field, drags a series of bright orange step-over dummies into position, and resumes his work.
"I'm just trying to improve my game," Freeman said, "getting a little extra footwork in to be precise in my cuts."
It's not just the extra work after practice that has caught Fisher's attention. It's that attention to detail, Freeman's determination to improve his game wherever possible. And through the first 10 days of workouts, no one has looked better than the junior tailback.
"He's playing exceptionally well," Fisher said. "He's had the best camp of anybody on the team."
It's deserved praise, but Freeman still seems an unlikely choice to be singled out given his penchant for flying beneath the radar during his first two years in Tallahassee. Behind gregarious veterans like Chris Thompson and Lonnie Pryor in FSU's backfield, Freeman's soft-spoken demeanor rarely stood out, and alongside a physical freak of nature like
James Wilder
Jr., Freeman didn't turn heads.
And yet, two years running, the man who'd opened the season third on the depth chart at tailback finished it by leading the team in rushing. It's experience that has taught Freeman a lot, and now that he's the elder statesman of the unit, he's eager to take a more front-and-center role, passing those lessons on to the next generation.
"I was just waiting on my time, not rushing things and being patient," Freeman said.
The work ethic comes naturally for Freeman, who has served as a template for coaches since high school. What's been more difficult is finding his voice.
"He's one of those guys who used to show by example. He's always worked hard. You could watch film and never see him lagging or going half speed," Wilder said. "But this year, we know that we're the upperclassmen now, and he has to speak up."
The product of a tough neighborhood outside Miami, where keeping a low profile was a means of survival, Freeman's never been the type to ask for attention. When his cousin -- a man Freeman referred to as a brother -- was gunned down near his family's home last fall, Freeman's first instinct was to keep his heartbreak to himself. Instead, his teammates embraced him, and it was advice from Thompson that helped Freeman push through his grief. It also set the standard for the type of teammate Freeman wanted to be this season.
When Thompson and Pryor left for the NFL, Freeman stepped forward. He's opened up, shared more of himself, and he's been quick to speak up when he feels it's necessary.
"[Players'] personalities come out as they evolve and gain confidence and go through situations in their life," Fisher said. "He's got a clear head, and his true personality is coming out. He's a phenomenal, phenomenal human being."
During practice last week, freshman tailback
Ryan Green
struggled through some early drills. The pace and intensity of practice at this level proved overwhelming, and Wilder was ready to step in.
Instead, it was Freeman who grabbed the freshman, pulled him to the side and put his arm around him. Green's struggles weren't unique, and Freeman offered a simple reminder that a few bad reps can't overwhelm his resolve.
"The rest of practice," Wilder said, "Ryan was balling."
Wisdom comes with experience, and Freeman's earned his share on and off the field.
Every few days, Freeman and Wilder meet in the locker room and talk about their goals. They've developed an ever-growing list of people they care about, the people they're playing for. It's motivation to keep pushing harder, a list of reasons to jog back onto the practice field even after everyone else has retired for the day. It's a list of reminders of the lessons he's learned and the wisdom he wants to pass along to his teammates who now look to him for advice.
"I try to give them the best advice," Freeman said, "because I was in their shoes and I know what they're going through."
August, 29, 2012
8/29/12
2:10
PM ET
By
RecruitingNation staff
| ESPN.com
David Hale writes:
Living up to Seminoles' fans high hopes -- not to mention the practice-highlight tales told by teammates -- will be a tall order for redshirt freshman receiver Kelvin Benjamin. He insists he's up for it after a rocky year off.
Corey Dowlar writes:

Several of FSU's commits have loaded up on preseason honors as high school seasons begin.
Hale:
Cornerback Nick Waisome barely beat out a true freshman for the starting spot left by Greg Reid's departure, but that hasn't hampered his confidence.
Hale:

Defensive end Bjoern Werner, who helps man one of the strongest defensive lines in college football, is today's subject in NoleNation's Carrying the Spear series of player profiles.
May, 9, 2012
5/09/12
9:00
AM ET
Tuesday
was ACC spring wrap day
, as we looked at the storylines following each conference school. RecruitingNation's Corey Long also took a look at recruiting around the conference with spring in the rearview mirror.
It should come as no surprise that Clemson and Florida State, the recent recruiting heavyweights of the ACC, headline what's heating up in conference recruiting with the summer fast approaching.
It doesn't get bigger than the nation's No. 1 prospect, and even though five-star DE Robert Nkemdiche (Loganville, Ga./Grayson) has been a strong Alabama lean for months, it's clear that Clemson has made a big push. The Tigers' chances for the 6-foot-5, 265-pound prospect, along with those of LSU, Georgia and Ole Miss, appear to climb a little more every day that Nkemdiche decides to wait before making his decision.

In the meantime, Clemson isn't standing pat and continues to position itself for a top-rated class. The Tigers are looking strong in Georgia, where they are in good standing for ESPN 150 running back Tyshon Dye (Elberton, Ga./Elbert County) and four-star wide receiver Demarcus Robinson (Fort Valley, Ga./Peach County)
The Seminoles, meanwhile, are in position to add to their already star-studded class.
For the past few years, Florida State has landed splashy commitments early in the recruiting cycle en route to finishing with classes that ranked among the best in the nation. This year the Seminoles have signed eight four-star prospects, including three ESPN 150 prospects, but the best may be yet to come. Florida State is in good standing with five-star CB Mackensie Alexander (Immokalee, Fla./Immokalee), who is No. 6 in the ESPN 150; Matthew Thomas (Miami, Fla./Booker T. Washington), the nation's top OLB who is No. 20 in the 150; Ryan Green (St. Petersburg, Fla./St. Pete Catholic), a top-five RB who is No. 48 in the rankings; Alvin Bailey (Seffner, Fla./Armwood), a top-five athlete who is No. 49 in the ESPN 150; and CB Artie Burns (Miami, Fla./Northwestern), who is No. 67 in the ESPN 150.
Long has plenty of more tidbits in his wrap, including Miami's pursuit of another Olsen, Larry Fedora's in-state plan and the closing of the gap between Virginia Tech and Virginia. Be sure to check it all out
here

.