May, 16, 2014
May 16
9:00
AM ET
Last weekend's
NFL draft
in which 42 ACC players were selected was a reminder of how much talent was departing the conference. But just as
Sammy Watkins
,
Aaron Donald
and
Kyle Fuller
say goodbye, the focus turns to the players who'll step into the spotlight in 2014.
With that in mind, here's a quick look at the top returning players in the ACC this upcoming season, based on their stats from 2013. (Last year's ACC ranking in parentheses.)
[+] Enlarge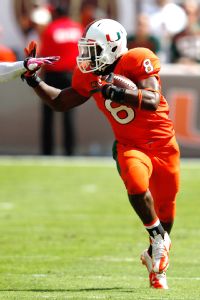 Robert Mayer/USA TODAY SportsMiami tailback Duke Johnson rushed for 920 yards in 2013, despite missing five games due to injury.
PASSING YARDS
1.
Jameis Winston
, FSU - 4,057 (1st)
2.
Anthony Boone
, Duke - 2,260 (6th)
3.
David Watford
, Virginia - 2,202 (9th)
Of note:
The turnover at the quarterback position has already gotten its share of press, but it's almost impossible to overstate how green the QBs across the ACC will be in 2014. Of the 23 players who passed for at least 250 yards in 2013, only seven will be back in 2014. Watford, the third-leading returning QB, isn't projected to start at Virginia, and
Marquise Williams
, who ranks fourth among returners, is locked in a battle for the starting job at North Carolina, too. Next up among definitive starters is Syracuse's
Terrel Hunt
, who finished 14th in the league in passing last season.
RUSHING YARDS
1.
Kevin Parks
, Virginia - 1,031 (2nd)
2.
Duke Johnson
, Miami - 920 (5th)
3.
James Conner
, Pitt - 799 (8th)
4.
Isaac Bennett
, Pitt - 797 (9th)
5.
Shad Thornton
, NC State - 768 (11th)
Of note:
Louisville's
Dominique Brown
would actually rank third on this list after racking up 825 rushing yards last season, good for fourth in the AAC. Including Brown, the ACC returns 11 running backs this year who accounted for at least 500 yards on the ground in 2013, though Miami's
Dallas Crawford
(558 yards) is currently working with the Hurricanes' secondary. Parks returns after a 1,000-yard season. The last running backs to return following a 1,000-yard effort in the ACC were Gio Bernard and Andre Ellington in 2012. Both topped 1,000 again in their follow-up campaigns.
RECEIVING YARDS
1.
Jamison Crowder
, Duke - 1,360 (2nd)
2.
Tyler Boyd
, Pitt - 1,174 (3rd)
3.
Rashad Greene
, FSU - 1,128 (5th)
4.
Quinshad Davis
, UNC - 730 (13th)
5.
Willie Byrn
, Virginia Tech - 660 (14th)
Of note:
Louisville's
DeVante Parker
would rank fourth on this list. He had 885 yards last season, good for seventh in the AAC. Crowder is in position to reach 1,000 receiving yards for the third straight season and is 1,153 yards shy of breaking former teammate Conner Vernon's ACC record. The Hokies have three of the top seven returning receivers in terms of yards.
TACKLES PER GAME
1.
David Helton
, Duke - 9.5 (1st)
2.
Jeremy Cash
, Duke - 8.6 (3rd)
3.
Denzel Perryman
, Miami - 8.3 (5th)
4.
Kelby Brown
, Duke - 8.1 (7th)
5.
Ryan Janvion
, Wake Forest - 7.9 (8th)
[+] Enlarge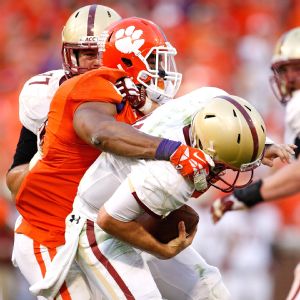 Tyler Smith/Getty ImagesClemson's Vic Beasley has 21 sacks in his career.
Of note:
Duke's front four took a big hit with the loss of three senior starters, but the back seven should be one of the most experienced and productive in the conference. Of the 25 ACC players with at least 50 solo tackles last season, 12 return this season.
INTERCEPTIONS
1.
Ant Harris
, Virginia - 8 (1st)
2.
Kendall Fuller
, Virginia Tech - 6 (2nd)
3.
Brandon Facyson
, Virginia Tech - 5 (3rd)
Of note:
Eleven ACC players had at least four interceptions last season, and a whopping nine of them return in 2014, including sophomores Facyson and Fuller at Virginia Tech. Add to that list two more returners from Louisville in
Charles Gaines
(5 picks) and
Terell Floyd
(4 picks), and the young QBs in the ACC in 2014 are going to have a lot to worry about.
SACKS
1.
Vic Beasley
, Clemson - 13 (1st)
2.
Eli Harold
, Virginia - 8.5 (9th)
2.
Norkeithus Otis
, UNC - 8.5 (9th)
4.
Luther Maddy
, Virginia Tech - 6.5 (12th)
5. Adam Gostis, Georgia Tech - 5.5 (16th)
Of note:
Louisville's
Lorenzo Mauldin
(9.5 sacks) would be second on this list. And here's a number that should have a lot of Clemson fans excited: Of the 32 players who finished with at least 10 tackles for loss last season, just 13 will be back in the ACC in 2014. Of those 13 returners, five play for the Tigers.
April, 22, 2013
4/22/13
10:30
AM ET
Spring practice is officially over across the ACC. Here is a look at the five spring games held this past weekend. Boston College cancelled its game following the tragic attacks at the marathon.
GEORGIA TECH

B-back
Matt Connors
capped a good spring with a team-high 84 yards on 12 carries to lead the Gold team to a 22-10 win over the White on Friday night.
After the game, coach Paul Johnson said Connors, "plays hard. Matt has a good attitude and I think he'll help us. We had a productive spring. There are always things you'd like to do better. I think we got a good start for fall.
As for the quarterbacks,
Justin Thomas
and
Tim Byerly
each scored a rushing touchdown for the Gold team. Thomas went 3-of-7 for 38 yards.
Vad Lee
led the White team with 62 yards rushing on nine carries and went 4-of-13 for 34 yards and a touchdown.
Defensively,
Quayshawn Nealy
returned a fumble 34 yards for a touchdown for the Gold team.
NC STATE

Fans got to see the new no-huddle spread offense coach Dave Doeren has installed, though there were plenty of bumps in the road during the annual spring game Saturday.
Quarterback
Pete Thomas
took reps with the first-team and went 15-of-26 for 168 yards without a touchdown pass as the Red beat the White 20-10.
Tony Creecy
led the way for the Red team with 75 yards on 20 carries, while
Rashard Smith
had eight catches for 84 yards.
Manny Stocker
, working with the second-team, went 11-of-20 for 96 yards with an interception in the end zone. The teams combined for five fumbles in the game, and had 10 total punts in the first half.
Doeren
said afterward
, "We are ahead defensively and that's not a bad thing," Doeren said. "I would rather be ahead on the defensive side than the offense. I think we'll catch up."
The spring game raised more than $20,000 for the Kay Yow Cancer Fund.
SYRACUSE

Terrel Hunt
emerged from the spring game as the Orange's top quarterback following an outstanding performance, going 19-of-29 for 209 yards a two touchdown passes to lead the Orange to a 27-10 win over the Blue on Saturday.
Hunt took all the snaps for the Orange team, and coach Scott Shafer said afterward that the junior now has a small lead over
Charley Loeb
and
John Kinder
. How that all plays out when Oklahoma transfer
Drew Allen
arrives remains to be seen, but there is no question Hunt has made the most of his opportunity this spring.
"Just a little bit (of a gap) though," Shafer
said afteward
. "We have all summer to figure this thing out and see all the new faces that are coming in to wear the blue and orange. I look forward to the competition continuing forward."
Kinder and Loeb combined to go 11-of-20 for 55 yards but they played against the first-team defense and under big-time pressure.
VIRGINIA TECH

There were not many bright spots for the new Hokies' offense, as quarterback
Logan Thomas
and the running backs struggled Saturday in the spring game.
Thomas threw three interceptions -- two that were returned for touchdowns -- as his Orange team lost to the White 27-9. In all, Thomas went 16-of-29 for 214 yards as the group worked under new coordinator Scot Loeffler. For the game, the running backs tallied 23 total yards on 41 carries. Those are probably not the results fans wanted to see.
"I think even good golfers have bad shots sometimes, but it's how you react to those shots, what you do after those shots," coach Frank Beamer
said afterward
. "In my opinion, Logan will always be right back every play."
It should come as no surprise, then, that the defense was the story of the scrimmage as that group returns just about every one of its starters and should be one of the best groups in the league.
WAKE FOREST

The Deacs held a 70-minute scrimmage rather than a game Saturday, and the defense dominated as
Chad Hedlund
scored the only points on a 39-yard field goal.
Hunter Williams
,
Ryan Janvion
,
Merrill Noel
and
A.J. Marshall
each intercepted a pass. Wake Forest's 32 rushing plays netted minus-5 total yards.
"The defense was awesome today," coach Jim Grobe said. "I thought they played great. We really dumbed the defense down, we didn't blitz and we didn't play a lot of different coverages. It's amazing how good they played when they know what to do and didn't have a lot of thinking going on. That ought to be a lesson for our coaches."
Though the offense struggled, the coaches did not have that group do too much. As
Nikita Whitlock
said afterward
, "They didn't show anything. This was the easiest practice we had all spring. I think they only ran like five plays. Honestly, it was power here, throw here, screen here. They were really vanilla, which was good. We'll pull it out this season to win some games."