August, 29, 2014
Aug 29
9:00
AM ET
Grady Jarrett
's looks are deceiving. He's a squat 6-foot-1 and, on most days, he's pushing 300 pounds so that when pads and a helmet supplement his physique, he looks about as wide as he is tall, the type of interior lineman opposing rushers need a road map to find their way around.
But it's an optical illusion. Strip away the pads and the jersey and there is a chiseled warrior underneath, an athlete in the strictest sense.
"I saw him the other day with his shirt off, and he's ripped," Clemson coach Dabo Swinney said.
[+] Enlarge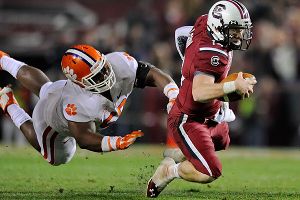 AP Photo/ Richard ShiroAccording to Clemson coach Dabo Swinney, the determination showed by Grady Jarrett, left, has made an impression on the entire team.
Indeed, Jarrett, the senior defensive tackle for the No. 16 Tigers, is meticulous about his body. He watches what he eats. He trains methodically. He monitors his sleep schedule. He is, as Swinney concluded, "completely committed."
Yet, it's Jarrett's body that has been the evidence critics have used against him again and again, starting with the team he is set to face in Clemson's season opener Saturday, Georgia. Jarrett, who grew up in Conyers, Ga., wanted to play college football at Georgia, but the Bulldogs simply weren't interested.
"You always know about Georgia growing up," Jarrett said. "You see the 'G' everywhere. But they didn't really want me like that."
It was easy to dismiss Jarrett as too short, too slow, too ordinary, and when he was coming out of high school, there were plenty of schools that fell for that illusion.
ESPN ranked Jarrett as the No. 80 defensive tackle in the nation. He was the 22nd-ranked player in Clemson's 2011 signing class, which included receiver Sammy Watkins and linebacker
Stephone Anthony
and four other defensive linemen. Mississippi State was the only other Power Five school to show much interest, never mind the 198 tackles, 63 for loss, and 27.5 sacks he accrued in his final two seasons at Rockdale County High School.
"The perception of me from a lot of people coming up through recruiting wasn't really good at all," Jarrett said. "And it's something I used to take personally."
But Clemson didn't buy into the illusion. Swinney watched the film, saw how Jarrett used that undersized physique to create leverage against opposing linemen. He saw the pedigree, that Jarrett was the son of former NFL linebacker Jessie Tuggle, that he was a protege of Ray Lewis, a man Jarrett refers to as an uncle. He saw the drive of a player everyone else said was too small carrying a massive chip on his shoulder.
For Swinney, Jarrett was a hidden gem.
Of course, back then, Clemson needed all the help it could get on defense. In Jarrett's freshman season he played just 61 snaps. The Tigers' defense was a disaster, culminating with an embarrassing 70-33 thumping at the hands of West Virginia in the Orange Bowl. But the Tigers' D and Jarrett were both works in progress, and Swinney knew the finished product would be special.
As a sophomore, Jarrett worked his way into the starting lineup. He recorded 10 quarterback pressures, 8.5 TFLs and helped the Tigers' defense move from 85th in the nation in TFLs to 30th. A year later, he was even better, making 83 tackles, including 11 behind the line of scrimmage, for a defense that led the nation in TFLs.
Jarrett wrestled in high school, and he used those skills against his opposition. He turned his undersized frame to an advantage, a short guy in a game where getting low is optimal.
"He's probably one of the lower athletes I've gone against," said Clemson center
Ryan Norton
. "He's very athletic, and his pad level is unbelievable."
Slowly but surely, the perceptions of Jarrett began to change, and those teams that dismissed him so easily were forced to take notice.
"People see what I can do now," Jarrett said. "I feel like it was up to me to change that perception. I believe I have, and now I'm trying to capitalize off it."
Even after two strong seasons, however, Jarrett toils largely in the shadows. In a conference loaded with top defensive tackles last season, Jarrett wasn't considered on the same level as Aaron Donald or Timmy Jernigan. Even in his own locker room, Anthony and
Vic Beasley
get the bulk of the defensive hype.
But the people who know him, who know the program -- they understand.
"If I was going to start a program right now, I'd pick Grady Jarrett first and build everything else around that guy," Swinney said. "He's that impactful. His worth ethic, his drive, his ability to hold other people accountable and lift others up, and that chip he has on his shoulder -- he's special."
To hear his coach and teammates talk, Jarrett is the best player in the country no one seems to know about, and that is a label he's happy to embrace.
Jarrett isn't flashy. He doesn't want to be. Instead, he is focused on every minor detail, determined to get it all right. On a team that boasts nearly two dozen seniors, on a defensive front that includes eight seniors in the two-deep, that work ethic has made Jarrett the unquestioned leader.
"When he says something, everybody's attention is drawn to Grady," said Beasley, an All-American who led the ACC in sacks last season. "He's a very vocal leader, and he just does it by example also. He's good in the classroom and on the field. He keeps us going. He's that main guy on the defense that gets us hyped and keeps us going."
It's a role Jarrett has embraced this season. In truth, he's not quite sure how it came about. He simply showed up, did his work, spoke out when he needed to and listened when the others talked. It came naturally, but it feels good to finally get the respect he's deserved.
"If your peers look to you for guidance, that's the ultimate respect," Jarrett said. "Being able to go to Vic or Stephone and they take to it, that's really humbling for me."
As Jarrett gets set to kick off his senior season against Georgia's explosive ground game Saturday, he insists he is not out for revenge, not hoping to prove a point to another team that rejected him. He has all the love he needs now.
But there is that tinge of bitterness, that knowledge that this is his last chance to remind the school down the road from his boyhood home that it missed out on something special.
"There's always a little extra incentive," he finally relented.
But there's more ahead, plenty of other last chances to make his mark before his college career ends and a fresh round of evaluations by scouts and coaches and critics begins. There is so much more he wants to accomplish.
There is a sense of desperation to this season, Jarrett said, and that is something his coach doesn't mind hearing.
Still, Swinney was never one of the critics, never fooled by the illusion. The chip on Jarrett's shoulder drives him, so Swinney won't knock it off. Still, he knows this isn't the end for Jarrett. It's the beginning.
"He'll play for a while on the next level," Swinney said. "I know he's not sexy looking. He's not 6-3. But he'll outplay all of them guys."
July, 8, 2014
Jul 8
4:00
PM ET
Two more preseason award watch lists were released Tuesday, which means we are still moving toward the college football season at what seems like a snail's pace.
The Rimington Trophy, presented annually to the nation's top center, already had a spring watch list but altered the original to include a few more names (because there were not enough already). Also released was the watch list for the John Mackey Award, which is given to the nation's top tight end.
The lists will be pared down during the season before winners are announced in December.
The
watch lists for the Maxwell Award and Bednarik Award
were released Monday.
Below are the ACC and Notre Dame players to make the Mackey and Rimington watch lists and a little information on each.
[+] Enlarge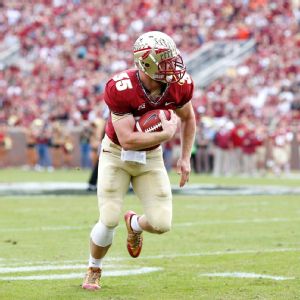 Joe Robbins/Getty ImagesFlorida State's Nick O'Leary could be a frontrunner for the Mackey Award as the nation's best tight end.
John Mackey Award
Gerald Christian, Louisville:
The Florida transfer was one of the Cardinals' more productive pass catchers last season, and he figures to drastically improve on his 28 receptions from a season ago now that Bobby Petrino is orchestrating the Cards' offense. (The ACC blog
caught up with Christian
for a Q&A on Monday.)
Braxton Deaver, Duke:
One of the conference's best tight ends in 2013, Deaver was one of the many bright spots for the Blue Devils' offense. He caught 46 passes for 600 yards and four touchdowns.
Ben Koyack, Notre Dame:
The Fighting Irish have produced several elite tight ends, and the hope is Koyack will be the next in line. He was not utilized much early on in 2013 but will be counted on more this fall with
Troy Niklas
off to the NFL.
Nick O'Leary, Florida State:
One of the country's best tight ends, O'Leary should be one of
Jameis Winston
's favorite targets this fall. O'Leary had the opportunity to leave school after last season, and he could be rewarded with a second national championship and a Mackey Award this fall.
Clive Walford, Miami:
Much like Notre Dame, the Hurricanes have a fine tradition at tight end, and Walford is coming off a very solid season. He will need to be a security blanket for the Canes' quarterback, whoever that may be.
Reaction:
The ACC is not loaded at tight end, but there are certainly more than a few players who could push for a spot on an All-America team by season's end. O'Leary is likely the best of the bunch and had an outside opportunity of being a first-round pick if he had entered the NFL draft. If he can stay on the field -- he's escaped serious injury twice now from motorcycle accidents -- he is poised for a standout senior campaign. Winston lost top targets
Kelvin Benjamin
and
Kenny Shaw
to the NFL, and O'Leary figures to be Winston's security blanket on third downs and in the red zone. Keep an eye on Deaver as a player who could continue making the cut as the list is pared down throughout the season.
[+] Enlarge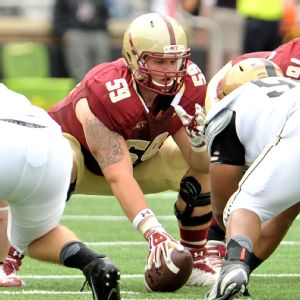 Michael Tureski/Icon SMIVeteran Boston College center Andy Gallik is key to the Eagles being able to play their style.
Rimington Trophy
Andy Gallik, Boston College:
A three-year starter, Gallik is the glue to a team predicated on playing smash-mouth football under former offensive line coach Steve Addazio. Gallik has started 25 straight games for the Eagles.
Artie Rowell, Pittsburgh:
Rowell started all 13 games for the Panthers last season and was recognized for his performance in the bowl game against Bowling Green.
James Conner
set a Pitt record for rushing yards in a bowl game that night, due largely to Rowell.
Austin Barron, Florida State:
Barron has starting experience, but he spent most of last season as a reserve to 2013 Rimington winner
Bryan Stork
. Barron has four experienced starters surrounding him on the offensive line, which should allow him to shine in his first year as the full-time starter.
Jake Smith, Louisville:
Smith could end up playing right guard, where he started earlier in his career, but he is coming off a junior season in which he started at center.
Matt Skura, Duke:
He played nearly every snap at center for the Blue Devils last season and was the linchpin of an offensive line that allowed just 17 sacks in 14 games.
Nick Martin, Notre Dame:
The starter last year until a late-season knee injury cost him the final few games, Martin is poised for a solid senior season. The Irish were second in the country in 2013 in sacks allowed. Martin is the younger brother of
Zack Martin
, a first-round pick in this year's NFL draft.
Ryan Norton, Clemson:
A starter in all 13 games for Clemson a season ago, Norton was the ACC Co-Offensive Lineman of the Week in his first start against Georgia in last year's opener.
Shane McDermott, Miami:
A third-team All-ACC selection in 2013, McDermott has played in all but four games since his redshirt freshman season at Miami.
Reaction:
While more than half the centers in FBS are on this list, the ACC representatives all deserve to be on here for the most part. All have starting experience and in several cases have been commanding the offensive line for multiple seasons. Martin was hurt late in the season, but Irish coach Brian Kelly expects him to be ready for the season opener after missing spring practices. Barron has the least amount of starting experience and probably does not make the list if it were a little more exclusive, but he played admirably in Stork's stead last season and could be recognized in the same manner as Stork by the end of the season.
April, 23, 2014
Apr 23
4:00
PM ET
The ACC coaches participated in a teleconference Wednesday to wrap up spring practices, as Virginia Tech and Wake Forest will close out spring in the ACC this weekend with their respective spring games. Here are a few quick highlights from the call:

Eight is enough
As the ACC prepares to debate an eight- or nine-game league schedule at its spring meetings next month in Amelia Island, Fla., the coaches "
lean heavily toward eight" conference games
, according to Duke coach David Cutcliffe, who is chair of the ACC coaches committee.
"I think it's going to be debated, I will say that," Cutcliffe said. "I wouldn't be being truthful if I didn't tell you the coaches lean heavily towards eight. That's where we are. … From a coaching standpoint, we're real happy with eight games. I think there's a lot of discussions we're going to have with the ADs that could be interesting."
The athletic directors, though, have the final vote, and the last time this topic was debated, the coaches were overruled in favor of nine games.
[+] Enlarge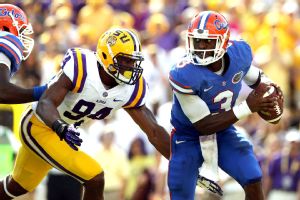 Chuck Cook/USA TODAY SportsTyler Murphy's experience in the SEC was a selling point for Boston College coach Steve Addazio.
Boston College names starting QB
Florida graduate transfer quarterback
Tyler Murphy
has officially earned the starting job at Boston College, coach Steve Addazio said. It shouldn't come as a surprise, considering Murphy's history with Addazio and the fact that he was the only quarterback on the roster who has ever started a college game. Murphy started six games last year for the Gators in place of injured starter
Jeff Driskel
.
Addazio praised Murphy's pocket presence this spring, said he throws the ball well and is dynamic with his feet.
"You're talking about a guy who's been in the heat of the battle," Addazio said. "He's a veteran, experienced guy, who's been a starter in the SEC. My familiarity with him, I recruited him, I coached him, I knew him well. He's pretty comfortable in terms of our program, our weight room, the way we practice, our terminology. It's not a foreign animal to him. He had a great spring."

Syracuse kicker suspended
Syracuse coach Scott Shafer said kicker
Ryan Norton
was suspended for the spring game because of a violation of team rules. Norton should rejoin the team in the summer, and Shafer praised his player for "taking ownership." Shafer declined to say what caused the suspension.
"It's between Ryan and I, but he'll be back with us shortly and we look forward to that," Shafer said.
Norton served a one-game suspension last season after he was arrested and charged with resisting arrest and underage drinking.

Virginia quarterback still unknown
Virginia coach Mike London said he'll release a post-spring depth chart by the end of next week, and he's currently in the process of having exit interviews with every player. He said he still has two quarterbacks to interview before he names his starter.
David Watford
has been competing with
Greyson Lambert
and
Matt Johns
this spring for the top job.
"They'll know it before anyone else knows it," London said. "I think that's the right way to do it."
November, 13, 2013
11/13/13
12:00
PM ET
Not a bad Tuesday night of hoops, huh?
October, 31, 2013
10/31/13
2:00
PM ET

After he was arrested last week and charged with resisting arrest and underage drinking, Syracuse kicker
Ryan Norton
has been suspended for the Wake Forest game on Saturday, leaving place-kicking duties to two punters.
Coach Scott Shafer told local reporters on Thursday that
Riley Dixon
and
Jonathan Fisher
will handle the kicking. Neither has attempted a field goal in college.
For more on the story,
click here
.
August, 22, 2013
8/22/13
10:30
AM ET
Today we check in with Clemson,
the preseason choice
to win the ACC.
Clemson Tigers
Coach:
Dabo Swinney (40-21 overall, 40-21 at Clemson)
2012 record:
11-2 (7-1 ACC)
Key losses:
RB Andre Ellington, C Dalton Freeman, WR DeAndre Hopkins, DE Malliciah Goodman, LB Jonathan Willard
Key returnees:
QB
Tajh Boyd
, WR
Sammy Watkins
, DE
Vic Beasley
, LB
Spencer Shuey
Newcomer to watch:
Ryan Norton
. The sophomore center takes over for Freeman, who started 49 games in his career and is one of the best offensive linemen in school history. Also keep an eye on freshman LB
Ben Boulware
, who has turned heads this fall and will be counted on as a game-changer on special teams.
Biggest games in 2013:
Georgia, Aug. 31; Florida State, Oct. 19; at South Carolina, Nov. 30.
[+] Enlarge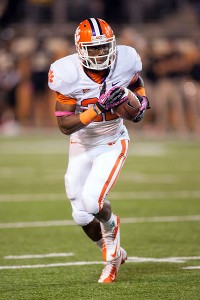 Jeremy Brevard/USA TODAY SportsClemson will be counting on Roderick McDowell to produce as the likely starting running back.
Biggest question mark heading into 2013:
The secondary remains a concern heading into the season, thanks to nagging injuries that have hampered some veterans and curtailed some potential impact freshmen.
Garry Peters
and
Darius Robinson
have missed time, along with freshmen
Mackensie Alexander
,
Jayron Kearse
and
Adrian Baker
. The Tigers were hoping to count on Alexander and Kearse but will now wait and see how quickly they can recover from their respective injuries.
Forecast:
Clemson starts the season ranked No. 8, the highest of any ACC team. The biggest reason why is the return of QB Tajh Boyd and WR Sammy Watkins on one of the most potent offenses in the nation. They are two of the best players in the ACC -- the two best if you ask some. But if Clemson is going to win another ACC championship, it is going to need to find answers at two spots -- running back and on defense.
All-ACC running back Andre Ellington is gone. Clemson is opting to go with a running back by committee approach this season, with
Roderick McDowell
listed as the starter. A senior, McDowell has waited his entire career for this opportunity, and he is ready. But
Zac Brooks
and
D.J. Howard
will also be in the mix and will be counted on heavily. If this trio, along with perhaps one of the incoming freshmen, can replicate Ellington's production, the Tigers should thrive.
As for the defense, everybody is expecting a big jump in Year 2 under coordinator Brent Venables. The front seven should be better, especially with five starters returning. Vic Beasley enters the starting lineup at defensive end after leading the team with eight sacks last year. He says he is ready to be an every-down player, and he has been impressive since the spring. The opener against Georgia provides a huge first test because the Bulldogs bring a powerful run game. The big question, as mentioned above, is the secondary. Young players will be relied upon, without question. The ACC has become a more high-tempo league, so Clemson needs this group to solidify in a hurry.
The ACC schedule plays to Clemson's advantage; the Tigers get Atlantic Division nemesis Florida State at home. They get Georgia Tech at home, too (on a Thursday night). Virginia Tech is off the schedule; Syracuse is on. But first is the big one at home against Georgia. A win would solidify national championship hopes.
July, 2, 2013
7/02/13
9:00
AM ET
Clemson quarterback
Tajh Boyd
is away from his Tigers teammates right now, serving as a counselor at the Elite 11 camp in Beaverton, Ore.
Boyd jumped at the opportunity to help out the
next generation of quarterbacks
. After all, he was among the Elite 11 group back in 2008. His selection there should come as no surprise. Trent Dilfer, the man in charge of the program, says the counselors are there to "share their life stories, to be examples in the way they engage the kids, with how they compete."
[+] Enlarge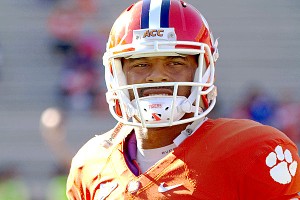 Joshua S. Kelly/US Presswire"It's all about getting the chemistry in place on my team," Tajh Boyd said, "making sure that we don't have any division out there."
The Heisman Trophy hopeful fits the bill. He has set an example for his teammates back home, as well, as an unquestioned leader. To that end, Boyd has placed a priority on building chemistry this summer, knowing full well his team has an opportunity to achieve something special.
While in Oregon, he told ESPN Recruiting Nation reporter Mitch Sherman, "It's all about getting the chemistry in place on my team, making sure that we don't have any division out there. It's been good. I know the biggest thing with me right now is chemistry with my O-linemen and with my receivers. So any time I get the chance, I'll take the guys bowling. They break my pockets when we go out to eat, so I stopped that."
Boyd, never afraid to crack a joke, hits the mark. Chemistry is one of those intangible aspects that is critical to the success of any team. Good chemistry helps teams thrive; bad chemistry, and teams fall apart. Secondly, chemistry between a quarterback and his line, and a quarterback and his receivers is critically important.
Going into this season, Boyd has to develop that chemistry with a new starting center, and a new outside receiver. We all saw last season how Boyd and DeAndre Hopkins were always on the same page.
Sammy Watkins
enters that role this year. Will their chemistry match the Boyd-Hopkins connection? How will
Charone Peake
,
Adam Humphries
and
Martavis Bryant
develop their chemistry with Boyd?
"Those guys have to step up in their role and take advantage of it," Boyd told Sherman. "It's exciting. They're excited about it. Right now, it's all about putting the work in. What you put in is what you get out of it. I know it's cliché, but it's true."
And how will Boyd do with veteran Dalton Freeman gone and sophomore
Ryan Norton
taking over at center?
Boyd is smart enough to know that he needs the answers to those questions before the season begins.
September, 19, 2012
9/19/12
2:00
PM ET
Heading into this season, the offensive lines at both Florida State and Clemson were two of the biggest question marks in the ACC. The Tigers had to replace three starters up front, and the Seminoles were coming off a Champs Sports Bowl win against Notre Dame in which four true freshmen were in the starting lineup.
You'd never know it by looking at the stats so far this season, as deceptive as some could be.
As No. 10 Clemson and No. 4 Florida State prepare to face each other in Tallahassee on Saturday, both offensive lines have shown significant improvement through the first three games of the season. Florida State is No. 2 in the country in scoring offense, racking up its stats against two FCS opponents and an overmatched Wake Forest team. Clemson is No. 23 in the country in scoring offense, with its most impressive win coming against Auburn. Both Clemson and Florida State are allowing fewer than two sacks per game.
[+] Enlarge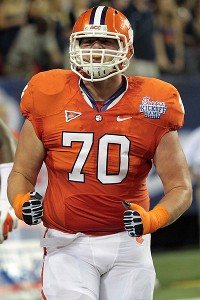 Cal Sport Media via AP ImagesGifford Timothy and Clemson's offensive line could hold the key to victory against Florida State.
Both groups, though, still have something to prove -- particularly at Clemson. The Tigers' offensive line will arguably get its biggest test of the season Saturday when it faces Florida State's defensive line. The Noles are tied for No. 10 in the country with 3.67 sacks per game. How Clemson fares up front could be the key to the entire game.
"It's going to be a tough challenge, no doubt about it," said Clemson coach Dabo Swinney. "But we're going to find out Saturday night one way or another."
Clemson's starting lineup against Auburn was
Dalton Freeman
,
David Beasley
,
Gifford Timothy
,
Brandon Thomas
and
Tyler Shatley
. Timothy was injured on the last offensive play of the game and missed the Ball State game. That opened the door for redshirt freshman
Shaq Anthony
to start and also play the first half against Furman.
Beasley was injured against Ball State, allowing
Kalon Davis
to play most of that game and all of the Furman game. Shatley was injured against Furman and missed the second half. Redshirt freshman
Ryan Norton
played the second half of that game.
Swinney said his offensive line was "pretty average" in last week's 41-7 win against Furman.
"Nothing great," he said, "just OK."
"They are a question mark; they're still a question mark," Swinney said. "I don't think that's changed. … We're a long ways away from being a great offensive line right now."
The good news for Clemson fans is that the starting lineup used against Auburn should be healthy and ready to play at Florida State. And the backups have now had some significant experience. Entering the FSU game, Clemson has eight different offensive linemen who have played at least 98 snaps.
Florida State's improved pass protection has been measurable. So far, the line has allowed three sacks in 194 snaps and 84 pass attempts. All three sacks, though, came against the best competition they've played -- a Wake Forest team that was missing one of its top defensive linemen in injured nose guard
Nikita Whitlock
.
It's still a foreshadowing of improvement since last season, when the Noles allowed 41 sacks in 820 offensive snaps, which amounts to one every 20 plays. Only eight teams in the nation yielded more sacks than FSU in 2011.
There's no question that FSU is also running the ball better. In 2011, the Seminoles produced just 112.2 rushing yards per game -- their lowest average since 2006 -- and managed 1,458 yards on the ground. Through three games the Noles are averaging 279 rushing yards.
The numbers are skewed because they've been racked up against unheralded FCS competition in Murray State and Savannah State, but FSU coach Jimbo Fisher said he likes what he has seen so far.
"I think they're very good players," Fisher said. "They're all very talented. It took a little bit of time to learn, and that's a position that's very hard to adapt to, and we loved them because of their size and athleticism. I think that's where you've got to control both lines of scrimmage -- that's where it's got to start.
"I've been very pleased with them, but I don't think we are close to where we can be," Fisher said. "I think each challenge is bigger and bigger each week."
This one, of course, might be the biggest of the season.