May, 27, 2014
5/27/14
12:00
PM ET
Congratulations to Duke men's lacrosse on consecutive NCAA titles and to the Blue Devils' women's golf team on its sixth championship.
August, 23, 2013
8/23/13
10:30
AM ET
We're wrapping up our preseason previews with Boston College, which is looking to bounce back from a dismal 2012 with a new coaching staff and renewed optimism.
Boston College Eagles
Coach
: Steve Addazio (13-11, first season at BC)
2012 record
: 2-10 (1-7 ACC)
Key losses
: WR Johnathan Coleman, OT Emmett Cleary, OT John Wetzel, LB Nick Clancy, CB Jim Noel, P Gerald Levano
[+] Enlarge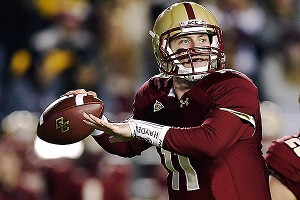 AP Photo/Winslow TownsonChase Rettig was sacked 36 times in 2012. Can the offensive line better protect the quarterback this season?
Key returnees
: QB
Chase Rettig
, WR
Alex Amidon
, RB
Andre Williams
, LB
Kevin Pierre-Louis
, LB
Steele Divitto
, S
Sean Sylvia
Newcomer to watch
: OT
Matt Patchan
. If there's a perfect example of the hope Addazio has brought with him to Boston College, it's Patchan. The talented left tackle transferred in from Florida -- Addazio's old stomping grounds as an assistant coach -- and immediately plugs into one of the Eagles' biggest areas of need. BC's line was awful last season, and attrition threatened to make the situation even worse. Enter Patchan, a former high school All-American and sixth-year senior who missed 2012 with a torn pec. He is fully healthy now and should contribute immediately.
Biggest games in 2013
: Sept. 14 at USC; Sept. 28 vs. Florida State; Oct. 12 at Clemson; Nov. 2 vs. Virginia Tech
Biggest question mark heading into 2013
: The offensive line was dismal for Boston College last season, and the only good news heading into 2013 is that it would be tough for things to get much worse. The Eagles ranked 106th nationally in sacks allowed per game last season, and they're losing both starting tackles for this year. Worse yet, BC was among the worst rushing teams in the country, ranking 119th out of 124 Football Bowl Subdivision teams in rushing yards per game. Only four teams in the nation managed fewer rushing touchdowns than BC's seven.
Forecast
: Addazio is a high-energy coach with an SEC pedigree, and his arrival at Boston College has at the very least injected some much-needed optimism for a program that not only missed out on the postseason for a second straight season in 2012, but did so in dismal fashion, winning just one game against an FBS foe.
But as bad as the numbers look from last year, Addazio hasn't inherited a program with a talent vacuum. Rettig established himself as a serviceable quarterback with some upside. His top target is Amidon, who is already an All-ACC performer. Add in some established talent on defense, including Pierre-Louis, Divitto and
Nate Freese
. BC returns eight of its top nine tacklers overall.
Still, all of Addazio's energy and all of the talent at the top of the depth chart can't mask some serious concerns at the line of scrimmage and on the bench. Boston College should be markedly more competitive than during the past two lost seasons under former coach Frank Spaziani, but the lack of depth in key areas will make it awfully tough for the Eagles to hold up over the course of a difficult schedule.
The bar isn't set high for Addazio, and it would be surprising if Boston College doesn't show signs of improvement. But the rebuilding project isn't likely to be a quick fix, and 2013 could be another long season in Chestnut Hill.
April, 8, 2013
4/08/13
2:00
PM ET
There was plenty of football this past weekend in the ACC. Here's a quick recap of everything that happened, according to each school's website or report that was emailed to the media:
VIRGINIA
The following information is according to Jeff White's report:
The Orange roster included the first-team defense, the Blue roster the first-team offense. Each quarterback saw time on both sides during the scrimmage, which the Orange won 18-15.
Redshirt sophomore quarterback David Watford entered the spring game atop the depth chart, followed by redshirt freshman Greyson Lambert and then redshirt junior Phillip Sims. Watford finished 5-for-10 for 55 yards. Lambert completed 21 of 36 passes for 248 yards and two touchdowns, and Sims was 8-for-18 for 89 yards.
Junior running back Clifton Richardson finished with 41 yards (on 11 carries), junior Kevin Parks with 20 yards (on 11 carries), junior Khalek Shepherd with 20 yards (on six carries) and redshirt freshman Kye Morgan with 18 yards (on 11 carries).
Led by Brent Urban (3.5), sophomore end Trent Corney (two) and redshirt freshman linebacker Mark Hall (two), the defenses were credited with 14 "sacks" Saturday.
MARYLAND
The Terps held a scrimmage at Middletown High School in Middletown, Md., Saturday.
Taking handoffs from quarterback Dustin Dailey, running back Joe Riddle rushed for more than 100 yards, including a 50-yard touchdown run.
MIAMI
The Hurricanes held a 90-minute scrimmage on Friday night that included goal-line and red zone scenarios, and two-minute drills, in front of 3,000 fans at Naples High School. The first-team offense went 60 plays and the second team had 55 plays.
Quarterbacks Stephen Morris, Ryan Williams and Gray Crow combined to throw five touchdown passes to three different receivers. The Canes were without receiver Phillip Dorsett, who was in Gainesville with the track team at the Florida Relays.
Dallas Crawford had two receiving touchdowns, while Rashawn Scott and Allen Hurns combined for three scores.
Anthony Chickillo, Tyriq McCord and Kelvin Cain led the defense with a sack each.
BOSTON COLLEGE
GEORGIA TECH
WAKE FOREST
The Deacs continued to emphasize takeaways at their scrimmage on Saturday.
According to the Winston-Salem Journal, linebacker Mike Olson was sidelined while recovering from shoulder surgery. Nose tackle Nikita Whitlock missed the scrimmage because he was back home in Wylie, Texas, attending the funeral of a member of his family. Cornerback Merrill Noel was in uniform, but did not play because of a sore shoulder.
October, 12, 2012
10/12/12
10:00
AM ET
Thanks as always to the sports information directors throughout the league, and ESPN's Stats & Information department for this week's notes. Did you know …
BOSTON COLLEGE:
Through five games, Boston College's opponents have run 428 offensive plays.
Nick Clancy
,
Kevin Pierre-Louis
,
Steele Divitto
and
Sean Sylvia
represent four of the top five tacklers in the ACC. Clancy leads the nation in tackles per game with 13.6. Pierre-Louis ranks second in the ACC -- and ninth in the nation -- with an average of 11 tackles per game, while Divitto ranks third in the conference and 16th in the nation with an average of 10.4. Sylvia, a defensive back, ranks fifth in the conference and 25th in the nation, with an average of 9.6 tackles per game.
DUKE:
Of the 17 previous Duke teams that have started 5-1 or better, none finished with a record under .500. ... Duke has already matched the school record for most games with 34 or more points (5), equaling the mark set in both 1943 and 1989.
FLORIDA STATE:
EJ Manuel
completed 5 of 6 passes with a touchdown against NC State's blitz in the first half. He was 0-of-6 against the blitz in the second half. All four of Manuel's sacks happened when NC State sent five or more pass-rushers.
MARYLAND:
The Terps have won two of the past three meetings against rival Virginia in Charlottesville. The road team has won five of the past six meetings.
MIAMI:
Miami has trailed in the time of possession battle in seven consecutive games, dating to the 2011 season finale against Boston College. In fact, Miami has won the time of possession battle in only six of 24 quarters this season. The Hurricanes have trailed in seven consecutive quarters.
NORTH CAROLINA:
Giovani Bernard
's 9.1-yard rushing average leads the nation, but he is just shy of the qualifying mark for the official NCAA statistics. To qualify, you must play in 75 percent of your team's games. His 262 rushing yards against Virginia Tech is the second-best individual performance in the country this season.
VIRGINIA:
UVa has scored 14 total points in the third quarter this season and has been shut out in the third quarter four games in a row. The last time UVa scored in the third quarter was when it started the second half with an 11-play, 77-yard TD drive against Penn State. UVa also scored a TD against Richmond in the opener in the third quarter, making UVa 2-0 when scoring third-quarter points, and 0-4 when it does not. Since the Penn State third quarter TD, UVa has been outscored in the third quarter, 48-0.
VIRGINIA TECH:
Virginia Tech enters Saturday's game against Duke needing one win for 200 victories at Lane Stadium. The Hokies have compiled a record of 199-69-6 in 274 games at Lane Stadium, which opened in 1964.
August, 24, 2011
8/24/11
7:22
PM ET
By
ESPN.com staff
| ESPN.com
Here's a quick recap of Boston College's fourth and final preseason scrimmage, according to the team's practice report:

Offensive highlights:
Defensive highlights:
Junior Hampton Hughes, who switched from wide receiver to defensive back just five days prior to the scrimmage, had two pass breakups and one interception.
Freshman DB Manny Asprilla led all defensive players with five tackles and one pass breakup -- a long pass attempt that Asprilla deflected into redshirt freshman Sean Sylvia's hands for an interception. Redshirt freshman Dominique Williams and sophomore Jim Noel also recorded interceptions.
LBs Kevin Pierre-Louis and Steele Devitto each registered one sack.
Special teams highlights:
Sophomore PK Nate Freese hit a 41-yard field goal attempt to end the scrimmage.
Senior Ryan Quigley punted four times, averaging 40 yards per punt, while his lone field-goal attempt -- of 42 yards -- missed.
August, 15, 2011
8/15/11
9:00
AM ET
It was a busy weekend in the ACC. Here's a look back at the highlights from the scrimmages, according to the sports information departments of the teams that provided reports:

BOSTON COLLEGE
Coach Frank Spaziani told reporters after the 70-minute scrimmage that there were some good things, but "it's like a jigsaw puzzle with all the pieces in the box; they're not connected yet."
Offensive highlights:
Defensive highlights:
Linebacker Nick Clancy and defensive back Sean Sylvia led the team with four tackles each.
Sophomore linebacker Jake Sinkovec had one interception and one fumble recovery.

CLEMSON
Quarterback
Tajh Boyd
had an impressive performance, as he completed 10 of 12 passes for 168 yards and a touchdown to highlight the new offense in Clemson's 75-play scrimmage in Memorial Stadium on Saturday morning.
Offensive highlights:
Defensive highlights
:
The first-team defense did not allow a scoring drive.
Martin Jenkins led the team with seven tackles, including a tackle for loss.
Corico Hawkins had five tackles and a fumble recovery, while freshman defensive end Corey Crawford had five stops, including a sack.
Special teams highlights:
Clemson's three kickers, Chandler Catanzaro, Ammon Lakip and Brian Symmes were a combined 16-of-16 on the day in field goal attempts and extra points against a live rush.
Notable:
Three Tigers missed the scrimmage because they were going through graduation exercises across the street from Memorial Stadium in Littlejohn Coliseum. Starting offensive tackle Landon Walker, starting safety Rashard Hall and reserve defensive end Kourtnei Brown all graduated from Clemson on Saturday. It was especially noteworthy for Hall, who has been at Clemson just three years. He joins Nick Eason (now in the NFL with the Arizona Cardinals) as the only scholarship football players to graduate with two years of athletic eligibility remaining.
Four players missed the scrimmage due to injury. Those players were defensive back Xavier Brewer (sprained foot), defensive back Garry Peters (bruised calf), Andre Branch (head injury), DeShawn Williams (sprained ankle).

GEORGIA TECH
Georgia Tech coach Paul Johnson had mixed reviews after the Yellow Jackets' first scrimmage, which ran 90 minutes inside Bobby Dodd Stadium on Saturday morning.
"It was like a lot of first scrimmages, there were way too many balls on the ground and way too many penalties," Johnson said. "But we hit some big plays. When you play against each other there's positives and negatives on both sides. It's a starting place and we'll look at it and try to make some improvements."
Offensive highlights:
While no official statistics were kept, quarterback Tevin Washington passed for well over 100 yards, including a 63-yarder to senior A-back Roddy Jones. Redshirt freshman quarterback Synjyn Days threw the only touchdown of the day, to true freshman Jeff Greene.
Greene ran with the first unit Saturday as most of the veterans -- junior Stephen Hill, senior Tyler Melton, sophomore Jeremy Moore and junior Daniel McKayhan -- all sat out with injuries.
Washington scored the only other touchdown Saturday on a 1-yard QB keeper.
Defensive highlights:
Defensive end Emmanuel Dieke had a sack, true freshman Jamal Golden intercepted a Vad Lee pass, and Steven Sylvester and Isaiah Johnson both recovered fumbles.
Special teams highlights:
Sophomore Justin Moore booted a 45-yard field goal on his only attempt.
David Scully's 52-yard attempt was long enough, but just wide left.

MIAMI
The most important news out of Miami's first scrimmage was that quarterbacks
Jacory Harris
and
Stephen Morris
combined for five touchdown passes and only one interception. That sounds like improvement. Miami's quarterbacks combined for 407 passing yards on 38-of-52 passing for six touchdowns and only one interception.
Offensive highlights:
Receiver Tommy Streeter had the best offensive day for the Canes, catching five passes for 71 yards and three touchdowns, two of which came from Harris.
Lamar Miller had runs of 16 and 31 yards on the opening drive.
Defensive highlights:
Senior defensive back JoJo Nicolas led all defenders with eight tackles (six solo), with two tackles for loss.
Ramon Buchanan and freshman Gionni Paul and each had six total tackles, with Paul also recording a tackle for loss.
The defense totaled eight tackles behind the line of scrimmage for a total loss of 29 yards

VIRGINIA TECH
The Hokies' offense was the highlight, but what does that mean for the defense? Coach Frank Beamer pointed out that there were some long plays allowed, as the offense racked up 398 yards of total offense in the 78-play scrimmage at Lane Stadium on Saturday afternoon. The touchdowns came against Tech's second- or third-team defense, though, so the jury is still out.
"I thought it was a good first scrimmage -- better than most," Beamer said, according to the team's scrimmage report. "You take into consideration that you're trying to get everyone some work, people who don't know quite what they're doing, and that makes things a little ragged. I thought overall, though, it was a sharp scrimmage. The quarterbacks made some nice plays and Wilson got a couple of long plays against the defense, and we need to see what's going on there. Overall, the effort was good and the play was good."
Offensive highlights:
Backup quarterback Mark Leal led the quarterbacks with 116 yards passing, completing 6 of 13. He also threw an interception. Beamer said Leal is No. 2 on the depth chart behind Logan Thomas. Ju-Ju Clayton, who has dropped to No. 3 on the depth chart, completed 6 of 10 for 51 yards, while starter Thomas completed 4 of 8 for 79 yards, with an interception, in limited action.
Tailback David Wilson scored against the Hokies' second-team defense on a 22-yard run. Wilson led all rushers with 57 yards on five carries. Freshman Michael Holmes added 54 yards rushing on a game-high 11 carries.
Defensive highlights:
Freshman tackle Luther Maddy led the team with eight tackles, including two for a loss, and a sack. Freshman Michael Cole added six tackles, while Telvion Clark and Jack Tyler each finished with four.
Barquell Rivers had three tackles and an interception.
Jayron Hosley and freshman Ronny Vandyke also had interceptions. Hosley intercepted a Logan Thomas pass, while Vandyke intercepted a Trey Gresh attempt.
Special teams highlights:
The kickers connected on 5-of-6 attempts. Cody Journell hit from 35, 22 and 35 yards, while Justin Myer drilled a 52-yarder and a 28-yarder. "Cody's kicking extremely well," Beamer said. "Myer has a load of potential, and he needs to win some of the kicking contests during the week. That shows consistency, and that's where he is right now. Cody is usually winning it or right in the running at the end."