February, 26, 2015
Feb 26
2:00
PM ET
We're still 26 long weeks away from the start of the 2015 season, but there promises to be plenty of twists and turns for ACC teams before the action kicks off. While some of the drama will come as a surprise, there are a number of key figures around the ACC that are already big stories. With that in mind, we're
counting down the 25 most intriguing figures
in the conference this offseason — from players to coaches to administrators — and digging into the impact they might make on how 2015 unfolds once the games finally begin. First up, numbers 6 through 10.
6. Dalvin Cook
Role:
Running back, Florida State
[+] Enlarge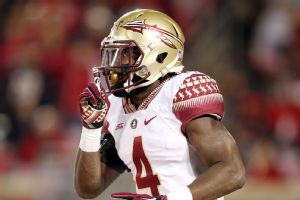 Andy Lyons/Getty ImagesDespite spending half the season as a backup, Dalvin Cook finished his true freshman season with 1,008 yards.
Intrigue:
There's no doubting Cook's talent. Despite playing a supporting role through half the season, he topped 1,000 rushing yards as a true freshman and came up with one big play after another in close games when the Seminoles needed him most. But the final impression of Cook for the 2014 season was an ugly one. He played well in the Rose Bowl, but he fumbled twice in the second half -- both on plays that would've been first downs -- and that led to FSU's undoing. Now he returns hoping to erase those bad memories, and he'll have to do it as the Noles' offensive leader now that
Jameis Winston
,
Rashad Greene
and four-fifths of the offensive line have moved on.
Possible impact:
There's a long history across the sports landscape of memorably bad plays undermining an entire career, but Cook is too young, too tough and too talented to allow that to happen. The bigger question is whether Cook can find as much running room behind a revamped line without the downfield threat of Winston at quarterback. Defenses will be focused on Cook early in the year, but he'll still need to find some running lanes while a new quarterback gets comfortable.
7. Frank Beamer
Role:
Head coach, Virginia Tech
Intrigue:
Beamer is an institution in Blacksburg, but after a third straight disappointing season, there's a hefty contingent of the fan base wondering if it's time to make a change. AD Whit Babcock has certainly considered a similar possibility, issuing a joint statement with Beamer after the season promising improvement. Beamer has plenty of young talent to work with, the pressure is on like never before to maximize their talents.
Possible impact:
Virginia Tech only lost one game by more than a touchdown last year in spite of all the youth on offense, and that has to be a cause for optimism for the Hokies. If
Cam Phillips
and
Isaiah Ford
continue to grow,
Michael Brewer
takes a step forward, the running game comes together -- if all those things can happen, Virginia Tech has a chance to win the ACC. It's a lot of "ifs" though, which means there's a ton riding on Beamer's ability to bring the team together this offseason.
8. Brad Kaaya
Role:
Quarterback, Miami
Intrigue:
Kaaya was thrown to the wolves as a true freshman, and he acclimated himself nicely. He led the ACC in yards-per-attempt and passer rating, and he's certainly aimed at improving in 2015. But while last year was a learning season for him, this year, Kaaya is the focal point of Miami's offense.
Duke Johnson
,
Clive Walford
and
Phillip Dorsett
are all gone, which means Kaaya will go from student to mentor on offense, despite this being his first spring practice as a college quarterback.
Possible impact:
Kaaya's skill set is tremendous, and he could be the ACC's best pocket passer in 2015. But he's got to pick up a lot of slack with so much talent departing around him. He's already shown a willingness to take on a leadership role, and he's spoken out about some of the problems Miami faced in the locker room last year. And as much as Miami needs a quarterback to star on the field, it may need some locker room stability even more.
9. Pat Narduzzi
Role:
Head coach, Pitt
Intrigue:
Narduzzi had been rumored for head-coaching jobs for years after building Michigan State's defense into a juggernaut, and Pitt looks to have hit a home run by nabbing him after Paul Chryst bolted for Wisconsin. Narduzzi inherits plenty of talent on offense, but Pitt's problems were on D, and all eyes will be on that side of the ball as he looks to build another winner.
Possible impact:
Last year, Pitt scored at least 28 points in each of its final six games, and it still lost four of them. For perspective, only four other Power 5 teams lost more such games all season. In other words, the D is a huge concern for the Panthers, and Narduzzi has his work cut out for him. It needs to start with the pass rush. Pitt finished 105th nationally in sacks last season, while Narduzzi's Michigan State team finished eighth.
10. Bobby Petrino
Role:
Head coach, Louisville
Intrigue:
Year 1 of Petrino's return went relatively well, but the task gets tougher now. He's got a trio of QBs who could start, but none that's a definitive call. His defense was dominant last year, but he's lost a number of Charlie Strong's holdovers. Gone is superstar receiver
DeVante Parker
. In are a host of transfers that Petrino has been willing to gamble on after they slipped up in other locations. And through it all, there are still plenty of people simply waiting to see Petrino fail.
Possible impact:
Last year, Petrino took over a team that had lost just three games in the past two years and had ample talent on the roster. He succeeded with that talent. This year, things are different. This isn't Strong's team anymore. It's Petrino's, and he has a long history of winning, too. Still, he's gambled on transfers -- and it's a bet that could pay off big or it could blow up in his face if those players --
Josh Harvey-Clemons
,
Shaq Wiggins
,
Devonte Fields
and others -- haven't learned from past mistakes.
December, 15, 2014
12/15/14
2:10
PM ET
Todd Grantham said he has not communicated with his former co-workers at Georgia in the eight days since learning that his new team, Louisville, will face the Bulldogs in the Dec. 30 Belk Bowl.
On a Monday conversation with reporters, the first-year Louisville defensive coordinator downplayed any competitive advantage he might have gleaned from practicing against most of the Bulldogs' players over the previous four seasons as a Mark Richt assistant.
"It still gets down to getting off blocks, tackling people, winning one-on-one matchups on both sides of the ball, so I don't think that'll play as big a factor as you guys will make it out to be," Grantham said. "I think it gets down to just playing football. Obviously they're a talented team. They're one of the best offenses in the country, so we know we've got to play well and be ready for a big challenge."
[+] Enlarge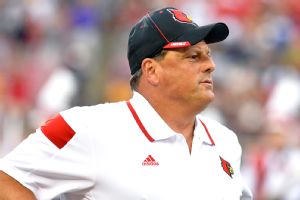 AP Photo/Timothy D. EasleyTodd Grantham's Louisville defense leads the nation in interceptions and is tied for seventh in sacks.
A veteran assistant like Grantham has plenty of experience in situations like this, coaching against friends, former co-workers or ex-players several times each season. While he understands the intrigue surrounding his coaching against a program where he was on staff less than a year ago, Grantham said it doesn't add extra juice to the bowl game from his perspective.
"I've got a lot of respect for the people there -- both the coaches and the players," Grantham said. "This isn't the first time that a coach has faced a team that he was coaching the year before. It's part of the business. We've had a great season. We went 9-3 and it's a chance for us to send our seniors out the right way because they really did believe in our system when we came here."
That they did. Former Louisville coach Charlie Strong left a strong defensive identity behind when he left for Texas after last season, and the Cardinals have thrived in the first season under Grantham's leadership. Despite losing safety
Calvin Pryor
and defensive end
Marcus Smith
to the first round of the NFL draft, Louisville still ranks sixth nationally in total defense, allowing 293.3 yards per game.
Further, the Cardinals lead the nation in interceptions (25), rank fourth in third-down defense (28.2 percent) and are tied for seventh in sacks (3.25 per game). They're in the top 20 in turnovers gained (T12, 28), scoring defense (18th, 20.5 points per game) and red zone defense (T19, 27 opponent scores in 36 red zone possessions).
Not bad for a first season in a new conference -- and Grantham said it's only the tip of the iceberg.
"Our main focus and vision is to win the ACC and compete for a national title, and after one year here and the recruiting class we're having, I'm more convinced than ever that we can reach that goal," Grantham said.
That sounds very much like the sales pitch that Grantham used to make while wearing Georgia's red and black. Replace ACC with SEC and insert Florida instead of Florida State as the opponent he has circled as the roadblock standing between his team and the championships it wants to win.
Grantham's tenure at Georgia ended with a bit of a flop -- the young Bulldogs surrendered 29 points and 375.5 yards per game last season -- as fans and media questioned his job security throughout the 2013 season.
"We obviously had a really young team last year and we kind of faced some veteran offenses, some veteran quarterbacks, and because of that, we had to take some shots with those guys, but I think they got better for it," Grantham recalled. "They were able to mature and I think that's one of the reasons they're able to have some success right now."
Two of those young players, cornerback
Shaq Wiggins
and safety
Josh Harvey-Clemons
, followed Grantham to Louisville and sat out this season as transfers. Grantham credited the former Bulldogs for their work on the scout team and said he expects them to compete for starting jobs in 2015.
As for Georgia, Grantham said he remains proud of what the program accomplished in his four seasons there -- a time where the Bulldogs won SEC East titles in 2011 and 2012 and dominated rivals Florida, Georgia Tech, Auburn and Tennessee with an 11-1 record in his final three seasons.
That's what Grantham said he remembers about his Georgia tenure, not the last season where he came under fire.
"I've always known I was a good coach in what I was doing," Grantham said. "I think if you go back and look at the changes we were able to establish and make at the University of Georgia in my time there, we were able to win games, we were able to put, really, Georgia back on the map from being relevant."
August, 29, 2014
8/29/14
1:00
PM ET
There's
Shaq Mason
and
Shaq Lawson
.
Shaquille Powell
and
Shaq Wiggins
. There's even
Shakeel Rashad
.

Here a Shaq, there a Shaq, everywhere a Shaq Shaq.
Indeed, there has been a proliferation of Shaqs across the ACC and college football over the last few seasons thanks to
Shaquille O'Neal
.
What does basketball have to do with football? In this case, when O'Neal emerged as an NBA All-Star, his name started to become popular, too. In 1994, Shaquille was the 234th most popular name in the United States, according to the
Social Security names database
. Shaquille retained its popularity enough to earn a ranking in 1995 and 1996, too.
Mason was born in 1993, when O'Neal would have been going into his second year in the league with the Orlando Magic. The Georgia Tech guard confirms he was indeed named after Shaq Diesel.
"Every time I met a new person, they were always like, 'Were you named after Shaquille O'Neal?' Mason said. "But growing up, I was the only person around me named Shaquille. I didn't know any others until I got older."
Mason is the only Shaq in the ACC named to the preseason All-ACC team, but he is not the only standout at his position named Shaq across the country. Washington linebacker
Shaq Thompson
is a preseason All-American candidate; South Carolina's
Shaq Roland
is one of the better receivers in the SEC.
Back in ACC country, Shaquille Powell will start at running back for Duke on Saturday against Elon. Lawson is the primary backup to
Vic Beasley
at Clemson; Wiggins has to sit out this season after transferring to Louisville from Georgia. Though his name is spelled differently, let's count Rashad in here, too. Especially since one of his nicknames is "Shakinabox."
Maybe we can spell that "Shaqinabox" just for this exercise.
Naming babies after athletes is nothing new. The name Jordan also started
rising in popularity
when Michael Jordan became basketball king. So did the
name Peyton
, after
Peyton Manning
emerged at Tennessee and then as a perennial NFL All-Pro.
Makes you wonder whether we will see a new generation of
Jameises
in 18 years.
June, 4, 2014
6/04/14
4:00
PM ET
Louisville coach Bobby Petrino and his staff have the
SEC pedigree
. Now they are filling the roster with much of the same.
The Cardinals could potentially add a fourth SEC transfer to the mix. Safety
Tray Matthews
was
dismissed from Georgia
on Tuesday, then tweeted he would transfer to either Auburn or Louisville. If he chooses the Cards, he would join three former SEC players -- his old Georgia teammates
Shaq Wiggins
and
Josh Harvey-Clemons
, and former Texas A&M receiver
JaQuay Williams
.
[+] Enlarge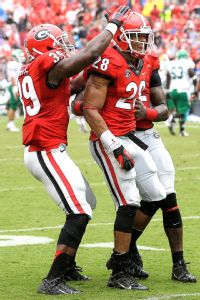 AP Photo/John BazemoreTray Matthews, shown celebrating after an interception last September, tweeted that he's considering a transfer to Louisville after he was dismissed from the Bulldogs.
None of these moves comes as a huge surprise. All three Georgia players played for current Louisville defensive coordinator Todd Grantham. The decision to hire Grantham away from the Bulldogs clearly has paid off in more ways than one. His presence has helped bring Wiggins and Harvey-Clemons to the Louisville defensive backfield, an area with a major lack of depth.
Should Matthews enter the fold, Louisville would be in line to start nearly the same defensive backfield in 2015 that Georgia featured when all three players were healthy this past season.
That would be absolutely huge for a Louisville team making the transition into the ACC. Petrino has made foolish mistakes in his past, but he is not a fool when it comes to understanding what it takes to win -- especially on his side of the division.
Atlantic Division front-runners Florida State and Clemson are the only two ACC schools consistently recruiting at an SEC level on a consistent basis. To compete with them, Louisville must do the same. Accepting these transfers is one way to start closing the talent gap that currently exists between the programs. Williams, Wiggins, Harvey-Clemons and Matthews were all four-star recruits out of high school. The three Georgia players were ranked in the ESPN 300 and were dubbed the Bulldogs' defensive backfield of the future.
To understand how much catching up Louisville has to do, consider this: During the last five years, Louisville signed a combined 24 four-star players. Seven were ranked in the ESPN 300. Those are great numbers for the old Big East/American. But in the same span, Florida State signed 70 four-star and five-star players, and 55 were ranked in the ESPN 300. Clemson signed 55 four-star or five-star players, and 34 were ranked on the ESPN 300. It's easy to see why these two schools have separated from the rest.
As successful as Louisville was in its final years in the Big East/American, playing in a tougher conference means you need better players. Looking for transfers -- even transfers with baggage -- is one way to do that.
There are some risks involved. Harvey-Clemons and Matthews were both dismissed from Georgia. Though no specific details were given about Matthews' departure, Harvey-Clemons served multiple suspensions for team rules violations, including the 2013 Capital One Bowl.
Petrino was criticized during his first go-around with Louisville for bringing in players with discipline problems. Athletic director Tom Jurich told one reporter in 2008 that the Cardinals
dismissed 21 players
after Petrino left for the Atlanta Falcons because of disciplinary issues.
So the track record is not sterling. But Petrino and Jurich have both vowed things would be different in the program this time. Given where Louisville stands as it heads into the ACC, Petrino has to be willing to take a few risks. At the same time, he also has to show he means business with the players who have been in trouble in the past. Second chances are one thing, but there needs to be a level of discipline in the program that was not there the first time Petrino was in charge.
None of the incoming players are eligible until 2015, when Petrino will have a much better idea of where his team stands in the ACC. If he can maximize their potential and keep them out of trouble, Louisville will be well on its way.
May, 23, 2014
5/23/14
12:00
PM ET
Enjoy the holiday weekend!
August, 30, 2013
8/30/13
8:00
AM ET
No. 5 Georgia and No. 8 Clemson will end a 10-year hiatus in their historic rivalry Saturday when the Bulldogs visit Death Valley n in one of the most intriguing matchups of opening weekend.
Let's examine five key elements involved in a game that could impact this season's BCS championship chase:
Big-play offenses:
Las Vegas is predicting two of the nation's most-prolific offenses to combine for around 70 points on Saturday night. And research provided by ESPN Stats and Information gives us plenty of reasons to see why many analysts expect a high-scoring game between the Bulldogs and Tigers.
Beyond simple scoring and total offense stats, they both ranked among the nation's top big-play offenses a season ago. Georgia ranked first nationally or tied for first in touchdowns of at least 20 yards (31), 30 yards (22) and 50 yards (12) and led the nation with an average of 7.09 yards per play.
Clemson, meanwhile, led the nation in completions of 25 yards or more (51) and touchdown passes that covered at least 25 yards (20). Clemson's
Tajh Boyd
had 11.2 percent of his passes go for completions of at least 25 yards, which was the highest of any quarterback in the country who attempted at least 150 passes.
Georgia quarterback
Aaron Murray
led the nation in yards per pass attempt (10.1) and percentage of attempts to gain 20 yards or more (16.1).
Both quarterbacks improved their accuracy on passes of 20-plus yards last season, with Murray completing 46 percent of such throws (an increase of 17.3 percent) and Boyd hitting on 51 percent (an increase of 14 percent).
Will Watkins step up?:
With Georgia breaking in a largely rebuilt secondary, this game would seem like a prime opportunity for Clemson's 2011 All-American receiver
Sammy Watkins
to exploit the Bulldogs' youth.
Watkins talked a big game about beating Georgia during the offseason, but will he reclaim his spot as the Tigers' top receiving target after losing that title last fall to DeAndre Hopkins. Watkins was third nationally in all-purpose yards (2,288) in 2011, but totaled fewer than half as many a year later (1,073). His touchdowns-per-touch ratio dropped from 1-in-9.6 to 1-in-17.8, as well.
Clemson quarterbacks targeted Watkins 44 fewer times (from 123 in 2011 to 79 last year) and his catch (82 to 57), receiving yardage (1,219 to 708) and touchdown (12 to three) totals all dropped severely.
Hopkins led the nation with 11 touchdown catches of 25-plus yards last season, so the Tigers desperately need Watkins to live up to the standard he set in 2011 and replace some of the departed star's production. Watkins is more than capable, posting 11 TD catches of 25-plus yards in his first two seasons as a Tiger.
Pound the run?:
An interesting subplot to Saturday's game is how Georgia offensive coordinator Mike Bobo will attack Clemson's defense. The Tigers also have some concerns in the secondary -- this on the heels of surrendering 7.32 yards per pass attempt a season ago. But conventional wisdom seems to dictate that Georgia uses its powerful running game -- paced by All-SEC pick
Todd Gurley
and
Keith Marshall
-- to extend drives and provide time for its defense to rest between series against Clemson's up-tempo offense.
Both players averaged better than 6 yards per carry last season, due in large part to their capabilities as home-run threats. They combined for 12 runs of 25-plus yards, eight of which went for touchdowns. Gurley alone had 27 carries that went at least 15 yards, which tied for fifth in the FBS.
Clemson ranked 57th nationally against the run last season, surrendering 155.92 yards per game on the ground in Brent Venables' first season as the Tigers' defensive coordinator. The Tigers were 71st against the pass at 240.3 ypg.
Murray on the big stage:
Fair or unfair, Saturday's game -- and the upcoming matchups with South Carolina and LSU in September -- will serve as another referendum on Murray's status as a big-game performer.
[+] Enlarge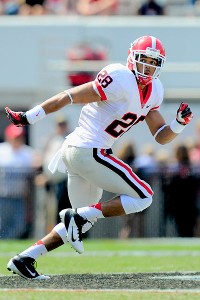 Dale Zanine/USA TODAY SportsDespite big-name offensive talent, Georgia-Clemson could come down to young defenders like Tray Matthews.
Georgia's quarterback caught plenty of guff over shortcomings against ranked opponents well into last season. He's 3-11 in his UGA career against teams that ended the season ranked in the AP Top 25 with 23 touchdowns versus 16 touchdowns against those teams. He's 25-2 with 72 touchdowns and 16 interceptions against teams that finished unranked.
The positive sign for Murray is that he has won two of his last three games against opponents that finished the season as a ranked team: Florida and Nebraska last season. Following an atrocious first half against Florida last season, Murray has tossed seven touchdowns against three interceptions in 10 quarters against ranked opponents, including the SEC championship game loss to Alabama.
Fresh-faced defenses:
Let's have some fun with numbers concerning Georgia and Clemson's defensive depth charts.
After losing 12 key players from last season's defense, Georgia defensive coordinator Todd Grantham appears set to trot out a large group of newbies. Of the 22 players listed on the Bulldogs' defensive two-deep in this week's game notes, 16 of them have never started a college game. Heck, nine of them, including seven true freshmen, have never PLAYED in a college game.
But a number of them -- including outside linebacker
Leonard Floyd
, defensive lineman
John Taylor
, safety
Tray Matthews
and cornerbacks
Brendan Langley
and
Shaq Wiggins
-- could play big roles on Saturday.
Meanwhile, Clemson has some experience issues of its own. Ten of the 22 players on the defensive two-deep have never started and three of them are freshmen. They're expected to be without injured freshman cornerback
Mackensie Alexander
, who at No. 4 in the 2013 ESPN 150 was Clemson's highest-rated signee in its most recent recruiting class.
It's easily conceivable that Saturday's outcome could be determined by which team's young defensive personnel acquits itself more effectively in its first game in leading roles.