May, 29, 2013
5/29/13
2:00
PM ET
Georgia Tech released its
post-spring depth chart
on Wednesday without a whole lot in the way of big surprises.
Nothing is set in stone of course, as the Jackets use this chart as a starting point for the start of practice come Aug. 1. Among the highlights:
Start with quarterback. Vad Lee is listed alone as the starter, but coach Paul Johnson has repeatedly talked about the possibility of playing both Lee and Justin Thomas this season.
As for the A-backs, Robert Godhigh and B.J. Bostic are listed with the first team, but you figure this position is going to see plenty of competition come fall practice. Deon Hill OR Tony Zenon are behind Godhigh; and Synjyn Days OR Dennis Andrews are listed behind Bostic.
The Jackets return four starters on the offensive line, though they did some shuffling with right guard Omoregie Uzzi gone. Shaquille Mason moves over to right guard, while Will Jackson is penciled in at left guard. Veterans Ray Beno, Jay Finch and Morgan Bailey return to the starting lineup.
Two spots do not have a definitive starter listed -- one defensive end spot has Emmanuel Dieke OR Chris Crenshaw; and middle linebacker has Jabari Hunt-Days OR Daniel Drummond. Hunt-Days missed spring with an injury, allowing Drummond to see an increased number of reps.
With Jemea Thomas moving to cornerback, Chris Milton is penciled in to start at safety.
Adam Gotsis and Euclid Cummings are listed as the new starters at defensive tackle.
Receiver Anthony Autry, offensive lineman Freddie Burden and nose tackle Shawn Green are all listed as injured.
One more note to keep in mind: the depth chart does not include incoming freshmen, who could make an impact at kicker and wide receiver.
March, 25, 2013
3/25/13
9:00
AM ET
Georgia Tech opens spring practice today with a new defensive coordinator in Ted Roof, and a new starter at quarterback in
Vad Lee
. I had a chance to catch up with coach Paul Johnson to ask about his expectations of both headed into the spring. Here is a little of what he had to say.
I have to start off by asking -- how are you enjoying Twitter so far?
PJ:
My daughter, she said, 'You'll be good at that, Dad, you need to do it.' And, 'I'm like, I don't know about that.' She goes, 'Oh just try it.' So it's been interesting.
What is the No. 1 thing you want to see this spring out of your defense as it starts to get adjusted to playing a different scheme?
PJ:
It's the same regardless of scheme. You want guys that can play fast, play hard and understand what they're doing. The scheme is there to help them. We try to work the scheme around them rather than trying to fit them into the scheme. And I think our guys are excited about it. Ted's a fiery guy. He's going to have a lot of passion, a lot of energy and I think they're looking forward to that. And it's not that big of a change from what we did the last half of the season.
You guys showed major improvement the second half. Is the goal to build on some of what you were able to do?
PJ:
Yeah I think the second half we simplified things and tried to let guys play fast and understand what they were doing and basically we played a lot of 4-3 tenets the last six games. We got away from the 3-4 a little bit.
Jeremiah Attaochu is going to be playing more at defensive end. What are your hopes for him in that role?
PJ:
That's what he played last year. Very seldom did he drop. He was more our rush guy. We played a field boundary guy and it's going to be very similar in what we're doing now, so we'll try to play to his attributes and his strong suits. He's a really good pass-rusher and we'll try to utilize him in that area and line him up on some tight ends and some of that.
[+] Enlarge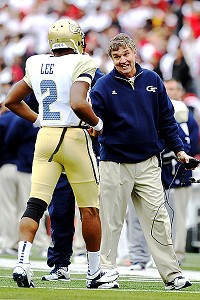 Mitch Stringer/USA TODAY SportsGeorgia Tech's Vad Lee is in a QB competition this spring, but coach Paul Johnson said there's no doubting Lee's leadership skills.
How do you see some of the competition playing out along the line with T.J. Barnes and Izaan Cross gone?
PJ:
We've got some good depth.
Euclid Cummings
is a guy I'm excited about. I think he's got a ton of ability.
Emmanuel Dieke
has played a lot.
Adam Gotsis
,
Shawn Green
played. We've got a couple guys, Pat Gamble, Rod Chungong,
Francis Kallon
that we redshirted so we feel like we've got depth there and some guys so we'll probably play six, seven guys up front.
Now that Vad looks to be your starter, have you seen him taking on more of a leadership role?
PJ:
Vad's always been a leader. It's in his DNA. Usually the good ones in that position are that way. He's a hard worker and I think that he's trying to develop a chemistry with everybody and we've got another guy named
Justin Thomas
that we redshirted at quarterback, and that ought to be a heck of a battle this spring. Clearly, Vad's in front but Justin's a good player in his own right, so that ought to be some pretty good competition between those two guys.
How will you work the reps?
PJ:
Well, Vad will start out at 1 but in the spring, you're going to run two teams anyway so they'll probably get an equal number of reps.
Any kind of scenario where you play both like you did with Vad and Tevin Washington last year?
PJ:
It's possible. It will be determined on how it turns out, once we get into the spring and we start playing how it looks and how it unfolds, but I think going into the spring you'd have to say Vad's the No. 1.
What about at A-back. Orwin Smith was able to do so much, what's the competition going to look like there?
PJ:
We've got a lot of guys back there who have played a lot.
Synjyn Days
played the last half of the season there, we moved from quarterback so we're excited about him.
Robbie Godhigh
is the starter that returns.
Deon Hill
,
B.J. Bostic
,
Dennis Andrews
is a guy we redshirted. We have a lot of guys there we feel can be pretty good players.
What are you looking for out of those guys to take the next step?
PJ:
Well Robbie's been a reliable guy, he played well all year and I think the other guys are very capable. I think the more Synjyn plays, hopefully the better he's going to be. He's 225 pounds so he's ideal. He can block, has good speed, hard to tackle. B.J. and
Tony (Zenon
) both are shifty littler guys, Deon's in the middle so out of that group of guys we just hope to find a rotation that fits what we need really.
What about Broderick Snoddy? Will he continue to run track this spring?
PJ:
Football will override the track part and so he'll be at practice. Whenever they have meets and those kind of things we'll try to work it out and let him do both.
Do you envision a bigger role for him?
PJ:
Yeah, I would hope so. Every time we got to the point last year where we were trying to get him in, he would get hurt or something would happen and it just didn't materialize but certainly we'd love for him to have a bigger role. But that's going to be up to him this spring to earn it.
Who are you looking at to replace Omoregie Uzzie on the offensive line?
PJ:
There will be some competition. We were able to redshirt a couple of classes of guys and we feel like we have some depth, so we'll just work it out. We'll end up with the best five playing if we have to move some guys around. With Jay (Finch) missing the spring,
Catlin Alford
,
Freddie Burden
will get a lot of reps. We'll slide some guys. We've got some guys,
Will Jackson
has played both guard and tackle. He can slide in there. He and Shaq (Mason) will probably be the starters and then
Morgan Bailey
and
Ray Beno
, who both started at tackle all year -- we could still have five guys who started a lot of games.
May, 8, 2012
5/08/12
9:30
AM ET
2011 overall record
: 8-5
2011 conference record
: 5-3 (t-3rd)
Returning starters
: Offense: 7; defense: 6; kicker/punter: 2
Top returners
QB
Tevin Washington
, LB
Jeremiah Attaochu
, RB
Orwin Smith
, G
Omoregie Uzzi
, C
Jay Finch
, G
Will Jackson
, CB
Rod Sweeting

Key losses
WR Stephen Hill, RB
Roddy Jones
, DT
Logan Walls
, DE
Jason Peters
, RB
Embry Peeples
, LB
Julian Burnett
2011 statistical leaders (*returners)
Rushing
: Tevin Washington* (987 yards)
Passing
: Tevin Washington* (1,652 yards)
Receiving
: Stephen Hill (820 yards)
Tackles
: Julian Burnett (120)
Sacks
: Jeremiah Attaochu (6)
Interceptions
: Three players (3)
Spring answers
1. Tevin Washington is still the guy
: Yellow Jackets coach Paul Johnson gave backup quarterbacks
Synjyn Days
and
Vad Lee
plenty of opportunities to challenge Washington during spring practice. Washington was the Yellow Jackets' leading rusher and passer last season and makes pretty good decisions running Johnson's triple-option spread offense. But Days is a more electrifying runner and Lee is a more polished passer. Neither one proved to be a better quarterback than Washington in the spring.
2. Offensive line is good
: The Yellow Jackets bring back four starting offensive linemen, and it might be the deepest and most talented group in Johnson's tenure at Tech. The only loss was
Phil Smith
, a two-year starter at right tackle who was dismissed from the team after being suspended twice for violations of team rules. He plans to transfer to Central Florida.
3. Shotgun
: Johnson experimented with pistol and shotgun formations during the spring, which would add a new wrinkle to his triple-option spread offense. Days and Lee were really good running plays out of the formations, which will give opponents something else to think about this coming season.
Fall questions
1. Who's going to catch the ball?
It's a good thing Tech doesn't throw the football very much. The Yellow Jackets lost top receivers Stephen Hill and
Tyler Melton
, who combined for 45 catches and 1,083 yards. They were the only Tech receivers to catch a pass last season (running backs accounted for the rest of the team's receptions). There wasn't a receiver who really stepped up in the spring, but Tech's coaches like the potential of Jeff Green and
Darren Waller
.
2. Special teams
: The Yellow Jackets were so bad on special teams last season that Johnson hired David Walkosky as his team's new special-teams coordinator. Walkosky, a former Canadian Football League assistant, is the first full-time special-teams coach Johnson has had at Tech. The Yellow Jackets struggled on field goals, punting and kickoff returns last season. Kicker
Justin Moore
remains a work in progress.
3. Defensive line
: The Yellow Jackets are about to embark on their third season in defensive coordinator Al Groh's 3-4 scheme. To this point, they haven't had the kind of nose tackle a team really needs to flourish in a 3-4 alignment. Worse, end Jason Peters and tackle Logan Walls both departed. Tackles
Shawn Green
and
T.J. Barnes
showed improvement in the spring. Barnes, a 6-foot-7, 347-pound senior, has dropped 40 pounds, and coaches want him to lose about 15 more.
April, 27, 2012
4/27/12
5:00
PM ET
Our series continues today with the Yellow Jackets, who are replacing two players on their defensive line.
For a complete recap of the series, click
here
.

Georgia Tech:
DT
T.J. Barnes
2011 stats:
A reserve during his junior season in 2011, the 6-foot-7, 347-pound Barnes played in every game, notching 11 tackles, 1.5 tackles for loss and a sack.
What he means to the Yellow Jackets:
Georgia Tech's biggest player, Barnes has, by many accounts, begun to play to his potential this spring, losing some weight and bringing a more physical style to the field. That's huge for a defensive line in need of two new starters for coordinator Al Groh's 3-4 scheme.
Shawn Green
, Barnes' backup, has given him a push and could see plenty of playing time as well, but a strong Barnes in the middle of that front could go in alleviating concerns about the Yellow Jackets' pass-rush. With the team returning three starters in the secondary after finishing with the ACC's No. 2 pass defense a season ago, that could mean trouble for opposing quarterbacks.
June, 27, 2011
6/27/11
3:30
PM ET
As the title indicated ...
[+] Enlarge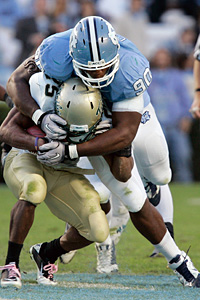 Mark Dolejs/US PresswireUNC returns a veteran defensive line led by end Quinton Coples.
1. North Carolina:
This is a deep and talented group that returns all four starters including Donte Paige-Moss, Jared McAdoo, Quinton Coples and Tydreke Powell. Junior college transfer Sylvester Williams joins three other players who started at least one game: Kareem Martin (three starts), DT Tim Jackson (five starts) and DT Jordan Nix (two starts).
2. Florida State:
All four starters return in juniors Brandon Jenkins, Jacobi McDaniel, Anthony McCloud and Everett Dawkins. Jenkins finished sixth nationally with 13.5 sacks. This group should take another step forward in the second season under coordinator Mark Stoops, but it already has an outstanding base to build on as the Noles ranked third nationally in sacks and 21st in tackles for loss last season.
3. Miami:
The Canes should have one of the better rotations in the ACC. They return starters Olivier Vernon, Micanor Regis and Marcus Forston, who combined for 12 sacks and 30.5 TFLs. It's a deep group, as DE Adewale Ojomo (seven starts), DT Luther Robinson (five starts), DE Marcus Robinson (10 games), DT Curtis Porter (one start), DE Andrew Smith (11 games) and DE Dyron Dye (six games) all have experience.
4. Virginia:
Like Florida State, this is another group that should benefit from being in the second season under the same coordinator. Jim Reid switched the scheme back to a traditional 4-3, and the Hoos return a veteran group led by Matt Conrath (33 starts), DT Nick Jenkins (29 starts), and DE Cam Johnson (22 starts).
5. Georgia Tech
: The Yellow Jackets have a better understanding of what is expected from them in their second season in Al Groh's 3-4 defense, and all three starters return in ends Izaan Cross (41 tackles) and Jason Peters (52 tackles), and tackle Logan Walls. Defensive tackles Shawn Green, T.J. Barnes and J.C. Lanier will also compete for playing time along with DE Anthony Williams.
6. Maryland:
The Terps should be solid up front with the return of Joe Vellano, A.J. Francis and Justin Anderson. Francis is the veteran of the group (19 career starts) and had 44 tackles and 2.5 sacks last season, but Vellano is also an all-conference candidate. The Terps have good depth with Zachariah Kerr, Isaiah Ross and Bradley Johnson.
7. Virginia Tech:
This is a group that could and should jump a few spots by the end of the season. On paper, they've got to replace three starters, but this spring the group proved capable of getting the Hokies back to their days of dominating on defense. Based on potential, they should be ranked higher, but based on lack of dependable, proven depth, they could even fall lower.
8. Clemson:
It will be difficult for the Tigers to replace the production of Da'Quan Bowers, but the defensive line is in capable hands with Andre Branch and Brandon Thompson, and Malliciah Goodman has embraced the challenge of taking Bowers' spot. Branch was second on the team with five sacks last season and 8.5 tackles for loss. Thompson had 40 tackles, including six for losses. Defensive tackle Rennie Moore, DE Kourtnei Brown and DT Tyler Shatley also have experience.
9. NC State:
Defensive tackle J.R. Sweezy is one of the underrated players in the ACC, and he returns along with defensive end Jeff Rieskamp. Several players got significant snaps last season, though, including DE Darryl Cato-Bishop (13 tackles), DT Markus Kuhn (17 tackles, and DT Brian Slay (20 tackles, two TFLs).
10. Wake Forest:
The Deacs return three starters including Tristan Dorty, Kyle Wilber and Zack Thompson. Thompson only started five games last season, but after spring practices, coach Jim Grobe said Thompson has all-conference potential.
11. Boston College:
Starters Max Holloway and Kaleb Ramsey return, along with four other linemen (DTs Dillon Quinn and Conor O'Neal, and DEs Dan Williams and Kasim Edebali) who each started at least two games last fall.
12. Duke:
Until proven otherwise, this is where the Blue Devils belong, but Rick Petri was hired to change that. He'll have veteran nose guard Charlie Hatcher (24 career starts) to work with, and sophomore Sydney Sarmiento, who started 11 games last season. Junior Kenny Anunike, Justin Foxx and DEs Desmond Johnson and Jamal Wallace could also see playing time.
March, 3, 2011
3/03/11
12:00
PM ET