April, 29, 2014
Apr 29
8:30
AM ET
Three things we learned in the spring about the Louisville Cardinals:

Will Gardner emerges at QB.
Teddy Bridgewater
leaves behind big shoes to fill, and now it falls to Gardner to pick up where he left off. Gardner emerged as the starter this spring, and new coach Bobby Petrino praised him for not only gaining the respect of his teammates but picking up the complex offense and growing each day during practice.
Gerald Christian could be a force.
Petrino likes to use the tight end in his scheme, meaning this could be a breakout year for Christian, a Florida transfer who did not get many opportunities under the old coaching staff. Christian has good hands, and made big strides in the spring. He could be an invaluable part of the offense and top the 28 receptions he had a season ago.
Sheldon Rankins emerges up front.
Rankins has been a backup defensive tackle for most of his career, but he has seized the opportunity this spring with a starting job on the line. Now playing end and some nose guard, Rankins had one of the best springs of anybody on defense. Defensive coordinator Todd Grantham said Rankins was dominant. Louisville will need that dominance from him after losing three starters up front.
Three questions for the fall:
Safety.
Not only did the Cardinals lost the top safety duo in its conference from last season, they do not have much depth at the position, either. They did sign former Washington player
James Sample
to help shore up the position, but beyond the top three players on the depth chart, this remains an area of concern. Especially since former Georgia safety
Josh Harvey-Clemons
has to sit out a year when he arrives on campus.
Offensive line.
Along the same lines, there also are depth concerns along the offensive line. Four starters return, with a combined 112 career starts. But beyond that group, there are far too many unknowns. Louisville may end up relying on several true freshmen just for depth.
Jump up in play.
Perhaps the biggest question is -- how will Louisville fare now that it is in a more difficult conference, facing the most difficult schedule in school history? Plenty of talented players return, but Louisville does not have time to get adjusted, not when it opens the season up against Miami on national television.
One way-too-early prediction:
Louisville will win at least eight games. The Cardinals do have a hard schedule and play in the toughest division in the ACC. But they should win at least three nonconference games and be in position to win every ACC game despite losing players like Bridgewater. Charlie Strong left behind a strong foundation. Petrino has dealt with a tougher conference, and knows what it takes to win.
April, 9, 2014
Apr 9
9:00
AM ET
LOUISVILLE, Ky. -- There are holes to fill across the Louisville defense, one that quietly ranked as one of the best units in America a year ago.
But that is not the only reason this group is undergoing an entire overhaul during the spring. Defensive coordinator Todd Grantham has changed the base defense to a 3-4 and started shifting players around to positions better suited for them. The lone returning starting lineman from a year ago,
Lorenzo Mauldin
, will move to outside linebacker, filling a hybrid rush end role that will better utilize his athleticism.
[+] Enlarge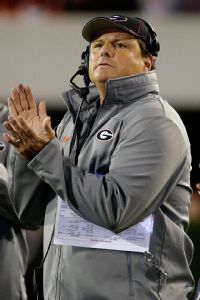 AP Photo/John BazemoreTodd Grantham, who moved to Louisville from Georgia, has shifted players around to better deal with a 3-4 defense.
Sheldon Rankins
, a backup defensive tackle the last two seasons, has emerged as a leader at end but can play nose guard, too.
"He's been dominant," Grantham said.
Plenty more moves have been made:
B.J. Dubose
, who has played end and tackle, has found a home at end this spring; Redshirt freshman
James Hearns
has moved from linebacker to end; redshirt freshman
Chucky Williams
is leading the charge to start at one safety spot after starting his career at cornerback.
But the biggest move belongs to Mauldin, who racked up 9.5 sacks in 2013. He and the departed
Marcus Smith
formed one of the more prolific sack duos in the country. Though Mauldin has been held out of contact this spring, Grantham knows his standout player can have a much bigger impact at linebacker.
"That's the beauty of the 3-4, it allows young players or new players to play and use their athletic ability," Grantham said. "The game nowadays is a space game with the way offenses are running the ball and throwing the ball. Guys like Lorenzo that are tall, have length, burst, athletic ability, those kinds of guys become valuable and you like to get them on the field."
Mauldin will still line up some at end depending on the game situation, which will give the defense more versatility. But he now must drop into coverage.
"That will be a big difference for me, reading receivers, reading plays before they happen," Mauldin said. "It's a challenge, but I'm up for it."
Rankins has embraced the challenge being a starter entails, and has emerged as a leader in the defensive line room now that Mauldin is with the linebackers. Coach Bobby Petrino called Rankins a "technician" and said, "I didn't know how smart he was and how much he understood the game of football until spring practice." Grantham said Rankins has been the MVP of the defense so far.
The spring has been particularly gratifying for Rankins, who missed last spring with a shoulder injury. He does not want to let this opportunity slip away.
"Getting stronger, getting faster, becoming an overall better player, it's all coming together for me now," Rankins said. "Having had injuries before, I know the game can be taken away at any time. I just have to seize the moment and leave it all out there on the field."
Louisville is counting on Rankins and Mauldin to lead this group. Coaches are hopeful that the defensive front will be as good as it was last year, despite returning just two starters.
"When people believe in what you're doing -- belief is a powerful thing," Grantham said. "The players are getting better every practice. They understand the demands from assignment, alignment and effort. If we can all be on the same page, then 11 guys on the same page is powerful and a thing that doesn't have seams in it."
Seams or not, the Louisville defense will be tested right out of the gate -– at home against Miami on national television.
April, 8, 2014
Apr 8
9:00
AM ET
LOUISVILLE, Ky. – It is hard to miss the giant poster of
Teddy Bridgewater
hanging in the lobby of the Louisville football complex, celebrating the Cardinals' momentous win over Florida in the Allstate Sugar Bowl two years ago.
Bridgewater's rise was concurrent to the football program's latest ascent to national prominence, but the truth is he was the most notable player on a defensive-minded football team led by a defensive-minded coach who stressed a physical, ball-control style of football that did not always showcase its talented quarterback.
[+] Enlarge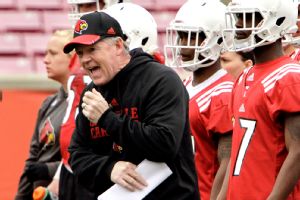 AP Photo/Garry JonesBobby Petrino is stepping up the tempo in practice in his second stint at Louisville.
Nobody will ever say the same about offensive guru Bobby Petrino, who has single-handedly made everything different this spring in his second stint as Louisville's head coach. His philosophy is different. Practices are different. Schemes are different. Strength and conditioning is different. Even conference affiliation is soon to be different.
Petrino says he is different, too, eight years after he left the Cardinals for the NFL. A well-publicized scandal at Arkansas three years ago -- a scandal many thought could end up ruining him -- forced him to get his priorities in order.
He now has his second chance to do right after Tom Jurich gave him a lifeline in January following Charlie Strong's departure for Texas. Petrino's reputation, however, remains in limbo, putting more pressure on his football acumen. When asked to note how he and the program differ from when he was hired the first time in 2003, Petrino says, "I don't look at the differences a whole lot. I'm having a great time."
While Petrino the man needs to be different, Louisville is banking on the same Petrino who initially took Louisville to the heights Strong recently matched. To do that, Petrino is coaching the way he has always coached. Practices are now run at a much faster tempo than under Strong. Petrino is constantly in his players' faces, yelling at them to get it right. All that was quite an adjustment initially. "Hustle!" and "Go faster!" are two key phrases that have returned to the Louisville lexicon.
"At first, everybody was looking around like, 'What's going on?' but for the most part, everybody's taken it in stride," said defensive end
Sheldon Rankins
. "We have gone along with everything he's saying, and been pretty positive about it because at the end of the day, we're all a team. We're all here together and we have to make it work."
The changes have been especially dramatic on offense, and most especially with the quarterbacks. Bridgewater might have been the centerpiece in Louisville the last three years, but he is gone, and that leaves quite a conundrum. Petrino places much heavier demands on quarterbacks; they have more checks to make, more complicated schemes to learn and different timing routes to perfect with their receivers, all while practicing at a breakneck pace.
No passer on the current roster has started a college game.
Will Gardner
, who was the backup last year,
has taken the lead
in the quarterback competition, but the offense has much to improve on before it functions the way Petrino wants it to function. One practice last week lasted 2½ hours, and several practice periods were repeated until the players got everything right.
"They think they're going fast right now, but we're not even close to where we need to be," Petrino said. "My dad gave me a bad time about it. He said, 'That was the longest practice I've ever seen of yours,' and I said, 'It's because we're not going fast enough to get the reps in.' We have a set amount of reps we have to get done, but we can't go quick enough."
"

They think they're going fast right now, but we're not even close to where we need to be.

"

-- Louisville coach Bobby Petrino
Part of the issue is players not being in the type of condition they need to be in to go at optimum speed. Petrino says players did make strides in winter workouts, but they need a full offseason program to meet the demands that are now required.
Up-tempo offense means the defense has to practice faster, too. Defensive coordinator Todd Grantham, who is installing a new base 3-4 scheme that will feature players used in multiple ways, says, "The tempo thing is very good for both sides of the ball because it makes you think fast, react fast and get ready to play," adding that the pace of practice also helps create mental toughness.
Not much has happened in the way of rebellion, either. The transition from one staff to another has been as smooth as can be expected, especially given the radical differences between style and scheme. This spring, being different never felt so good.
"Everybody's excited," Gardner says. "Everybody knows the history of all these coaches and how successful their teams have been, so everybody's looking forward to what this year brings."