November, 21, 2014
Nov 21
8:00
AM ET
Dabo Swinney turned 45 on Thursday. And while he has had obvious success during his run at Clemson, his early body of work might surprise you, especially when compared to other big-name coaches.
The (Charleston) Post and Courier's Aaron Brenner
broke down the numbers Thursday, illustrating just how well Swinney has fared before his 45th birthday.
Swinney has a career record of 58-26 during his tenure with the Tigers.
How did Nick Saban fare by the time he turned 45? 20-10-1.
Steve Spurrier? 20-13-1.
Frank Beamer? 19-30-1.
Jimbo Fisher? 5-1.
On and on it goes, a who's who of coaching legends current and past that Swinney is currently out-pacing. It really puts into perspective what he has accomplished since taking over in 2008.
Of course, he still has a ways to go when looking at a pair of his predecessors in Death Valley: Danny Ford had 96 wins before leaving Clemson at the age of 42, while Frank Howard had 72 wins by 45.
May, 21, 2014
May 21
9:00
AM ET
Scheduling talk has consumed all of college football over the last month. But for all the chatter, there are no answers when it comes to getting scheduling right.
[+] Enlarge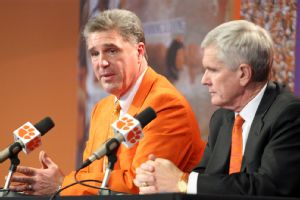 AP Photo/Anderson Independent-Mail, Mark CrammerAs Clemson's AD and a member of the playoff committee, Dan Radakovich (left) will get a first-hand look at how important scheduling becomes.
Eight conference games vs. nine conference games. One power-five opponent or more? Everything remains a guessing game until the College Football Playoff era begins because
nobody truly knows
how the playoff committee will evaluate strength of schedule.
Clemson athletic director Dan Radakovich, one of 13 members on the committee, said plainly, "It's going to be the totality of the schedule. Being a conference champ is one of the top priorities as is winning the games, so there's really not just one factor that is overwhelming the others. It's the body of work associated with the program."
In the
selection committee procedures
, released earlier this month, there is a brief mention about how strength of schedule will be evaluated. The committee will be given data from SportSource Analytics, which will provide stats on every FBS team, along with opponent records and opponents' opponents' records. Unlike the basketball model, which relies heavily on RPI, the committee will not use just one data point.
That means much of this is left up to interpretation. The Pac-12, for example, finished second in the ESPN Stats & Information
Conference Power rankings
to end the 2014 season. The Pac-12 plays nine conference games. The ACC, on the other hand, finished fifth in the same set of power rankings. The league decided to stick
with eight conference games
. Does this automatically mean the Pac-12 gets a built-in advantage based on playing a conference schedule that is perceived to be more difficult?
Nobody really knows until we see the committee pick four teams based on on-field results.
What we do know is three conferences have opted for nine league games. That is a big reason why the ACC will require teams to play at least one power-five opponent in nonconference per year, beginning in 2017. Notre Dame is included in that group; BYU is not.
Will that be enough?
The Pac-12 already plays a tougher conference schedule, plus most of its teams play power-five opponents. Last season, only four teams did not have at least one power-five nonconference game. Four -- including Oregon and USC -- had two.
"It's a wait and see," Miami athletic director Blake James said. "It will take some programs not making it to the final four and having the committee or someone come out and address that it was a scheduling issue that prevented them from being there. With that said, we all have to be cognizant of the fact that our schedules are going to be evaluated and you want to be one of the four teams. The challenge there is no one knows who is going to be the dominant program three, five, 10 years out, which is how we're doing our schedules. You can schedule an elite program right now and by the time you play them, they might not be an elite program and vice versa. It's a real challenge and it will be interesting to see how it plays out."
You saw examples of that throughout college football last year. Oregon had Virginia and Tennessee, power-five opponents, yes, but both teams finished with losing records. Ohio State scheduled Cal when the Bears were good, not knowing they would have a 1-11 season when the teams ended up playing. Perhaps more scheduling contracts will be broken in the playoff era, as teams jockey to get current elite teams on the slate.
[+] Enlarge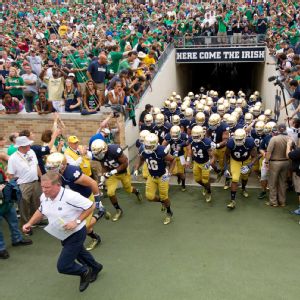 Matt Cashore/USA TODAY SportsACC teams get the opportunity to boost their schedules with Notre Dame.
ACC athletic directors also have the challenge of having Notre Dame on the schedule once every three years. League ADs already know when they will play Notre Dame several years down the road. So in years they play the Irish, do they add a second power-five team or take the brakes off so the schedule does not become too challenging?
"In Blacksburg, if we have Michigan and Notre Dame on the schedule, I think our fans would be fine with that," Virginia Tech athletic director Whit Babcock said.
Elite games like that are hard to find, because both parties have to be willing to play one another. That could make more scheduling challenges for everyone, especially since the Pac-12, Big 12 and Big Ten will have fewer nonconference spots open because they play more league games.
"The cost of guarantees continues to rise, too," James said. "You have three of the five conferences that are playing nine games so right away there are fewer games needed and geographically you want to try to stay within your area and schedule games that make sense for your fan base and alumni base. When you put all those things together it makes scheduling already challenging and I do think it will be more challenging in the future."
Given all the challenges and the uncertainty about strength of schedule during playoff evaluation time, ACC athletic directors left open the possibility that they could change their minds on scheduling. Like James said, it's wait-and-see.
"As we get through the first cycle of this new football playoff, I think it will be telling for us as to whether or not this decision is the right decision or whether we need to do something else," Florida State athletic director Stan Wilcox said. "I think we felt comfortable knowing we're not the lone conference out there, that we're comfortable being at eight."
April, 29, 2014
Apr 29
11:15
AM ET
Wake Forest athletic director Ron Wellman is ready for a vote -- again.
After years of flip-flopping between an eight- and nine-game league schedule, the
topic is once again up for debate
as the ACC athletic directors, coaches and administrators prepare for their annual spring meetings in Amelia Island, Fla., in two weeks. Given the SEC's recent decision to
stick with eight league games
, all eyes have now focused on the ACC to see whether the league will come to any decision about its future schedules.
There's no guarantee they will vote on anything, but many would like a resolution to a discussion that has dragged on for years.
"I think voting on the future conference football schedule is extremely important," Wellman said. "I don't know how much longer we can delay it."
[+] Enlarge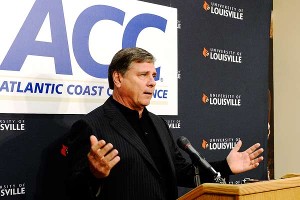 Timothy D. Easley/AP PhotoLouisville AD Tom Jurich could be the swing vote as to whether the ACC goes to an eight- or nine-game schedule, but right now his response is "I really don't care either way."
It could be a close one.
ESPN.com recently interviewed every athletic director in the ACC about scheduling preference, and there was no overwhelming majority. Half of the athletic directors -- including a surprising vote from Georgia Tech -- were in favor of a nine-game conference schedule. Three schools -- Boston College, Virginia Tech and North Carolina -- didn't give a specific preference, and three schools -- Duke, Clemson and Florida State -- would prefer to stay at eight games. Louisville AD Tom Jurich, who is just happy to be a member of the ACC, might be the swing vote.
"I really don't care either way," Jurich said. "It doesn't matter to me. Eight, nine, seven, 10 -- I don't care. If they want us to play nine plus the game with Kentucky, I'll do that too."
Unlike the league's winter meetings, the ACC coaches attend and will weigh in. They
remain in favor
of playing eight conference games, but the athletic directors have the final say. In May 2012, they approved a nine-game schedule despite opposition from the coaches only to revert to eight games after announcing a partnership with Notre Dame.
Unlike the last time a nine-game schedule was approved, the athletic directors are now tasked with putting together schedules that best position their programs for access to the new College Football Playoff. They also have to weigh in the five-game rotation with Notre Dame, and four schools -- Clemson, Georgia Tech, Louisville and Florida State -- already have built-in SEC rivalries. A few athletic directors, including North Carolina's Bubba Cunningham, have indicated they would vote in favor of whatever schedule format is most likely to lend itself to an ACC channel. A nine-game format would increase the ACC's league schedule from 56 to 63 games.
"I am in favor of getting a separate channel, and however we have to do that, I'm willing to consider," Cunningham said. "I'm flexible because I think a channel is very important to us."
Miami athletic director Blake James was less willing to bend.
"I'm a believer that the nine-game schedule would be a win for the conference, and I believe it would be a win for the University of Miami," he said. "That's where I'm at with it."
FSU athletic director Stan Wilcox said the Seminoles' built-in rivalry with Florida isn't going to change. The bigger concern is keeping Clemson and Miami on the schedule every year -- a puzzle that could get tougher in a nine-game format.
"Also in the room, Miami and Clemson want the same," Wilcox said. "It'll be difficult. This is why you see that we haven't; it's a stalemate."
"

I think the issue is, if we collectively agree that we're going to schedule up, we don't have to come up with a hard rule we have to go to nine games or everybody has to schedule one game against an SEC school. It's just a matter of getting everybody to agree to that.

"

-- FSU athletic director Stan Wilcox
Because of the built-in regular-season finale against rival South Carolina, Clemson athletic director Dan Radakovich remains convinced sticking with eight games is the right thing for his program. He also pointed out that, under a nine-game format, there would be years when the Tigers can't play seven home games, an economic loss for both the university and the region. Instead of adding another league game, Radakovich suggested other schools beef up their nonconference schedules.
"If they don't have that rival at the end of the year, then they need to schedule a College Football Playoff equity conference game on a home-and-home basis," he said. "If they don't have that rival, they need to schedule two, but they can do that based on when Notre Dame rolls on and off their schedule."
Wilcox agreed.
"I think the issue is, if we collectively agree that we're going to schedule up, we don't have to come up with a hard rule we have to go to nine games or everybody has to schedule one game against an SEC school," he said. "It's just a matter of getting everybody to agree to that."
Good luck -- especially when Georgia Tech is one of the schools in favor of nine games.
Yellow Jackets athletic director Mike Bobinski said the years in which they have to play both Notre Dame and Georgia will be "a handful for sure," but if a nine-game schedule is best for the conference, that's what he's in favor of.
"We've got a big conference now, and our collective destiny is important," Bobinski said. "All of us will rise as the fortunes of our league rise from a football performance perspective, and while nine games will be problematic for us in some ways … I just think that, for the good of the brand of ACC football, to me a nine-game schedule feels better."
One of the biggest criticisms of the current format is the crossover opponent scheduling. ACC teams will play all of their rotating crossover opponents twice during a 12-year rotation, but not consecutively. FSU played Pitt in the season opener last year but won't be back until 2025 or later. As thrilled as Louisville is to be joining the ACC, the Cardinals don't get to see Virginia Tech before 2025. Virginia and Clemson won't see each other again until 2020.
"My position is the nine conference games would be preferable mainly because of the opportunity to clearly play more of our peers in the conference and expose our institutions to each other," Virginia athletic director Craig Littlepage said. "It's one game a year, but that initial game does help our conference in terms of the overall branding and building of relationships and rivalries among all of the institutions."
Both sides have valid points. Now it's time to put it to a vote -- again.
David M. Hale and Andrea Adelson contributed to this story.
March, 26, 2014
Mar 26
12:00
PM ET
Want to know why you're not famous? It might be that you were born in the wrong spot, according to this incredibly fascinating New York Times piece about
how geography relates to fame
. This completely explains why Delaware boasts Judge Reinhold, Delino Deshields and me.
February, 19, 2014
Feb 19
9:00
AM ET
We sat down with Florida State athletics director Stan Wilcox this week to discuss the future of the Seminoles and the ACC. If you missed Part 1, you can find it
here
.
In Part 2, Wilcox talks about revenue distribution in the ACC, the future of the league's championship game, and the potential of pay-for-play for student-athletes.
Q. Florida State has always viewed itself as the preeminent football program in the conference, and its recent success has certainly helped the ACC, both in terms of perception and financially. That leads a lot of FSU fans to wonder why the revenue sharing in conference is split evenly. What's the upside to that distribution model for Florida State?
[+] Enlarge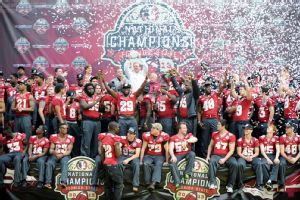 Melina Vastola/USA TODAY SportsFSU AD Stan Wilcox is fine with the fact the Seminoles share revenues equally with the rest of the ACC.
A.
There are good arguments for both sides. It depends what side of the fence you're on how you feel about that issue. But I would say that one of the things that helps keep a conference stable is, as long as everybody is pulling their weight and contributing, when you start having divisiveness and an institution feels they're not getting their proportionate share. When I was in the Big East it did create a different kind of way of revenue sharing that wasn't even across the board. That eventually caused that conference to have problems.
Eventually things can shift and a school that got more of a share eventually gets less of a share, and what that does to your program on a year-to-year basis, trying to budget, it throws your budget off. You might be expecting to get a bigger share because you're thinking your team is going to be better and things don't work out. If you know exactly what you're making every year at minimum, and that amount could go up, it makes it easier.
It all depends what side of the fence you're on, but for conference stability, the way we currently operate -- which is the same way the SEC operates, revenue sharing across the board evenly -- it helps with conference stability.
Q. In 2012, Florida State lost money by playing in the ACC title game. The ticket allotment was lowered this year so that wouldn't happen again, but financially, is there a concern about the cost-benefit balance following what was such a successful season on the field?
A.
We were able to make sure we don't lose money in the end. This year, I don't know the final numbers, but we're definitely not going to lose money. What you're probably getting to is the [national] championship, and that's a different animal.
Again, we're not losing money in the long run, because as a conference, we're making a lot more money and those dollars are filtered down to the institutions. The issue has to do with the amount of expense allotted to go participate and what your expenses end up being. In that case, because -- if the championship game was at the Orange Bowl, not an issue, but when it's on the opposite coast, and you have to charter flights for your band, for your team, for the VIPs of the university, that's where your expenses can outpace the actual allocation dollars that you're given.
So this year, we didn't lose very much but when you compare that to what we're going to get from revenue sharing, it's really a no-brainer. We're going to make out well this year.
Q. Avoiding financial losses in the ACC championship game is one thing, but actually filling the seats and making money is another. There have been some suggestions that the league might adjust its format, including switching to a single division to improve the championship game matchups. What is Florida State's take on those ideas?
A.
There is discussion about potentially changing the NCAA rule that says in order to have a championship game you have to have two divisions. The issue we grapple with has to do with new schools coming into the conference, then you factor in Notre Dame [which will play five ACC games per year]. The issue is trying to get schools to play everybody at least once over a certain time period. When you have the two divisions, it becomes a little more difficult. If you're a new school, you want to play everybody in the conference and figure out who's going to be the new rival school. When you're in divisions, it's a little more difficult.
I understand the argument. But until the legislation is changed, we can't really do anything. And with the change in restructuring of the NCAA and giving a little more autonomy the BCS conferences, it may occur sooner than later that that legislation is changed. Then we can look at not having divisions.
Q. Would it be possible to simply reshuffle the divisions to create some better matchups, for instance getting Florida State to play Georgia Tech more often?
A.
There are some schools that want to. But I think at this point that we're exploring and talking about all different options until we can come up with one that really makes sense for the entire league and that the majority of the league feels really comfortable with.
Q. Athletes at Northwestern are considering unionization. Is that a situation you've monitored? And what could be the long-term ramifications of unionization for players?
A.
It's something that's always been on my radar, the whole pay-for-play issue. My position has always been that I don't think student-athletes should be paid more money financially, but that they should be paid maybe more from an academic perspective. However we determine the value of the education in terms of credit hours, years of scholarship — that's what should be negotiated here, and not money.
The money aspect of it gets too sticky. They're trying to unionize. In order to unionize, you have to be considered an employee of the university. I don't think student-athletes really want to go down that road. You become an at-will employee that can be hired and fired at any time. Your argument is that it gets you benefits, but you kind of have that now. If you become an employee, every employee has to pay X amount of dollars into a health care program. I don't know if they've thought the whole thing through as to what it really means to be an employee of the university.
But I always felt that they should be negotiating about the education side of it. Not to say the health care and all of that isn't an issue, but the best thing you can have is the ability to really compete in the classroom. If that means to have less hours during the season in which you're participating and you still have those hours maybe after your eligibility is up, you still have time to make up those credit hours so you can get your degree. Or you negotiate for undergraduate degree plus a graduate degree. Something that's more educationally based, to me, is what student-athletes should be trying to get more of if they think there's an imbalance.
[+] Enlarge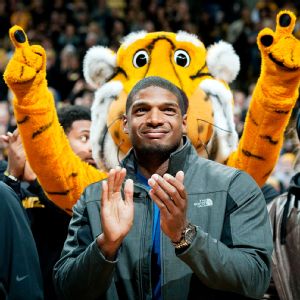 AP Photo/L.G. PattersonWilcox said he hopes his coaches and athletes would be tolerant and understanding if an athlete were to come out as Michael Sam has.
Q. With the controversy surrounding bullying within the Miami Dolphins locker room and former Missouri star Michael Sam's announcement that he's gay, has Florida State taken any steps to address locker room culture, particularly as it relates to an athlete's sexual preference?
A.
We have not had any specific conversations about that here yet, but I guess it's probably becoming an issue that we need to maybe look at those types of things. We haven't had anybody come out, but my hope is that all of our coaches, student-athletes and employees are tolerant of anybody who is a good person, whatever their lifestyle is. We're not forming prejudices against anybody. But as far as doing a formal discussion about that particular issue, we haven't. We actually do that through our student-athlete welfare and development department that has speakers come in just to talk to student-athletes, talk to staff about Title IX issues, diversity and inclusion issues, all of those are things that we talk about through seminars where we bring in experts from outside. But there's a big focus on this particular issue because of the two instances that have occurred, but most institutions you go to — we do have those types of seminars where you have specialists come in and talk about inclusion and diversity.
Q. You discussed your work on a five-year strategic plan for Florida State, but what are some of the near-term goals you think fans can expect to see in the coming years?
A.
Well we want to continue to be very successful, and I think we will. I think we're poised to be where we were back in the early 1990s. I'd love to see Mike Martin win a college baseball championship. He's been there so many times, come so close. He's so deserving of it. I'd really like to see that happen for him.
As we look at other avenues and ways of generating additional dollars here, I think the sport that we can look at to help would be basketball. I'd like to see that we're going to continue to improve there and get better facilities so we can have more fans engaged and create the type of atmosphere at our basketball games that are similar to other ACC major programs in basketball. If I can create another Cameron [Indoor Stadium at Duke], that's the big wish list. But I'd like to see a better atmosphere at our basketball games.
I'd like to see championships on the playing field and our student-athletes graduating and being successful in the classroom. If I can help to get us to accomplish just those two things, those are the two major things I'd obviously love to see.
February, 18, 2014
Feb 18
10:30
AM ET
In his first six months on the job, Florida State athletic director Stan Wilcox has negotiated a new contract for his football coach, helmed a program besieged by controversy surrounding its Heisman-winning quarterback and celebrated a football national championship. As the dust settles on a frenetic 2013, we caught up with Wilcox to talk the future of FSU football, the direction of the ACC and some of the biggest issues facing college football.
Here's Part 1 of our two-part conversation.
David Hale: You accepted this job in August, and it's been a whirlwind since then. What have the first six months in Tallahassee been like for you?
[+] Enlarge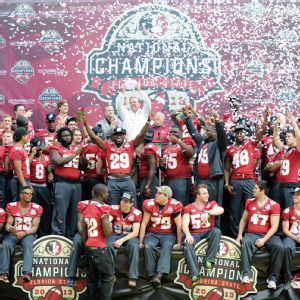 Melina Vastola/USA TODAY SportsCelebrating a BCS championship was the high point of a crazy six months for new Florida State athletic director Stan Wilcox.
Wilcox:
We've gone through in six months as much as an athletic director might go through in five years, but it's been great. We've been having success on the playing field with women's soccer, women's cross-country and obviously football winning the ACC and the national championship. It's been a great six months on the field. We've had a few issues off the field, but we've made it through those as well. I'm pretty much very happy with where we're at right now.
Hale: You were brought in with a mandate not just to embrace the history at Florida State, but to grow the brand. With a BCS title in hand, how do you build off the success of 2013?
Wilcox:
Any time you win a national championship, it's a great opportunity to reach out to as many supporters and benefactors as possible to help you continue to grow. In order to stay in front of the curve, we have to look at our facilities. We have a number of facilities that need some upgrading. In our football stadium, we're in the process of creating club level seating there. We have to look at the fan experience. How do we create better connectivity within the stadium? We've got to look at our concourse area and how to make that more fan-friendly. We just took over the Civic Center, and there's a number of things there we need to do for basketball.
We're in the process of creating a five-year strategic plan, and part of that plan includes a master facilities plan where we look at all our facilities and each of our venues and determine what are our wants and needs and try to figure out timelines.
In order for us to continue to be successful, we have to attract the best athletes we possibly can, and student-athletes these days are savvy consumers and they want to see where they're going to be playing the next four or five years. Every day, you see another university that's building or doing a campaign to raise money to upgrade a football facility, a basketball facility. We can't just sit back and think that after we've built what we've built, it's all done and finished.
Hale: One of the big knocks on FSU last season was its strength of schedule. That's come even more to the forefront as college football's playoff system begins in 2014, and it's a topic the ACC is debating, too. What's the discussions regarding conference scheduling, and where does Florida State stand in the debate?
Wilcox:
We're still in conversations with that, but what I would say is that as a league, we're trying to do what's best to position the league so that we can get teams into the playoff. If you can get more than one -- like this year, we got more than one team in the BCS -- that's even better. There are conferences that have already decided how they think they're going to do that. They're going to nine games. We're contemplating and discussing what's going to be the best way, just like the SEC is doing. Each league is considering how best to position the conference from a scheduling perspective without compromising the regular season and the rivalries that have been established. You also want to make sure you have the right inventory you can sell to networks and sell to create channels. And from the ACC perspective, nothing has been decided yet.
From [Florida State's] perspective, we're at the point now that we would like to continue to be able to have as many quality home games as we can, potentially take one of those games on the road -- this year, we're going to Dallas, and we're looking at Orlando and other cities.* Some of that can be jeopardized depending how the conference ends up. If we had our druthers, we'd like to just keep everything the way they are right now. But I can't say that's what's going to happen.
[*
Ed. note: FSU confirms it is in preliminary talks for a neutral-site game in Orlando in 2016 and Atlanta in 2018
.]
Hale: Jimbo Fisher has said that it's imperative, financially, to have seven home games, but with an annual nonconference date with Florida and a potential nine-game ACC schedule, that's going to be tough to manage. How do those rivalry games play into the debate?
Wilcox:
Whatever we do in the ACC, we have to work around some of those rivalries [vs. the SEC]. Those aren't going to change, and there's enough votes in that room to not change those rivalries. We're not concerned about that.
The concern can be more around the issue of we want to play Clemson every year. We want to play Miami every year. If we go to nine games, will they be able to continue to do that? Also in the room, Miami and Clemson want the same. It'll be difficult. This is why you see that we haven't -- it's a stalemate.
My perspective -- and this is what I push -- I'd like to stay the same, and I'd like to see -- and this is my opinion, and it may not be where we come out -- but it's just a matter of scheduling up. We already play Florida every year, playing an SEC school. We're playing Oklahoma State [in 2014]. I think the issue is, if we collectively agree that we're going to schedule up, we don't have to come up with a hard rule we have to go to nine games, or everybody has to schedule one game against an SEC school. It's just a matter of getting everybody to agree to that. If we're concerned about strength of schedule, then everybody's got to really schedule so that you have a strong schedule.
Hale: The SEC is widely viewed as the elite conference in college football, but the ACC has the national champion and the Orange Bowl champion. Is it possible for the perception of the ACC to be on par or better than that of the SEC within the next few years?
Wilcox:
I would say we're already perceived that way, and we want to continue to be as competitive. I do think our football has gotten stronger. If you look at Duke, who was really off the grid for a while, [it is] all of a sudden in the Chick-fil-A Bowl, playing in the ACC championship. That tells you how ACC schools are putting resources into football across the board. It's no longer just viewed as a basketball conference. It's a football conference that has to be reckoned with.
People want to look at the SEC and call it the flagship conference in football, and I'm not denying that. But what I am saying is that we're just as good, and we've proved that this year, and we're hopefully going to continue to prove that. We're going to do our part here at Florida State, and I know that other ACC schools are right there with us.
December, 31, 2013
12/31/13
12:50
PM ET
Florida State coach Jimbo Fisher has signed a new five-year contract through the 2018 season, the school announced Tuesday.
A source told ESPN's Joe Schad the deal
is worth $21 million
.
"We are extremely pleased with the direction of our program and believe that this new contract will assure that Coach Fisher is in place to lead the Seminoles for a long time to come," athletic director Stan Wilcox said in a statement. "Coach Fisher enjoys the full support of the leadership of the university and we look forward to the continued success of our football program on the field and in the classroom."
The two sides agreed to a new deal just before the ACC championship game. Perhaps now that Fisher has signed the contract, speculation linking him to the Texas job will come to an end.
December, 9, 2013
12/09/13
10:00
AM ET
That wraps it up. The regular season is over, and the bowl lineup is set. Let's see how we ended up here as we take one last look back at the week that was in our weekend rewind.
The good:
What's not to love about this past weekend if you're from the ACC? The conference set an NCAA record by placing 11 teams in bowl games. That's topped, of course, by No. 1 Florida State, which is bound for the VIZIO BCS National Championship, where it will face No. 2 Auburn. The ACC broke its NCAA record of 10 teams in bowls, which was set in 2008. (The league also placed seven of its nine teams in bowls in 2002, which was then the NCAA's highest bowl participation percentage ever, at .778.)
[+] Enlarge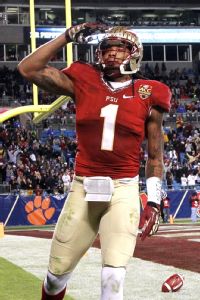 AP Photo/Bob LeveroneKelvin Benjamin and No. 1 Florida State head an impressive group of 11 ACC bowl teams.
The bad:
It is tough to be really harsh on Duke considering just how many firsts the program accomplished this season. That said, the Blue Devils did themselves few favors to make it a game Saturday in a 45-7 loss to Florida State.
Ross Martin
missed a 48-yard field goal on Duke's third possession that would have broken a scoreless tie.
Anthony Boone
threw two interceptions.
Kelby Brown
dropped a potential interception. Duke did come up with two on the night, but could not manage any points from them. Redshirt senior right tackle
Perry Simmons
left the game with a torn ACL and a torn MCL in his left knee. The two-time All-ACC selection had started 50 consecutive games.
The records:
Jameis Winston
broke FBS records for both passing yards and passing touchdowns by a freshman, as the Heisman Trophy front-runner was 19-of-32 for 330 yards with three touchdowns (and two interceptions) to finish with 3,820 passing yards and 38 passing touchdowns in the regular season. Duke receiver
Jamison Crowder
set a program single-season record in receiving yards Saturday and finished with 1,197. Florida State kicker
Roberto Aguayo
's 45-yard second-quarter field goal helped him set an ACC record with 142 points.
The added bonus:
The ACC title game had just kicked off when our Joe Schad
reported that Seminoles coach Jimbo Fisher had agreed to a five-year, $21 million contract extension
with the program. Athletic director Stan Wilcox confirmed after the game that a deal had been reached, with details still being finalized. Just another bit of great news for the Seminoles on a night with no shortage of it.
Bowl subplots to watch:
Boston College's
Andre Williams
(329) and Arizona's
Ka'Deem Carey
(322) lead the nation in carries and will square off in the AdvoCare V100 Bowl. … Bowling Green quarterback
Matt Johnson
will get a shot at his in-state program, Pitt, in the Little Caesars Pizza Bowl. … Miami can see its hometown product,
Teddy Bridgewater
, up close and personal in what could be the Louisville quarterback's final game, the Russell Athletic Bowl. (The teams face each other next year, too, when the Cardinals join the ACC.) … Let's not overlook the obvious historical note when Ohio State and Clemson meet in the Discover Orange Bowl, either, as the programs will meet for the first time since the 1978 Gator Bowl, which ended up being Woody Hayes' final game after the coach punched Tigers linebacker Charlie Bauman.
September, 20, 2013
9/20/13
9:00
AM ET
TALLAHASSEE, Fla. -- Jimbo Fisher used all the obvious cliches to sell the game to his players. He rattled off the stats about FCS teams pulling upsets over more prestigious competition and waxed poetic about the underrated skills of this week's competition. Players did their due diligence, too, insisting they prepare for every game like a national championship -- never mind that they're favored by nearly six touchdowns.
It's the usual early season dance in which the participants refuse to offer a hint of confidence, choosing instead to make the case for the infinitesimal possibility that Bethune-Cookman might upset mighty Florida State.
[+] Enlarge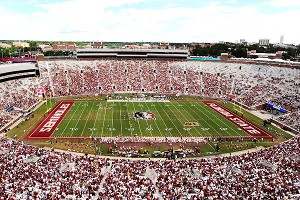 Stacy Revere/Getty ImagesWithout many big opponents coming to Tallahassee, filling Doak Campbell Stadium has been a problem for Florida State.
"We better be ready boy, or we'll get embarrassed," said Fisher, whose team just pummeled Nevada 62-7.
The stark reality of Florida State's schedule this season is that, in spite of Fisher's warnings, there's little box office cache for likely landslides, and selling tickets is the backbone of the athletics department's revenue stream.
That's one of the challenges for new athletics director Stan Wilcox. On the job for only a month, his philosophy on filling out future schedules is hardly written in stone, but the potential pitfalls are a prime topic of discussion.
"I am new to Florida State but I'm not new to the challenges of scheduling that each FBS school faces these days," Wilcox said. "I do know that we have been actively engaging in discussions with major programs for games that will be very appealing to the fans, but the reality is that until everything is adjusted and final, it is not appropriate to provide specific discussions."
FSU understands the messy formula of future scheduling well. Last year, West Virginia welched on a home-and-home deal at the last minute, leaving the Seminoles scrambling for a replacement. The result was back-to-back games against FCS foes to open the season with FSU winning by a combined score of 124-3.
The fallout from that decision trickled into 2013, too. It's a convoluted storyline that involved Nevada pushing for an exit strategy of its own, Idaho stepping in at the last minute, and a quirk in the scheduling that left FSU with a date that needed to be filled and a paycheck Bethune-Cookman was happy to cash in exchange for a potentially ugly loss in Tallahassee.
The future schedule remains in flux, too. Florida State has contacts in place for a handful of nonconference dates in future years, including home-and-homes with USF and Boise State, along with Notre Dame as part of the ACC's new agreement with the Fighting Irish. Wilcox said few items are set in stone.
"Signed contracts don't assure that games are going to be played any more," he said.
Notre Dame will make its first trip to Tallahassee since 2002 next year, when Florida State's schedule promises to be one of the most difficult in the nation. The Seminoles open with a neutral-site game against Oklahoma State, while facing Notre Dame and Florida in nonconference play, along with marquee ACC games against Miami, Louisville and Clemson.
That slate has already piqued interest among fans, many of whom have purchased season tickets for this year as a means of assuring access to those big games in 2014. Big nonconference games drive ticket sales and donations, which makes scheduling a key piece of the revenue puzzle.
"Being thought leaders in how to fill a stadium and how to schedule to where it's an attractive schedule for the customer, that's really important," said Jerry Kutz, vice president of marketing and communications for Seminole Boosters, during Florida State's AD search this summer.
Even the emergence of freshman phenom Jameis Winston wasn't enough to sell out Doak Campbell Stadium for his home debut. Fisher penned a letter to fans urging them to eschew their high-definition TVs in favor of the game day experience, but it's tough to convince fans to shell out hundreds of dollars for a seat in the stands when their couch is both more comfortable and less expensive. The school has hyped the return of Bobby Bowden for two games later this season -- NC State and Syracuse -- as both an opportunity to honor the former coach and a way of putting fans in the seats for games in which Florida State figures to be heavily favored.
So Wilcox will begin laying out a plan to address those concerns after meeting with the Florida State board of trustees next month, but practical limitations mean any large-scale changes to the current philosophy will be difficult.
Florida State needs the added revenue of a seventh home game, and with a regularly scheduled home-and-home series against Florida, one nonconference road date is already accounted for every other season. Add in a continuously shifting conference landscape, and the options get even trickier.
"Like most schools, we at FSU don't have the luxury of having a sequence of back-to-back years or even every other year openings in our schedule, which makes finding a home-and-home series extremely difficult in the near future," Wilcox said. "Given that, you must schedule teams that are willing to make trips to Tallahassee without a return game or vice versa."
One potential workaround for Florida State is neutral-site kickoff games, like the one they'll play against Oklahoma State in Dallas next season. Typically those games attract large crowds, and unlike a normal road date, the revenue is split evenly between the two schools.
Former AD Randy Spetman suggested a kickoff game in Atlanta against Georgia was in the works before he was reassigned this summer, and while that game now seems less likely to happen, Wilcox said the school continues to explore other neutral-site contests.
"We are actively engaged in talks with several neutral site venues and the conference office to schedule some games in the near future with FBS schools, but nothing that I can comment on at this time," Wilcox said. "We explored very thoroughly the possibility of a neutral-site game in Atlanta in the very near future, but it did not come together."
Fisher said he hasn't discussed scheduling with Wilcox yet, but anticipates it will be a point of emphasis in the near future. Fisher said he'd like to see FSU continue to schedule one "significant game" every year out of conference, in addition to Florida.
But even if Florida State wants to play other marquee games, finding willing partners is increasingly difficult as conferences adjust their priorities, too. The SEC is considering a move to a nine-game conference slate. The Big Ten announced it will no longer play FCS foes. Notre Dame's partial membership in the ACC adds a new wrinkle, and the new playoff system, in which four teams will have a shot at the national title, could make scheduling more competitive or, perhaps, increase the rewards for teams that avoid a loss by skipping out on particularly daunting challenges.
While the future schedules remain a mystery, Fisher said he anticipates a push toward better competition.
"I think strength of schedule is going to be very important in what you do," Fisher said.
August, 7, 2013
8/07/13
5:40
PM ET
Florida State
hired Duke administrator Stan Wilcox as its new athletic director
on Wednesday.
Wilcox has served as senior deputy athletics director at Duke since 2008. He also has spent time as deputy athletics director at Notre Dame, and worked for 11 years as an associate commissioner at the Big East. He replaces Randy Spetman, who resigned in June after five years on the job.
"I am thrilled and very thankful to President (Eric) Barron for affording me this great honor," Wilcox said in a statement. "I have followed Florida State athletics from afar and through the ACC Conference; and have always been a big fan of FSU's student athletes on the field and in the classroom," said Wilcox. "I look forward to continuing in the great tradition of previous Florida State athletic directors as well as addressing the challenges and opportunities that this outstanding athletics program will hold. Go 'Noles!"
Duke athletic director Kevin White said in a statement: "Florida State is gaining a highly seasoned professional in Stan Wilcox, who has an outstanding track record, 'moving the needle' at every turn. A truly gifted and well-respected leader, Stan has the distinct ability, relationship skills, and industry knowledge to be the 'clubhouse leader' within all of college athletics. Personally speaking, I could not be more euphoric for Stan, Ramona, and their very special family, for this is a magical moment for both the Wilcox family and Florida State University."
ACC SCOREBOARD
Saturday, 12/20
Monday, 12/22
Tuesday, 12/23
Wednesday, 12/24
Friday, 12/26
Saturday, 12/27
Monday, 12/29
Tuesday, 12/30
Wednesday, 12/31
Thursday, 1/1
Friday, 1/2
Saturday, 1/3
Sunday, 1/4
Monday, 1/12
Tweets from https://twitter.com/ESPNCFB/lists/acc