September, 20, 2012
9/20/12
10:15
AM ET
Time to take a look at what to watch in the ACC in Week 4. I think you probably already have a good idea of what is in store.
1. Top-10 clash.
By now, you probably already know the matchup between No. 10 Clemson and No. 4 Florida State is only the ninth meeting featuring two ACC teams ranked in the top 10. So yes, it is a big game, one of the biggest games in league history, even. I have been asked this question several times during the week: What is the best possible outcome for the ACC? Clearly one team has to win and one has to lose. But in the best-case scenario, this game is competitive, thrilling and pretty clean, and goes down to the wire. To me, that validates having two teams ranked in the top 10 and keeps the loser somewhere in the top-15 range.
2. Offense vs. defense.
This is your classic matchup of terrific offense against terrific defense. So which unit gets the edge? We find out Saturday. According to ESPN Stats & Information, Florida State is one of two teams that has yet to allow a touchdown this season (TCU is the other) and has forced 22 three-and-outs in 42 opponent drives. Clemson, meanwhile, is averaging 39.7 points per game this season. The Tigers have 17 plays that gained 25 yards or more this season, tied for the most in the nation.
[+] Enlarge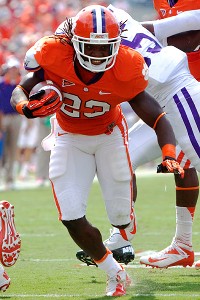 Joshua S. Kelly/US PresswireAndre Ellington and Clemson can give the ACC a lift by knocking off SEC power LSU.
3. Andre Ellington vs. FSU run D.
One of the matchups that has not been given too much attention this week is between Clemson running back Andre Ellington and the Florida State run defense. While much of the media focus has been on
Sammy Watkins
and
DeAndre Hopkins
, Ellington is an absolute player to watch. According to ESPN Stats & Information, Ellington has gained more yards after contact (199) than Florida State has allowed in total rushing yards (101) this season. As for the FSU defense, the Noles have forced their opponents into no gain or negative yardage on 40 of 85 rushes (47.1 percent), the highest percentage in the Football Bowl Subdivision. Ellington has failed to gain yards on just four of his 53 rushes this season (7.5 percent) and has been hit in the backfield on just seven runs.
4. Bounce-back week.
Now on to some of the other matchups. This could be called "bounce-back week in the ACC" for a few of the other teams in the league: Virginia Tech, Wake Forest, North Carolina and Virginia -- teams that all lost last week. I left out Maryland because the Terps play No. 8 West Virginia and face the biggest challenge of all these teams. Virginia Tech, Wake Forest and North Carolina all are expected to win. Virginia? The Hoos are a double-digit underdog at No. 17 TCU.
5. Logan Thomas.
Speaking of Virginia Tech, which Logan Thomas will we see Saturday against Bowling Green? Thomas played poorly against Pitt last week, throwing three interceptions. The mistakes were absolute killers, as Pitt used the turnovers to pull the upset. One of the big problems for Thomas and the Hokies has been an inability to run the ball. That, combined with ineffective quarterback play, has left this team stagnant on offense. We'll see what the Hokies try to do to jump-start both Thomas and the run game this weekend.
6. Can Georgia Tech beat Miami?
The Hurricanes have won three straight in the series, but all signs are pointing to Georgia Tech this season. Last week against Virginia, the Jackets scored seven rushing touchdowns -- tied for the most under coach Paul Johnson. This is a pretty confident group on offense going into the game. The bigger question for Tech is how to slow down Miami freshman sensation
Duke Johnson
, who scored three different ways against Bethune-Cookman. Tech has not faced anybody nearly as good as Johnson in its first three games this season, and the Jackets have had problems slowing down some of the speed and athleticism Miami has presented in the past.
7. Does Maryland have a chance?
There is always a chance in any game, but the Terps are going to have their work cut out for them. I got to watch
Geno Smith
play last year when West Virginia was in the Big East, and the only time I saw him flustered was when he faced heavy pressure. Maryland does have a good defense that can apply pressure, but there are two problems: 1. Smith is better this season and 2. He gets rid of the ball so fast. Maryland's only chance in this game is with a studly defensive performance, but I just don't think the Terps have the players to slow down Smith,
Stedman Bailey
and
Tavon Austin
.
8. Does Virginia have a chance?
Late news Wednesday night -- TCU will be without running back
Waymon James
for the rest of the season. The Horned Frogs have depth concerns at that position, but the bigger problem for Virginia will be slowing down
Casey Pachall
and the passing game. Virginia is so green in the secondary, the advantage might go in TCU's favor.
9. Will the real North Carolina please stand up?
Are the Tar Heels the team that trailed Louisville 36-7 at halftime last week or the one that outscored the Cardinals 27-3 in the second half and nearly won? Coach Larry Fedora sure would love to find out against East Carolina on Saturday. This is a game that should have plenty of juice in-state. East Carolina sold out its ticket allotment for the game.
10. Could be a good day for the state of North Carolina.
Wake Forest plays Army, NC State plays the Citadel and Duke plays Memphis in games almost everybody expects to go the ACC's way. The hope for these teams is that there is no look-ahead factor with conference games set for next week: Duke travels to play Wake, and NC State will be at Miami.
January, 4, 2012
1/04/12
9:00
AM ET
West Virginia is going for its first 10-win season since 2007 in the Discover Orange Bowl against Clemson tonight. Here is a quick preview:


WHO TO WATCH:
Quarterback
Geno Smith
. All eyes are going to be on both quarterbacks in this game, for obvious reasons. Clemson has made it no secret this week that its No. 1 goal is to get after Smith, in order to get him out of rhythm. This, of course, would limit the number of touches for 1,000-yard receivers
Tavon Austin
and
Stedman Bailey
. A few teams have been successful at getting Smith off his game, and the front Clemson brings may have that capability -- with Andre Branch and
Brandon Thompson
two of the more highly-rated linemen for the 2012 NFL draft. Branch had 10.5 sacks and 16 tackles for loss this season, and could pose major problems. West Virginia has not been consistent on the offensive line this season, but there is some good news. The Mountaineers tend to play up to their level of competition. So getting to face a line as good as Clemson could mean an outstanding performance, which is the biggest key to getting Smith and his receivers going.
WHAT TO WATCH:
West Virginia defense vs.
Tajh Boyd
. Much has been made about the two offenses in this game, but the defenses should not be ignored. West Virginia has made a pretty solid turnaround in the final three games of the season, allowing just 365.7 yards a game, turning up its pressure and playing much better pass defense. This group has been much more opportunistic as well. It most certainly will have to be against Clemson, a team that has fared much better in turnover margin. Tight end
Dwayne Allen
poses a huge threat, because he is like an extra receiver on the field, and West Virginia will be without starting safety Terence Garvin. At least the Mountaineers have experience going against an up-tempo team. Can they keep up the momentum from the end of the season?
WHY TO WATCH:
Everybody loves offense, right? And everybody loves the battle for supremacy between the Big East and ACC, right? OK maybe not the latter, but there should be plenty of fireworks in this one, and plenty of NFL talent on this field. Plus, this could be West Virginia's final game as members of the Big East. If that is indeed the case, you can bet the Mountaineers will want to do nothing but go out on top.
PREDICTION:
West Virginia 35, Clemson 30. Yes, I realize that West Virginia is going to be without several of its starters, including Garvin and
Dustin Garrison
. But I also think this is a team that found its way in the latter part of the season, and will not be denied. Simply put, West Virginia refused to lose, and every part of this team willed itself to victory against Cincinnati, Pittsburgh and USF. Folks are focusing on the offenses; but West Virginia is better overall on defense and that makes the difference in this game.
December, 4, 2011
12/04/11
11:40
PM ET
West Virginia Mountaineers (9-3) vs. Clemson Tigers (10-3)
Jan. 4, 8:30 p.m. ET (ESPN)

West Virginia take from Big East blogger Andrea Adelson:
Go ahead and say it: West Virginia has a flair for the dramatic this season. The Mountaineers never made things easy on themselves, down to the final game of the season. They dropped a game at Syracuse (has anybody figured that out yet?), and lost at home to Louisville for the first time since 1990, forcing them to scramble to win a share of the Big East title for the sixth time in the past nine seasons. Under first-year coach Dana Holgorsen, the Mountaineers were the preseason choice to win the Big East because of high expectations for a high-powered offense. Indeed, West Virginia quarterback
Geno Smith
and receivers
Stedman Bailey
and
Tavon Austin
shattered passing and receiving records, but nobody would say things ran smoothly for this team all season. The defense, which lost seven starters off one of the best groups in the nation last season, struggled for a good portion of the season at stopping the run and getting a sustained pass rush.
Even Holgorsen will tell you the offense was not running as consistently as he would like because of struggles on the offensive line and in the ground game. Still, this team found a way to win down the stretch -- and that is the mark of a good team. Consider that it had to come from behind in eight of its nine wins this season. That includes the final three against Cincinnati, Pittsburgh and USF. A loss in any of those games would have eliminated the Mountaineers from Big East contention. And in those three games, it was the defense that came up with huge plays -- from a fumble recovery in the end zone against the Bearcats; to 10 sacks against Pitt; to an interception return for a touchdown against USF and a fumble recovery late that gave the Mountaineers a chance to drive for the winning field goal. That victory got West Virginia to nine wins -- making it one of three programs in the nation to have at least nine wins in seven straight seasons.
---

Clemson take from ACC blogger Heather Dinich:
Clemson defied all logic and most expectations when it flat-out dominated Virginia Tech in Saturday's ACC championship game. After finishing the regular season with losses in three of their past four games, including an inexplicable implosion against NC State and the program's third straight loss to rival South Carolina, the Tigers played their best and most complete game of the season against then-No. 5 Virginia Tech to win their first ACC title since 1991. It will be Clemson's first appearance in the Orange Bowl since its national championship season in 1981. After starting the season 8-0, the Tigers struggled down the stretch with pass protection and turnovers, but it all seemed to come together against the Hokies. It's the first time Clemson has had a 10-win season since 1990.
Clemson enters the Orange Bowl with the nation's No. 21 passing offense under first-year starting quarterback
Tajh Boyd
and offensive coordinator Chad Morris, but West Virginia will also have to be wary of standout true freshman receiver
Sammy Watkins
and tight end
Dwayne Allen
. All three of them have had record-setting seasons, but Clemson's defense has been inconsistent this year. The Tigers are allowing 26.15 points per game, and will face an offense that is averaging 34.92.
Clemson will be facing the Mountaineers for only the second time in its history. The Tigers won 27-7 in the 1989 Gator Bowl. Clemson has a 16-17 record in 33 bowl appearances. Overall, it is Clemson's fourth appearance in the Orange Bowl (1951, 1957, 1982).