July, 15, 2014
Jul 15
12:00
PM ET
NFL.com has made its predictions for
the ACC's leaders in the major statistical categories
, and it didn't exactly go out on a limb with any selections. In fact, I'd say NFL.com's picks are probably the same as mine.
But let's play devil's advocate for a bit today and dig a little deeper into the ACC's talent pool to find some other contenders. So, here are my not-so-obvious choices:
Passing yards
NFL.com choice:
Jameis Winston
(Florida State)
Not-so-obvious choice:
Will Gardner
(Louisville)
OK, there's really only one contender for this, and it's Winston. But if we've got to find an alternative, we'll go with Bobby Petrino's new QB. In nine years as a college head coach, Petrino's QBs have topped 3,000 yards five times (and that includes four different quarterbacks). Louisville also has a strong group of receivers and a veteran line in front of Gardner, so the passing game should be solid. And who knows? Perhaps FSU blows out so many of its opponents again that Winston's numbers suffer as a result of too many second halves spent on the bench.
Rushing yards
NFL.com choice:
Duke Johnson
(Miami)
Not-so-obvious choice:
Zach Laskey
(Georgia Tech)
What separates Johnson beyond talent is that he figures to be a bell cow in the backfield, and that's something that just doesn't exist much anymore. Florida State, Syracuse, Clemson, UNC, Pitt — they're all going to have more of a committee approach that will likely prevent any one back from piling up too many yards. That's true at Georgia Tech, too, but because the Yellow Jackets run the ball more than anyone else (78 percent of its plays last year), we'll assume Laskey will get his shot at a title anyway. Of course, despite all those carries, Tech tailbacks have led the ACC in rushing just twice under Paul Johnson (2008 and 2010).
Receiving yards
NFL.com choice:
DeVante Parker
(Louisville)
Not-so-obvious choice:
Rashad Greene
(Florida State)
OK, so Parker might actually be the not-so-obvious choice here, as Greene,
Tyler Boyd
and
Jamison Crowder
all return fresh off 1,000-yard seasons. We'd bet all four top 1,000 again this year, but the edge will go to Greene, who has the best QB throwing to him, but won't have to compete with Kelvin Benjamin and Kenny Shaw for targets this year.
Tackles
NFL.com choice:
Steven Daniels
(Boston College)
Not-so-obvious choice:
Kelby Brown
(Duke)
A lot gets made of BC's run of great tacklers. Every year, the Eagles produce another 100-tackle defender. But do you know which team had the top three tacklers in the ACC last season? That'd be Duke (
David Helton
,
Jeremy Cash
and Brown), and all three are back this year. In fact, in the last six seasons, Duke has produced eight players with 100-tackle seasons.
Sacks
NFL.com choice:
Vic Beasley
(Clemson)
Not-so-obvious choice:
Corey Crawford
(Clemson)
Beasley has already received so much attention, it would be a mild surprise if he led the league in sacks again just because opposing linemen will make him a focal point all season. In fact, the last time the same player led the ACC in sacks in consecutive years was Florida State's Peter Boulware in 1995 and 1996. So here's betting that one of Beasley's teammates reaps the rewards of all the attention he figures to get in 2014.
Interceptions
NFL.com choice:
Kendall Fuller
(Virginia Tech)
Not-so-obvious choice:
P.J. Williams
(Florida State)
This one is sort of a crapshoot, but Florida State figures to be up big in many games, forcing the opposition to throw, and with a balanced and deep corps of defensive backs, it will be hard for teams to avoid throwing to any one side of the field. So that means Williams should get a few chances, and he's as talented as any corner in the country, so we're betting he makes the most of a few of those opportunities.
More links:
June, 24, 2014
Jun 24
12:00
PM ET
It's that time of year when the preseason lists start appearing, and Athlon is out with
its preseason All-America teams
(four of them!), which include a healthy dose of the ACC.
The ACC has eight players on the first-team All-America squad, tied with the Pac-12 for most by any conference. In all, the ACC had 27 selections (26 players, as Duke's Jamison Crowder was named as both a receiver and punt returner). Florida State, not surprisingly, led the way with a whopping 12 players named on the four lists, including Jameis Winston, Nick O'Leary, Tre Jackson, Cameron Erving, Jalen Ramsey and Roberto Aguayo as first-teamers.
Of course, these preseason lists are always a little subjective and a lot different from how the end-of-the-season results shake out. (Example: Just seven of last year's Athlon
preseason picks
were also
first-team selections at year's end
.)
With that in mind, here are a few ACC names that didn't show up on any of Athlon's four preseason All-America teams that could well be first-teamers by the time 2014 draws to a close.
CB Ronald Darby (FSU):
The forgotten man in Florida State's incredibly talented secondary, Darby nursed a nagging groin injury, but still was
as good a shut-down cornerback
as there was in the conference a year ago. He has flown under the radar nationally, but he has the talent to be a star if QBs decided to test him just a bit more often this season.
DT Grady Jarrett (Clemson):
The 2014 season promises to be a pick-your-poison scenario for teams hoping to slow down Clemson's immensely talented pass rush. Vic Beasley gets most of the hype (for good reason), but he is also going to get a lot of the attention from offensive linemen. That opens the door for Jarrett (10.5 tackles for loss last season), along with a host of others to make some noise, too.
LB Steven Daniels (Boston College):
It is a bit surprising that Miami's Denzel Perryman is the only ACC linebacker to make Athlon's cut since there is clearly a lot of talent at the position, including Clemson's Stephone Anthony, Duke's Kelby Brown and David Helton and Syracuse's Dyshawn Davis. But we all know
the history of linebackers
at Boston College, and Daniels could be next in line. He still has room to improve, but his 88 tackles last season are the seventh-most by a returning player in the ACC, and that number figures to grow in 2014.
RB Dominique Brown (Louisville):
He had 825 yards and eight touchdowns last season in a more buttoned-down offensive system with a highly touted QB on the field. Now the Cardinals turn to a novice at quarterback and an offensive guru at head coach, which could promise big production out of the backfield for Brown. Or, perhaps we will all be talking about Michael Dyer here by season's end.
DE Eli Harold (Virginia):
As bad as the Hoos have been, it makes sense that they are not getting much preseason love, but Mike London is quietly assembling a heck of a defensive line at UVA, and Harold might be the best of the bunch. His 15 tackles for loss last season trail only Beasley among returning ACC defenders.
That is my list. Who else do you think could make a push for All-America honors by season's end?
More links:
March, 6, 2014
Mar 6
10:00
AM ET
Setting up spring in the ACC Atlantic.
Boston College
Spring start:
March 12
Spring game:
April 12

What to watch:
Big shoes to fill: Steve Addazio helped BC make huge strides in 2013, but the task of keeping the momentum going gets much harder without star running back and Heisman finalist Andre Williams, who rushed for an NCAA-best 2,177 yards and 18 touchdowns. Tyler Rouse and Myles Willis will attempt to fill the vacancy this spring, and both have potential. Willis averaged nearly 6 yards per carry as Williams' primary backup last year. The real intrigue might wait until fall, however, when four freshmen running backs arrive on campus.
Murphy makes the move: It's an open competition at quarterback after Chase Rettig's departure, but there's no question the most intriguing player in the race is Florida transfer Tyler Murphy. The fifth-year senior worked with Addazio at Florida, and he'll open the spring competing with redshirt freshman James Walsh and early enrollee Darius Wade. That's a deep enough bench that BC didn't worry about moving Josh Bordner, last year's backup, to tight end. With both of last year's starting tackles gone, too, Murphy's experience could be even more important in determining the outcome of the QB battle.
Restocking the LBs: Even at its low points in recent years, Boston College managed to churn out plenty of talented linebackers, but the position gets a massive overhaul this year. First-team All-ACC star Kevin Pierre-Louis (108 tackles in 2013) is gone, as is Steele Divitto (112 tackles). That leaves junior Steven Daniels (88 tackles, 5 sacks) as the lone returning starter. Josh Keyes adds some experience, but it'll be a group in transition this spring.
Clemson
Spring start:
March 5
Spring game:
April 12

What to watch:
Replacing Boyd: The talk of Clemson's spring camp will no doubt surround the quarterbacks, as senior Cole Stoudt, sophomore Chad Kelly and early enrollee Deshaun Watson vie for the job. Stoudt's experience makes him the early favorite, but it's Watson, a dual-threat QB with immense talent, who could steal the show. Coach Dabo Swinney has already lauded Watson as perhaps the most talented quarterback Clemson has signed, so all eyes will be on the freshman to see if he can back up all that hype with a strong spring.
Skill-position shuffling: If the QB battle is the headliner, there are plenty of significant sideshows on offense this spring. Clemson waved goodbye to receivers Sammy Watkins (1,464 yards, 12 TDs) and Martavis Bryant (828 yards, 7 TDs) and tailback Roderick McDowell (1,025 yards, 5 TDs). That means a massive overhaul on offense, where there's no clear-cut bell cow at running back (Zac Brooks and D.J. Howard return as potential options) and the receiving corps will be looking for some new top targets.
Dominance up front: On offense for Clemson, there's plenty of concern for what the Tigers lost. On defense, however, the excitement is all about what they're bringing back. Clemson's defensive line, in particular, could be one of the nation's best. When All-American Vic Beasley announced his return for his senior season, the Tigers knew they could have something special. Add sophomore lineman Shaq Lawson and senior Stephone Anthony at linebacker and Clemson has all the makings of a dominant pass rush.
Florida State
Spring start:
March 19
Spring game:
April 12

What to watch:
The running backs: After leading FSU in rushing three straight years, Devonta Freeman is gone. So, too, is James Wilder Jr. But the Seminoles enter spring with a quartet of intriguing options to replace their departed stars, led by Karlos Williams (730 yards, 11 TDs in 2013) and Dalvin Cook (No. 21 on the 2013 ESPN300). Mario Pender, who missed last year with academic issues, also figures to be in the mix.
The defensive front: There are a wealth of question marks here, both in terms of personnel and scheme. With Timmy Jernigan, Telvin Smith and Christian Jones gone, there are plenty of jobs up for grabs. The development of Mario Edwards Jr., Eddie Goldman and Terrance Smith will be key, but with Charles Kelly taking over the defense, it's also still a bit unclear how much the scheme will deviate from what Jeremy Pruitt ran with so much success in 2013.
Jameis Winston's swing: A year ago, the big question was who would win the QB battle. Now, Winston's got a Heisman Trophy and will be a favorite to win it again in 2014. So the intrigue surrounding the FSU star QB is more on the baseball field, where once again, he'll be splitting time this spring. Perhaps the bigger question is how the rest of the QB depth chart shakes out, with Sean Maguire the elder statesman and John Franklin III looking to make his move.
Louisville
Spring start:
March 18
Spring game:
April 11

What to watch:
Bobby's back: After a seven-year hiatus that included an abrupt departure from the Atlanta Falcons and a damaging scandal at Arkansas, Bobby Petrino is back in charge at Louisville insisting he's a changed man. Fans will be watching closely to see if he has changed his stripes away from the field, but also whether he can rekindle the same offensive fireworks he delivered in his first stint with the Cardinals.
Replacing Bridgewater: It's an open QB battle, and for Petrino, it's among the first chances he'll have to see the players vying to replace departed star Teddy Bridgewater in action. Sophomore Will Gardner is perhaps the favorite, but he has just 12 career pass attempts. Redshirt freshman Kyle Bolin is close behind, while Reggie Bonnafon is set to arrive in the fall.
New look on D: Louisville finished the 2013 season ranked second nationally in scoring defense, trailing only national champion Florida State. But this spring, things will look a bit different for the Cardinals, as Todd Grantham takes over as the new defensive coordinator after being lured from Georgia. Grantham figures to bring a 3-4 scheme to Louisville, which will certainly shake things up a bit. Defensive end Lorenzo Mauldin missing the spring with a shoulder injury only clouds the situation further.
NC State
Spring start:
March 4
Spring game:
April 12

What to watch:
Brissett takes the reins: The sting of last year's winless ACC season was barely in the rearview mirror before coach Dave Doeren named Florida transfer Jacoby Brissett his new starting quarterback. Brissett spent last year on the sideline, but apparently Doeren saw enough during practice to comfortably wave goodbye to Pete Thomas, who announced his transfer. There will be ample spotlight on Brissett this spring as he tries to revive the underperforming NC State passing game.
The new faces: If 2013 was about cleaning house, this spring begins the far more difficult project of rebuilding. For NC State, that means plenty of new faces, including a whopping seven early enrollees headlined by safety Germain Pratt. While there are ample holes for Doeren to fill in Year 2, these incoming freshmen could certainly push for starting jobs and bring an influx of depth that the Wolfpack sorely missed last year.
Shoring up the lines: NC State's 2014 signing class included 11 offensive and defensive linemen, and that's just the start of the overhaul at the line of scrimmage. Last season, the Wolfpack allowed the second most sacks in the ACC (35) on offense while its defensive front recorded the fewest sacks in the conference (20). That's a formula for disaster, and Doeren understands NC State must get much better in the trenches. Brissett's arrival at QB could help, but the bottom line is NC State needs to see improvement on both sides of the line, and it needs to start this spring.
Syracuse
Spring start:
March 18
Spring game:
April 19

What to watch:
Hunt's next step: 2013 was a roller coaster season for Terrel Hunt. He lost the QB battle in fall camp, stepped in as starter after two weeks and was dominant, struggled badly through the midsection of the season, then closed strong with back-to-back come-from-behind wins. Now that he has experience, it will be interesting this spring to see how much he's progressed. The talent is there, and spring practice should give Hunt a chance to refine it a bit more.
The defensive front: Syracuse finished its first ACC season ranked fourth in rushing defense and third in sacks despite myriad personnel issues entering the year, but more questions remain as the Orange look toward 2014. With star lineman Jay Bromley and veteran linebacker Marquis Spruill gone, the Orange are looking to fill sizable holes. Robert Welsh figures to be the anchor of the Syracuse pass rush, and the Orange could benefit from the return of Donnie Simmons, who missed 2013 with a knee injury.
Secondary concerns: Syracuse got a chance to learn what life was like without top cover corner Keon Lyn after the senior fractured his kneecap late last year, but while Brandon Reddish did an admirable job as his replacement, a whole new set of questions crops up in the secondary this spring. Syracuse figures to have openings at both corner and safety, and while Julian Whigham, Darius Kelly and Ritchy Desir offer options, there's a lot to be decided on the practice field this spring.
Wake Forest
Spring start:
March 25
Spring game:
April 26

What to watch:
Clawson's early impact: It's been 14 years since Wake Forest opened a spring camp with someone other than Jim Grobe calling the shots, so there's no question this will be an intriguing few weeks in Winston-Salem. Dave Clawson takes over after leading Bowling Green to a MAC championship, and he inherits a major rebuilding job. First up for the coach will likely be creating an offensive identity -- something Grobe couldn't do in 2013.
Identifying some offense: If 2013 was an offensive slog for Wake Forest, 2014 threatens to be much, much worse. As bad as things got at times last year, the Deacons at least had veterans to rely on. This season, Wake's leading passer (Tanner Price), rusher (Josh Harris), receiver (Michael Campanaro) and top tight end (Spencer Bishop) are all gone. On the plus side, plenty of younger players saw action in 2013. The job this spring is to figure out who can take a big step forward entering the 2014 campaign.
The defensive scheme: Wake appears to be moving away from the 3-4 that was a hallmark of recent seasons, as new coordinator Mike Elko tries to maximize the talent remaining on the roster. Without veteran lineman Nikita Whitlock, Wake's defensive front will have a far different look in 2014, and this spring will largely be about Elko identifying playmakers and tweaking his system to fit their skill sets.
August, 23, 2012
8/23/12
4:00
PM ET
Now that we are closing in on the start of the season, we have a much better idea of how many true freshmen could make an impact in the ACC this season based on preseason practice time and early depth charts.
Maryland could end up playing the most, and having players who make the biggest impact. You have quarterback
Perry Hills
starting in place of the injured
C.J. Brown
. Highly touted athlete
Stefon Diggs
has had an outstanding preseason camp. Don't forget about running backs
Albert Reid
and
Wes Brown
, who also have looked really good.
Here are a few young players to keep an eye on at each school.
Boston College: Justin Simmons, DB.
Defensive back is an area where Boston College needs help, especially after the loss of
Al Louis-Jean
, who's out six to eight weeks with a foot injury. Simmons already has made his presence felt. In a scrimmage last weekend, he had two interceptions. Also watch for defensive back
Bryce Jones
and linebacker
Steven Daniels
.
[+] Enlarge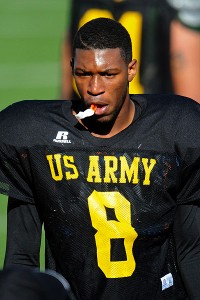 John Albright / Icon SMI The versatile Travis Blanks may line up at a number of positions on defense for the Tigers.
Clemson:
Travis Blanks, DB.
One of the top defensive backs in the country out of high school, Blanks enrolled early and had an impressive spring showing. He has followed that up with a great preseason, and will line up in a variety of positions -- nickelback, cornerback and some linebacker as well. On offense, watch for
Germone Hopper
, who has had some pretty explosive plays this fall.
Duke: Jela Duncan and Shaquille Powell, RBs; Ross Martin, PK.
Duncan and Powell have turned heads during the preseason, and coach David Cutcliffe said he would feel comfortable using both players in the opener against FIU. Martin is sure to get plenty of game experience as the starting kicker this year. Others to watch: receiver
Max McCaffrey
, tight end
Erich Schneider
and safety
Dwayne Norman
, who had an interception return for a touchdown in one scrimmage.
Florida State:
Ronald Darby, CB.
Do not be surprised if Darby ends up starting in the spot vacated by
Greg Reid
. Darby and
Nick Waisome
are competing for the starting job. Coaches like both players, but there is
something special
about Darby. Said coach Jimbo Fisher: Darby is "going to be a very, very good one." Also watch for defensive tackle
Eddie Goldman
and tight end
Christo Kourtzidis
.
Georgia Tech:
Anthony Autry and Micheal Summers, WR.
Georgia Tech only has four other scholarship wide receivers, so that increases the chances for Autry and Summers to play this season. Autry seems to have a slight edge over Summers. Others to watch: defensive back
D.J. White
.
Maryland:
In addition to Hills, Diggs, Brown and Reid, several others could make an impact this year. Punter
Brad Craddock
is competing for the starting position with redshirt freshman
Nathan Renfro
; and cornerback
Sean Davis
could be starting on opening day because he has done well, and there are some injuries on defense.
Miami:
Ereck Flowers, OL.
Flowers is listed as a starter right now at right tackle, helped in part because of
Seantrel Henderson
's absence. Offensive line coach Art Kehoe has been
extremely impressed
. Others to watch: defensive back
Tracy Howard
and running back
Duke Johnson
. Howard is listed on the two-deep behind
Ladarius Gunter
but has drawn raves so far and so has Johnson, who should also return kickoffs this year.
Deon Bush
is in the mix for a starting safety spot.
North Carolina: Quinshad Davis, WR.
Davis missed some early practice time because of a medical issue but has returned in the last week and has a big chance to make some noise. The Tar Heels are lacking depth at this position, and the way Larry Fedora likes to spread the ball around, he will take as many good receivers as he can.
NC State:
Charlie Hegedus, WR.
Receiver is a position of need for the Wolfpack, and Hegedus has seen more reps during fall camp with the injury to
Bryan Underwood
. One player NC State hopes you do not see this year is backup quarterback
Manny Stocker
, a true freshman behind veteran
Mike Glennon
.
Virginia:
Maurice Canady, CB.
Coaches are extremely high on Canady, who is in the mix to earn a starting spot in a secondary that has to be rebuilt this year. He has been working with the first team recently. Others to watch:
Michael Moore
at outside linebacker, and
Eli Harold
at defensive end.
Virginia Tech: J.C. Coleman, RB; Donaldven Manning, DB.
Both players enrolled in January and are virtual locks to play this season. Coleman has separated himself from another true freshman,
Trey Edmunds
, despite a hand injury. He has had an outstanding fall camp. Manning has had to deal with a hamstring injury, but his early enrollment works in his favor.
Wake Forest:
The Deacs rarely play true freshmen. But if there is one player who has a shot this year, it is defensive end
Tylor Harris
, who has stood out this fall for his pass-rushing ability -- something Wake Forest needs help improving this year.