August, 20, 2010
8/20/10
10:00
AM ET
When Miami coach Randy Shannon talks about the program's throwback defensive lines -- comprised of former players like defensive tackles Russell Maryland, Cortez Kennedy, Jerome Brown and Warren Sapp -- he points out one common trait: None of them were freshmen when they were at their best.
"People don't realize it took Russell Maryland three years to be Russell Maryland," Shannon said. "Cortez didn't play 'til his senior year. Jerome Brown played a little bit as a freshman. The third year he blossomed. It always takes a defensive lineman until his third or his fourth year really to come out. Sapp was the same way. Whenever you get somebody in his third or fourth year, they should be ready to take that next step."
Consider Miami's defensive line ready.
[+] Enlarge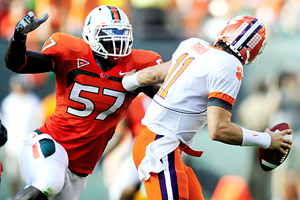 Steve Mitchell/US PresswireSenior Allen Bailey (57) led Miami with seven sacks and 11 tackles for loss last season.
This year's projected starting lineup includes two seniors -- Allen Bailey and Josh Holmes -- and two juniors -- Andrew Smith and Micanor Regis -- but there's so much depth that the competition continues and nothing is set in stone. Even with the dismissal of Steven Wesley, Miami still has 14 defensive linemen to choose from. If all of them play to their potential, it could be reminiscent of some of the program's best defensive lines of the past.
"I really wouldn't want to be on another team that plays against us," Miami quarterback
Jacory Harris
said. "Our defensive line is pretty good this year and I'm sure they're going to open a lot of guys' eyes."
"They're all fast guys, and they also have size on them," Harris said. "That's what makes it worse."
Expectations are highest for Bailey, who at 6-foot-4, 288 pounds led all Miami defensive linemen last year with 34 tackles. He led the team with seven sacks and 11 tackles for loss and should be one of the best players in the conference this fall. Still, he'll draw a lot of attention from opponents, forcing those around him to raise their level of play.
Bailey said that won't be a problem.
"We have the talent, we have the athleticism, we have the numbers," Bailey said. "It's a real good D-line this year. We could be real good. It's not only me. We have 16 or 17 d-linemen. There's like four at each position. It's improved a lot. It raises the competition for playing time. You've got to compete every day, every practice."
Bailey is roommates with defensive backs DeMarcus Van Dyke and JoJo Nicolas, and lineman Adewale Ojomo. To them, he's known as the "house chef."
"He knows how to cook everything -- shrimp pasta, chicken pasta, everything," Van Dyke said. "Man, he can cook."
He can also hit.
"I tell him I feed off him," Van Dyke said. "If he gets three sacks, I get three interceptions. If I get three picks, he'll get three sacks. That's how it goes. It's me and Allen's last year, so we're trying to go out with a bang and make it special."
Miami linebacker Sean Spence said Bailey is "worth every penny" of the preseason hype, but Bailey isn't the only one capable of making plays.
"We've got a lot of depth down there," Spence said. "You could interchange them easily. All of them could play. I'm expecting good things from those guys this year."
So is Shannon.
"Over the years these guys should be ready to take that step now," he said. " … Those guys are mature now. It should be the time for them to take the next step."
August, 12, 2010
8/12/10
3:51
PM ET
By
ESPN.com staff
| ESPN.com
Florida State North, er, I mean, North Alabama just got two more transfers in former FSU receiver
Jarmon Fortson
, who was
kicked off the team
for a violation of team rules, and Miami defensive end Steven Wesley, who was
reportedly dismissed
for academic reasons, ESPN.com's Mark Schlabach is reporting.
North Alabama already has six former
Florida State Seminoles
on
its roster
, not to mention two from North Carolina, one from NC State and one from Miami. Coach Terry Bowden is looking to move UNA up to the Division I FCS level soon, and stockpiling his roster with former FBS players with several years of eligibility remaining will certainly help his cause. Wesley has one year remaining while Fortson has two.
August, 1, 2010
8/01/10
3:06
PM ET
By
ESPN.com staff
| ESPN.com
Miami receiver
Thearon Collier
will meet with coach Randy Shannon on Monday to discuss his future with the team, and the Miami Herald has reported defensive end Steven Wesley has been
dismissed from the team
.
Lotta action for the Canes before they begin camp on Thursday.
According to the South Florida Sun Sentinel, Wesley is expected to be ruled
academically ineligible
and will transfer. Collier has some personal issues he has to deal with, but this could be the last straw for him.
The Canes are deep enough at defensive end that they'll be fine without Wesley, but Collier has been an impact player on special teams. He ran a punt back 60 yards for a touchdown against Virginia and ran another one back 61 yards for a score against Florida A&M. He became the first Hurricane to have multiple punt returns for touchdowns in a season since 2004.
October, 9, 2009
10/09/09
9:00
AM ET
By
ESPN.com staff
| ESPN.com

Posted by ESPN.com's Heather Dinich
If you don't see it, that's because I didn't get it ...
BOSTON COLLEGE
OUT FOR SEASON
LB Mark Herzlich (illness)
FOR VIRGINIA TECH GAME
WR Ifeanyi Momah (knee) – OUT
TE Jordon McMichael (hip) – OUT
FS Okechukwu Okoroha (leg) – OUT
LB Will Thompson (shoulder) – DOUBTFUL
DT Austin Giles (back) – DOUBTFUL
FB James McCluskey (Achilles) – QUESTIONABLE
CB Roderick Rollins (Leg) – PROBABLE
DE Alex Albright (ankle) – PROBABLE
DUKE
RB Jay Hollingsworth (ankle) -- Probable
OT Jarrod Holt (concussion) -- Probable
RB Kyle Griswould (leg) -- OUT
CB Randez James (hand) -- OUT
LB Abraham Kromah (leg) -- OUT
WR Tyree Watkins (leg) -- OUT
S Anthony Young-Wiseman (knee) -- OUT FOR SEASON
FLORIDA STATE
OUT
FB Daniel Gard (knee)
OT Antwane Greenlee (knee)
LB Aaron Gresham (knee)
OT John Prior (knee)
LB Vince Williams (back)
QUESTIONABLE
DT Justin Mincey (knee)
CB Patrick Robinson (ankle)
PROBABLE
ROV Korey Mangum (shoulder)
GEORGIA TECH
Out
Robert Hall, r-Jr., DE (knee)
Doubtful
Cooper Taylor, So., S (undisclosed)
Questionable
Dominique Reese, Jr., S (shoulder)
Marcus Wright, So., RB (shoulder
Out For Season
Kyle Jackson, r-So., LB (foot)
MARYLAND
Out for season:
Tyler Bowen (foot)
Nolan Carroll (leg)
Out:
Travis Baltz (ankle)
Mike Barbour (leg)
Louis Berman (leg)
Bruce Campbell (leg)
Danny Edwards (concussion)
Da'Rel Scott (wrist)
Joe Vellano (foot)
MIAMI
Probable
DL Olivier Vernon – Lower Extremity
Questionable
RB Graig Cooper - Lower Extremity
LS/TE Jake Byrne - Illness
Doubtful
DT Marcus Forston – Lower Extremity
DL Steven Wesley – Lower Extremity
Out
DL Dyron Dye - Leg
TE Richard Gordon – Upper Extremity
FB Patrick Hill – Lower Extremity
DB Ryan Hill – Upper Extremity
DB JoJo Nicolas – Upper Extremity
DE Adewale Ojomo – Jaw
DB Randy Phillips – Upper Extremity
Surgery and Out for Season
DE Gavin Hardin – Upper Extremity
LB Shayon Green – Lower Extremity
NORTH CAROLINA
Out (Season)
Carl Gaskins OT Knee
Matt Merletti S Knee
Trevor Stuart DS Knee
Out (Game)
Lowell Dyer C Shoulder
Doubtful
Zack Pianalto TE Foot
Ryan Taylor TE Knee
Questionable
Josh Adams WR Shoulder
Kyle Jolly OT Ankle
Mike Paulus QB Shoulder
Devon Ramsay FB Knee
Probable
Jonathan Cooper OG Ankle
Anthony Elzy FB Shoulder
Linwan Euwell LB Ankle
NC STATE
OUT FOR SEASON
Mario Carter, TE - knee
Ryan Cheek, LB - hip
Denzelle Good, OL - shoulder
Nate Irving, LB - leg
Colby Jackson, FB - knee
Everett Proctor, QB - shoulder
OUT
Jeff Rieskamp, DE - hip
Javon Walker, S - knee
QUESTIONABLE
Rashard Smith, CB - ankle
VIRGINIA TECH
Out for Season
Darren Evans (ACL)
Probable
Nekos Brown (illness)
Blake DeChristopher (ankle)
John Graves (ankle)
September, 26, 2009
9/26/09
3:05
PM ET
By
ESPN.com staff
| ESPN.com

Posted by ESPN.com's Heather Dinich
BLACKSBURG, Va. -- There seem to be more towels on the field right now as the players warm up as there are footballs. It's pouring here. There aren't many people in the stands at all right now, and those who are are blobs of ponchos. Everyone is soaked.
Demetrius Taylor is getting his first career start today for the Hokies at defensive tackle, and Stephan Virgil is back, but we won't know until they line up if he'll be at boundary or field corner.
For Miami,
Aldarius Johnson
,
Andrew Smith
and Marcus Forston didn't make the trip, and they were all on the injury report. Here's how the Canes' starting defensive line will look: LE Steven Wesley, LT Allen Bailey, RT Joe Joseph, RE Olivier Vernon.
Obviously it doesn't help to have two injured starters missing on the defensive line, but I still think the Canes will hold their own. The only other lineup change is DeMarcus Van Dyke will start at corner over Sam Shields.
September, 2, 2009
9/02/09
12:47
PM ET
By
ESPN.com staff
| ESPN.com

Posted by ESPN.com's Heather Dinich
Miami defensive end Eric Moncur will miss Monday's Florida State game with an injury, coach Randy Shannon said on Wednesday's ACC teleconference.
Defensive end Adewale Ojomo, who will miss at least several weeks after surgery for a broken jaw, will also be out for the Florida State game. Still, Shannon said he is confident in the defensive line, and downplayed the numerous reported nicks the unit has suffered this summer. Miami's official depth chart has not yet been released.
"Everybody else is healthy, fully healthy,'' Shannon said. "They've been healthy for a week. When you look at injuries, we may have an ankle here or maybe I rested a guy. Like sometimes in practice I've rested [defensive tackles] Allen Bailey and Josh Holmes and Joe Joseph some days on different days. ... We're pretty healthy right now."
When I asked Shannon if he thought the Canes would be OK without Moncur and Ojomo, he said, "We'll miss them, their experience and things like that, but we have confidence in [defensive ends] Olivier Vernon, Marcus Robinson, Andrew Smith and Steven Wesley -- who has done a great job for us. We have a lot of guys who played a lot of football last year on this team at that position.''
Miami's defensive line will be tested early against the Noles, as FSU is expected to have one of the best offensive lines in the conference this year, if not
the
best, and stopping the run will be one of the Canes biggest challenges in that game. Last year, in Florida State's 41-39 win, Antone Smith rushed for a career-best four touchdowns, quarterback
Christian Ponder
ran for 144, and the Noles racked up 310 rushing yards to Miami's 51.
"You've got to be able to stop the run," Shannon said. "That's what it comes down to. If you can stop the run defensively, you can make it a typical game that you want to be addressing, when you can let your pass rush get after the quarterback, and get them in a long-yardage situation. Last year, we weren't able to do that at certain times in the game, and Florida State did a nice job of running the football with Ponder and mixing it up with their tailbacks."