June, 8, 2010
6/08/10
4:30
PM ET
Can you give me a detailed scouting report on Tajh Boyd for people who haven't seen him play?
DS:
He's got an incredible arm, incredibly quick release. He's got excellent athleticism, big -- he's about 220 pounds -- very thick and strong. He's 6-1 ½, runs well. He's really a multi-threat quarterback. He can run the ball and he can make any throw you need him to make. But the thing I love about Tajh the most is he's a winner. He has a knack for making a play and as he learns the system where he can not be a thinker out there, just be a player, those qualities are going to shine through. He's got the ability we look for in a quarterback and being a dual threat guy. I definitely think he's a guy over the next four years, everybody is going to know what Tajh Boyd is capable of doing. He's going to be a good one.
Can you compare him to any other quarterbacks in the ACC?
DS:
Well, he can throw like
Kyle [Parker]
. To watch the two of those guys on the field, I mean, there's bullets flying out there. He's got that type of arm strength. But anybody else in the league? Not really.
What specifically does he need to work on?
DS:
Knowledge of the system, learning defenses, really understanding defenses and just growing in the system. That's the biggest thing with him. … Tajh is very talented and very capable. We have to bring him along quickly. The biggest thing for us is we don't have a lot of depth at the position … you're holding your breath all year hoping you don't lose a guy.
Right. Michael Wade and then … ?
DS:
We've got a freshman walk-on named
Donny McElveen
and that's it. We'll have to look at some other options. Maybe it's a guy on the team, maybe it's somebody coming in as a signee who's played a little quarterback in their day that we could just bring him up as an emergency guy. We'll have to have some options there, but I'm really high on the first two and know we can go out and win with them right now. We didn't have any issues this year. We haven't gotten to a third quarterback in a while around here, but every year is different. You never know.
June, 8, 2010
6/08/10
3:30
PM ET
Clemson's quarterback situation could change significantly if
Kyle Parker
decides to pursue a professional baseball career. Coach Dabo Swinney and I spoke on the phone earlier today and he gave me his take on the possibility. Here is the first half of the interview:
[+] Enlarge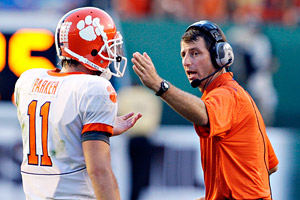 AP Photo/Lynne SladkyClemson coach Dabo Swinney is preparing for the possibility he might lose quarterback Kyle Wilson to professional baseball.
When do you need to know Parker's decision by in order to effectively prepare Tajh Boyd?
Dabo Swinney:
It's not like we can be out on the field with him this summer anyway. We're already doing everything we possibly can to prepare Tajh. We started that process in the spring to prepare him for the opportunity to be the guy regardless of when the time came. There's really nothing there we could change. When we get into camp, if this thing were going to drag out -- camp starts August 3 -- obviously if Kyle's not in camp, then we've got to assume he's not going to be there and move forward.
The Rockies drafted him the 26th pick, obviously they know all of the dynamics involved. I'm sure those things were discussed prior to them taking him. I don't think it will be something that will be drawn out. Plus Kyle understands his teammates are counting on him, and the sooner he can make the decision the better. There is a timeline, which is Aug. 14. I don't anticipate it being anywhere near that time.
Did you guys do anything different with Tajh this spring, knowing that this might be a possibility?
DS:
Absolutely. Kyle was not out there. I think he ended up practicing in eight of the practices. It was a great experience for Tajh because he got to get all of the first-team reps when Kyle wasn't there. He had some rough moments because he was learning the system for the first time, whereas a lot of veterans … they were just much further along than Tajh system-wise.
But it was good. We just threw him into the fire. He made a lot of mistakes but he learned and he got better and better as the spring went on. I'm proud of what he did this spring. He's not game ready yet, but that's what the summer is about. I know he's going to work extremely hard. My challenge to him on August 3 is you need to be a better player than you were April 10. We talked about the things he needed to do to get better and I think he's doing those things.
I hope like anything that Kyle's back. And again, selfishly, I still think he's a better quarterback. I'll continue to say that. I think the kid is off the charts in what he can do as a quarterback at this level and the next level. It just so happens he's a good baseball player, too, and that draft has come first. He's forced into making a decision. I just would hate to see him not being under center playing quarterback. I think the game would lose a potentially great player, but he's got to do what's best for him. If baseball is willing to pay him what it would take for him to walk away from football and just be exclusively baseball, I'm all for it. I support Kyle 100 percent.
This is a young man who has just been tremendous since the day he's gotten here. He's excelled in everything he's been asked to do. He's a special guy. He's one of those rare people who come along every now and then. Very few people can pull off what he's done. What he did as a freshman quarterback last year was just phenomenal. It's a hard position to play as a freshman, and to excel at the level he did, you have to have some really special qualities to you and he does.
Hopefully he'll be with us. I think that would be great. But if he's not, we've got to get the next guy ready. I'm confident in Mike Wade, and so is the staff and Tajh Boyd is a great freshman. It's not good for your health to be a head coach and have to live with freshmen quarterbacks to start your career off with, but if you've got to have a freshman, man, I wouldn't want anybody other than Tajh Boyd. He's a talented young man. He's high character and will be a great player. We'll hang in there with him.
Check back in a few for the second part of the interview ...