August, 15, 2014
Aug 15
10:30
AM ET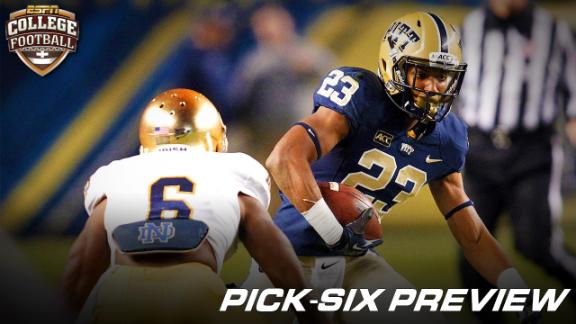 »
More team previews:
ACC
|
Big 12
|
Big Ten
|
Pac-12
|
SEC
Previewing the 2014 season for the
Pittsburgh Panthers
:
Key returners:
QB
Chad Voytik
, RB
James Conner
, RB
Isaac Bennett
, WR
Tyler Boyd
, TE
J.P. Holtz
, LT
Adam Bisnowaty
, C
Artie Rowell
, RG
Matt Rotheram
, RT
T.J. Clemmings
, DE
David Durham
, LB
Anthony Gonzalez
, LB
Todd Thomas
, CB
Lafayette Pitts
, S
Ray Vinopal
Key losses:
QB
Tom Savage
, WR
Devin Street
, DT
Aaron Donald
, LB Shane Gordon, CB
K'Waun Williams
, S Jason Hendricks
[+] Enlarge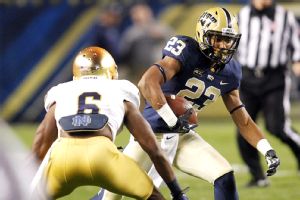 Charles LeClaire/USA TODAY SportsPittsburgh wide receiver Tyler Boyd looks to build on a freshman All-America season.
Most important 2014 games:
Sept. 20 versus Iowa, Oct. 16 versus Virginia Tech, Nov. 1 versus Duke, Nov. 15 at North Carolina, Nov. 29 at Miami
Projected win percentage (from Stats & Info):
63.5 percent.
Over/under Vegas odds:
7.5 wins.
Instant impact newcomers:
Avonte Maddox
and
Phillipie Motley
are a pair of freshman cornerbacks who will likely be counted on heavily to provide some needed depth at the position, as
Titus Howard
's
season-long suspension
leaves Pitt with just two returners with any experience at the position (Pitts and
Trenton Coles
). Both Maddox (5-foot-10, 170 pounds) and Motley (5-foot-9, 165 pounds) arrived this summer as ESPN three-star prospects, and the learning curve will likely be accelerated as the Panthers search for more bodies in coverage.
High point from 2013:
A 28-21 win over Notre Dame on Nov. 9 buried the Fighting Irish's remaining BCS bowl hopes and, at least partially, erased some of the sting from Pitt's consecutive three-point losses to them in 2011 and 2012. It's more useful, however, to look back at the 30-27 Little Caesars Pizza Bowl win over MAC champion Bowling Green, as youngsters Voytik, Conner and Boyd all stepped up in a big way, something each hopes is a sign of things to come for 2014.
Low point from 2013:
A 24-21 loss at Navy on Oct. 26 marked the first of a two-game slide (Pitt lost at Georgia Tech a week later), threatening to keep the Panthers out of postseason play before they pulled off the upset the following month over the Irish. Still, Pitt dropped three contests in a four-game stretch surrounding the loss to the Midshipmen, with its only win during that stretch coming against Old Dominion.
Best-case scenario for 2014:
Voytik builds off his late-game experience from the Pizza Bowl and gives Pitt a dynamic threat under center, the experienced-but-shaky offensive line jells, Boyd continues his ascent and the defense makes big strides. Pitt takes advantage of a rather friendly schedule, makes a run at 10 wins and emerges as the champion of a Coastal division that is simply begging someone to step up.
Worst-case scenario for 2014:
The offensive line continues to struggle, leaving Voytik vulnerable and the offense out of flux. The front seven fails to make up for the loss of Donald, allowing opponents time to test a green secondary. The Panthers win four games, taking a step back after consecutive bowl seasons in Paul Chryst's first two years. The youth on this team, however, is probably still enough to keep the future promising.
They said it:
"I feel fortunate to be at Pittsburgh. You talk about a school with unbelievable football tradition and a city that absolutely -- it's a great sports town but a heck of a football city. High school football is big on Fridays. Obviously the Steelers are big on Sunday. We want to be a team that reflects the city and reflects the university and the tradition of a great university. I want the ex-players to be proud of Pitt and Pitt football, and I know they certainly are proud of it. But that's where we want to go, and that's what I mean, we're not where we want to be. But I sure appreciate and enjoy going through and facing that challenge with this group of guys, and for every challenge there's an opportunity." -- Chryst, on how he defines Pitt football
April, 15, 2014
Apr 15
9:00
AM ET
Pitt
will have its final spring practice today, and I spoke recently with offensive coordinator Joe Rudolph about the progress the Panthers have made. Here are the highlights of our conversation:
We've talked a lot about your quarterback this spring, Chad Voytik, how has the rest of the offense looked?
[+] Enlarge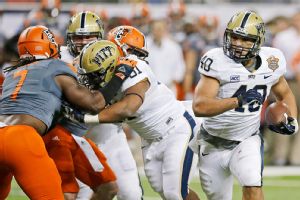 AP Photo/Carlos OsorioCoordinator Joe Rudolph says the Pitt offensive line made significant strides in spring.
Joe Rudolph:
It's coming, truly coming. I think it's a group that loves to work, and they love to work together. I've really enjoyed their approach to the spring, and I love how they've interacted and competed. There's a way you can compete where you're not giving anything up – you are going after it – but you also respect that person across from you, and I think this group does. We have to do a good job coaching, and player-wise they have to do a great job absorbing the details and information that will allow them to play a little bit more aware, with a little bit more seasoning than the number of starts or years in the program represent. I do, I like them. I think it's coming. The group is coming along.
How much better has the pass protection looked?
JR:
I think a lot better. There are some guys who have truly settled in the position.
T.J. Clemmings
stands out the most as really settling into a position and taking ownership of it. I really see a maturing in him, which is nice. He's over there next to
Matt Rotheram
, and that brings some great stability. I see
Artie [Rowell]
getting more confident, not only making the calls and those types of things, but in his technique at center. I think at times you get into it, you do a lot of great things all through practice and the minute you get into a game you get a hair hesitant. When you do that, you're not playing fast. You're not playing at your best. This group is ready to do that and have that little bit more confidence you need to let it go. They're getting there. The left side is young.
Adam Bisnowaty
has been limited, hasn't been able to do a lot of team stuff, we've got
Jaryd Jones-Smith
and
Dorian Johnson
have been battling over there. There are some things that show their heads from an understanding at times, but we also see some things ability-wise where you say, 'Wow.' So we're plugging at it.
I would think you have to be encouraged by the depth and experience that's returning this year at running back:
JR:
Yeah, the kids just work. Last year they worked their tails off. We asked them to jump into it, trust us and play with confidence.
Isaac [Bennett]
was the one guy who had experience, and I thought he did a great job for us, just steadying the whole group and being the bell cow when we needed him to and understanding protections.
James [Conner]
had his moments when he really stepped into the spotlight. His confidence level has increased and we're still hammering him on getting that complete understanding. They've been a blast.
Rachid [Ibrahim]
did some wonderful things for us last year and really saved us in a lot of areas and helped us because we were confident in his knowledge of protections and the run game and for a young guy to really have a grasp of all of it, you don't see that too often. He's doing a really good job this spring again and we've got a nice group coming in, so we're excited.
What's the next step for Tyler Boyd?
JR:
I think Tyler, the fun thing about Tyler is he loves to compete and he loves to be coached. He wants to know how he can get better. When you've got that approach, boy you love it. I'm sure there's a lot of details, whether it's finding the right blocks and the right fits in the run game to being consistent on all of his routes and route adjustments, and recognition of coverages, so I think there's a lot of room for growth, but in that, the ability to keep playing fast and making plays as you have.
March, 26, 2014
Mar 26
4:00
PM ET
Pitt coach Paul Chryst didn't try to sugarcoat it.
The Panthers' offensive line, which ranked No. 118 in the country last year with 3.31 sacks allowed per game, has little choice but to improve quickly if Pitt is going to take another step forward this fall in the Coastal Division race.
"I think we have a chance to" be better, Chryst said, "I really do. I think we can be better and flat-out need to be better. We have to make that come to fruition."
While it remains a work in progress this spring, those within the program are optimistic that four returning starters can give the group a boost and help take some of the pressure off first-year starting quarterback
Chad Voytik
, who is more of a scrambler than his predecessor,
Tom Savage
. Senior guard
Matt Rotheram
is the seasoned veteran with 27 career starts, and the Panthers also welcome back both starting tackles: senior
T.J. Clemmings
and redshirt sophomore
Adam Bisnowaty
. Center
Artie Rowell
started every game last season and earned praise for his performance in the bowl victory over Bowling Green.
[+] Enlarge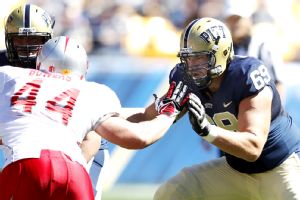 Charles LeClaire/USA TODAY SportsAdam Bisnowaty should help solidify the left side of Pitt's offensive line when he returns from a back injury.
"Every spring we come in, we look at last year's tape and say, 'Here's where we were; here's where we want to go,'" Rotheram told reporters after Tuesday's practice. "You want to build off of every single year. It does give us a chip on our shoulder. We want to be better."
Clemmings started all 13 games at right tackle last year, and it was his first full season on the offensive line after making the move from defensive end. Pitt is also eagerly awaiting the return of Bisnowaty, whose promising debut last year was derailed by a November back injury. He made eight starts as a redshirt freshman, but has still been sidelined this spring and is going through rehabilitation.
"He's making progress and feeling a little more confident about everything," Chryst said. "He's slowly building to that level of work and so far, knock on wood, there have been no setbacks. So it's good, but it's a process."
It's also an opportunity to build some depth.
Jaryd Jones-Smith
, who redshirted last year, has been getting more meaningful reps at left tackle this spring.
"I think like any young tackle, he's doing some good things and he's working," Chryst said. "He certainly has some things he has to keep working on and cleaning up. It's his first spring and it's early, but I like what he's doing. Offensive linemen have to be flexible, and our job is to try and get the best five on the field, and he's certainly in that mix. He's done good work in the weight room, he's staying on top of the installation, and I don't see him getting stuck mentally. He's done a pretty good job with the things he can control."
Pitt offensive line coach Jim Hueber said he has noticed a difference this spring in the maturity on the right side of the line, but the youth is still showing on the left side. That should start to improve with the eventual return of Bisnowaty.
"I need to really work the left-side guys along so we're not spending our time going back to correct things that should be easily done," Hueber said. "The only way we can do that is to see it at practice and make them do it right, but we need to get just a little bit mature and handle everything on that side a little bit easier."
So far, not much has come easily for Pitt's offensive line. Having some experience up front this fall, though, is reason enough for the Panthers to believe it can.
August, 21, 2013
8/21/13
12:00
PM ET
August, 12, 2013
8/12/13
10:30
AM ET
Today we're looking at Pitt as the Panthers enter their first season in the ACC:
Pittsburgh Panthers
Coach:
Paul Chryst (6-7)
2012 record:
6-7 Big East
Key losses:
QB Tino Sunseri, RB Ray Graham, RB Rushel Shell, C Ryan Turnley, S Jarred Holley
Key returnees:
WR
Devin Street
, DT
Aaron Donald
, S
Jason Hendricks
, CB
Lafayette Pitts
Newcomer to watch:
Freshman running back
James Conner
. The rookie is already getting significant reps at tailback through one week of camp, and Pitt's running game is looking for answers (see below). Conner rushed for nearly 1,700 yards (averaging more than 10 yards per carry) as a high school senior. He is a big body, but has opened eyes with his athleticism and feet.
Biggest games in 2013:
Sept. 2 vs. Florida State; Oct. 12 at Virginia Tech; Nov. 9 vs. Notre Dame; Nov. 29 vs. Miami.
[+] Enlarge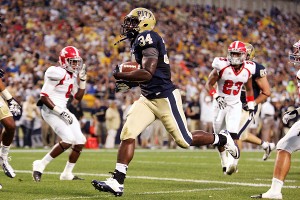 Charles LeClaire/USA TODAY SportsPitt's experience at running back is uncertain, but for now, Isaac Bennett will lead the way for the Panthers.
Biggest question mark heading into 2013:
How effectively will Pitt be able to run the ball? Not only did the Panthers lose their leading rusher from a year ago in Ray Graham, but they also lost his top replacement in Rushel Shell, who has since left the program.
Isaac Bennett
heads into the fall as the starter with
Malcolm Crockett
on his heels, but the experience is limited, and the offensive line remains a work in progress. Three starters return up front, but none of them are back at their old positions. The Panthers are hoping redshirt freshman
Adam Bisnowaty
and former defensive end
T.J. Clemmings
will be able to help out.
Forecast:
At the very least, Pitt is better off than it was a year ago simply because the Panthers are in their second season under Chryst and have finally started to get some stability. The players and coaches are much more familiar with each other, and they learned a hard lesson about consistency last fall.
With seven starters returning, the defense will be the strength, and it will likely have to carry the load early, as the Panthers will be breaking in a new quarterback. Defensive tackle Aaron Donald is the best player on the roster, and he led the Big East with 18.5 tackles for loss last year. He's one of three starters who return up front, and three of four starters return in the secondary.
Six starters return on offense, but losing the top two running backs from a year ago could create some problems. The staff has been pleased with what quarterback
Tom Savage
has done this offseason, but the two-time transfer hasn't played in two seasons. The headliner on offense is receiver Devin Street, who could be one of the best in the country this year after making 73 catches last season. Pitt's offense won't have any opportunity to work the kinks out because it opens the season on Labor Day in a nationally televised home game against Florida State, which should again be one of the ACC's best teams.
It's not going to be an easy debut for Pitt in its new conference, and the Coastal Division schedule doesn't get much easier with trips to Virginia Tech and Georgia Tech. Pitt has a chance to be a contender in what should be another wide-open divisional race, but a dependable running game must emerge and Pitt must win the turnover battle in order to have a more consistent season.
May, 7, 2013
5/07/13
7:00
AM ET
Pittsburgh Panthers
2012 record:
6-7

2012 conference record:
3-4, Big East
Returning starters:
Offense: 6; defense: 9; kicker/punter: 1
Top returners
WR
Devin Street
, DT
Aaron Donald
, S
Jason Hendricks
, CB
Lafayette Pitts
Key losses
QB
Tino Sunseri
, RB
Ray Graham
, C Ryan Turnley, S
Jarred Holley
2012 statistical leaders (*returners)
Rushing:
Graham (1,042 yards, 11 TDs)
Passing:
Sunseri (256-of-393 for 3,288 yards, 21 TDs, 3 INTs)
Receiving:
Street* (975 yards, 5 TDs)
Tackles:
Hendricks* (90)
Sacks:
Donald* (5.5)
Interceptions:
Hendricks* (six)
Spring answers
1. Bennett is the man.
Following the surprising news that projected starting running back
Rushel Shell
would transfer, all eyes turned to
Isaac Bennett
, who now gets his chance to start. Bennett had 114 yards rushing and a touchdown in the spring game, and will now have to transfer that type of production into a game.
Malcolm Crockett
figures into the mix as well.
2. Starting D solid.
The Panthers are adjusting to yet another defensive coordinator, but the good news here is Matt House was promoted from within the staff. So there was not a huge change in scheme or philosophy. With nine starters returning -- including big man up front Aaron Donald -- this group has the potential to shut some teams down.
3. T.J. Clemmings switch.
Clemmings made the switch from the defensive to the offensive line to help bolster a group that has struggled the past several seasons. That move looks as if it has paid off, as Clemmings left spring with the starting right tackle job. Clemmings also was selected the team's most improved offensive player this spring.
Fall questions
1. Quarterback.
No word yet on a starting quarterback, so the competition between
Chad Voytik
and
Tom Savage
will keep going into fall camp begins. Savage is the senior with game experience (albeit several years ago at Rutgers), while Voytik is the up-and-comer. Savage did take more reps with the first team during the spring, if that gives you any hints.
2. Offensive line.
Though Clemmings is at least one answer, the group as a whole still has major question marks after the spring. New center
Gabe Roberts
had his struggles with the shotgun snap during the spring, and the Panthers are going to have to rely on some inexperienced players to start. Depth also is an issue again.
3. Team depth.
The offensive line is not the only position on the team where there is a lack of depth. Just about every position is thin, from running back to receiver, to defensive line and linebacker. Work still must be done to develop the second unit before the season begins.