October, 25, 2014
10/25/14
6:47
PM ET
CHARLOTTESVILLE, Va. -- North Carolina coach Larry Fedora had the right idea when he described the final five minutes against Virginia as wild and hectic.
Other adjectives that work: Improbable. Crazy. Insane. Head-scratching ...
You get the idea.
What went down Saturday was a microcosm of the way both North Carolina and Virginia have played recently: The Tar Heels are the team that won't go away; the Hoos are the team that cannot get out of their own way.
So it came to be that North Carolina came back to beat Virginia 28-27 to stay alive in the Coastal Division race. The game turned on four plays in the final 5:09, plays that are probably going to keep coach Mike London up tonight.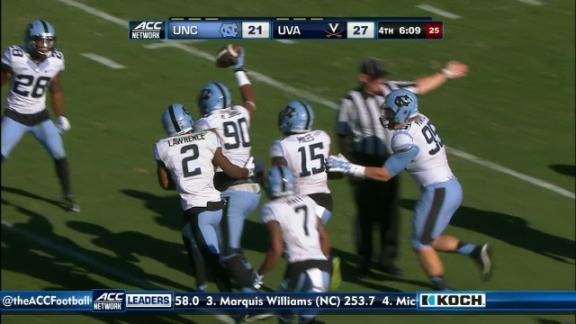 Play No. 1: Virginia had a 26-21 lead and began marching down the field, all the way down to the North Carolina 32. On second down, Virginia quarterback
Greyson Lambert
went back for a screen pass to
Kevin Parks
. Defensive tackle
Nazair Jones
read the play and leaped off the ground, snagging the interception. North Carolina took over at the Virginia 38 with a chance to win.
"I should have just done something different with the ball, thrown it in the dirt or something," Lambert said. "I thought that would have been a statement drive for us and a play here or there can always change that. We've got -- especially me -- to do a better job of executing."
Fedora said: "I was looking somewhere else at the time until everybody started yelling, and I saw him running and I saw the screen setting up and I mean he's 6-foot-5 and he's 290 pounds and he's mobile. That was big. Screens is a big part of what they've done on the past and our guys worked hard on it so it was good to see them execute that from their work in practice."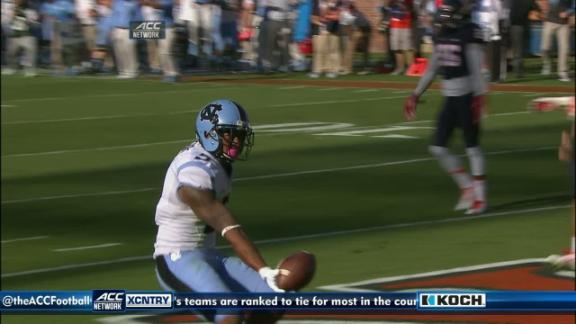 Play No. 2: North Carolina got down to the Virginia 11 after
Marquise Williams
threw a 27-yard pass to
Ryan Switzer
. On second down,
Eli Harold
tackled Williams to the turf. Williams' helmet popped off, sending backup Mitch Tribusky into the game.
Fedora considered calling a timeout, but decided to roll with it. Trubisky calmly delivered a 16-yard touchdown pass to a wide open
T.J. Thorpe
, pulling the Tar Heels ahead 28-27.
"I'm happy with what we've been doing with Mitch," Fedora said. I know a lot of people think we're idiots but it paid off for him in that situation. He was calm, he knew what he was running and he executed the play. He never blinked."
Trubisky said: "I saw his helmet come off and just knew I had to be ready. It was such short notice that I didn't have time to think about it."
Virginia safety
Anthony Harris
said, "It's tough to give up a play like that right in the middle of the end zone and give them the lead on that play."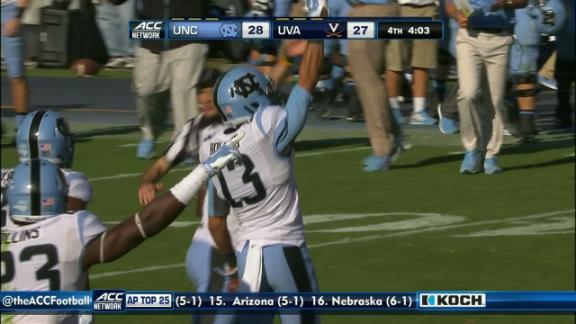 Play No. 3: Fedora had a choice to make. With 4:05 remaining, he could kick to Virginia and hope his much-maligned defense would come through. Or ...
Assistant coach Ron West asked Fedora whether he wanted to go for an onside kick.
"Throughout the game, they were saying, 'Look, it's there, and then they said it again, and I said you know what? It's the right time to do it," Fedora said.
Kicker
Nick Weiler
, who missed two field goals in the game, lined up.
"We executed it in practice every time, so the coaches were confident in it," he said. "We had the look and we knew we had to make a game-changing play on special teams."
The signal went up, Virginia was unprepared, and
Mack Hollins
recovered the ball.
"Nick kicked a real good ball," Hollins said. "They were backing up while we were keeping it onside so by the time they turned around, they had no chance."
Virginia safety
Quin Blanding
said, "For them to cover it, it blew my mind."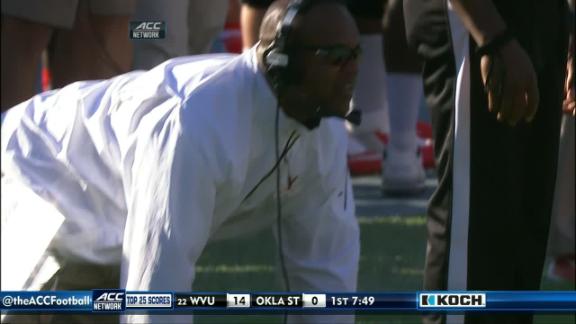 Play No. 4: Williams returned to the field and made some plays by running with the ball -- getting North Carolina down to the Virginia 21 with 1:17 to play. The Tar Heels called a timeout, and elected to set up for a field goal.
Coming off the sideline, Virginia made a critical error. There was confusion among the linemen, and the Hoos ended up with 12 men on the field. The refs saw it and called the penalty.
Game. Over.
"There was an extra guy on the field who should not have been there," London said. "When we make those switches, one guy comes in and one guy comes out. It was not caught or noticed. That is coaching, that is us on the sideline watching what's going on."
Now both teams are 4-4, and 2-2 in Coastal play. This one could be a launching point for the Tar Heels to make a run at a division title; it could also spell doom for the Hoos.