October, 24, 2013
10/24/13
12:00
PM ET
August, 28, 2013
8/28/13
3:00
PM ET
We are just one day away from the start of the season, with a huge opening weekend on tap for the ACC. Three games against SEC opponents have set the stage.
[+] Enlarge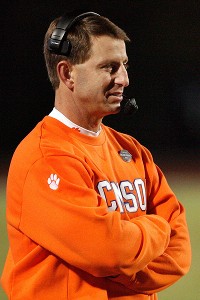 Mark Dolejs/USA TODAY Sports Dabo Swinney's Tigers can make a national statement when they host Georgia on Saturday.
So, naturally the three coaches involved in those games were asked for their take on how important the contests are for the ACC's perception during the coaches' conference call on Wednesday.
Start with North Carolina coach Larry Fedora, whose team opens up Week 1 on Thursday night against No. 6 South Carolina.
"If you want national respect, you've gotta beat ranked opponents," Fedora said. "This is a performance-based sport. If you do it, you start gaining that respect."
Clemson coach Dabo Swinney is in the biggest game of the weekend, as his No. 8 Tigers host No. 5 Georgia with College GameDay on site. Swinney tried to downplay the mega battle between conferences.
"Regardless of what conference they're from, you've got the No. 5 team in the country coming to your stadium, that's all that really matters," Swinney said. "As far as the SEC goes, we've been playing SEC teams every year and been in a lot of battles with that league. Our guys have a good understanding of what it takes to beat a very good team, regardless of what conference they come from. It's more about Clemson-Georgia than anything else."
Virginia Tech coach Frank Beamer, whose team plays No. 1 Alabama on Saturday, brought a big-picture perspective. "You judge that over the long haul, not just one Saturday," Beamer said. "I think it's important that all of us do well.
Here are a few other notes from around the league:
Pitt coach Paul Chryst was asked was his running back rotation would look like against Florida State on Monday, given recent injuries to Isaac Bennett and James Conner. "Don't know exactly," Chryst said. He hopes Bennett and Conner can play, but Rachid Ibrahim and Malcolm Crockett have gotten the bulk of the reps in practice.

Beamer also was asked about his running back situation. He said the team would disclose J.C. Coleman's status when it releases its injury report Thursday. If he can't play, Trey Edmunds and Chris Mangus would be the top two backs. Both are redshirt freshmen. "We went from too many tailbacks to not enough tailbacks, really," Beamer said.

Syracuse coach Scott Shafer and NC State coach Dave Doeren were asked about their quarterback situations headed into their respective openers. Neither plans on disclosing who will start before Saturday. Shafer is choosing between Terrel Hunt and Drew Allen; Doeren will go with either Pete Thomas or Brandon Mitchell. Shafer did say he wants to try and go with one quarterback and stick with him against Penn State on Saturday. "I don't want to be in a yo-yo situation," Shafer said. "Once we get it going we'll see how it plays out." Doeren said he already knows who will start against Louisiana Tech on Saturday, and has told both his quarterbacks to be ready to play.

Virginia coach Mike London also has a plan for freshman Taquan "Smoke" Mizzell. The ESPNU150 player from a year ago is poised to play against BYU. "There's a lot of things he's learned but there's a lot of things he's yet to learn," London said. "We know he's a dynamic player, but we have to make sure we don't try to do give too much to him in order to see those abilities. It's going to be important for us to package some things he can do and then go from there."

Georgia Tech coach Paul Johnson expects quarterback Justin Thomas to practice Wednesday and play Saturday against Elon. Thomas has been slightly banged up and missed a few practices. The plan is to play both Thomas and Vad Lee. "We'll play it by feel," Johnson said. "I have no plans to rotate series or take guys in and out. We'll do whatever we feel gives us a chance to win the game."

Fedora also said he plans on using Jack Tabb at both tight end and linebacker against the Gamecocks. Tabb began training at linebacker after the Tar Heels lost a few players to injury, thinning out depth. "He's got a lot of football savvy, he really understands the game," Fedora said. "Jack is one of those guys, he doesn't need a lot of reps. He can run it once and then he understands what needs to be done. We're fortunate in that aspect."
August, 15, 2013
8/15/13
12:00
PM ET
August, 15, 2013
8/15/13
8:00
AM ET
Let's face it: Not too many preseason Heisman lists in recent years featured
Johnny Manziel
, Robert Griffin III or Cam Newton. And while there are plenty of returning stars among this year's Heisman hopefuls, it's always safe to bet on at least one or two unfamiliar faces ending up in New York in December.
Who could rise out of nowhere this year? Let's take a look at some candidates in the ACC.
Jameis Winston, Florida State QB
: There is an awful lot of hype for a guy who has yet to take a college football snap. Then again, Winston was the No. 1 quarterback recruit from the Class of 2012, eclipses 100 mph on the baseball diamond as a Seminoles reliever, throws footballs over fraternity houses and starred in FSU's spring game. The redshirt freshman steps into an ideal situation, surrounded by experienced guys on an offense that is coming off an Orange Bowl win. And, well, he absolutely
owned FSU's media day Sunday
.
Taquan Mizzell, Virginia RB
: The Cavaliers struggled running the ball last season, finishing 96th nationally in rushing yards per game (128.5). They have also said goodbye to
Clifton Richardson
, Perry Jones and Phillip Sims. Enter "Smoke" -- or, as coach Mike London
has called him since a victorious 1-on-1 hoops game, "Mist."
ESPN's No. 9 running back prospect from the Class of 2013 notched 1,231 yards and 39 total touchdowns last season at Bayside (Va.) High, and he figures to make his presence felt early at Virginia.
Anthony Boone, Duke QB
: Yes, Boone is a redshirt junior. But he was behind school record-setter Sean Renfree the past two seasons, as he watched Renfree take Duke to a bowl game last year while receiving spot duty here and there. He relived an injured Renfree and rushed for a go-ahead, fourth-quarter touchdown in a win at Wake Forest, then started a week later in a rout of Virginia. For his career, Boone has completed 53.4 percent of his passes in 22 games for 839 yards with six touchdowns and three picks. He also adds another dimension on the ground, having rushed for 211 yards and six more scores. Boone now has the starting job to himself, and teammates have said there is little indication that they are playing with a first-year starter.
August, 9, 2013
8/09/13
9:00
AM ET
You want to find a good quarterback in the ACC? Plenty of places to look.
A solid receiver? Plenty of places to look.
A game-changing running back? Well, let's just say this is not a position of strength for the ACC headed into 2013.
Both 1,000-yard rushers from a year ago are gone. So are five of the top 10 rushers in the league. Now factor in recent developments from the offseason:
Virginia Tech back Michael Holmes was kicked out of school following his arrest after the spring game.

Pitt Rushel Shell decided to transfer, to hated rival West Virginia no less.

Maryland back Wes Brown has been suspended for the season after an offseason arrest.

Wake Forest leading rusher Josh Harris is not with the team while the Deacs wait for an answer from the NCAA on his eligibility.

NC State running back Shadrach Thornton was suspended one game after being charged with misdemeanor assault on a female following a June 6 arrest.
[+] Enlarge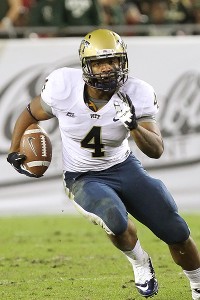 Kim Klement/USA TODAY Sports Running back Rushel Shell left Pitt for rival West Virginia.
Holmes and Brown were expected to be significant contributors this year; Shell and Harris were expected to start; Thornton led the Wolfpack in rushing last year.
So let us take stock of who remains. Essentially, the ACC has one big-time headliner in
Duke Johnson
at Miami, and several teams with talent and depth.
Take Florida State. The Noles have a great duo in
James Wilder Jr.
and
Devonta Freeman
. Syracuse has a 1,000-yard rusher returning in
Jerome Smith
, plus more depth than nearly everyone in the league. Duke has its top six rushers back from a year ago.
Still, the league overall has improving to do in this important category. In 2012, the ACC had the fewest 1,000-yard rushers of the five biggest conferences. It also only had two teams ranked in the Top 30 in rushing offense (Georgia Tech and Florida State), tied with the SEC for fewest among the top five conferences.
But here is the big distinction between the two. The SEC only had one team ranked in the bottom 30 in rushing offense last season: Arkansas. The ACC had a whopping six -- Virginia, Duke, NC State, Maryland, Wake Forest, Boston College -- the most among the power five.
Will fortunes improve this season? Let us take a look at one key statistic that could have some bearing. I broke down how many returning carries there are per team headed into 2013.

DUKE
Top returners: Jela Duncan, Josh Snead

Percent carries returning: 87 percent

What it means: Duke has perhaps the best opportunity of any team in the league to boost its rushing numbers this year, with its top six rushers back, a more mobile quarterback in Anthony Boone and four starters returning on the offensive line.

SYRACUSE
Top returners: Jerome Smith, Prince-Tyson Gulley

Percent carries returning: 82 percent

What it means: Syracuse has had a 1,000-yard rusher in five straight seasons, and has pretty terrific depth going into the season. It is a pretty safe bet the Orange will make it six straight 1,000-yard rushers.

BOSTON COLLEGE
Top returners: Andre Williams, Dave Dudeck

Percent carries returning: 75 percent

What it means: Though the Eagles don't have much in the way of depth, they do have experienced players returning in Williams and Dudeck. Given the way Steve Addazio likes to run the football, expect to see the Eagles much better than No. 115 in the nation in rushing.

VIRGINIA TECH
Top returners: Logan Thomas, J.C. Coleman

Percent returning carries: 70 percent

What it means: Even though this was a weak spot for the Hokies, they do return their top rushers even with Holmes gone. Thomas led the team in carries and rushing last season. Virginia Tech wants to change that this year.

GEORGIA TECH
Top returners: Zach Laskey, David Sims

Percent returning carries: 68 percent

What it means: Tevin Washington and Orwin Smith take nearly all the missing carries (176), meaning the Jackets have plenty of experienced players and depth to fill all their running back spots. Shouldn't be a drop-off here.

NC STATE
Top returners: Shadrach Thornton, Tony Creecy

Percent carries returning: 63 percent

What it means: Once he returns from suspension, Thornton will carry the load with Creecy, the way they did last season. Given the emphasis Dave Doeren puts on the run in his offense -- Northern Illinois ranked No. 12 in rushing offense last season -- the Wolfpack should not be in the bottom 30 again.

CLEMSON
Top returners: Tajh Boyd, Rod McDowell

Percent returning carries: 62 percent

What it means: Interesting stat here, considering the Tigers lose 1,000-yard rusher Andre Ellington. He is one of the biggest losses this team has to replace on offense. Having Boyd run as much as he does certainly helps these numbers, but there's no question Clemson has to find a way to replace Ellington's production.

MIAMI
Top returners: Duke Johnson, Eduardo Clements

Percent returning carries: 59 percent

What it means: Miami loses Mike James, but that just means Johnson moves into a starting role and will get more carries. If he continues the work he did last season, Johnson should be the leading rusher in the ACC this season.

WAKE FOREST
Top returner: Deandre Martin

Percent returning carries: 57 percent

What it means: Wake Forest is still waiting to see whether Harris will be eligible this season. There are serious concerns about this position right now, as coach Jim Grobe has said he still hasn't seen anybody step up and prove they can be an every-down back.

NORTH CAROLINA
Top returners: A.J. Blue, Romar Morris

Percent returning carries: 56 percent

What it means: The prevailing storyline in Chapel Hill has centered around replacing Giovani Bernard, the other 1,000-yard rusher in the ACC last season. Blue and Morris combined for 151 carries a year ago, so there might not be as big a drop-off in total production as some might anticipate. Each averaged more than 5 yards per carry.

MARYLAND
Top returners: Brandon Ross, Albert Reid

Percent returning carries: 48 percent

What it means: The Terps lost significant carries from Brown (90) and Justus Pickett (69). I also did not count Shawn Petty's 58 carries, because he went back to defense. Overall, Maryland feels good about Ross and Reid being able to carry the load, but questions still remain about whether this group can be consistent.

FLORIDA STATE
Top returners: James Wilder Jr., Devonta Freeman

Percent Returning carries:45 percent

What it means: This one is the most misleading among all ACC teams, because the Noles do return two terrific talents and expect contributions from a third in Mario Pender. Those lost carries are from Lonnie Pryor and EJ Manuel, along with Chris Thompson (who was out for the second half of the season anyway). Florida State should continue to be an excellent running team.

VIRGINIA
Top returners: Kevin Parks, Khalek Shepherd

Percent carries returning: 44 percent

What it means: UVa lost carries from Clifton Richardson, Perry Jones and Phillip Sims, but the Hoos believe they will be better running the ball this season -- especially if Taquan "Smoke" Mizzell is as good as advertised. He could be a breakout star.

PITT
Top returners: Isaac Bennett, Malcolm Crockett

Percent returning carries: 9 percent

What it means: I thought this number would be low with Shell and Ray Graham gone. But this is actually worse than anticipated. Pitt has little in the way of experienced players or depth at running back, and we are talking about a team that relies heavily on the run.
August, 8, 2013
8/08/13
10:18
AM ET
Today we look at the
Virginia Cavaliers
, who look to rebound after finishing last in the Coastal in 2012.
Virginia Cavaliers
Coach:
Mike London (40-26 overall, 16-21 at Virginia)
2012 record:
4-8 (2-6)
Key losses:
QB Phillip Sims, QB
Michael Rocco
, RB Perry Jones, DT Chris Brathwaite, LB Steve Greer, LB LaRoy Reynolds
Key returnees:
RB
Kevin Parks
, LT
Morgan Moses
, WR
Darius Jennings
, CB
Demetrious Nicholson
, S
Anthony Harris
, DE
Jake Snyder
[+] Enlarge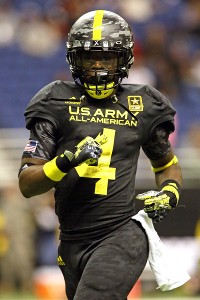 Soobum Im/USA TODAY SportsWith questions at quarterback, the Cavaliers may need Taquan Mizzell to help in the run game quickly.
Newcomer to watch:
RB
Taquan Mizzell
. The talented tailback, nicknamed "Smoke" because of his elusiveness on the field, is perhaps the top recruit London has landed at Virginia. With veteran runner Parks on the roster, Mizzell won't need to carry the load in his first season, but given the serious question marks at quarterback, the Cavaliers figure to run the ball often. Mizzell's speed and athleticism should make for a valuable weapon immediately, and if the offensive line can take a step forward, he could be one of the league's top rookies in 2013.
Biggest games in 2013:
vs. Oregon, Sept. 7; vs. Clemson, Nov. 2; at Miami, Nov. 23; vs. Virginia Tech, Nov. 30
Biggest question mark heading into 2013:
It's London's fourth season at Virginia, and he's facing his fourth quarterback battle. That's an unlikely scenario given the talent on the depth chart at the position just a year ago, but the transfer of Rocco and the dismissal of Sims served to reshuffle the deck once again. Redshirt sophomore
David Watford
looks to be the favorite to grab the starting job. He's more athletic than redshirt freshman
Greyson Lambert
, which could be a necessity given last year's woes on the offensive line, and Watford did gain limited playing time in 2011.
Forecast:
London's tenure at Virginia started well enough, but the Cavaliers have now lost 10 of their past 14 games, and the hot-seat rumors have begun for the coach. Add in the serious questions at quarterback and a tough early slate that includes nonconference games against BYU and Oregon, and things could get ugly fast for Virginia.
Still, there is reason for optimism. Mizzell may be the most talented runner Virginia has had in a decade, and with Parks back after racking up nearly 1,000 yards from scrimmage last season, the running game should be a strength. Meanwhile, the offensive line certainly left ample room for improvement a year ago, but Moses is one of the conference's top blockers and the unit does return four starters.
A massive overhaul of the coaching staff also figures to shake things up in Charlottesville, and none of the new faces will bring as much enthusiasm as new coordinator Jon Tenuta. He has built a reputation for being aggressive, and after finishing 2012 dead last in the ACC in takeaways, that's good news for the Cavaliers. Last year, Virginia defenders managed just four interceptions all season. A strong and experienced secondary should make it easier for Tenuta to use blitz packages liberally, and a solid group of pass-rushers led by Snyder and
Eli Harold
figure to be an improvement on last year.
Of course, the biggest challenge Virginia may face is not simply improving its own production on both sides of the ball, but the daunting schedule. In addition to the grueling nonconference start, Virginia wraps up the year with November showdowns against Clemson, Miami and Virginia Tech. A loss in 2013 would be the 10th straight to its in-state rival.
July, 29, 2013
7/29/13
12:00
PM ET
ACC coaches get their turn in Bristol today and Tuesday.
March, 25, 2013
3/25/13
3:30
PM ET
If you're just joining us, this series is categorizing the unranked teams in the ACC as either contenders or pretenders heading into the 2013 season. We're leaving out Florida State and Clemson because they are the only two teams from the ACC expected to be ranked this preseason. Those rankings automatically qualify them as contenders. The Hoos are up next.

Why they're contenders:
Virginia returns a majority of its starters on offense and defense, so the Hoos should be a much more experienced team heading into the season. Though
Perry Jones
is gone from the running backs, a deep and talented group remains with
Kevin Parks
,
Khalek Shepherd
and
Clifton Richardson
having all played significant minutes in games. Then there is the much-anticipated arrival of five-star running back Taquan Mizzell. The receivers should be better, too, with the top five players from a year ago all returning. Yes, there are questions at quarterback, but there is some major talent on this team. A new coordinator in Steve Fairchild should help them put up more than 396 yards of total offense per game. Defensively, the secondary should turn into an area of strength with four returners. The defensive line has an opportunity to build on some of the progress it made toward the end of last season with
Jake Snyder
back at one end and
Eli Harold
set to start on the other side after a promising freshman season.
Why they're pretenders:
OK, so I downplayed the quarterback questions in the first category. The Hoos have to pick one starter and go with him instead of playing musical quarterbacks if they want to try to find any semblance of consistency at this position. Easier said than done for sure.
David Watford
,
Phillip Sims
and
Greyson Lambert
are all competing for the starting job. Quarterback questions aside, this offense is not going to function the way it wants without a solid running game. The offensive line was not an area of strength last year. With Jones and
Oday Aboushi
gone, can the Hoos get back to the production they had on the ground in 2011? Defensively, losing
Steve Greer
in the middle is a huge blow, considering how sure of a tackler he was for this team throughout the course of his career. The pre-spring depth chart has strongside linebacker
Henry Coley
moving back to the middle. At least the Hoos will have an experienced player there. But linebacker is definitely a question mark heading into the season. Depth at defensive tackle also is an issue, particularly after the loss of
Chris Brathwaite
, who is no longer on the team.
Final verdict:
I expect the Hoos to be much improved this year, but they remain a pretender. First, there are too many unknowns at quarterback. Second, the schedule is difficult. And third, there has been an overhaul to the entire coaching staff. How will this impact the offense and defense?
More in this series
February, 6, 2013
2/06/13
7:00
AM ET
ESPN RecruitingNation
has signing day covered. Follow ESPNU's coverage, chat with analysts and get breaking news on our
Signing Day Live
page beginning at 7:30 a.m. ET through 7 p.m. ET. For more on what to expect on signing day, check out the
ACC conference breakdown

.

Bold prediction:
Virginia Tech will climb back toward the top of the conference after signing a strong 2013 class.
Boston College
Biggest need:
Playmakers at running back.
Biggest recruit:
Three-star athlete
Myles Willis
will make the transition from high school option quarterback to running back for Steve Addazio's spread offense.
Clemson
Biggest need:
Playmakers on defense.
Biggest recruit:
While the Tigers' chances at four-star prospect
Montravius Adams
are slipping, there are some quality recruits on board, including ESPN 150 defensive end
Ebenezer Ogundeko
.
Duke
Biggest need:
Defensive backs for the 4-2-5 package.
Biggest recruit:
Three-star cornerback
Evrett Edwards
should be able to come in and play early.
Florida State
Biggest need:
Offensive linemen and front-seven depth.
Biggest recruit:
Florida State lost ESPN 150 offensive lineman
Austin Golson
a week ago and has been frantically trying to get him to recommit.
Georgia Tech
Biggest need:
Team speed.
Biggest recruit:
Several options here, but three-star wide receiver
Ricky Jeune
should find a spot on the field quickly.
Maryland
Biggest need:
Playmakers and depth.
Biggest recruit:
Junior college wide receiver
Deon Long
should be able to line up across from
Stefon Diggs
and give the Terps another major vertical threat.
Miami
Biggest need:
Run-stopping defenders.
Biggest recruit:
Five-star prospect
Matthew Thomas
is the most coveted prospect in the eyes of Hurricanes fans, but four-star defensive tackle
Jay-nard Bostwick
fits an even bigger need.
North Carolina
Biggest need:
Playmakers on defense.
Biggest recruit:
At the top of the class are two ESPN 150 prospects in cornerback
Brian Walker
and defensive tackle
Greg Webb
. Both will get early looks.
North Carolina State
Biggest need:
Athletes for spread offense.
Biggest recruit:
Three-star wide receiver
Johnathan Alston
leads a very good class of skill players.
Pittsburgh
Biggest need:
Speed on offense.
Biggest recruit:
Four-star offensive lineman
Dorian Johnson
is one of the best in the nation.
Syracuse
Biggest need:
Quality depth on defense.
Biggest recruit:
Junior college linebacker
Luke Arciniega
has the potential to be a big-time contributor in the fall.
Virginia
Biggest need:
Defensive backs.
Biggest recruit:
ESPN 150 running back
Taquan Mizzell
and four-star defensive back
Tim Harris
are two players to watch early.
Virginia Tech
Biggest need:
Team speed on defense.
Biggest recruit:
ESPN 150 prospect
Kendall Fuller
leads one of Frank Beamer's best classes.
Wake Forest
Biggest need:
Playmakers on defense.
Biggest recruit:
Four-star linebacker
Lance Virgile
is the sort of physical presence Wake Forest's defense will need in the future.