March, 20, 2012
3/20/12
6:10
PM ET
Linebacker
Telvion Clark
has been dismissed from the Virginia Tech football team "for violations of team policies," coach Frank Beamer
said Tuesday in a release
.

Clark was arrested Saturday for public intoxication/swearing, according to the Montgomery County General District Court online case information system.
Used mostly on special teams last season and limited by a hamstring injury, Clark recorded six tackles in four games. As a redshirt freshman in 2010, Clark was one of six players sent home from the Orange Bowl on a bus for violating team rules.
Beamer said in the release that he would have no further comment on the situation.
January, 1, 2012
1/01/12
9:00
AM ET
Early in the regular season, Virginia Tech's defense had already lost starting outside linebacker Jeron Gouveia-Winslow and starting defensive tackle Antoine Hopkins to season-ending knee injuries. Starting defensive end James Gayle had missed a couple of games, along with starting cornerback Jayron Hosley.
Just when it seemed it couldn't get much worse, Virginia Tech lost linebacker Bruce Taylor – arguably the leader of the defense and the unit's best player - to a season-ending mid-foot sprain. In a span of four games, the Hokies had lost three starters.
"That's when you said, 'Man, enough is enough,'" defensive coordinator Bud Foster said. "We haven't had as many injuries on the defensive side in, I don't know, forever, the 25 years I've been here."
[+] Enlarge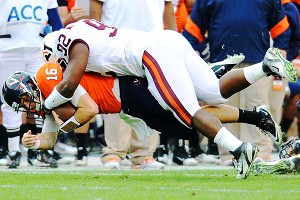 James Lang/US PresswireLuther Maddy, here bringing down Virginia QB Michael Rocco, is among the true freshmen contributing to Virginia Tech's improved defense.
And yet in spite of it all, with two true freshmen in the two-deep at defensive tackle, Virginia Tech enters the Allstate Sugar Bowl against Michigan with one of the nation's top defenses. And the Hokies are going to need it. Those who have paid close attention to Virginia Tech's defense under Foster would probably agree that this has been one of the best coaching jobs of his career. Not only did the Hokies make dramatic improvements from 2010, but they also did it with a young, inexperienced lineup forced into action because of injuries. Now they have to maintain that success against one of the nation's top quarterbacks in
Denard Robinson
.
"The most recent guy we've probably faced like him was Pat White a few years ago at West Virginia," Foster said. "I think he's very similar to that guy. He's a game-breaker. He's a big-time athlete. He can beat you running the ball, he can beat you throwing the football. He's just a dynamic football player, a dynamic athlete. And then he's got some good skill guys around him to take the pressure off of him.
"He makes people miss in the hole. He jukes him and he's off for a 40-yard touchdown. Those are things he does … and they're using him the right way – quarterback sweeps, quarterback powers, quarterback zone play, quarterback draws. They're doing everything. They've adapted to what they have and he's done it very, very well."
Then again, so is Foster's defense.
Last year, Virginia Tech's defense finished No. 52 in the country in total defense, allowing 361.5 yards per game. This year, the Hokies are No. 13 in total defense, allowing almost 50 fewer yards per game. Last year they were No. 26 in scoring defense. This year they're No. 8, holding opponents to 17.2 points per game. After putting the No. 64 rushing defense on the field in 2010, the Hokies improved to No. 17 this year, allowing just 107.8 yards per game.
"There's no question it was a heck of a job," coach Frank Beamer said. "I think the people we lost, and then the people replacing them – you've got two true freshmen defensive tackles – that's not the place you want a true freshman in there. You want some experience in there. And then I think (cornerback) Kyle Fuller had a tremendous year, but him being able to move around and play some different positions and come through, that made a difference. I think the guys we lost, who we lost, and then to play as well as we have defensively, the championship game was a tough game for us, but up until that point, we really played some fantastic football for what we've been through and the injuries we had on our defense."
For almost the entire Wake Forest game Oct. 15, the Hokies were playing without four opening-day starters, including Hosley (hamstring), and Gayle (ankle), in addition to Hopkins and Gouveia-Winslow.
By the third quarter against Boston College a week later, Virginia Tech was missing those four, plus Taylor and Gouveia-Winslow's backup, Alonzo Tweedy, who sprained his ankle. Two true freshmen — Luther Maddy and Corey Marshall — have taken over one of the defensive tackle positions on the two-deep. Two redshirt sophomores — Tariq Edwards and Telvion Clark — are holding down a linebacker spot.
"It all goes back to our players and our coaches," Foster said. "We were a young group, and I'm proud of them. We had an expectation, we talked about how we wanted to get back and play the kind of defense we're used to around here. We started that back in January. I'm proud of our kids that they stepped up and bought into that and knew that's what we needed to get back to. I still think we've got a lot of room to grow, which is exciting, but then to have the injuries on top of that, and some key players, and to have some young guys step up at various times, it's been fun to watch."
September, 9, 2011
9/09/11
10:30
AM ET
Here are this week's injury reports from the schools that turned them in. Don't forget, schools don't have to report these for nonconference games:
Clemson
Out

Joe Gore, DE, Knee
Doubtful

Rashard Hall, Saf, knee
Will Play

Demont Buice, RB, foot
Corico Hawkins, LB, knee
Bashaud Breeland, DB, shoulder
Duke
RB
Juwan Thompson
(leg) – Probable
S Jordon Byas (foot) -- Questionable
C Brian Moore (arm) – OUT
RB
Desmond Scott
(leg) – OUT
RB
Josh Snead
(foot) – OUT
Florida State
Out

OG Henry Orelus (concussion)
WR
Willie Haulstead
(concussion)
WR Josh Gehres (knee)
LB Holmes Onwukaife (shoulder)
OL Tre' Jackson (knee)
Questionable
DT Anthony McCloud (knee)
SS Nick Moody (quad)
North Carolina
Out

Jabari Price, DB, Finger
Norkeithus Otis, LB Concussion
Devon Ramsay
, FB Knee
Doubtful

Joshua Adams
, WR Illness
Questionable

P.J. Clyburn, LB Foot
T.J. Leifheit, OL Ankle
Terry Shankle, DB Knee
NC State
Out for season
Jarvis Byrd, CB - knee
Sterling Lucas, LB - knee
Out

Mustafa Greene
, HB - foot
J.R. Sweezy, DT - foot
Thomas Teal, DT - foot
Andrew Wallace, OG - knee
Logan Winkles
, FB - knee
Questionable

Jeff Rieskamp, DE - shoulder
Virginia Tech
Out for Season
Kwamaine Battle (ACL)
Probable
Telvion Clark (ankle)
D.J. Coles
(shoulder)
Theron Norman (shoulder)
Michael Via (knee)
August, 18, 2011
8/18/11
12:00
PM ET
Home from Miami, but the story is far from over.
August, 15, 2011
8/15/11
9:00
AM ET
It was a busy weekend in the ACC. Here's a look back at the highlights from the scrimmages, according to the sports information departments of the teams that provided reports:

BOSTON COLLEGE
Coach Frank Spaziani told reporters after the 70-minute scrimmage that there were some good things, but "it's like a jigsaw puzzle with all the pieces in the box; they're not connected yet."
Offensive highlights:
Defensive highlights:
Linebacker Nick Clancy and defensive back Sean Sylvia led the team with four tackles each.
Sophomore linebacker Jake Sinkovec had one interception and one fumble recovery.

CLEMSON
Quarterback
Tajh Boyd
had an impressive performance, as he completed 10 of 12 passes for 168 yards and a touchdown to highlight the new offense in Clemson's 75-play scrimmage in Memorial Stadium on Saturday morning.
Offensive highlights:
Defensive highlights
:
The first-team defense did not allow a scoring drive.
Martin Jenkins led the team with seven tackles, including a tackle for loss.
Corico Hawkins had five tackles and a fumble recovery, while freshman defensive end Corey Crawford had five stops, including a sack.
Special teams highlights:
Clemson's three kickers, Chandler Catanzaro, Ammon Lakip and Brian Symmes were a combined 16-of-16 on the day in field goal attempts and extra points against a live rush.
Notable:
Three Tigers missed the scrimmage because they were going through graduation exercises across the street from Memorial Stadium in Littlejohn Coliseum. Starting offensive tackle Landon Walker, starting safety Rashard Hall and reserve defensive end Kourtnei Brown all graduated from Clemson on Saturday. It was especially noteworthy for Hall, who has been at Clemson just three years. He joins Nick Eason (now in the NFL with the Arizona Cardinals) as the only scholarship football players to graduate with two years of athletic eligibility remaining.
Four players missed the scrimmage due to injury. Those players were defensive back Xavier Brewer (sprained foot), defensive back Garry Peters (bruised calf), Andre Branch (head injury), DeShawn Williams (sprained ankle).

GEORGIA TECH
Georgia Tech coach Paul Johnson had mixed reviews after the Yellow Jackets' first scrimmage, which ran 90 minutes inside Bobby Dodd Stadium on Saturday morning.
"It was like a lot of first scrimmages, there were way too many balls on the ground and way too many penalties," Johnson said. "But we hit some big plays. When you play against each other there's positives and negatives on both sides. It's a starting place and we'll look at it and try to make some improvements."
Offensive highlights:
While no official statistics were kept, quarterback Tevin Washington passed for well over 100 yards, including a 63-yarder to senior A-back Roddy Jones. Redshirt freshman quarterback Synjyn Days threw the only touchdown of the day, to true freshman Jeff Greene.
Greene ran with the first unit Saturday as most of the veterans -- junior Stephen Hill, senior Tyler Melton, sophomore Jeremy Moore and junior Daniel McKayhan -- all sat out with injuries.
Washington scored the only other touchdown Saturday on a 1-yard QB keeper.
Defensive highlights:
Defensive end Emmanuel Dieke had a sack, true freshman Jamal Golden intercepted a Vad Lee pass, and Steven Sylvester and Isaiah Johnson both recovered fumbles.
Special teams highlights:
Sophomore Justin Moore booted a 45-yard field goal on his only attempt.
David Scully's 52-yard attempt was long enough, but just wide left.

MIAMI
The most important news out of Miami's first scrimmage was that quarterbacks
Jacory Harris
and
Stephen Morris
combined for five touchdown passes and only one interception. That sounds like improvement. Miami's quarterbacks combined for 407 passing yards on 38-of-52 passing for six touchdowns and only one interception.
Offensive highlights:
Receiver Tommy Streeter had the best offensive day for the Canes, catching five passes for 71 yards and three touchdowns, two of which came from Harris.
Lamar Miller had runs of 16 and 31 yards on the opening drive.
Defensive highlights:
Senior defensive back JoJo Nicolas led all defenders with eight tackles (six solo), with two tackles for loss.
Ramon Buchanan and freshman Gionni Paul and each had six total tackles, with Paul also recording a tackle for loss.
The defense totaled eight tackles behind the line of scrimmage for a total loss of 29 yards

VIRGINIA TECH
The Hokies' offense was the highlight, but what does that mean for the defense? Coach Frank Beamer pointed out that there were some long plays allowed, as the offense racked up 398 yards of total offense in the 78-play scrimmage at Lane Stadium on Saturday afternoon. The touchdowns came against Tech's second- or third-team defense, though, so the jury is still out.
"I thought it was a good first scrimmage -- better than most," Beamer said, according to the team's scrimmage report. "You take into consideration that you're trying to get everyone some work, people who don't know quite what they're doing, and that makes things a little ragged. I thought overall, though, it was a sharp scrimmage. The quarterbacks made some nice plays and Wilson got a couple of long plays against the defense, and we need to see what's going on there. Overall, the effort was good and the play was good."
Offensive highlights:
Backup quarterback Mark Leal led the quarterbacks with 116 yards passing, completing 6 of 13. He also threw an interception. Beamer said Leal is No. 2 on the depth chart behind Logan Thomas. Ju-Ju Clayton, who has dropped to No. 3 on the depth chart, completed 6 of 10 for 51 yards, while starter Thomas completed 4 of 8 for 79 yards, with an interception, in limited action.
Tailback David Wilson scored against the Hokies' second-team defense on a 22-yard run. Wilson led all rushers with 57 yards on five carries. Freshman Michael Holmes added 54 yards rushing on a game-high 11 carries.
Defensive highlights:
Freshman tackle Luther Maddy led the team with eight tackles, including two for a loss, and a sack. Freshman Michael Cole added six tackles, while Telvion Clark and Jack Tyler each finished with four.
Barquell Rivers had three tackles and an interception.
Jayron Hosley and freshman Ronny Vandyke also had interceptions. Hosley intercepted a Logan Thomas pass, while Vandyke intercepted a Trey Gresh attempt.
Special teams highlights:
The kickers connected on 5-of-6 attempts. Cody Journell hit from 35, 22 and 35 yards, while Justin Myer drilled a 52-yarder and a 28-yarder. "Cody's kicking extremely well," Beamer said. "Myer has a load of potential, and he needs to win some of the kicking contests during the week. That shows consistency, and that's where he is right now. Cody is usually winning it or right in the running at the end."
June, 29, 2011
6/29/11
5:00
PM ET
You are going to argue about this. How do I know? Because I'm still arguing with myself over it ...
[+] Enlarge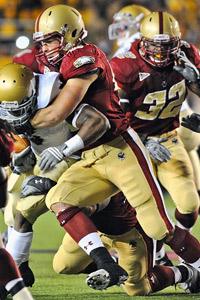 Michael Tureski/Icon SMILuke Kuechly leads a deep group of Boston College linebackers.
1. Boston College:
Luke Kuechly is one of the best in the country, but he's not alone. The Eagles also have Kevin Pierre-Louis, who ranked second nationally among all freshmen in tackles per game last season with 7.15 -- ninth in the ACC. It won't be easy to replace Mark Herzlich, on or off the field, but Steele Divitto played in 11 games last season, and Nick Clancy and Will Thompson both saw time on the second team.
2. Florida State:
The Noles had to replace two starters, including Kendall Smith, the team's second-leading tackler, last season, and Mister Alexander, but the upcoming talent could be even better. Nigel Bradham led the team with 98 tackles and five pass breakups last season, and Christian Jones, Jeff Luc, Telvin Smith and Vince Williams will also be competing for playing time.
3. Miami:
Sean Spence, who has 30 career starts, should be one of the best in the country, and Ramon Buchanon, another senior, also returns. The Canes have five other linebackers with experience in Kelvin Cain, who started seven games, Jordan Futch, who had a great spring and will see the field, Tyrone Cornelius, Shayon Green and C.J. Holton.
4. North Carolina:
Kevin Reddick, who led the Tar Heels with 74 tackles last season, returns for his third season as starter. Zach Brown is also a returning starter with game-changing capabilities, and there is plenty of depth with Dion Guy, Darius Lipford, Ebele Okakpu and Herman Davidson. Junior college transfer Fabby Desir could also have an impact.
5. NC State:
Audie Cole and Terrell Manning have combined for 39 career starts, and Cole fared well this spring moving to the middle to replace Nate Irving. With the return of Sterling Lucas, Dwayne Maddox and Colby Jackson, there is plenty of experience, but not quite as much depth as some other programs.
6. Georgia Tech:
The Jackets return both starters in Steven Sylvester and Julian Burnett. There is no shortage of depth with Jeremy Attaochu, Quayshawn Nealey, Brandon Watts, Albert Rocker, Malcolm Munroe and Daniel Drummond.
7. Clemson:
This group has a lot of potential, especially if true freshmen Tony Steward and Stephone Anthony make an immediate impact. There's no question they'll be given a chance, but the Tigers already have a good group with Corico Hawkins, Quandon Christian and Jonathan Willard.
8. Virginia Tech:
It seems like this rotation has been in flux for a while now. The Hokies' leading tackler returns in Bruce Taylor, Barquell Rivers had 96 tackles as a starter in 2009 but was injured last season, and there are several young players adding to the competition. Chase Williams, Tariq Edwards, Telvion Clark and Jack Tyler are only a few. Whip linebacker Jeron Gouveia-Winslow will have to earn his spot back over Alonzo Tweedy, Dominique Patterson and Nick Dew.
9. Maryland:
The Terps were hit hard here with the losses of Alex Wujciak (381 career tackles) and Adrian Moten (14.5 career sacks). Demetrius Hartsfield returns with 20 career starts, and there are four lettermen returning including Darin Drakeford, Isaiah Ross, David Mackall and Bradley Johnson.
10. Wake Forest:
Kyle Wilber's move to outside linebacker will give this position a boost, as he led the Deacs with 14.5 tackles for loss and six sacks last season. His backup is Gelo Orange (22 tackles). The Deacs also have Tristan Dorty, Joey Ehrmann, Mike Olsen, Scott Betros, Riley Haynes and Justin Jackson.
11. Virginia:
Starters LaRoy Reynolds and Ausar Walcott both return, but neither has started more than 11 career games. Junior Steve Greer has prior starting experience but played mainly as a reserve last season. Adam Taliaferro, Conner McCartin, Tucker Windle and LoVante Battle are also in the mix for playing time.
12. Duke
: Kelby Brown is the lone returning starter, but he's a promising young player who led the nation last season as a freshman in fumbles recovered. He missed spring ball while recovering from a knee injury, but is expected to start with Tyree Glover or Kevin Rojas.
March, 28, 2011
3/28/11
2:06
PM ET
Virginia Tech coach Frank Beamer said linebacker Lyndell Gibson, flanker Austin Fuller and cornerback Jacob Sykes are transferring at the end of the semester.

"We certainly wish each of these guys the best of luck and will help them in any way we can," Beamer said on his teleconference Monday to preview spring football. "With that said, I will not have any further comment on this."

Gibson, the Hokies' starting inside linebacker, was charged with a DUI in February. He would have missed spring practices because of December surgery on his left shoulder, which he broke in the first half of the ACC championship game against Florida State. Gibson had started the previous 18 games, including all 13 in 2010. He had 66 tackles last year, including six for loss and two sacks. He also had a pass breakup, a fumble recovery and a forced fumble.

Fuller played in 10 games last year and had one catch. Sykes, a backup, had nine tackles and two pass breakups in three seasons.

Without Gibson, Beamer said the spring depth chart at linebacker is as follows:

MIKE: Bruce Taylor, Jack Tyler, Barquell Rivers

BACKER: Tariq Edwards, Chase Williams, Telvion Clark.

"It will be interesting to see how that linebacker position works its way out," Beamer said.
August, 19, 2010
8/19/10
3:30
PM ET
The biggest question heading into the Boise State game is how Virginia Tech's defense will look after having to replace six starters from last season, but it's not the only issue facing the Hokies right now.

Starting linebacker Barquell Rivers is doubtful and starting left tackle Nick Becton is probable, but he's missed a lot of reps this summer with turf toe. Odds are he plays through some pain.

The good news is that linebacker Bruce Taylor has practiced well and he got a lot of reps this past spring with Rivers sidelined while recovering from surgery to repair his left quadriceps. Rivers, though, is the team's top returning tackler from a year ago with 96 stops. Redshirt freshman Telvion Clark has moved up to the No. 2 spot at inside linebacker.

Andrew Lanier, Becton's backup, can play either tackle spot and did well in his start last year at Duke.

The situation obviously isn't ideal, but the bigger concern remains on defense.