September, 14, 2011
9/14/11
10:00
PM ET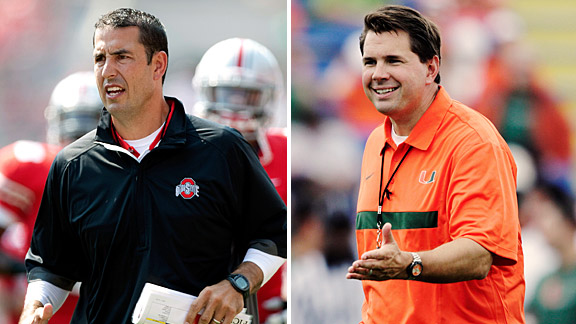 US Presswire, Icon SMIOhio State's Luke Fickell, left, and Miami's Al Golden have had challenging starts to their new jobs.
As college football suffered through an offseason of scandal, two programs found themselves squarely in the crosshairs.
Ohio State made headlines for the wrong reasons throughout much of the spring and summer, especially during an eight-day stretch when coach Jim Tressel resigned and starting quarterback Terrelle Pryor left the program. The notoriety then shifted to Miami after a Yahoo! Sports investigation revealed damaging allegations by former booster Nevin Shapiro.
It brings us to Saturday night, when the Buckeyes and Hurricanes will meet on the field.
Some folks are calling it the Ineligi-Bowl.
Both teams are short-handed -- Ohio State more than Miami -- and both are dealing with change and intense scrutiny. Both are facing potential NCAA penalties and uncertain futures, but first-year coaches Luke Fickell and Al Golden are trying to keep the focus on the field.
Bloggers Heather Dinich (ACC) and Adam Rittenberg (Big Ten) break down a unique matchup at Sun Life Stadium.
Adam Rittenberg:
HD, hope you had a better summer than the Canes or Buckeyes. Both programs have dealt with a lot of recent distractions. Miami dropped its opener to Maryland but regains the services of quarterback
Jacory Harris
and others from suspension. Ohio State still will be without three offensive starters and looked very shaky Saturday against Toledo. Before getting between the lines, let's look between the ears. How do you think these teams are approaching this game from a mental standpoint? Does one squad have an edge?
Heather Dinich:
The only edge I see, Ritt, is the fact that Miami had a bye week to move on from its loss to Maryland, while that scare from Toledo is pretty fresh in the Buckeyes' heads. Then again, it could have been just the wake-up call Ohio State needed. Plus, Miami has to be recharged a bit and excited about getting several of its players back from the opening-game suspension. Miami was without eight players against the Terps, and now five of those players return, including Harris. Most notably, the defense should get a boost up front from the return of linebacker Sean Spence, defensive end Adewale Ojomo, and defensive tackle Marcus Forston. The Canes were beat up front by Maryland, but the return of those guys should give them some more confidence heading into the Ohio State game. What about the Buckeyes? Two wins over teams they should beat. Are they ready for their first real test of the season?
AR:
Ohio State's first real test actually came Saturday against Toledo, although few thought the Rockets would challenge the Buckeyes. Toledo found gaps in Ohio State's secondary and held the Buckeyes to just six points in the second half. Ohio State will have to play better in all three phases against Miami, especially in the kicking game after the Canes recorded two returns for touchdowns last year in Columbus. The first road game always presents challenges, especially for an Ohio State team dealing with significant personnel losses on both sides of the ball. Line play is an area the Buckeyes must lean on Saturday night, as Ohio State has proven veterans on both sides like center Mike Brewster and defensive lineman John Simon. But with so many key players out, the Buckeyes will be challenged.
Speaking of getting key players back, what's your take on the short suspensions for Harris and the others? Ohio State fans are livid that the Tat-4 remains out while Shapiro's pals are back on the field this week.
HD:
Well, fortunately for the sport, there really is no precedent for this, so it seems like the only thing you can really compare in these two cases is the monetary value of their infractions. In Miami's cases, the harshest punishments (six games and four games), were reserved for violations that occurred when Olivier Vernon and Ray-Ray Armstrong were still recruits. Vernon has to repay more than $1,200, Armstrong (four games) and
Dyron Dye
(four games) were both less than $800. The one-game suspensions correlate to players whose violations all amounted to less than $500. Correct me if I'm wrong, but I think the Buckeyes are working on repaying between $1,000-$2,500. I think it's safe to say the Buckeyes' violations were more costly in more ways than one, as they should be.
All of that aside, though, there's only one thing that will matter on Saturday, and that's who wins. Miami hasn't started out 0-2 since 1978. Who, in your opinion, needs this win more?
AR:
Yeah, I think the folks in Columbus are more upset that three players who took money at a charity function -- running back
Jordan Hall
and defensive backs Travis Howard and Corey Brown -- are serving longer suspensions than those who took benefits from Shapiro. But whatever. Both teams really need this win, but I'll make the case for Ohio State. Unlike Golden, who shouldn't have to worry about his job security (whether he wants to stay at Miami is another question), Fickell and his staff have no guarantees beyond this season. While coaches need the players to perform well in the Big Ten no matter what, this is the type of game that can build confidence or reduce it. Any road win boosts a team's morale, but beating Miami without so many key pieces would increase the Buckeyes' belief that they can continue to achieve their top goals despite all the turmoil. I certainly see the urgency for Miami, too.
Let's talk about Jacory Harris. I'll be kind and say he was very bad last year at The Shoe. If not for his interceptions, Miami could have made things very interesting. How do you think Harris fares against an Ohio State defense with a bunch of new starters, particularly in the secondary?
HD:
Four turnovers was the reason Miami lost this game last year. I would be surprised if Jacory doesn't play better. I spent some time down at Miami this summer and could sense some genuine confidence in Harris from first-year offensive coordinator Jedd Fisch and from Golden. They backed that up when they named him the starter after the loss to Maryland. I know
Stephen Morris
is the fan favorite, but Jacory's experience alone will help alleviate some of the mistakes and confusion that came in the loss to the Terps. This is Jacory's last season to go out a winner and redeem himself. I believe he is truly a more confident player, but how that translates in his first start since a dreadful performance in the Sun Bowl last year remains to be seen. He still has a lot to prove. Of the four ACC teams lining up against ranked opponents this weekend, though, I give the Canes the best chance to win. I'll save the score for Thursday's picks, but I'm sticking with the ACC in this one. I'll give you the last word, though, since I know you'll need it to defend the Buckeyes.
AR:
Thank you, ma'am. Defending Ohio State after last week's performance isn't easy, but Toledo looks like a pretty solid team, and coach Tim Beckman definitely had the Rockets ready to play. Given the players missing on offense, Ohio State will have to win this game by playing TresselBall -- ironically without Tressel. It'll be all about defense, the run game, controlling field position on special teams and limiting mistakes. The Buckeyes need a much sharper defensive performance and I think they'll get one, especially against Harris, whom I don't trust at all to limit mistakes. The kick and punt coverage teams have to be sharper than they were last year and against Toledo. It will be tough for Fickell's crew, but there are enough leaders on that team who know how to win tough games. I'll also wait to reveal my score Thursday, but I'm going with the Scarlet and Gray.
March, 25, 2011
3/25/11
9:00
AM ET
By
ESPN.com staff
| ESPN.com
On a recent trip to Miami, I was chatting with quarterback
Jacory Harris
as we walked into the football building. I asked him if he had been paying attention to the news coming out of Ohio State.
He shook his head no, but then added that he wished all of the Buckeyes would be on the field for that game. If Miami is going to win, the Canes would rather do it against a high-profile team that is full strength.
That won't be the case on Sept. 17.
It was one thing to hear that five Ohio State players, including quarterback
Terrelle Pryor
, would be suspended for the Miami game. It was another to learn that Ohio State coach Jim Tressel
will miss the game, too
.
Just how much of a factor will those absences be when Miami hosts Ohio State on Sept. 17?
It depends on the Buckeyes and how much of a distraction they allow it to become. If ever there were a good time for Miami to turn the tables on Ohio State, this would obviously be it.
But ...
If there is a lesson to be learned about how situations like this can bring a team even closer, it's in Chapel Hill. From the time the Tar Heels took the field against LSU in the season opener last year, until the bowl game was over against Tennessee, they never used the NCAA investigation as an excuse. Instead, they used it as motivation. UNC's roster was depleted by about three times the amount of Ohio State's suspensions, and yet the Tar Heels pulled together for another eight-win season. Granted, it could have been more, but it also could have been much more disastrous.
As colleague Ivan Maisel points out, it's not as if Tressel won't be involved in the preparation for Miami. He's
not going to be coaching the scout team
that week. Still, missing the head coach on Saturday will have an effect on the team. It's up to the Buckeyes to determine how.
Those within Ohio State's program have lost some respect because of this public relations nightmare, but that doesn't mean they've lost sight of their goals. North Carolina was able to prove last year that just because a certain perception is lost, it doesn't mean the season has to be, too.
October, 11, 2010
10/11/10
11:00
AM ET
What began as a season filled with potential has turned into a conference race on the backburner of the national radar halfway through the season. Five ranked preseason teams quickly shrank to one, and even the Florida State-Miami rivalry game couldn't live up to its blockbuster billing.
[+] Enlarge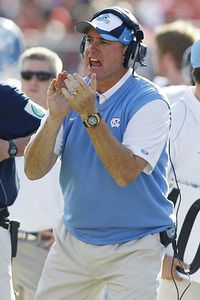 AP Photo/Mel EvansThe scandal surrounding coach Butch Davis' North Carolina program has been the ACC's top story this season.
The first half of the ACC's season was defined by its lack of success in nonconference games, as the league's best hope at a national title contender was shattered as early as Labor Day when Virginia Tech lost to Boise State. The conference went 0-for-4 against top-10 competition with losses to Boise State, Alabama, Oklahoma and Ohio State. They were resounding reminders of that gap that remains between the ACC and the nation's elite.
Not only couldn't the ACC hold its own against the best, it became college football's punch line after Virginia Tech lost to James Madison, and Georgia Tech, the defending ACC champs, couldn't beat Kansas, a 5-7 team in 2009. The ACC finished the first half of the season with a 3-9 record against the five other automatic qualifier conferences, and all three wins came against the lowly Big East.
The biggest story of the first half of the season, though, has been the ongoing NCAA investigations at North Carolina into improper contact with agents and possible academic misconduct. The entire saga has been an embarrassment to the university, the league, and should have coach Butch Davis concerned about his future -- regardless of how many games the team finds a way to win.
With no team a clear front-runner in the Coastal Division, though, North Carolina's chances are as good as anyone's. Separation has started to occur in the Atlantic Division, with Florida State and NC State leading the way. Their Oct. 28 Thursday night game is likely to determine the division winner, but on a weekend when a league-high five interdivisional games were played, the Coastal Division earned a 3-2 record and could still prove to be deeper.
Don't confuse mediocrity this year, though, with parity. The ACC is comprised of mainly average teams that will continue to beat up on each other in the second half of the season. As Virginia Tech coach Frank Beamer said this past summer at ACC media days, the league has had good teams, but not a great one.
And at the midpoint of the regular season, that hasn't changed.
Offensive MVP:
Florida State offensive guard Rodney Hudson. Yes,
Russell Wilson
will likely win the people's choice award, and he is a legitimate candidate, but Florida State, the ACC's lone ranked team this week, would be nowhere without Hudson. Since the loss at Oklahoma, Hudson has earned grades of 94, 80, 87 and 94, respectively. He has had no missed assignments and 18 knockdown blocks during that span as Florida State has averaged 6.3 yards per carry, 258.2 rushing yards and 452.7 total yards per game.
[+] Enlarge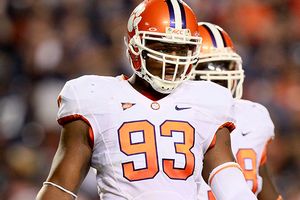 Kevin C. Cox/Getty ImagesClemson defensive lineman Da'Quan Bowers has been a force this season with six sacks.
Defensive MVP:
Clemson defensive end Da'Quan Bowers. He had two sacks for 16 yards in the loss to North Carolina. He now has six sacks in just five games and 11.5 tackles for loss. In five games he has already exceeded his 2009 season totals in terms of sacks and tackles for loss. Bowers ranks third in the nation for tackles for loss and is tied for fourth in sacks.
Best coach:
NC State coach Tom O'Brien. He has guided the Wolfpack to a 5-1 record, the program's best start since 2002. It's not just the fact that the Pack is winning, though, that has been impressive. Consider that NC State entered this year having to replace all four starters on its defensive line and without a single tailback that had any starting experience. The program finally seems to have turned the corner and is a legitimate contender for an ACC title.
Best game:
Boise State 33, Virginia Tech 30. The Hokies fell behind 17-0, but never quit. Instead, led by the dynamic play of quarterback
Tyrod Taylor
, Virginia Tech rallied to a 27-26 lead in the final quarter thanks to a critical fourth-and-5 conversion. Boise State quarterback
Kellen Moore
got the final word, but not until 1:09 was left in the game.
Biggest surprise:
North Carolina. Even with seven starters missing on defense for the season opener against LSU, the Tar Heels could have won that game. The investigations into possible academic misconduct and improper contact with agents have overshadowed the on-field efforts and improvement of players who did no wrong.
T.J. Yates
has thrown just one interception, and running back
Johnny White
has come out of nowhere to lead the team in rushing. The backups on defense have proven capable starters, and UNC has been able to overcome the distraction.
Biggest disappointment:
Heisman hopefuls. Virginia Tech running back
Ryan Williams
has been sidelined with a hamstring injury the past three games, Florida State quarterback
Christian Ponder
lost the attention when the Seminoles lost at Oklahoma, and Miami quarterback
Jacory Harris
was overshadowed by
Terrelle Pryor
in head-to-head competition and has continued his turnover trend. Nobody else in the ACC has separated himself from the likes of
Denard Robinson
and Kellen Moore.
September, 9, 2010
9/09/10
9:00
AM ET
I was doing so well until Labor Day. And then I went 0-for-2, bringing my season-opening picks record to 10-2. That's not bad -- if you're Frank Beamer. But I'm aiming higher. Here's to a better Week 2:
Boston College 35, Kent State 10:
The quarterback competition continues after
Dave Shinskie
threw two interceptions against Weber State, so
Mike Marscovetra
should see another opportunity. The Eagles will have home-field advantage again, and have won nine of their past 10 home games. BC has outscored Kent State 55-7 in the previous two meetings.
Clemson 52, Presbyterian 3:
Wake Forest was able to handle PC with ease, so Clemson should, too. The Tigers averaged 9.2 yards per play against North Texas, and the defense was outstanding in the red zone. Expect a similar performance. The Blue Hose have scored more than one touchdown against the Tigers just once in the last 14 meetings (a 53-13 loss in 1952) and have been shut out 24 times.
Florida State 31, Oklahoma 21:
Florida State's offensive line will be the difference in this game, as it will pave the way for the running game and the play-action passes. The Seminoles will snap the Sooners' nation-leading 31-game home winning streak.
Christian Ponder
will come out of this game with some Heisman hype and the defense will have shaken the ghosts of last year.
Maryland 38, Morgan State 3:
The Terps win the unofficial state championship this weekend, but use three quarterbacks in the process. It's a final chance for coach Ralph Friedgen to develop a passing game before a road trip to West Virginia.
NC State 35, Central Florida 21:
It was Tom O'Brien's first season when the Pack lost to UCF in 2007, but this time the Knights won't be able to stop
Russell Wilson
and NC State's defense will take another small step forward.
Duke 38, Wake Forest 35 (OT):
Duke's offense has improved, and quarterback
Sean Renfree
will be the difference in this game. The question is whether or not the Blue Devils can slow down the Deacs' running game, which is ranked No. 2 in the nation after racking up 415 yards against Presbyterian last week. Wake is looking for its 11th straight win in the series -- the program's longest winning streak against any opponent.
Georgia Tech 38, Kansas 21:
The Jayhawks were likely embarrassed by their loss to an FCS opponent during the opening week, so it's unlikely they're going to roll over, but they won't be able to stop this offense. After scoring just three points against North Dakota State, Kansas will continue to struggle against Al Groh's defense.
Ohio State 21, Miami 17:
The Buckeyes' defense will be the difference in this game -- not
Terrelle Pryor
, who is a talented athlete but overrated as a passer. Ohio State will pressure
Jacory Harris
into one too many mistakes and keep him off balance.
USC 28, Virginia 24:
Get ready for a heartbreaker, Hoos. USC is only USC by name right now, and it has a lot to prove. The defense gave up almost 600 yards to Hawaii, and Virginia's offense was rolling against Richmond. This staff is good enough to put the Cavaliers in position to win, but it's still a difficult road trip against one of the country's top programs.
Virginia Tech 42, James Madison 7:
The Hokies are still hurting emotionally from Monday night's loss to Boise State, but this staff will get them to rebound and so will the crowd at Lane Stadium. This should be another game for some of the younger players to correct mistakes, as the Hokies lead the series 6-0.
September, 8, 2010
9/08/10
1:00
PM ET
By
ESPN.com staff
| ESPN.com
Miami quarterback
Jacory Harris
and Ohio State quarterback
Terrelle Pryor
both enter Saturday's game as Heisman candidates, but only one of them will leave ahead in the race. They're both coming off impressive performances against unheralded opponents in their season openers and will need similar outings on Saturday.
Don't expect any Heisman campaign, though, from Miami coach Randy Shannon. Harris is going to have to earn it on his own -- and with the help of his teammates.
"I think a player showcases his talent by what he does on the field," Shannon said. "I'm not a guy that's going to campaign and politic, because I think when you have a team, you emphasize the team. Performances are predicated on what other players do. If you have a running back who gets 2,000 yards, a lot of credit should go to the offensive line and also the receivers downfield blocking because if those guys weren't there, it wouldn't become that way. I'm a team guy who preaches those things all the time."
September, 8, 2010
9/08/10
10:31
AM ET
Miami and Ohio State on Jan. 3, 2003 provided one of the most exciting and talked-about games in recent college football history. Ohio State's double-overtime victory in the Fiesta Bowl secured a national title and marked the beginning of a surge under The Vest (Jim Tressel). It also signaled the end of Miami's amazing run of success. The teams reunite Saturday in Columbus
(ESPN, 3:40 p.m. ET)
, as Ohio State continues its push for the national title and Miami aims for another signature win to prove that yes, The U is back.
Bloggers Adam Rittenberg and Heather Dinich break down the matchup in Columbus.
[+] Enlarge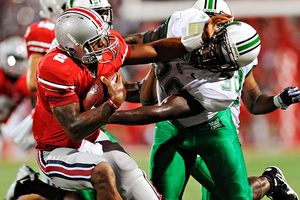 Jamie Sabau/Getty ImagesOhio's Terrelle Pryor is a Heisman Trophy candidate this season.
Adam Rittenberg:
HD, always a pleasure. Tough first weekend for the so-close league, I mean the ACC. Both Ohio State and Miami looked impressive against weak competition Thursday night. We've got to start this off with the two quarterbacks,
Terrelle Pryor
and
Jacory Harris
. Both are Heisman Trophy candidates in my mind, and they're friends off the field who text each other from time to time. What are the big keys for Harris against an always stout Ohio State defense?
Heather Dinich:
Ahh, Ritt, the pleasure is all yours. First, he has to get the protection he needs -- something he hasn't always had, but that appeared to improve in the season opener against Florida A&M. Second, Harris has to continue to play mistake-free like he did in the first half last week. Turnovers were a big issue for him last year -- 17 interceptions -- and Cameron Heyward and the rest of the Buckeyes' D are more than capable of getting him flustered. He's got to stay on his feet and make smart decisions. What about Pryor? Miami's rushing defense is coming off its best performance in three years, with eight sacks against FAMU. Is Ohio State's front ready to hold off the Canes and make Pryor look worthy of the Heisman Hype?
AR:
Pryor looked much more comfortable with the offense in the opener, but he faced virtually no pressure from Marshall and could sit back and wait for wideouts
Dane Sanzenbacher
and
DeVier Posey
to get open. That should change against the Canes, and it'll be interesting to see how often Pryor takes off and runs -- his old method for dealing with pressure -- or stands in the pocket and makes a tough throw. Ohio State's offensive line finally seems to be coming together after several years of underachieving. It's a group filled with blue-chip recruits that boasts good experience now, especially at the guard spots with Justin Boren and Bryant Browning. A big key will be whether left tackle Mike Adams can protect Pryor's blind side.
Speaking of highly recruited offensive linemen and Ohio State, how is our pal Seantrel Henderson doing? Let's just say Buckeye Nation is waiting. Moreover, how do you see Miami's O-line matching up with Heyward, John Simon and Ohio State's front four?
[+] Enlarge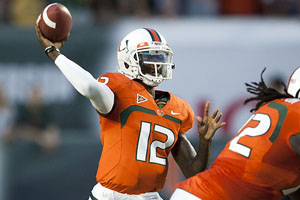 Jonathan Brownfield/US PresswireJacory Harris had three touchdowns and 210 yards against Florida A&M.
HD:
Miami's pass protection was pretty good against FAMU, giving up just one sack, and Mount Henderson got some snaps in which he swallowed up some smaller, less athletic players. He's still got a learning curve, though, and the truth is it's too hard to judge that group until it lines up against the Buckeyes. Some might have made too much of the power versus speed plotline in the Champs Sports Bowl against Wisconsin, but I'm wondering if that won't be a factor with Ohio State's defensive front in putting the pressure on Harris. The Buckeyes' run defense is solid, but can they stop this deep backfield with or without
Graig Cooper
?
AR:
Heather, I'm glad you brought up the Champs Sports Bowl. I know this is a different and supposedly better Miami team, but I have a hard time forgetting how Wisconsin outclassed the Canes in that game, and would have won by more points if not for a
Garrett Graham
fumble near the goal line. If Wisconsin's defense makes Harris look like that, I can't imagine what Ohio State's will do to him. You also bring up a good point about Cooper, who missed most of the Wisconsin game. He's a tremendous athlete and could be a big factor on Saturday if he plays. Ohio State running back
Brandon Saine
is another guy who looks better and better as time goes on and had a great performance in the opener.
OK, you're on the spot. What happens in this one?
HD:
Well, one of two things: A.) Miami wins and is an instant surprise contender for the national title, or B.) The Hurricanes lose and ACC fans flip the channel to the Florida State game, clinging to desperation that somebody can represent on the national level. I think Miami is good, but I don't think they're ready for Ohio State -- especially not in the Shoe. I'm still in believe-it-when-I-see-it mode with these guys when it comes to national relevance. Can they win the ACC? No doubt. But the Canes need to win the Coastal before they're in the same realm as the Buckeyes. Do you see any upset in the making?
AR:
Miami certainly has the talent to win this game. The Canes must win the turnover battle, force Pryor into some bad decisions and hold the edge on special teams, which surprisingly might be Ohio State's biggest weakness this year. While I forecast a great game, I don't see the upset. Ohio State is simply too strong up front on both sides of the ball and wins the battle at the line of scrimmage. Ohio State got over its big-game hump in the Rose Bowl against Oregon, and the Buckeyes aren't a slow Big Ten team, as they're often portrayed. The Buckeyes win this one by a touchdown.
September, 7, 2010
9/07/10
5:23
PM ET
Each week I turn in my top five choices for the Heisman to ESPN.com. Here's how my list looked for Week 1:
Kellen Moore
Ryan Mallett
Terrelle Pryor
Christian Ponder
Jacory Harris
I was impressed by Moore's ability to finish in the Boise State game, Mallett is one of the best quarterbacks in the toughest league, and Pryor picked up right where he left off in 2009 for a national title contender. Ponder and Harris both have to win to stay on this list, and the one player I was borderline on was LSU's Patrick Peterson. I haven't seen a more exciting player in college football this season, and yes, that includes Greg Reid.
Here's a look at how the ACC's top Heisman candidates fared in Week 1:
Stock up:
Ponder:
He threw four touchdown passes on just 14 attempts in a 59-6 route of Samford. He completed 12 of 14 passes for 167 yards in limited time.
Harris:
He completed 12 of 15 passes for 210 yards and three touchdowns before sitting out the second half of a 45-0 romp of Florida A&M.
Russell Wilson:
He threw for 306 yards and four touchdowns in a 48-7 win over Western Carolina. He completed 21 of 31 passes and engineered seven straight scoring drives.
Stock down:
Ryan Williams:
He ran for just 44 yards, but scored three touchdowns (two rushing, one receiving) and now has 13 TDs in his last four games dating back to last season. It was Williams' fourth game with three or more TDs over the last two seasons, tied for the second most in the FBS. The Hokies have to win -- and run the ball effectively -- for him to get the hype.
Joshua Nesbitt
: He rushed for 130 yards and three scores on 16 carries, but struggled in the passing game. He was only 1 for 6 for 8 yards with an interception, but he averaged 8.1 yards on his 16 carries. The passing game must improve for him to be taken seriously as a candidate.
September, 6, 2010
9/06/10
2:00
PM ET
Welcome to your Instant Replay of Week 1 (in HD, of course), and a sneak peek at Week 2. Yes, there are still two games to be played in the ACC – biggies – so consider this an abbreviated version of what you'll see next week.
[+] Enlarge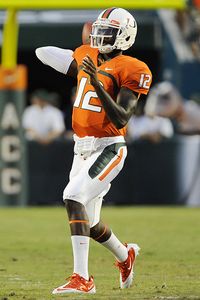 Richard C. Lewis/Icon SMIJacory Harris threw three touchdown passes in Miami's opener on Thursday.
The good:
ACC quarterbacks. Granted, most of these top performances came against less-than-stellar competition, but most of the signal callers in the league proved worthy of the preseason hype. Florida State's
Christian Ponder
, Miami's
Jacory Harris
, and NC State's
Russell Wilson
all put up eye-popping numbers. UNC's
T.J. Yates
showed dramatic improvement and leadership in the loss to LSU, and Duke's
Sean Renfree
proved more than capable of taking over for Thaddeus Lewis. Virginia's
Marc Verica
also got away from the interceptions that had plagued him in 2008.
The not-so-bad:
Georgia Tech quarterback
Joshua Nesbitt
. Wow. He averaged 8.1 yards on 16 carries and rushed for 130 yards and three touchdowns. All but 12 of the Jackets' 372 total yards came on the ground. But Nesbitt was only 1 of 6 passing for eight yards and an interception.
The ugly:
John Blake's resignation. It's only the first week of the season, and UNC has already suffered another repercussion from the NCAA's investigation into possible improper contact with agents. The team lost its defensive line coach and its recruiting coordinator.
Top three games to watch in Week 2:
1. Miami at Ohio State (3:40 p.m. ET, ESPN/ESPN3):
This is the can't-miss game of the week nationally, too. If the Hurricanes pull the upset in the Shoe, they should be considered national-title contenders. Quarterbacks Jacory Harris and
Terrelle Pryor
are coming off impressive performances against lesser opponents and will be one of the hot topics all week.
2. Florida State at Oklahoma (3:30 p.m. ET, ABC):
We'll know a lot more about where Jimbo Fisher and his program stand after this one. The Sooners looked beatable, but a road trip into Big 12 territory is never easy. The Bowden Bowls are over, but the Stoops Bowl is just beginning.
3. Duke at Wake Forest (Noon, ET, ESPN3):
It's the first conference game of the season, and don't snooze on it – it means something. If either one of these programs is going to make it to a bowl game this season, this game is a must-win. It will feature new quarterbacks for both programs.
May, 19, 2010
5/19/10
2:00
PM ET
By
ESPN.com staff
| ESPN.com
There are plenty of potential Heisman candidates across the country heading into 2010, and former Clemson running back C.J. Spiller was the perfect example last fall of just how difficult it is to get an invitation to New York. Nebraska's Ndamukong Suh proved how difficult it is for a defensive player to win it.
The ACC does, however, have hope once again for Heisman representation. The Tallahassee Democrat wrote this week that "for the first time in a decade, the Florida State football program enters the offseason with
a bona fide Heisman Trophy candidate
."
Both FSU quarterback
Christian Ponder
and Virginia Tech running back
Ryan Williams
enter this fall as the league's top two potential Heisman candidates. Of course, they have to maintain, if not improve upon, their past success, stay healthy and win big collectively in order for these hopes to come to fruition.
But who are they up against? Just how tough will the competition be?
Here's a look at who else is on my Heisman radar heading into the fall and how they stack up against Ponder and Williams:
QUARTERBACKS
Jake Locker, Washington
Passing:
No. 27 (19.17 completions/game)
Passing yards per game:
No. 31 (233.33)
Total passing yards:
No. 33 (2,800)
Passing efficiency:
No. 55 (129.75)
INTs:
11
Ryan Mallett, Arkansas
Passing:
No. 46 (17.31)
Passing yards per game:
No. 7 (278.77)
Total passing yards:
No. 5 (3,624)
Passing efficiency:
No. 7 (152.46)
INTs:
7
Terrelle Pryor, Ohio State
Passing:
No. 85 (12.85)
Passing yards per game:
No. 88 (161.08)
Total passing yards:
No. 73 (2,094)
Passing efficiency:
No. 59 (128.91)
INTs:
11
Kellen Moore, Boise State
Passing:
No. 26 (19.79)
Passing yards per game:
No. 20 (252.57)
Total passing yards:
No. 10 (3,536)
Passing efficiency:
No. 2 (161.65)
INTs
: 3
Case Keenum, Houston
Passing:
No. 1 (35.14)
Passing yards per game:
No. 1 (405.07)
Total passing yards:
No. 1 (5,671)
Passing efficiency:
No. 6 (154.79)
INTs:
15
PONDER
*Missed final three games of the regular season and the Gator Bowl, not listed in NCAA passing stats.
Passing:
25.2
Passing yards per game:
301.89
Total passing yards:
2,717
Passing efficiency:
301.91
INTs
: 7
My take:
Mallett made a case for being the best quarterback in the SEC last year, and he made the best decisions against the best competition. Ponder's numbers are impressive considering how much time he missed with his shoulder injury, and they should only be better this fall if he stays healthy and the offensive line lives up to the hype.
RUNNING BACKS
Jacquizz Rodgers, Oregon State
Yards per game:
No. 19 (110.77)
Yards per carry
: 5.27
Touchdowns:
21
Total rushing yards:
1,440
Noel Devine, West Virginia
Yards per game:
No. 17 (112.69)
Yards per carry:
6.08
Touchdowns:
13
Total rushing yards:
1,465
Dion Lewis, Pitt
Yards per game:
No. 3 (138.38)
Yards per carry:
5.54
Touchdowns:
17
Total rushing yards:
1,799
Mark Ingram, Alabama
Yards per game:
No. 11 (118.43)
Yards per carry:
6.12
Touchdowns:
17
Total rushing yards:
1,658
WILLIAMS
Yards per game:
No. 5 (127.31)
Yards per carry:
5.65
Touchdowns:
21
Total rushing yards:
1,655
My take:
In order for Williams to unseat the reigning Heisman winner, Ingram, he'll have to have his best performances against the toughest defenses, stay healthy, and get the bulk of the carries despite the return of
Darren Evans
. One huge boost to Ingram's campaign last year was that he averaged 178 yards per game vs. top-25 teams (VT, UM, USC, LSU). He also showcased his ability to catch the ball and had a nation-leading 38 runs of 10 yards.
April, 20, 2010
4/20/10
9:00
AM ET
By
ESPN.com staff
| ESPN.com
Miami fans are once again hopeful -- hopeful that this year will be different, that it will be a turning point for coach Randy Shannon and the program, a return to the national spotlight.
But Ohio State fans are equally optimistic, and based on how the 2009 season ended, they've got
more reasons to be
.
When the two teams meet in Columbus on Sept. 11, it will go a long way in determining the validity of Ohio State's chances at the national title, and just how far Miami has to go to reach that level. For the second straight season, Miami has an unforgiving early nonconference schedule, and a road trip to The Shoe in the second week is just a warm-up to back-to-back trips to Pitt and Clemson, respectively.
Ouch.
Miami proved many doubters wrong last season by finishing 4-0 against a similarly challening nonconference schedule, but at least the Canes had Georgia Tech and Oklahoma at home. This is a little more daunting, and it comes at a time when the pressure is on Shannon to contend for a title -- any title.
Just how good are the Buckeyes this year?
Ohio State returns 16 starters from a team that beat Oregon in the Rose Bowl.
Much like Miami quarterback Jacory Harris, Buckeyes QB Terrelle Pryor is in his third season as a starter, but statistically, Harris had the more productive 2009 season (another debate for another day). Pryor threw fewer interceptions.
The offensive line is experienced, and Ohio State's defense was among the top 10 in the nation last year in four major categories.
The expectations in Columbus aren't any different from what those within Miami's program are working towards -- a national title. The difference is that the Buckeyes are already a step ahead. Just ask Wisconsin.
June, 19, 2009
6/19/09
12:40
PM ET
By
ESPN.com staff
| ESPN.com
Posted by ESPN.com's Heather Dinich
TGIF, ACC fans, because we're running out of links this week. Here we go ...
June, 11, 2009
6/11/09
9:24
AM ET
By
ESPN.com staff
| ESPN.com
Posted by ESPN.com's Heather Dinich
Ever look at your team's schedule when it's first announced and wonder aloud WHY its lineup includes teams like Toledo, Temple, Eastern Illinois and Central Michigan? Wish your team was playing Alabama in the Chick-fil-A Kickoff? Well, if you could schedule one nonconference opponent for every team in the ACC, who would it be? Today ESPN.com is revealing our fantasy matchups.
Based on competition, style of play, coaching matchups, previous history -- whatever -- here's who I'd like to see the ACC play:
BOSTON COLLEGE vs. PITT -- Why keep playing Kent State when you can get this old Big East series renewed? Pittsburgh leads the series 13-16, and the two programs used to play almost every year for three decades. They haven't met, though, since 2004. Two of the last three games went into overtime.
CLEMSON vs. GEORGIA -- It's a natural rivalry that provided some of the best games of the 1980s, but the two programs haven't met since the 2002 and 2003 seasons, both season-opening losses for Clemson. This series actually will be renewed in 2013 and 2014.
DUKE vs. SOUTH CAROLINA -- This matchup is based purely on the coaching matchup: Former Duke coach Steve Spurrier vs. former SEC offensive wizard David Cutcliffe. These programs met regularly from the 1950s through the 1980s, but haven't played since a 24-24 tie in 1991. When Spurrier led Duke to the ACC title in 1989, he opened the season with a 27-21 loss to South Carolina.
FLORIDA STATE vs. NEBRASKA -- Let's go old-school here -- the Charlie Ward offense vs. the Blackshirts' defense. In the late 1980s and '90s, these were powerhouse programs. Now they're both trying to regain their status among the nation's elite. Let's get back to the days when FSU won in Lincoln, 18-14, and shocked everyone. Or like it was in 1993, when FSU played Nebraska in the national title game in the Orange Bowl and used freshman Scott Bentley's late field goal to win 18-16.
GEORGIA TECH vs. ALABAMA -- The Crimson Tide had the No. 2 rushing defense in the country last year, and Georgia Tech the No. 4 rushing offense in the country. All of the Jackets' skill players return, and Alabama has nine starters back on defense. This was once a rather lopsided series, but they haven't played since the early '80s. This is also a great coaching matchup.
MARYLAND vs. PENN STATE -- There is such a hatred amongst Maryland fans for Penn State. Why? Maybe because the Nits owned the Terps when they used to play on a regular basis. Or maybe it's because Penn State loves to pluck recruits out of Ralph Friedgen's backyard. Let's get these neighboring recruiting rivals to settle it on the field.
MIAMI vs. OHIO STATE -- Terrelle Pryor vs. Jacory Harris. Bring it, Big Ten. Two young quarterbacks, both with tailbacks they like and receivers who are on the rise. They've both got what should be improved offensive lines and similar questions on defense. This was never a big series -- they've only played three times and haven't met since 2002 -- but it will be exciting to watch these two young quarterbacks who might someday be in the same Heisman race together.
NORTH CAROLINA vs. LSU -- Despite doubling its win total from 2007 to 2008, North Carolina still has something to prove, and playing teams like Connecticut and East Carolina isn't the way to do it. Beating LSU in the Chick-fil-A Kickoff is.
NC STATE vs. MICHIGAN -- Honestly, I want to see a rematch of NC State / Rutgers with a healthy Russell Wilson, but Mike Teel is gone, so let's start the ACC/Big Ten challenge in the other revenue sport, shall we? Now is the time to play the Wolverines, while they're in transition, but any win over Michigan is worth bragging about. Tom O'Brien vs. Rich Rodriguez would be an intriguing coaching matchup.
VIRGINIA vs. OKLAHOMA STATE -- Al Groh is known for his defense, and this is the kind of team that would challenge him in a way that Mike Leach's Texas Tech team did in the Gator Bowl. Last year, the Cowboys ranked in the top 10 nationally in scoring, total offense, rushing and pass efficiency, generating more than 3,100 yards both through the air and on the ground.
VIRGINIA TECH vs. USC -- Let's see how good Bud Foster's defense is against this stable of running backs. Rival Virginia took on the challenge last year. How much better would the Hokies fare? If Virginia Tech wants to contend for a national title, this is another great measuring stick.
WAKE FOREST vs. PURDUE -- The Deacs actually know how to schedule nonconference games. Teams like Navy and Vanderbilt are perfect challenges, along with a program like Baylor. Purdue would be an interesting BCS matchup, though, because of the similar style offenses. They haven't met since 2003, and the Deacs are 1-4 in the series, but both teams have changed significantly since they last played.
March, 31, 2009
3/31/09
9:14
AM ET
By
ESPN.com staff
| ESPN.com
Posted by ESPN.com's Heather Dinich
Even if you don't want to know or care to know, odds are you know who Tim Tebow is. Soccer moms know who Tim Tebow is. And just about every college football fan across the country knows Sam Bradford, Colt McCoy, and Terrelle Pryor. They're what you call household names.
Does the ACC have any this year?
Does the casual college football fan really know who Mark Herzlich is? How about Travis Benjamin? Christian Ponder? More players in the ACC are in the midst of making names for themselves in 2009 than living up to the hype.
Here are the top three big-name players returning to the ACC in 2009, the closest the conference has to "household names:"
1. Tyrod Taylor -- He led the Hokies to a win in the Orange Bowl, so you'd think everyone knows Virginia Tech's No. 1 quarterback by now, but 2009 will be the first full season -- starting with Wednesday's first spring practice -- that Taylor isn't looking over his shoulder to see Sean Glennon waiting in the wings.
2. C.J. Spiller -- He was the "Lightning" half of the backfield that last year included James Davis ("Thunder") and at least in August 2008 was regarded by many as one of the best backfields in the country. He turned down the NFL draft and will now be the focal point of the Tigers' offense.
3. Jonathan Dwyer -- In a little over a season, Dwyer has totaled 1,831 career rushing yards. He surpassed the 100-yard mark 10 times in his career, including nine of 13 games last season when he led the ACC in rushing with 1,395 yards. He was named the ACC's player of the year as a sophomore and averaged 7 yards per carry.
Coming up next ... three players who, by the end of 2009, everyone will know.