December, 27, 2013
12/27/13
10:15
PM ET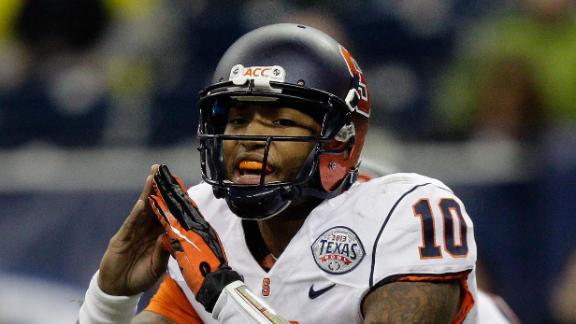 It was a little too much like last season: Minnesota leading late in the Texas Bowl. Plenty of hope. Critical breakdowns. And an eventual loss. The only difference this year was the opponent -- Syracuse.


The Gophers led 17-14 with just more than two minutes remaining in the game, after having clawed back from a 14-3 fourth-quarter deficit. But a 70-yard punt return from
Brisly Estime
set the Orange up for a touchdown and a four-point lead with just more than a minute remaining.
Minnesota wasn't able to respond, and like its previous 20 games under Jerry Kill when the Gophers trailed at halftime, Minnesota lost. Syracuse walked away with the win, 21-17.
It was over when:
Minnesota quarterback
Mitch Leidner's
Hail Mary fell incomplete out of bounds at the 1-yard line. It was just the second game this season that the redshirt freshman had attempted at least 20 passes, and his final two heaves toward the end zone both looked as though they might be good. But on the final play, Syracuse dropped most of its defense deep, ready for the prayer of a pass, and Minnesota just didn't have enough luck left to pull off the win.
Game ball goes to:
Syracuse QB
Terrel Hunt
. The sophomore put together one of his most impressive games this season, accounting for 262 yards (188 passing, 74 rushing) and two of the Orange's three touchdowns. The Minnesota defense just couldn't really find much of an answer to his dual-threat capabilities, and he looked like an even better version of the QB who led Syracuse impressively through November.
Stat of the game: 13 consecutive scoreless quarters or 195 minutes -- the streak of the Gophers being held out of the end zone.
But against Syracuse early in the fourth quarter, Minnesota ended that drought, as Leidner first found
Maxx Williams
for a 20-yard TD and then connected with
Drew Wolitarsky
for a 55-yard score.
Back-and-forth affair:
Syracuse's 7-3 halftime lead seemed solid. But when it took a two-score lead in the third quarter against a Minnesota offense that hadn't shown any signs of life, it seemed as though the game might as well be over. But the Gophers came back kicking only to eventually be kicked once more. It was a game worth watching until the end, because that's when most of the action really was worth watching.
What Syracuse learned:
This offense could really develop in the next few seasons in the ACC. With two more years in this offense, Hunt could become quite the player. His arm and feet looked reliable, and with his athleticism, he seems like he isn't close to his ceiling. On top of that, Syracuse's top three receivers -- Estime,
Ashton Broyld
and
Jarrod West
-- will all return next year.
What Minnesota learned:
The QB competition is (and should be) open at Minnesota.
Philip Nelson
has had the advantage with the more reliable arm, but Leidner stepped in and threw Minnesota's first passing touchdowns in months. Both played against Syracuse, but the offense looked the best with Leidner, and that's what Kill chose to go with when the game was on the line.
Best moment of the game:
Kill returning to the sideline for Minnesota. He came down during halftime and decided to stay for the second half. He hadn't coached from the sideline since September and since he had taken a leave from coaching to focus on his health. But it was nice to see Kill enjoying himself on the sideline again.
To watch the trophy presentation of the Texas Bowl,
click here
.
December, 27, 2013
12/27/13
10:00
AM ET
Syracuse might have taken care of business against Minnesota in
the Rodeo Bowl
, but the two will meet on the football field on Friday in the Texas Bowl at 6 p.m. ET (ESPN).


Here's a quick preview:
Who to watch:
Quarterbacks. Syracuse and Minnesota had two common opponents this season: Northwestern and Penn State. This game will be played largely in the trenches, but it could come down to which team's quarterback makes fewer mistakes downfield. Syracuse opened the season with the Wildcats and Nittany Lions, but QB
Drew Allen
threw just one touchdown to six interceptions in those two games. After that, the Orange staff began playing sophomore
Terrel Hunt
. Hunt has since completed 146 of 240 passes for 10 touchdowns and eight interceptions. Minnesota's
Philip Nelson
, on the other hand, threw three touchdowns and no interceptions in games against PSU and NU. So while running backs like Syracuse's
Jerome Smith
(840 yards, 11 TDs) and Minnesota's
David Cobb
(1,111 yards, 7 TDs) might be the ones providing highlight-reel plays, it could be Hunt and Nelson who make the biggest difference.
What to watch:
These teams met last season and Minnesota walked away with a
17-10 victory
. The 2012 game, however, was mainly based in the air -- the teams combined for 459 passing yards. But in 2013, expect this game to be played a bit more in the trenches. The Orange average 194 yards rushing per game, and 22 of its 35 touchdowns this season have come on the ground. But the Gophers run defense has taken major strides this season. It gives up 154 yards per game, but held teams such as Nebraska, Northwestern and Wisconsin to below their season rushing averages. On the other side of the ball, Syracuse's run defense ranks No. 26 in the country and has forced 23 turnovers this season, but the Gophers have scored 23 of their 33 touchdowns on the ground and Cobb averages 5.1 yards per carry. It should be interesting to see what the Gophers can do up front and whether their improved offensive line can create holes for Cobb against Syracuse.
Why to watch:
Even with the Gophers on the brink of an unfortunate season and coach Jerry Kill dealing with health problems that forced him to take a leave from coaching and then took him from the sideline to the coaches' box, Minnesota somehow managed to turn its season around. The Gophers won four of their last six games, but a bowl win would be the ending to the season that they're really looking for. And Syracuse would love nothing more than to spoil that, coming off a regular season finale in which it clinched bowl eligibility. It should be a good old-fashioned hit-you-in-the-mouth kind of game.
Prediction:
Minnesota 28, Syracuse 20
December, 24, 2013
12/24/13
2:00
PM ET
It's an appropriate bookend to the season, Syracuse center
Macky MacPherson
admits. The 2013 campaign began with two games against the Big Ten and it will end with another when the Orange play Minnesota in the Texas Bowl on Friday.
Of course, when MacPherson looks at his Syracuse offense now, those first two games seem like a lifetime ago.
"You're looking at an entirely different Syracuse team now compared to the team that played the Penn State and Northwestern games," MacPherson said.
It's not hyperbole. Syracuse lost those first two games behind a sluggish offense desperately in search of an identity. After a quarterback change and some growing pains, however, the Orange feel like they've finally figured out a winning formula.
[+] Enlarge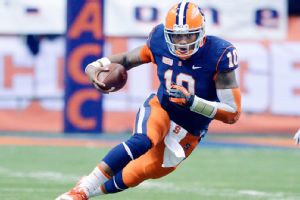 Mark Konezny/USA TODAY SportsTerrel Hunt has improved in his last two games.
"We were searching for a quarterback, and we went through a quarterback change," tailback
Jerome Smith
said. "We struggled on whether we were going to be a pass or run team, and I think we found a better combination of how to do things. We've found an identity the past few weeks."
That Syracuse even has a bowl game to prepare for is a testament to the resilience of this group, but the slow climb to six wins also proved a valuable learning experience.
In those first two games against the Big Ten, quarterback
Drew Allen
completed just 55 percent of his passes, throwing for one TD and six interceptions. Syracuse turned to
Terrel Hunt
, who was exceptional in two more nonconference games against Wagner and Tulane, but struggled in ACC play. In Hunt's first six conference games, he didn't throw a touchdown pass, while Smith and the running game carried the load.
"By no means is the quarterback at Syracuse University a small task," Smith said of Hunt's early struggles. "He had to figure some things out, but he's doing pretty well."
Indeed, Hunt's last two games of the season were by far his best. He completed 66 percent of his passes and threw for three touchdowns with just one INT. Suddenly, Syracuse's enigmatic offense showed signs of real progress.
"Terrel has really matured as a quarterback," MacPherson said. "I can tell you he's become a better leader and he's done all the intangible things a quarterback needs to do."
Hunt's development added a spark to the workhorse effort Smith was already providing on the ground, and that has Syracuse excited about the future. The only problem is, there's just one game left on the schedule. And for seniors like MacPherson, it's the last game of their careers.
"It's a shame our season is ending because it'd be fun to see what this team could do with a few more games," MacPherson said.
But for Syracuse, the "what if" game is easy to play. Look no further than those first two games against the Big Ten. What might have been if Syracuse had been in stride offensively from the outset? How different might things have unfolded if Hunt was the starter from Day 1?
"We're hitting our stride," Smith said. "If we had a chance to play some teams again, I think it would be a different outcome."
There's little point in lamenting the past, but that's part of what makes this bowl game so significant for the Orange.
A year ago, Syracuse lost to Minnesota. A few months ago, the Gophers' Big Ten cohorts did more damage.
Now, as the clock runs out on 2013, it's Syracuse's chance for some revenge. And after a rocky road to bowl eligibility, revenge would taste awfully sweet.
"In the beginning of the season we didn't play our best football," MacPherson said. "Now it seems like we're on our way."
December, 8, 2013
12/08/13
9:30
PM ET
Dec. 27, 6 p.m. ET, Houston (ESPN)
MINNESOTA GOLDEN GOPHERS BREAKDOWN
The Gophers were the surprise team in the Big Ten this year, as they overcame low expectations and fought through uncertainty surrounding coach Jerry Kill to clinch their first eight-win season in a decade.
[+] Enlarge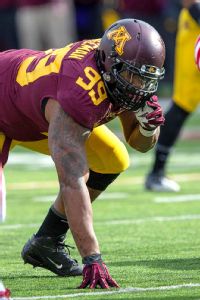 Jesse Johnson/USA TODAY SportsBehind dominating defensive tackle Ra'Shede Hageman, the Gophers won eight games and are heading to a bowl.
Kill suffered his fifth game-day seizure on Oct. 5, took medical leave and began resuming some coaching duties a little more than three weeks later. Defensive coordinator Tracy Claeys has taken over as needed, but the Gophers haven't missed a beat.
It's not as though this team is loaded with stars. Only one player -- DT
Ra'Shede Hageman
-- was a unanimous selection on the All-Big Ten team. But, week after week, the Gophers relied on a bend-but-don't-break defense (No. 17 in the nation in the red zone) and a run-heavy offense (200.9 ypg) to find a way to win.
Their bread and butter has been the run game, but the Gophers have played their best football when they have struck a balance. During their key four-game winning streak during the conference season -- against Northwestern, Nebraska, Indiana and Penn State -- the Gophers averaged 182.5 passing yards per game compared to 121.5 yards outside of that streak.
Minnesota is still not one of the best teams in the Big Ten, as it lost to both Wisconsin and Michigan State. But, behind quarterback
Philip Nelson
and tailback
David Cobb
, the Gophers have taken a step forward -- and are now hoping for their first bowl win since 2004.
-- Josh Moyer

vs.

SYRACUSE ORANGE BREAKDOWN
The Orange not only had key personnel losses to fill when the season started, they also had a new head coach and a new conference to call home. Doubters wondered how Syracuse would get back to a bowl game given all the questions.
[+] Enlarge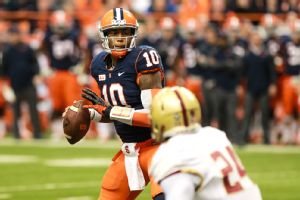 Kellen Micah/Icon SMITerrel Hunt delivered Syracuse past Boston College to make the Orange bowl eligible.
Well, it took nearly every second of the season, but Syracuse got the job done. The Orange became bowl eligible on the final weekend of the regular season with a 34-31 win over Boston College, securing the victory on a 6-yard touchdown pass from
Terrel Hunt
to
Josh Parris
with 6 seconds remaining. This is the first time since 1998-1999 Syracuse is going to consecutive bowl games.
It was not pretty at times.
Drew Allen
started the season at quarterback but threw too many interceptions and was benched after three starts. Hunt was better, but he was nowhere near elite. He didn't throw his first touchdown pass in league play until the second-to-last game of the season. There were ugly losses to Clemson, Florida State and Georgia Tech, too.
But first-year coach Scott Shafer was able to keep his team together. What got his team four ACC wins was its physical play.
Jerome Smith
had 840 yards and 11 touchdowns on the season, and the rushing defense played inspired. In three of those wins, Syracuse held its opponents to a combined 13 points.
In addition,
Jay Bromley
posted nine sacks and forced three fumbles to lead the defense. The Orange ended up in a tie for third in the Atlantic Division. Certainly not a bad way to open Year 1 in the ACC.
-- Andrea Adelson