September, 23, 2012
9/23/12
4:09
AM ET
By
ESPN.com staff
| ESPN.com
TALLAHASSEE -- With No. 4 Florida State trailing No. 10 Clemson by a touchdown at halftime of Saturday night's game at Doak Campbell Stadium, Seminoles quarterback EJ Manuel finally decided to speak up.
Manuel, a soft-spoken senior from Virginia Beach, Va., delivered a stirring speech to his teammates, telling them they couldn't afford to squander another opportunity to return to college football's elite programs.
"He spoke up and the locker room was quiet," FSU running back James Wilder Jr. said. "He looked everybody in the eyes. He was looking at the offense and the defense. Everybody respects him because he's such a great leader. Then he went out and held his ground and picked everybody up."
Manuel did more than hold his ground, leading the Seminoles to a come-from-behind 49-37 victory over the Tigers in front of a sold-out crowd of 83,231 fans.
For Mark Schlabach's full story,
click here
.
September, 23, 2012
9/23/12
2:15
AM ET
TALLAHASSEE, Fla. -- If there is one penalty that didn't trouble Florida State on Saturday night, it was excessive celebration.
Following Florida State's
49-37 win
over Clemson in what was arguably one of the biggest and best ACC games in the past decade, the No. 4-ranked Seminoles shuffled back to their locker room in rather tame fashion. There were no chants, no chops, no chest bumps. Just the kind of giddy grins you'd expect from a bunch of kids who won a big game in the backyard. Less than an hour later, they were already talking about South Florida.
That focus, they say, is the reason Florida State was able to overcome a 28-14 deficit on Saturday night and use a 35-3 run to take the lead in the Atlantic Division standings with a 2-0 start in conference play.
"Last year was different," said cornerback
Xavier Rhodes
. "Last year we was all about winning the national championship and winning the ACC. We weren't worrying about our next game. We came together as a team and realized that. When we realized that, we said we've got to stop worrying about the future and worry about the present. Right now, it's South Florida."
Good luck, South Florida.
[+] Enlarge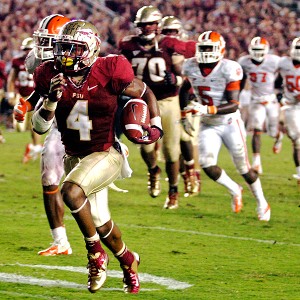 AP Photo/Phil SearsChris Thompson ran for 103 yards and two scores and added 79 yards on eight catches for FSU.
On a day in which No. 2 LSU struggled to beat Auburn and Michigan had six turnovers in a loss to Notre Dame, the ACC had two top-10 teams that
looked
like top-10 teams. Florida State and Clemson put on an offensive show with 1,093 total yards, but the Noles separated themselves in the second half with their stingy defense and Heisman-caliber quarterback play by
EJ Manuel
. While the majority of the pregame talk focused on Clemson's offense against Florida State's defense, the Seminoles proved they have an offense to match it and racked up 667 total yards.
It was a game -- and a win -- worth bragging about.
Florida State, though, moved on before the parking lots were even empty.
"Tomorrow, nobody will be here," Manuel said. "It will be back to normal in Tallahassee, just move on to the next game."
Of course, with each win the next game gets bigger. By knocking off the defending ACC champs, Florida State not only became the team to beat in the conference, it also took another step closer to muscling its way into the national title game. Alabama has established itself as the most dominant team in the country, but No. 2 is certainly up for debate. Florida State, which must still play rivals Miami and Florida, along with a Thursday night road trip to Virginia Tech, doesn't have an easy path to the ACC championship game, but the Noles are in the driver's seat.
"It's a head-to-head win against them, which is an interdivisional game, which is always bigger," coach Jimbo Fisher said. "I call them 'double-whammies' because if there ever is a tie, you're ahead, but we've got a lot of other games in this division to play, too. There will be some other teams that have a say-so in this thing."
None of them, though, are ranked. And none of them have looked as good as Florida State and Clemson. Even Coastal Division favorite Virginia Tech has already fallen out of the Associated Press Top 25 after last week's loss to Pitt. And with Georgia Tech's 0-2 start, Florida State shouldn't just win its division; it should win its first league title since 2005.
South Florida first, though.
"We're 4-0 and that's all it is," Fisher said. "We've got a critical game next week at South Florida. We've got to get ready for that and put this one behind us very quickly and move on."
The Atlantic Division standings, though, will make it hard to forget -- especially for Clemson.
September, 22, 2012
9/22/12
11:59
PM ET
TALLAHASSEE, Fla. -- Here's a quick look back at Florida State's
49-37
win over Clemson in Doak Campbell Stadium:


It was over when:
Clemson quarterback
Tajh Boyd
threw an interception to cornerback
Nick Waisome
with 8:41 left to play. Waisome, who entered the game with three tackles and a pass breakup this season, returned the interception 19 yards to the Clemson 27-yard line.
Chris Thompson
ran it in for a touchdown and a 49-31 lead on the next play.
Game ball goes to:
Florida State quarterback
EJ Manuel
. He had a statement game that should put him in the Heisman conversation, completing 27 of 35 passes for a career-high 380 yards and two touchdowns, and he also ran for 102 yards on 12 carries. It was a breakout game for him.
Stat of the game:
Both teams combined for 1,093 yards of total offense. Clemson gained 168 yards of total offense in the first quarter. FSU had allowed an average of 103 yards per game before tonight.
What it means:
The Seminoles are in the drivers' seat in the Atlantic Division race, and they're the team to beat in the ACC. FSU improved to 2-0 in the ACC for the just the third time in the past nine seasons, and the second time under coach Jimbo Fisher. Florida State should maintain its position as a top-10 team, if not improve upon it if some voters decide to drop LSU for its unconvincing performance against Auburn.
September, 22, 2012
9/22/12
7:00
PM ET
TALLAHASSEE, Fla. -- A little over two hours before kickoff, Clemson quarterback
Tajh Boyd
, offensive coordinator Chad Morris, and coach Dabo Swinney were wandering around midfield at Doak Campbell Stadium in their suits and ties, checking out the scene. The Clemson offense will try to make itself at home tonight against a defense that has allowed only one team (North Carolina in 2010) to score more than 20 points in this stadium in the past nine home ACC games. It will be a season-defining game for the ACC and the Atlantic Division standings.
This is the first true test for both teams (Clemson's win over Auburn seems to get less impressive every week, but the same can be said for the Wake Forest defense). The Seminoles are trying to go 2-0 in the ACC for just the third time in the past nine seasons (2005, 2010).
The pregame scene here was comparable to that of the Oklahoma game last year, with fans tailgating for blocks in every direction around the stadium. Fans were out on Tennessee Street, and the students were lined up at their gate long before it opened. It seemed as if every car on I-10 West was covered in FSU decals. ESPN's "College GameDay" crew is on campus, this game is a sellout, and it should be one of the best game-day atmospheres of the season in the ACC.
The only question left is whether or not it will be one of the best games.
September, 22, 2012
9/22/12
6:53
PM ET

Heather Dinich, Mark Schlabach and David Hale preview Saturday's game between Florida State and Clemson from Doak Campbell Stadium.