May, 21, 2014
May 21
4:00
PM ET
Georgia Tech coach Paul Johnson released his
post-spring offensive depth chart
Wednesday, without many surprises. Stay tuned for the release of the defensive chart, set for next week.

For now, here are a few notes on the offense:
April, 29, 2014
Apr 29
9:00
AM ET
Three things we learned in the spring about the Georgia Tech Yellow Jackets:

1. New defensive scheme.
Second-year coordinator Ted Roof moved from a 4-3 to a 4-2-5 base, building off last season as Georgia Tech tries to develop a better pass rush on the edge and create more opportunities for its defensive playmakers. It's a unit that sacrifices size for speed for the sake of the many spread offenses it will face.
2. Tim Byerly emerges.
Justin Thomas
is the starting quarterback, but Byerly has given the Yellow Jackets some much-needed insurance -- and maybe even more than that. The Middle Tennessee State transfer will earn a scholarship this summer, and his impressive spring game further cemented himself as a legitimate game option for this fall.
3. Strong special teams play.
Georgia Tech brings back one of the ACC's best kickers in
Harrison Butker
, but its biggest lift came in March, when the NCAA granted
Jamal Golden
a fifth year of eligibility. Golden was one of the top punt and kick returners in the nation in 2012 and gives the Yellow Jackets another scoring threat.
Three questions for the fall:
1. It is Justin Thomas' job … right?
Paul Johnson praised Byerly for closing the gap with Thomas, and Byerly will likely see the field a good amount this fall regardless. Still, neither Thomas nor Byerly has ever started a collegiate game, and as impressive as both have been, little will matter until they live up to the praise.
2. Can the D-line reload?
No group took a bigger hit after last season than the defensive line, which said goodbye to three starters, including All-ACC performer
Jeremiah Attaochu
.
Adam Gotsis
is the leading returner up front, and he'll need help from fellow pass-rushers to excel in the 4-2-5.
Jabari Hunt-Days
moved from linebacker to end to help get some more athleticism on the edge.
3. Will the O-line help improve the run game?
Johnson has said that his team will be better at running the football this season than last, which was the worst of his Georgia Tech tenure. That will depend in large part on the growth of a young offensive line, which lost three fifth-year seniors from last season's squad.
One way-too-early prediction:
Thomas and Byerly will make many people forget about
Vad Lee
. Sure, Lee's decision to transfer was a bit of a surprise, and neither of his potential replacements boast much meaningful college experience. But Thomas and Byerly have said and done all the right things this spring and, more important, Georgia Tech brings back what may be the best receiving corps of the Johnson era, led by
DeAndre Smelter
,
Micheal Summers
and
Darren Waller
.
April, 24, 2014
Apr 24
10:30
AM ET
In retrospect,
Georgia Tech
coach Paul Johnson said, he probably should've recruited quarterback
Tim Byerly
.
As one of the top high school players in the state of Georgia, Byerly led Chattahoochee High to the 2010 Class AAAA state championship and a 15-0 record, becoming the rst player in school history to pass and rush for more than 1,000 yards in the same season.
Now, the 2012 transfer from Middle Tennessee State will finally earn a scholarship from Georgia Tech this summer.
There's no question
Justin Thomas
is Georgia Tech's starting quarterback heading into summer camp, but don't be surprised to see more of Byerly, who is coming off an impressive spring. With Thomas sidelined for the spring game this past weekend for precautionary injury reasons, Byerly rushed for 101 yards and a touchdown and passed for 69 yards to lead the White team past the Gold team, 20-12.
"They'll sort that out themselves, but I feel good about him if we have to put him in a game," Johnson said of shared playing time. "I think he's closed the distance a lot. Tim played well this spring. We were really, really pleased with him."
Byerly sat out the 2012 season per NCAA transfer rules, and last season he played in four games as the third-string quarterback behind
Vad Lee
and Thomas. Georgia Tech doesn't often accept transfer students, and Johnson said that when they do, he usually asks them to walk-on, which is why Byerly hasn't been on a scholarship. Lee's decision to transfer left Byerly as the second-most experienced quarterback on the roster. Not only has Byerly earned some playing time, he has also earned his scholarship.
Despite the turnover on the roster, Johnson said he's just as confident in his quarterbacks as he was a year ago.
"I feel like these guys at quarterback will be good," he said. "We've still got some stuff we have to get better at, but Justin made improvement this spring and Timmy Byerly really improved. They're tough guys."
April, 21, 2014
Apr 21
12:00
PM ET
April, 21, 2014
Apr 21
10:30
AM ET
Georgia Tech and Syracuse finished spring practice this past weekend. Let's see how their respective spring games went:

Georgia Tech:
Despite heavy rain, the Jackets went ahead with their spring game Friday night. But they did so without quarterback
Justin Thomas
, who sat as a precaution because of a sore shoulder. Without him, junior quarterback
Tim Byerly
took the headlines, rushing for 101 yards and a touchdown and passing for 69 yards to lead the White team past the Gold team 20-12. B-back
Zach Laskey
rushed for 73 yards and a touchdown for the White, which featured the first-team offense.
Isaiah Johnson
and
Demond Smith
scored defensive touchdowns on fumble returns for the Gold team, which featured the first-team defense. Redshirt freshman quarterback
Ty Griffin
, who started for the Gold team, rushed 15 times for 75 yards and completed one pass.

Syracuse:
One day after coach Scott Shafer named him MVP of the 2013 season, quarterback
Terrel Hunt
took all the snaps with the first-team offense in the first half of the spring game and made it clear he is the unquestioned starter going into the fall. Hunt went 12-of-15 for 95 yards, though he did not lead a scoring drive. He and three other quarterbacks threw for 413 yards as the offense beat the defense 34-27.
Ashton Broyld
, looking for a role on the offense, led all receivers with eight catches for 126 yards and two touchdowns.
Jeremiah Kobena
also added two touchdown catches. Safety
Chauncey Scissum
and linebacker
Josh Kirkland
led the defensive effort with seven tackles each. Kirkland had two tackles for loss and one sack.
Ritchy Desir
,
Cameron Lynch
and
Ron Thompson
each made six tackles.
March, 24, 2014
Mar 24
9:00
AM ET
Georgia Tech quarterback
Justin Thomas
will be in the spotlight this spring as the Jackets look to replace
Vad Lee
, who decided to transfer this offseason. I spoke with Thomas recently about how he expects his role to change. Here are the highlights of our conversation:
What's changed for you with the quarterback position and the role you have now? What has this offseason been like since Vad is no longer in the mix?
Justin Thomas:
I'm just working hard and staying motivated, trying to get ready for the season and trying to get the guys ready, making sure we're all prepared, doing what we're supposed to be doing.
How much individual work have you done?
JT:
Whatever days we can get out there. On Mondays and Wednesdays we go throw at 1:30; we get snaps with the center on Tuesdays and Thursdays. Sometimes people have different times they can go, so we just have to go off people's schedules.
[+] Enlarge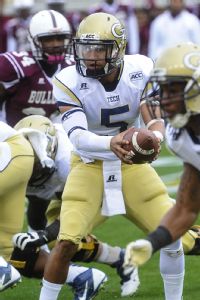 AP Photo/John AmisGeorgia Tech quarterback Justin Thomas is getting ready to make his first start this fall.
What was your reaction to Vad's decision to transfer?
JT:
It was shocking, but I really can't comment too much on it. I'm not him, so he had to make the best decision for himself. He did what he felt like he had to do.
How did the experience that you had last year help you heading into this season?
JT:
It helps a little bit. You're not going in blind; you know what to expect from our players. I kind of have a feel of what's going to happen, what's going on.
What are you looking to improve upon most?
JT:
Just getting out there and making sure I'm going through my reads, my progressions, making sure of ball security, just trying to make the offense flow how it's supposed to flow.
What are your thoughts on the guys you have around you to work with?
JT:
I have great expectations for all of them. We're all working hard this offseason, by themselves and with the team. They made great progress and I've seen all of them play and know they can play, so I feel good about being around them.
How much better do you think you guys can be as an entire team?
JT:
I feel like we can compete with anybody on any day. It's just the fact we have to make ourselves better and we have to get better as a team, just come together more. We were in basically every game we played, we just didn't finish strong. This year we have to focus on finishing strong.
What does it mean to you to be a starter?
JT:
It means a lot. It comes with a great expectation, so you have to try to take it in as much as I can. Whoever gives me advice, I try to take it and be the best I can be.
I know you played in 10 games last year, but you haven't started yet. How much different is the mental preparation for that?
JT:
I won't say it's different because even when you're the backup, you have to come in the game prepared like you're the starter. You never know when you'll get in, so that mental part, you always have to have it when you're starting or you're not starting.
Do you feel like your teammates have embraced you as the leader?
JT:
I feel like they have. I feel like they show a lot of support, helping me get things together. I feel like they've embraced me, and I'm going to give them the best I can.
I don't know much about Tim Byerly. How confident are you that this is your job? What's the competition going to be like out there this spring?
JT:
There's always competition, no matter where you're at. I haven't started a game yet, so the competition is still up in the air. Tim, he's not nobody to look over. He's a competitor and I feel like he's a great football player. We've both been training really hard this offseason together. He's stayed right along with everybody, so I think it will be a great competition.
April, 22, 2013
4/22/13
10:30
AM ET
Spring practice is officially over across the ACC. Here is a look at the five spring games held this past weekend. Boston College cancelled its game following the tragic attacks at the marathon.
GEORGIA TECH

B-back
Matt Connors
capped a good spring with a team-high 84 yards on 12 carries to lead the Gold team to a 22-10 win over the White on Friday night.
After the game, coach Paul Johnson said Connors, "plays hard. Matt has a good attitude and I think he'll help us. We had a productive spring. There are always things you'd like to do better. I think we got a good start for fall.
As for the quarterbacks,
Justin Thomas
and
Tim Byerly
each scored a rushing touchdown for the Gold team. Thomas went 3-of-7 for 38 yards.
Vad Lee
led the White team with 62 yards rushing on nine carries and went 4-of-13 for 34 yards and a touchdown.
Defensively,
Quayshawn Nealy
returned a fumble 34 yards for a touchdown for the Gold team.
NC STATE

Fans got to see the new no-huddle spread offense coach Dave Doeren has installed, though there were plenty of bumps in the road during the annual spring game Saturday.
Quarterback
Pete Thomas
took reps with the first-team and went 15-of-26 for 168 yards without a touchdown pass as the Red beat the White 20-10.
Tony Creecy
led the way for the Red team with 75 yards on 20 carries, while
Rashard Smith
had eight catches for 84 yards.
Manny Stocker
, working with the second-team, went 11-of-20 for 96 yards with an interception in the end zone. The teams combined for five fumbles in the game, and had 10 total punts in the first half.
Doeren
said afterward
, "We are ahead defensively and that's not a bad thing," Doeren said. "I would rather be ahead on the defensive side than the offense. I think we'll catch up."
The spring game raised more than $20,000 for the Kay Yow Cancer Fund.
SYRACUSE

Terrel Hunt
emerged from the spring game as the Orange's top quarterback following an outstanding performance, going 19-of-29 for 209 yards a two touchdown passes to lead the Orange to a 27-10 win over the Blue on Saturday.
Hunt took all the snaps for the Orange team, and coach Scott Shafer said afterward that the junior now has a small lead over
Charley Loeb
and
John Kinder
. How that all plays out when Oklahoma transfer
Drew Allen
arrives remains to be seen, but there is no question Hunt has made the most of his opportunity this spring.
"Just a little bit (of a gap) though," Shafer
said afteward
. "We have all summer to figure this thing out and see all the new faces that are coming in to wear the blue and orange. I look forward to the competition continuing forward."
Kinder and Loeb combined to go 11-of-20 for 55 yards but they played against the first-team defense and under big-time pressure.
VIRGINIA TECH

There were not many bright spots for the new Hokies' offense, as quarterback
Logan Thomas
and the running backs struggled Saturday in the spring game.
Thomas threw three interceptions -- two that were returned for touchdowns -- as his Orange team lost to the White 27-9. In all, Thomas went 16-of-29 for 214 yards as the group worked under new coordinator Scot Loeffler. For the game, the running backs tallied 23 total yards on 41 carries. Those are probably not the results fans wanted to see.
"I think even good golfers have bad shots sometimes, but it's how you react to those shots, what you do after those shots," coach Frank Beamer
said afterward
. "In my opinion, Logan will always be right back every play."
It should come as no surprise, then, that the defense was the story of the scrimmage as that group returns just about every one of its starters and should be one of the best groups in the league.
WAKE FOREST

The Deacs held a 70-minute scrimmage rather than a game Saturday, and the defense dominated as
Chad Hedlund
scored the only points on a 39-yard field goal.
Hunter Williams
,
Ryan Janvion
,
Merrill Noel
and
A.J. Marshall
each intercepted a pass. Wake Forest's 32 rushing plays netted minus-5 total yards.
"The defense was awesome today," coach Jim Grobe said. "I thought they played great. We really dumbed the defense down, we didn't blitz and we didn't play a lot of different coverages. It's amazing how good they played when they know what to do and didn't have a lot of thinking going on. That ought to be a lesson for our coaches."
Though the offense struggled, the coaches did not have that group do too much. As
Nikita Whitlock
said afterward
, "They didn't show anything. This was the easiest practice we had all spring. I think they only ran like five plays. Honestly, it was power here, throw here, screen here. They were really vanilla, which was good. We'll pull it out this season to win some games."