April, 2, 2014
Apr 2
4:00
PM ET
Syracuse has major depth concerns at defensive tackle. So the coaching staff has gotten creative this spring.
Defensive coordinator Chuck Bullough and defensive line coach Tim Daoust decided to start cross-training their defensive ends to play defensive tackle, hoping that a few play well enough inside to be even more valuable in 2014.
Call it a tryout of sorts.
"We told the defensive linemen, 'You have to know every position,'" Bullough said in a recent phone interview. "We only have four defensive tackles right now. You'd hate to go through spring ball and one gets nicked up and God forbid, two get nicked up and then you can't practice. So they all have been rotating in, and it also helps them, too, helps toughen them up because there is a lot more pounding in there with a tackle and guard on you. We have been pleased with that. They've been picking it up. The benefits of them going in there and getting toughened up outweigh the negatives."
Losing starting tackle
Jay Bromley
leaves a gaping hole inside, but depth concerns have compounded his departure.
John Raymon
, who severely injured his knee last year against Georgia Tech, remains out. Bullough said Raymon may not be able to play at all in 2014.

Wayne Williams
, whose arrival at Syracuse has been years in the making, is too overweight to contribute meaningfully right now. Bullough said Williams arrived on campus weighing 350 pounds and is now down to 340, but needs to shed even more to get a spot in the rotation.
"He gets tired so fast," Bullough said. "He is doing everything he can. It's probably not going to happen during spring ball, so he will have to use the rest of the spring and summer to cut that weight."
Right now, Syracuse has returning starter
Eric Crume
at one tackle spot and
Marcus Coleman
and
Ryan Sloan
competing to win the spot Bromley left behind. Bullough said he may have to rely on the two freshmen the Orange just signed in February once they arrive on campus.
The cross-training idea makes perfect sense, especially since the Orange do have some depth at end.
"The thought is to get them in there now to see how they progress," Bullough said. "
Micah Robinson
is the first guy who comes to mind. He's a big, tough kid. Right now, we'll work them all, but in the end we will know, 'OK these two defensive ends, or this one, can help us inside but the other ends don't have to.' I have never been in this situation, where you are so low at one position. Freshmen have a hard time to come in and play, especially at the beginning. So we said, 'Let's figure out now what end we'll have to put in there if somebody gets hurt.'"
May, 23, 2013
5/23/13
10:30
AM ET
Syracuse defensive coordinator Chuck Bullough has no problem with the fact that his boss, coach Scott Shafer, was in the very same position for four years before being promoted to head coach in January.
"I know coach Shafer," Bullough said. "He's one of my best friends. It's not like you're coming in not knowing the head coach at all. There's no tension when we sit down to discuss stuff. It's just like two buddies talking about football."
[+] Enlarge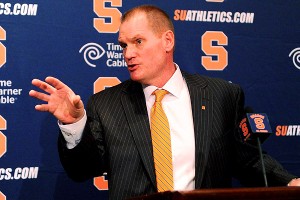 Rich Barnes/USA TODAY SportsNew Syracuse head coach Scott Shafer and his staff have a history with each other.
Bullough and Shafer were last together at Western Michigan in 2005, and their friendship is a microcosm of the familiarity within the entire staff. Western Michigan, Illinois, Northern Illinois -- all programs that have connected some of these coaches in their careers. Their wives and children know each other. The assistants aren't just acquaintances, they've coached together before. While an entirely new staff often is cause for bumps in the road, the familiarity on the Syracuse sideline helped make for a smooth transition this spring.
"How the coaches interact and how the coaches get along and how they coach together, the team sees that and this is a very tight-knit group of coaches," Bullough said. "We all coached with one another throughout our whole careers. There's nobody on the staff, except for the DB coach, Coach [Fred] Reed, that has never coached with another guy on this staff. That's amazing. That makes the transition so much easier. That I think really goes a long way. The players see everything."
With an ongoing quarterback competition heading into fall camp and having to replace its top two receivers and three of four starters on the defensive line, there are plenty of questions facing Syracuse this fall. While the players spent this spring adjusting to their new coaches, the staff didn't have to waste any time with introductions or philosophies.
Running backs coach DeAndre Smith was at Northern Illinois from 2001-2004, overlapping with Shafer's time there. Defensive line coach Tim Daoust was a holdover from the previous staff, but he was also a graduate assistant at Northern Illinois when Shafer was there. Quarterbacks coach Tim Lester and offensive coordinator George McDonald were both on staff with Shafer at Western Michigan in 2005-06.
The six degrees of Scott Shafer go on -- and have paid off.
"It's a lot of familiarity with our coaching styles and our beliefs, so from a coaching standpoint, it's just like coaching with your friends, because we've all worked together before at prior stops," said McDonald. "It helps because it shows solidarity, everyone understanding and speaking the same language, having the same vision. So when you come in as a new staff and everyone is on the same page, just because we're familiar with the expectations of coach Shafer, and on the defense and offensive side, the kids buy in a little faster because they feel the unity from all the coaches."