July, 30, 2012
7/30/12
9:00
AM ET
Week 11
: Nov. 17 vs. Wake Forest (at Notre Dame Stadium in South Bend, Ind.)
Time/TV
: 3:30 p.m. ET, NBC
Series
: Notre Dame leads all-time, 1-0
2011 record
: 6-7 (5-3 ACC; tied second place, Atlantic Division)

Head coach
: Jim Grobe (68-67, 11 years)
Returning starters
: Offense: 3; defense: 7; kicker/punter: 2
Top returners
QB
Tanner Price
, WR
Michael Campanaro
, C
Garrick Williams
, DE
Zach Thompson
, NG
Nikita Whitlock
, OLB
Joey Ehrmann
, ILB
Scott Betros
, ILB
Riley Haynes
, CB
Merrill Noel
, FS
Kenny Okoro
Key losses
RB Brandon Pendergrass, WR
Chris Givens
, TE
Cameron Ford
, T Dennis Godfrey, T Doug Weaver, G
Joe Looney
, G Michael Hoag, DE Tristan Dorty, DE
Kyle Wilber
, SS Cyhl Quarles, FS
Josh Bush
2011 statistical leaders (*returners)
Rushing
: Brandon Pendergrass (823 yards)
Passing
: Tanner Price* (3,017 yards)
Receiving
: Chris Givens (1,330 yards)
Tackles
: Cyhl Quarles (101)
Sacks
: Kyle Wilber/Nikita Whitlock* (3.5)
Interceptions
: Josh Bush (6)
Three questions for ...
ACC blogger Heather Dinich:
Wake returns plenty of talent at the skill positions, but it is tasked with replacing four starters on the offensive line. What's a realistic timeline for the newcomers to jell and form a cohesive unit?
Heather Dinich:
Well, it's more like three starters at this point, because
Steven Chase
, who missed the spring for undisclosed reasons, has since returned. The group also got a huge boost from the move of
Frank Souza
from the defensive line. Chase's return has allowed the staff a little more flexibility with the depth chart. He or Souza -- whoever develops into the better pass protector — will likely slide into the right guard position. Souza was backup to talented noseguard Nikita Whitlock and saw the writing on the wall: Whitlock wasn't coming off the field anytime soon. So he jumped at the opportunity to see more snaps on offense. Coach Jim Grobe told me they "hit a home run with Souza." Right now he's got five guys he's comfortable with. Depth? That's another question.
Head coach Jim Grobe rarely has much staff turnover, but three new assistants are aboard for 2012. What's new, and how will that translate on the field this season?
HD:
Yes, the Deacs have long been one of the most stable staffs in the ACC, but there are a few new faces in new positions, and I think overall, it will make Wake Forest a better team. Tim Duffie will be in his first season coaching the secondary, and he has lots of talent to work with back there, particularly at the corner position. Jonathan Himebauch is in his first year coaching the offensive line, and
Derrick Jackson
is in his first season coaching the outside linebackers. The move of OC Steed Lobotzke to tight ends and fullbacks should help him manage his time better as a coordinator because he won't have to deal with so many offensive linemen.
The Deacs surprised everyone but themselves last season, falling a field goal short of playing for the ACC title. There are obvious shortcomings (O-line, secondary) on this year's roster, but will they be able to overcome those and make another push at a division crown?
HD:
If they did it last year, I don't see any reason why they shouldn't be able to make another run at it. They've got to be able to win those close games, though. The close losses to Syracuse, Clemson -- and of course Notre Dame -- are still stinging, and just about anyone in that program will tell you they could've played better against UNC. Jim Grobe has a very good football team to work with this year, and he has a defense that could be reminiscent of the old days with Aaron Curry and Alphonso Smith. There are some diamonds in that group, they're just not very experienced. It wouldn't be wise, though, for Wake Forest opponents to take this year's team lightly.
July, 18, 2012
7/18/12
2:30
PM ET
This summer you'll hear plenty about NC State cornerback
David Amerson
and safety
Earl Wolff
, about Florida State's secondary, about
Kyle Fuller
at Virginia Tech, and Georgia Tech's veteran defensive backs.
Odds are you won't hear much, though, about a cornerback named
Kevin Johnson
.
That should change this fall.
Johnson, a redshirt sophomore, was one of three true freshmen to play for coach Jim Grobe in 2010. For those of you who unfamiliar with Grobe's philosophy on redshirting, playing as a true freshman at Wake Forest is a rarity. Johnson was good enough to start in five games in 2010, but he was declared academically ineligible last fall. Now he's back, and he's one of several hidden gems on the Deacs' roster that could make their secondary sneaky-good this year.
Merrill "Bud" Noel
, the ACC's 2011 Defensive Rookie of the Year, will be the face of the group, but don't be surprised to see Johnson push past three-year starter
Kenny Okoro
on the depth chart. Johnson is that good. With Noel, Johnson and Okoro as the starting nickel back, few if any teams in the ACC have three corners as capable as Wake Forest.
The dependability of the safeties remains a question heading into summer camp, but the talent at cornerback could help ease that transition. So might the hiring of secondary coach Tim Duffie, who made significant strides with the group this spring.
This is how Wake Forest rolls -- it lures some unheralded talent, develops it, and suddenly you're watching a guy like Noel. Keep an eye on Johnson. He could be next.
May, 8, 2012
5/08/12
6:00
AM ET
2011 overall record:
6-7
2011 conference record:
5-3 (T-2nd, Atlantic)
Returning starters
Offense: 3; defense: 7; kicker/punter: 2

Top returners
QB
Tanner Price
, WR
Michael Campanaro
, C
Garrick Williams
, DE
Zach Thompson
, NG
Nikita Whitlock
, OLB
Joey Ehrmann
, ILB
Scott Betros
, ILB
Riley Haynes
, CB
Merrill Noel
, FS
Kenny Okoro
Key losses
WR
Chris Givens
, T Dennis Godfrey, T Doug Weaver, G
Joe Looney
, G Michael Hoag, TE
Cameron Ford
, RB Brandon Pendergrass, DE Tristan Dorty, DE
Kyle Wilber
, SS Cyhl Quarles, FS
Josh Bush
2011 statistical leaders (* returners)
Rushing
: Brandon Pendergrass (823 yards)
Passing
: Tanner Price* (3,017 yards)
Receiving
: Chris Givens (1,330 yards)
Tackles
: Cyhl Quarles (101)
Sacks
: Kyle Wilber/Nikita Whitlock* (3.5)
Interceptions
: Josh Bush (6)
Spring answers
1. Tanner Price:
As a sophomore last season, Price threw for more than 3,000 yards to go with 20 touchdowns and six interceptions. Coach Jim Grobe has challenged Price to improve on his accuracy, especially on underneath passes, and if the quarterback can build off last season's 60-percent completion rate, the Demon Deacons should be just fine under center.
2. Skill players:
Michael Campanaro is sliding into the go-to target shoes left behind by Chris Givens, shifting the focus to who will be the Deacs' No. 2 receiver.
Josh Harris
has been healthy all spring and should add a boost to a backfield that returns
Orville Reynolds
and
DeAndre Martin
. Deep? Not exactly. But Wake knows what it has in its skill-position players, and has enough weapons around Price for the quarterback to make a jump in his junior year. This spring has helped ease some concerns.
3. Front seven:
The Deacs return a majority of their front-seven, including second-team All-ACC nose guard Nikita Whitlock. Grobe has praised the overall speed and depth of the defense as a whole, and he expects the team to be better on that side of the ball. Look for more pressure this season in new outside linebacker coach Derrick Jackson's first year on staff.
Fall questions
1. Offensive line:
There's no sugar-coating this one: If Wake wants to repeat its surprising 2011 season -- one that saw it come within a field goal of playing for the ACC title -- it needs to find some answers up front. The line is replacing four starters. Grobe said coming out of spring that he feels comfortable about three spots at the moment, but the Deacs will need more than that if they want to get the most out of their skill players.
2. New staff:
Grobe has had little turnover in his 11 years at Wake Forest, but he hired three new assistants this offseason -- Jackson, Jonathan Himebauch (offensive line) and Tim Duffie (secondary). The fresh blood, Grobe said, led to much more energy this spring, but the biggest tests will obviously come in-season.
3. Secondary.
Speaking of Duffie, he'll have his work cut out for him in Year 1. Both safeties are gone, including Josh Bush, now with the Jets. Experience at cornerback will help ease the transition for the secondary, but building depth at safety could be an issue.
April, 30, 2012
4/30/12
10:30
AM ET
Despite its 6-7 overall record in 2011, Wake Forest came within a field goal from playing for the ACC title. With key pieces such as two-year starting quarterback
Tanner Price
returning, the Demon Deacons are looking to build off that success in 2012. Here, head coach Jim Grobe talks about expectations entering his 12th year leading the program.
The offensive line is replacing four starters. How important was the spring season for them from a developmental standpoint?
Jim Grobe:
Well I thought it was really good. I think we've got three kids going forward that we can count on:
Garrick Williams
, our center, started for us last year so we feel really good about him. I think
Colin Summers
, our right tackle, is a kid who has the potential to be one of the better offensive linemen in the league, as does
Antonio Ford
, our left guard. I think all three of those kids really have the ability to get the job done for us. And then the rest of it's gonna be a toss-up. I think we've got some talented kids. I think
Dylan Heartsill
's a kid that's had some back issues at left tackle but we have great hopes for him and hopefully he'll get healthy. So we moved
Frank Souza
over to left tackle from nose guard -- he was backing up
Nikita Whitlock
on defense and we didn't feel like there was much future in that. So we moved Frank over to left tackle. I think that's gonna be a great move for us, he looked really good the last half of the spring.
We need somebody to step up at right guard; I'm hopeful that [Daniel] Blitch or [Dylan] Intemann or one of the younger guys will be that guy, so it's kind of a mixed bag. We don't have a starting five yet but I think three of those guys are really good players. If we can get a couple more guys to step up I think we can at least put a really good starting five on the field at the start of the year.
You know what you have under center in Tanner Price. Going into his third year now, what kind of strides does he need to make to take the next step?
[+] Enlarge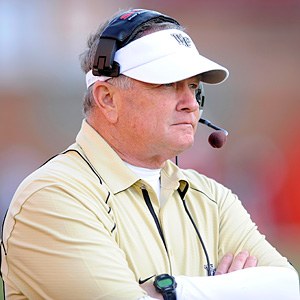 AP Photo/Nick WassJim Grobe says the goal is for Wake Forest to try to get back to a bowl game and to possibly make another run at the ACC title.
JG:
Well it's huge when you've got your quarterback coming back, especially if he's a good one. I think Tanner thew for a little over 3,000 [yards] last year, [20] touchdowns, only had six picks. So he's a guy that takes pretty good care of the football. Really smart guy. a lot of Riley Skinner-type intangible stuff with Tanner. Tanner's got a more live arm than Riley had but he doesn't do as good of a job on the underneath stuff, and I think that's where his biggest improvements needs to come and I think we saw that this spring. We really challenged him to be a little more accurate with the touch stuff and I think we saw that this spring. I think he just looked better to me this spring than he did last fall and I thought he did good things last fall. So his biggest deal is just gonna be completion percentage. If we can bump that completion percentage up, we've got a guy that can win games for us.
It's been said that Michael Campanaro be that go-to guy for him, with Chris Givens now gone. Is finding a No. 2 target more pressing right now? Who has stood out in that role for you?
JG:
Yeah I think so. I don't think there's any question. That's my concern. I think Campanero, you look at Chris last year, but in reality we had two guys -- Camp, he didn't catch as many balls as Chris, but he was close. They were really a 1-2 punch for us last year, so I think Camp, if he stays healthy, is ready for a big big year. So the key for us is we've gotta find some body else. If Camp's the only guy we've got to go to then defense are gonna make it really tough on us. So a guy like
Terence Davis
,
Matt James
,
Brandon Terry
,
Sherman Ragland
-- somebody in that group's gotta step up and kind of balance things out so that they can't just double-cover Camp and leave those other guys alone.
March, 22, 2012
3/22/12
3:00
PM ET
Tim Duffie is Wake Forest's new secondary coach, the school announced Thursday.

Duffie replaces Steve Russ, who left to become defensive coordinator at his alma mater, Air Force.

"I'm really excited about adding Tim to our staff," Demon Deacons head coach Jim Grobe said in a release. "He has a great deal of experience on defense and particularly in the secondary. Tim is also a great recruiter. I feel like we've hired somebody who will not only do a good job on defense but will help bring some great players to Wake Forest."

A 12-year college coaching veteran, Duffie enters Winston-Salem, N.C., after four years at Colorado State, where he coached the secondary and cornerbacks. He was also the Rams' main recruiter in the state of Texas.